Between October 26-28, 2022 in Tegucigalpa, Honduras, 490 leaders from civil society, philanthropy, government and business participated in CADF 2022.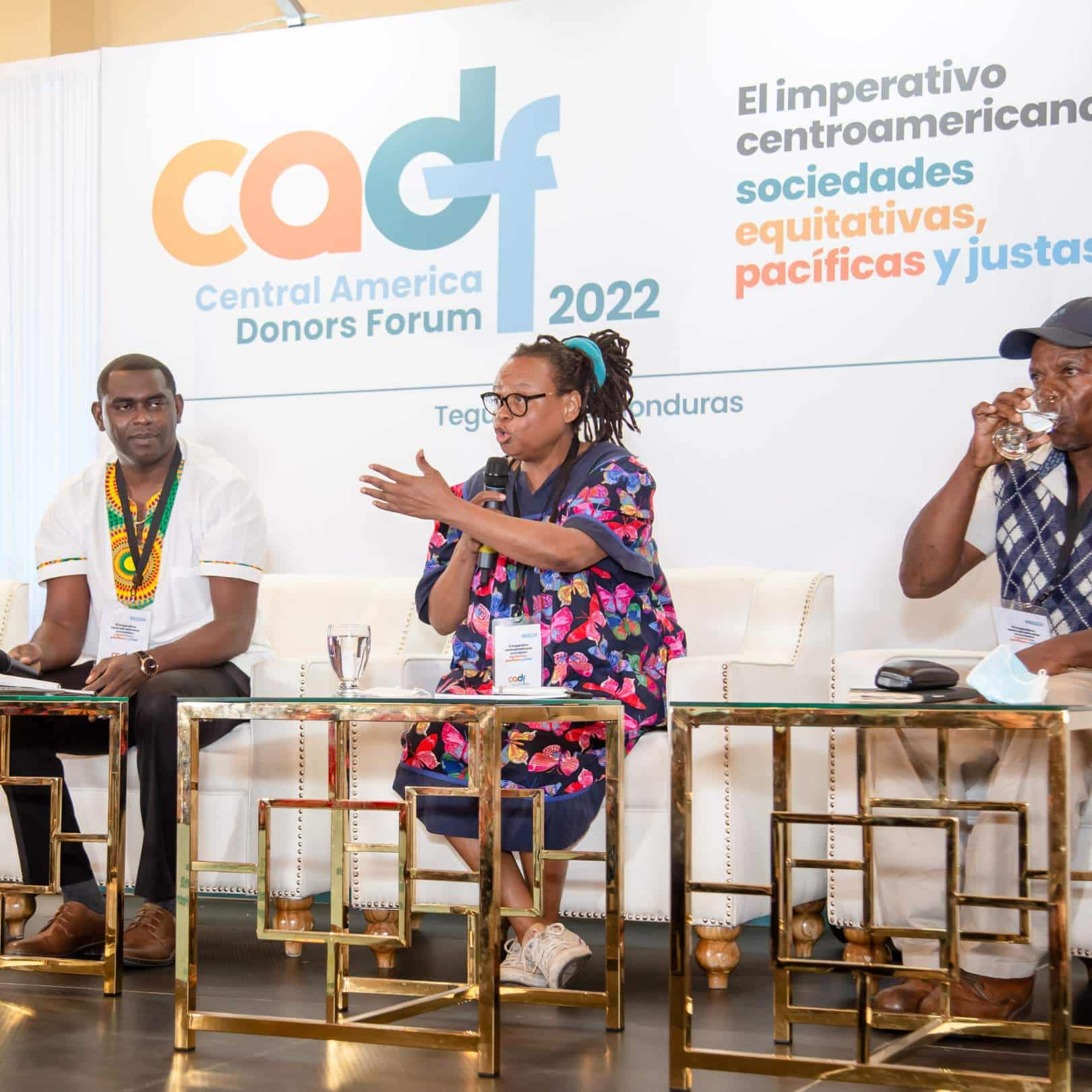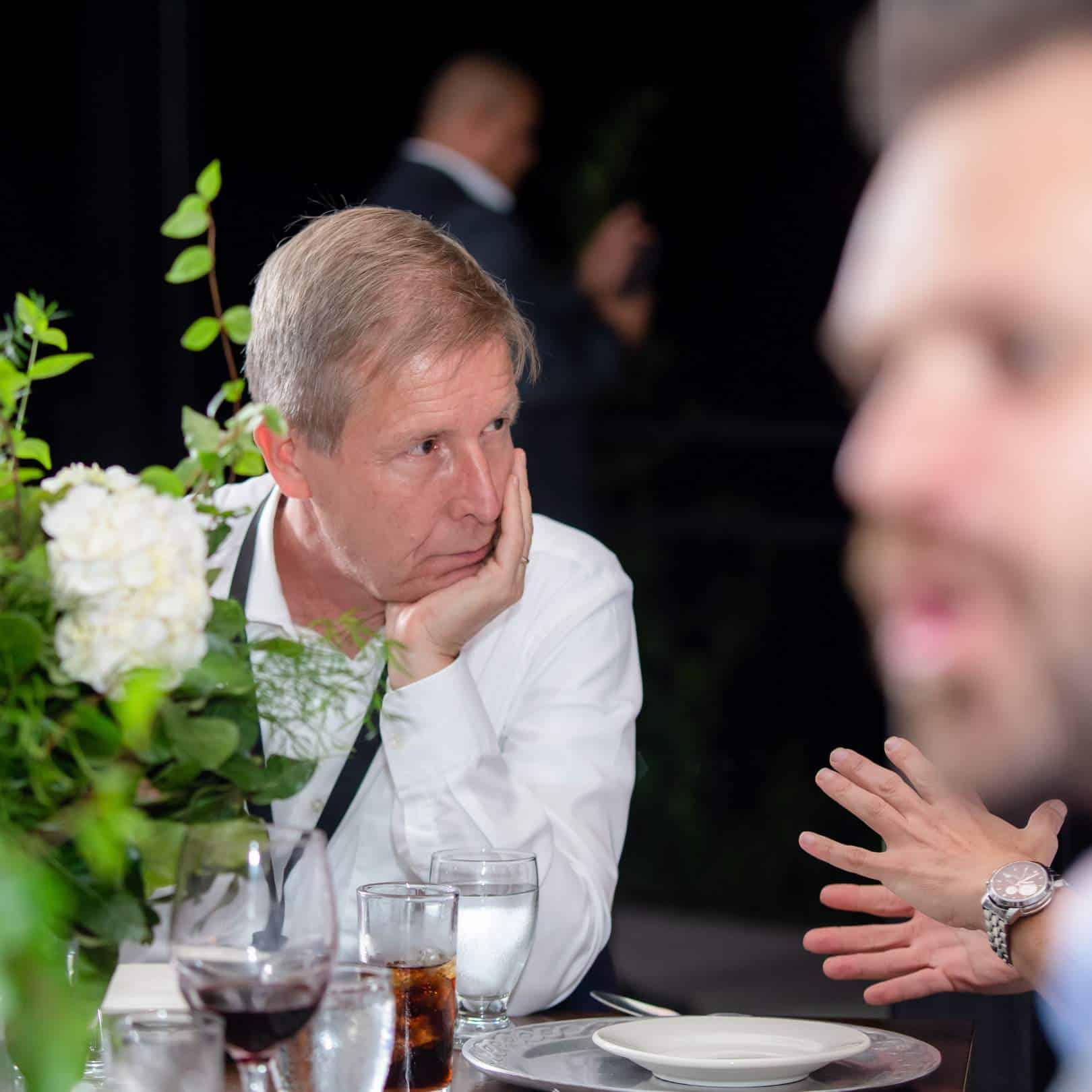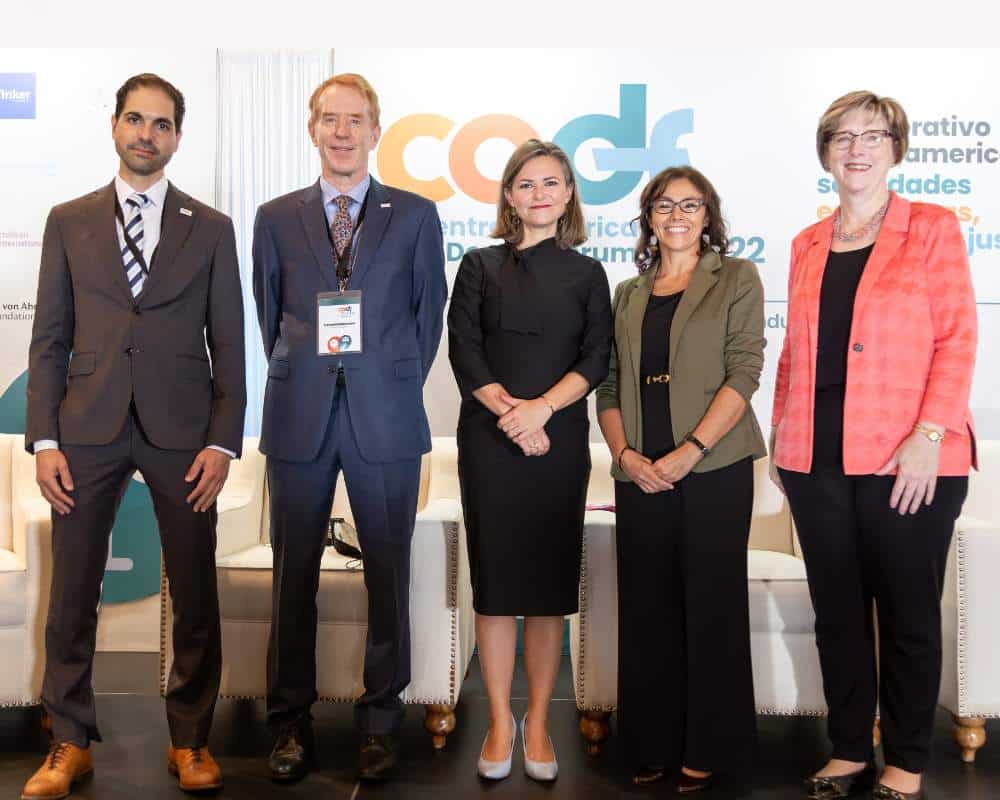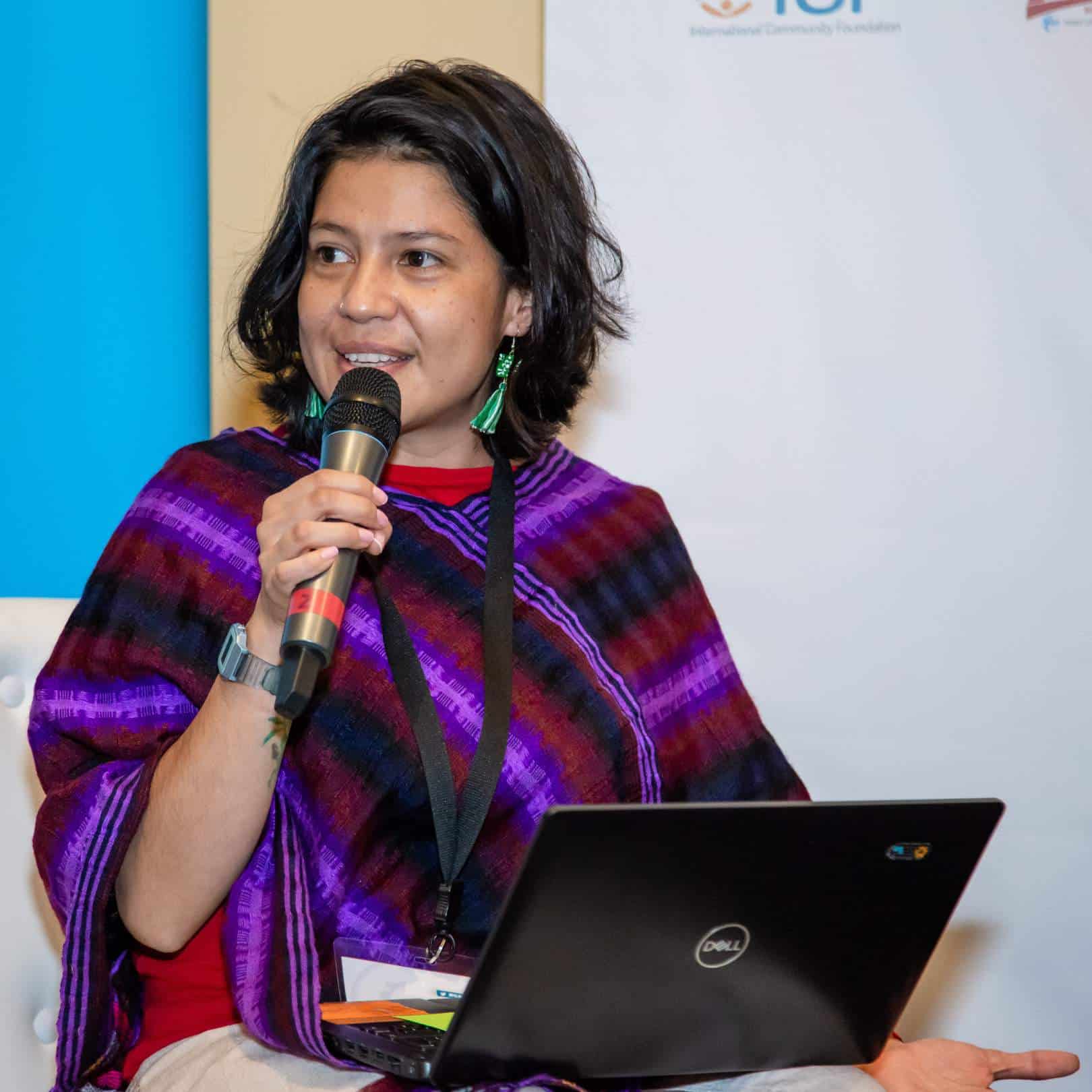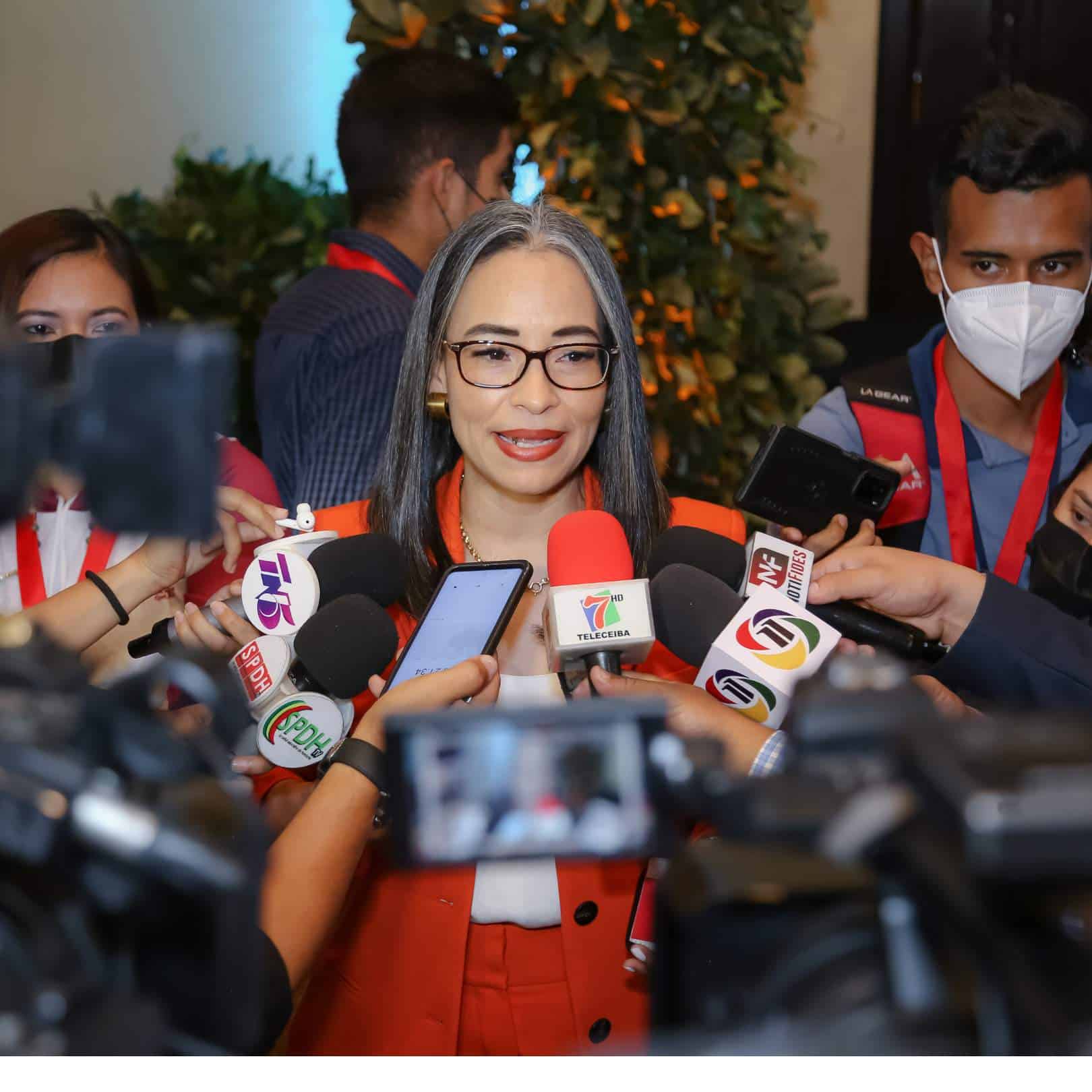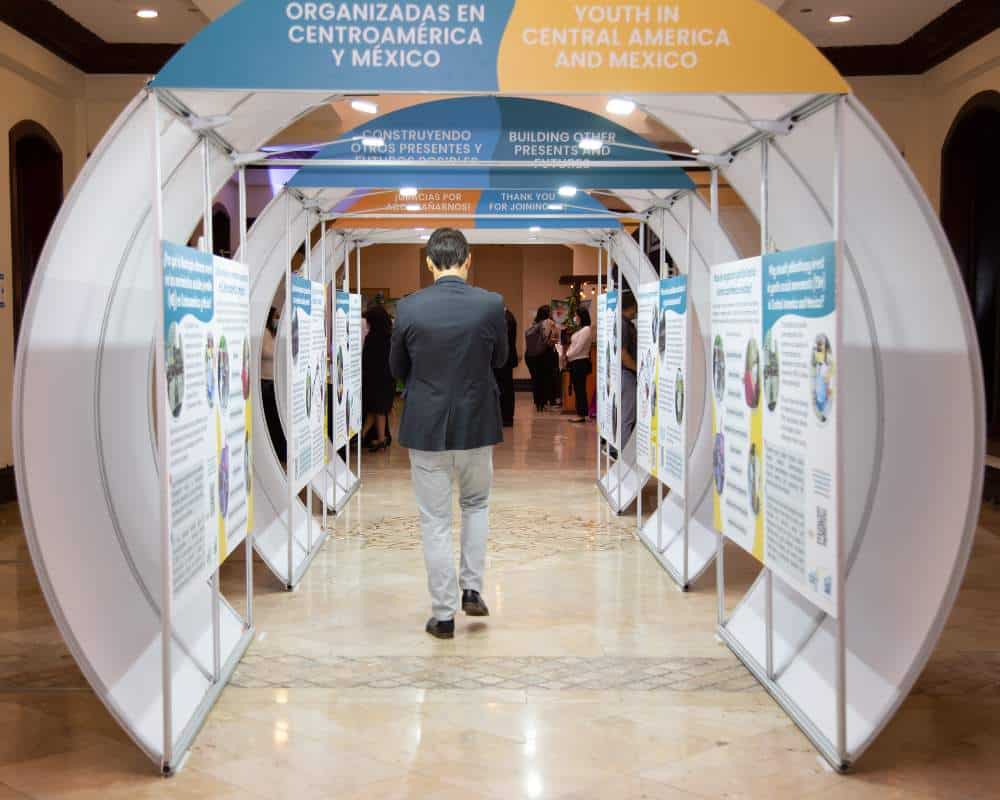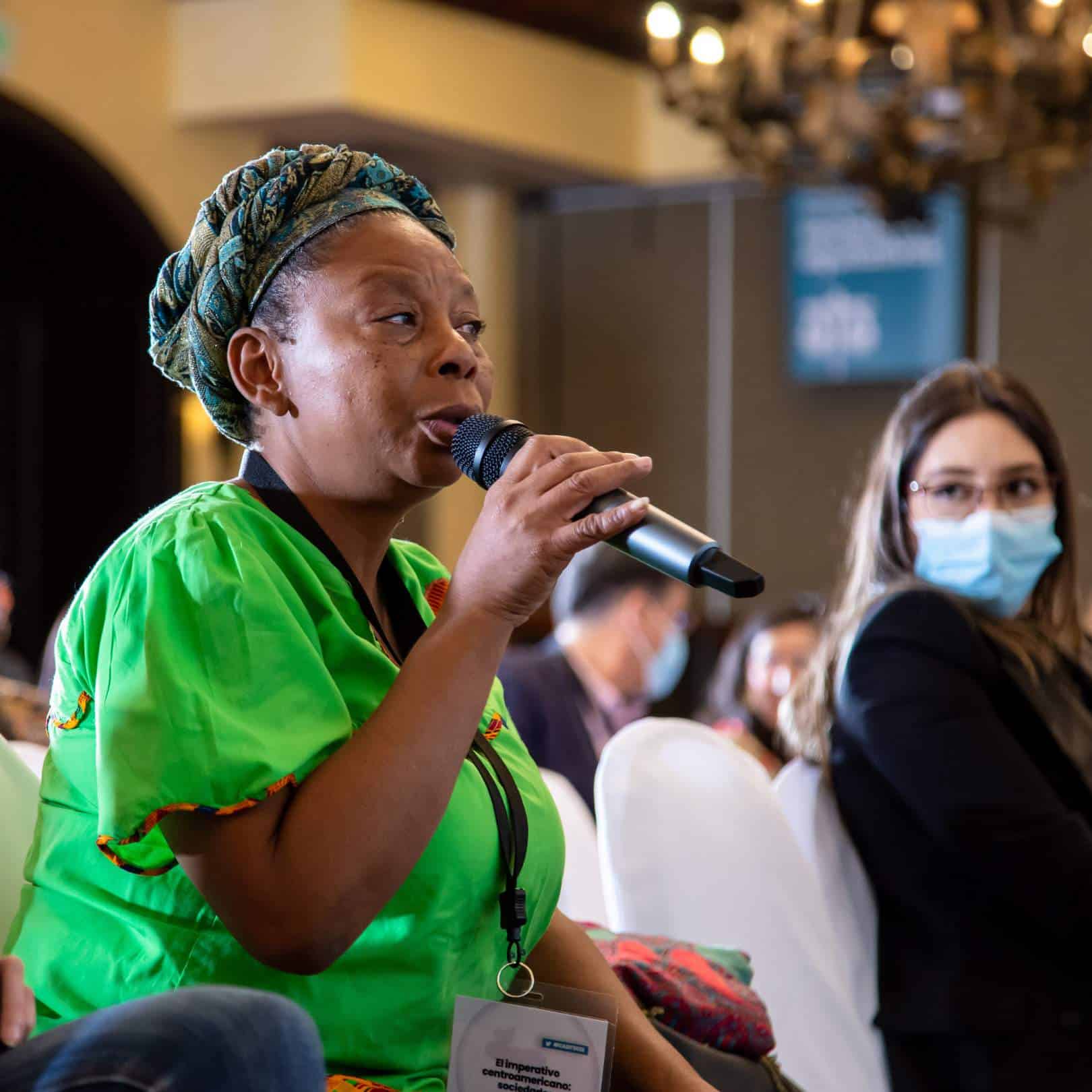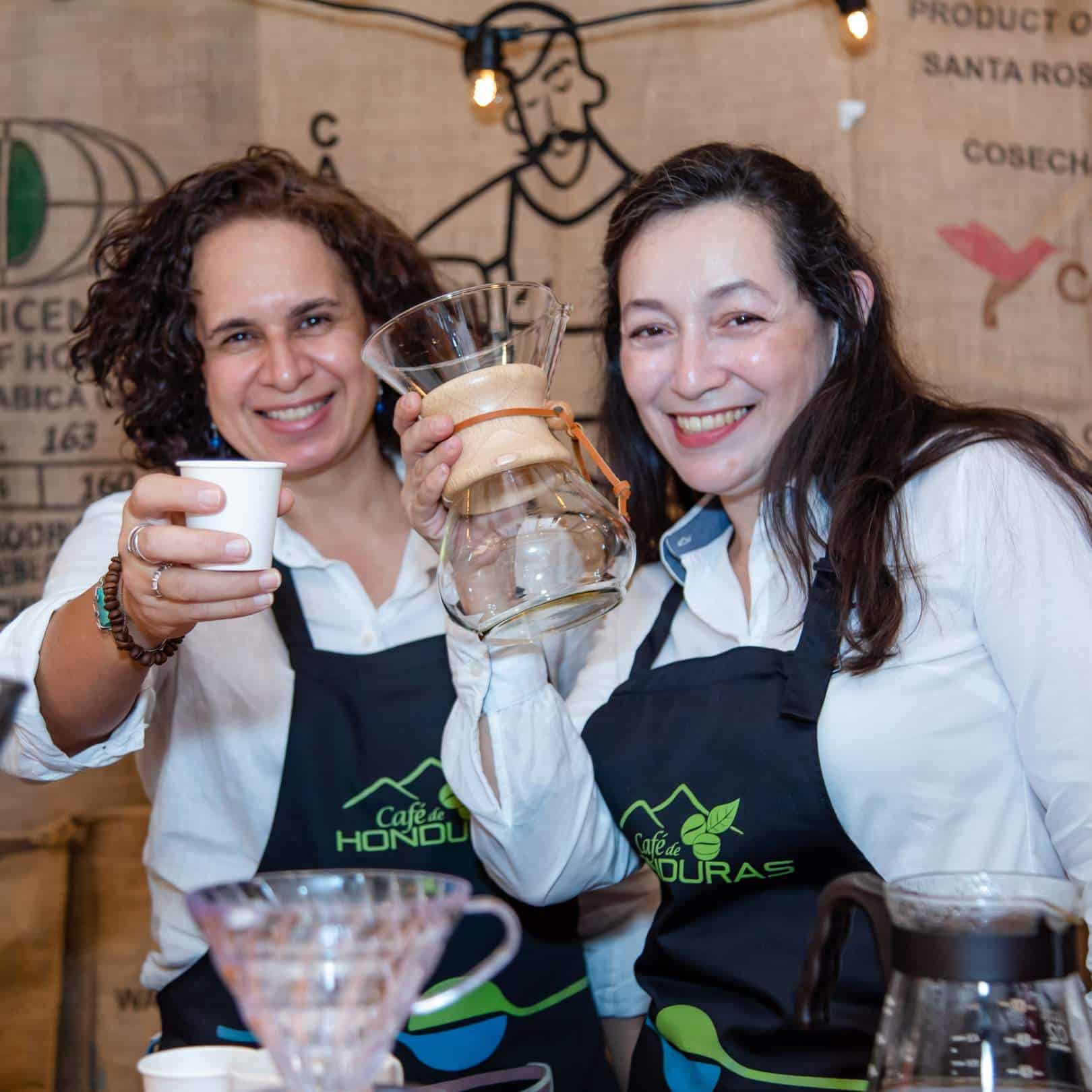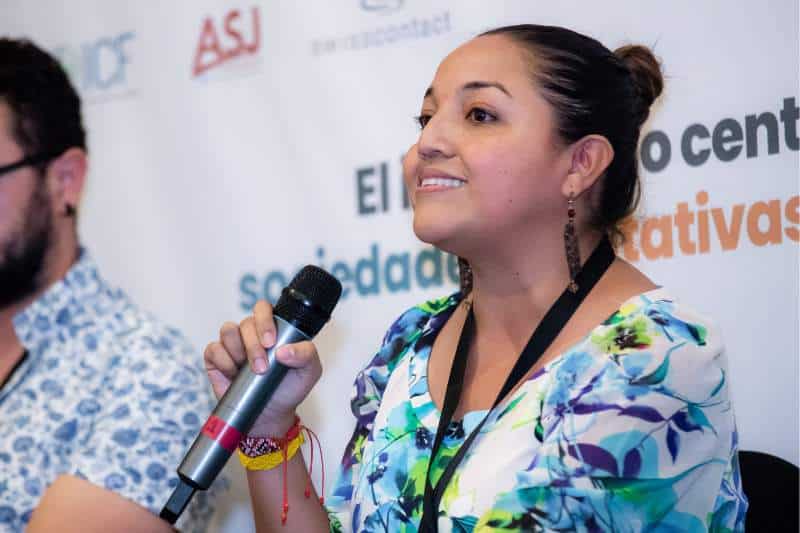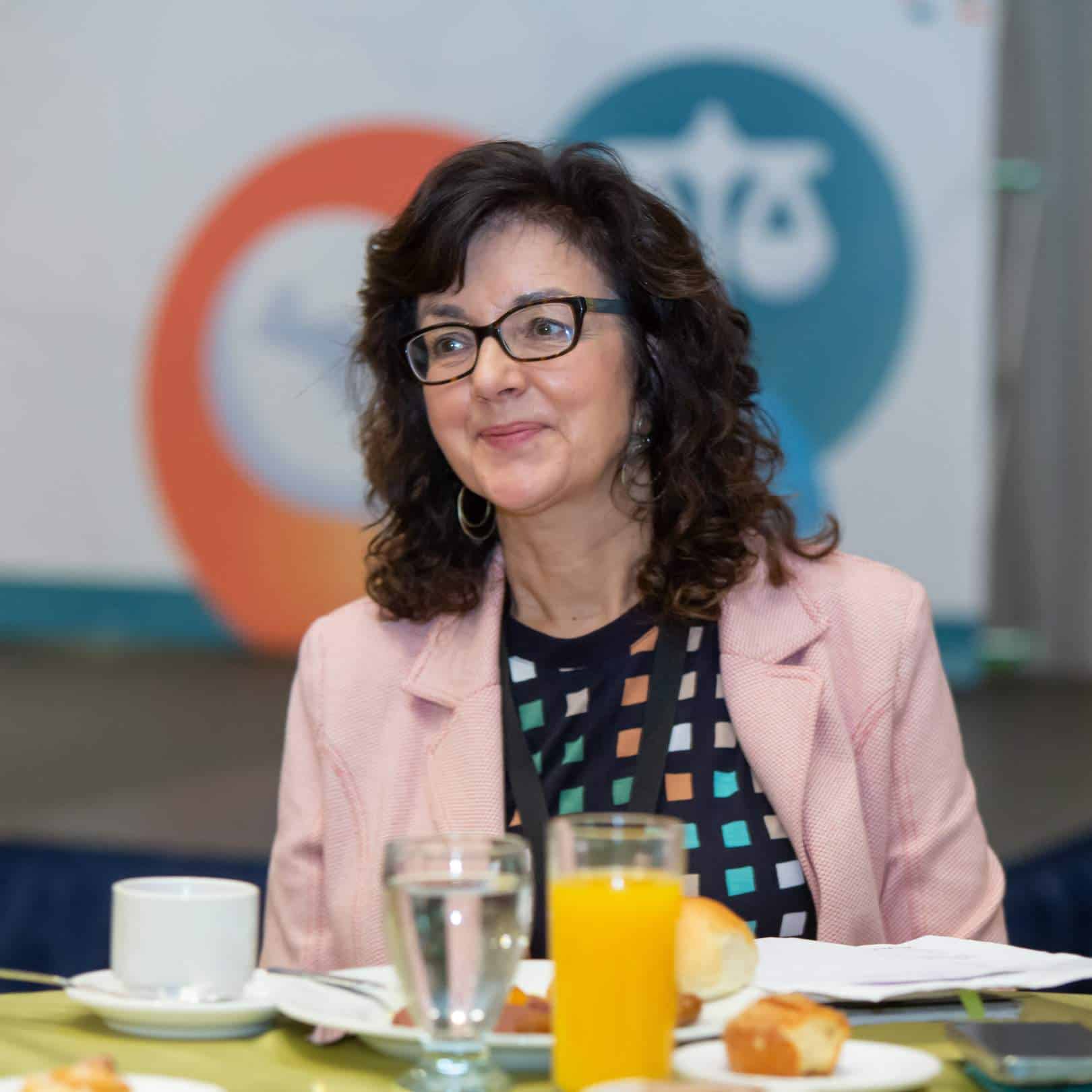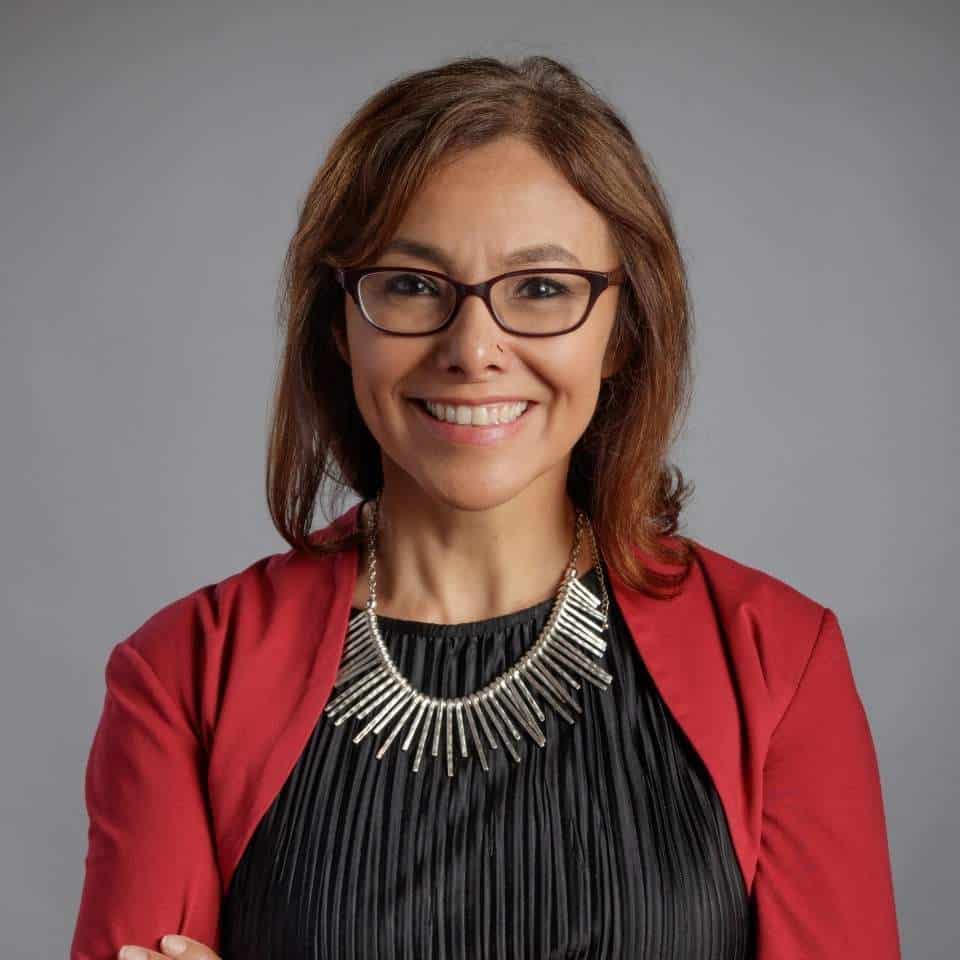 Dear friends,
We are so pleased to look back at another successful Central America Donors Forum. At our first gathering since the beginning of the pandemic, it was an honor and a pleasure to gather hundreds of leaders around a common goal: to promote development, justice and equity in Central America.
By the numbers
Over the course of 3 days, CADF 2022 gathered 490 leaders from 320 unique organizations. The CADF 2022 audience arrived from 18 countries and included over 150 speakers.

Scroll through a few other data points below.
3 days
5 strategic tracks
52 total sessions
29 panels
8 roundtables
17 sessions streamed online
14 networking events
490 attendees
155 speakers
18 countries represented
320 organizations
86% senior-level attendees
66% first-time attendees
25 sponsors
14 Host Committee members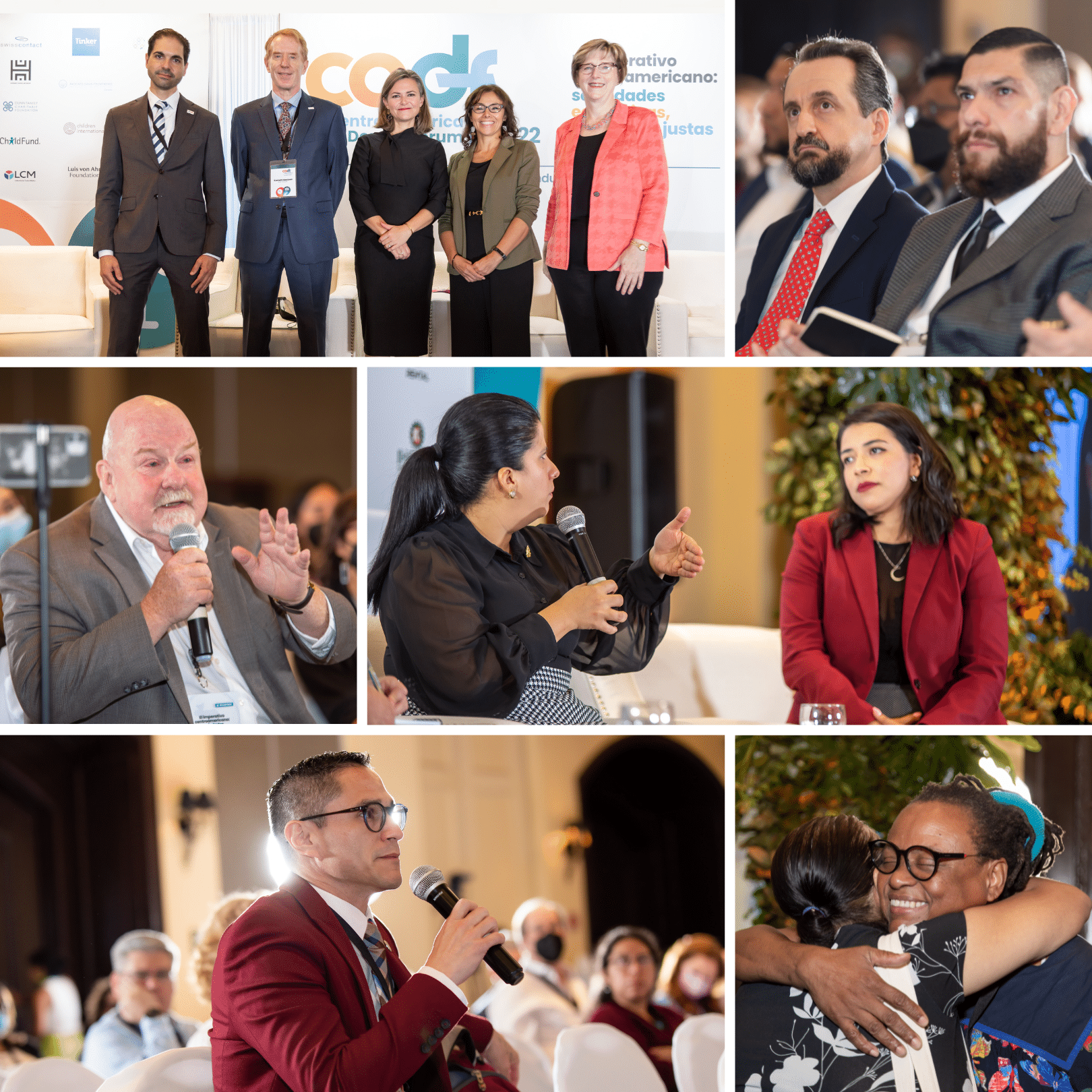 Press & Democracy
Freedom of the Press and Freedom of Expression as Essential Elements of Democracy
Freedom of the press is an issue that touches upon all members of society, not solely journalists. Speakers in this session affirmed that partnerships and alliances—whether from philanthropy or government agencies—are vital to ensure the freedom of expression, and although there are no perfect models of support, successful strategies should promote ecosystems that allow independent media to operate. Support for capacity building and strengthening institutionalization, improving economic sustainability, building transparency and the general diversification of independent media outlets make up key areas to fund.
Addressing issues that threaten freedom of expression requires the inclusion of the international community, and support for journalists in exile (a last resort for protection) is equally important. Today, there remain multiple challenges, including sustained attacks by those in power, facing Central America independent media in their quest to uphold transparency and accountability.
Quotes
"Sometimes, it may appear that freedom of the press is only an issue for journalists, when the issue of freedom of the press is actually about all citizens."
Alejandra Gutiérrez
"Within extraordinary contexts, there's extraordinary journalism like the one here in Central America."
Michael Camilleri
"Our interest in partnership is for everyone to be well, so that we may be well. Stronger support from the European Union is needed in Central America."
Ambassador Hans Magnusson
"Good journalism has not stopped. Despite the attacks and threats, journalists continue to fight for democracy."
Ximena Andión
"In the region, it's not just that they criminalize you; it's that they eliminate all methods of your work. Considering this, we're remapping our approach and modes of operation."
José Luis Sanz
Speakers
José Luis Sanz, El Faro
Michael Camilleri, USAID
Hans Magnusson, Embassy of Sweden in Guatemala
Alejandra Gutiérrez, Agencia Ocote
Ximena Andión, Ford Foundation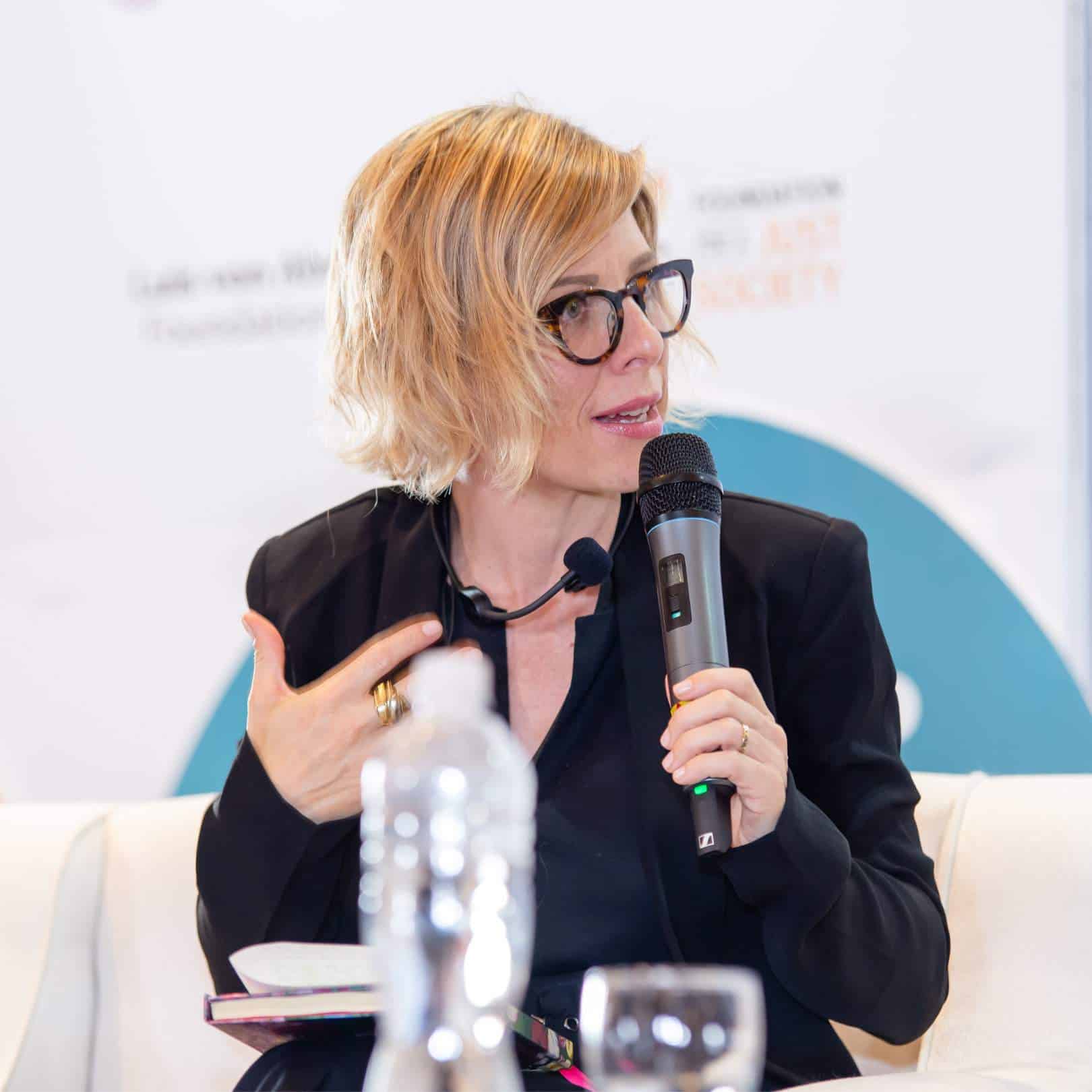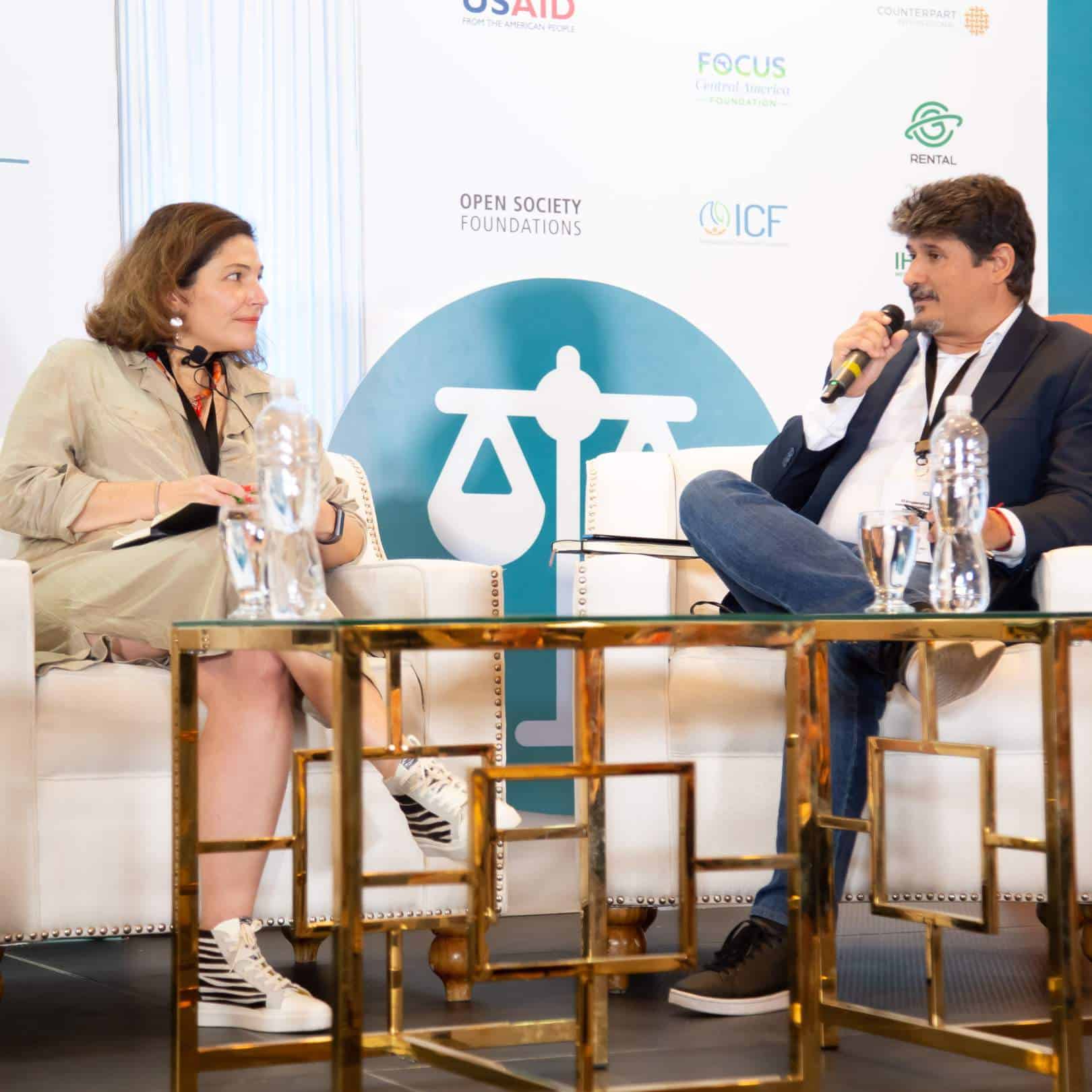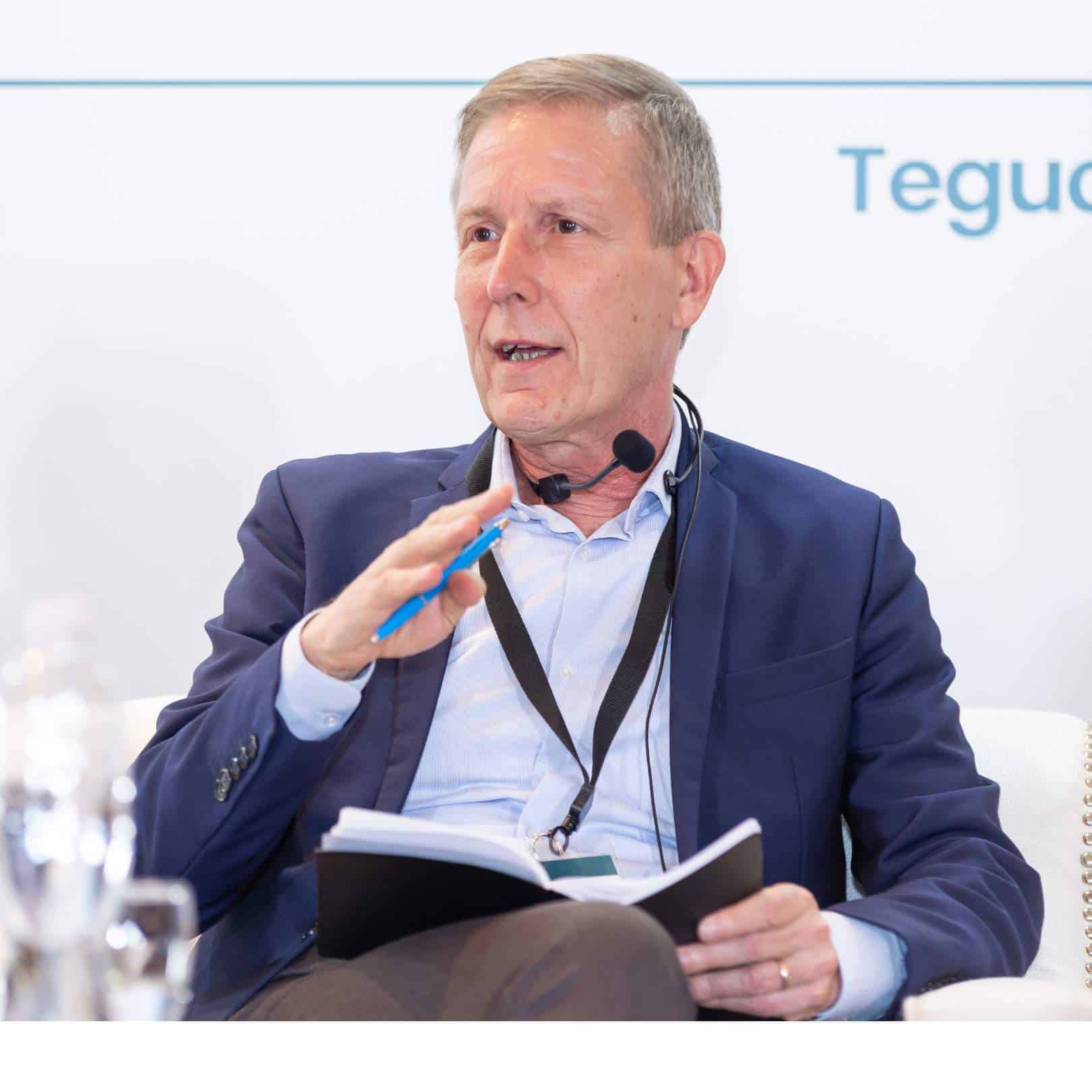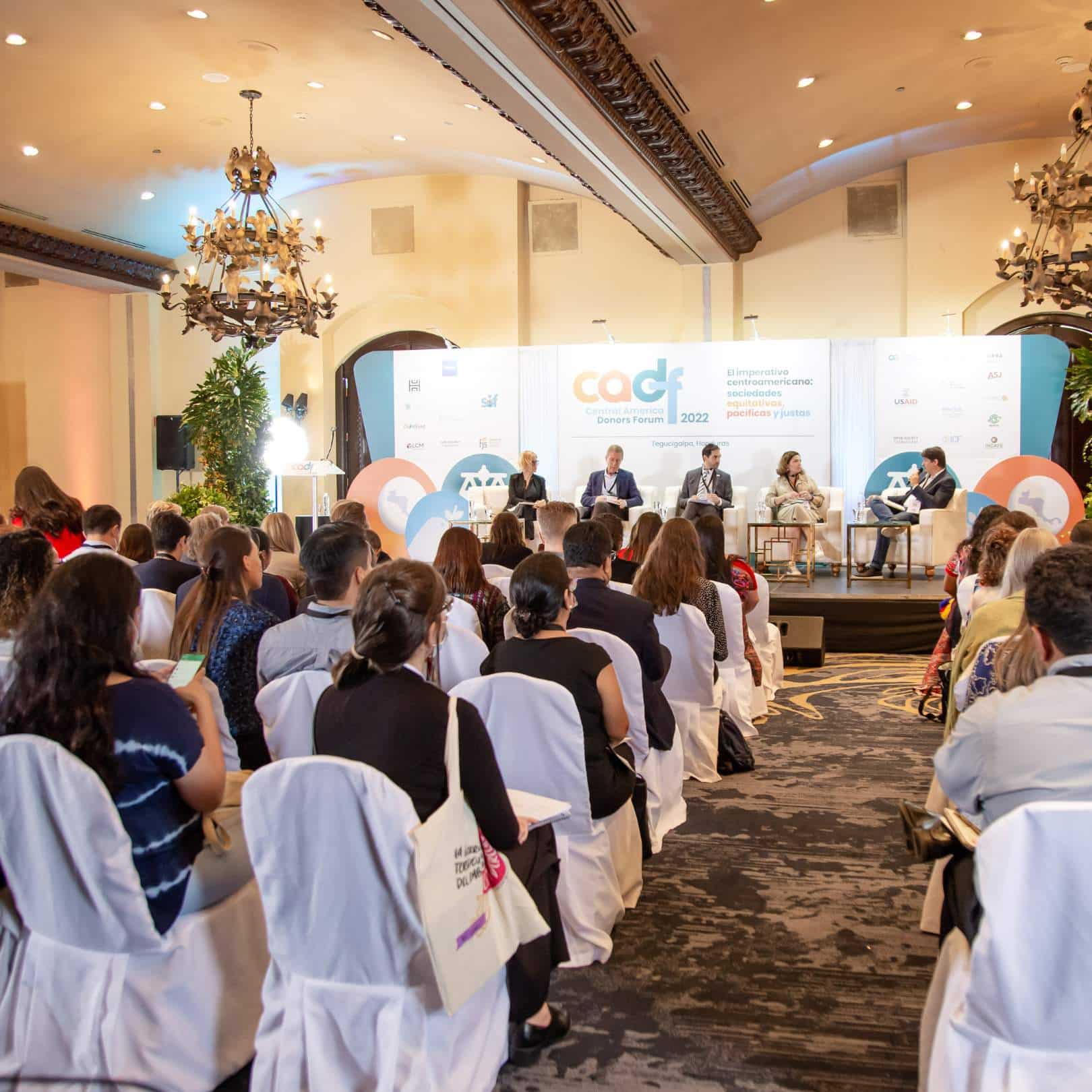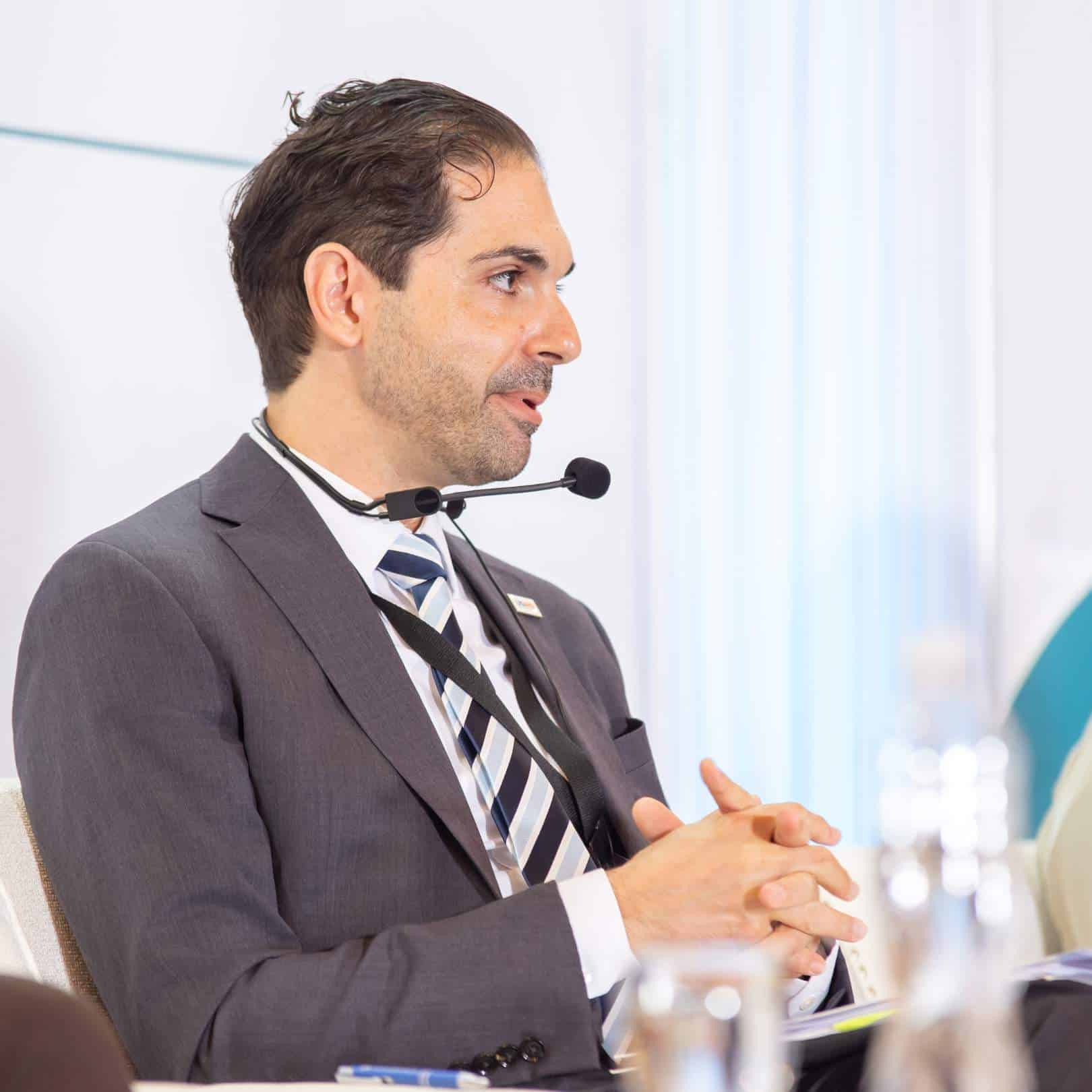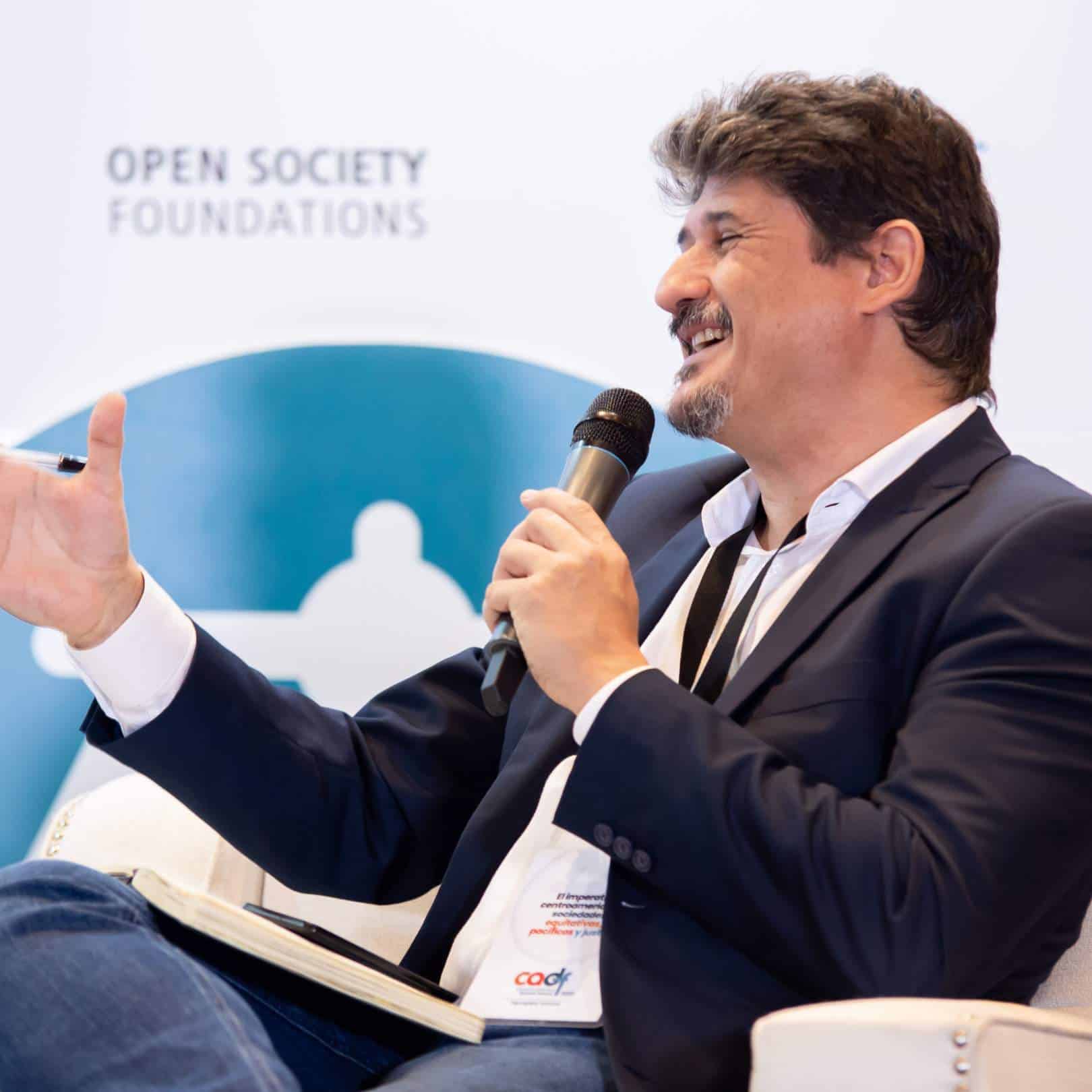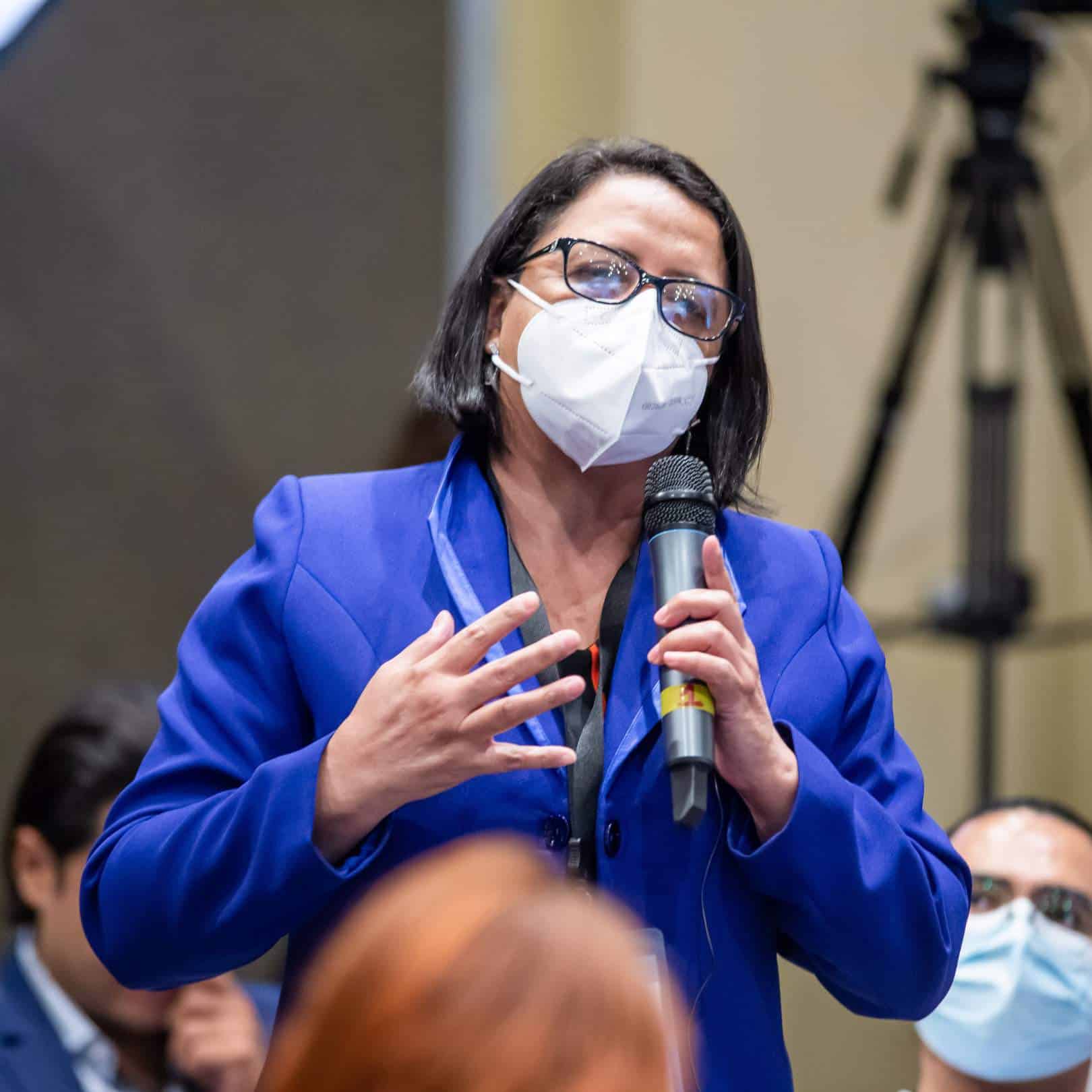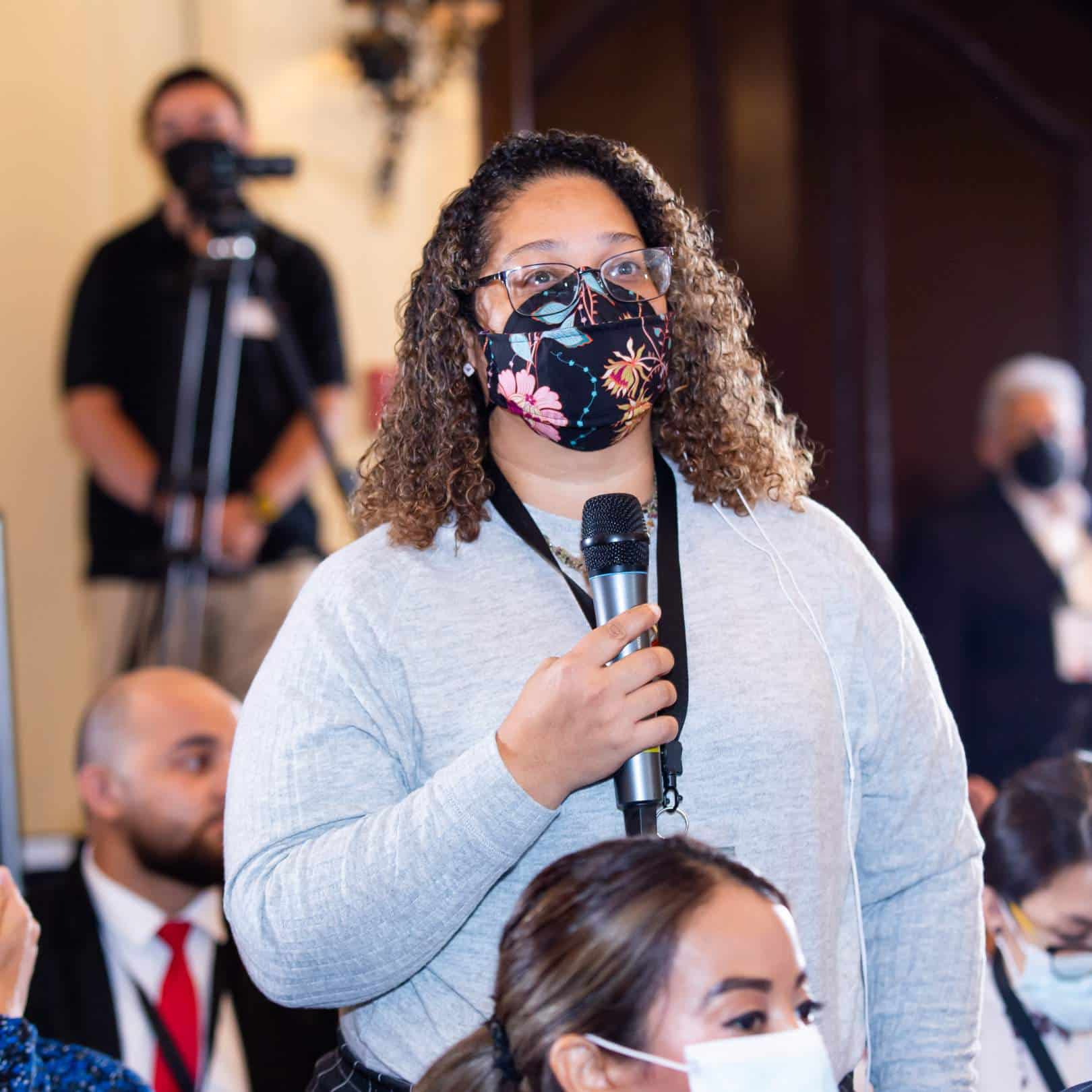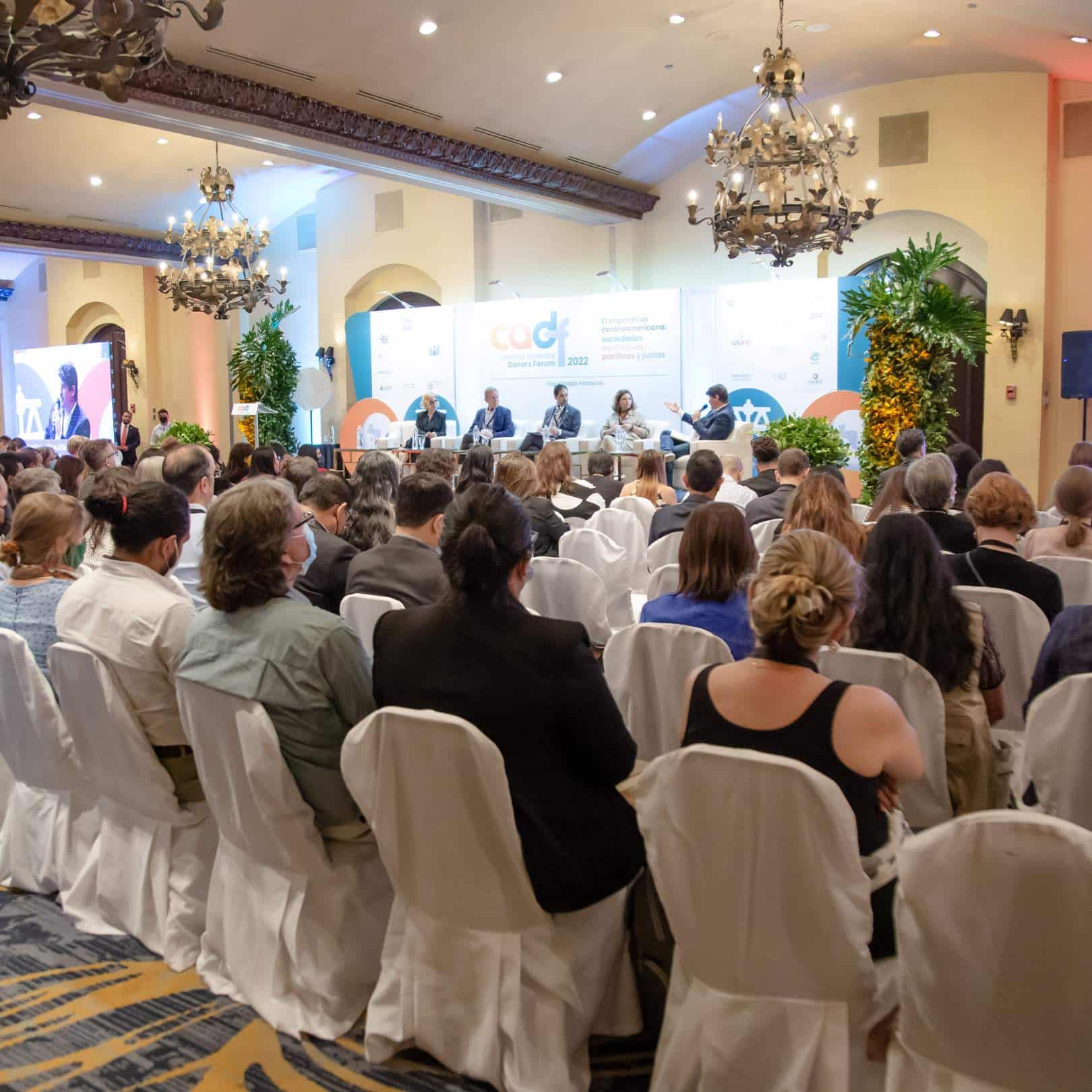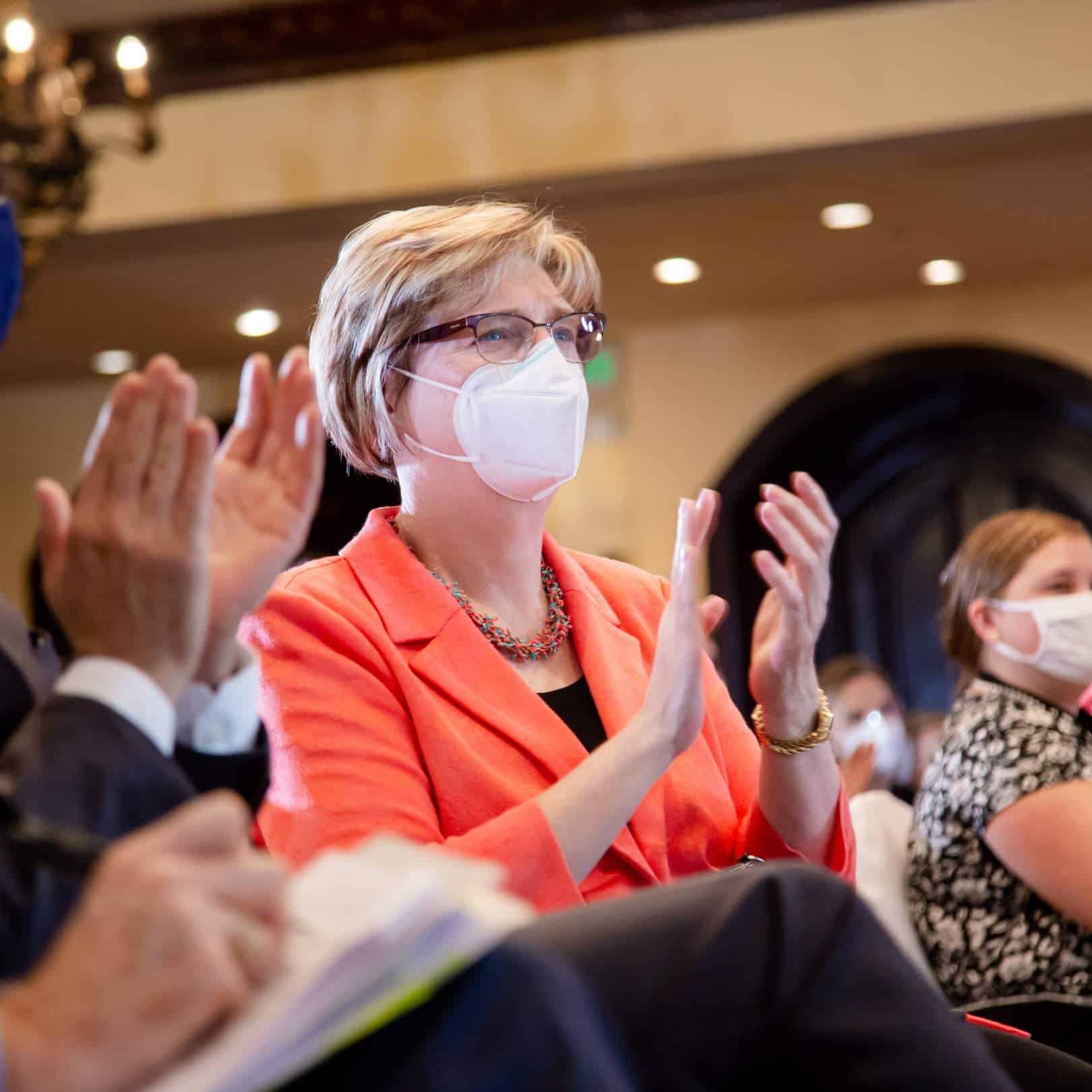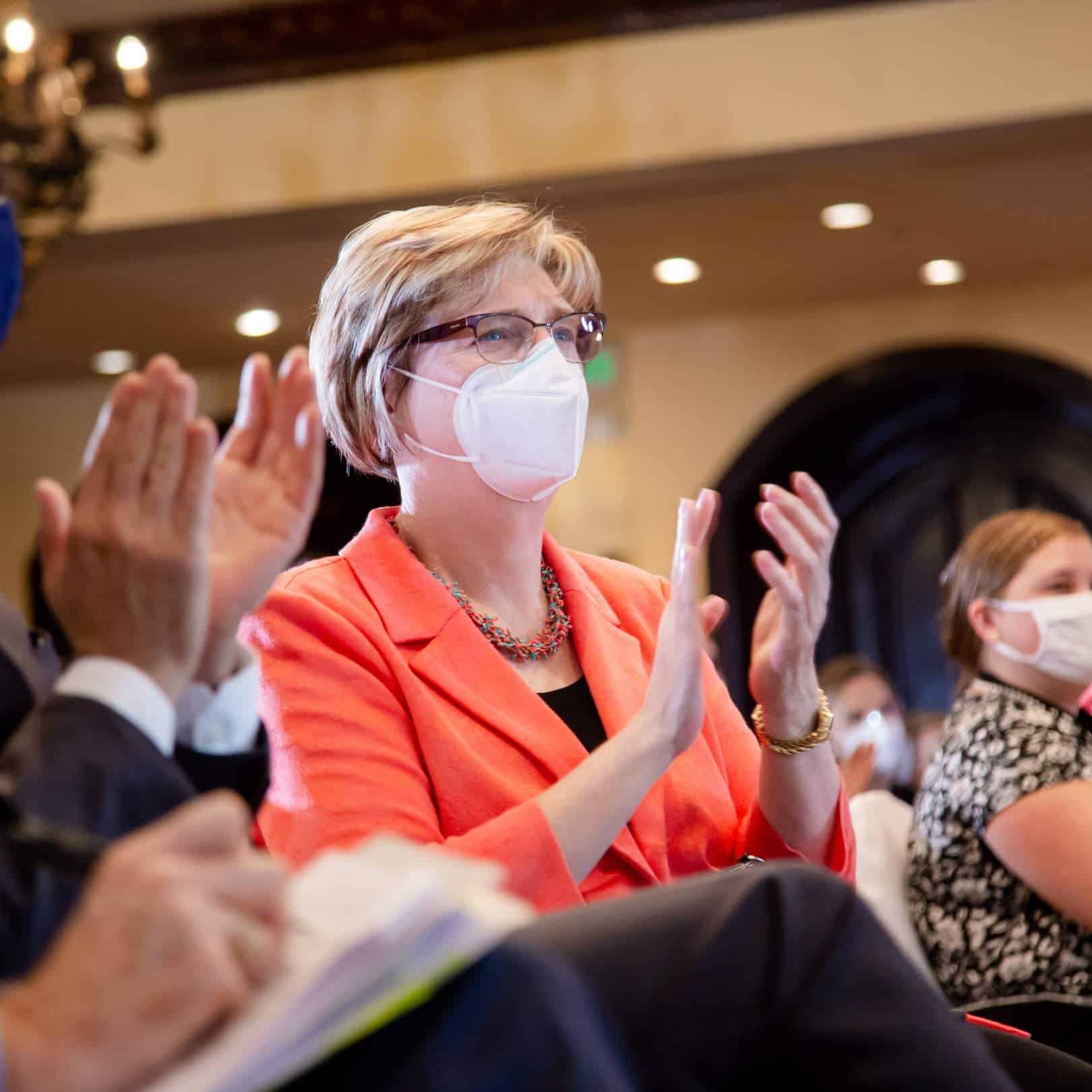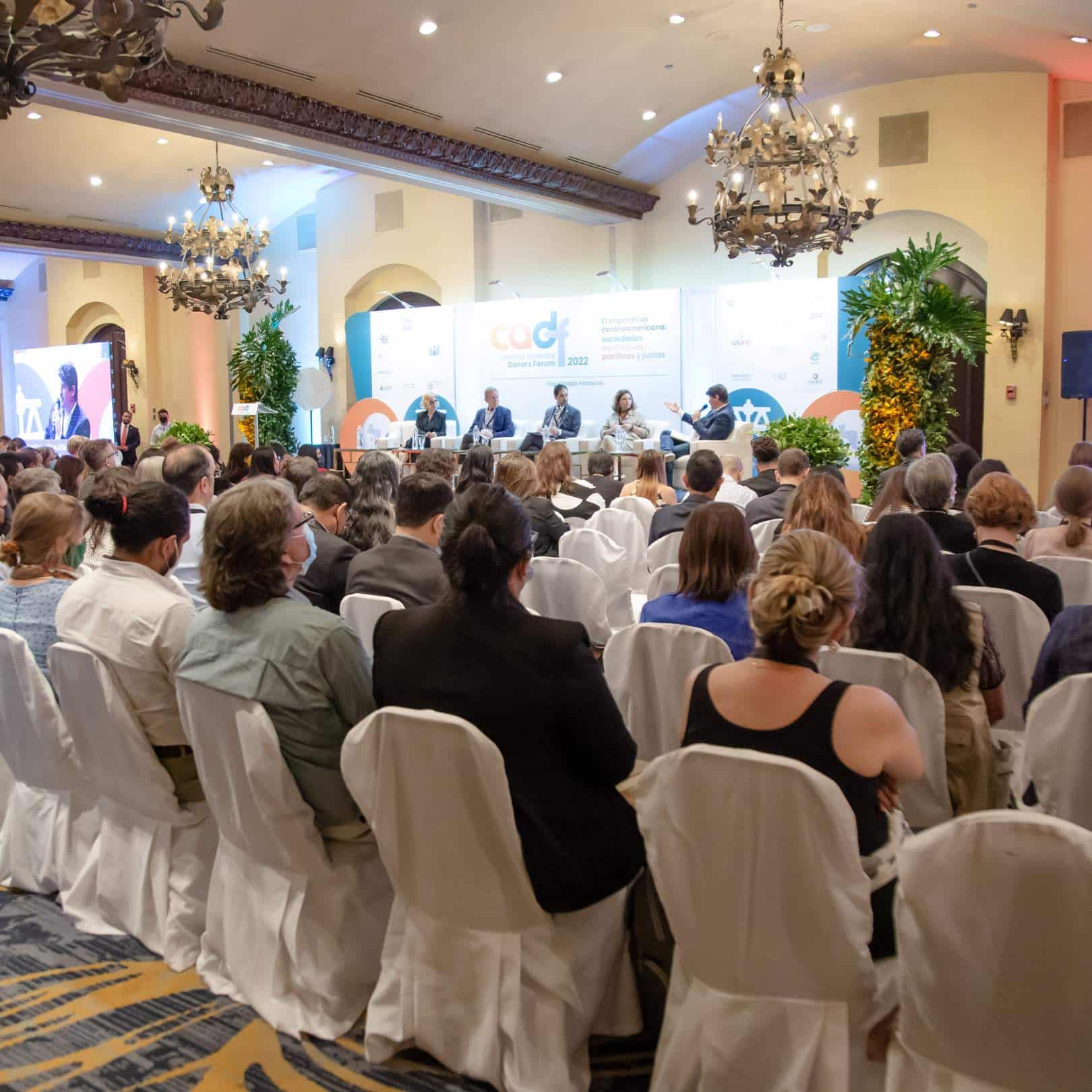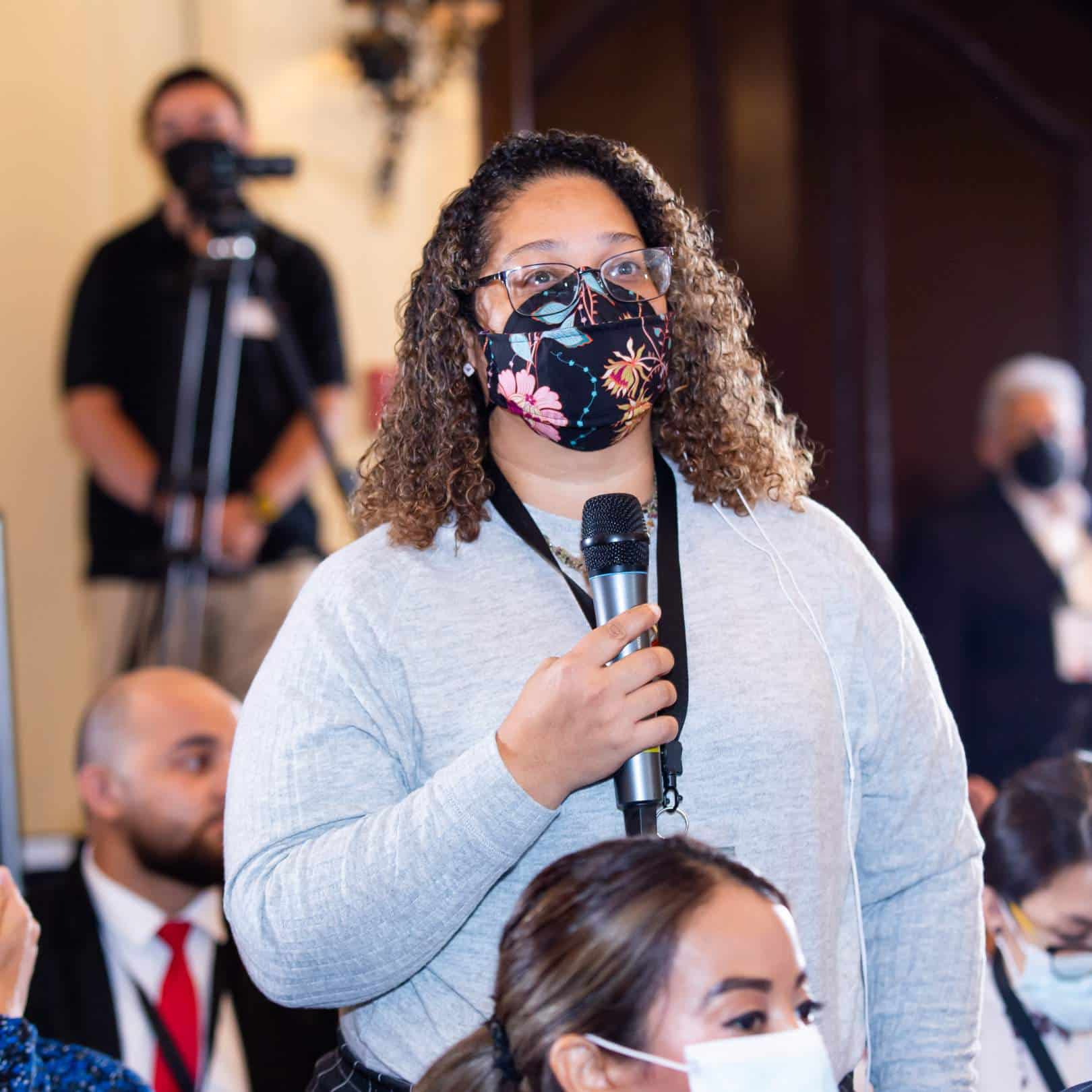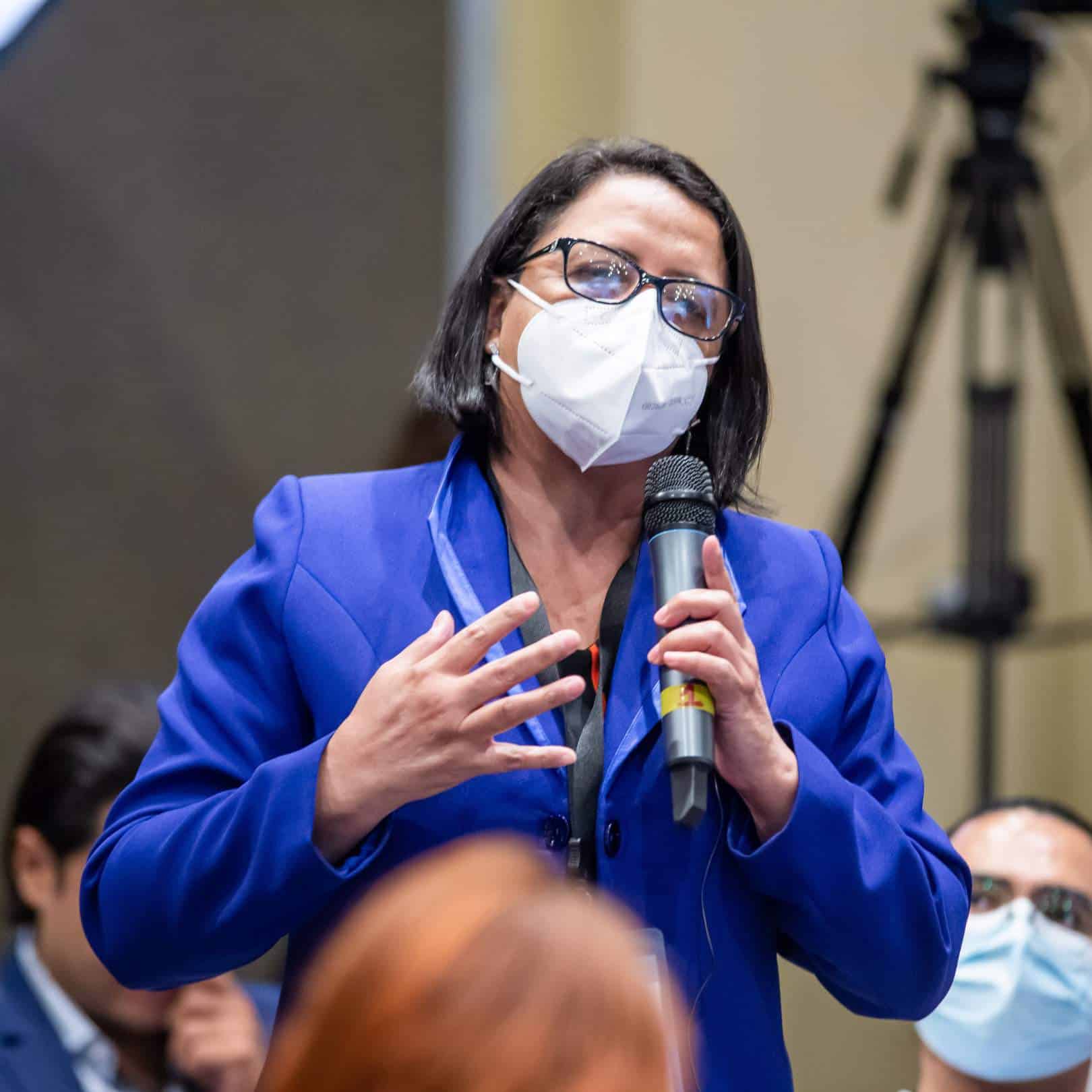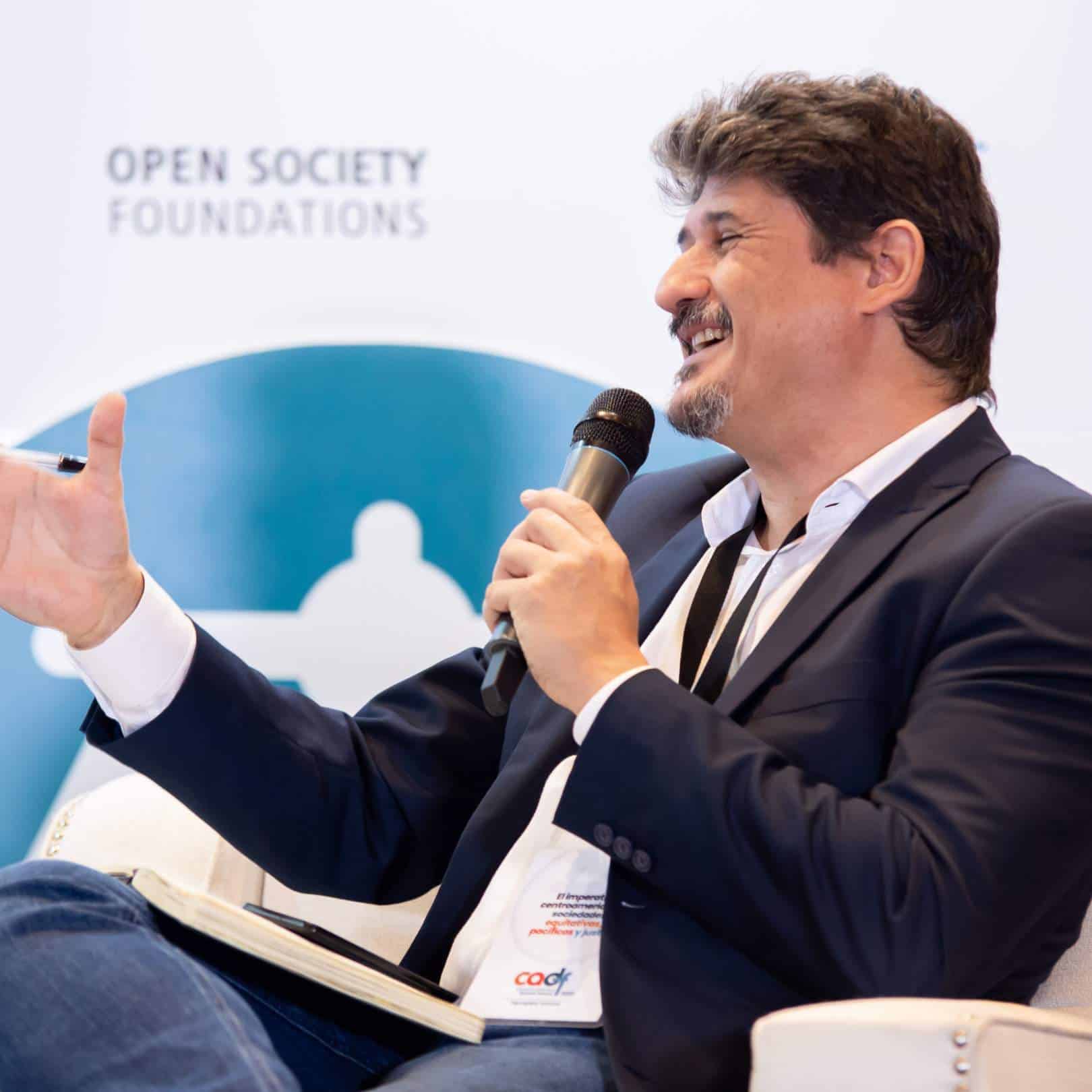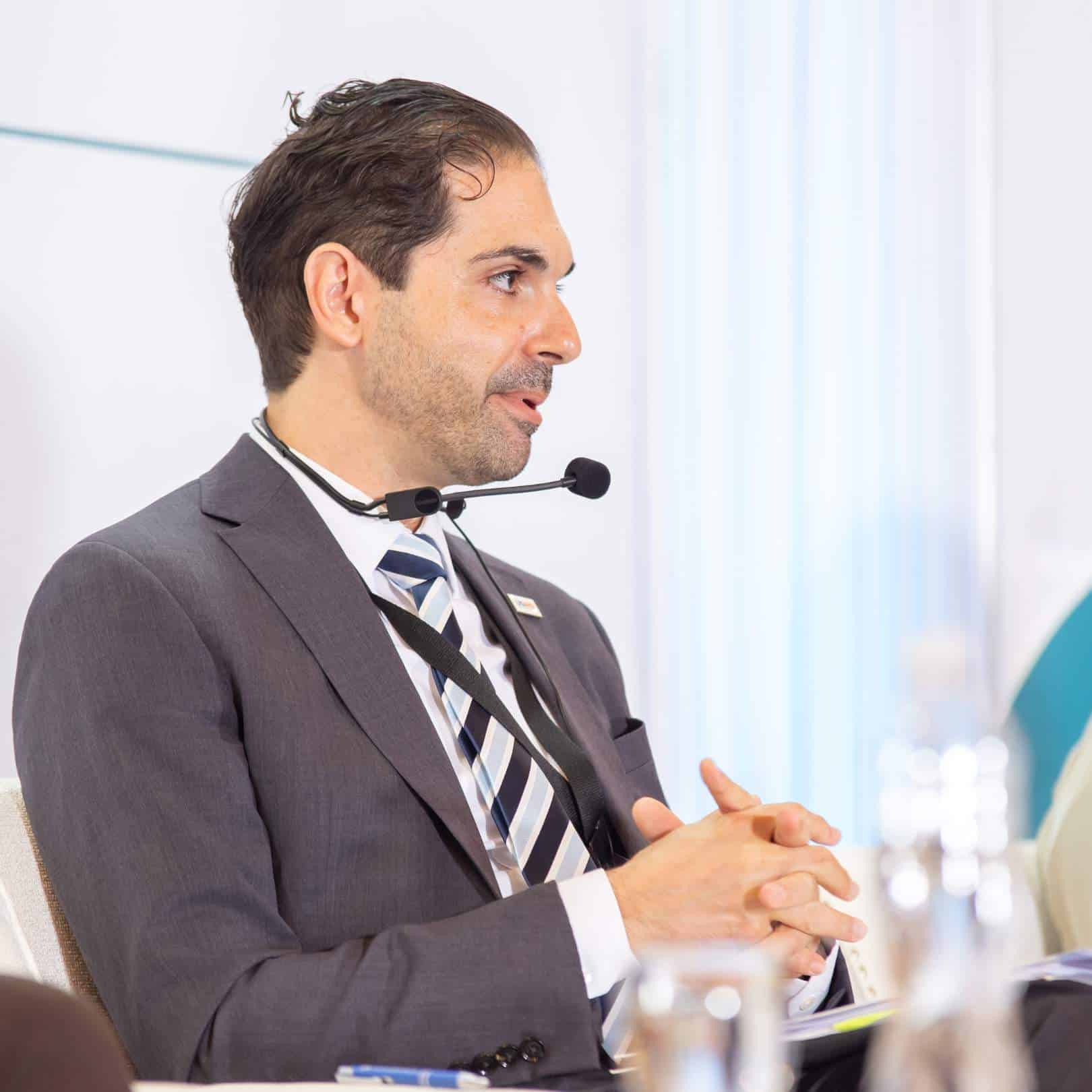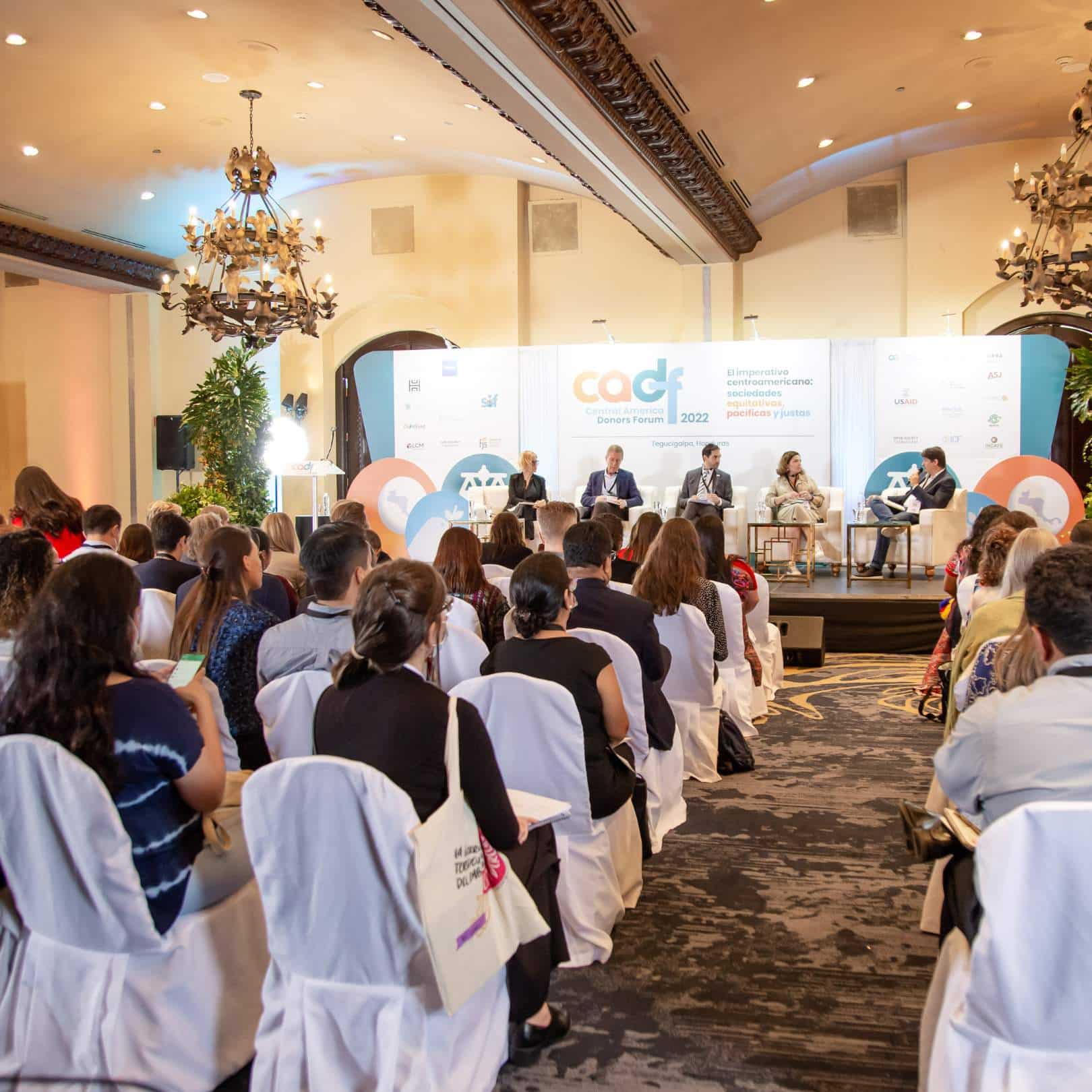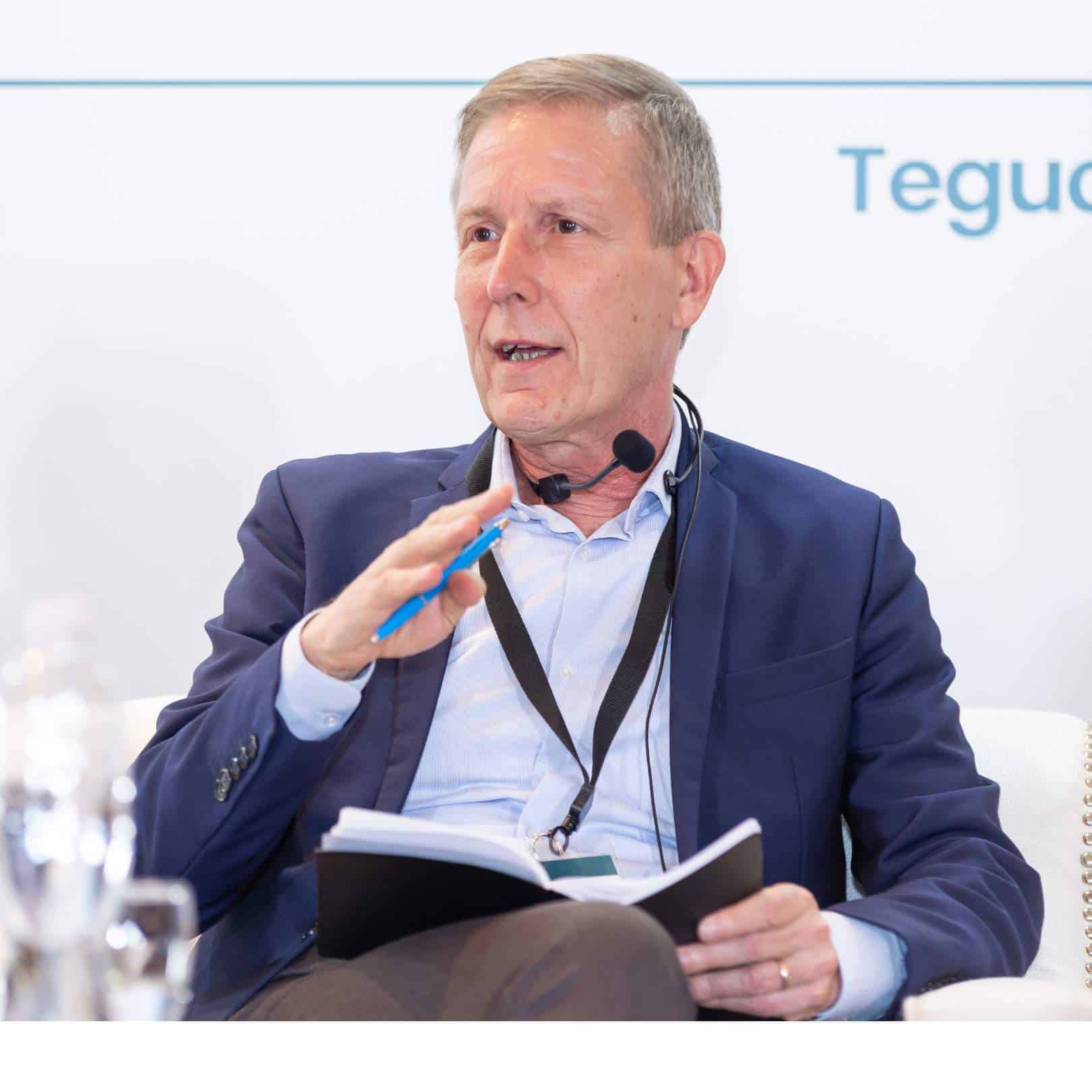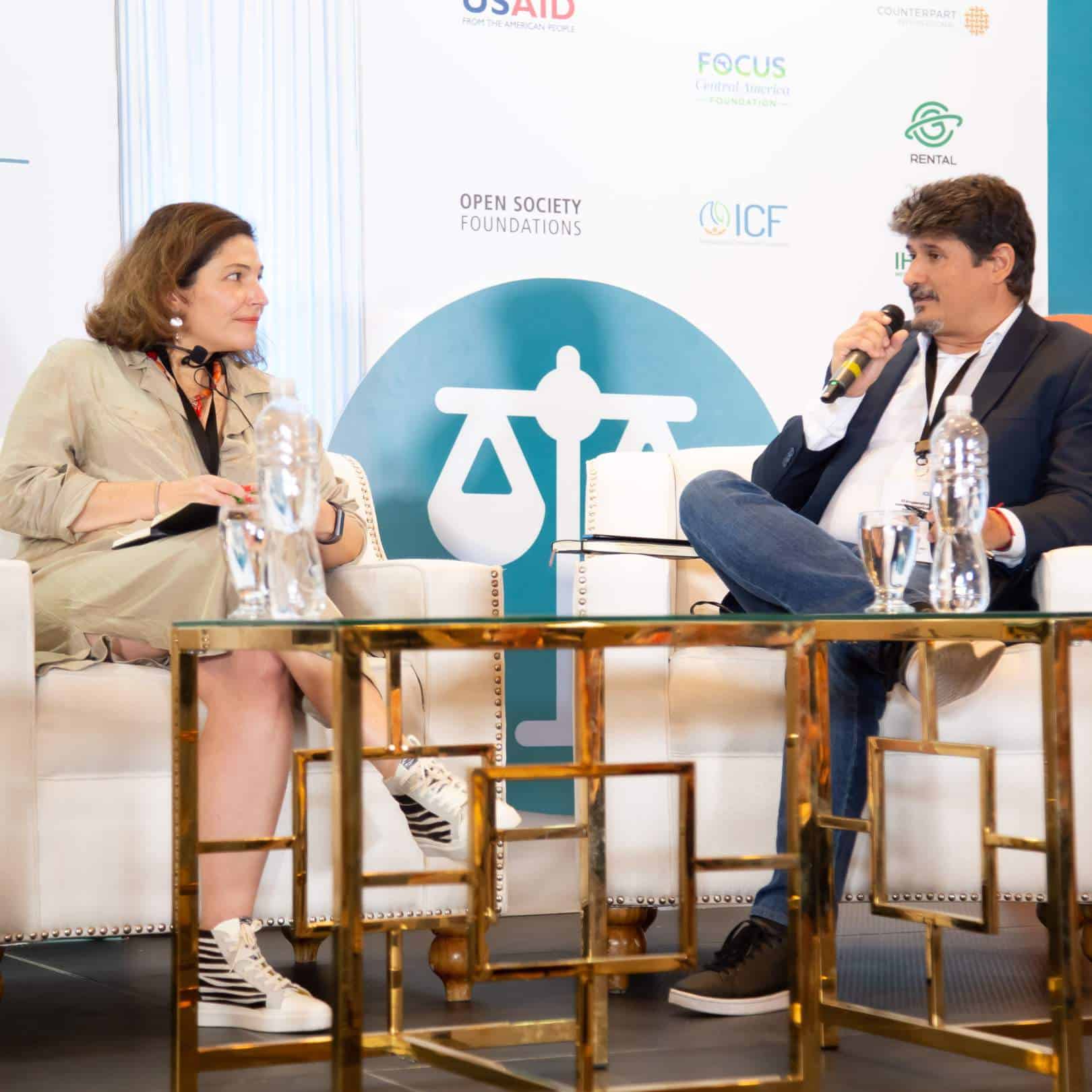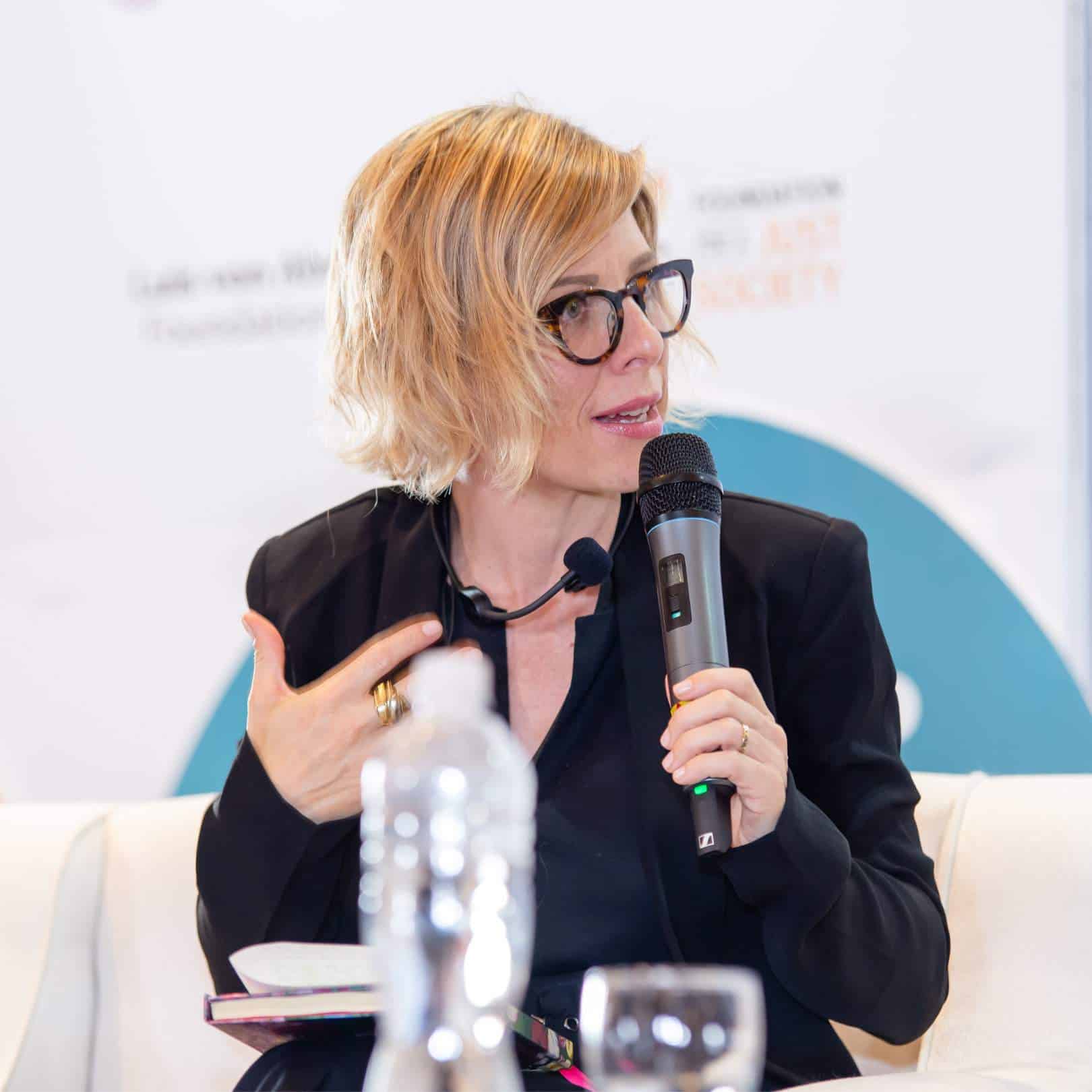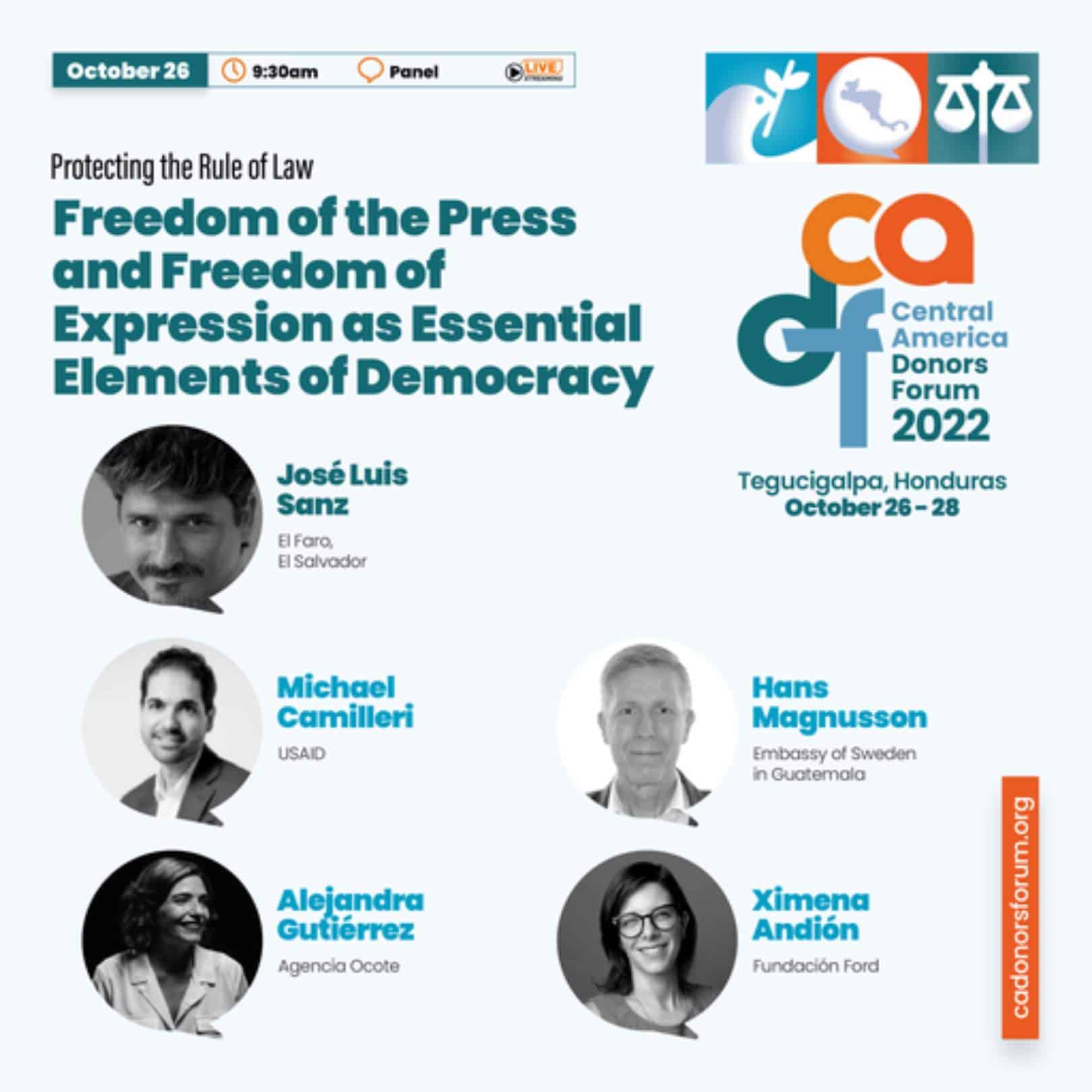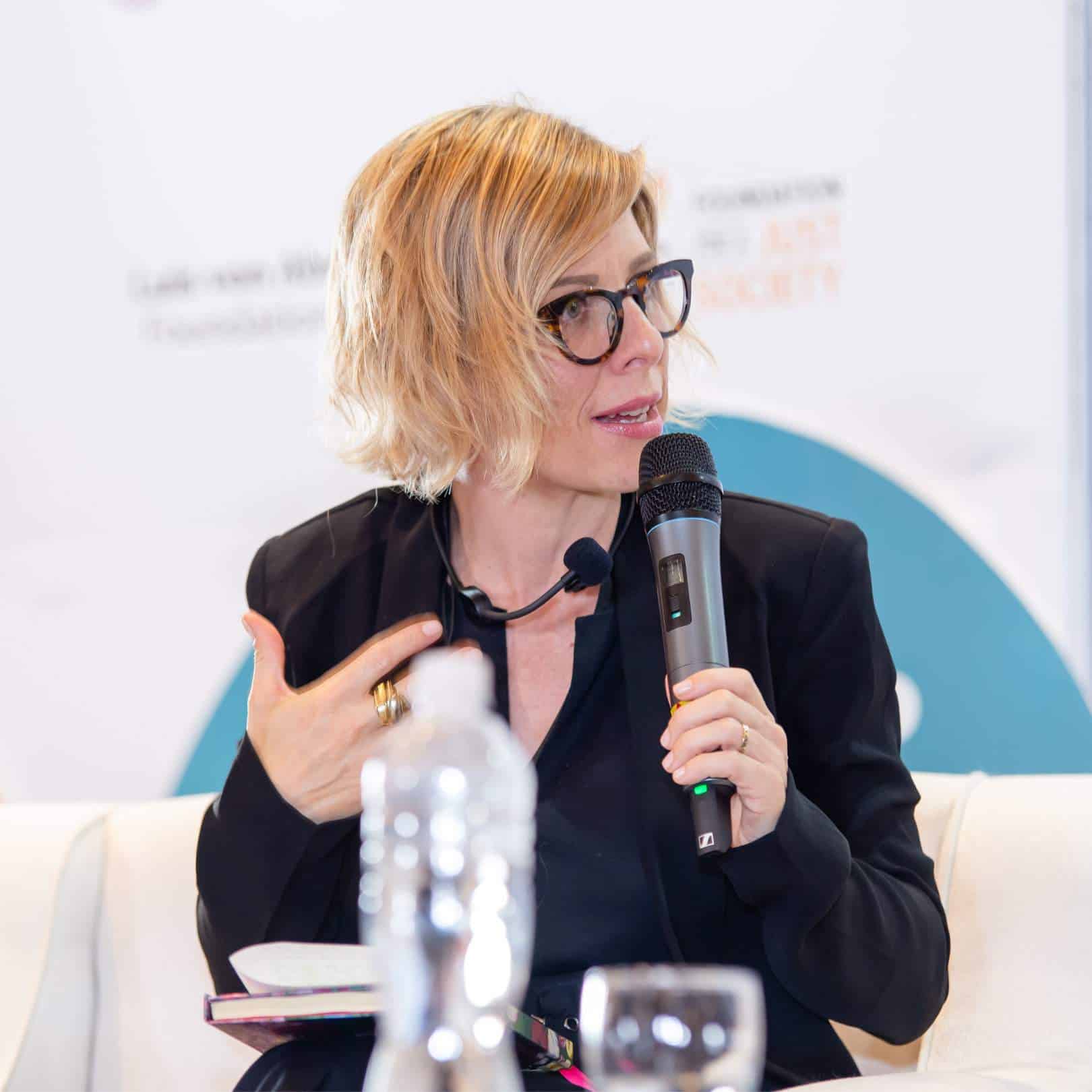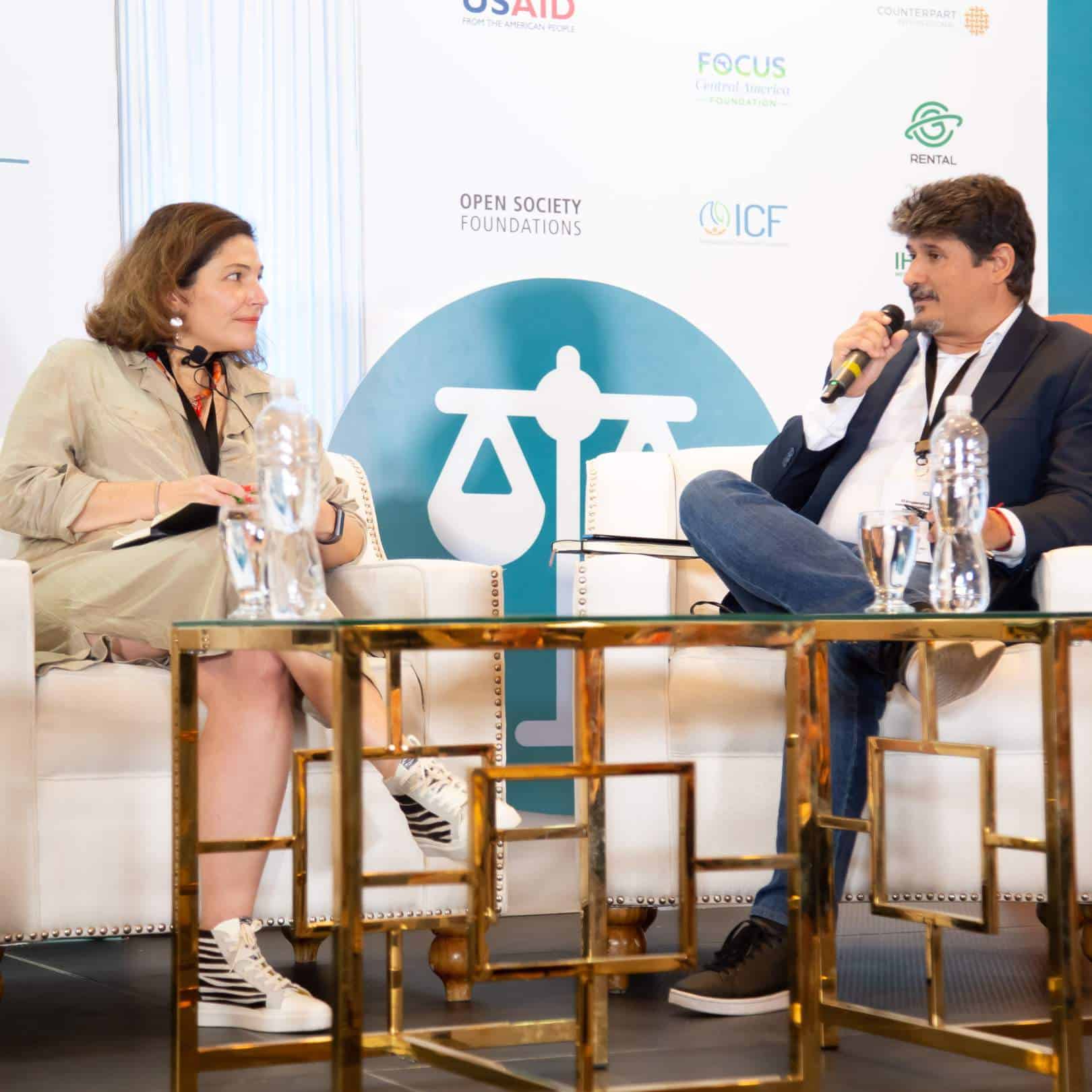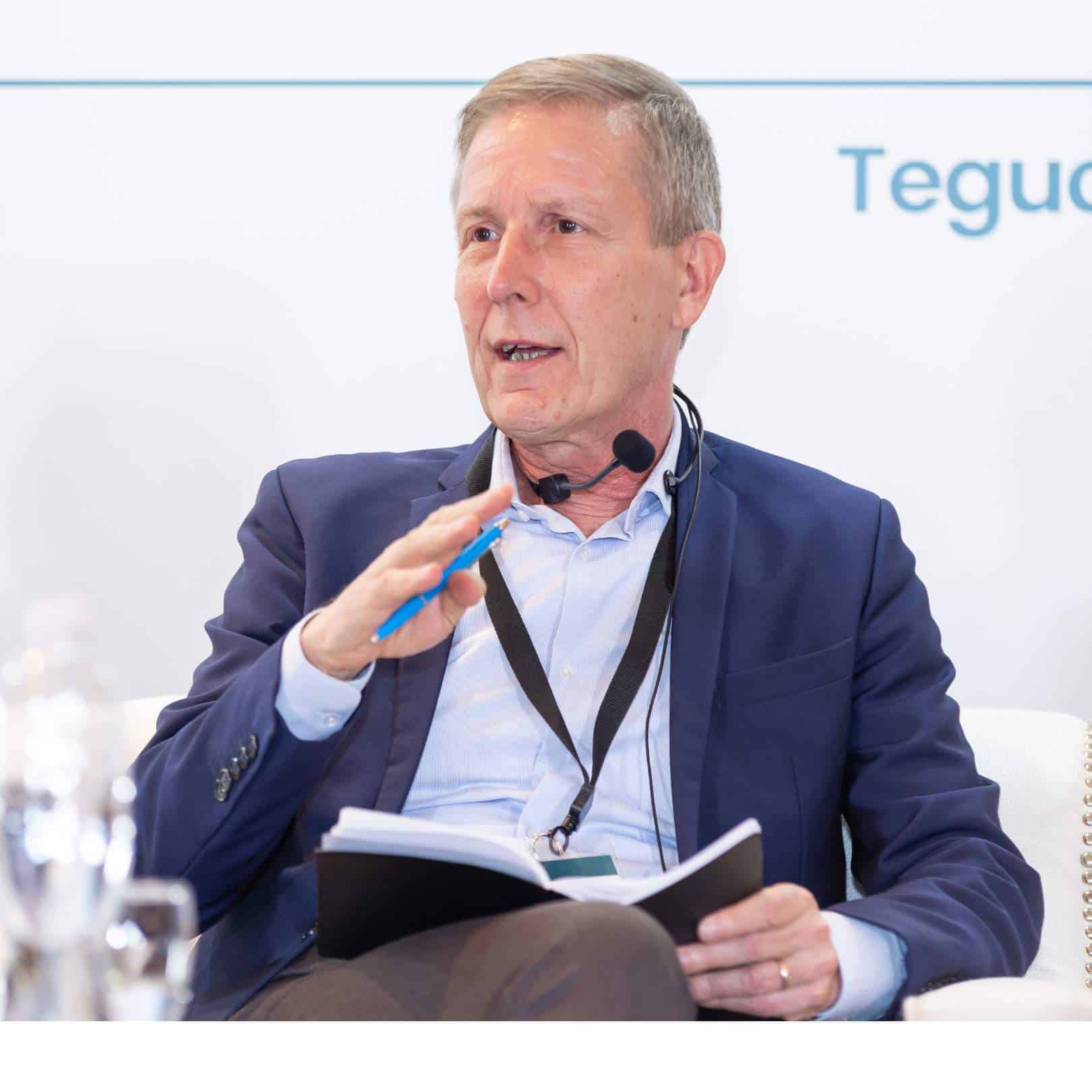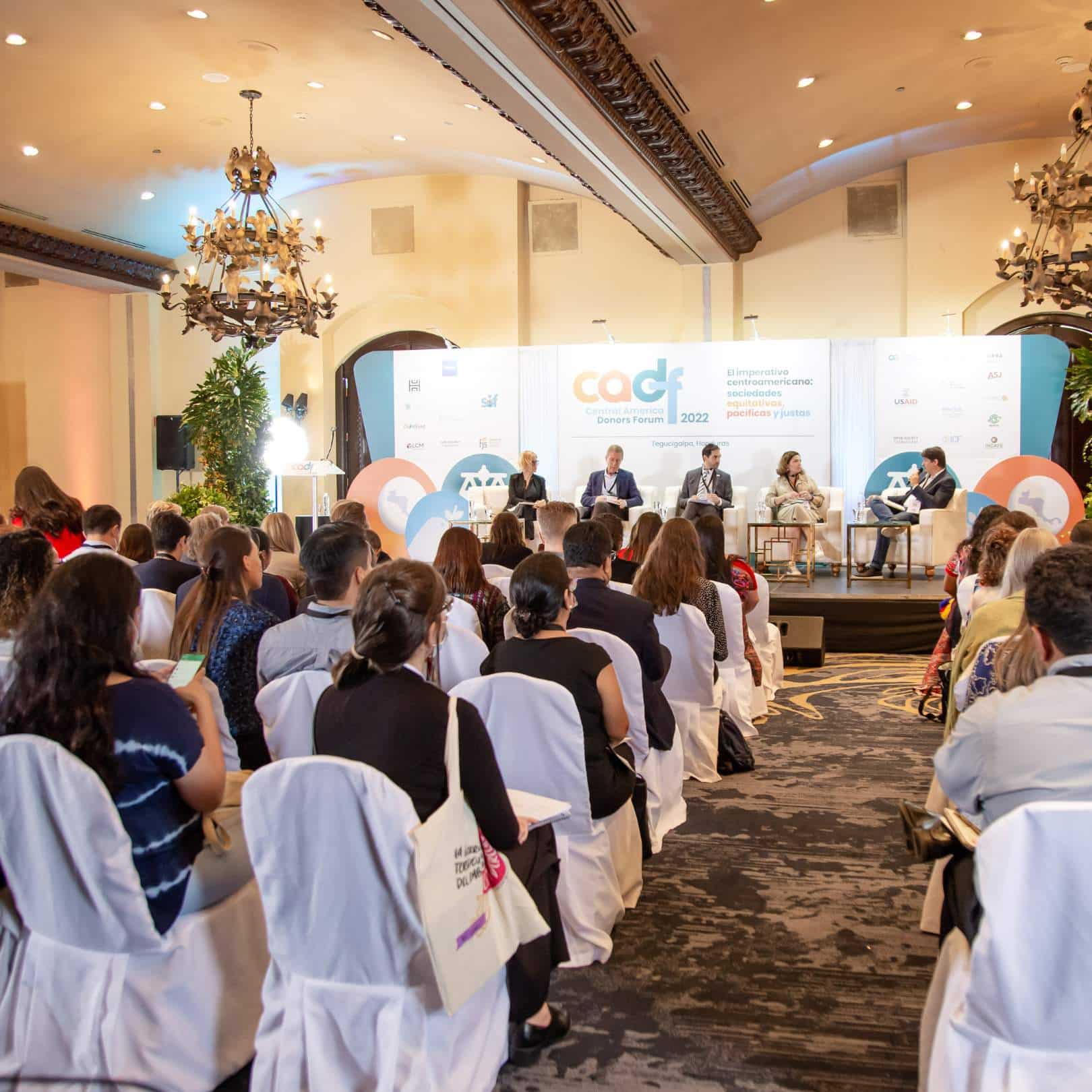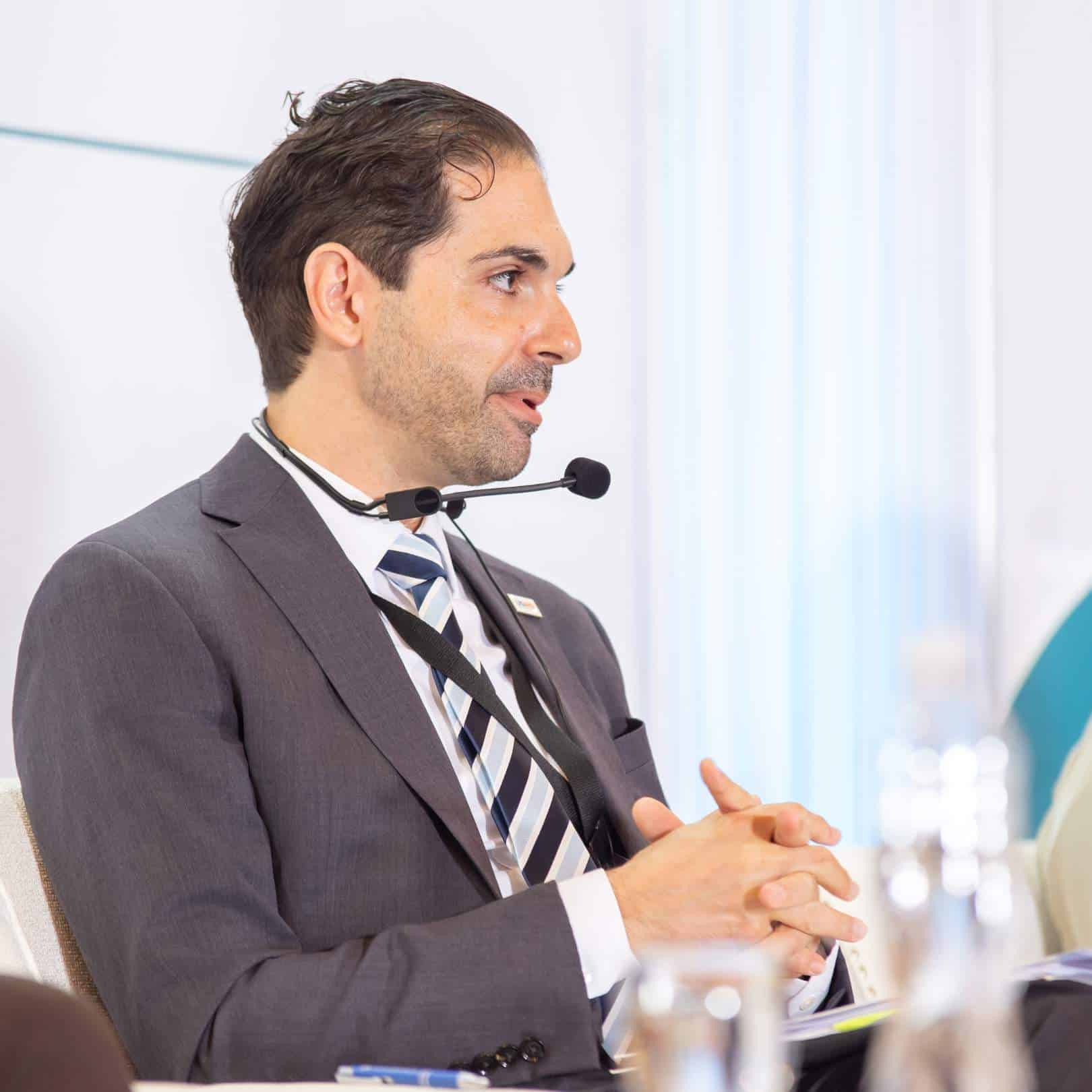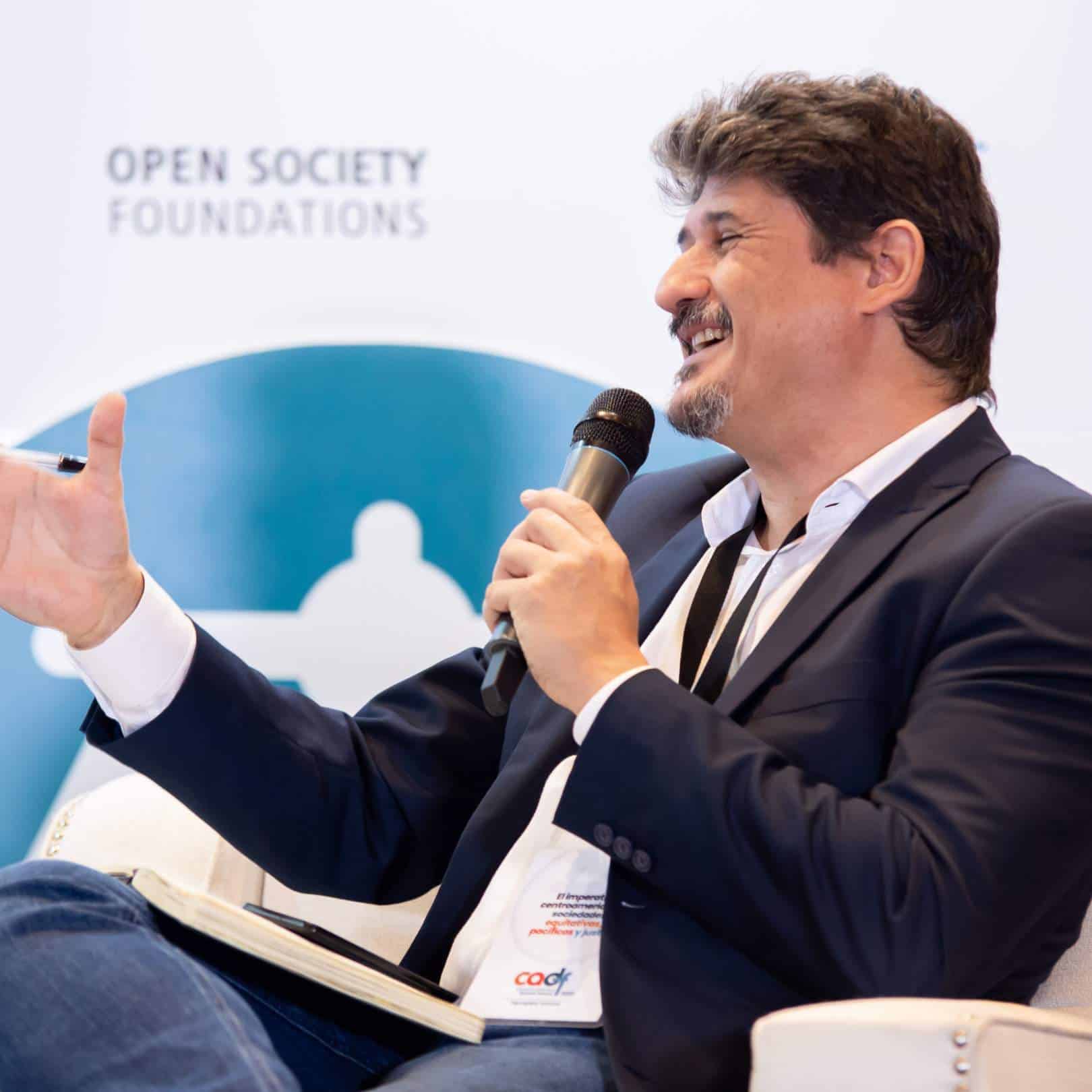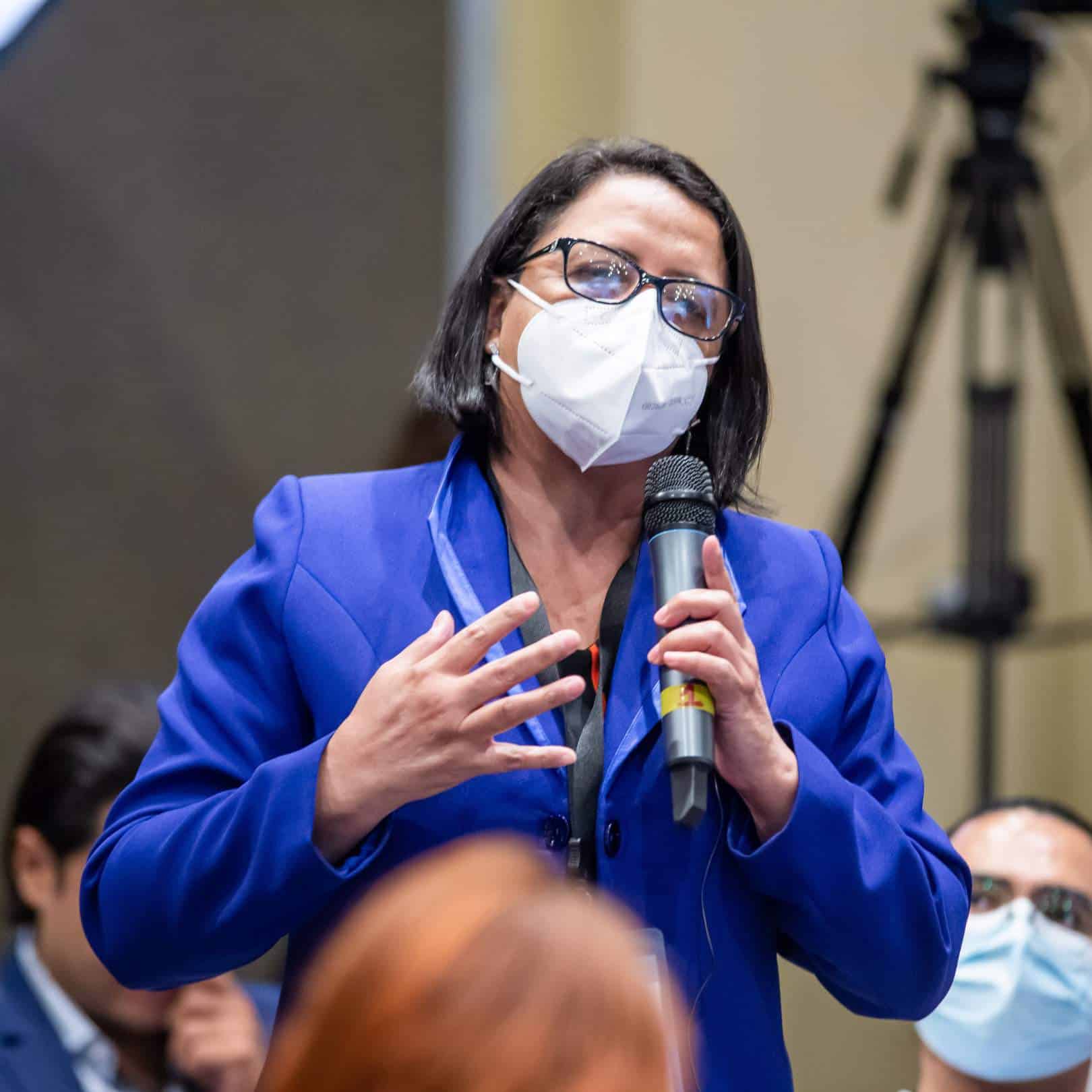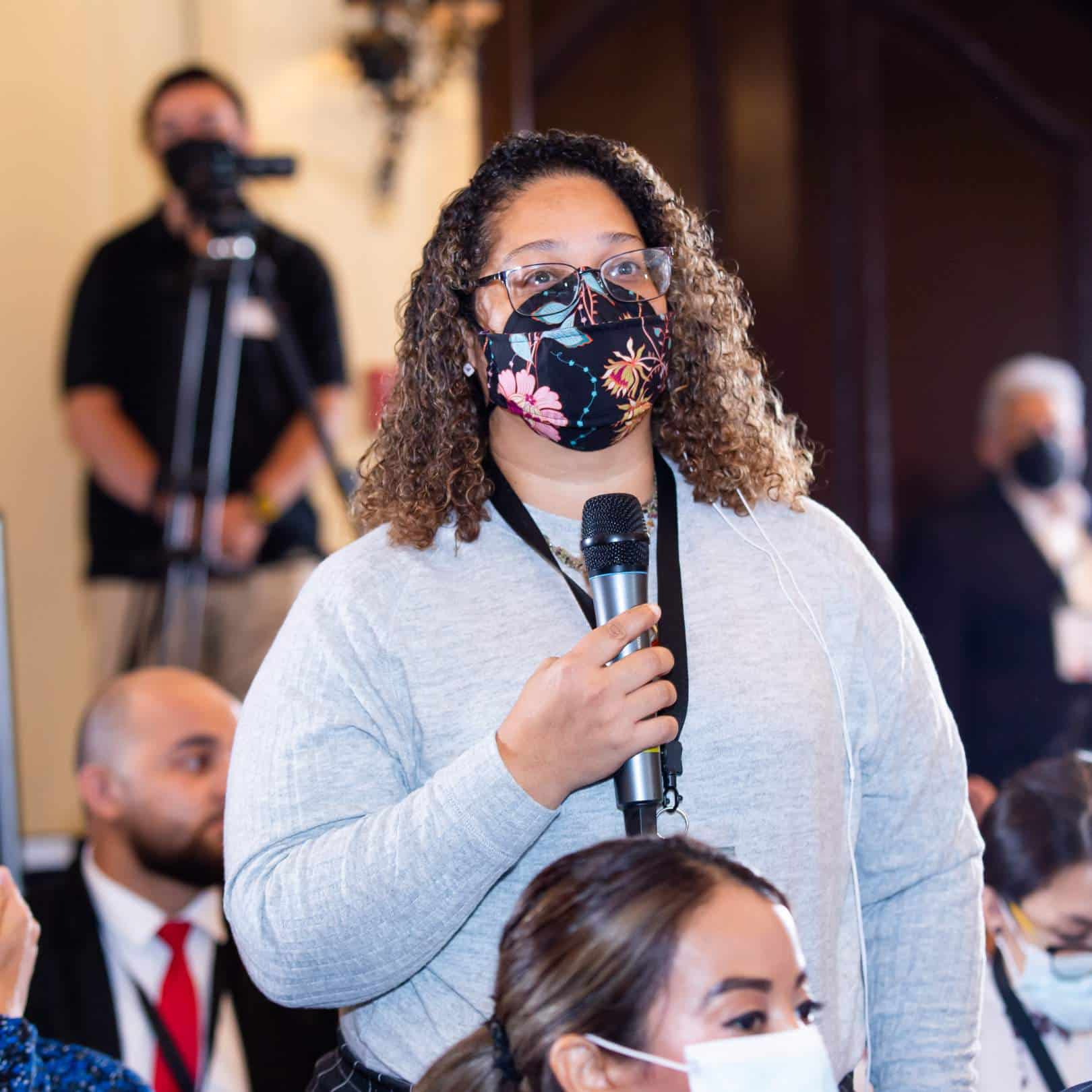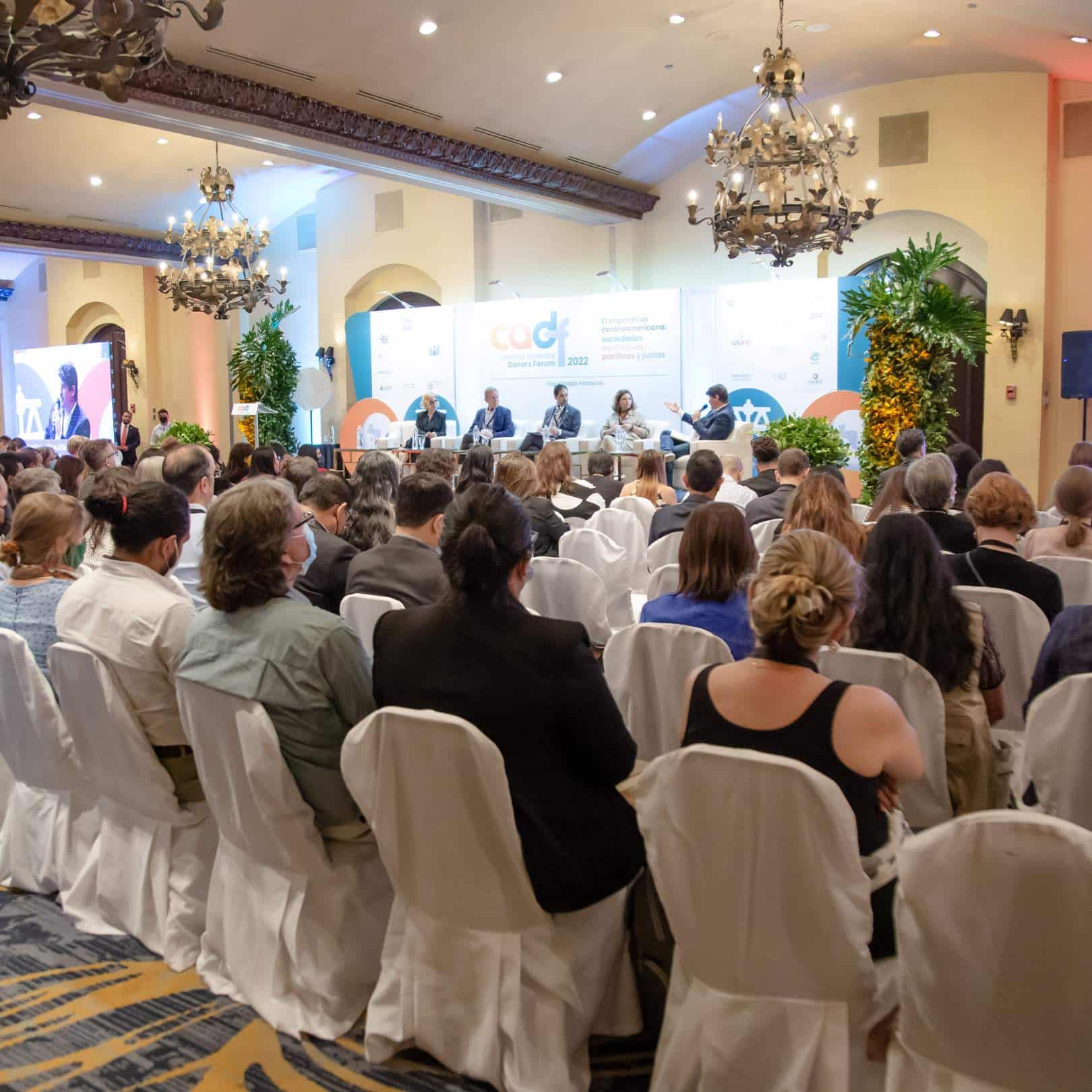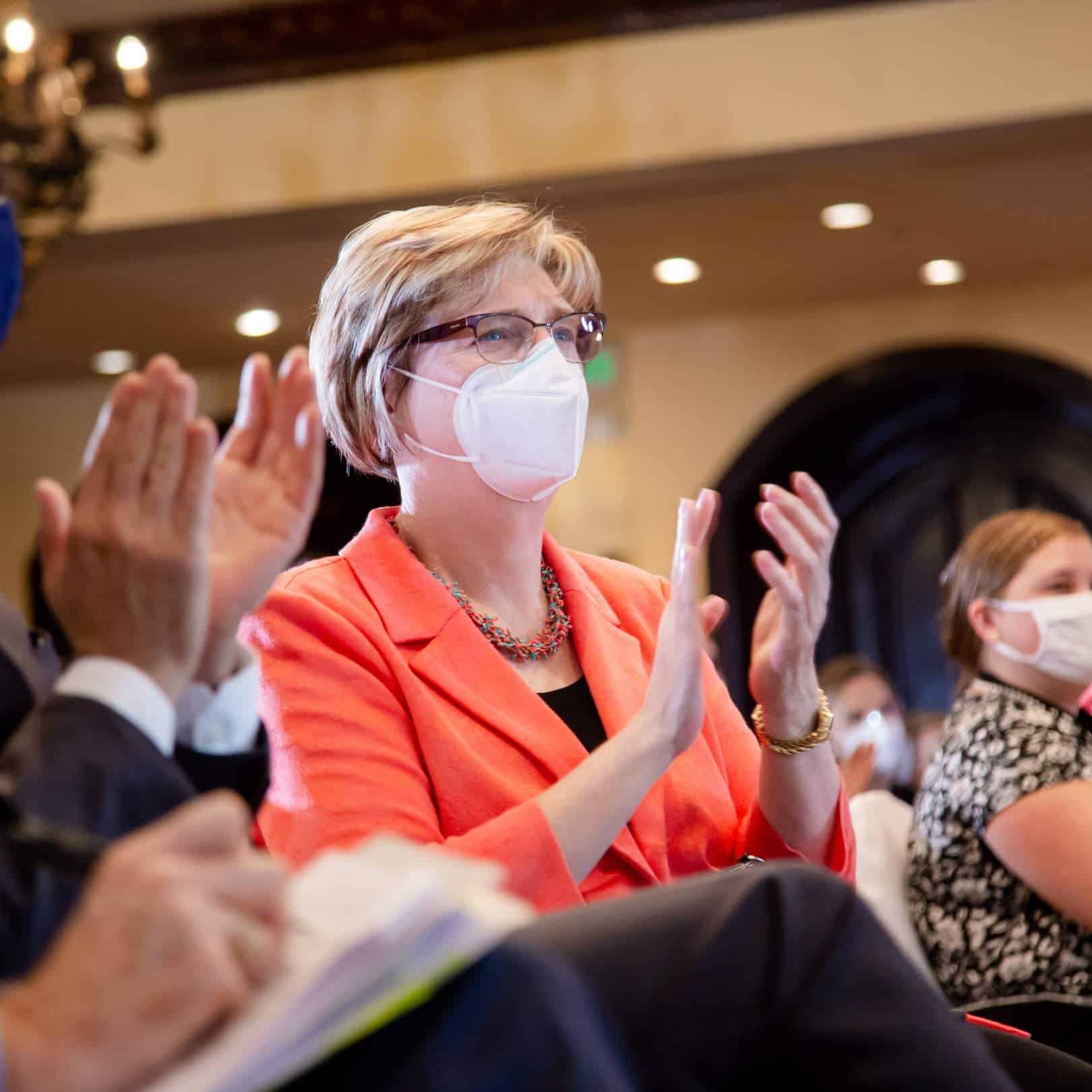 Keynote Highlight
Ambassador Laura F. Dogu
Ambassador Dogu discussed the complex mix of issues that make up the United States-Honduran relationship, and U.S. commitments to partner with Honduras to address issues of economic opportunity, security, climate change and the root causes of migration.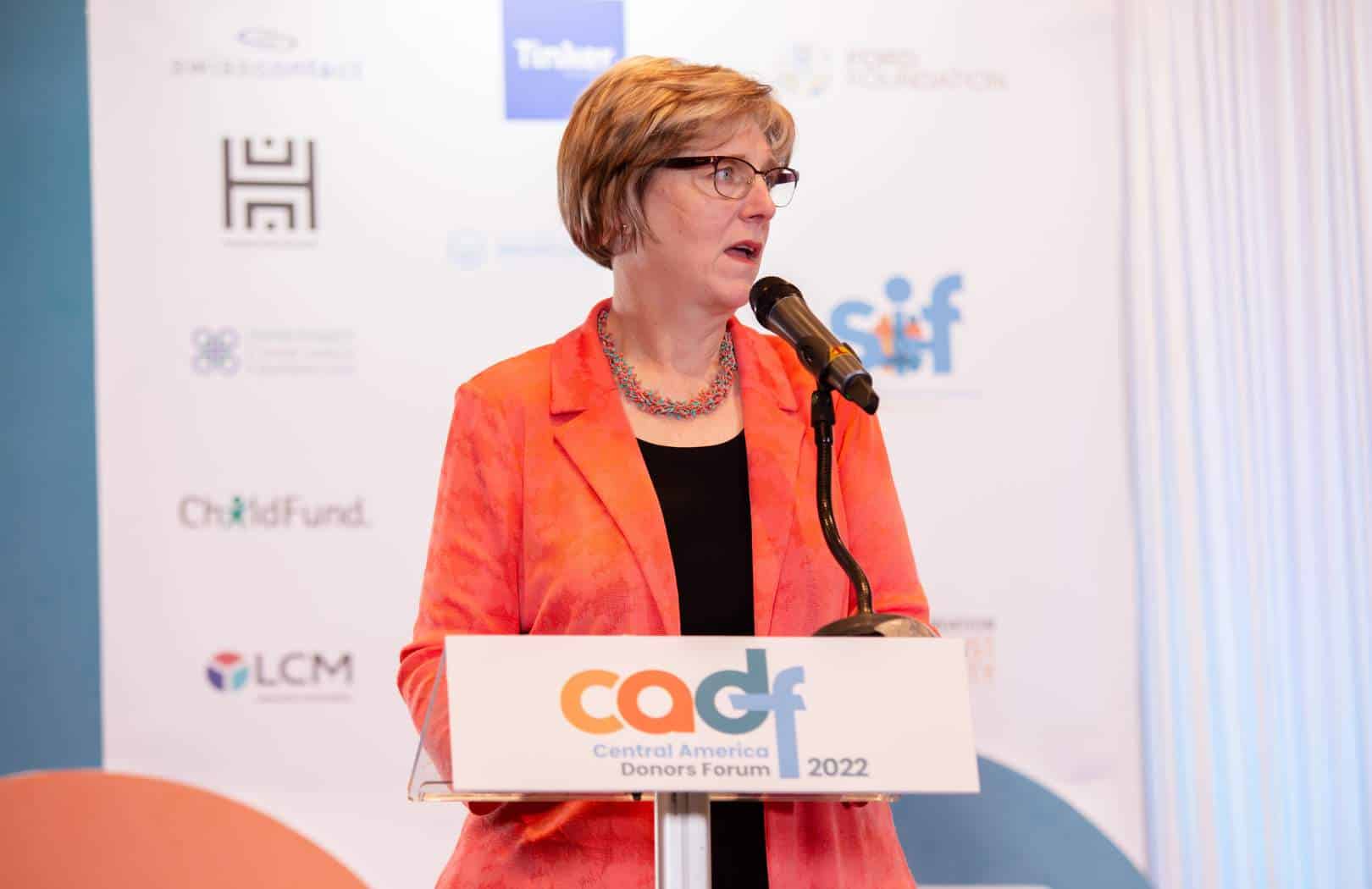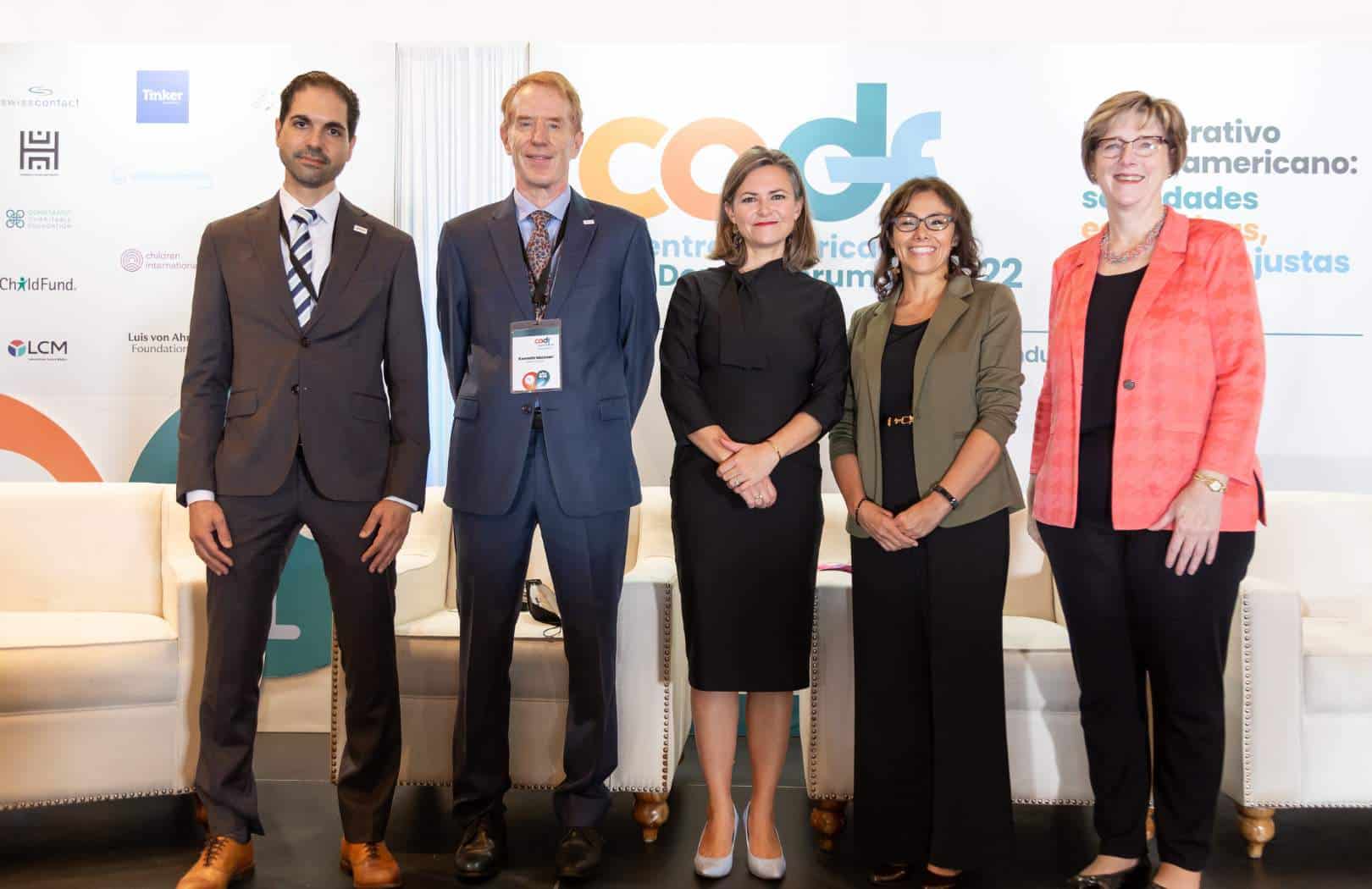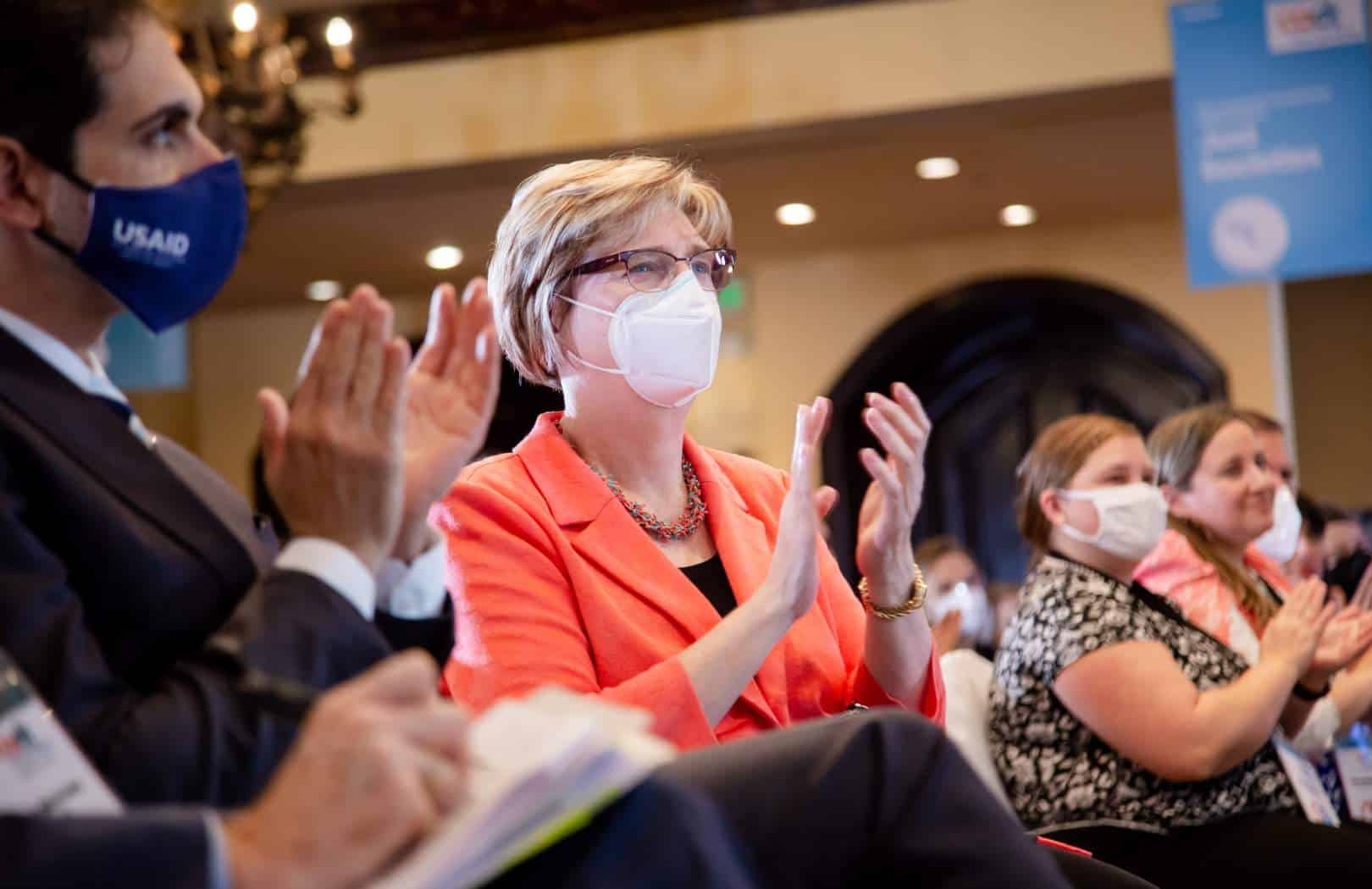 Afro-Indigenous Rights
Non-compliance of the Inter-American Court Sentences: The Honduran Garifuna Case
The Garifuna people are a fundamental part of Honduras and continue to contribute much to the country. However, speakers claimed the Honduran State does not respect their rights in refusing to comply with recent sentences of the Inter-American Court. The Court's latest ruling requires the State to return thousands of hectares of dispossessed land where illegal extractive activities occur, as well as to uphold the rights of the Garifuna people.
In response to this inaction, speakers in this session said a commission should be created to review and revise existing laws, including for ancestral land titles. Over 500 Garifuna people joined in the past two consecutive years to demand the creation of a special prosecutor's office for the disappearance of their people, but the Honduras Public Prosecutor's Office has not responded. There remains significant support and solidarity from feminist organizations in the fight for the Garifuna people, particularly in the community of Triunfo de la Cruz, where four Garifuna individuals have been forcibly disappeared.
Quotes
"We work hard for this country every day, but we don't get anything back[…] Every day we fight for our rights."
Miriam Miranda
"We demand that the Honduran State invite us to work with a high-level commission to comply with the sentences of the Inter-American Court, not simply take our photos with officials[…] We want answers from this government on how they are going to comply with the rights of the Garífuna people. We don't want more populism."
Miriam Miranda
"An urgent and extensive reform must be carried out in the system for granting licenses to multinational companies in Honduras[…] We have requested the creation of a special prosecutor's office to investigate the forced disappearances, but the office has done absolutely nothing. Rather, they filed complaints against us for gathering 500 people at the Public Prosecutor's Office."
Edy Tábora
"We aren't going to stop. We work for the interests of our community."
Alfredo López
"We're coming up against third parties operating in bad faith who want to make the Garifuna people disappear[…] In this country, it's widely believed that wealthy people should live in coastal areas, not the Garifuna people."
Rony Castillo
Speakers
Rony Castillo, Black Fraternal Organization of Honduras (OFRANEH)
Miriam Miranda, Black Fraternal Organization of Honduras (OFRANEH)
Edy Tábora, Justice for the People Law Office (BJP)
Alfredo López, Black Fraternal Organization of Honduras (OFRANEH)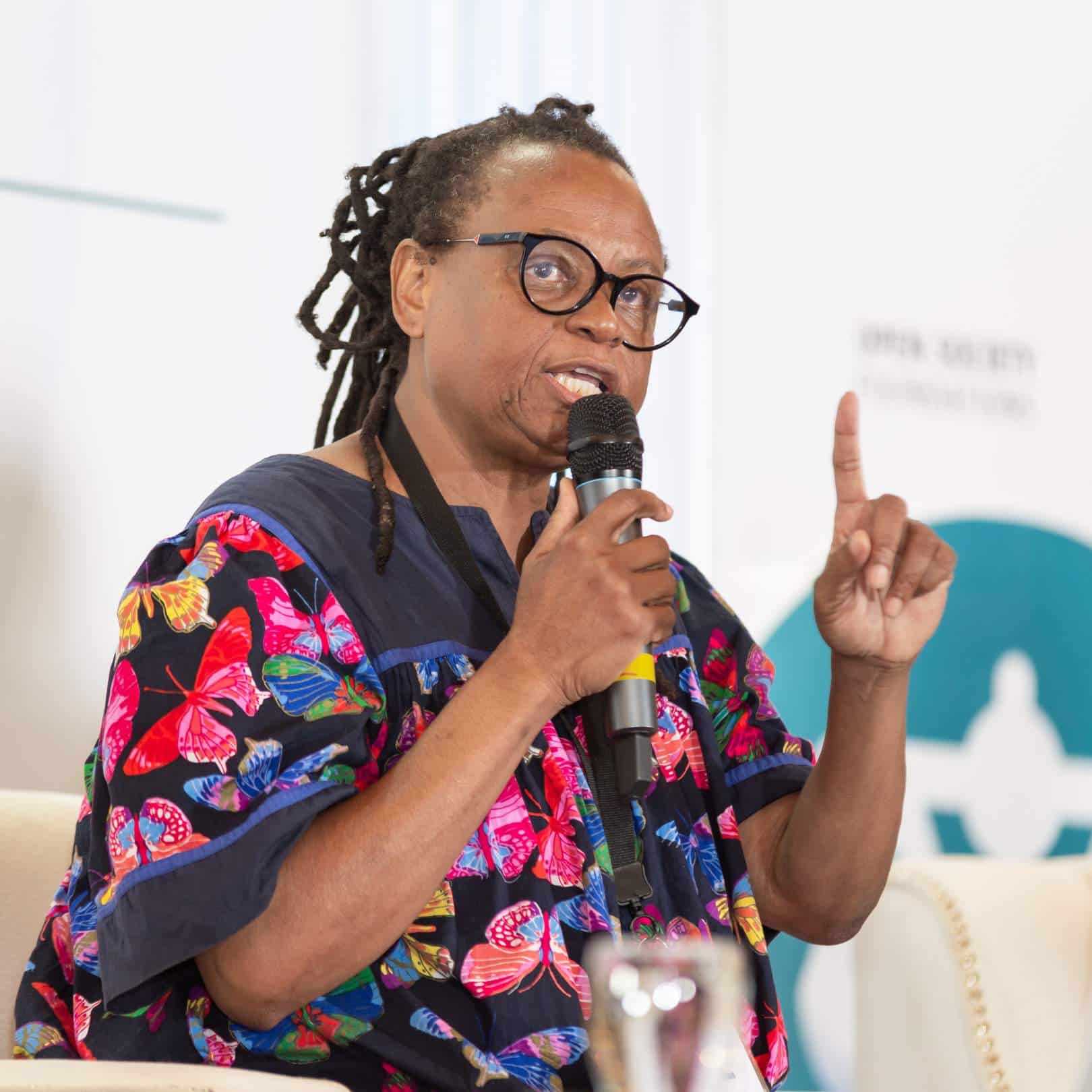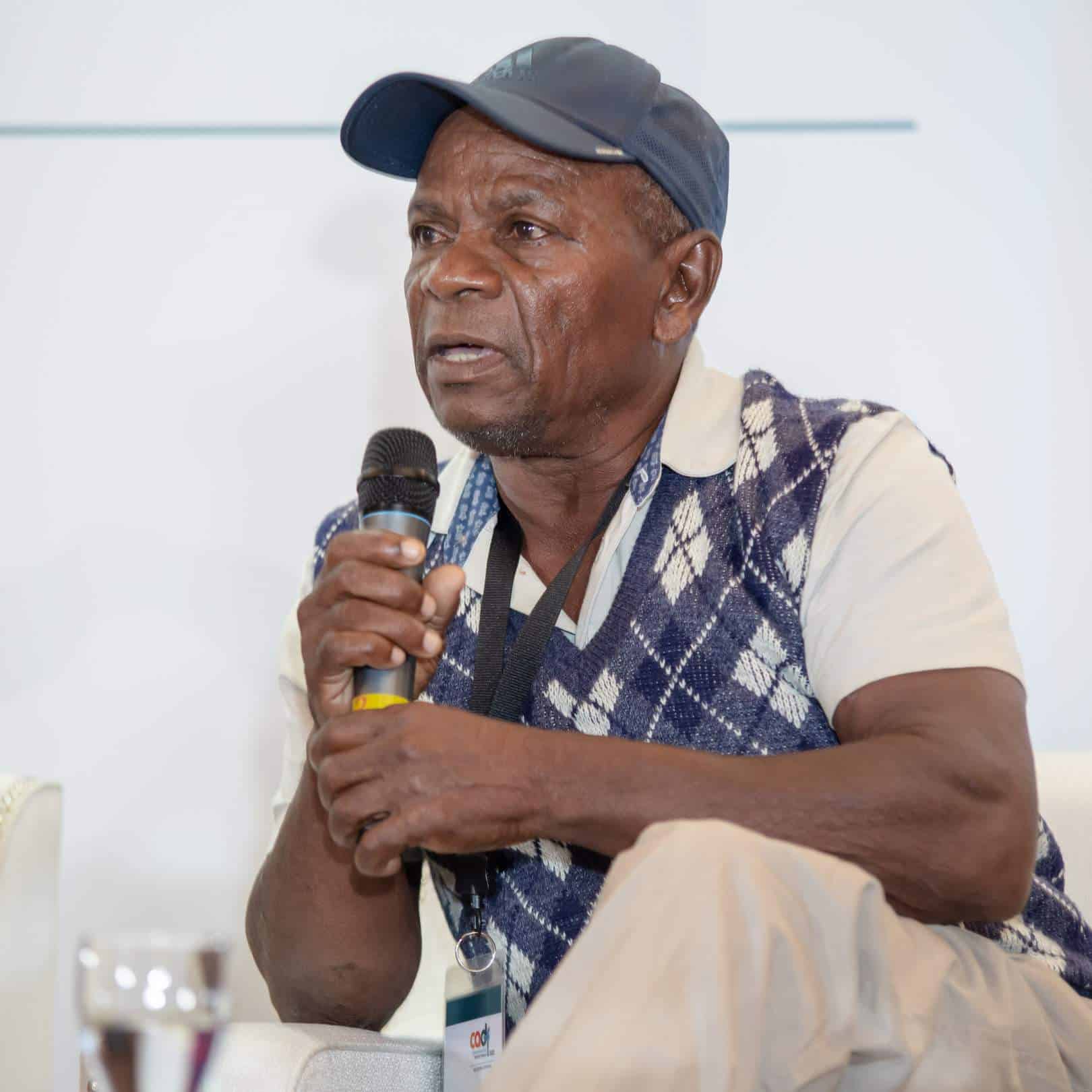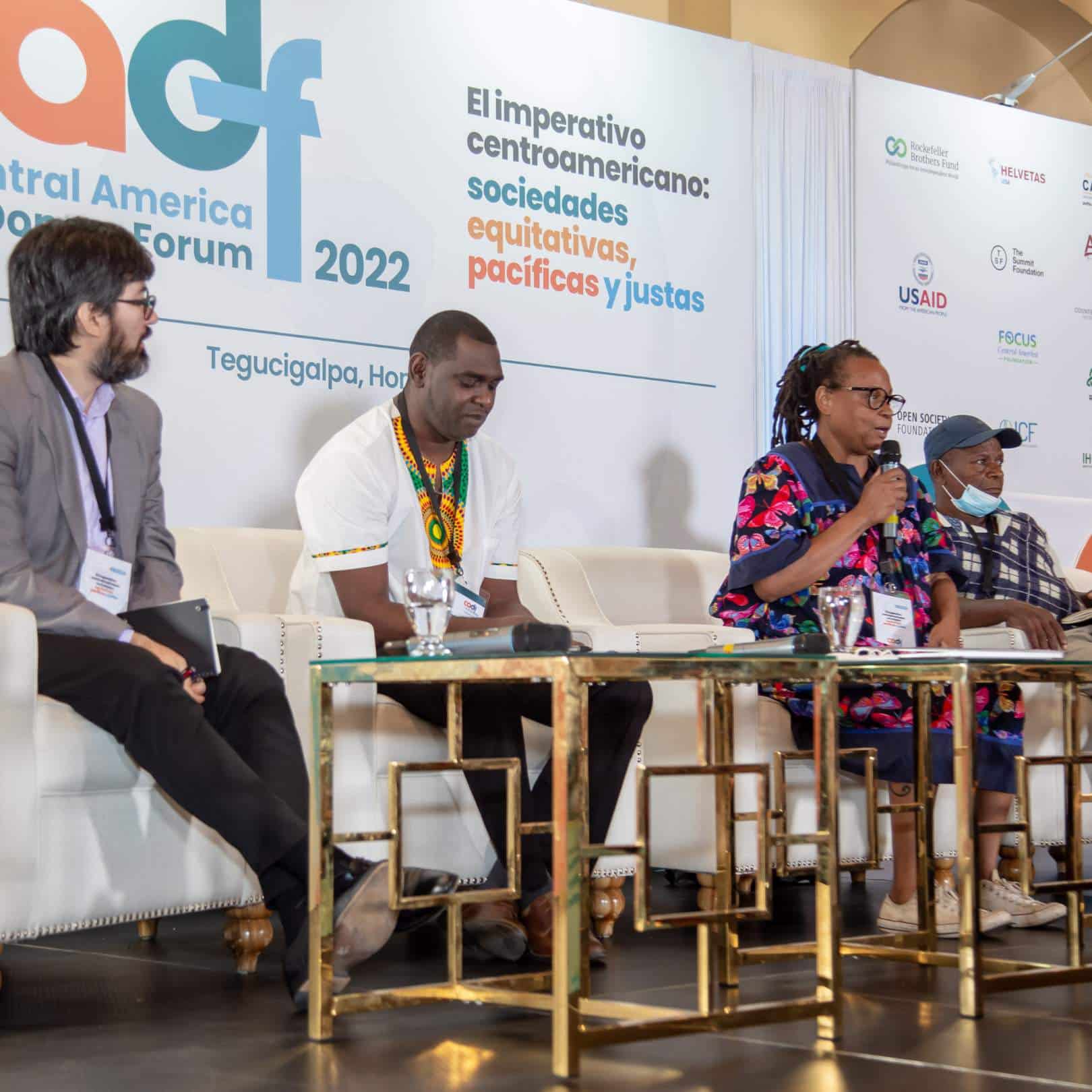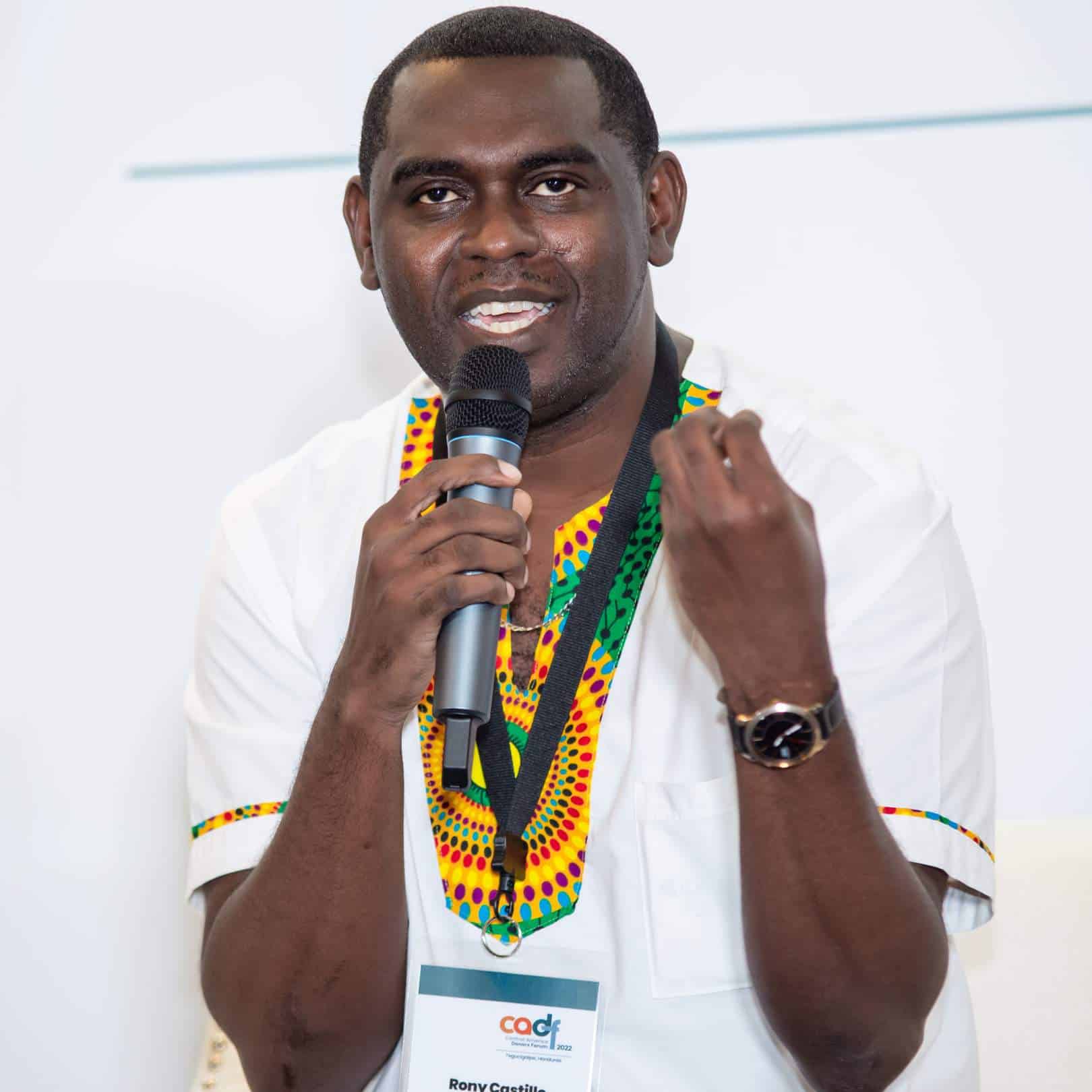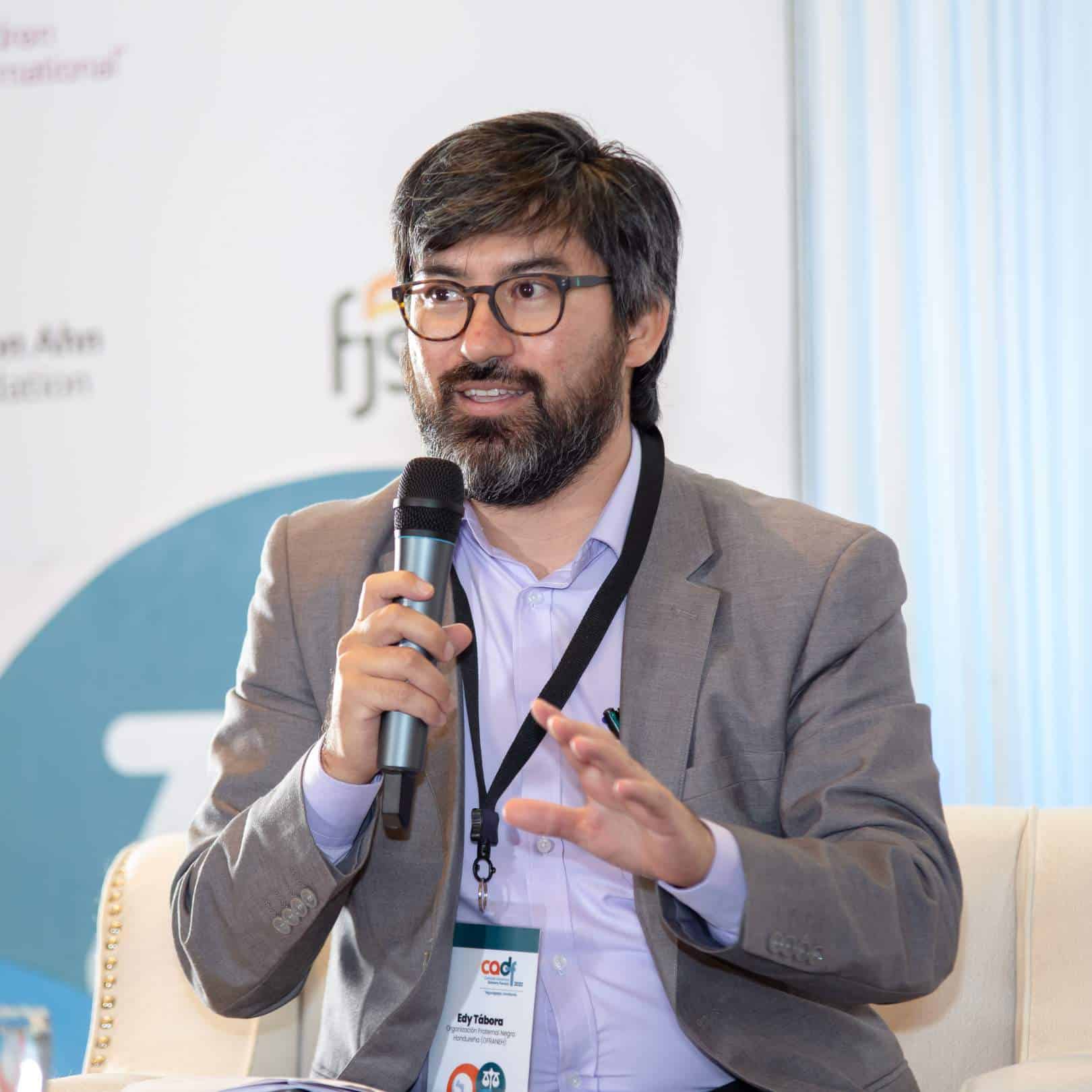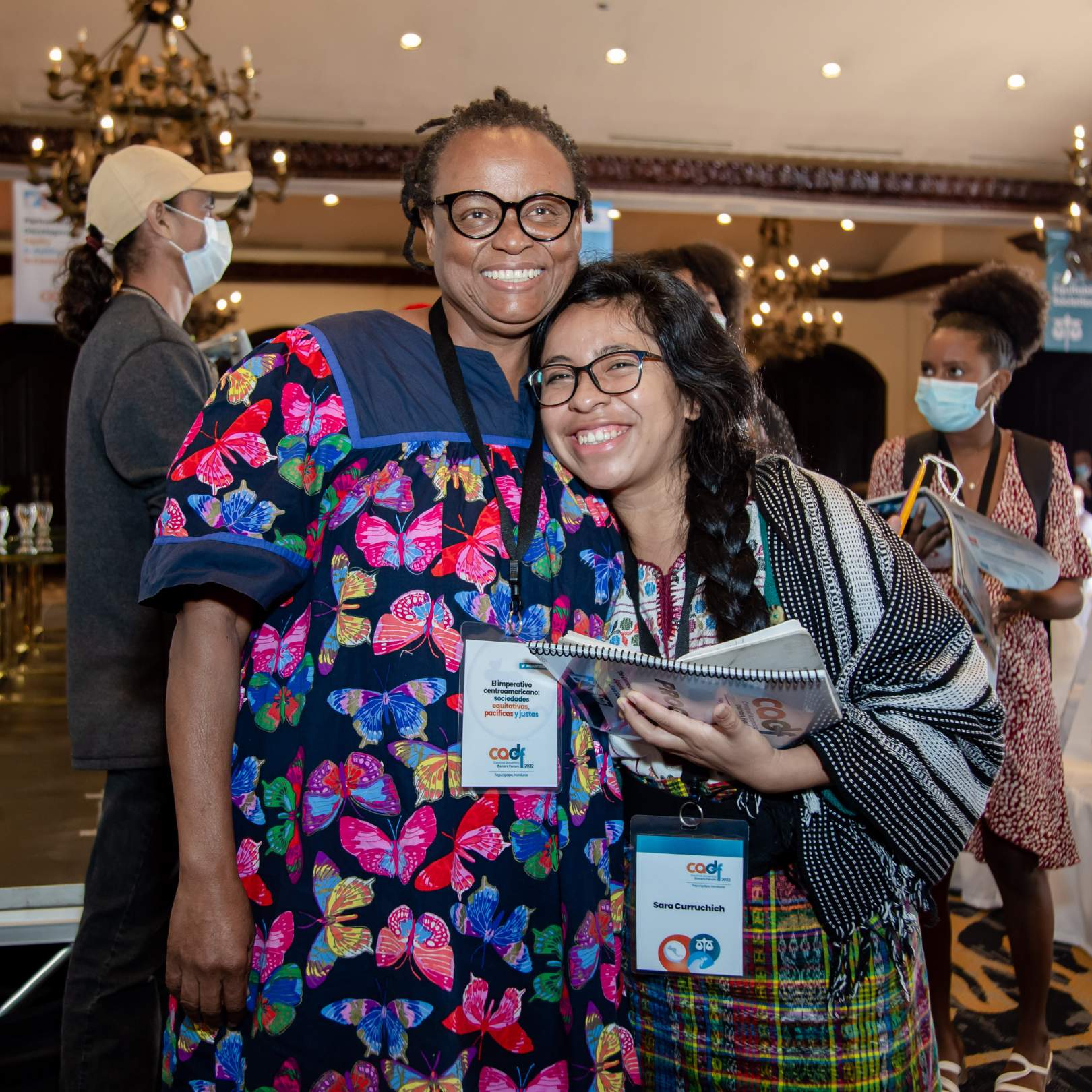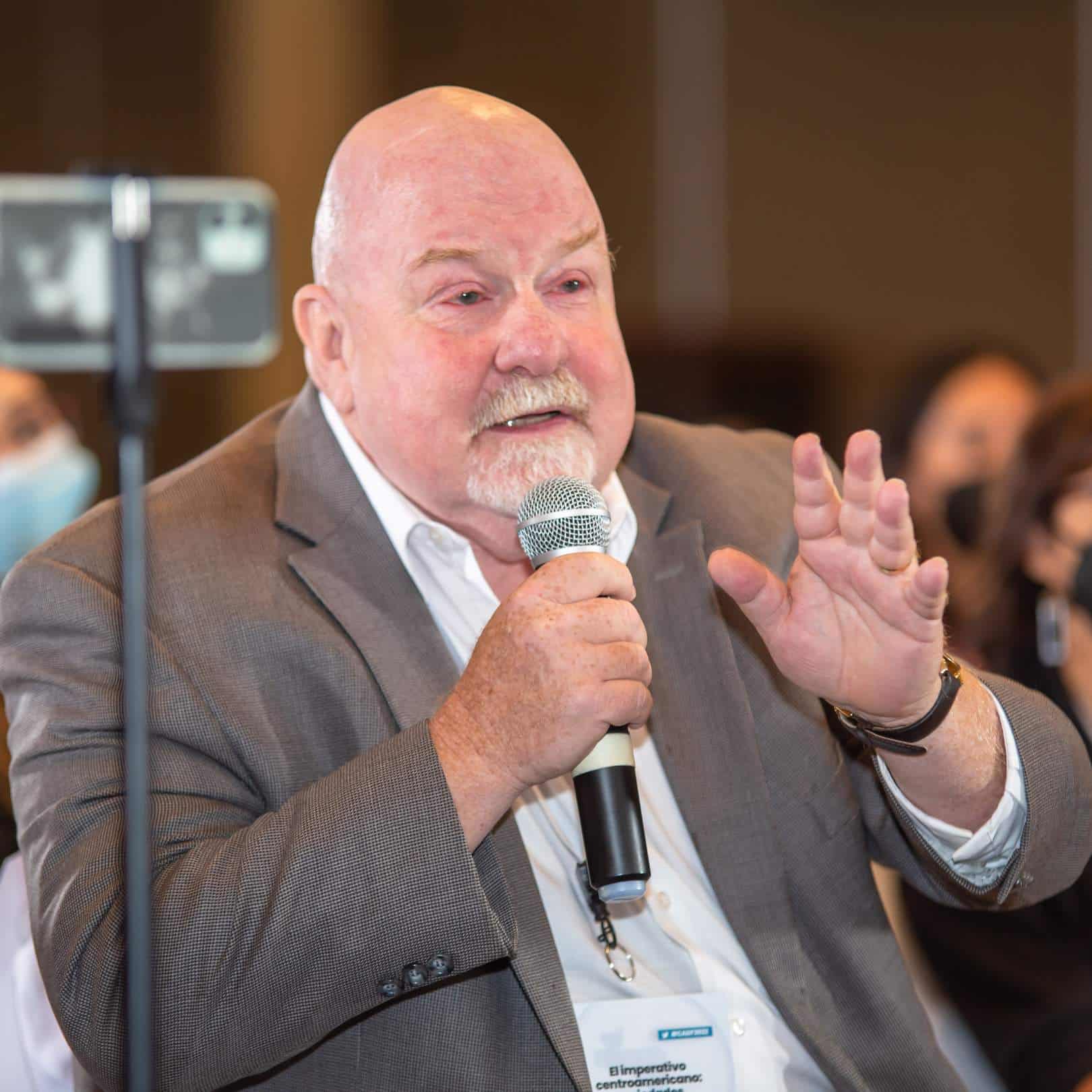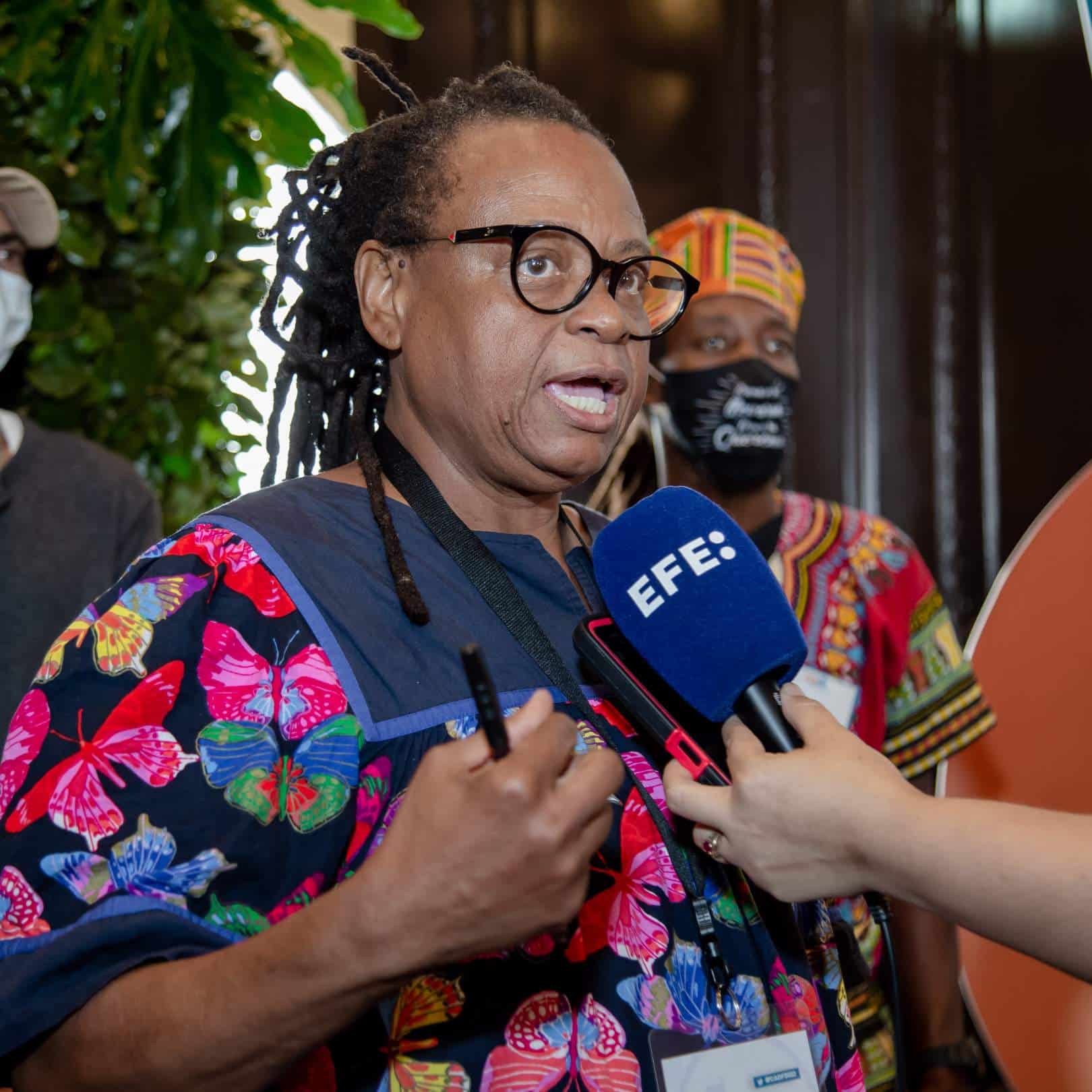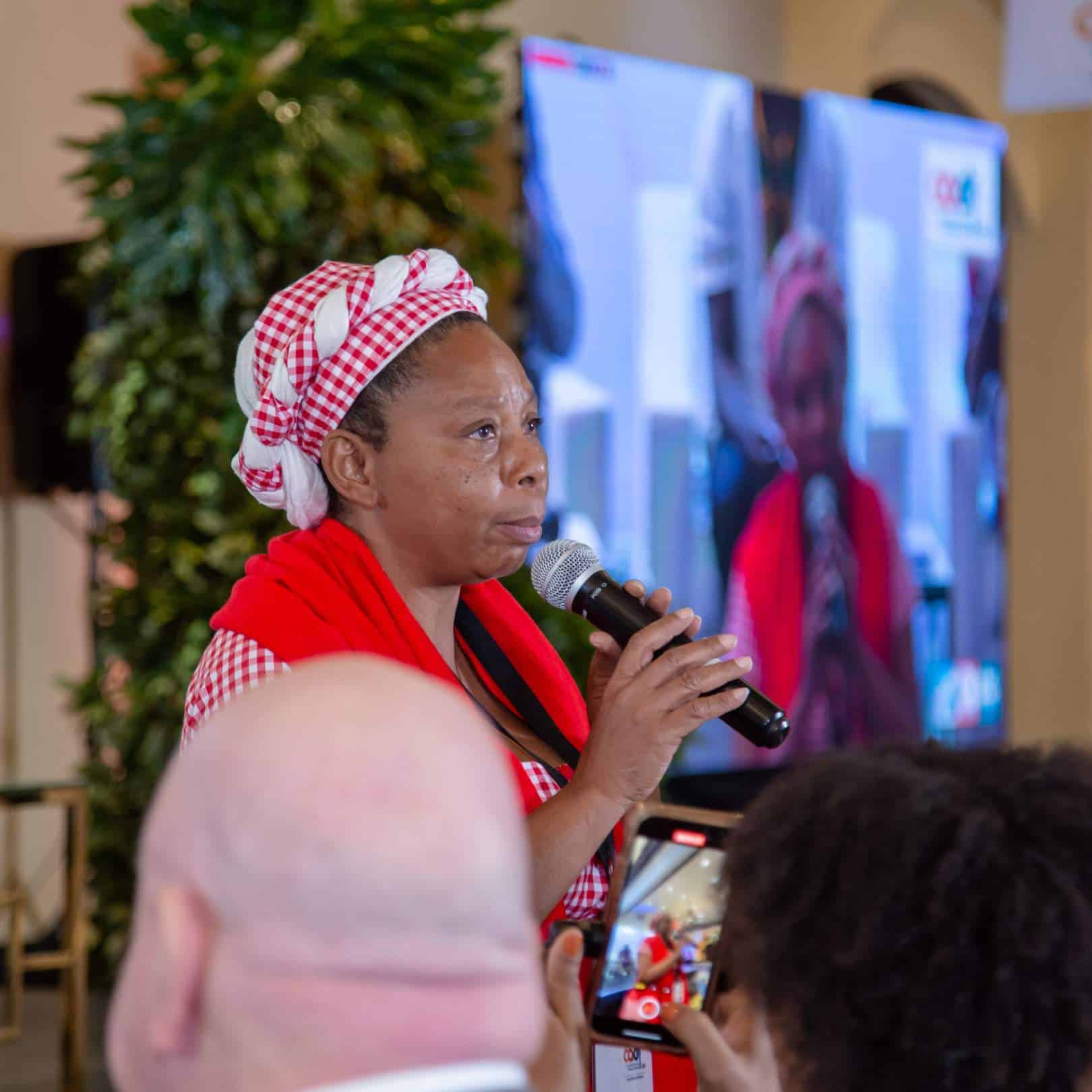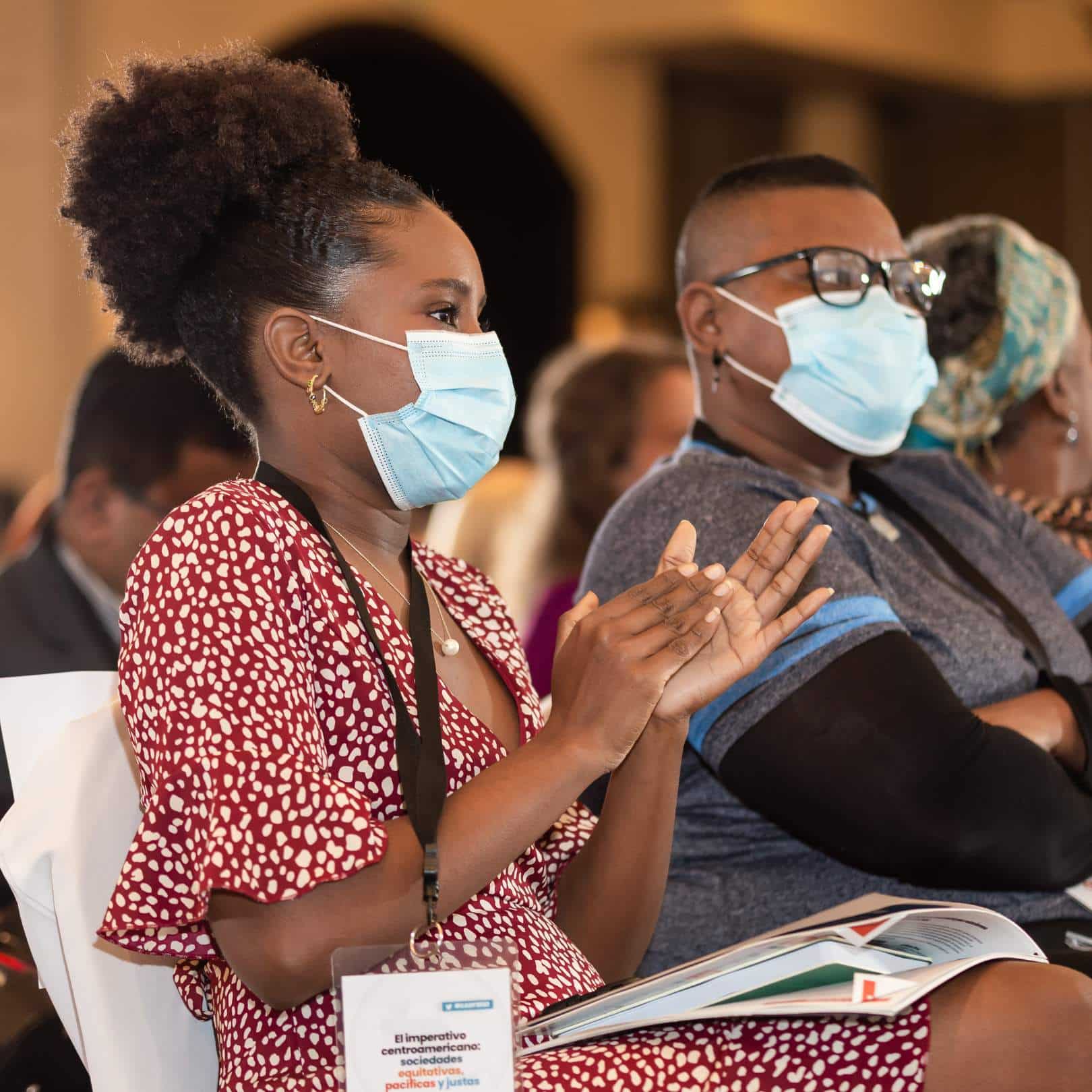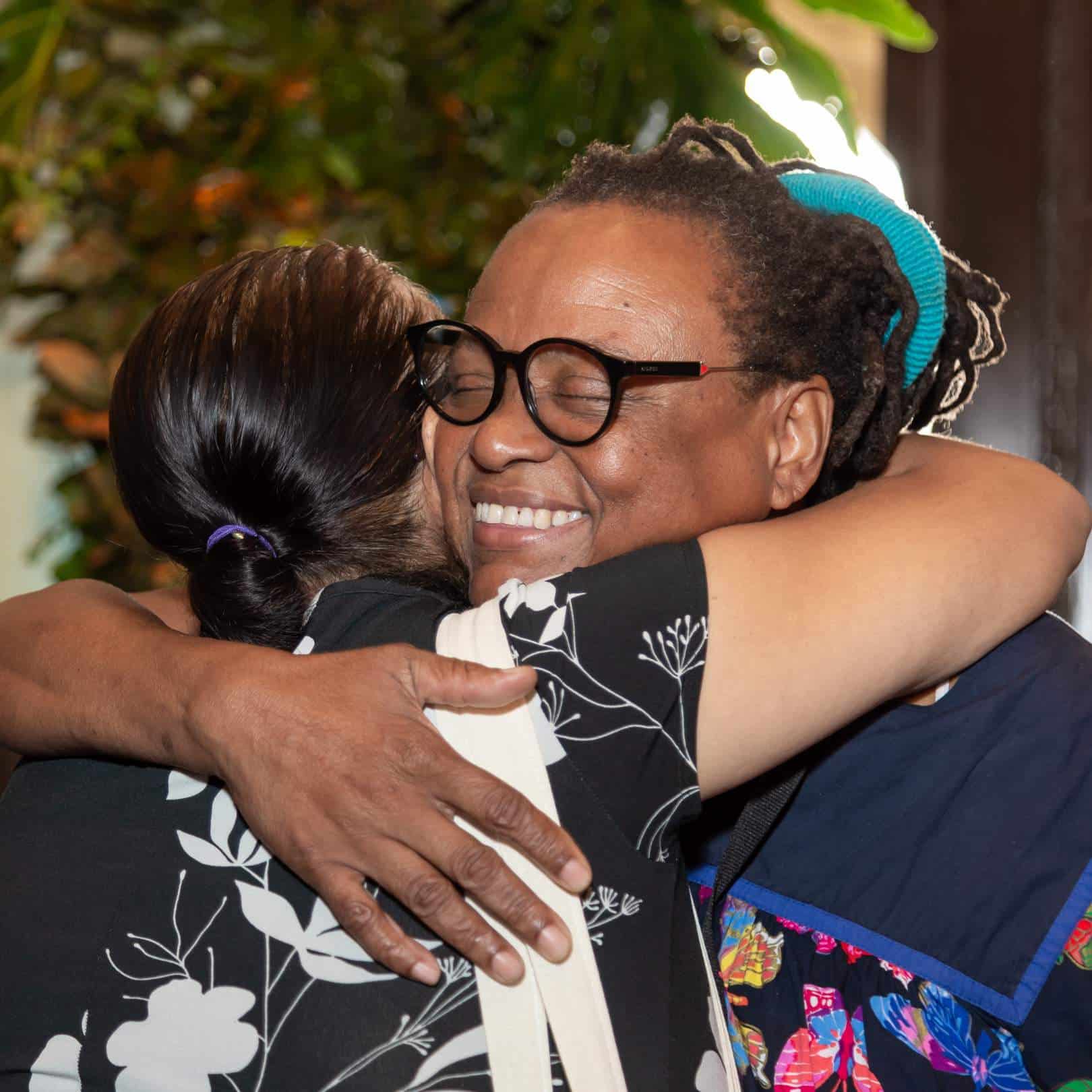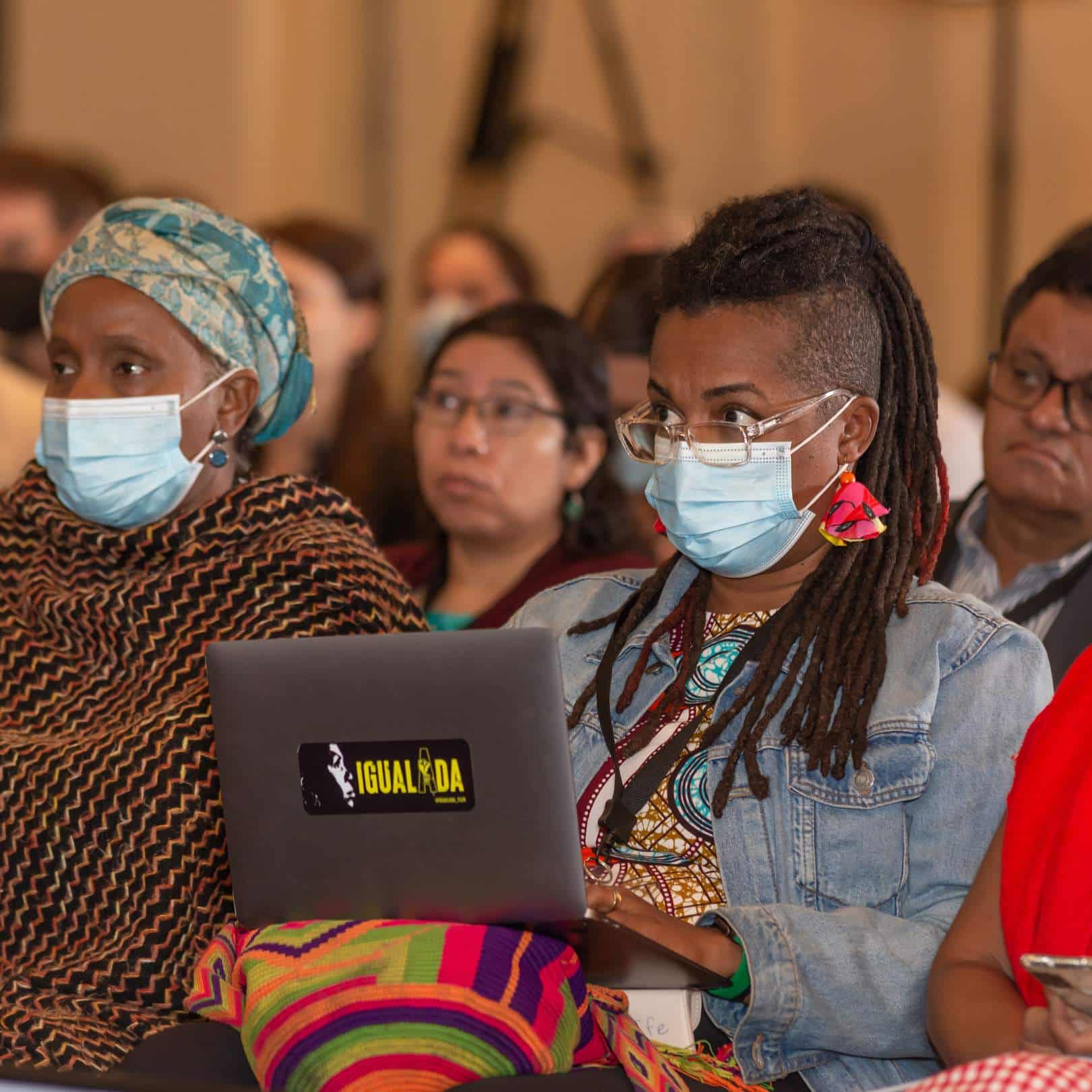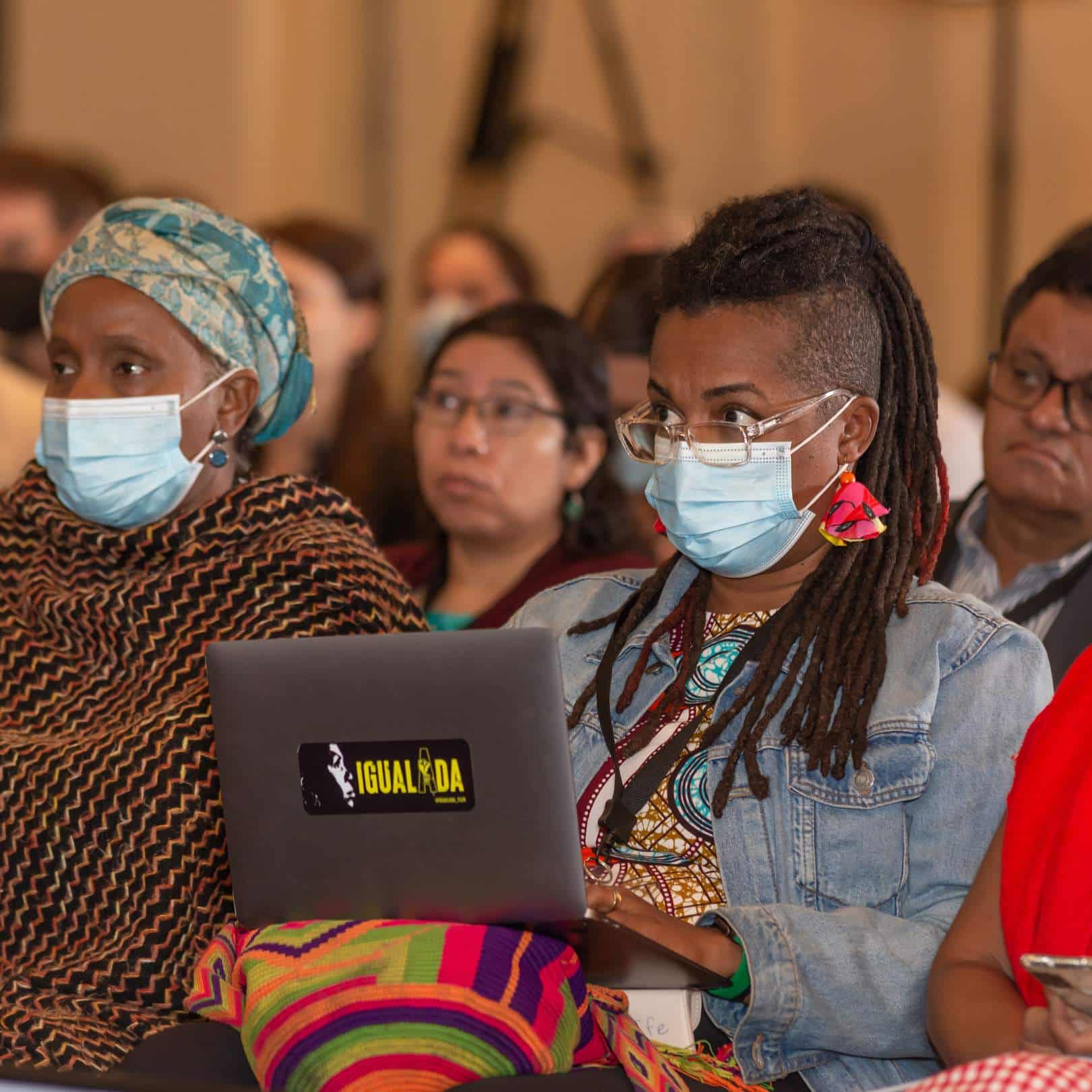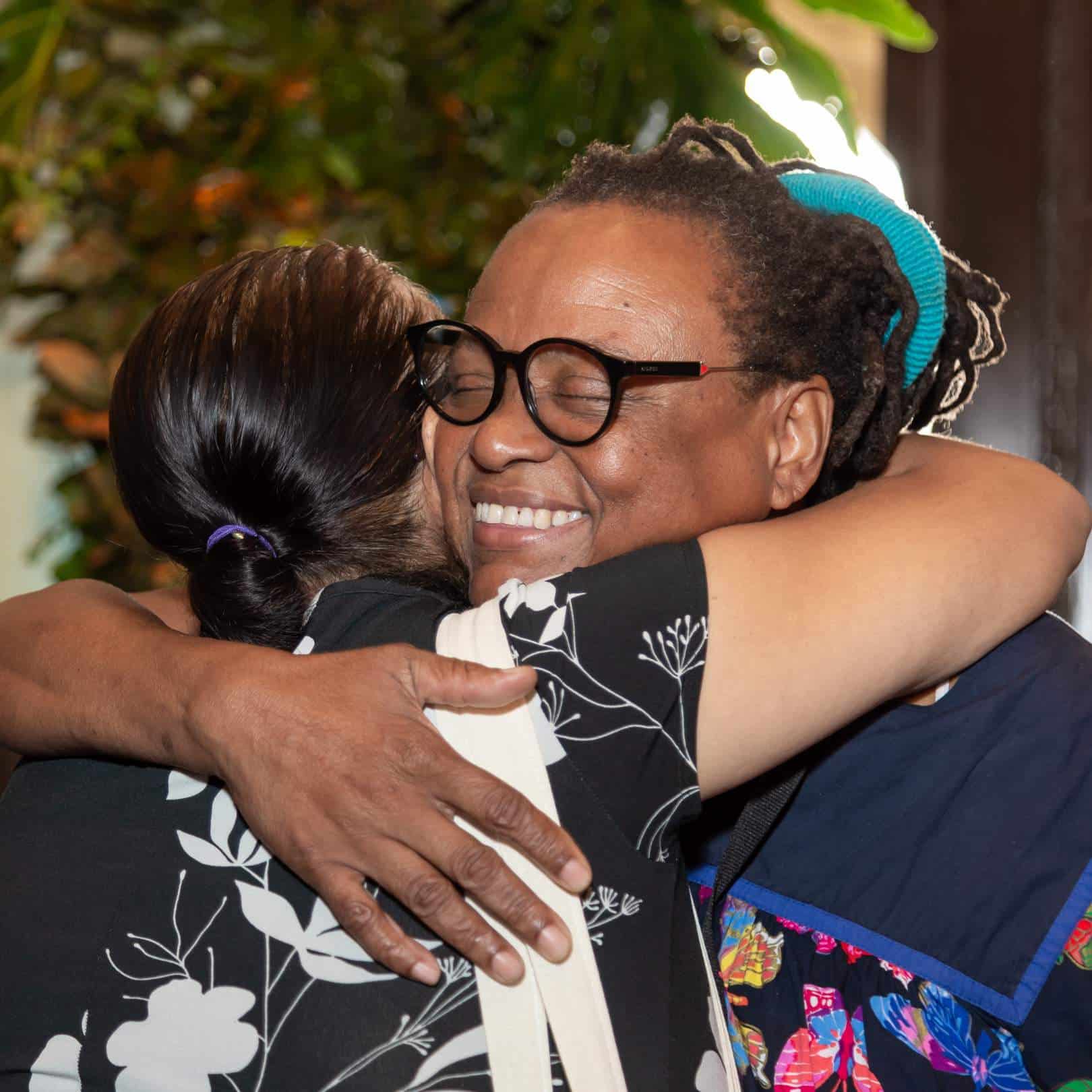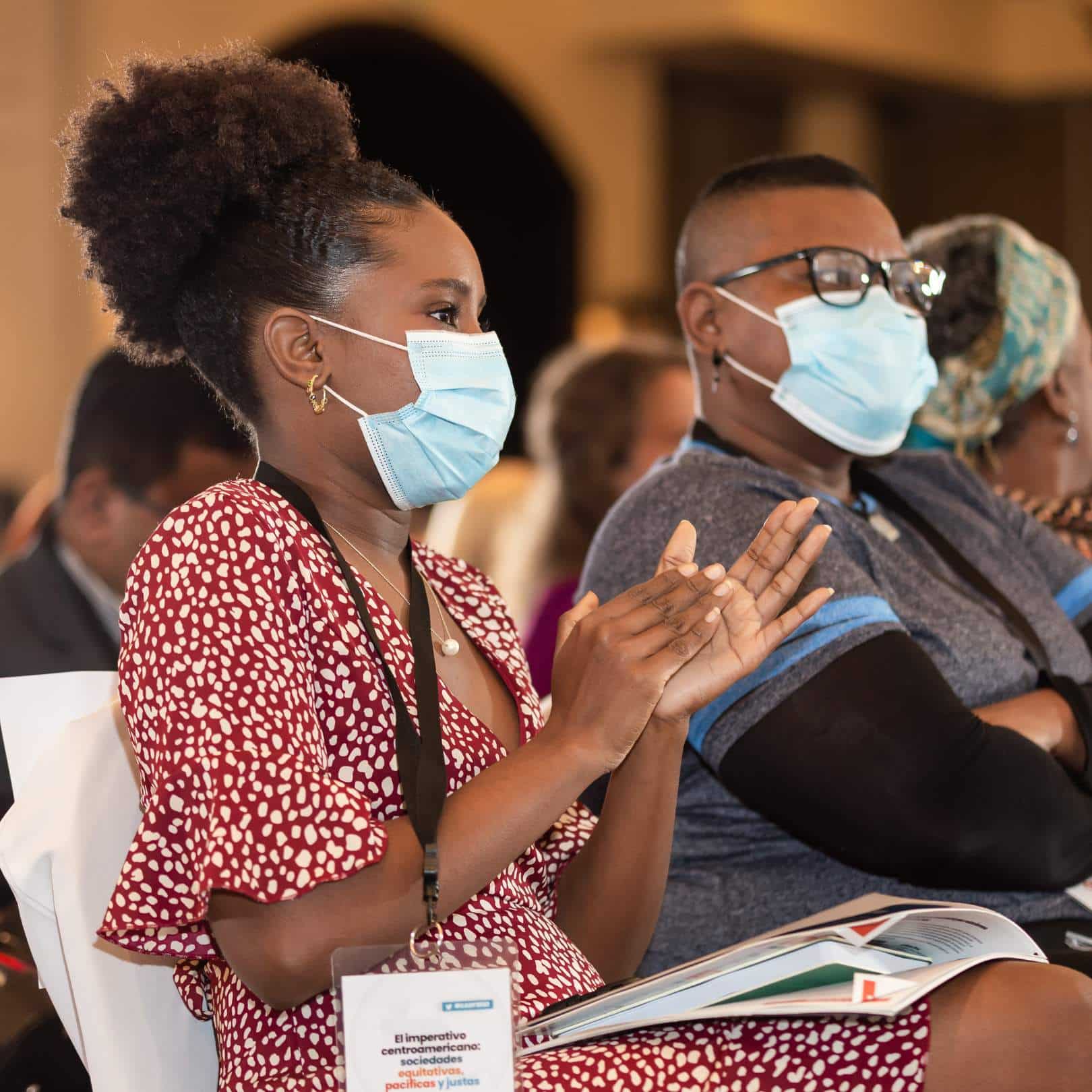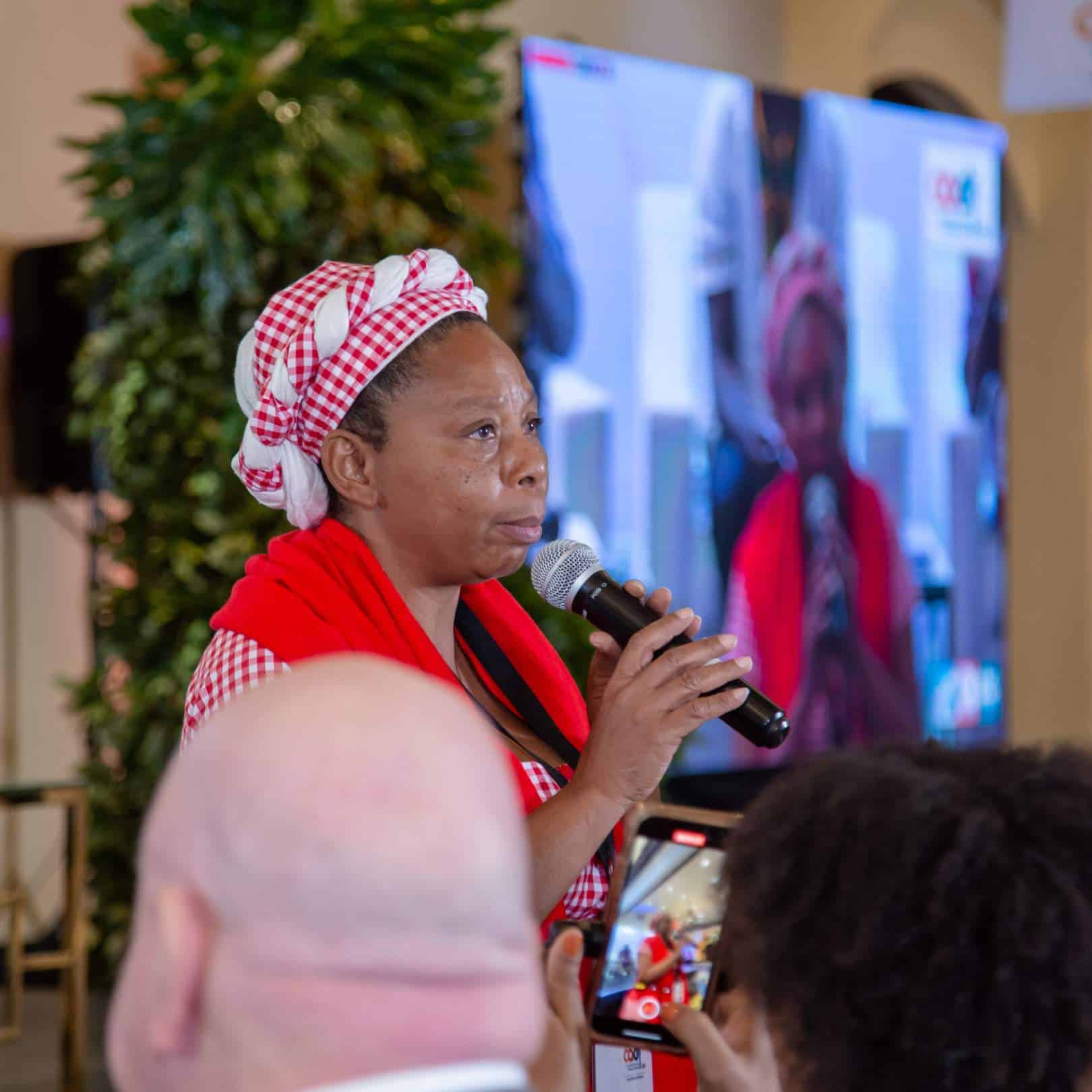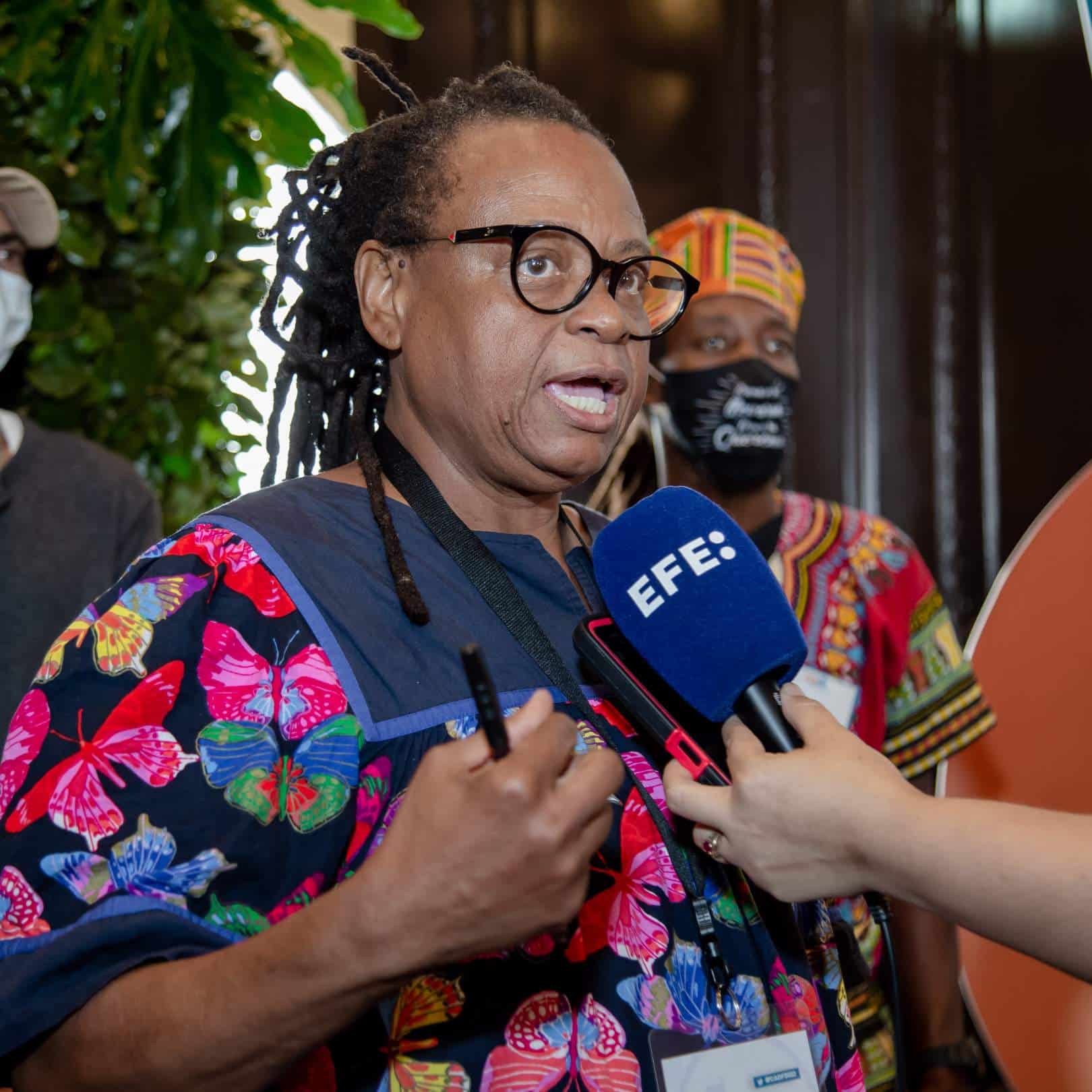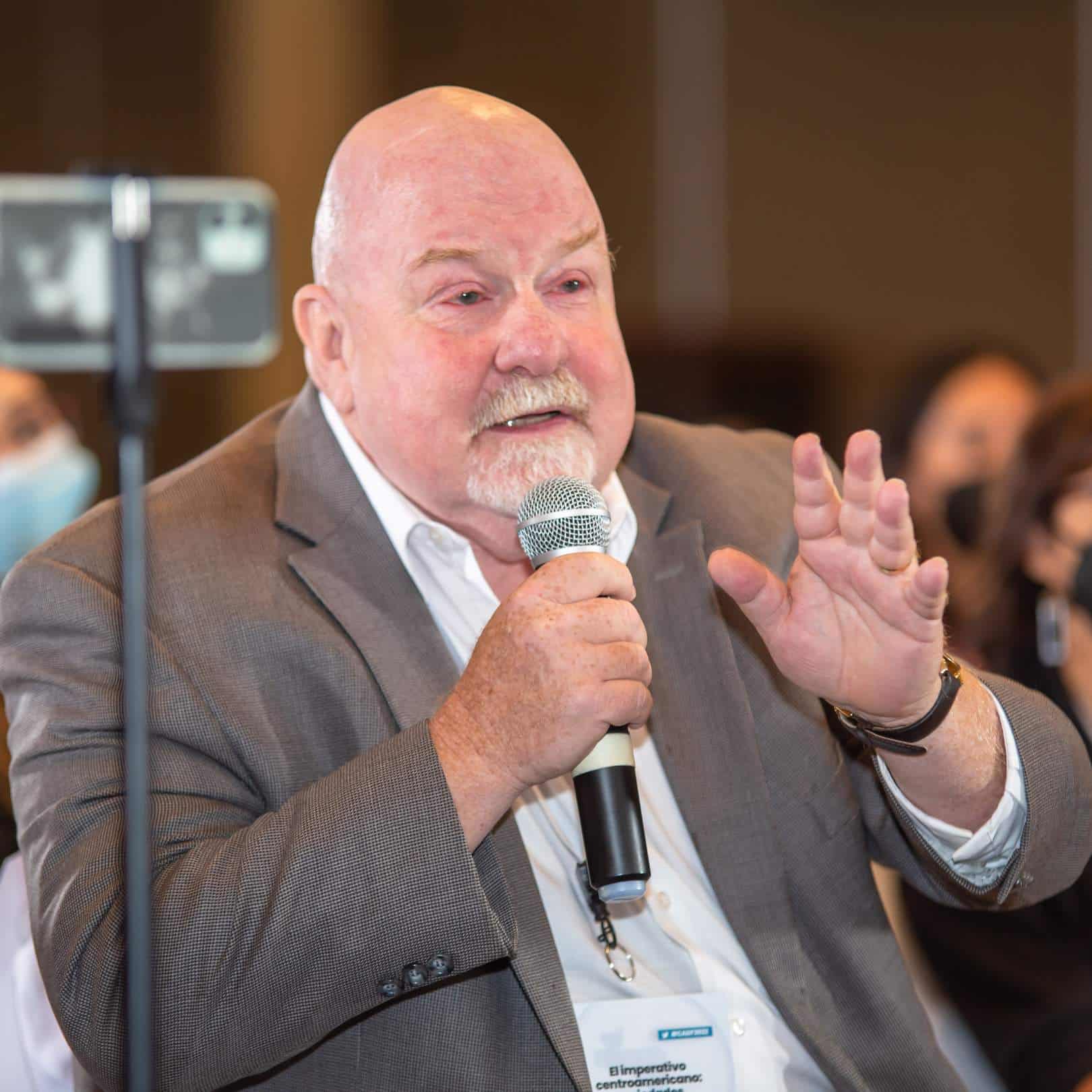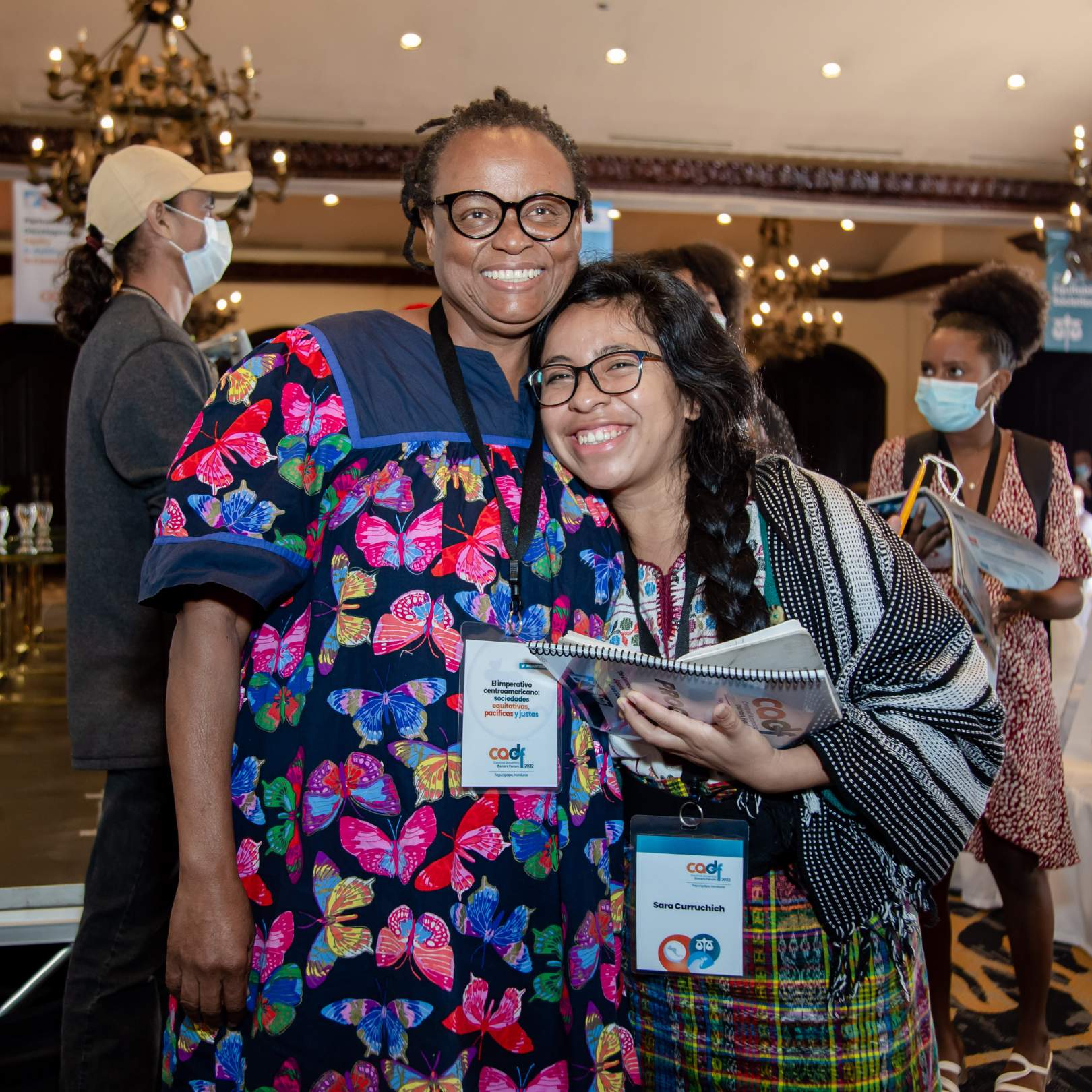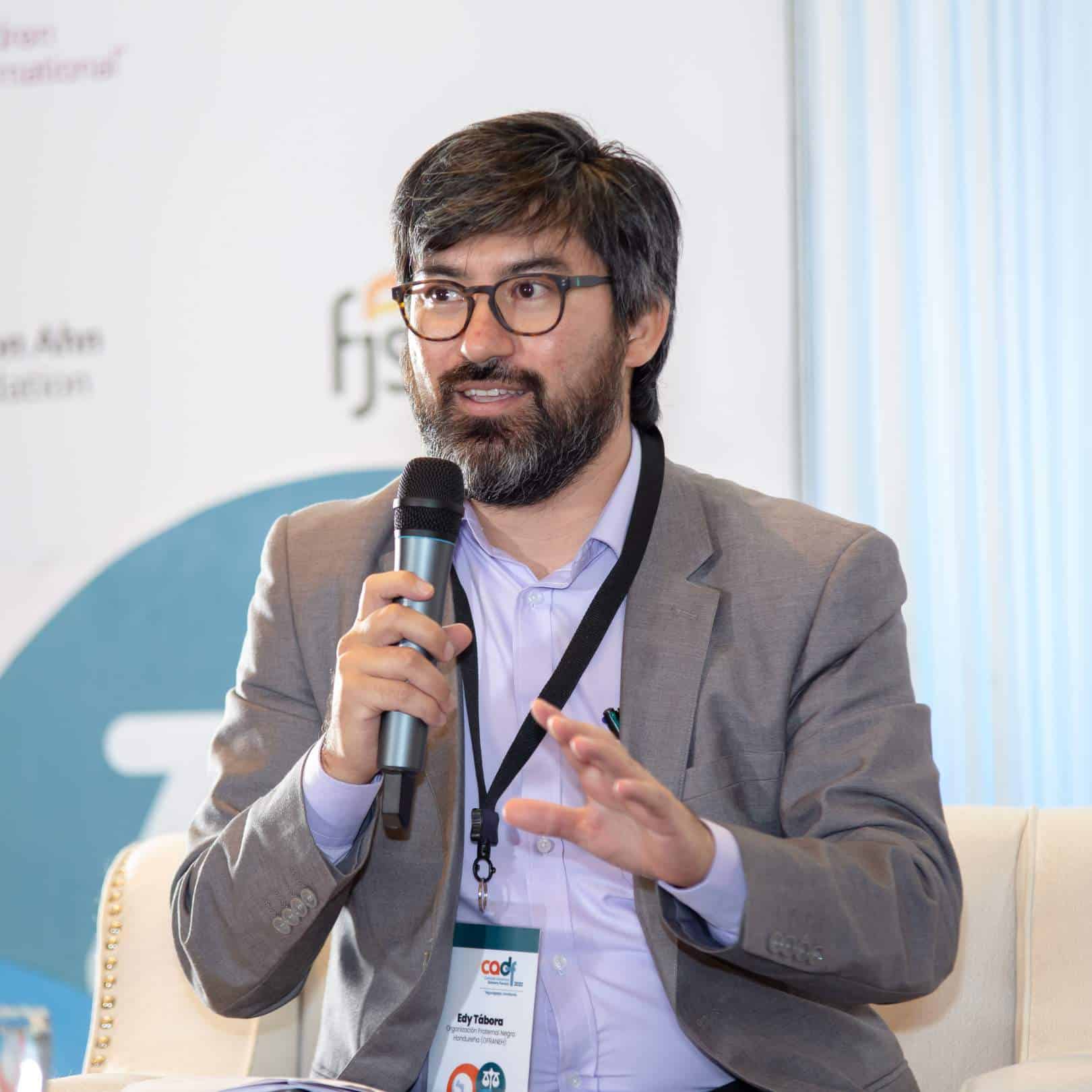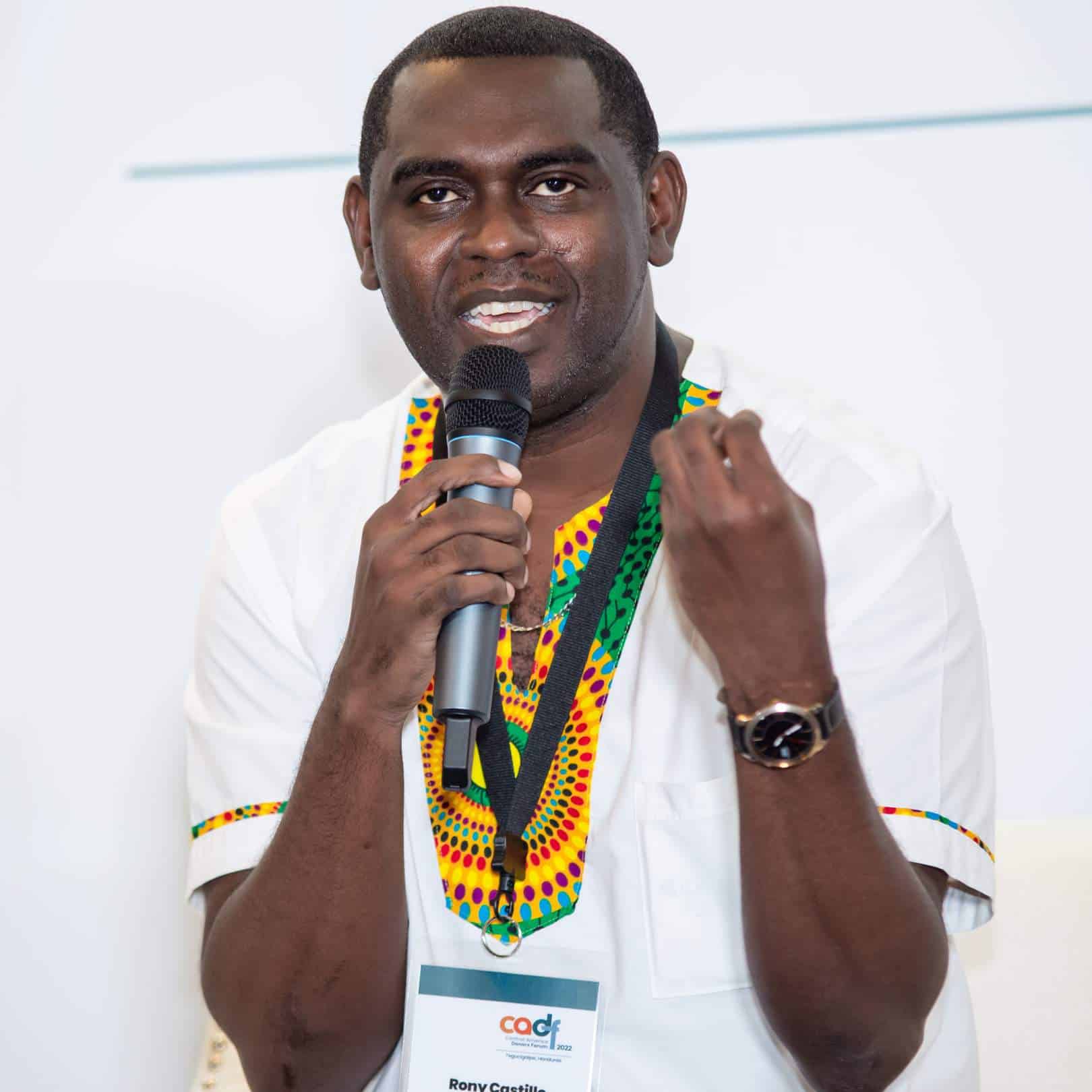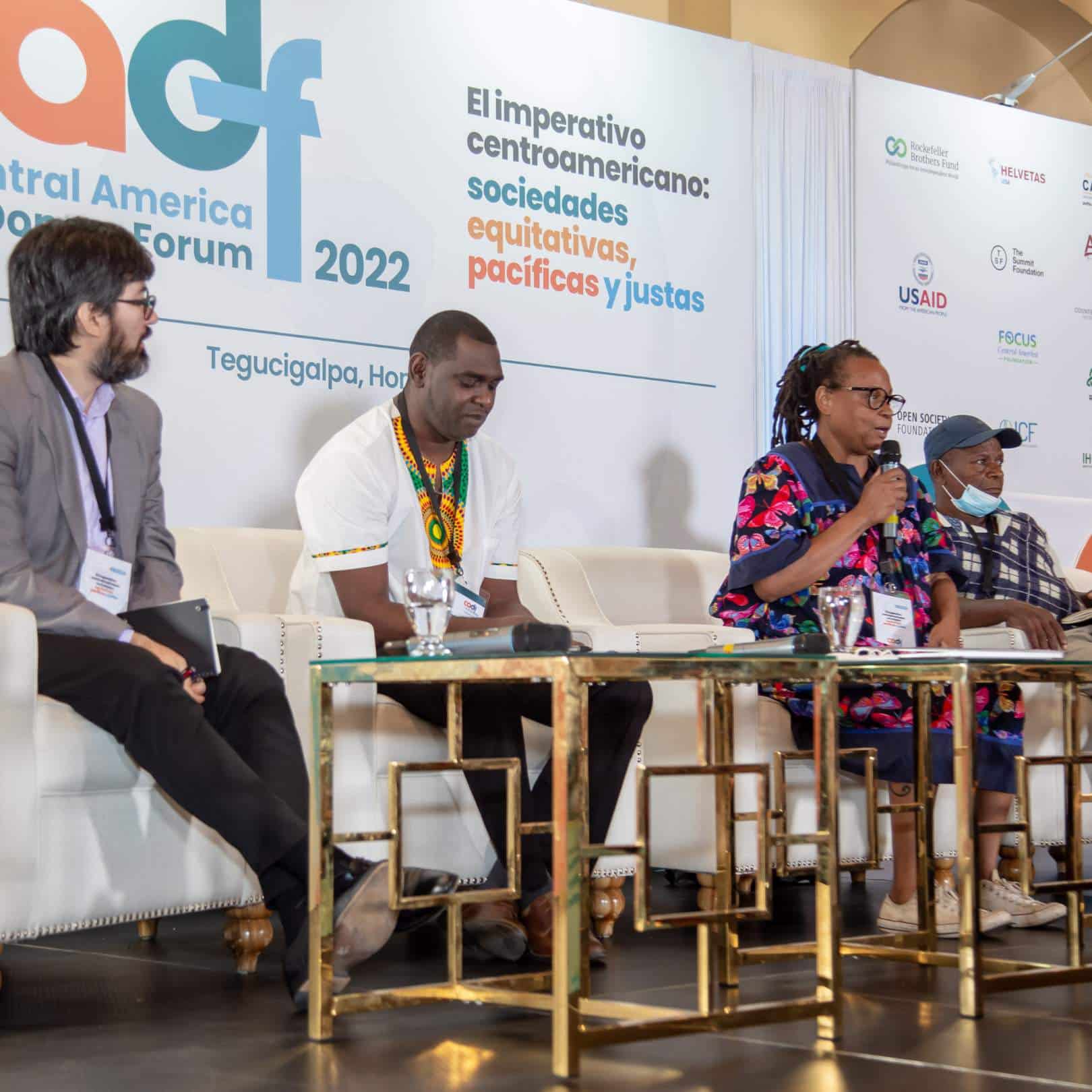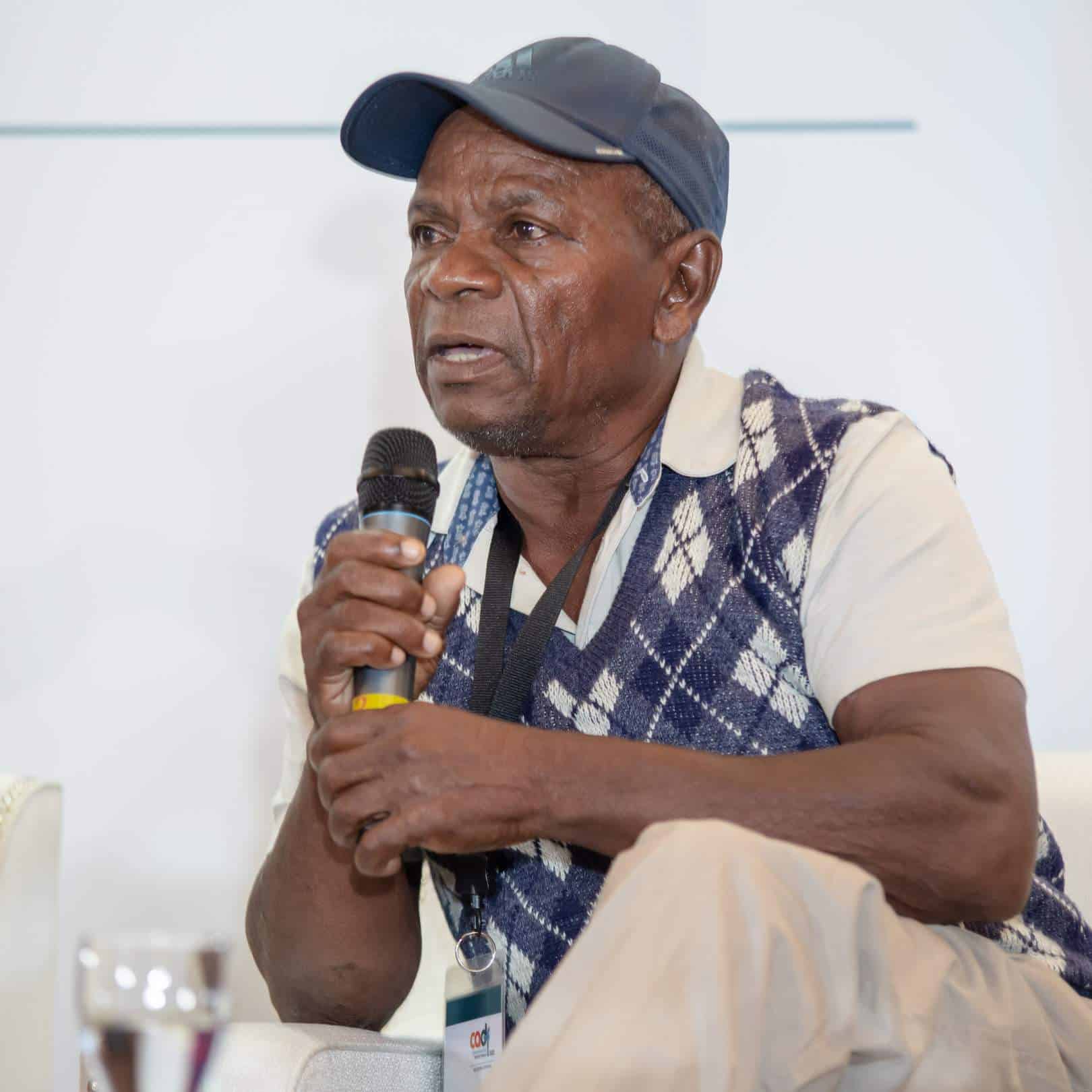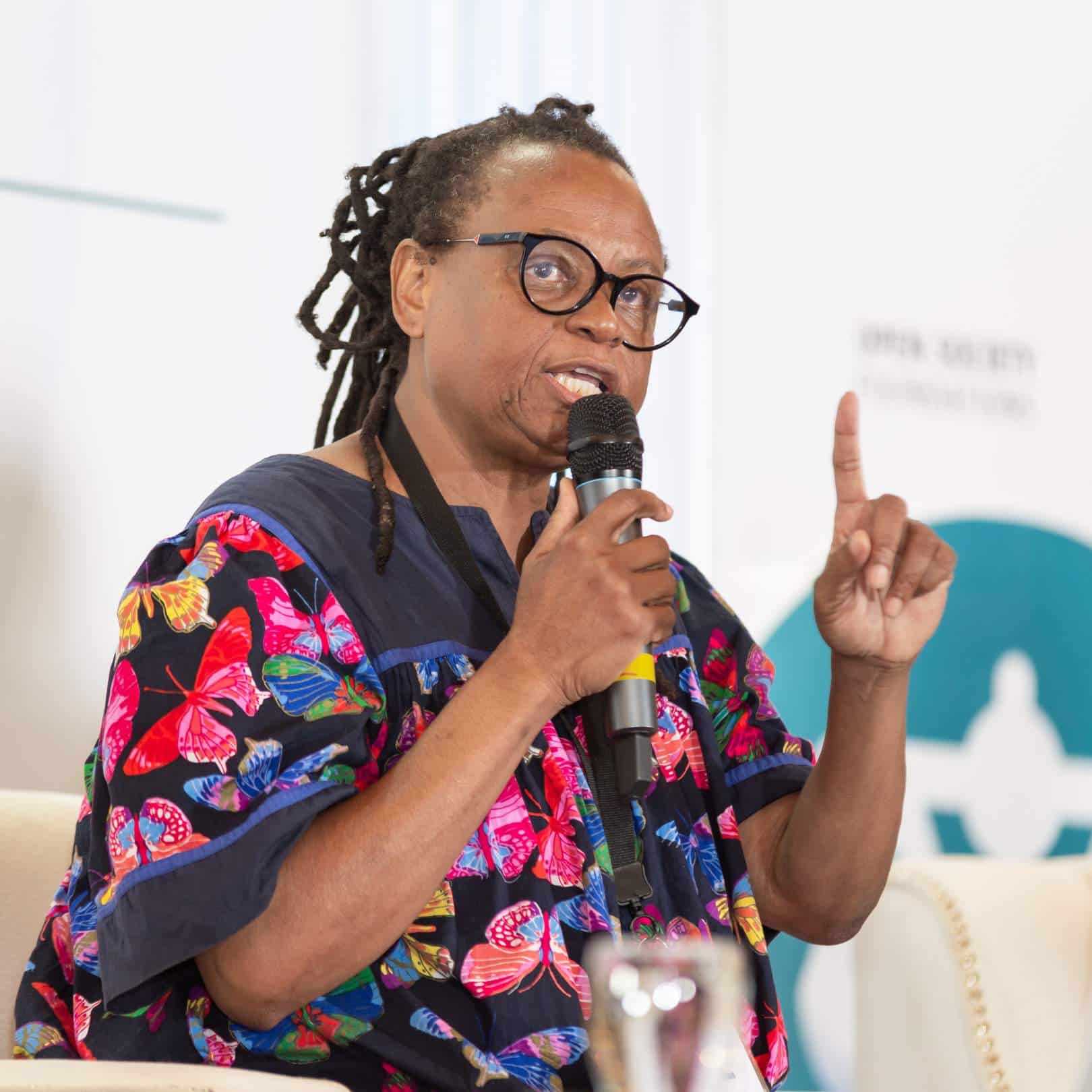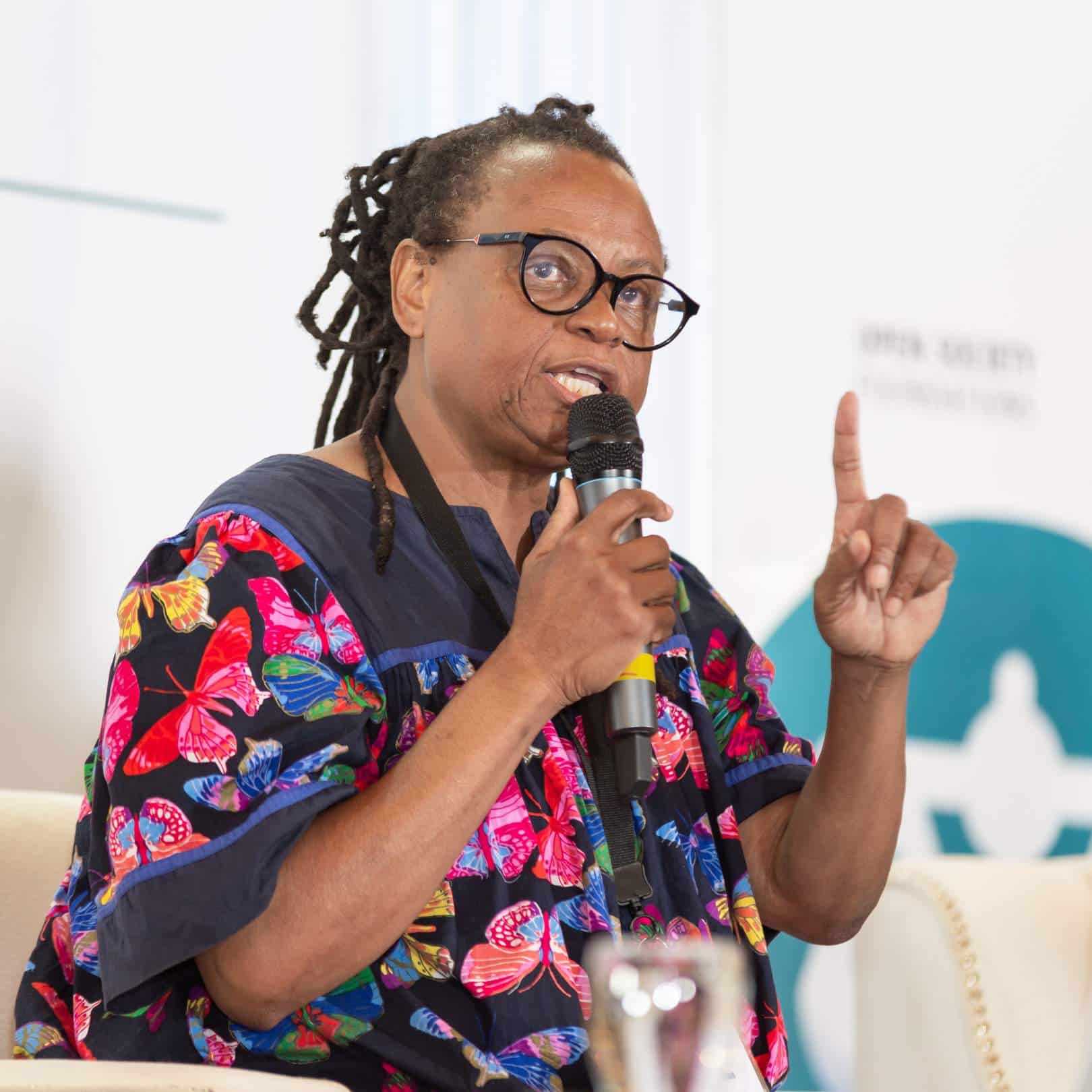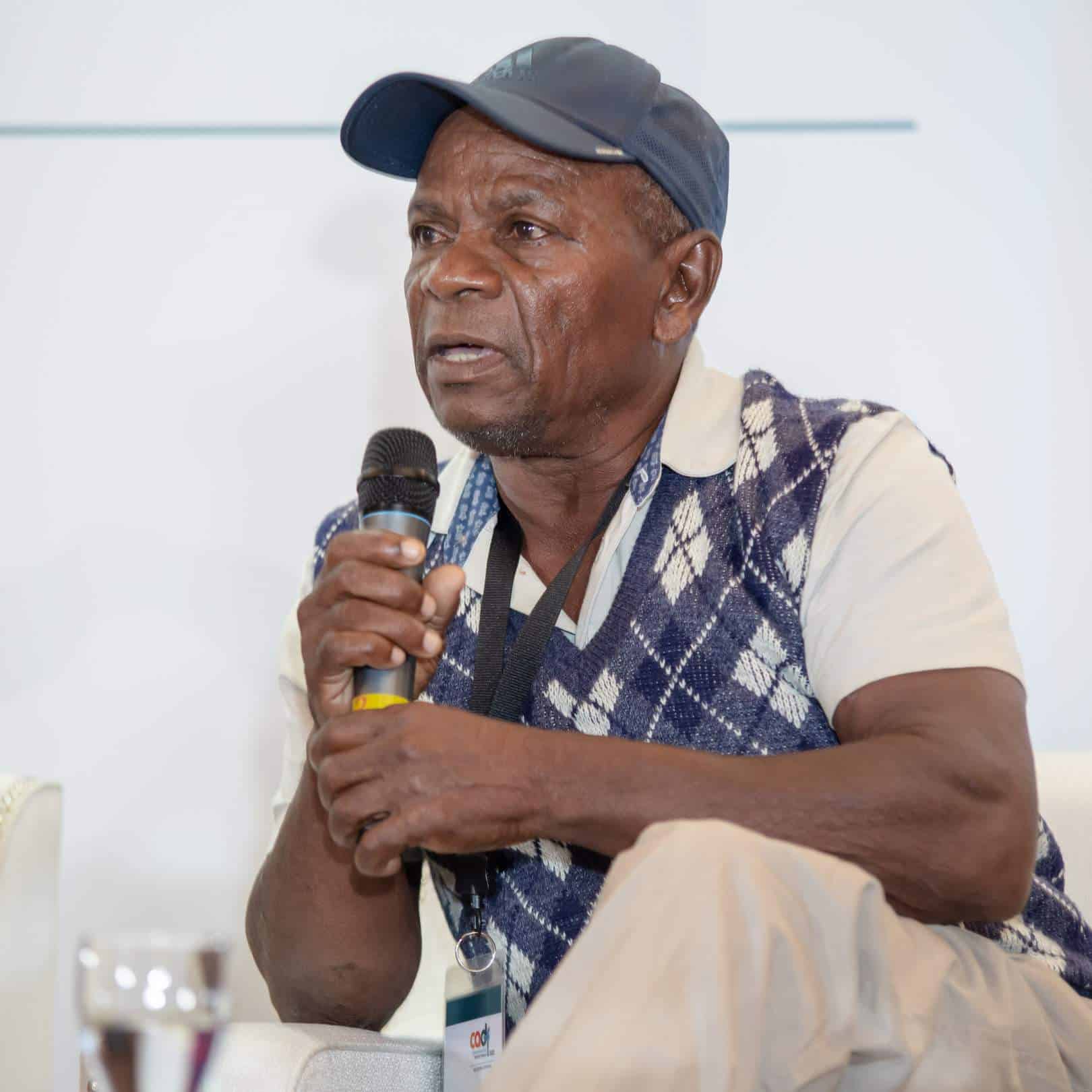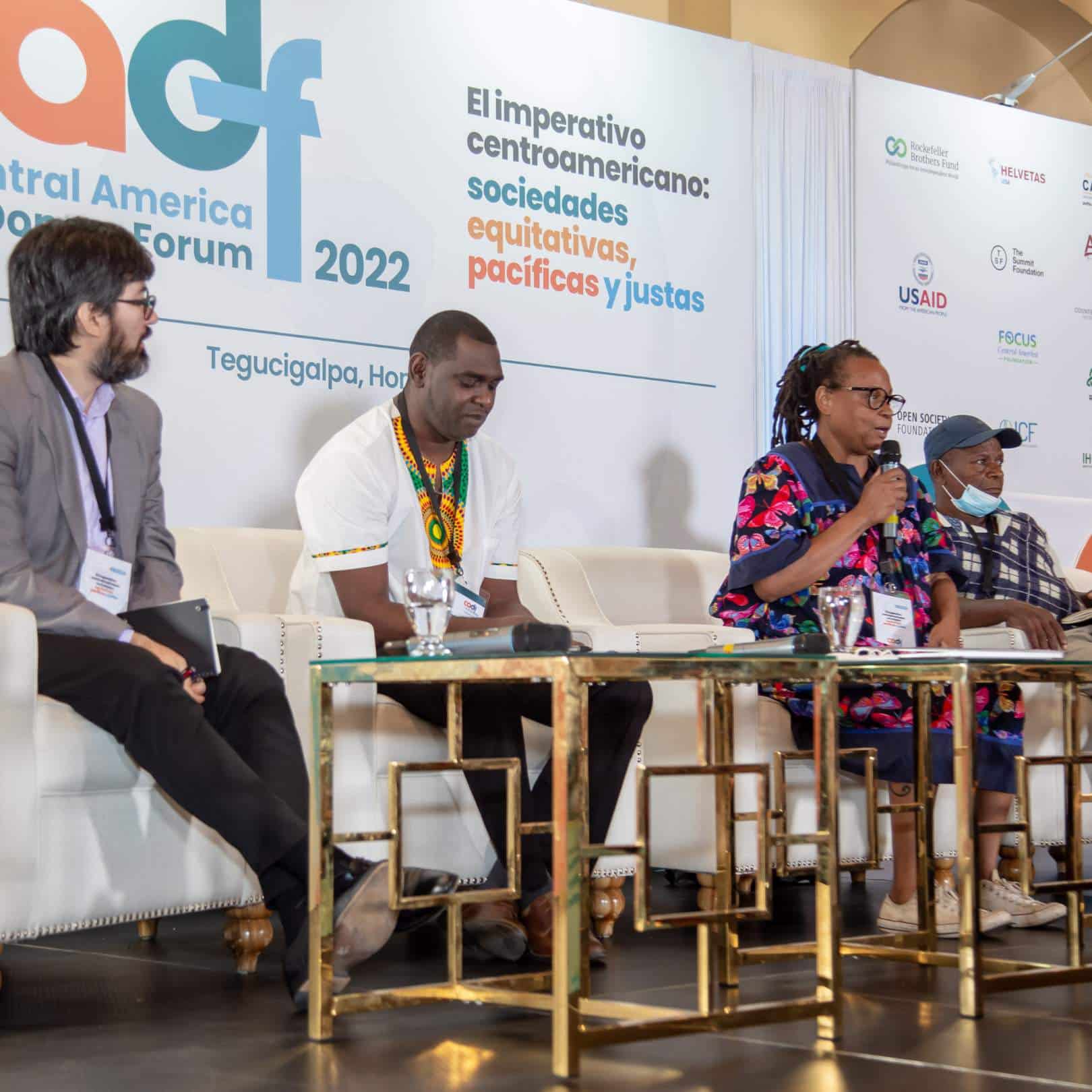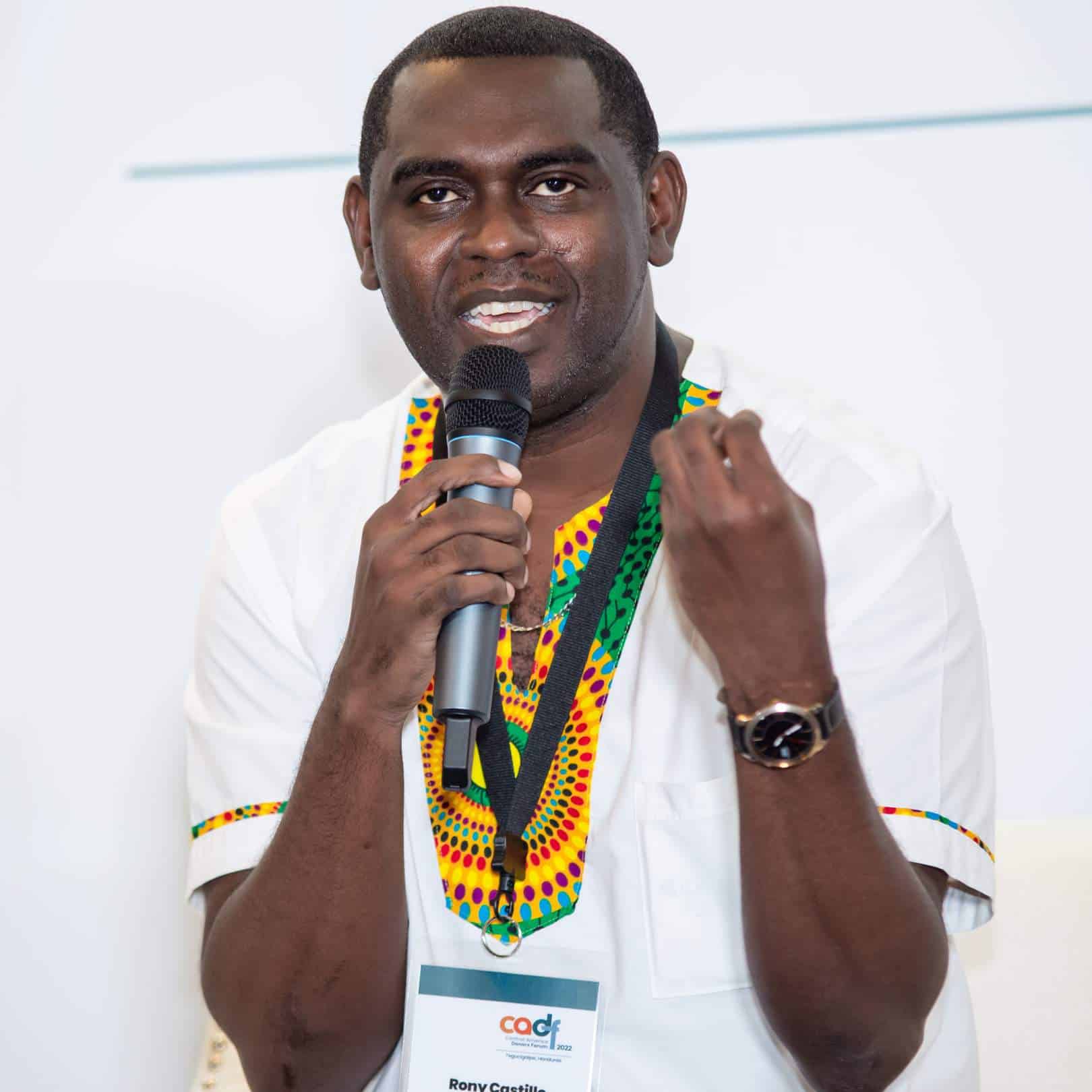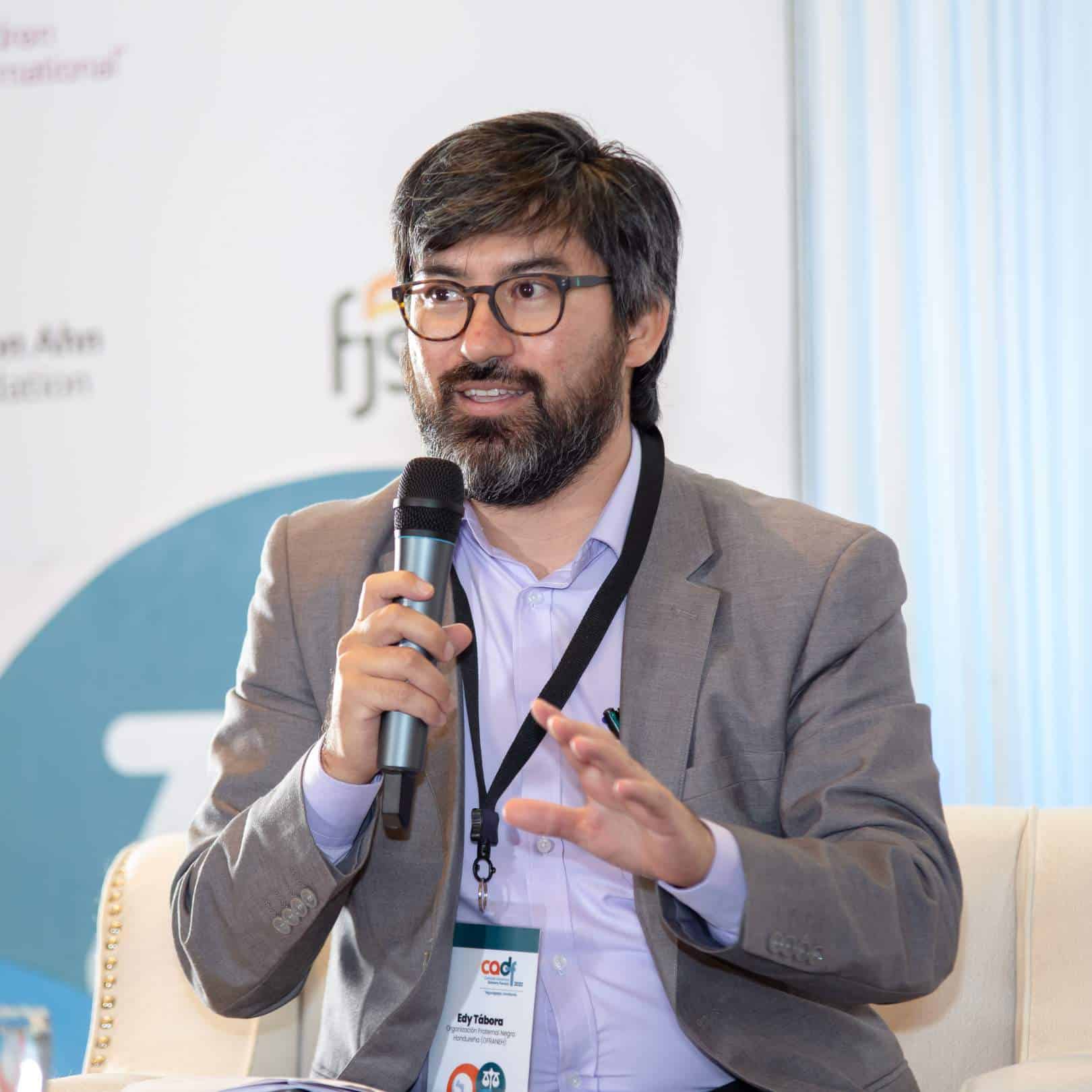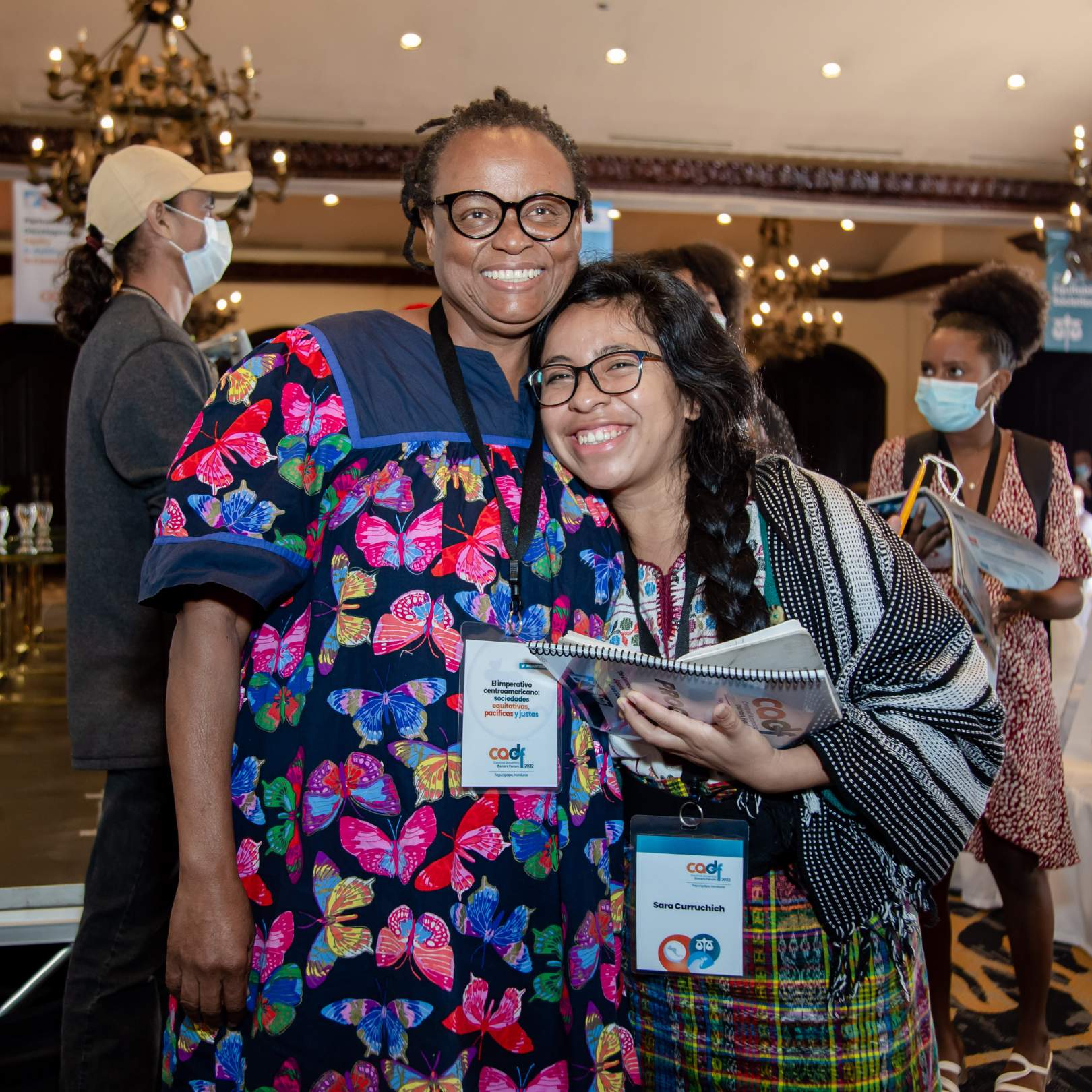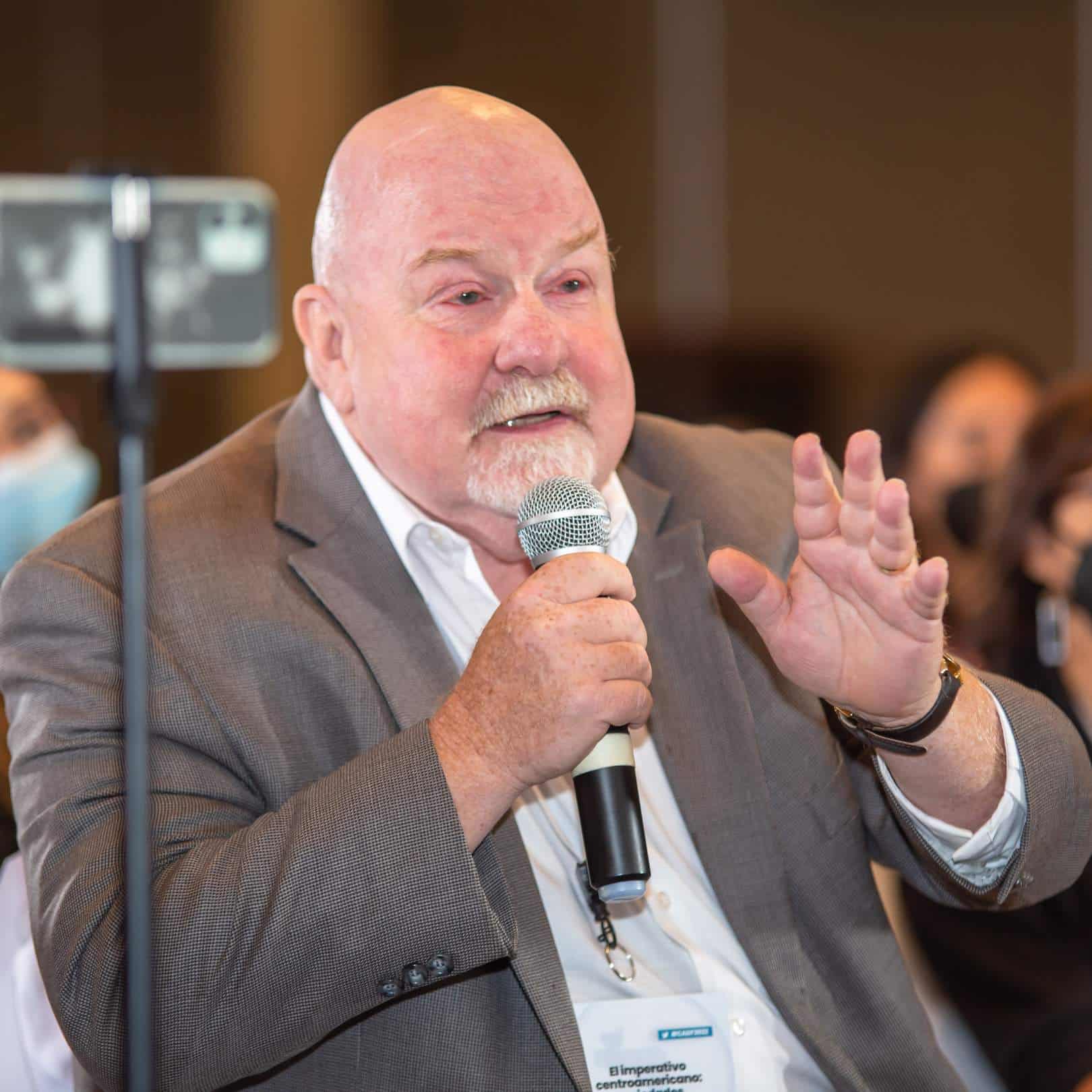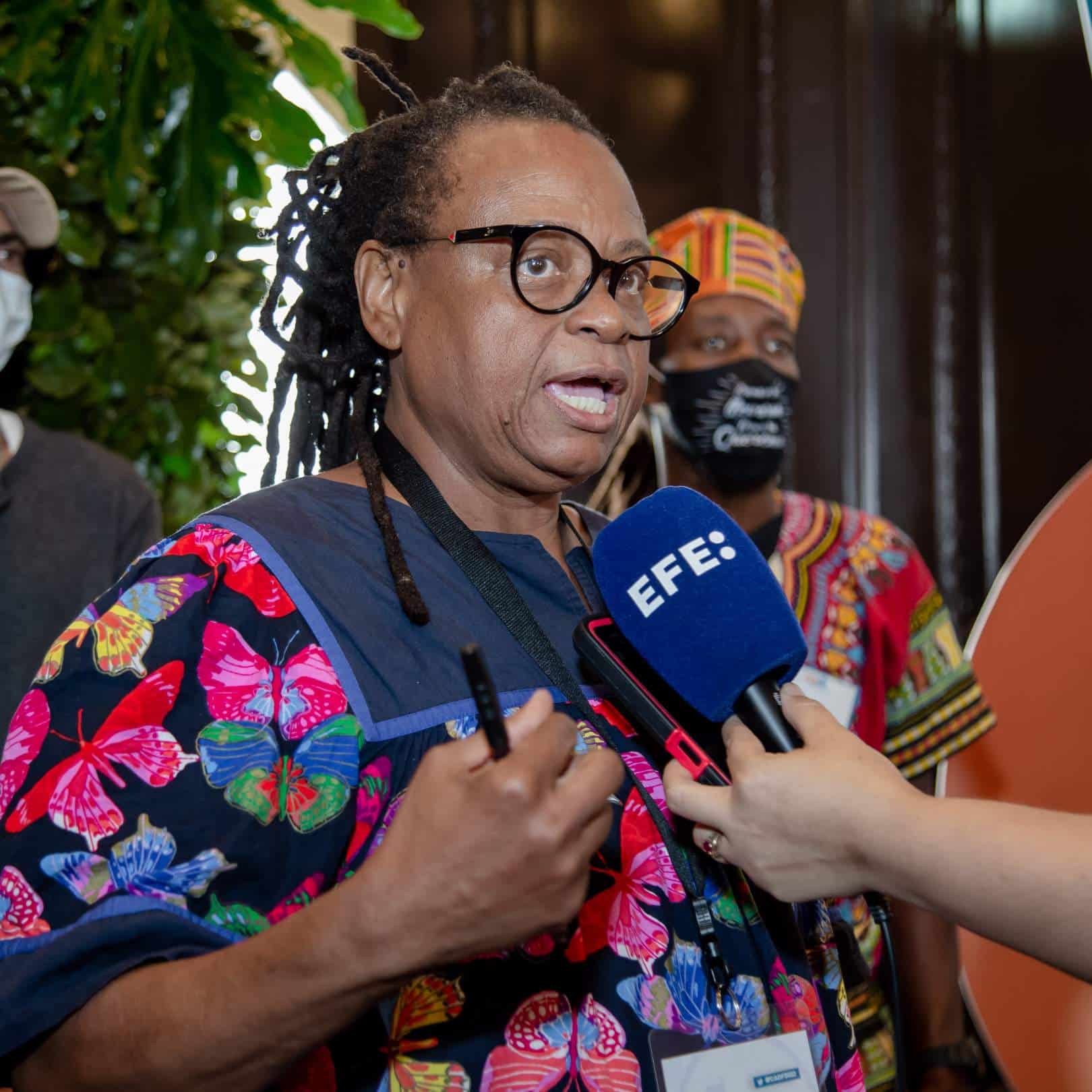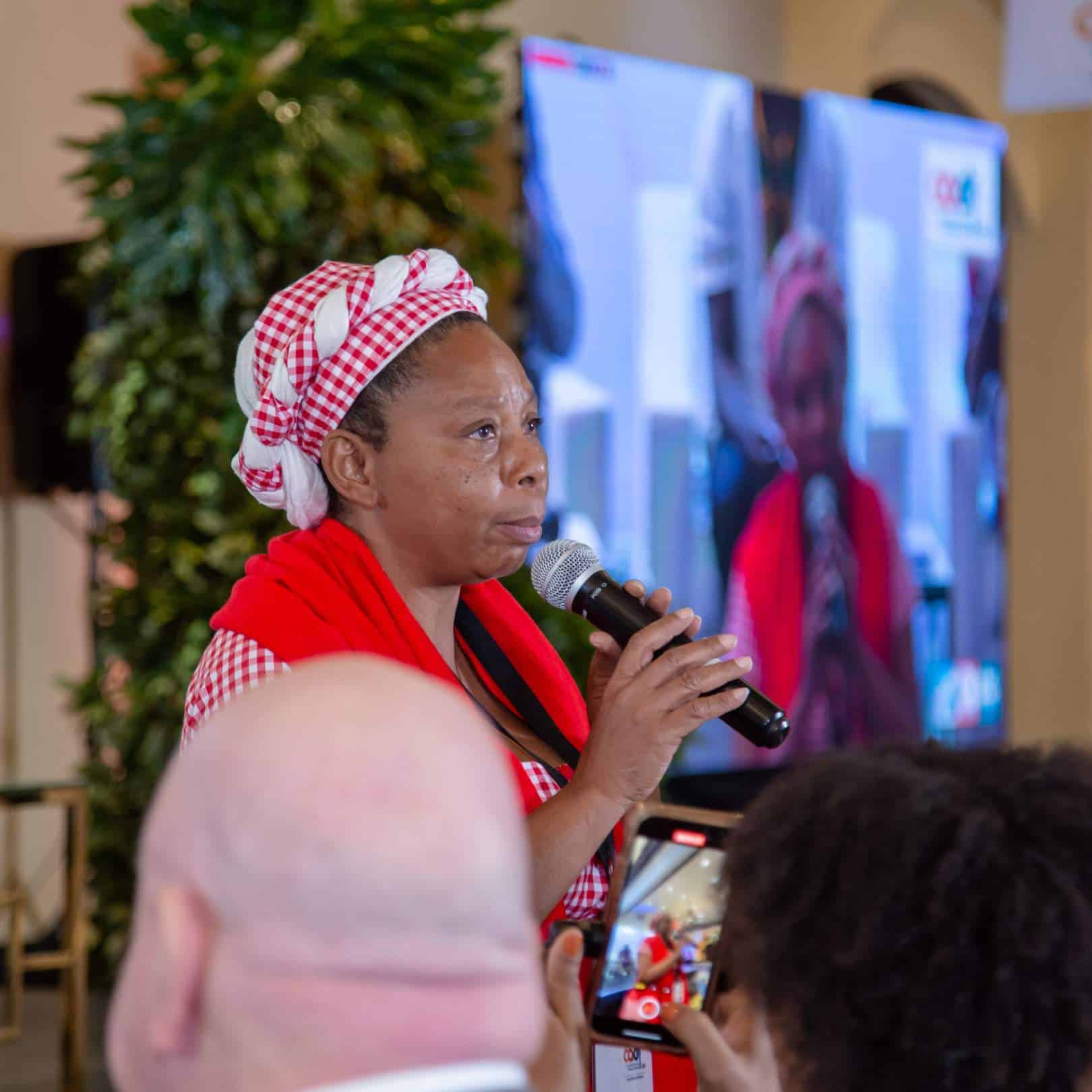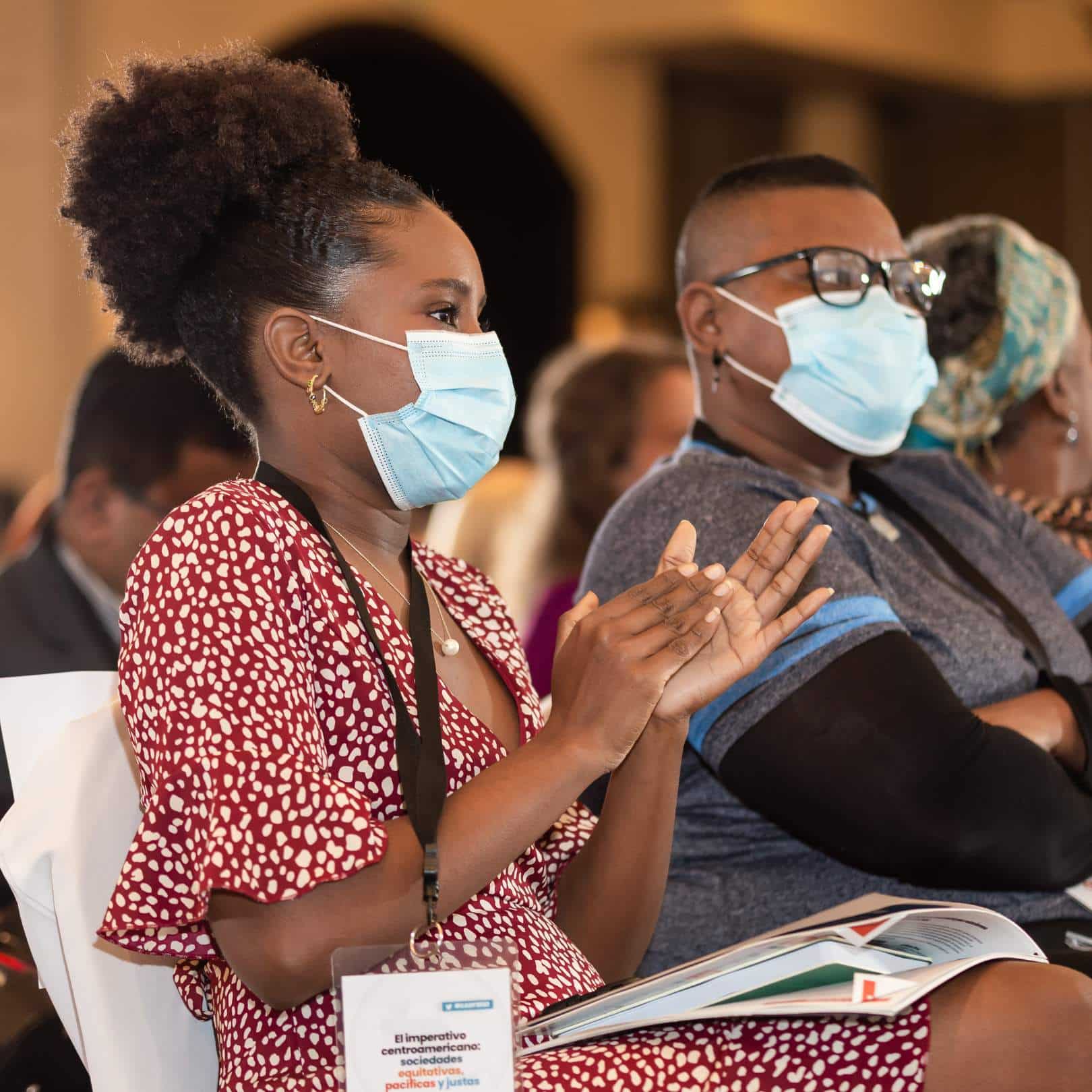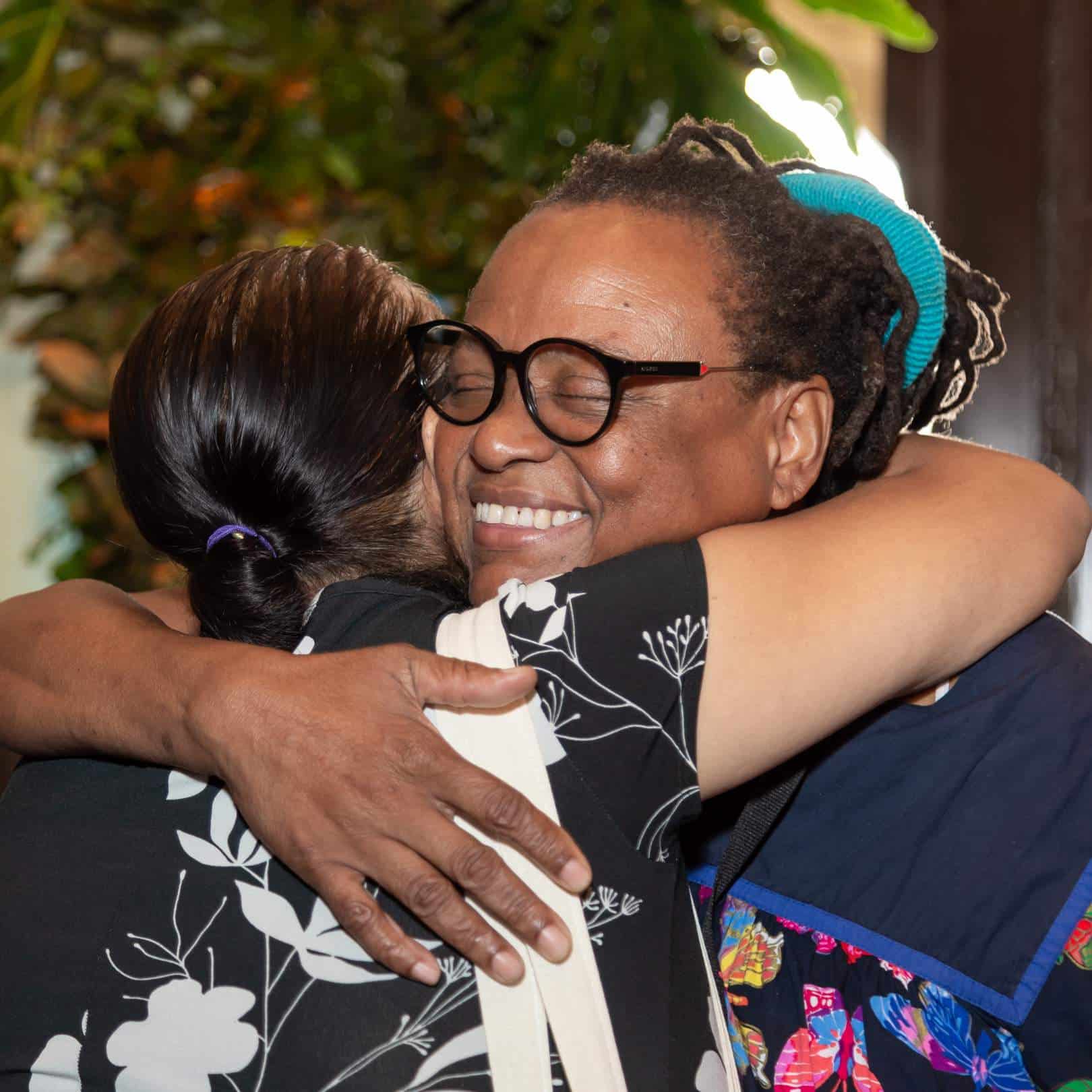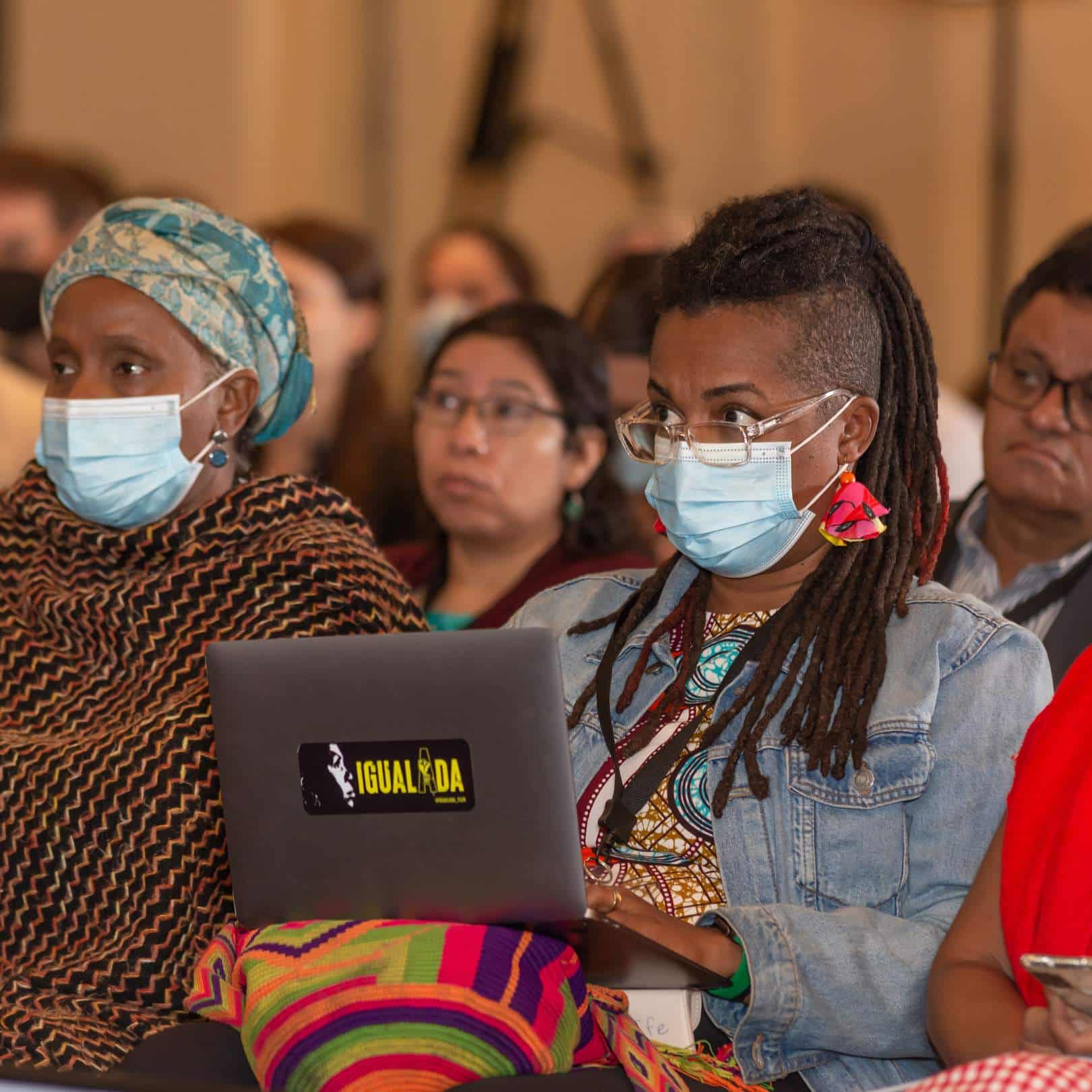 Arts & Culture
Imprisoned for Water
CADF 2022 featured an exhibition about eight environmental defenders who opposed the ASP and ASP1 mining project of the Los Pinares company in the the Colón Department of Honduras.

These defenders were unjustly imprisoned in a process that violated their due process rights, and their struggle was highlighted in this digital campaign by Criterio.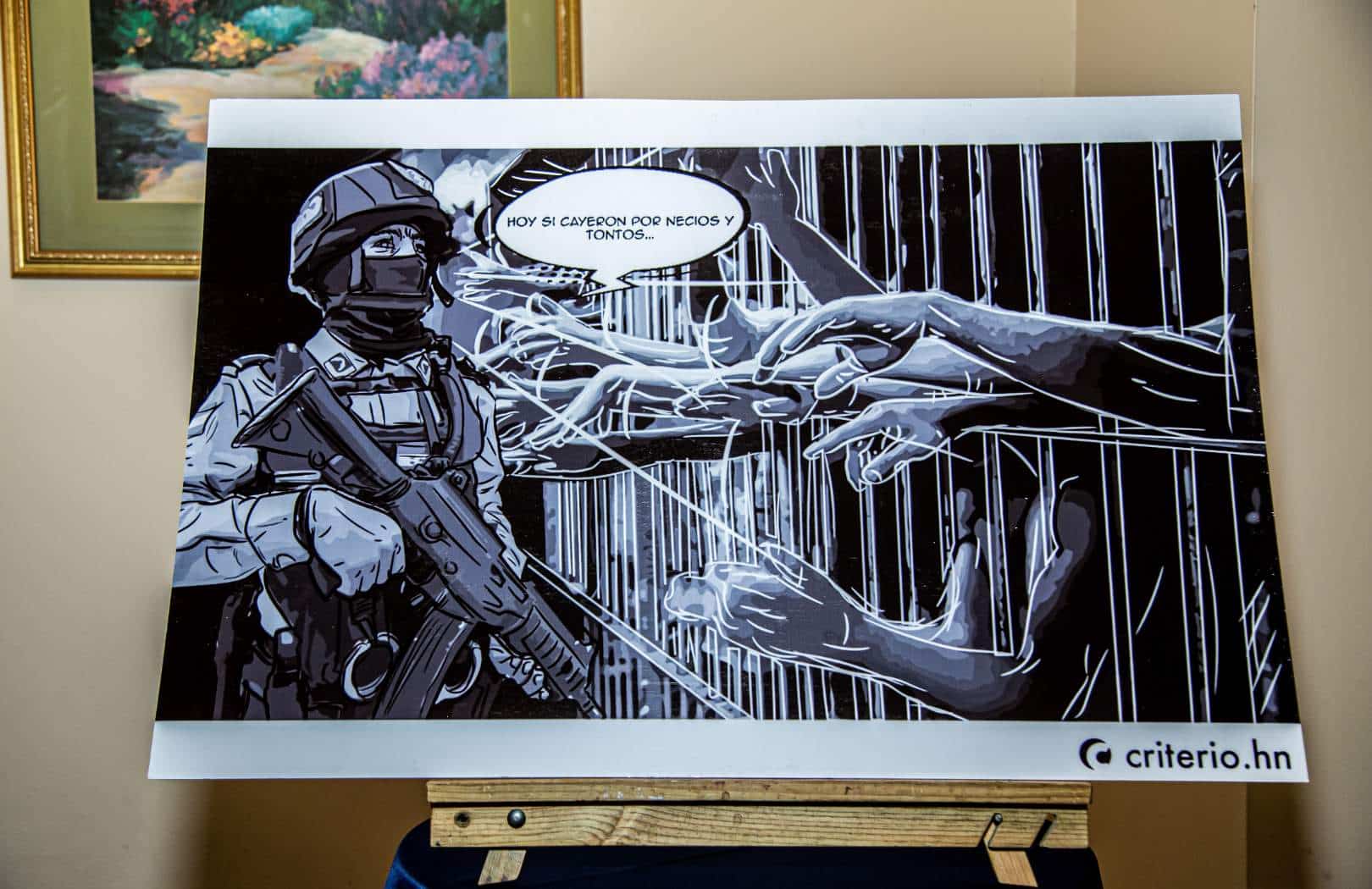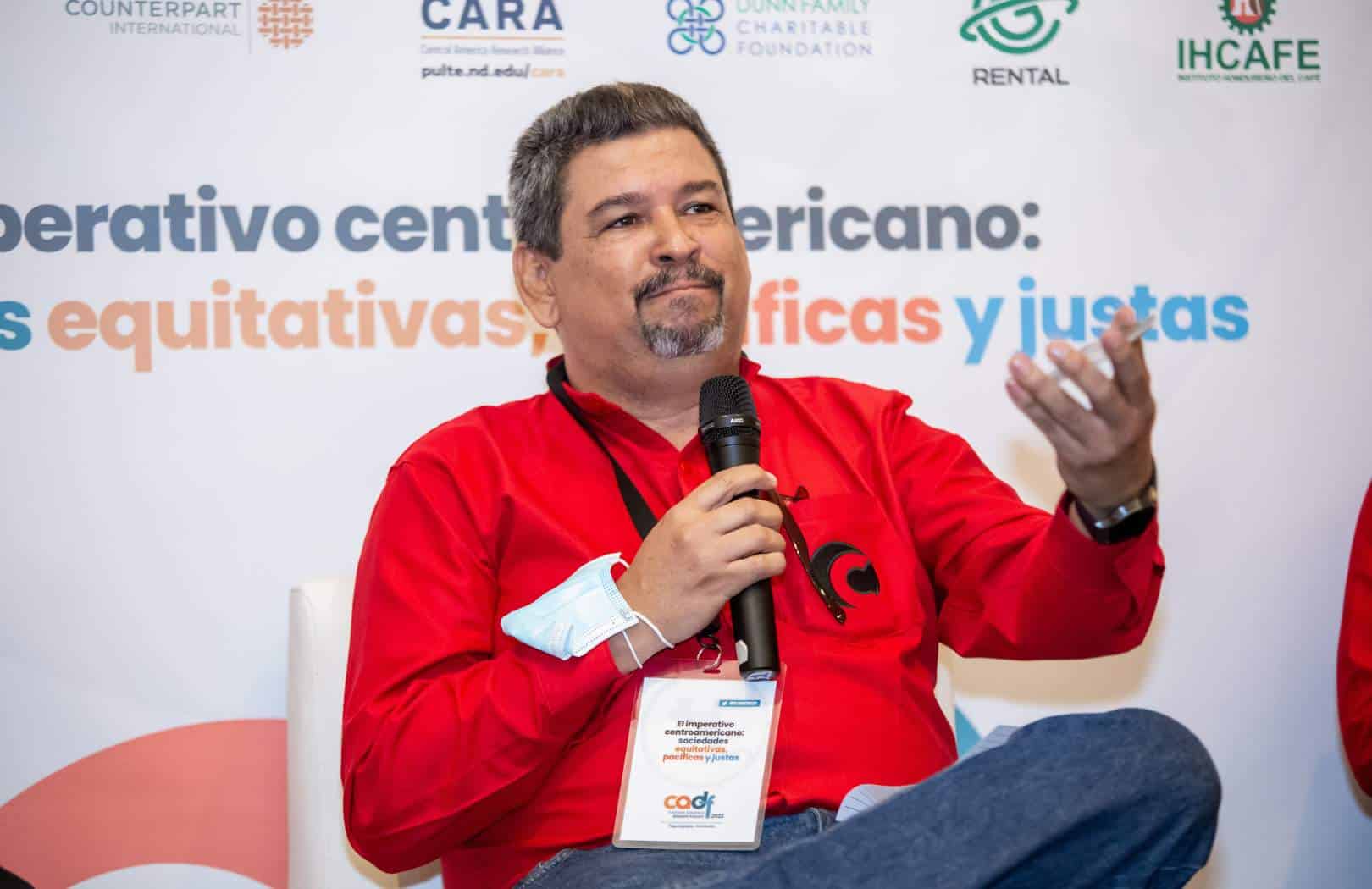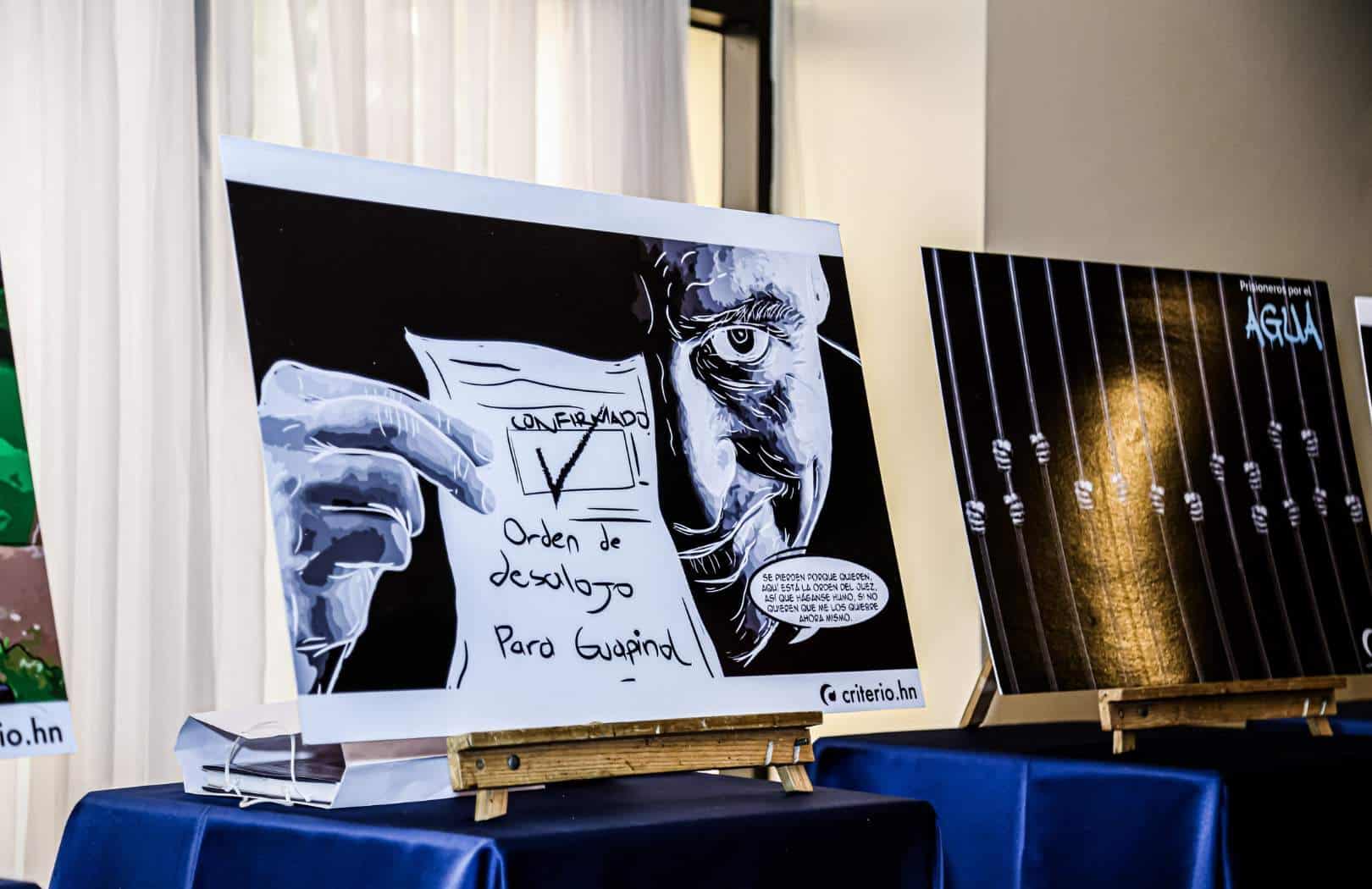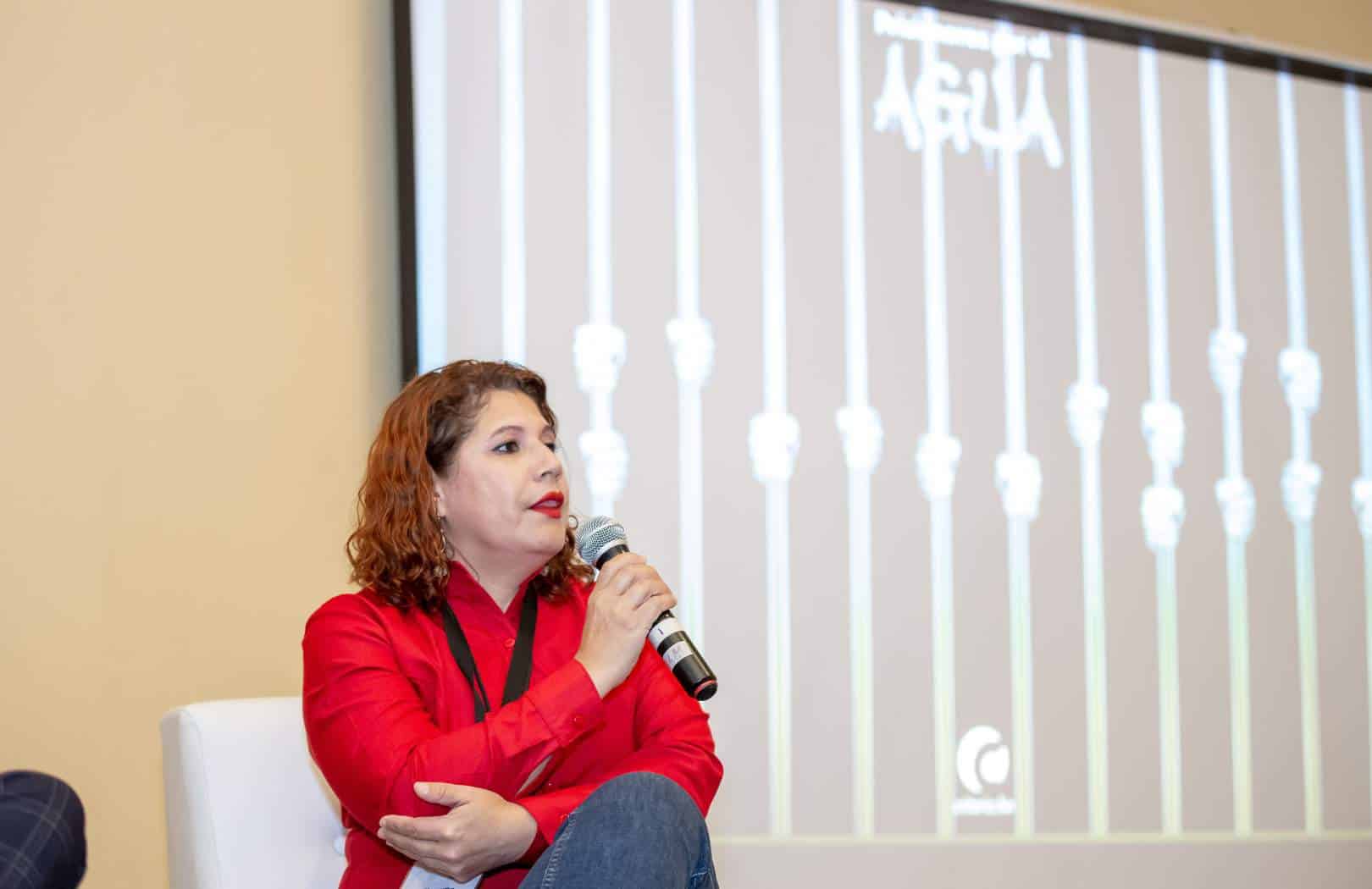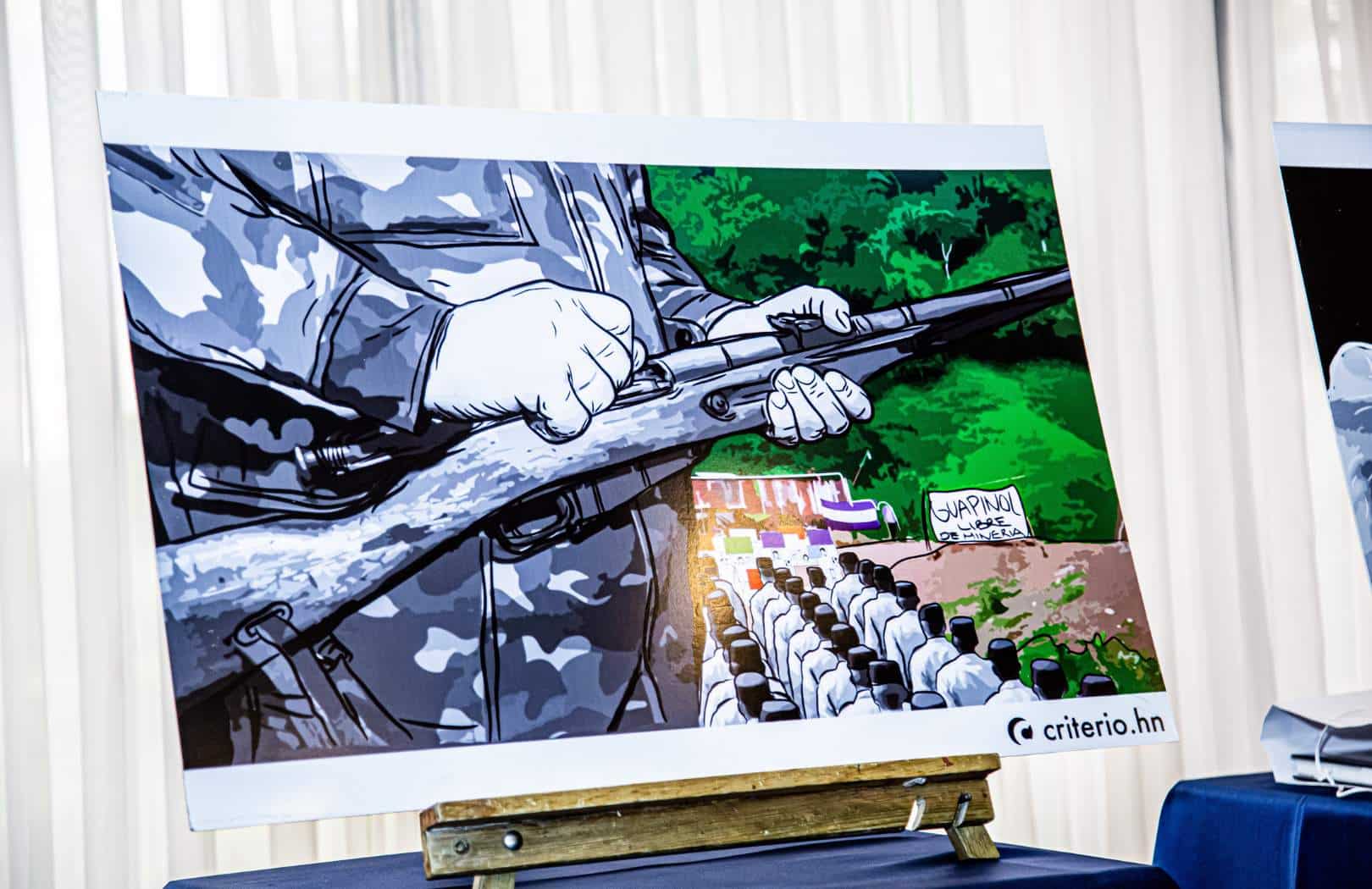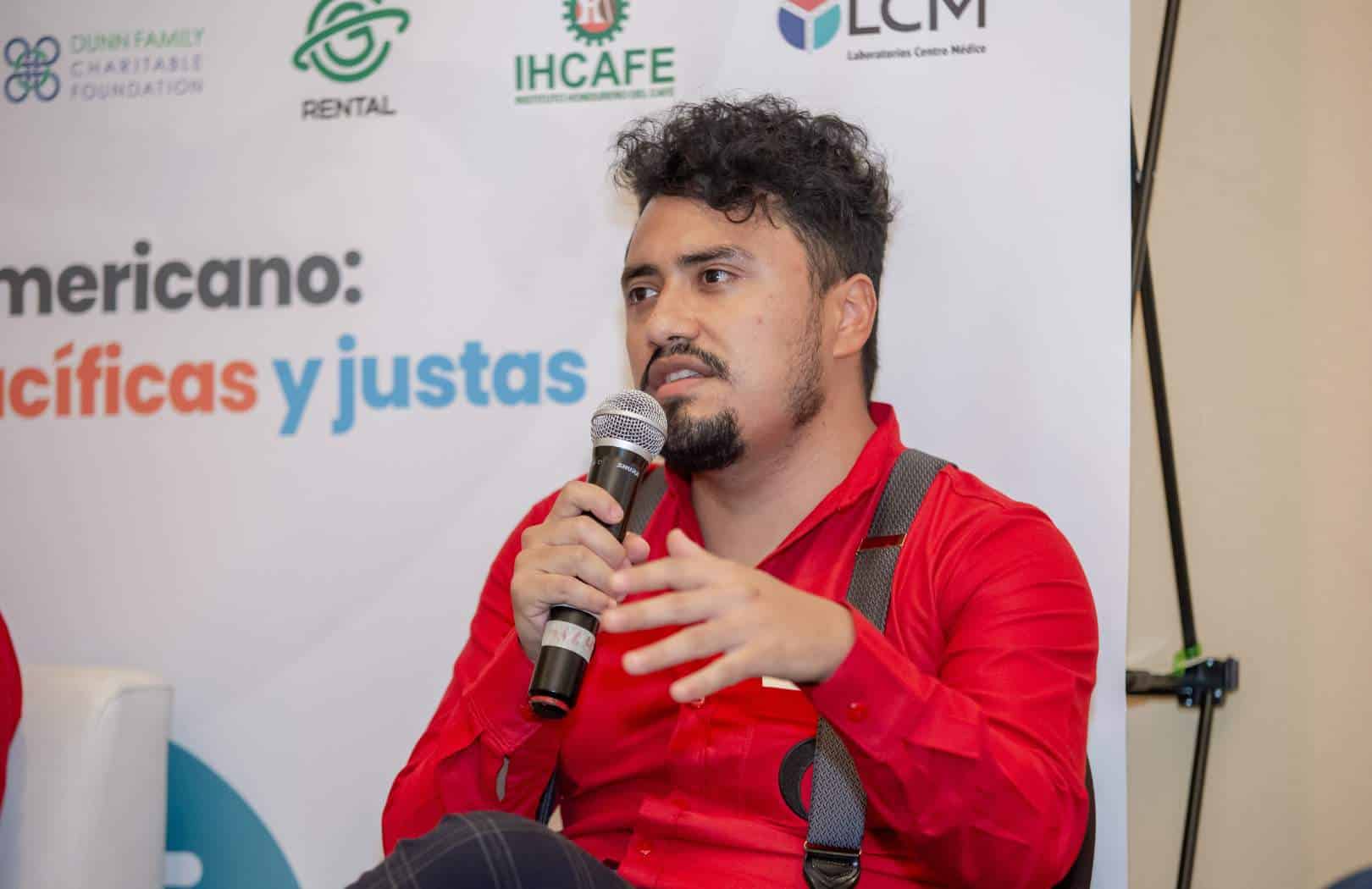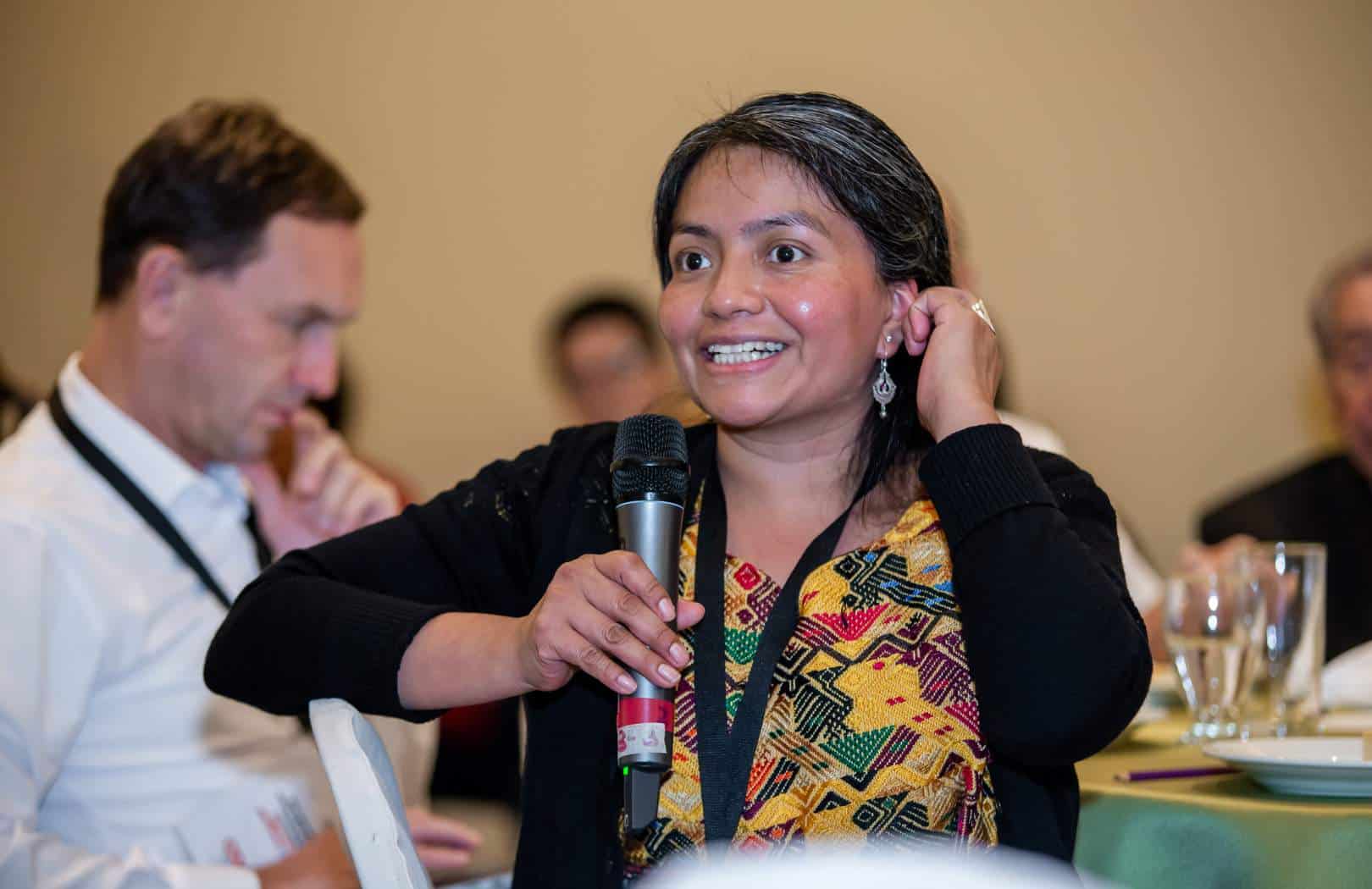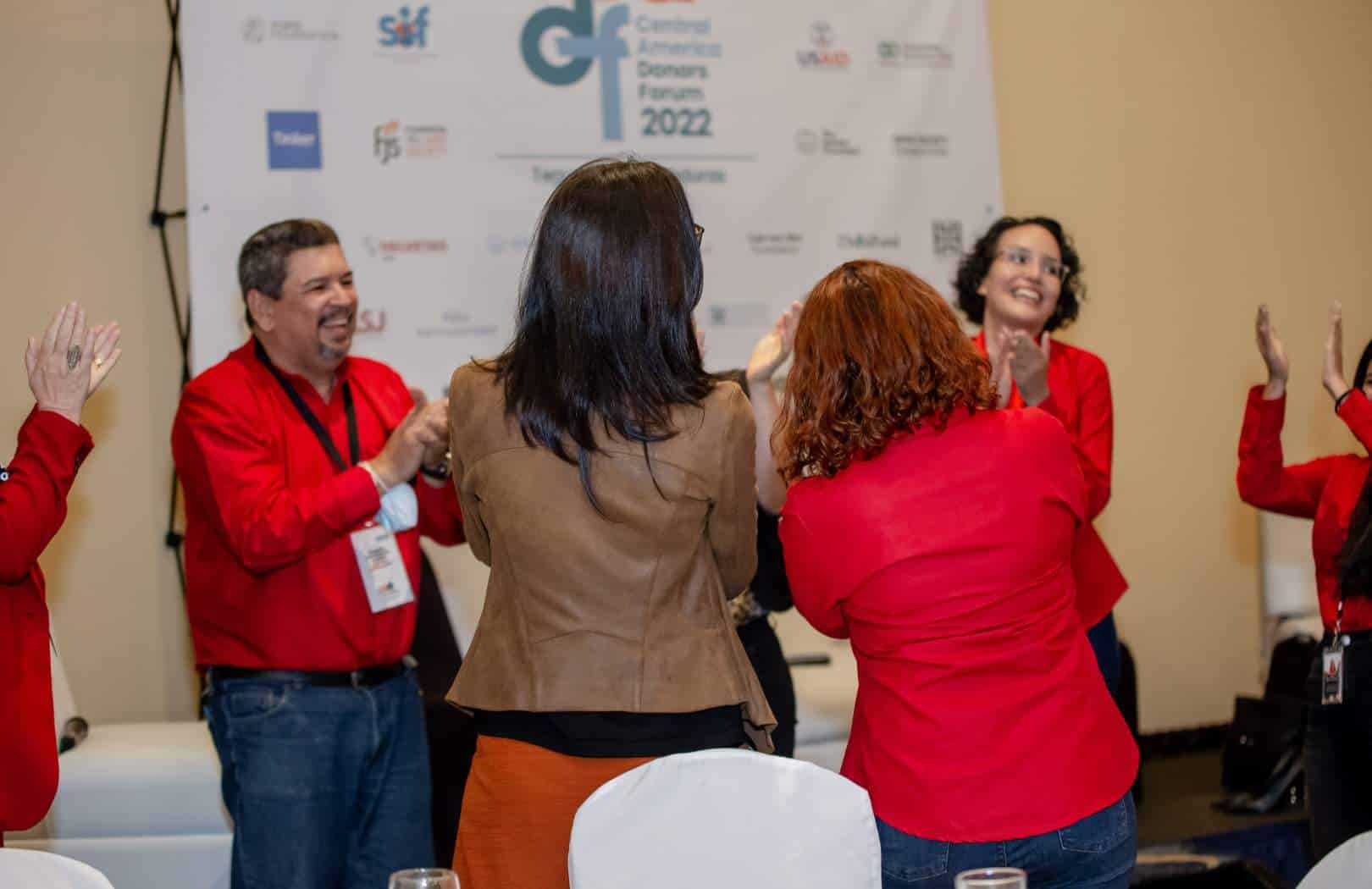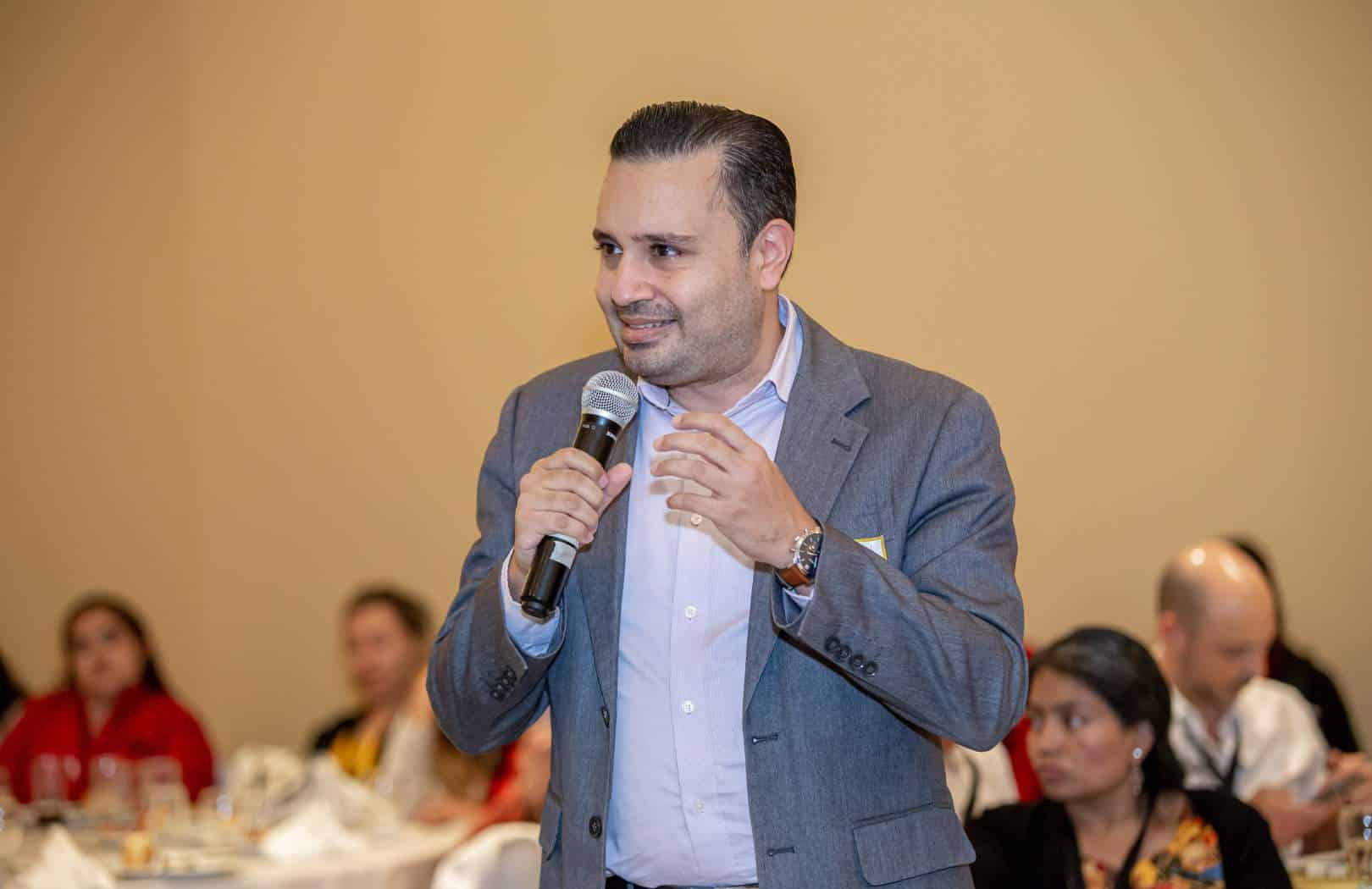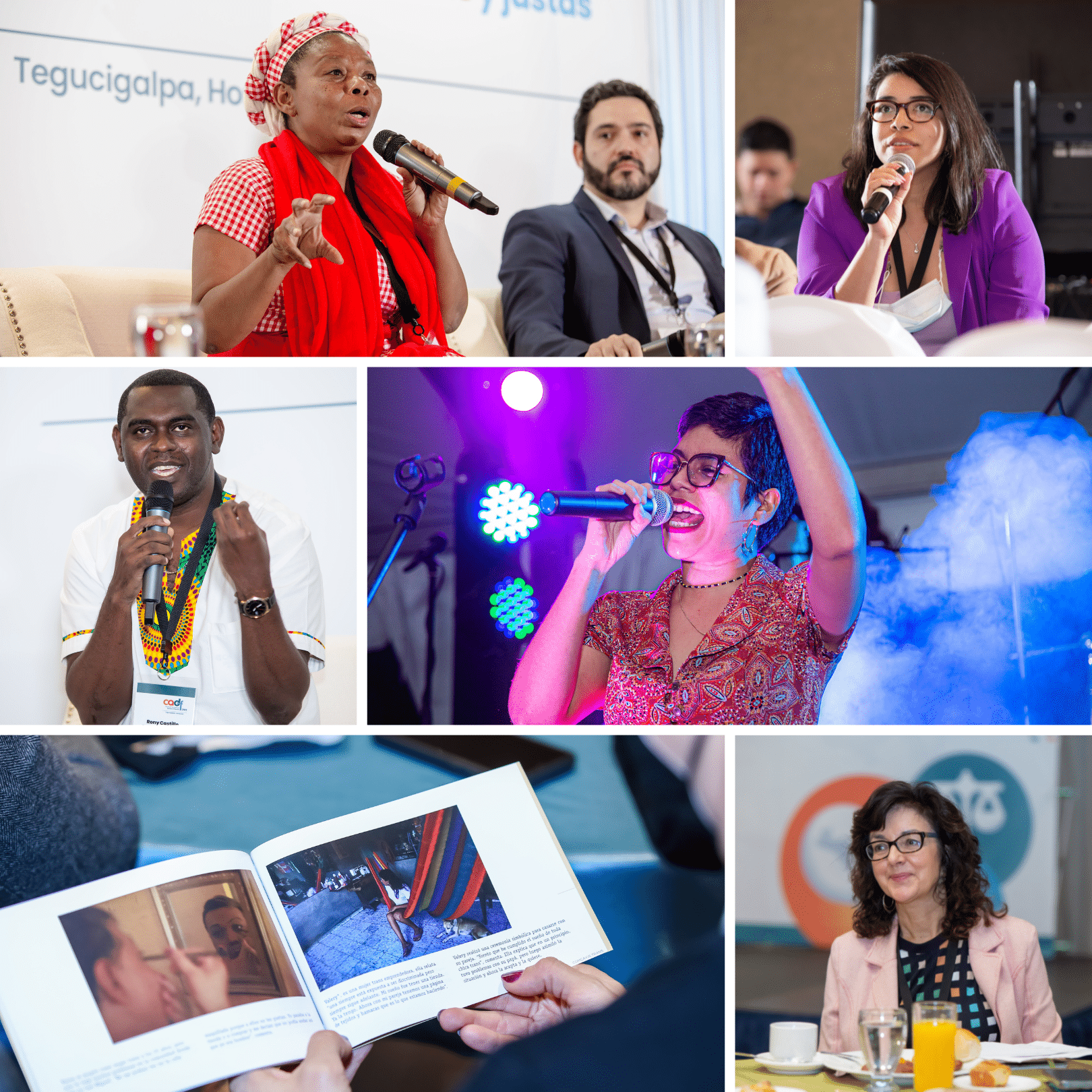 Education
Emerging from the Pandemic Educational Crisis: Cross-Sectoral Strategies
This session explored how closures due to the pandemic and the discrepancies in resuming classes have resulted in significant education delays for students, and how supporting the recovery of education through cross-sector collaboration is key. Although an indicator of effort, GDP percentage alone is not an adequate measure to identity if enough is being invested in education. Research indicates that an investment of $8,000 per student per year is necessary for quality education.
Philanthropy in Panama, where an online portal created by teachers to share resources has been visited over 40,000 times, is one pathway for success. Speakers highlighted how donors should focus their efforts on collaborative initiatives led by local stakeholders to modernize curriculum, while also working within existing government agendas whenever possible.
Quotes
"In Central America, nearly all teachers indicated they had to purchase computers themselves to teach remotely. This demonstrates the precarious situation facing public investment of education […] It's important that education does not produce inequality."
Javier González
"Socio-emotional support, that human element, is key to combating academic dropout rates […] Investment in education is more than 'just' an economic investment; it is an investment in people, in the future. It is the life of a child."
Maruja Gorday de Villalobos
"The pandemic has exacerbated what had previously been decades-old structural problems […] The donor community should focus its efforts on supporting collaborative initiatives carried out by local actors."
Dunia Perdomo
"It's key for us to create a safe environment in which learning is enjoyable."
Kimberly McClain
Speakers
Kimberly McClain, Global Fund for Children
Javier González, SUMMA
Dunia Perdomo, OYE Adelante Jóvenes of Honduras
Maruja Gorday de Villalobos, Ministry of Education of Panama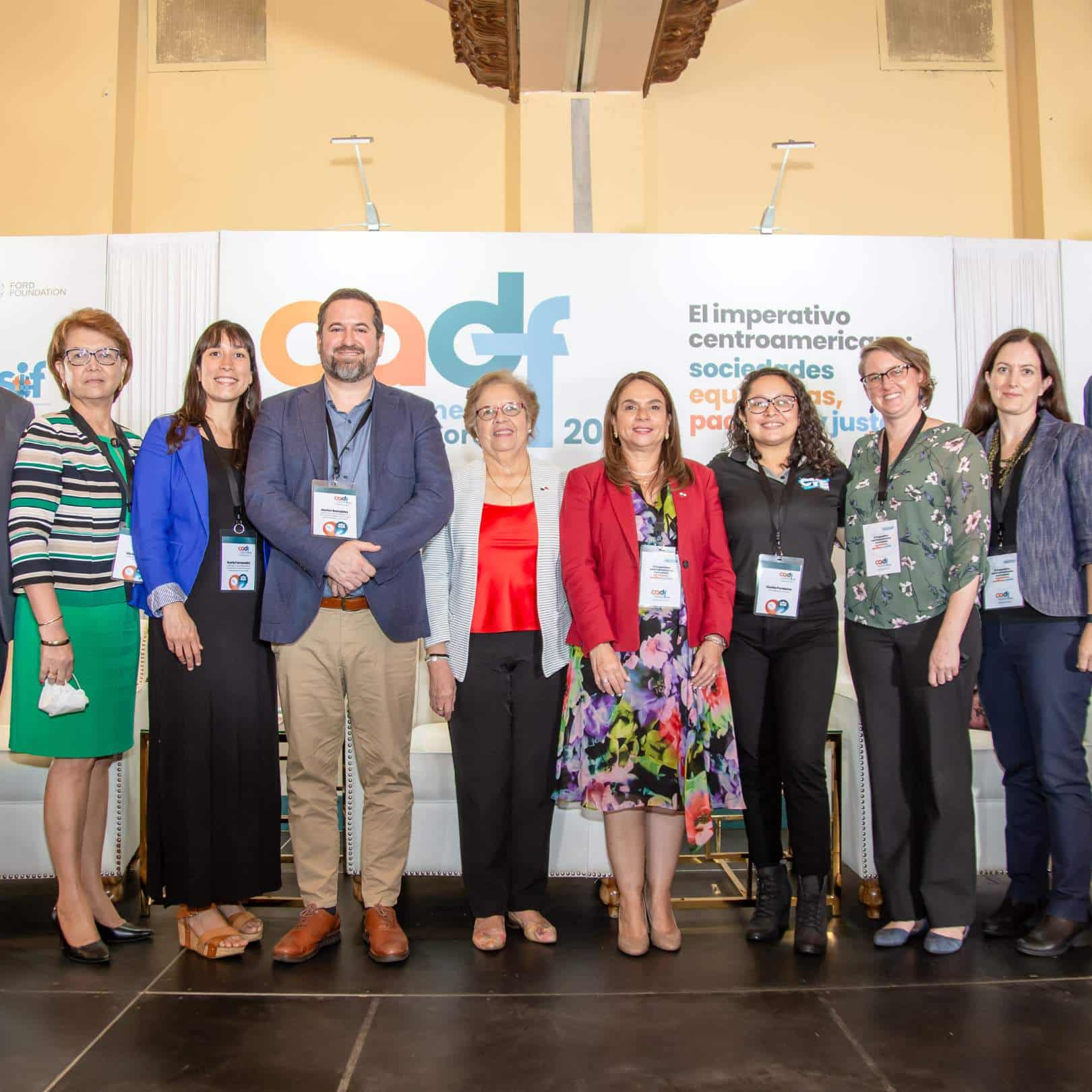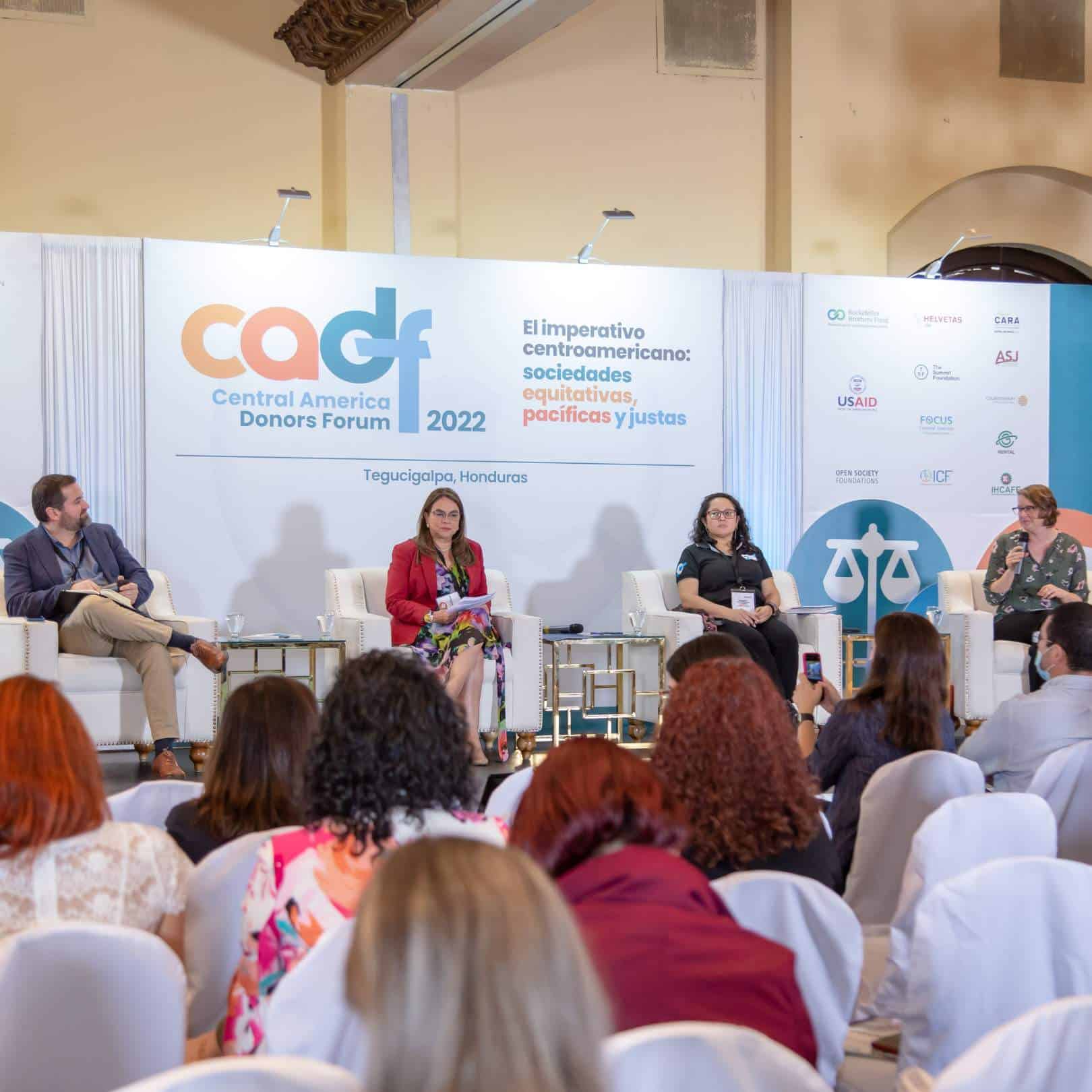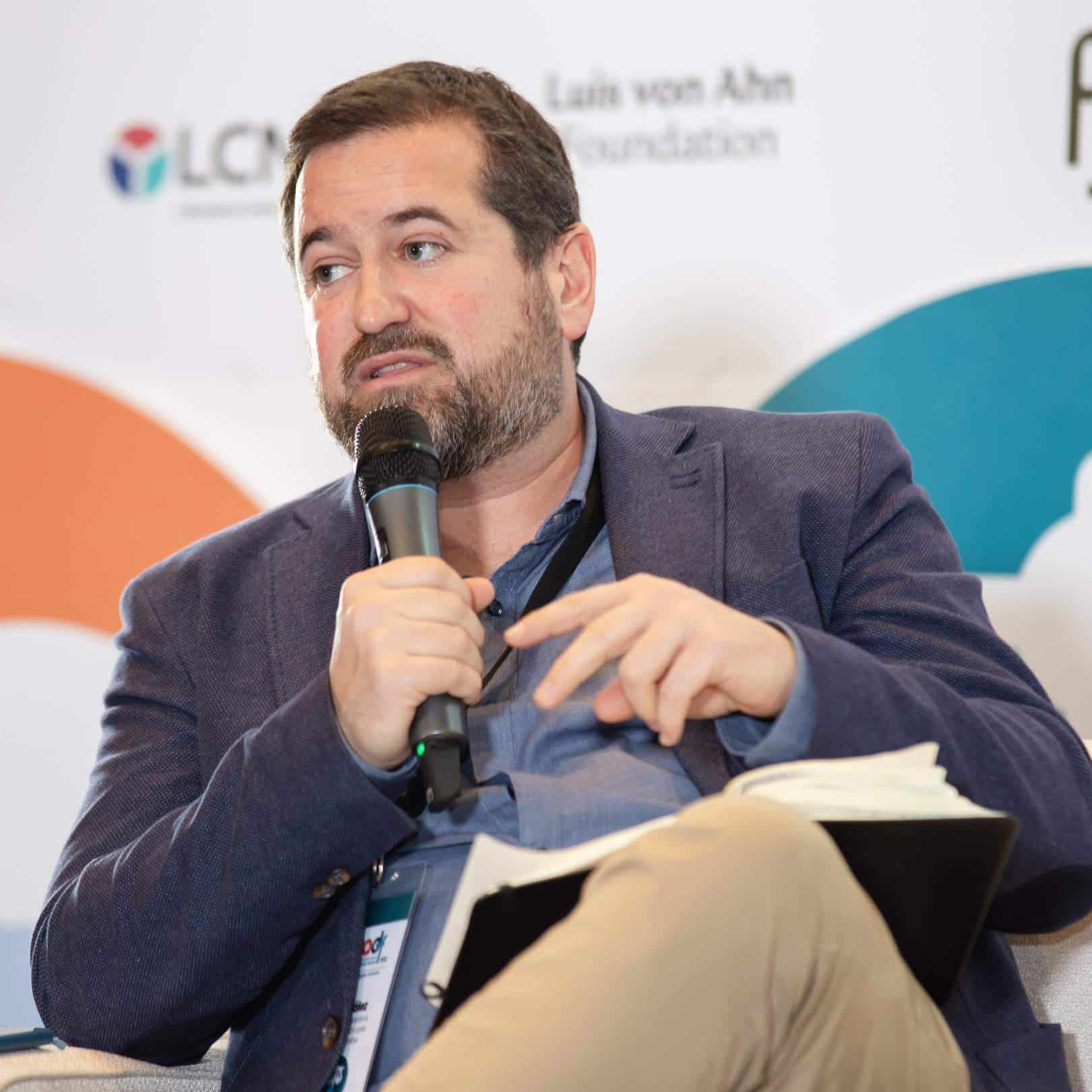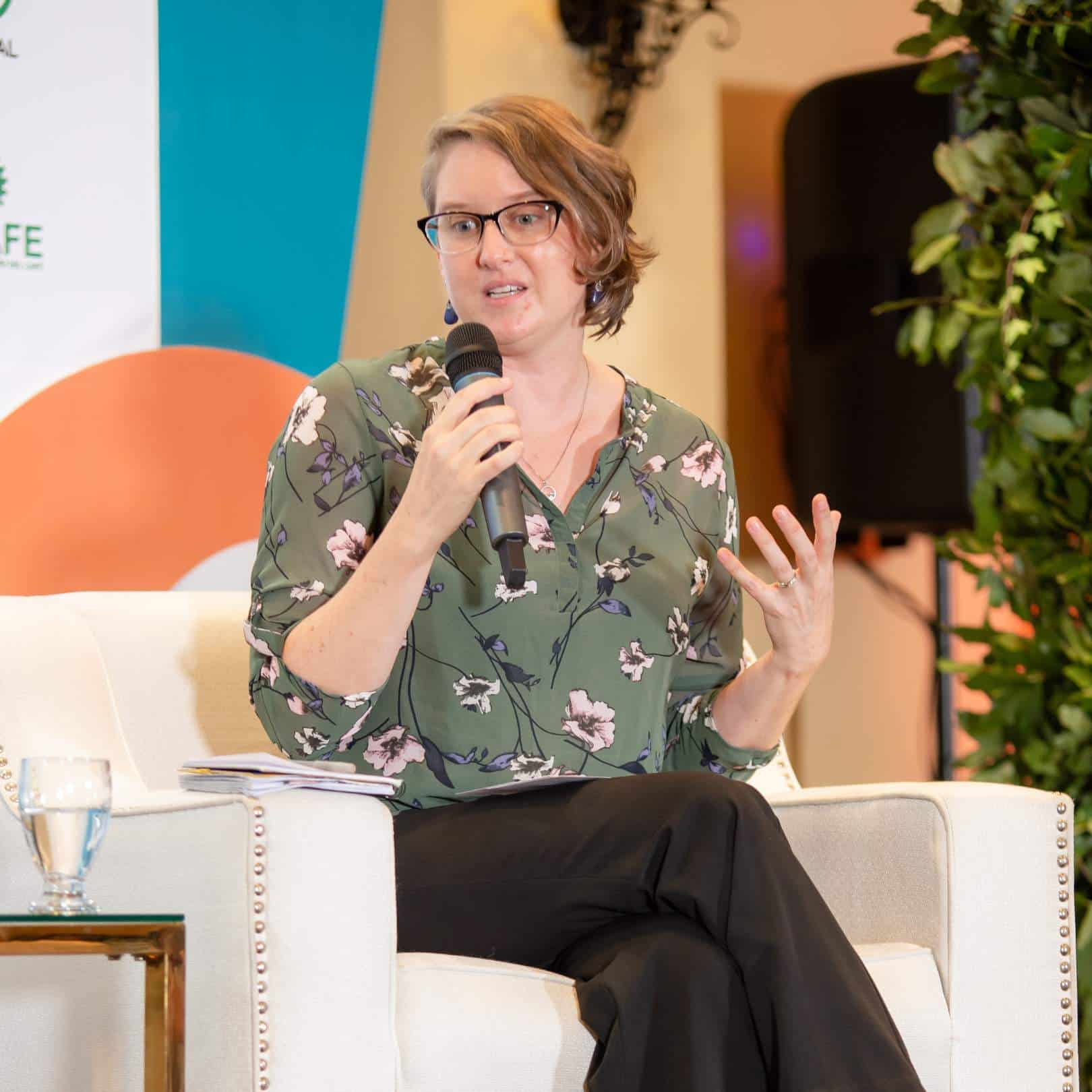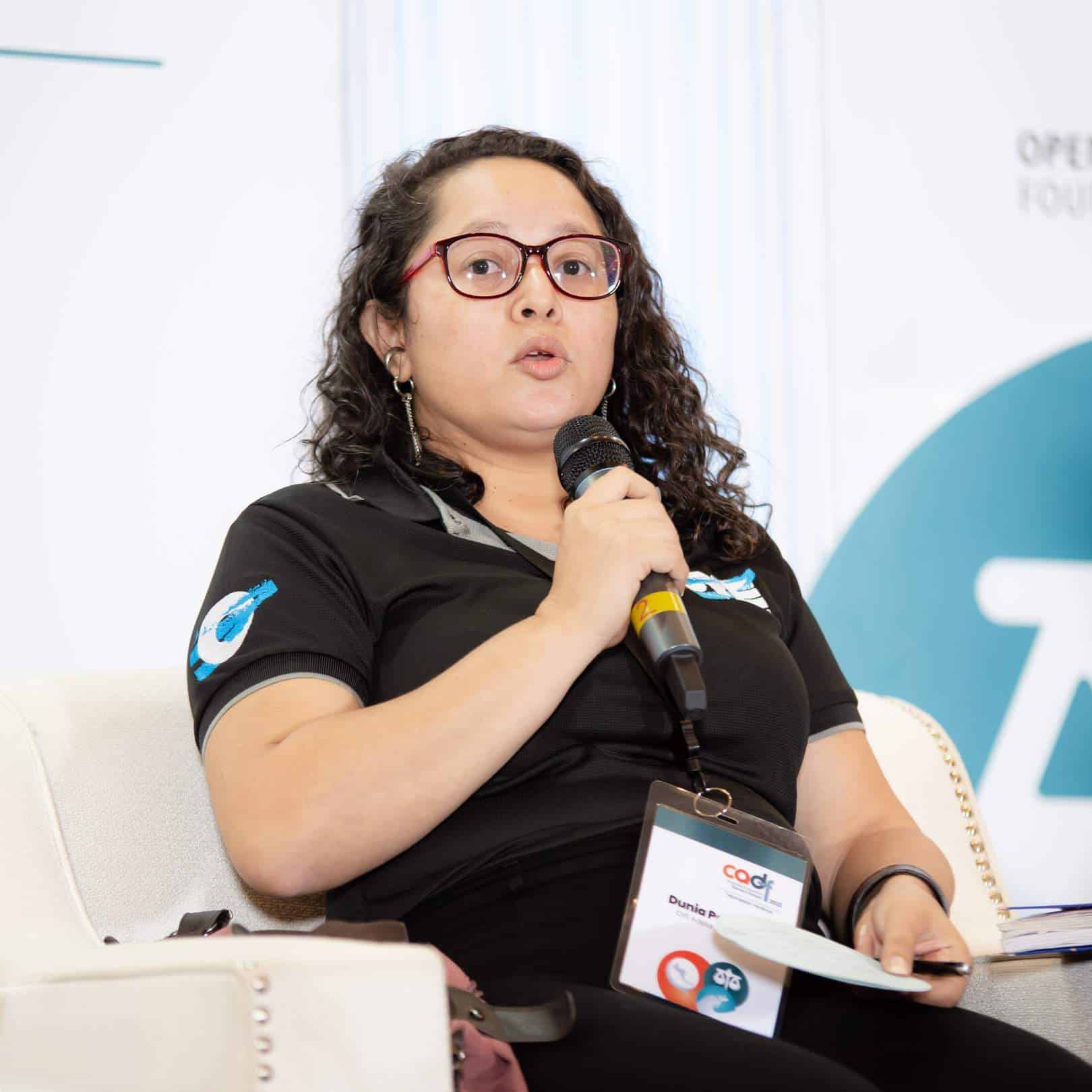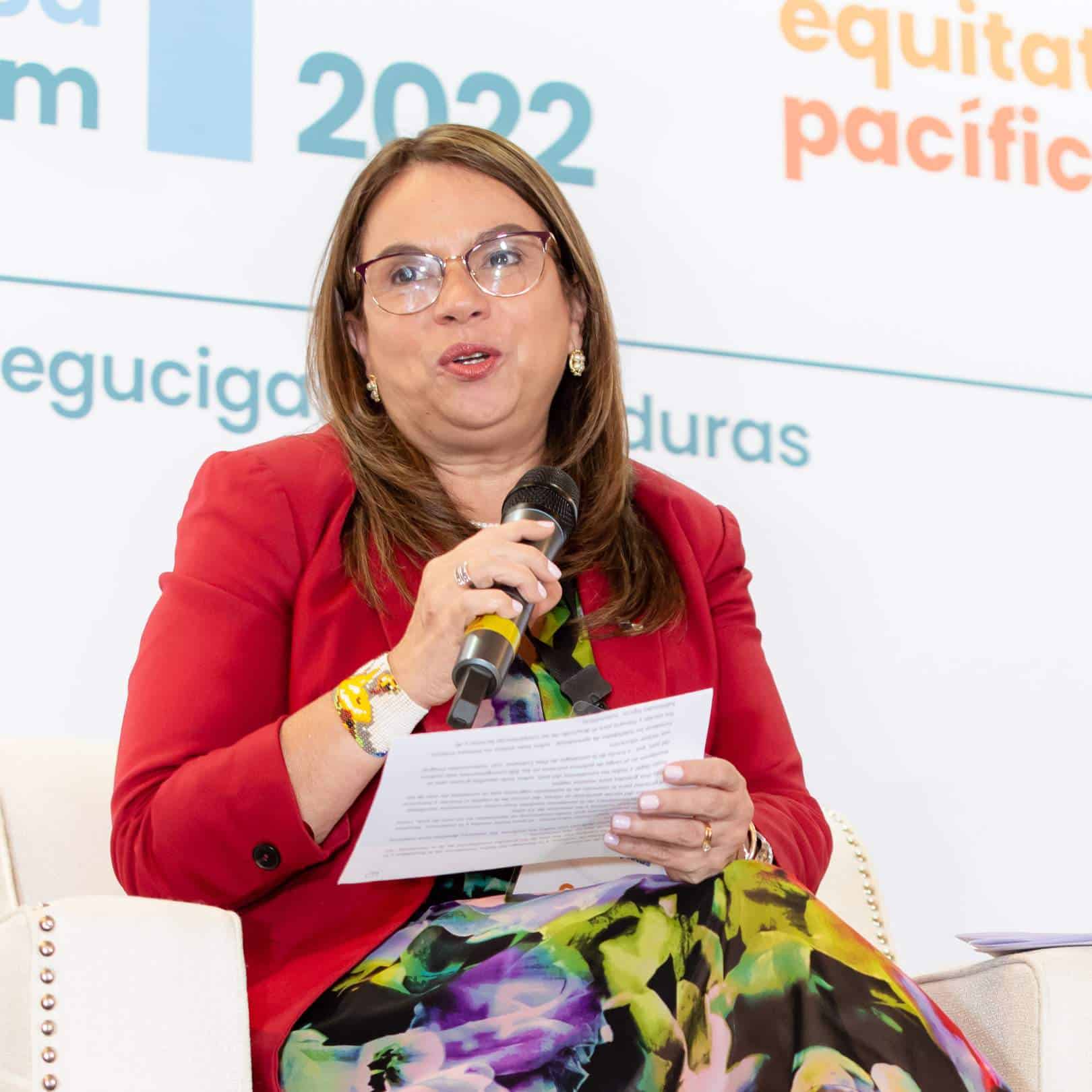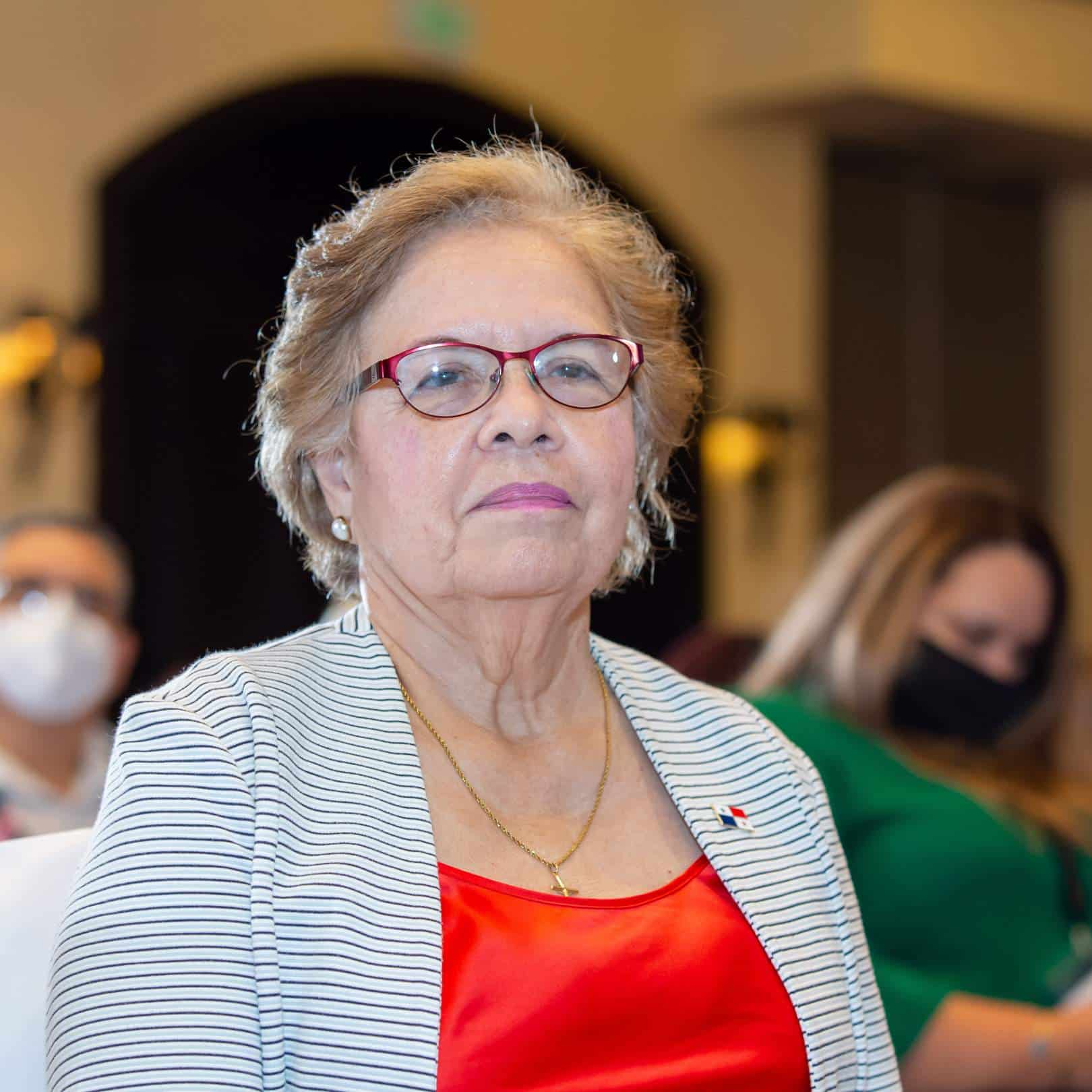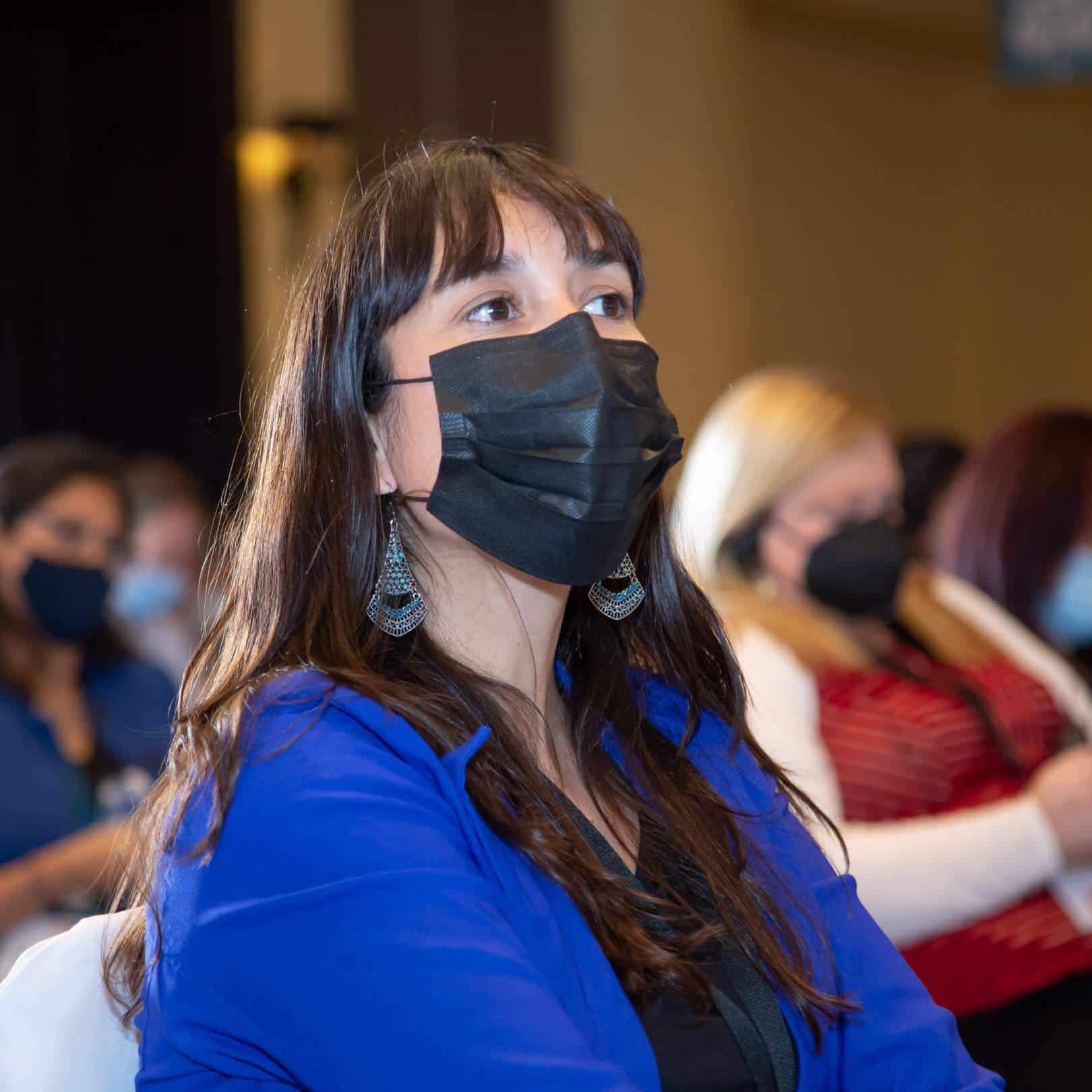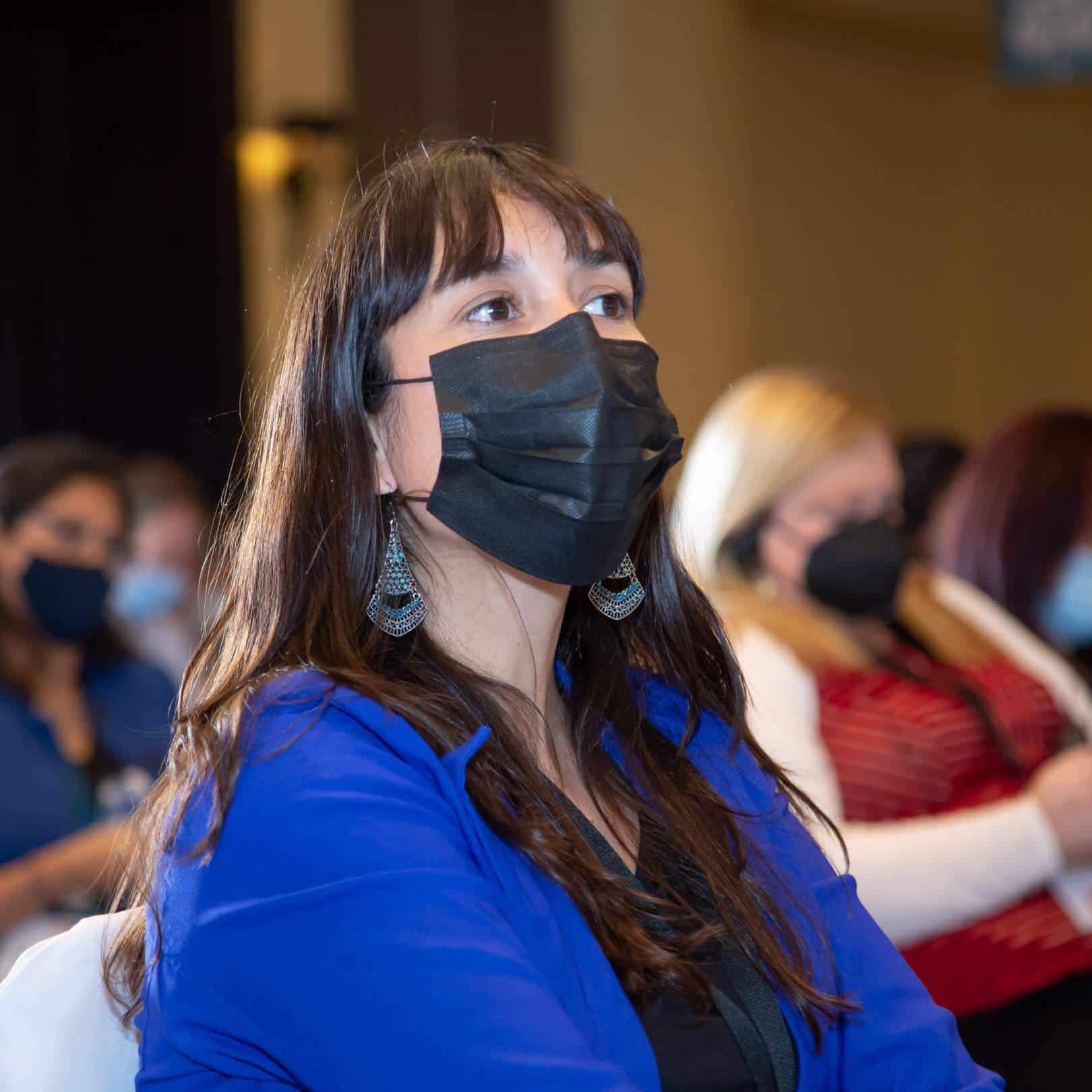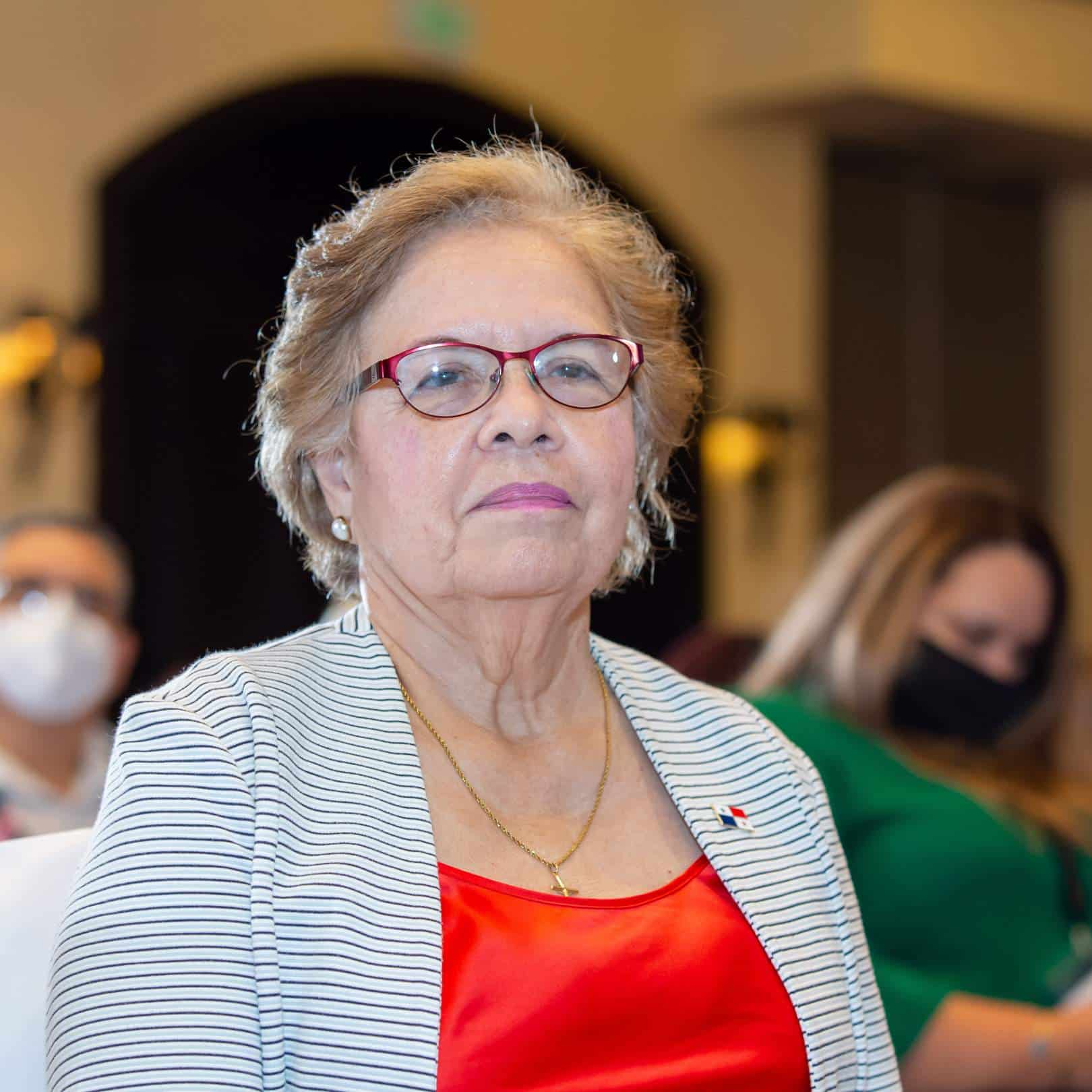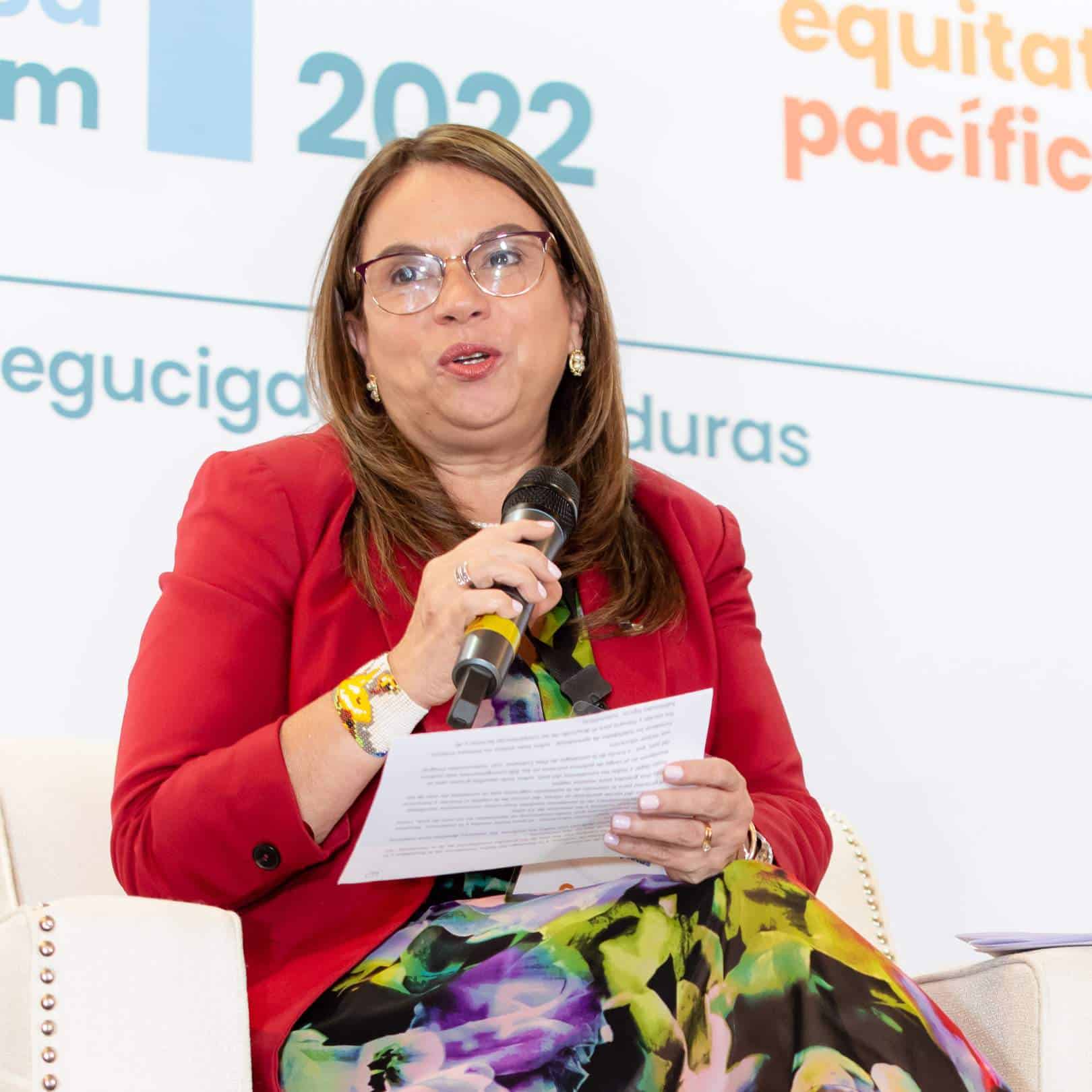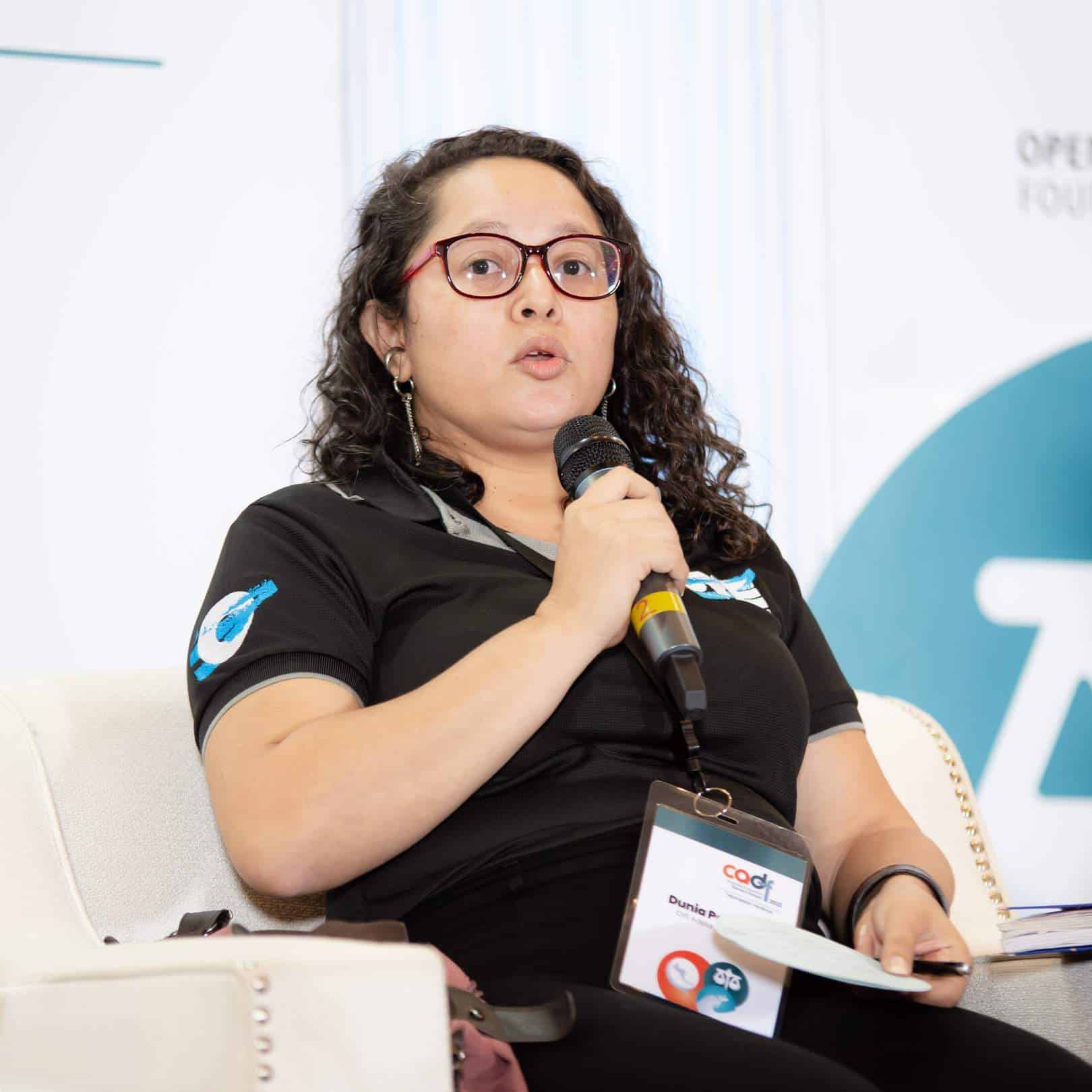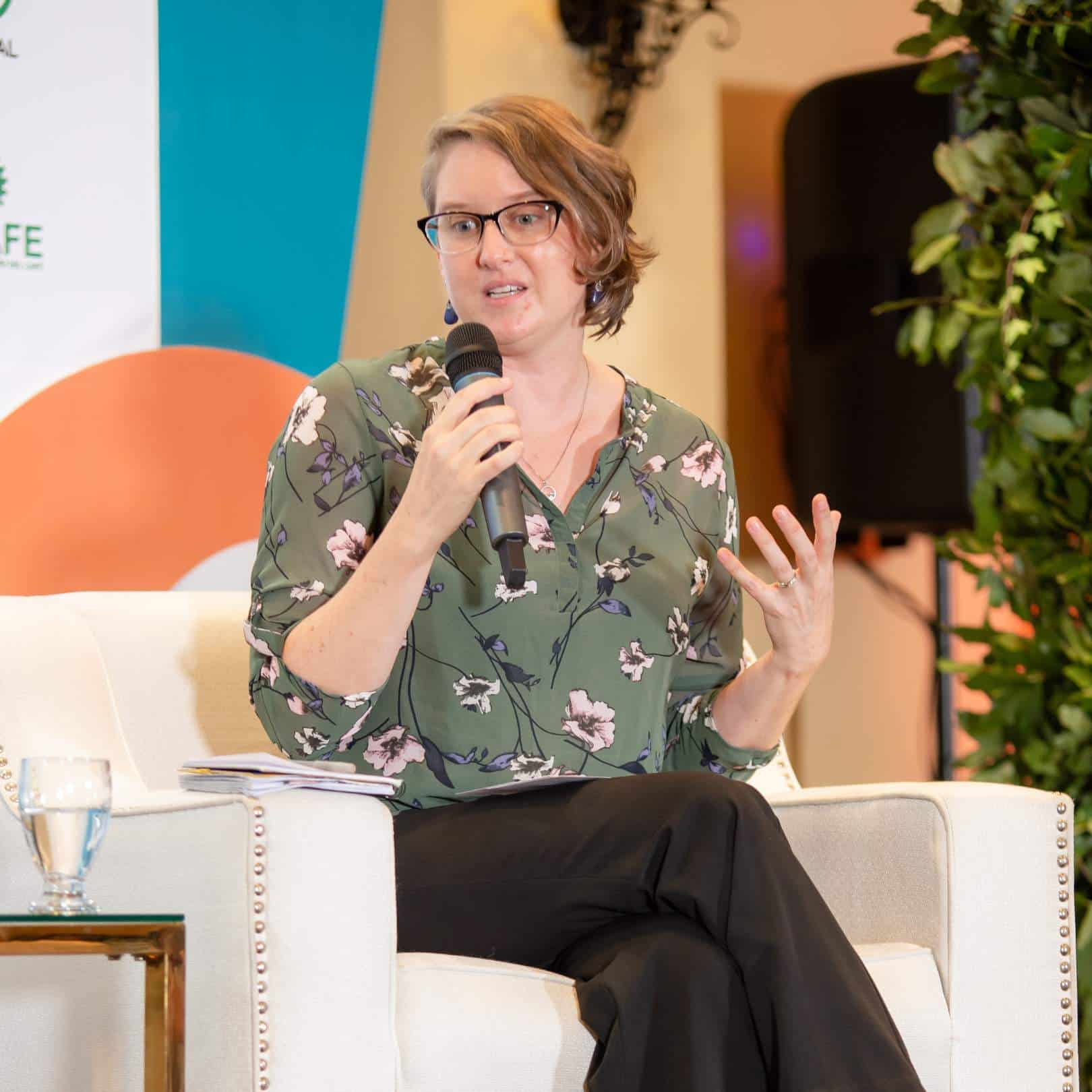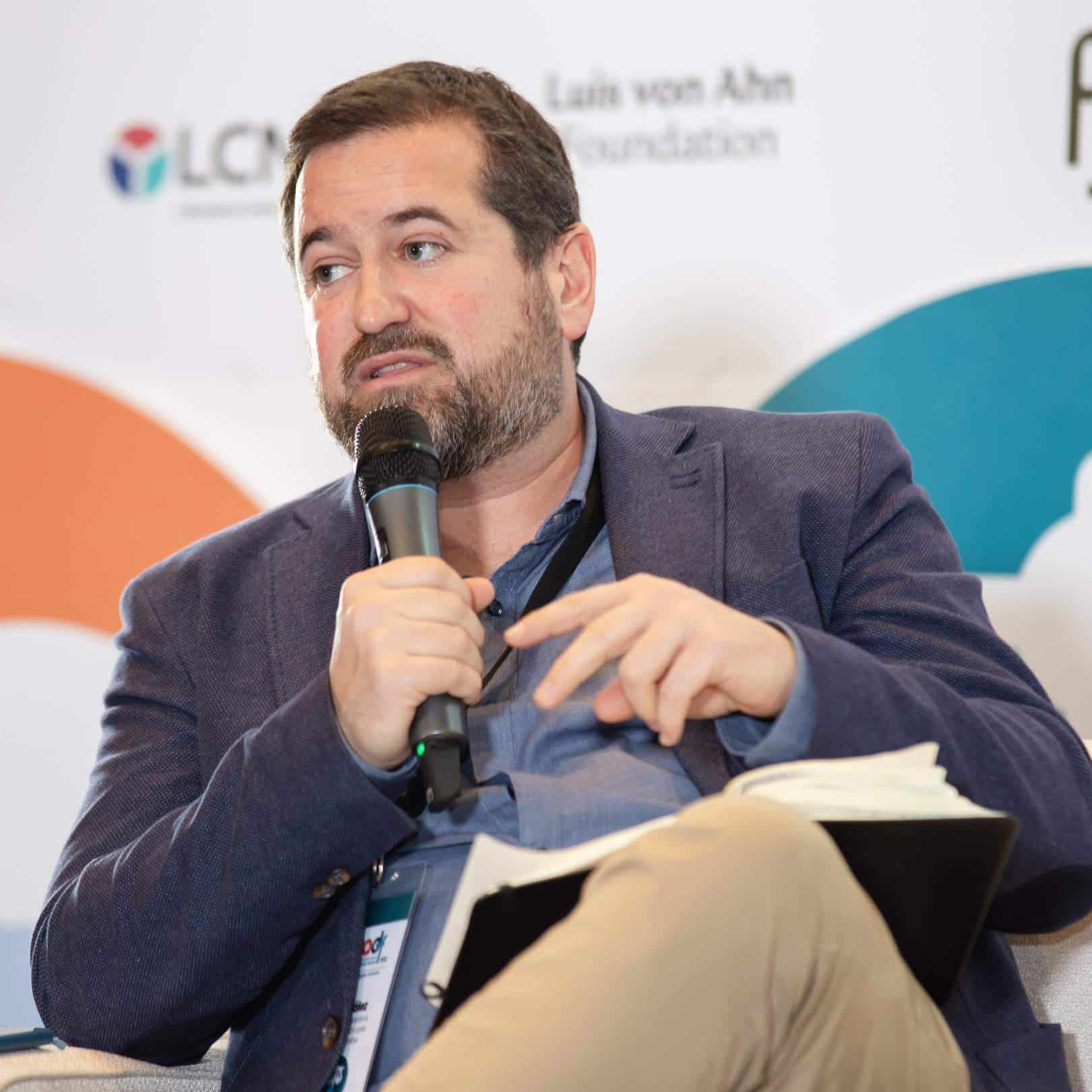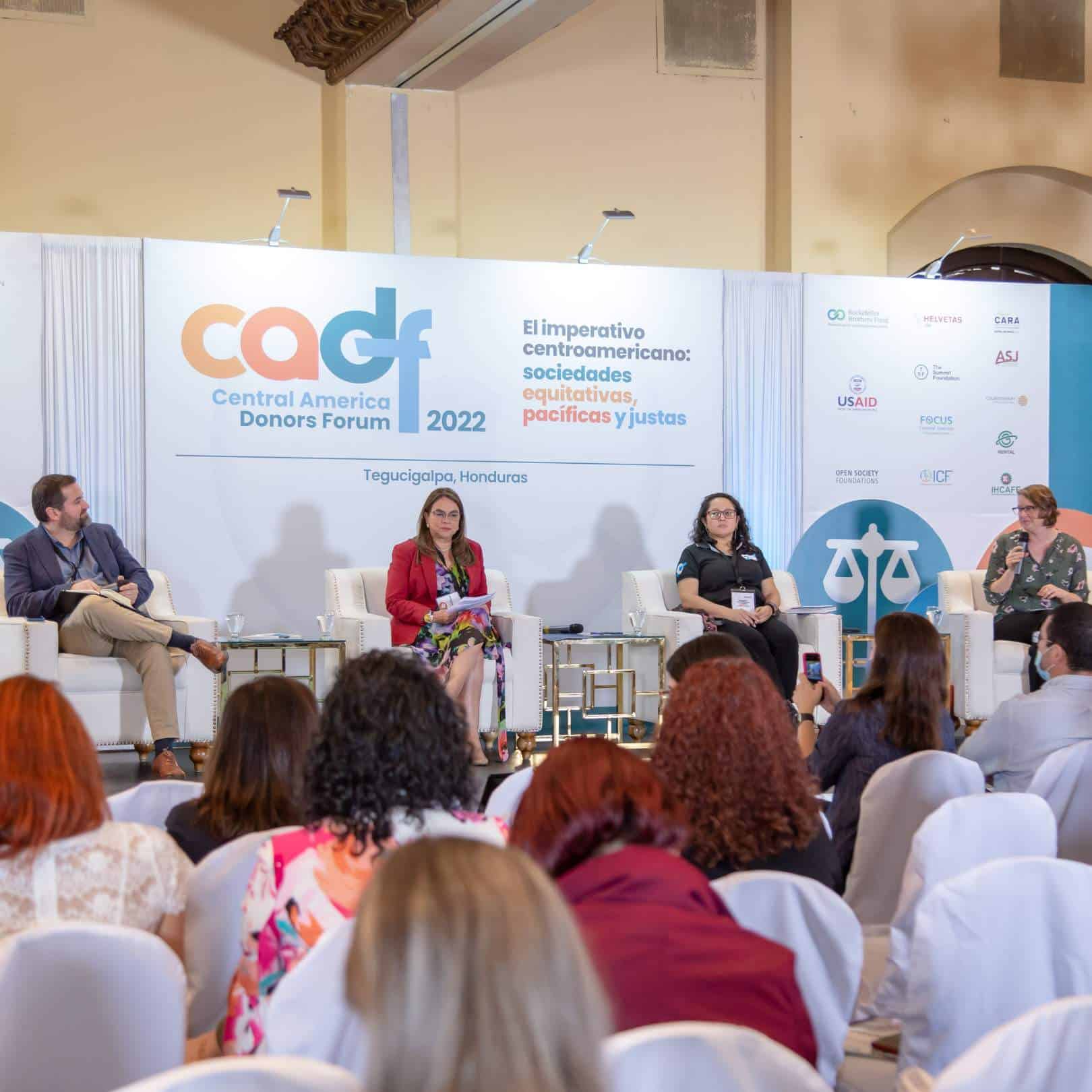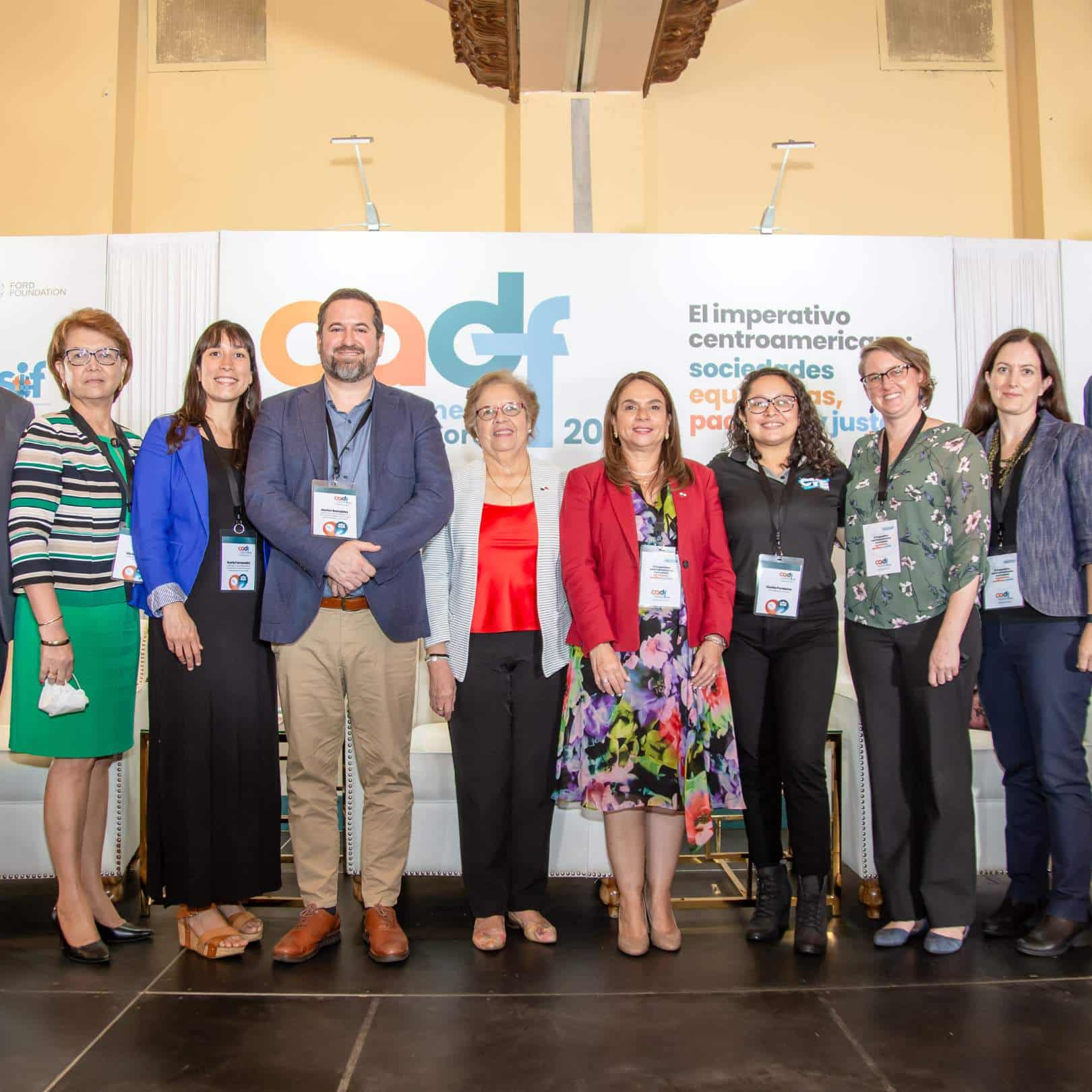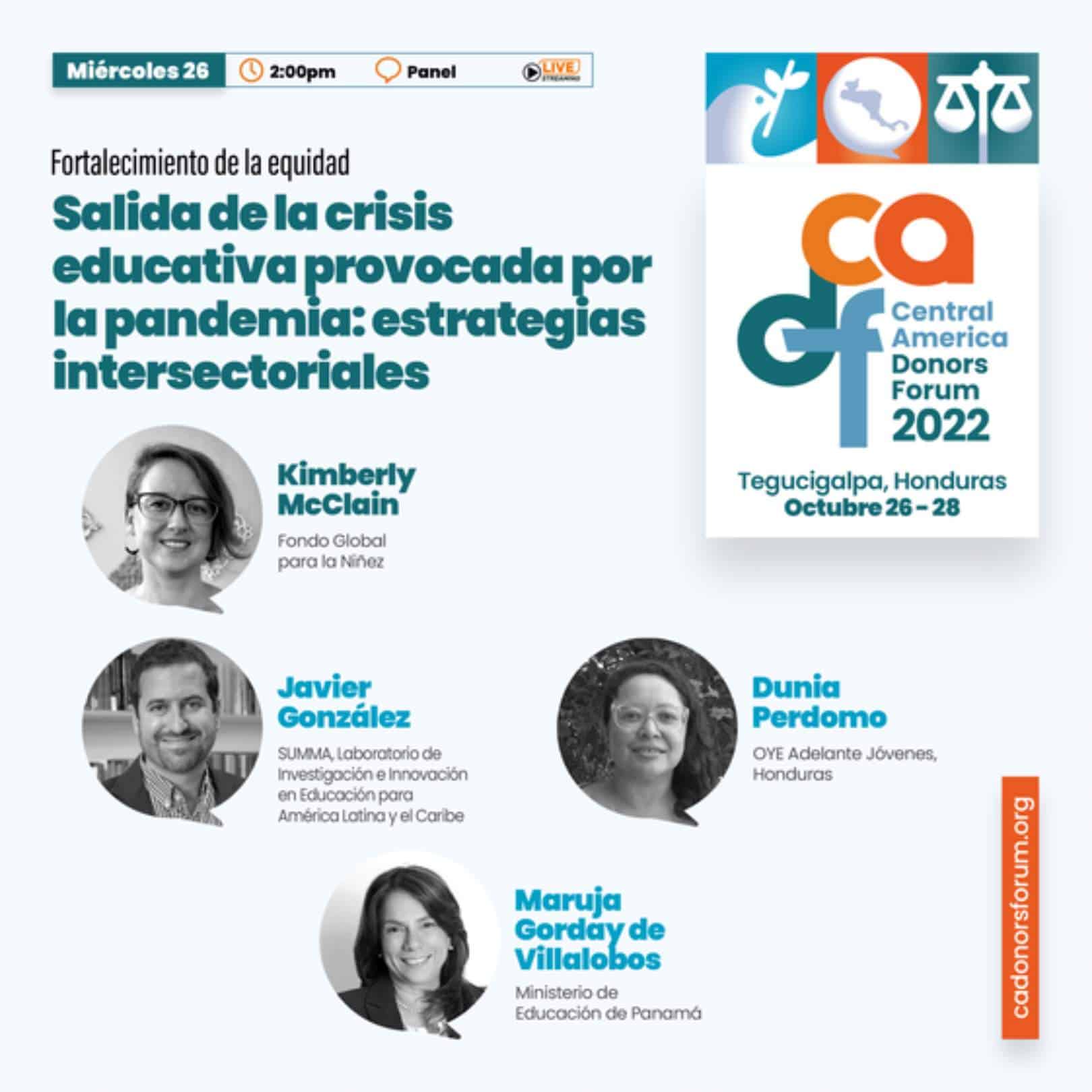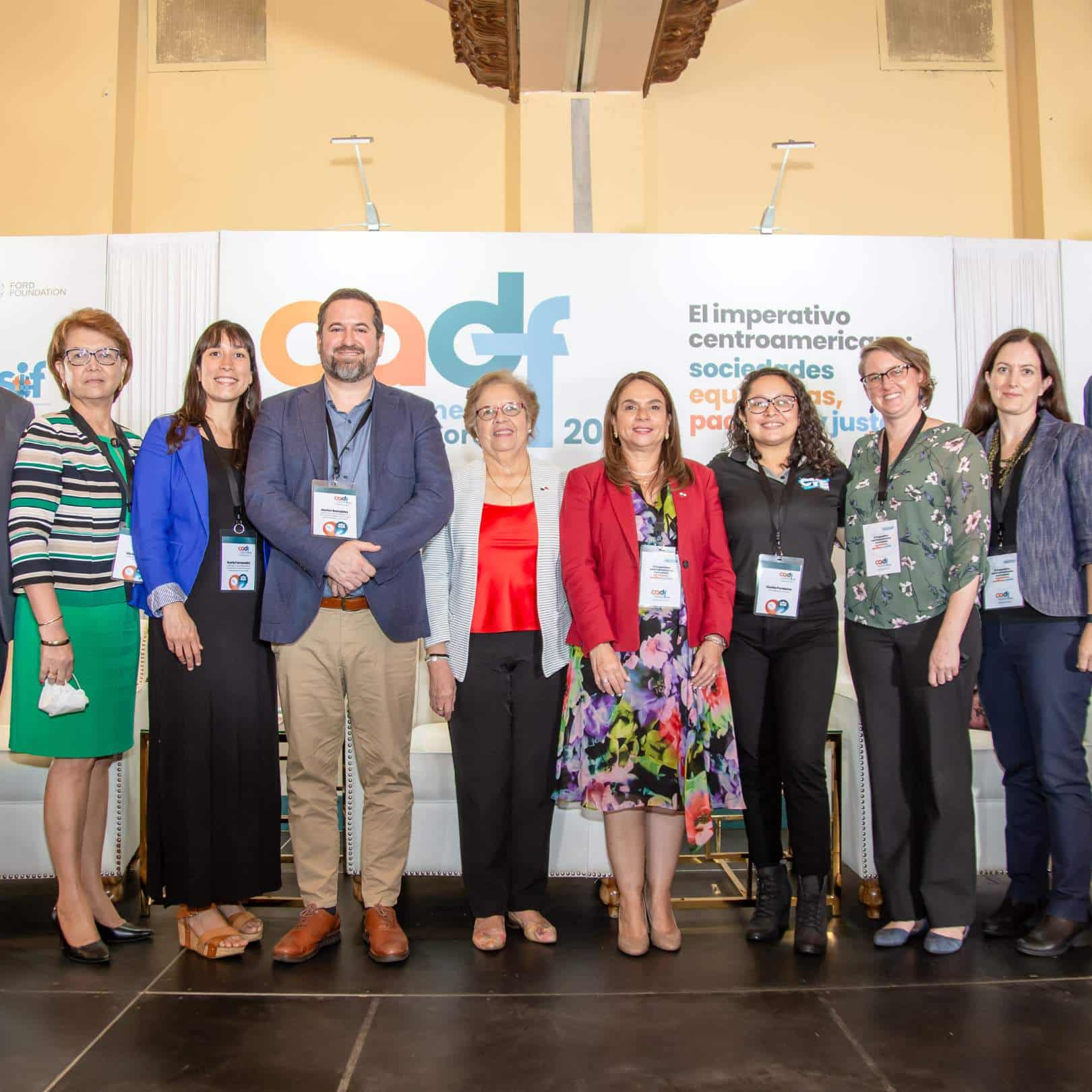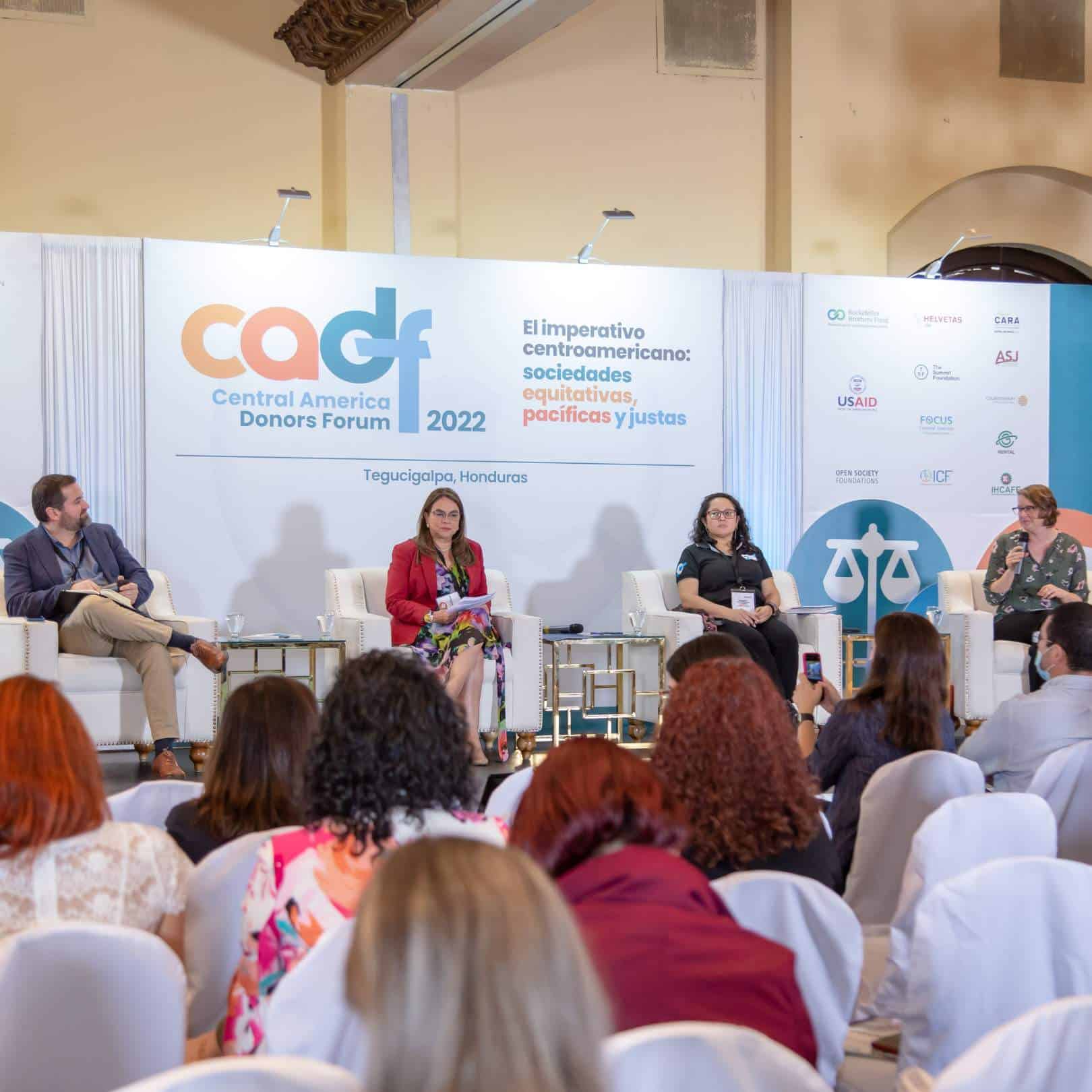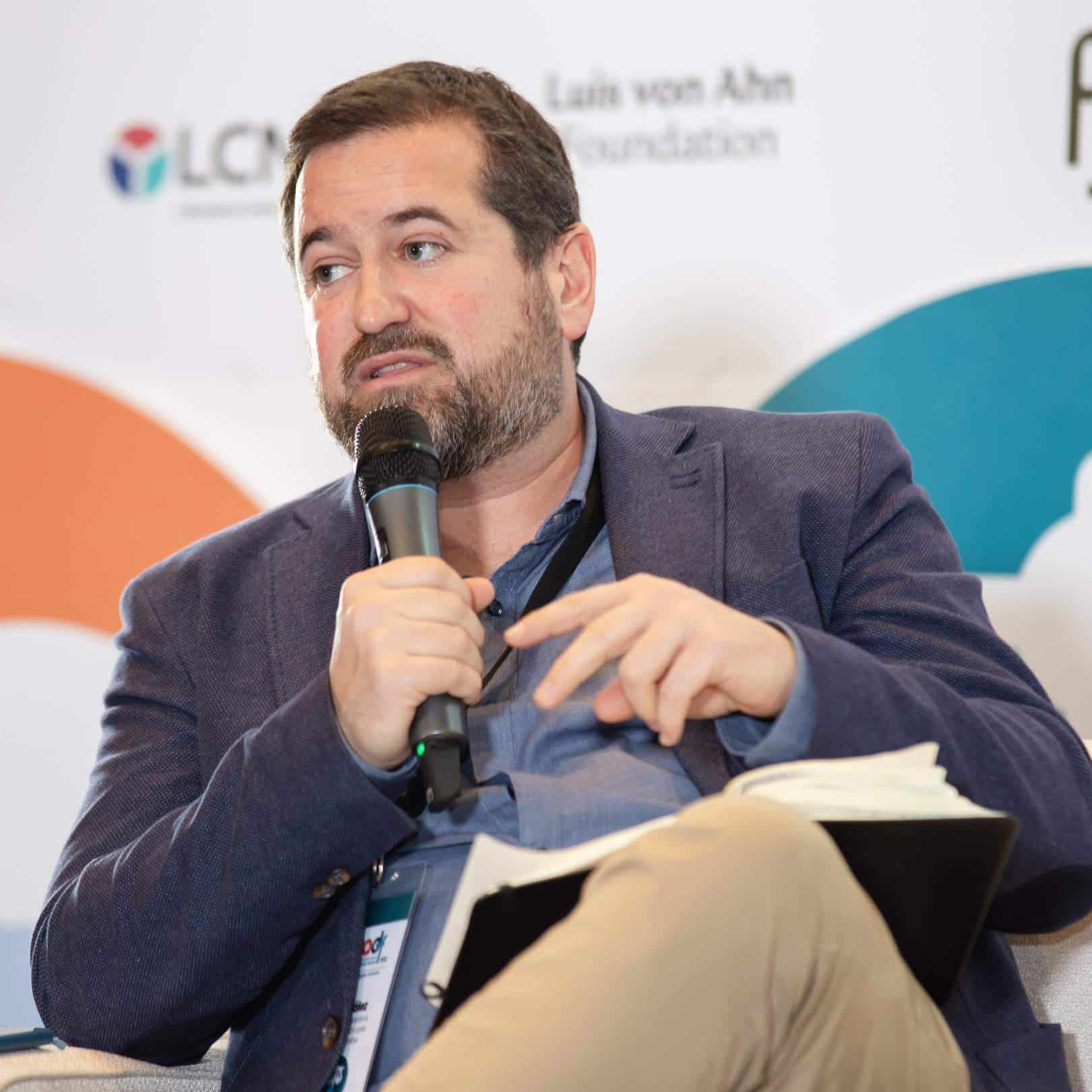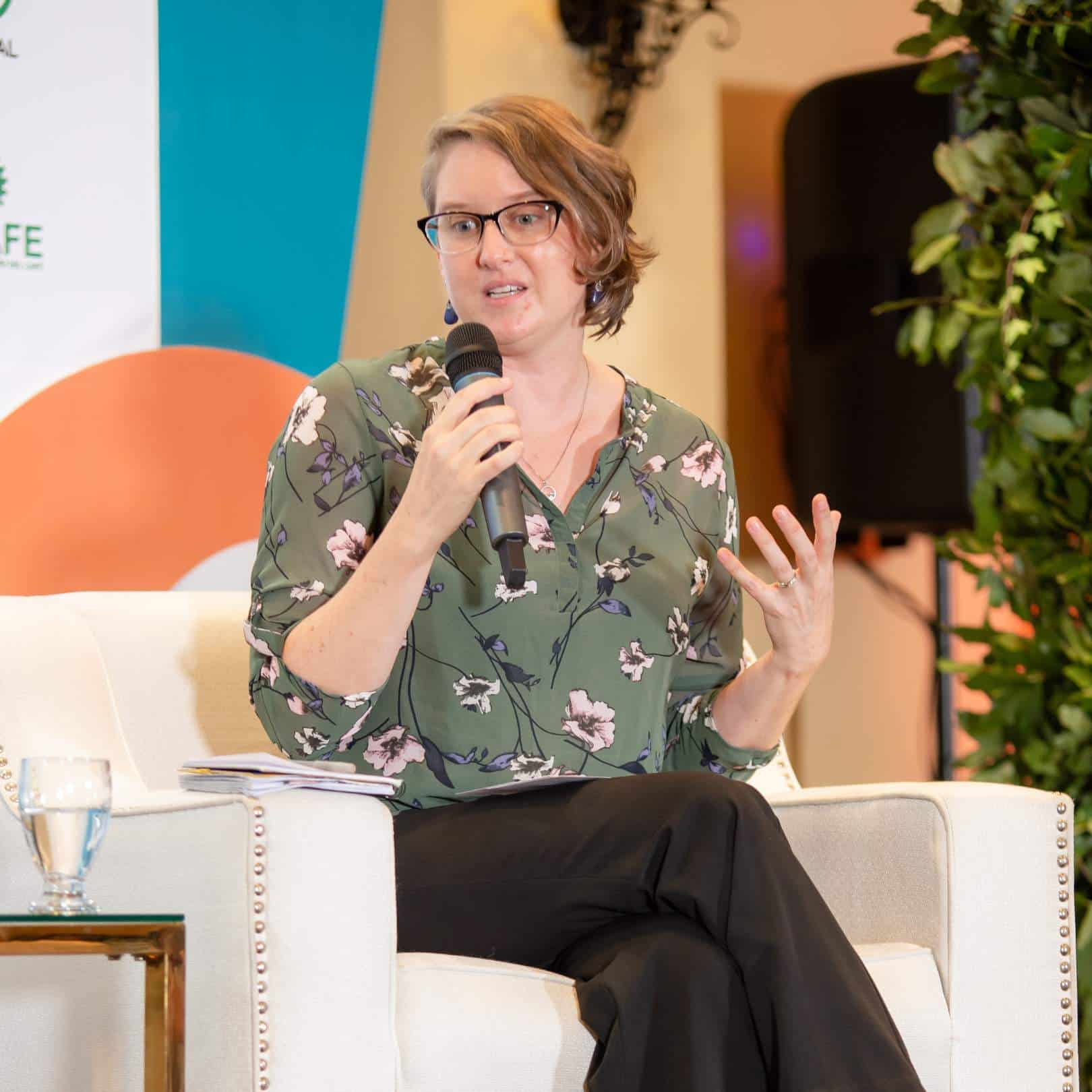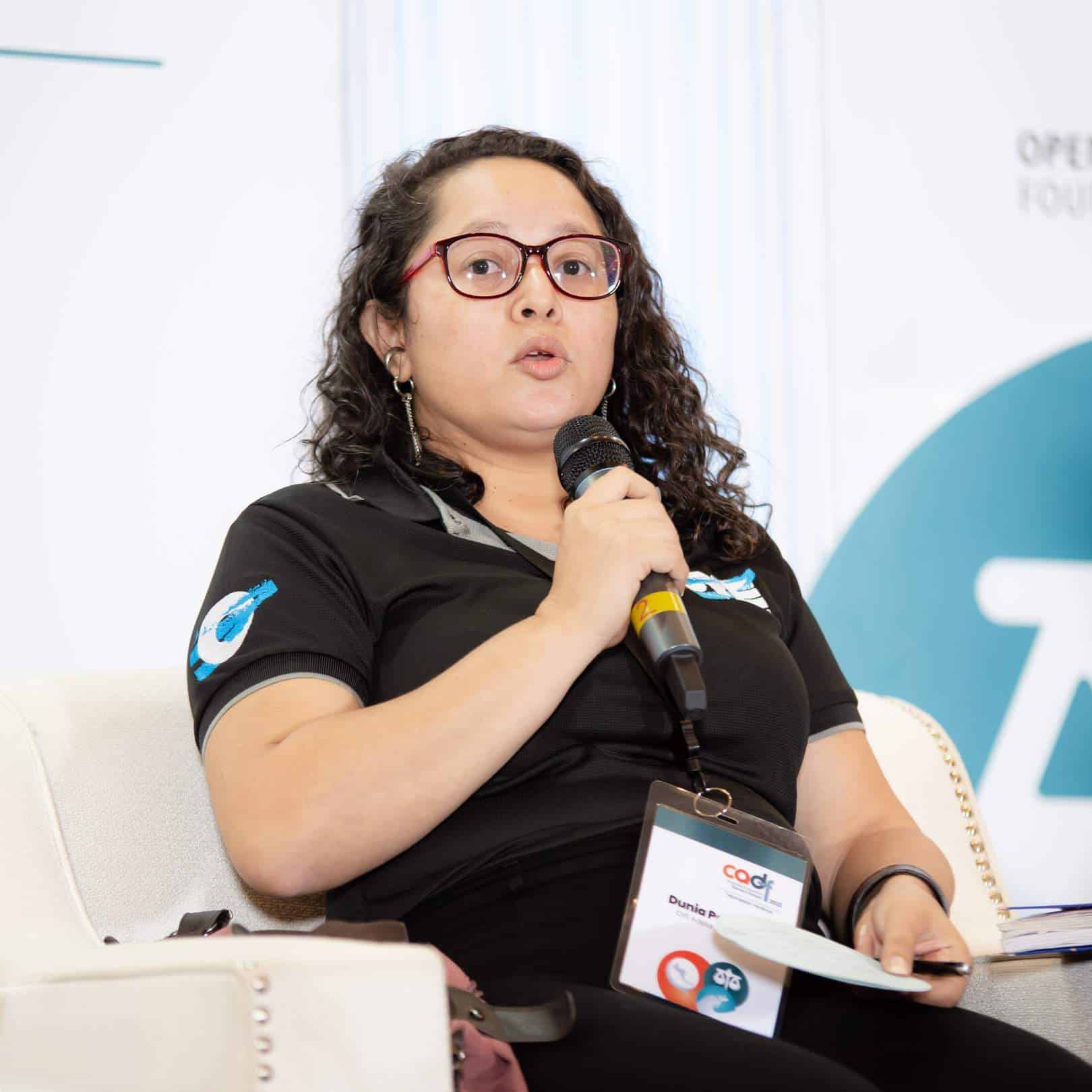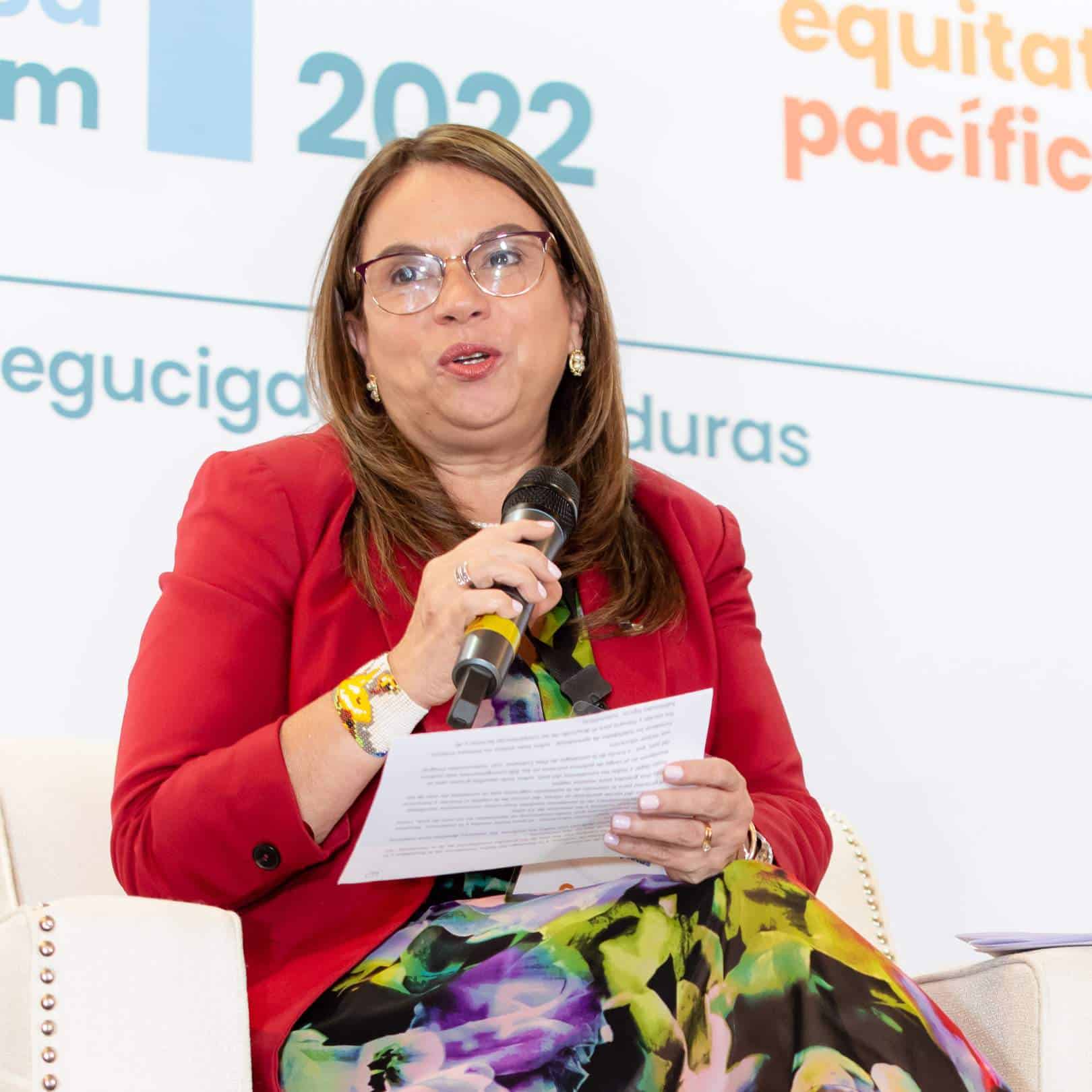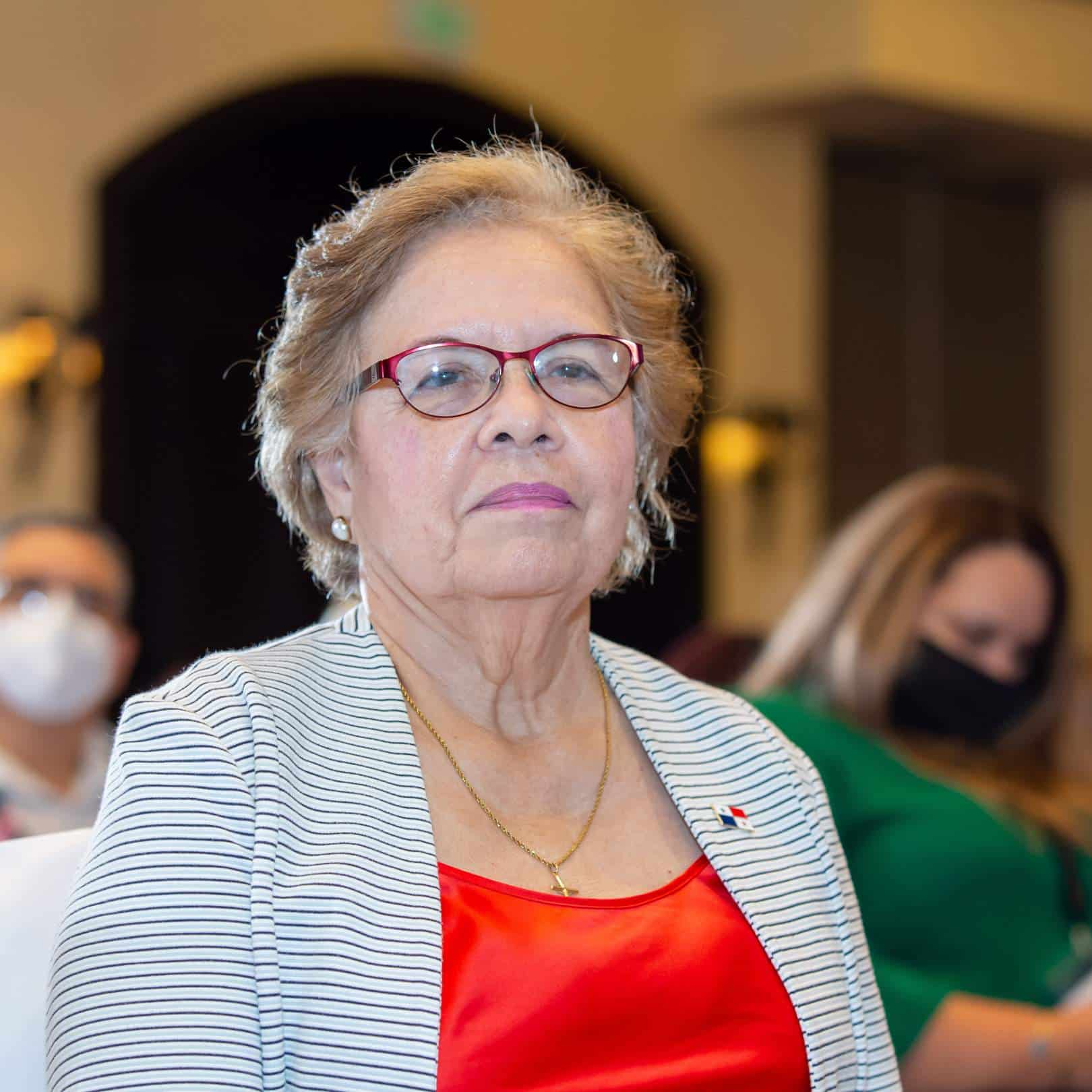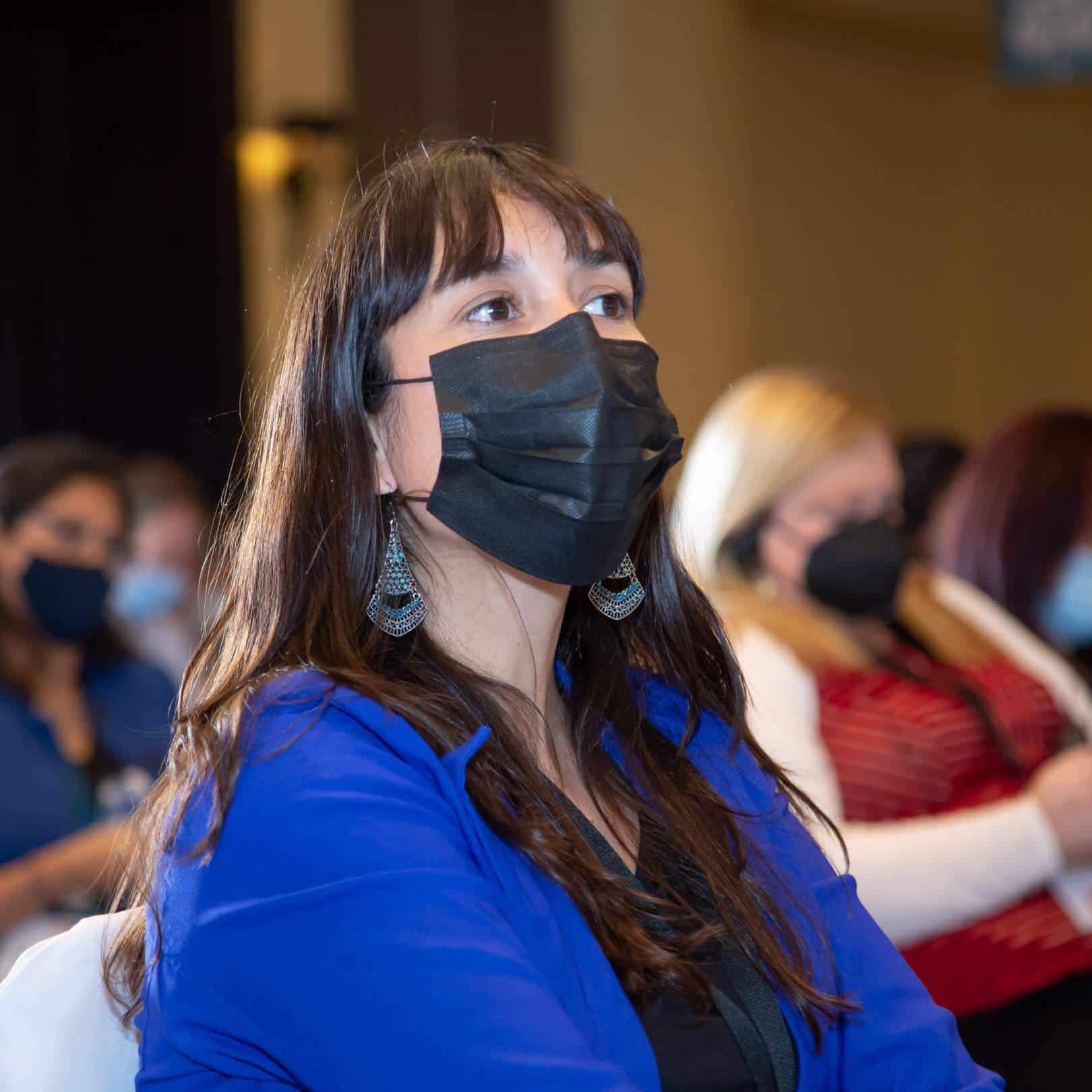 Watch: A Conversation with Luis von Ahn
In this pre-recorded fireside chat, the renowned Guatemalan entrepreneur and creator of Duolingo, Luis von Ahn, shared his vision for the sociopolitical and economic situation in Guatemala and the main challenges facing the Central American region. This discussion highlighted the role that the private sector can play in protecting the rule of law and democracy, and von Ahn shared what motivated him to become an influential political actor, as well as his expectations for his recently established foundation, the Luis von Ahn Foundation.
Central America Diaspora
The Role of Diasporas in Central America's Future
The diaspora of Central America is not homogenous, and within it can be found generational and ideological divisions. However, speakers claimed, it retains significant influence both in home countries and countries of residence. In their home countries, citizens can exercise that influence through direct participation in elections or indirectly by speaking with family and friends. Abroad, the diaspora can affect change by financing projects in their home countries (such as school constructions) via remittances.
The Nicaraguan diaspora in Costa Rica played a key role in supporting the Nicaraguans that emerged from the most recent wave of repression. They have also exerted influence in their country of residence, particularly those wielding the right to vote, by influencing foreign policy (similar to Cubans in the United States).
Quotes
"In certain contexts, for example in the Philippines during the Arab Spring, the diaspora has played an essential role in promoting democracy in their home countries."
Katrina Burgess
"The diaspora of people with Temporary Protected States (TPS) is a new group of influence that has managed to wield significant influence in the U.S., even in the White House."
Élmer Romero
"The diaspora undertakes important initiatives, such as building schools in their home countries."
Carla García
"The Garifuna people leave to improve the living conditions of their community, and then they return."
Carla García
"In recent years, due to an increase of repression, some 400,000 Nicaraguans have left the country, many of them due to political persecution[…] The Nicaraguans who left their country in the 80s have been an important support to those of us who recently arrived in Costa Rica due to the most recent repression. Everything we do from the diaspora means nothing if we do not manage to impact reality in Nicaragua."
Jesús Tefel
Speakers
José Luis Sanz, El Faro
Katrina Burgess, Tufts University Fletcher School of Law and Diplomacy
Élmer Romero, National Day Laborer Organizing Network (NDLON)
Carla García, Black Fraternal Organization of Honduras (OFRANEH)
Jesús Tefel, Hagamos Democracia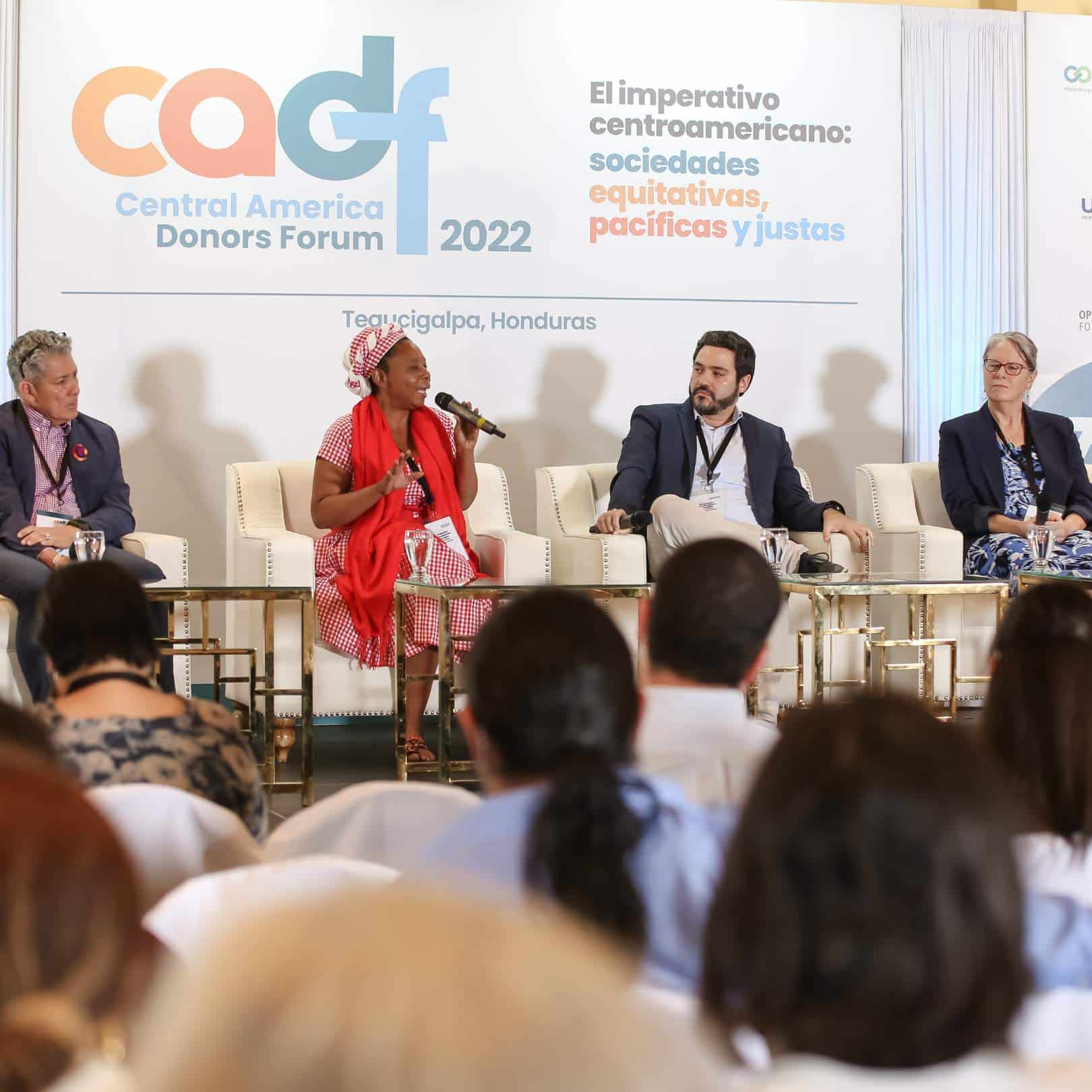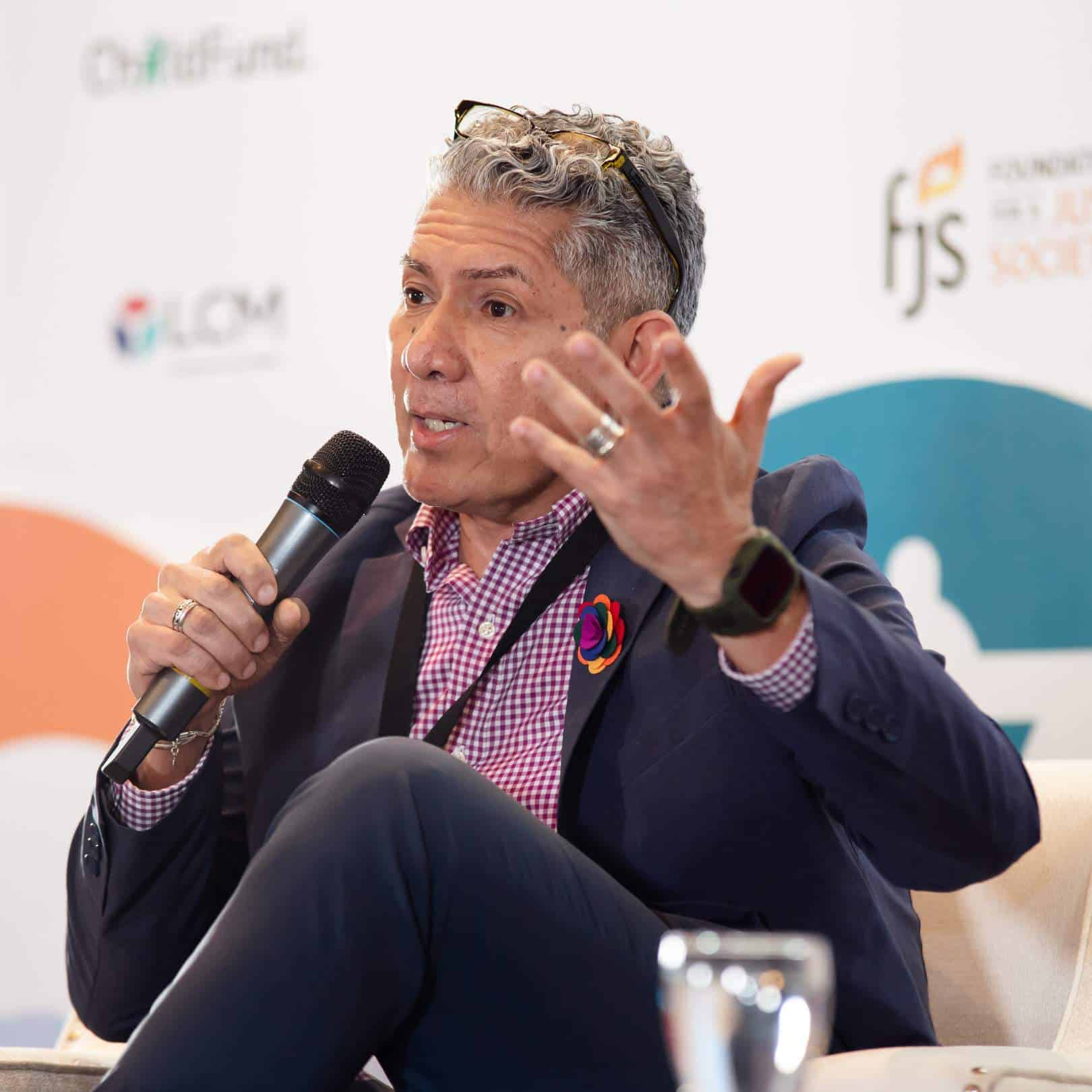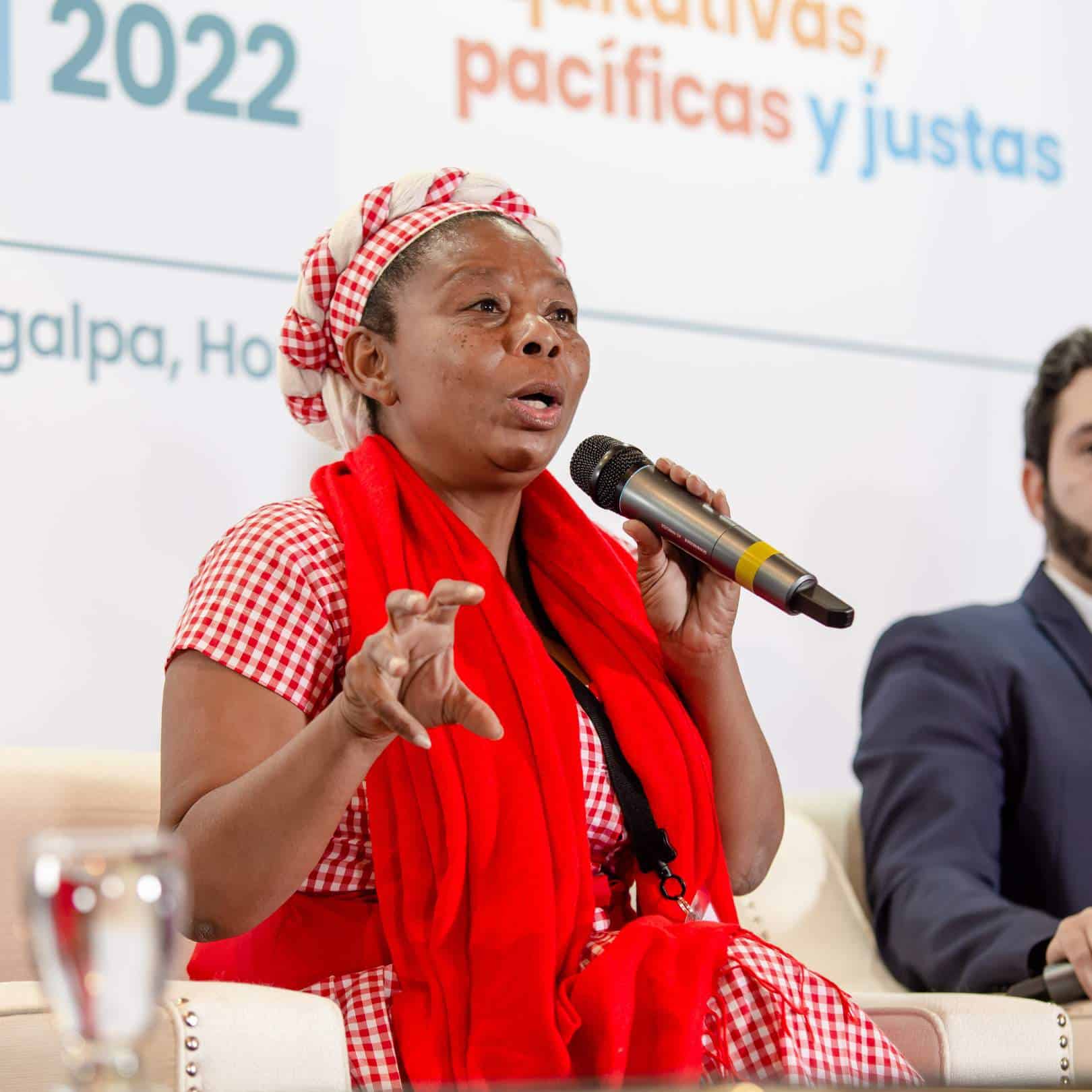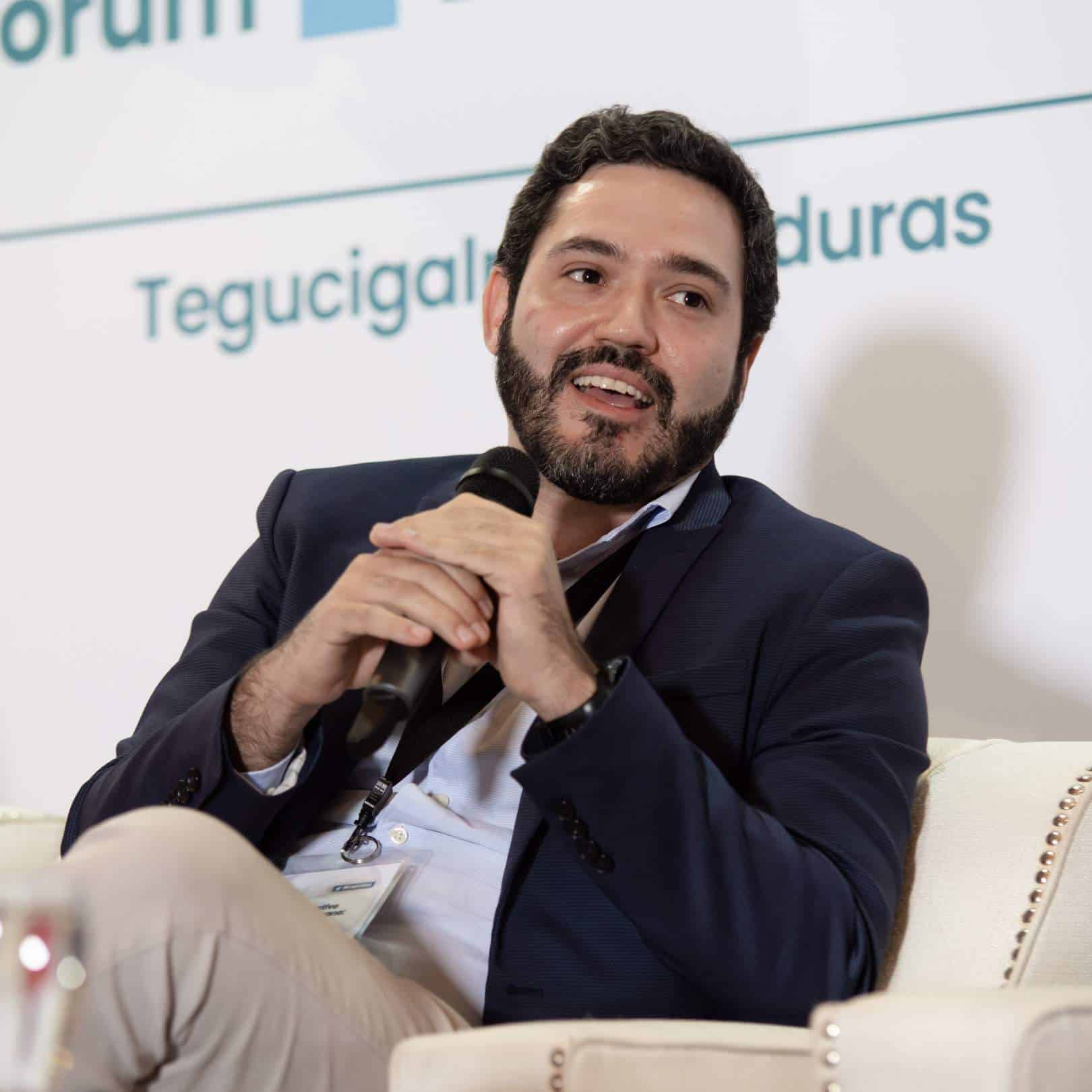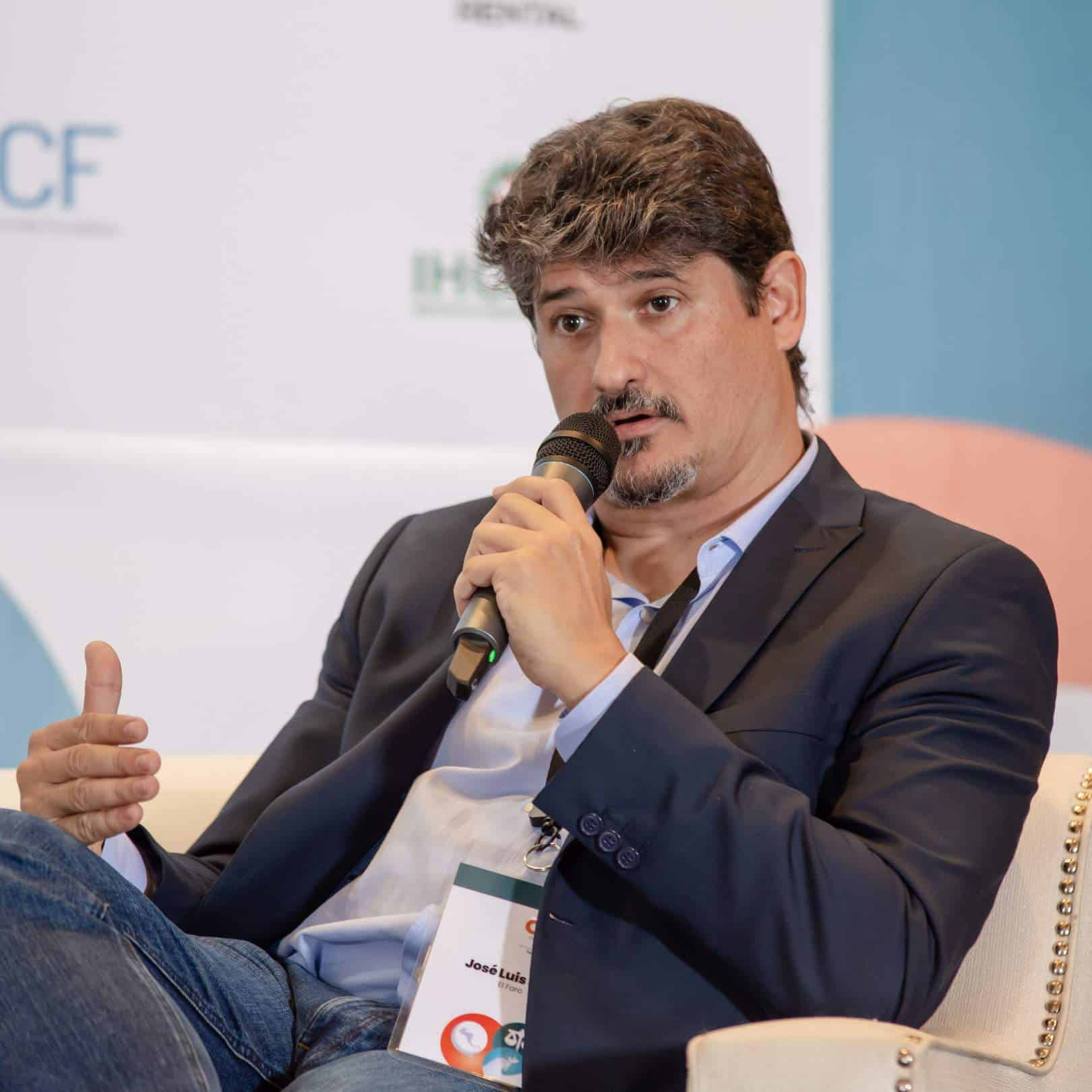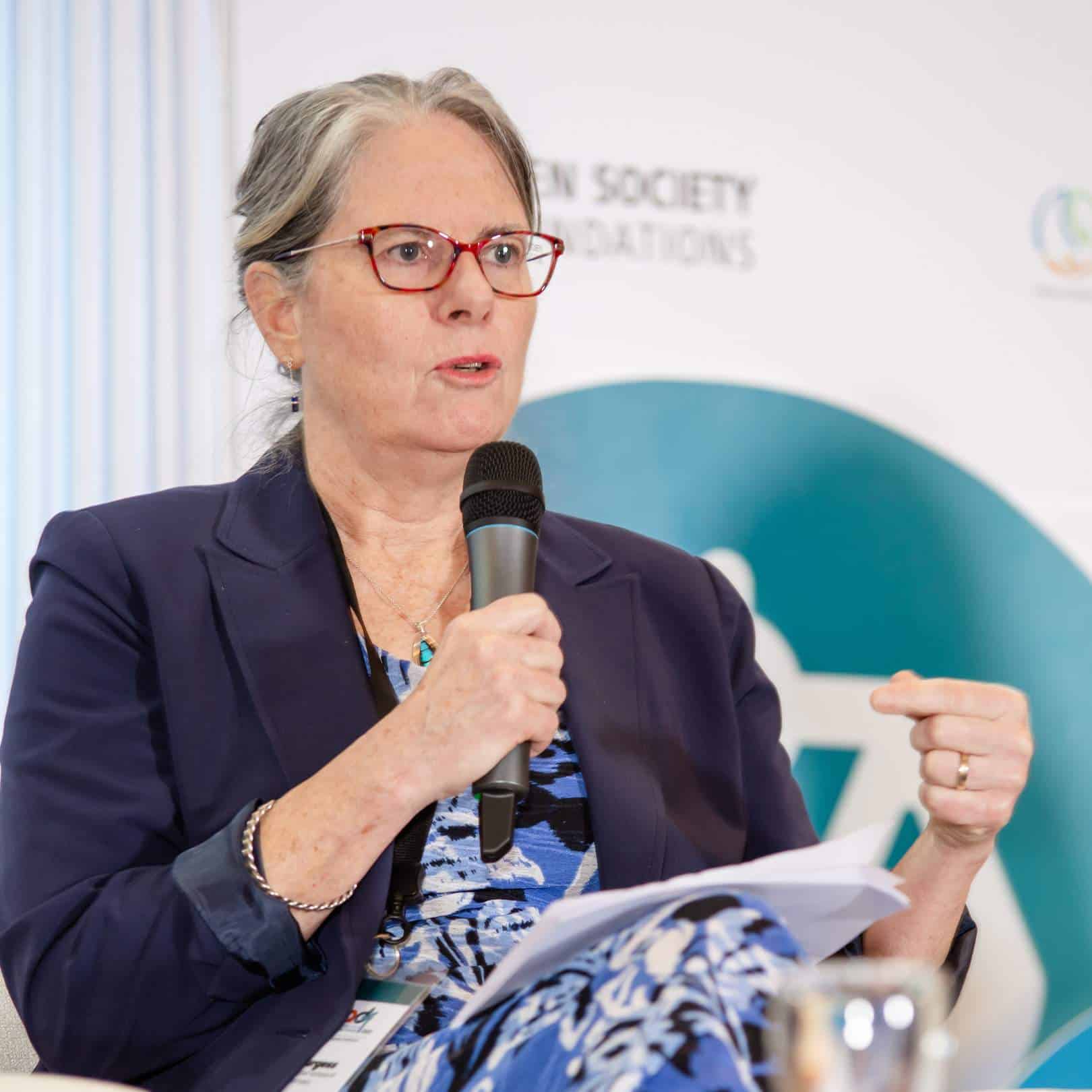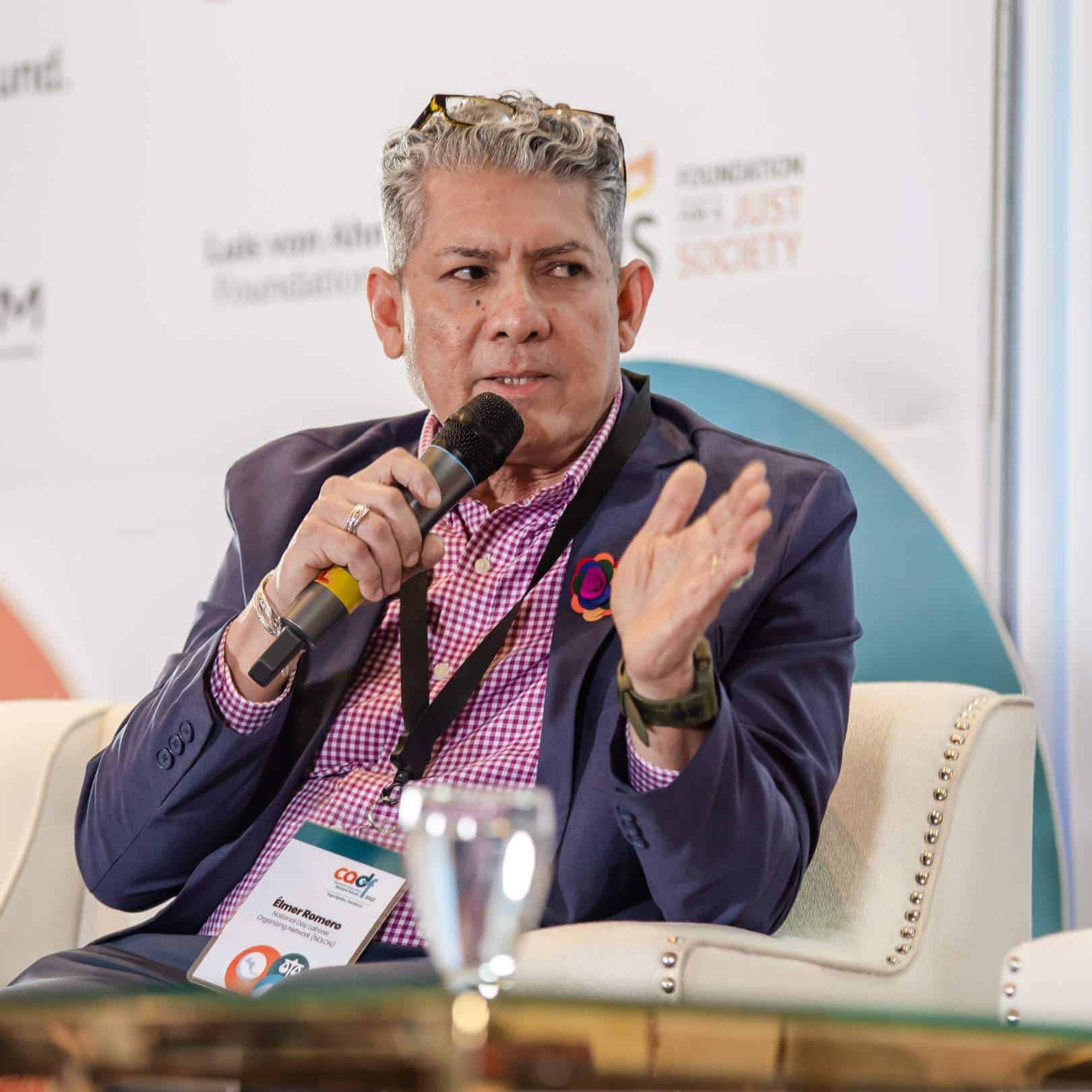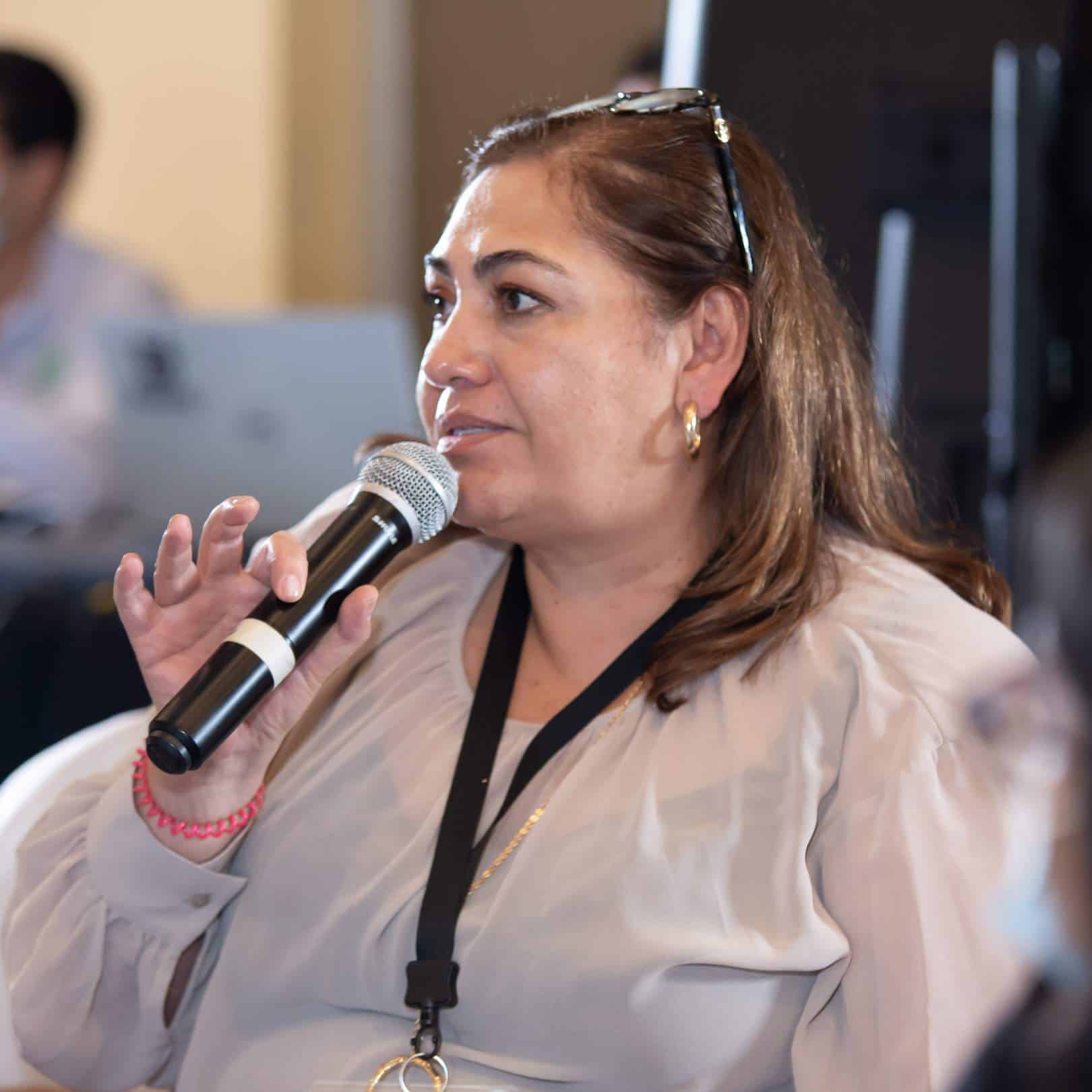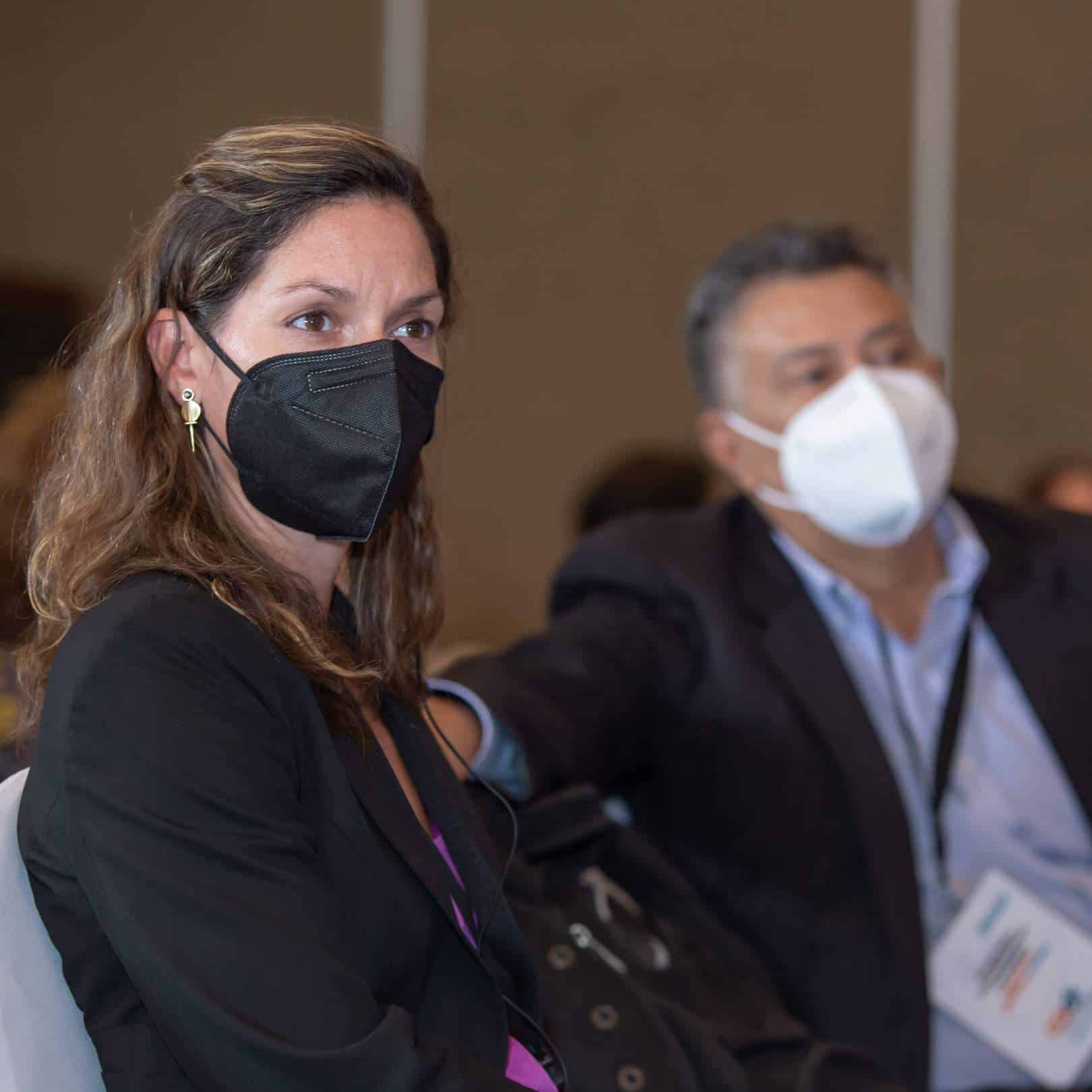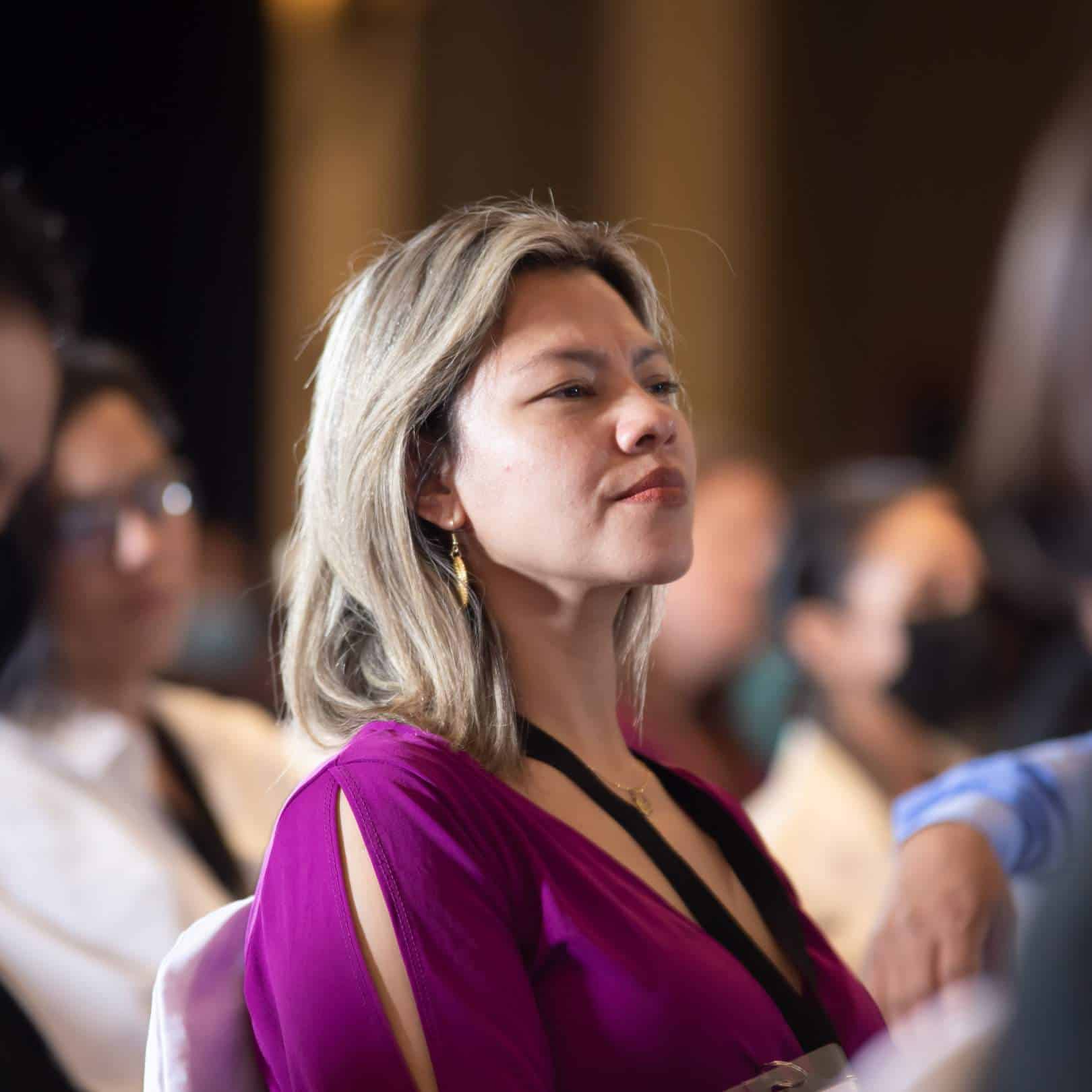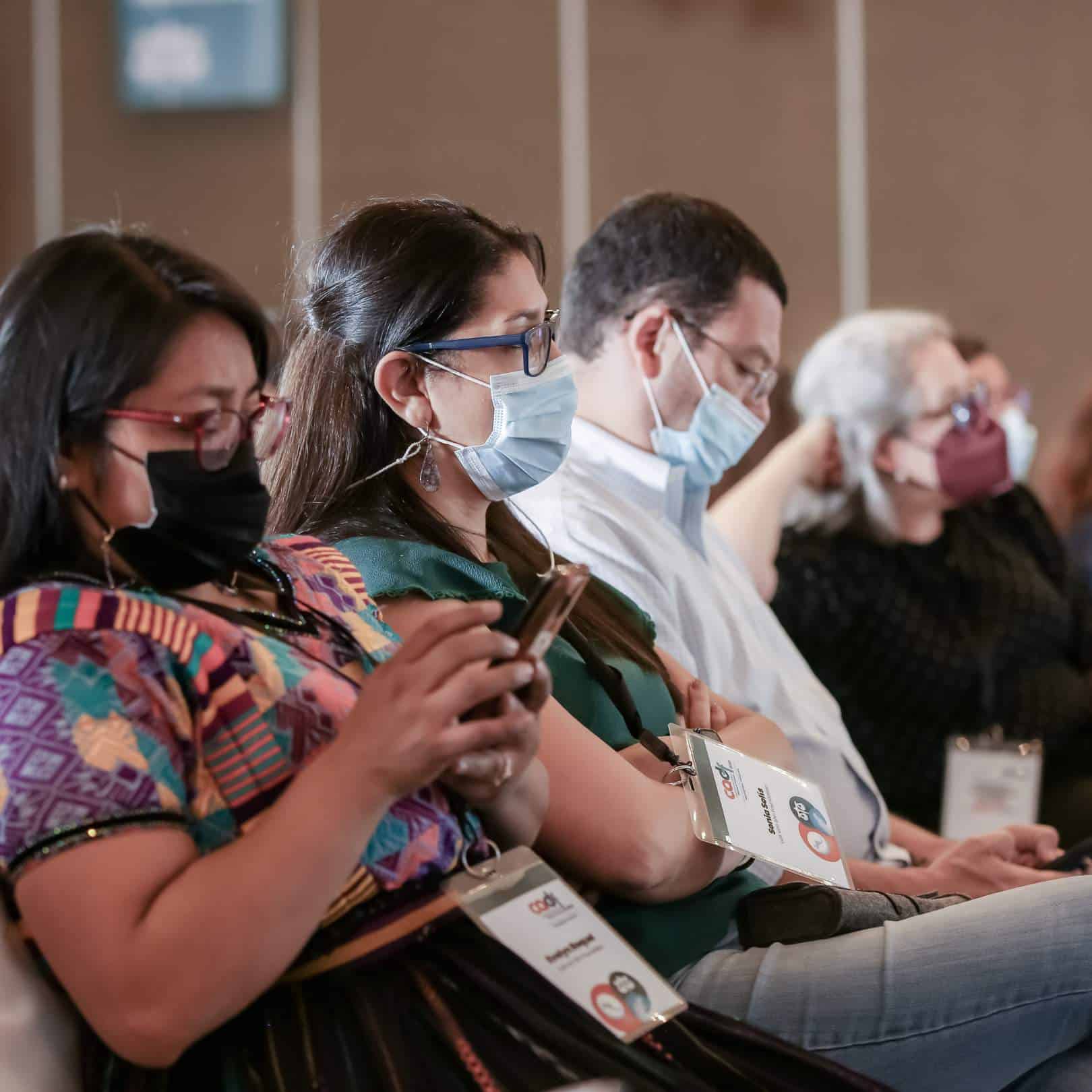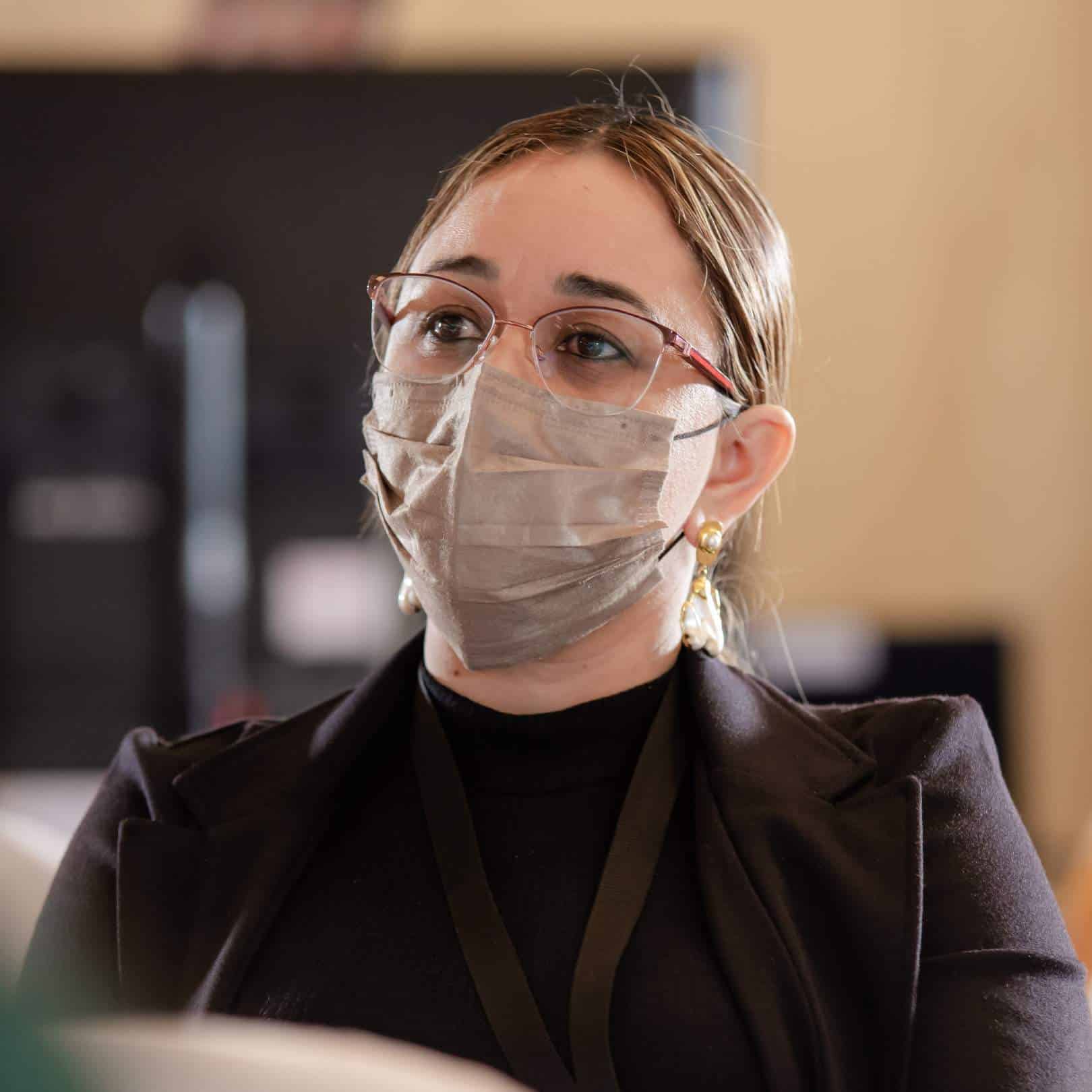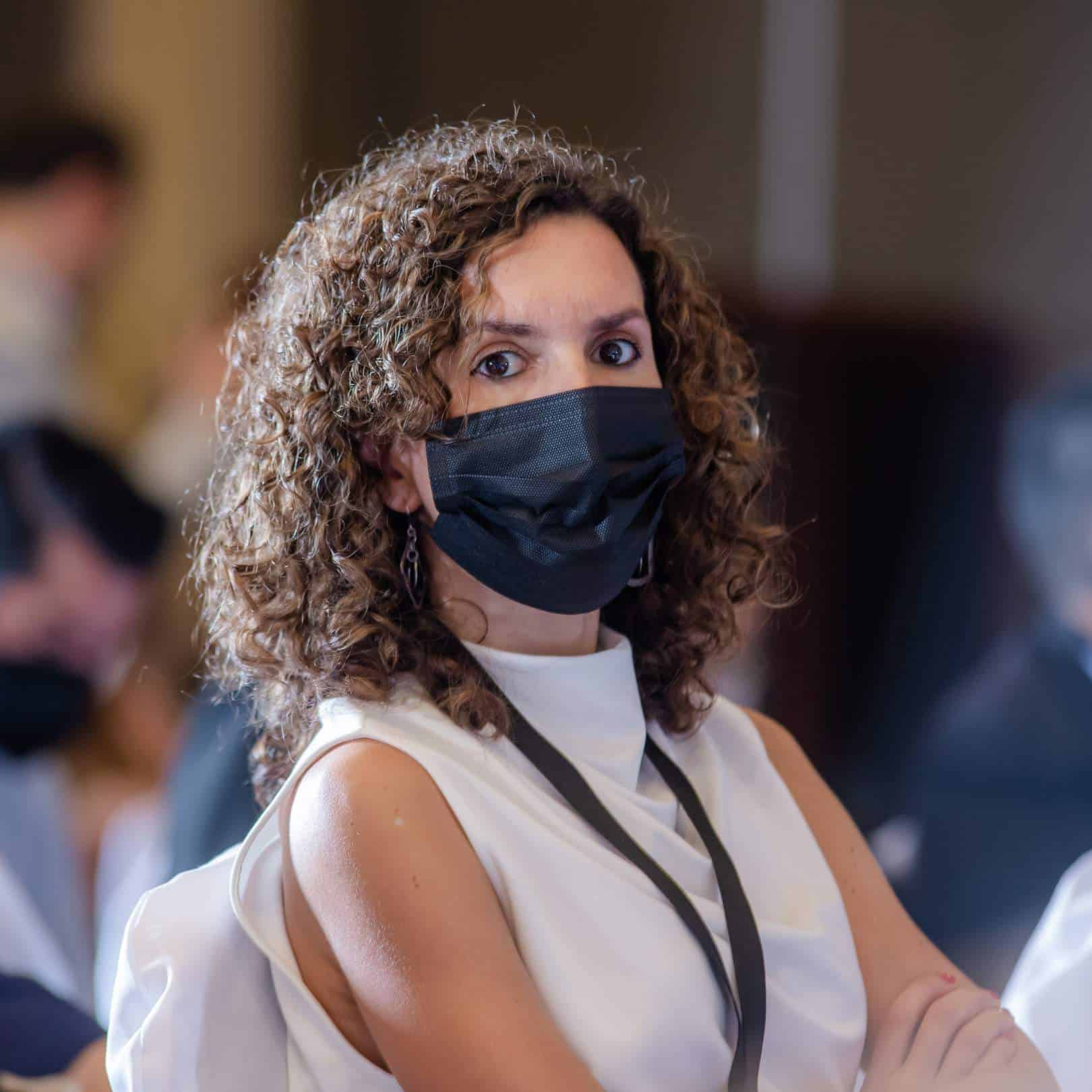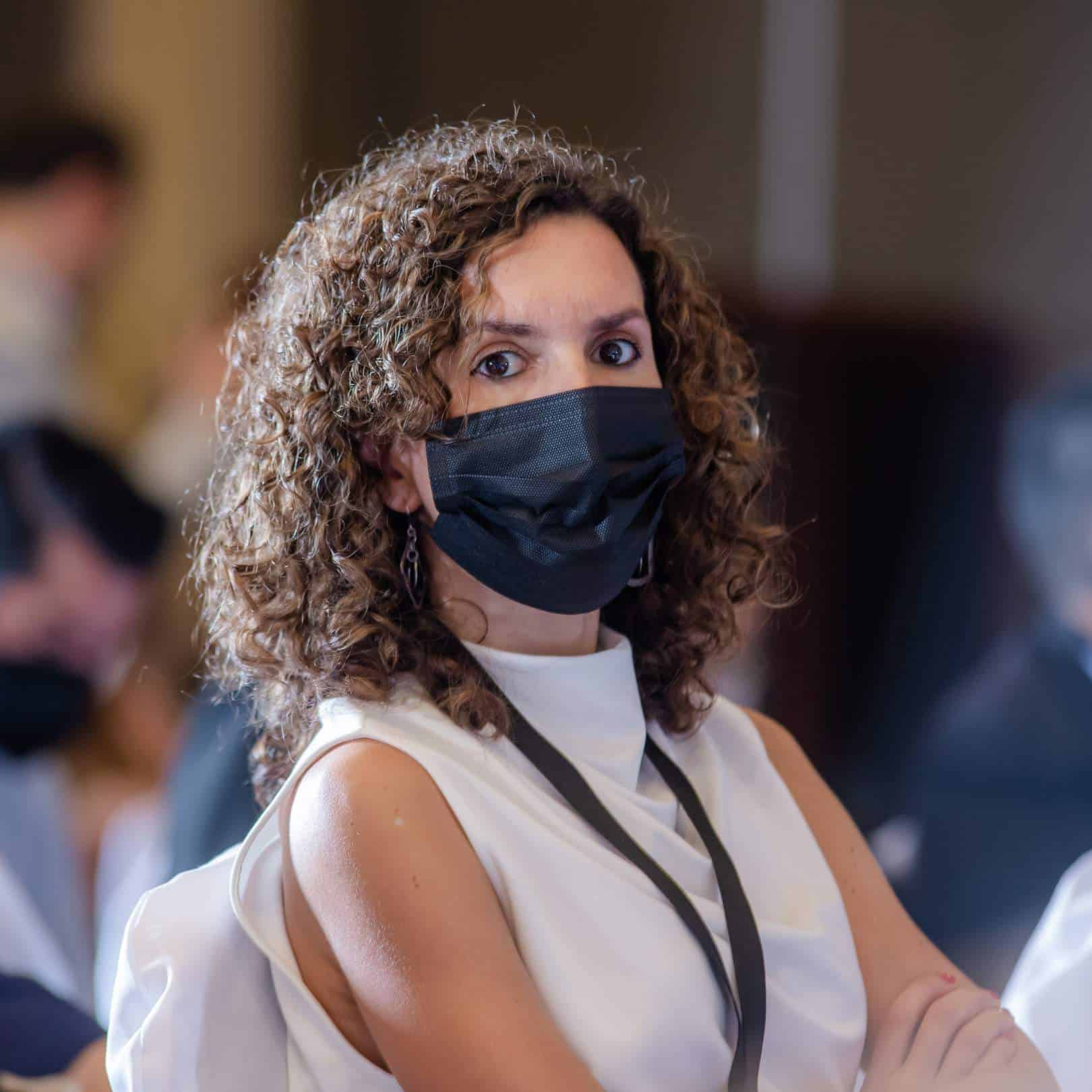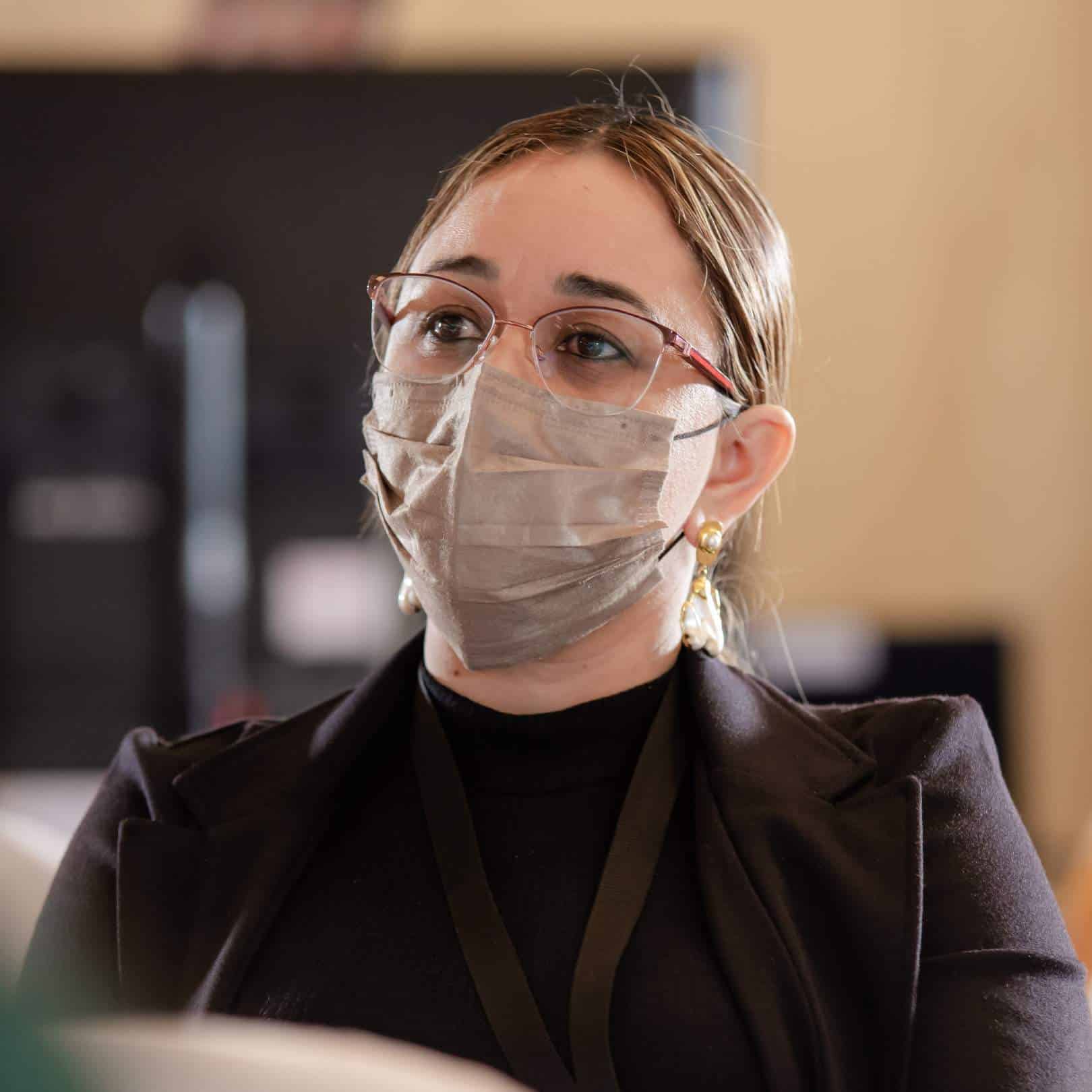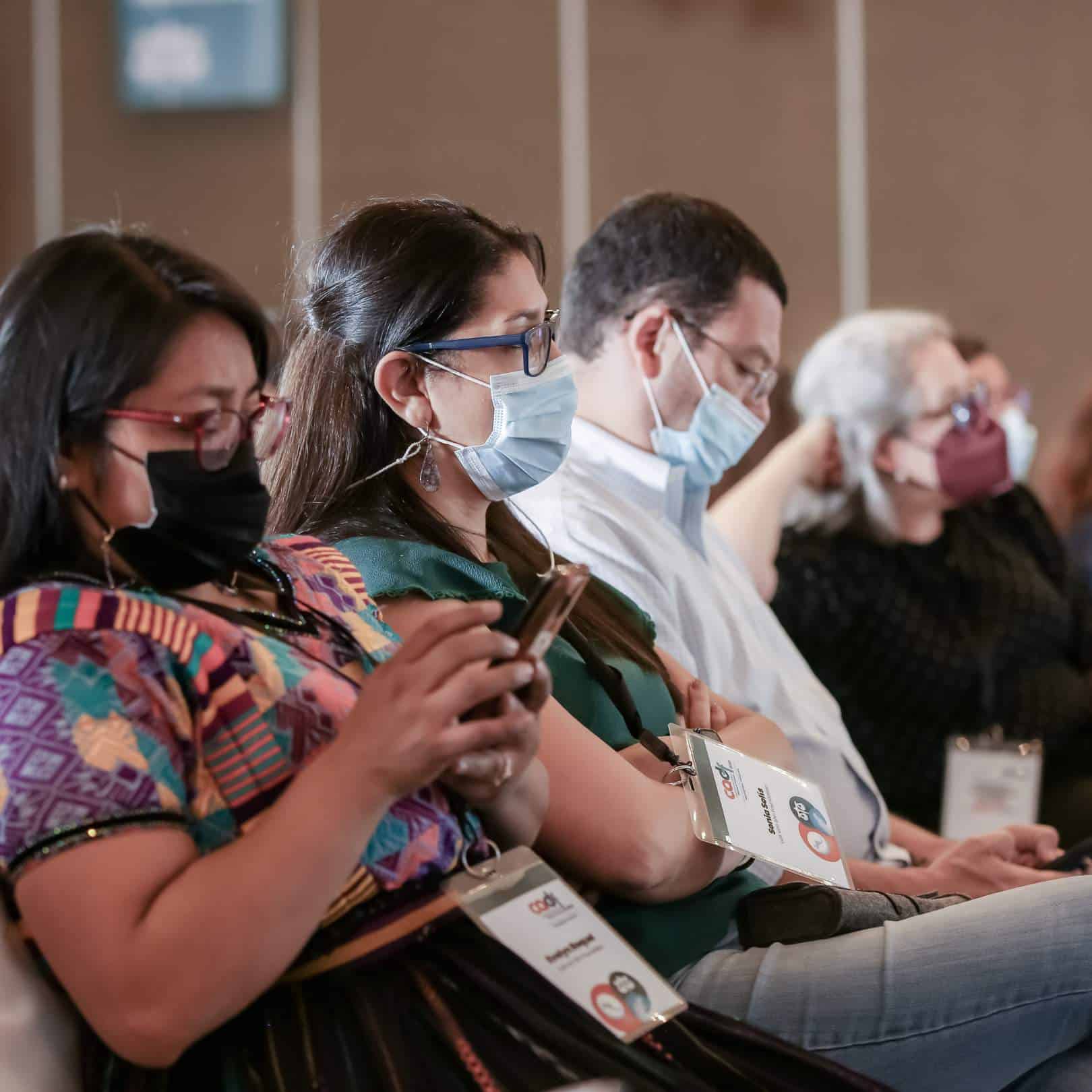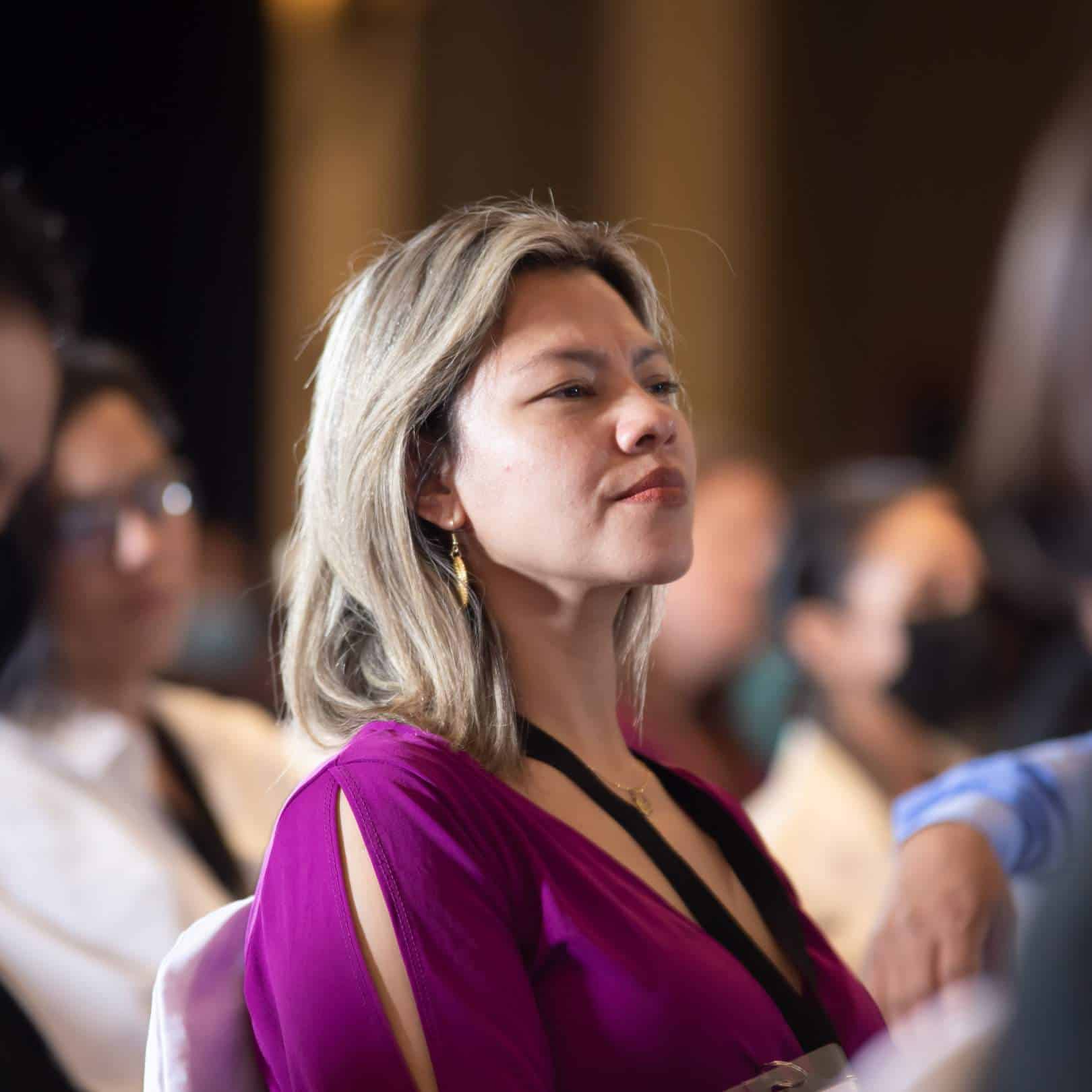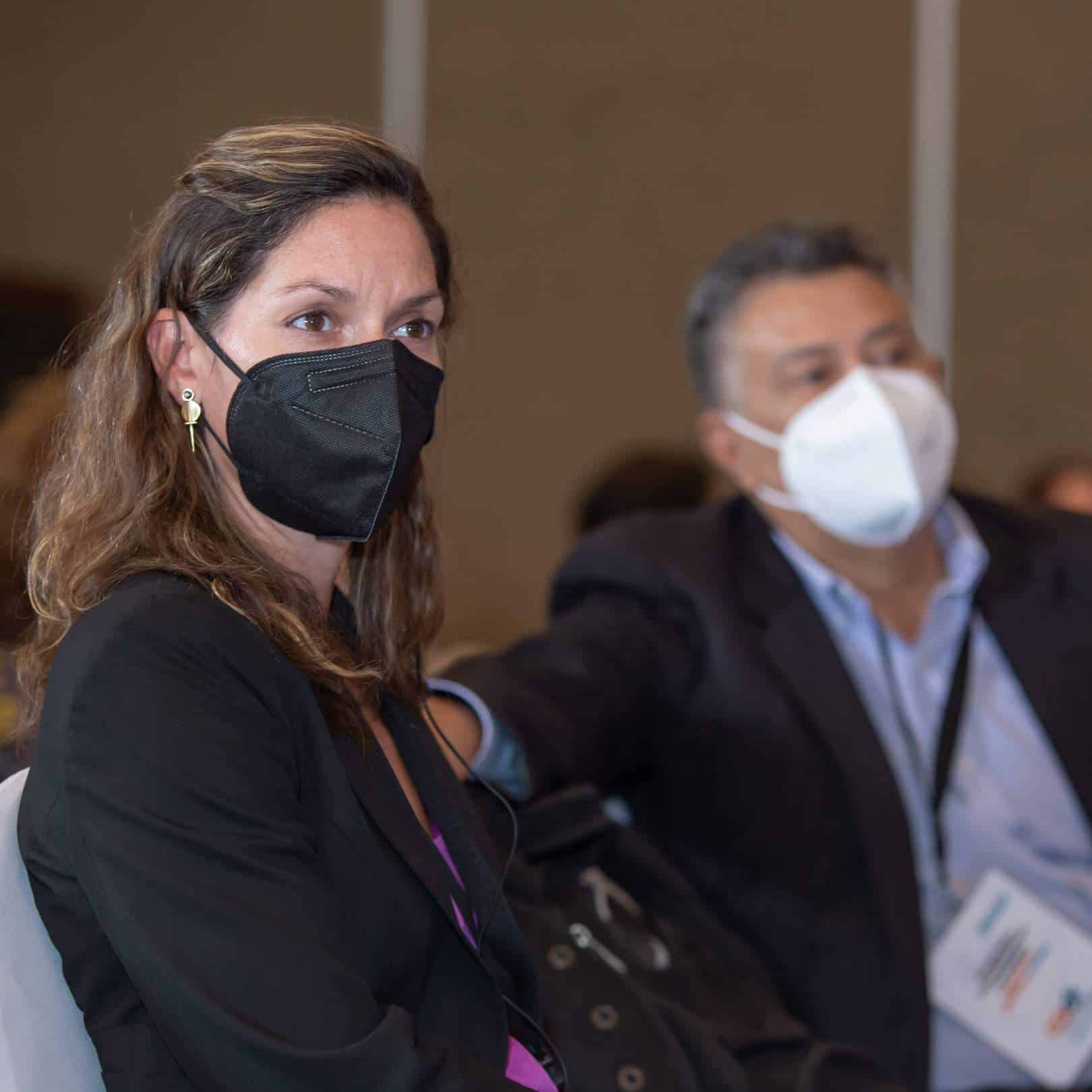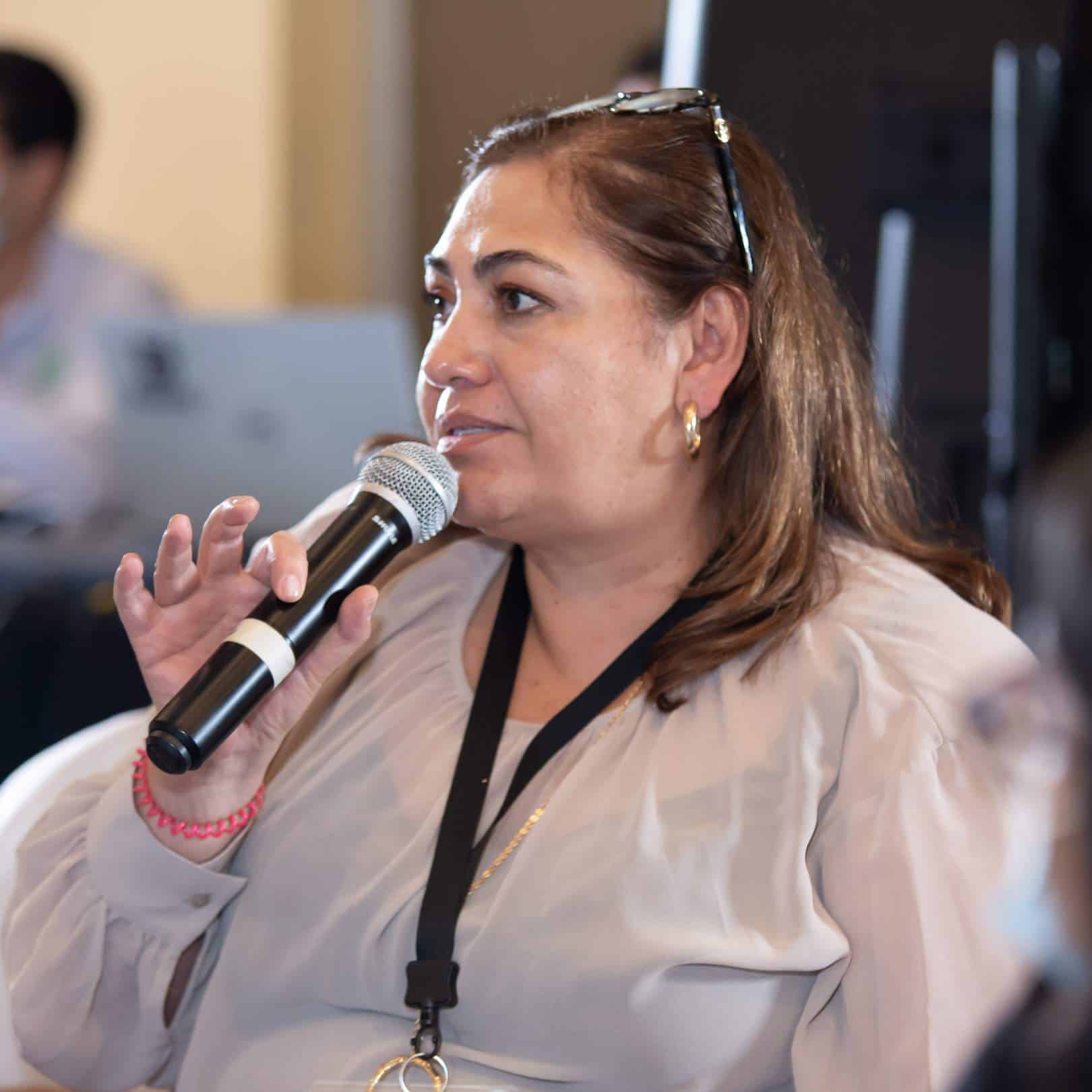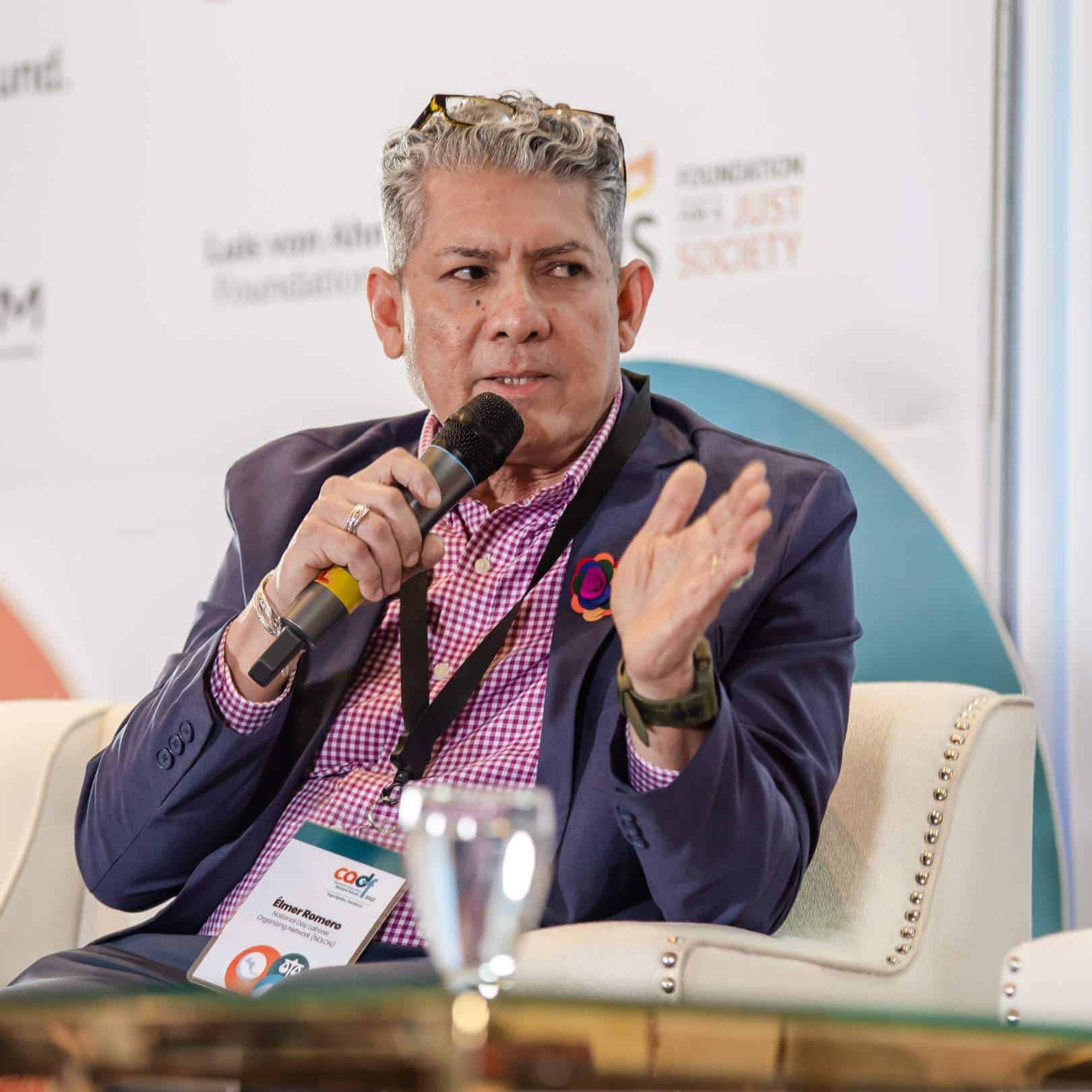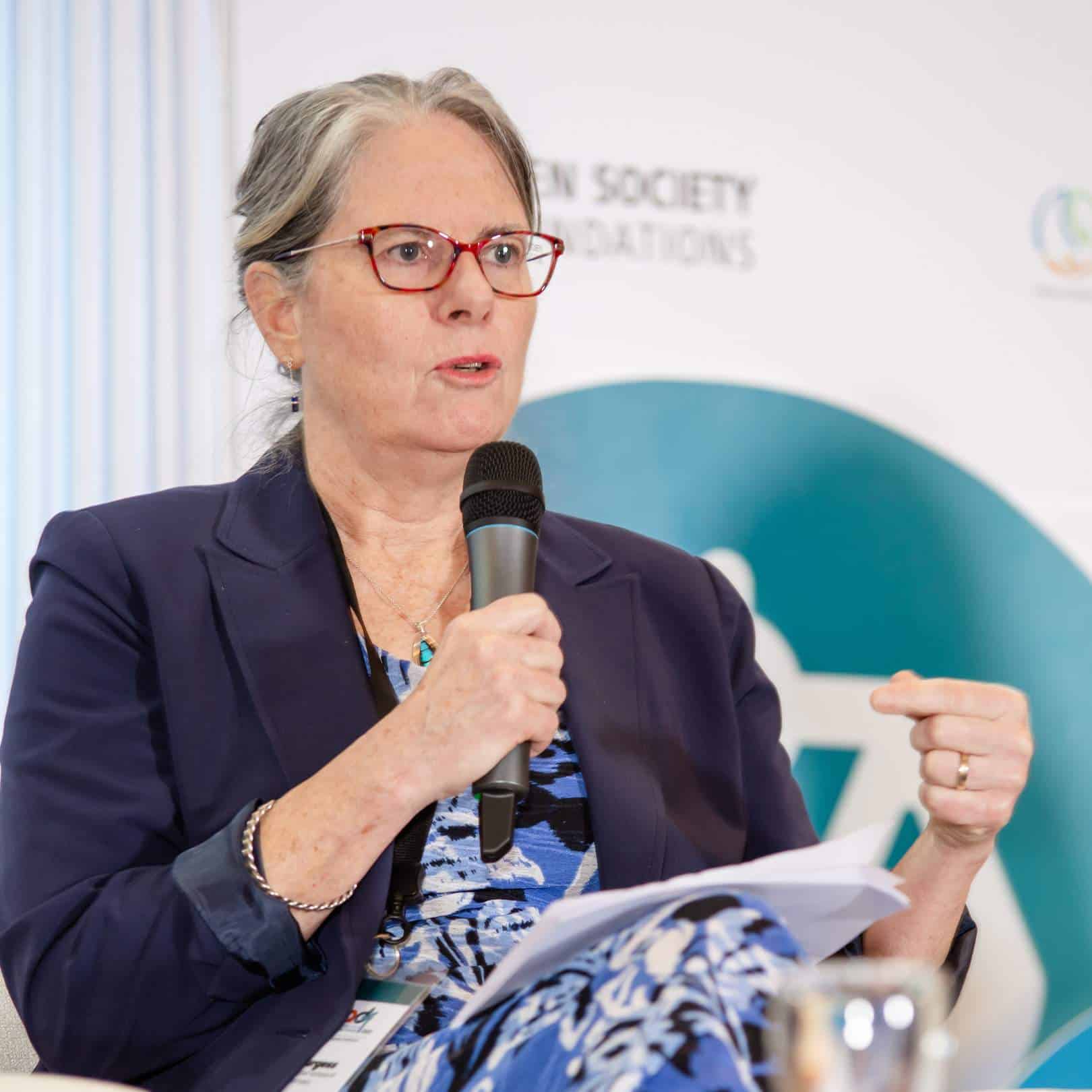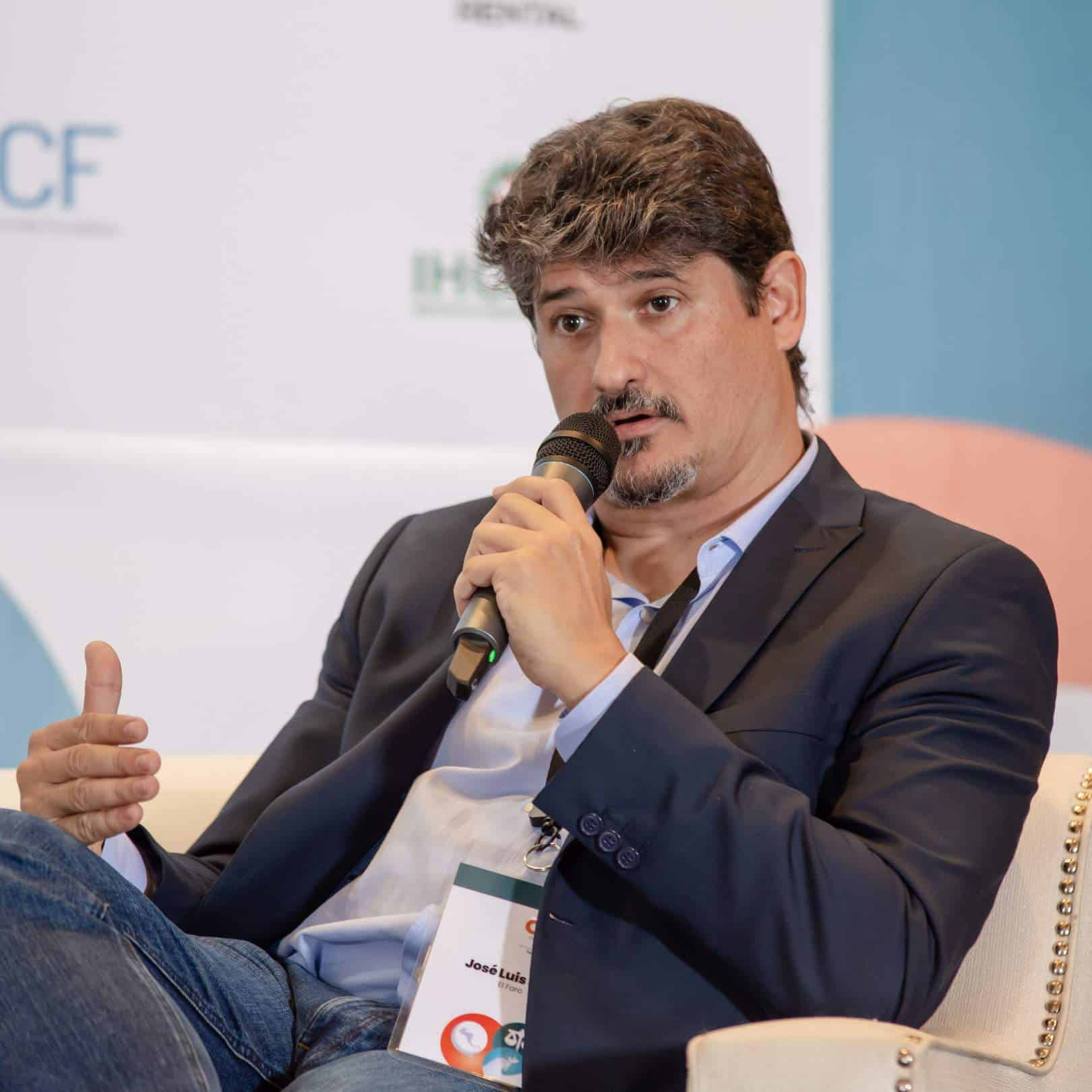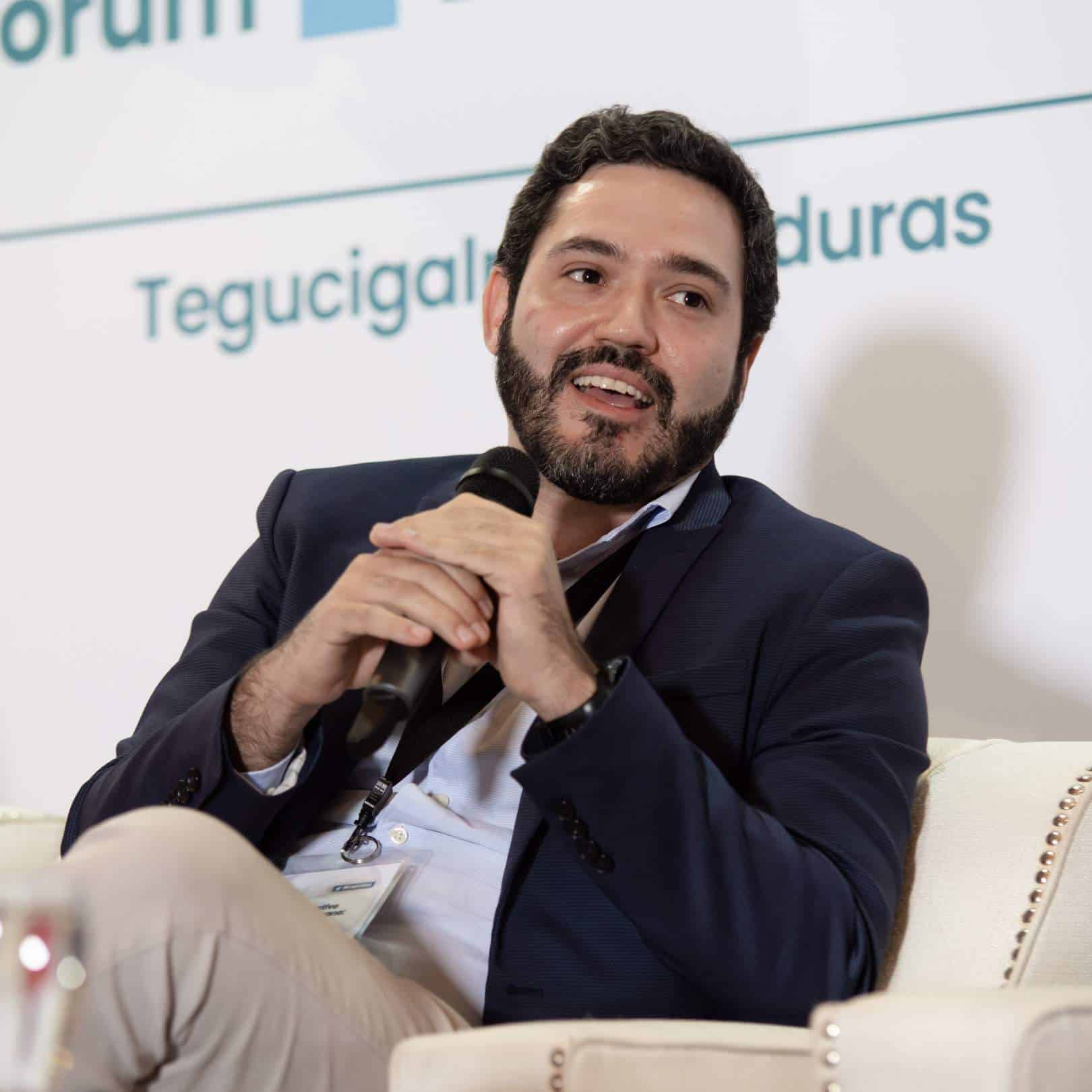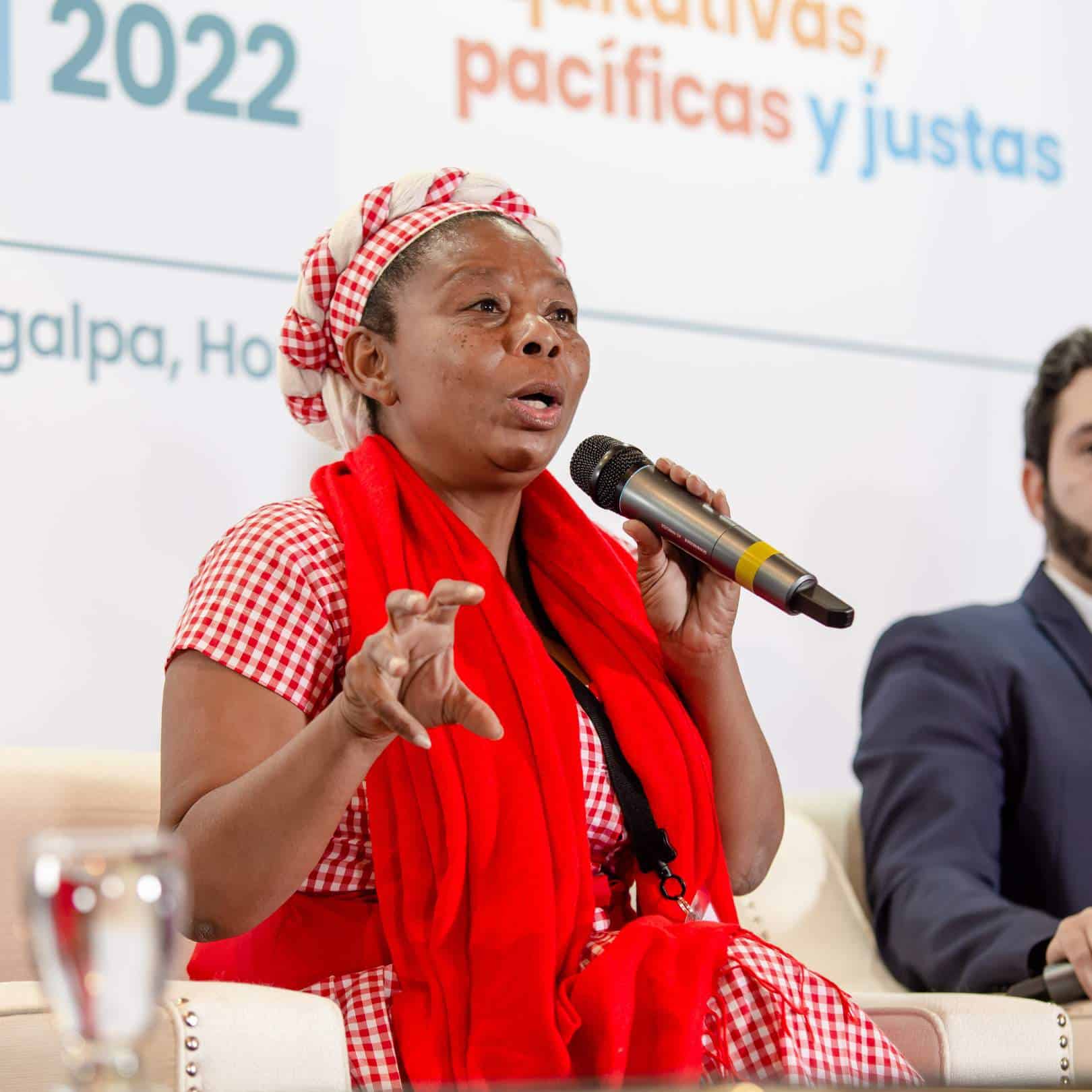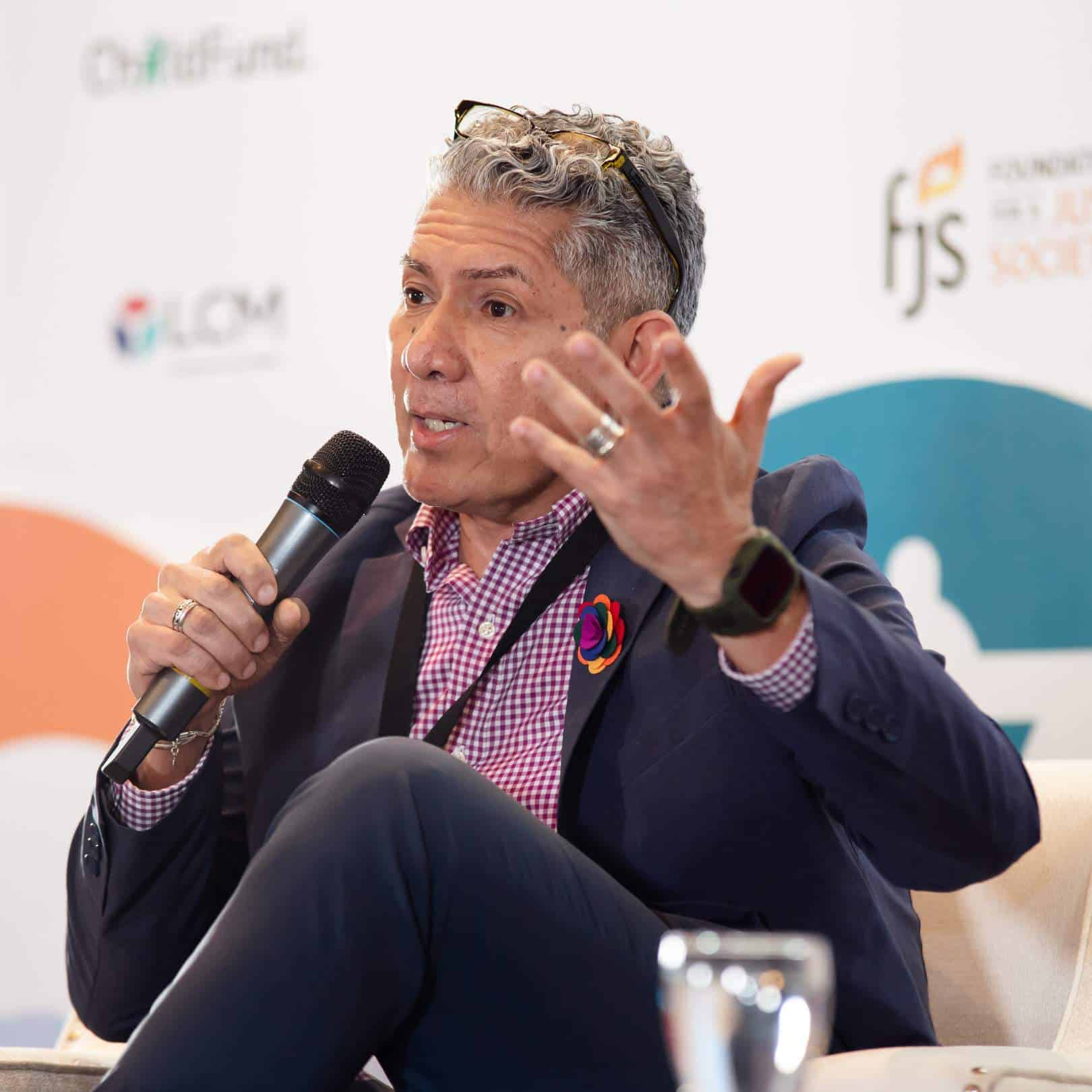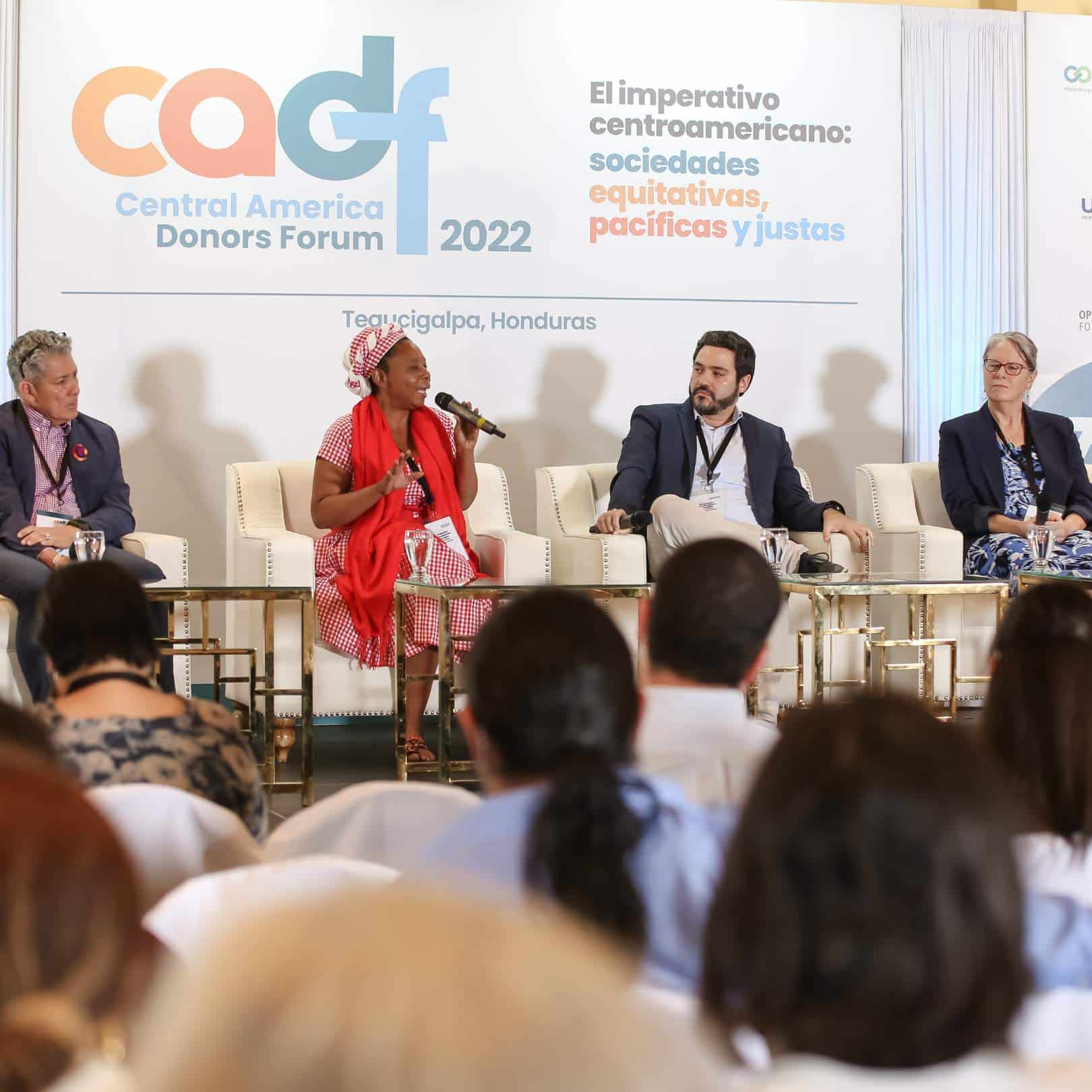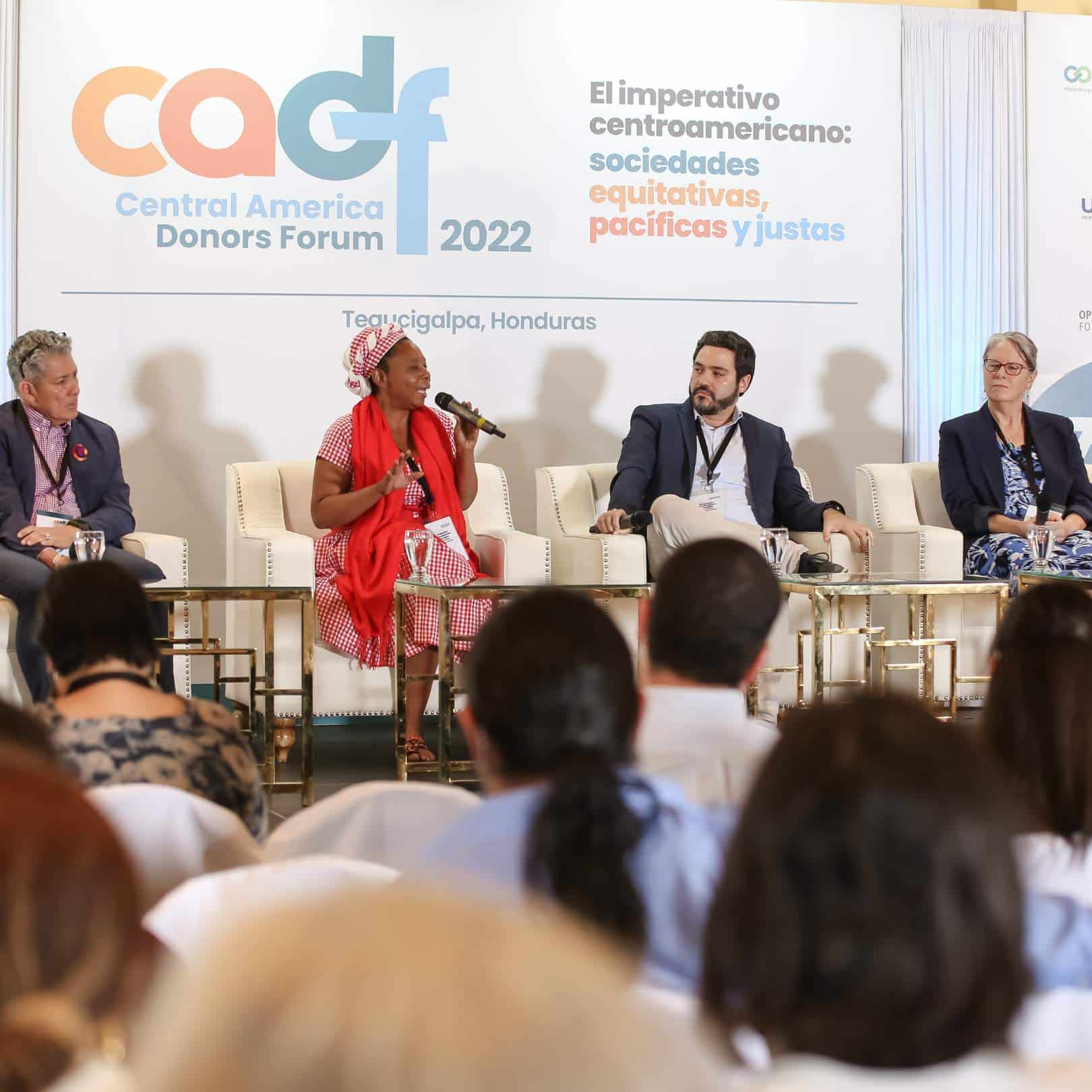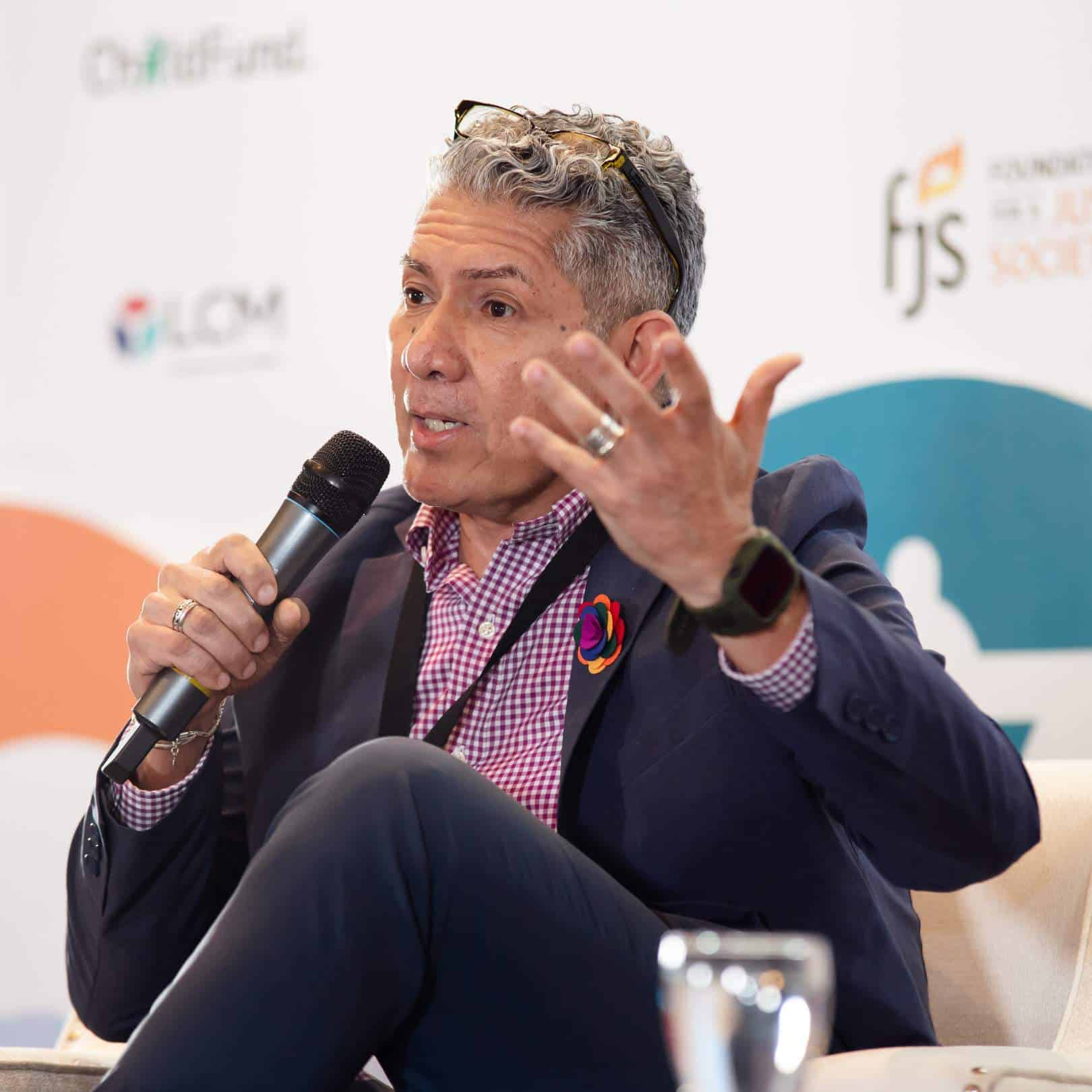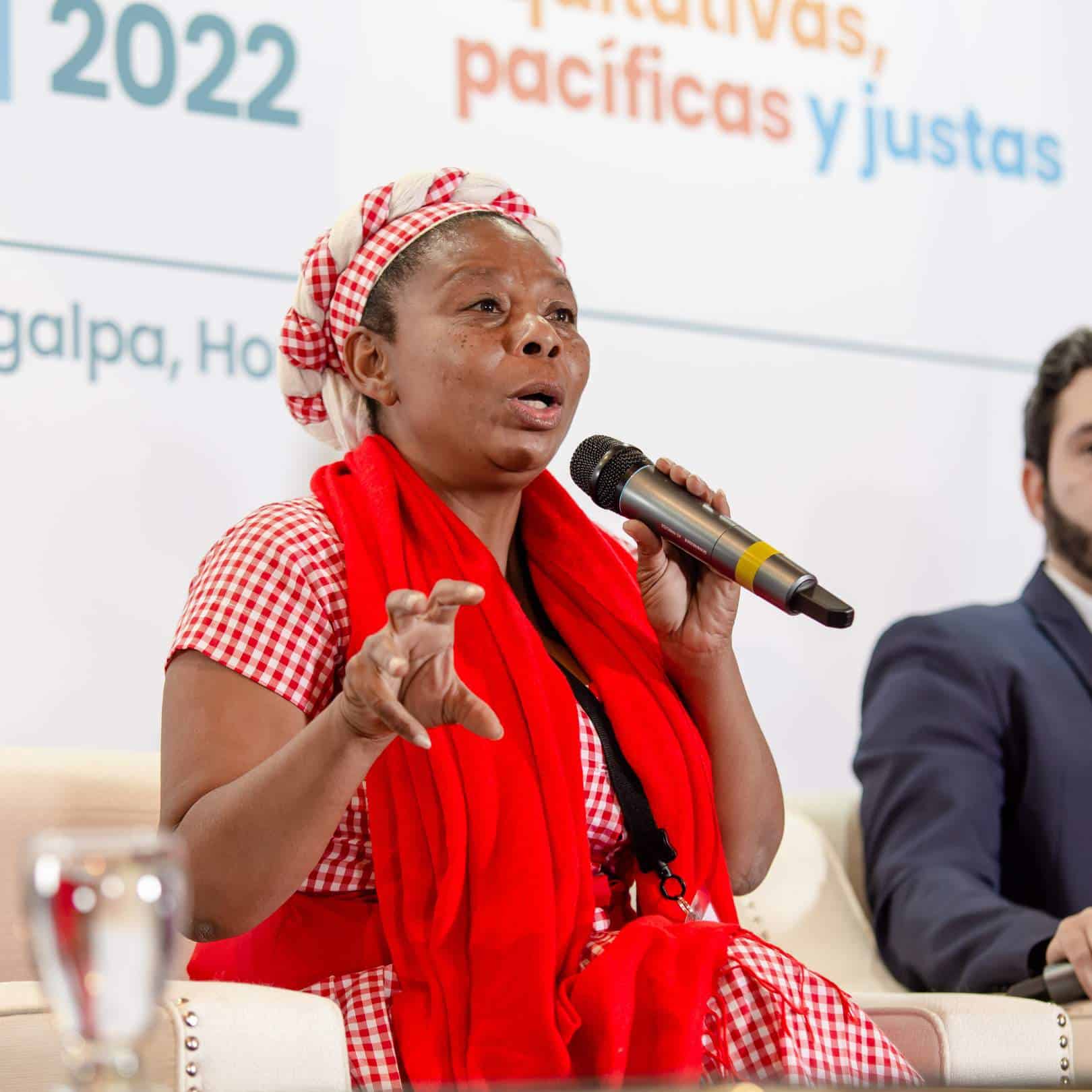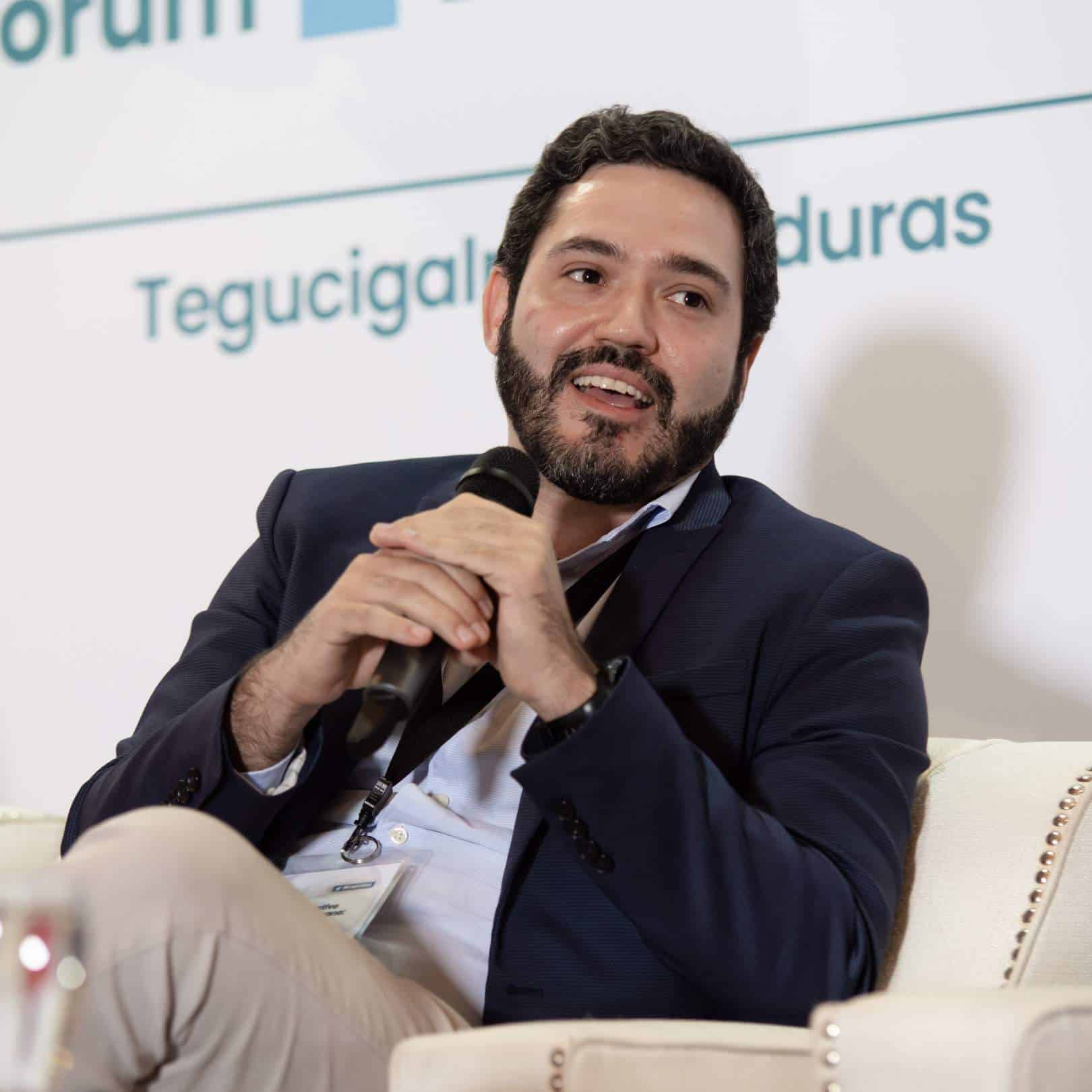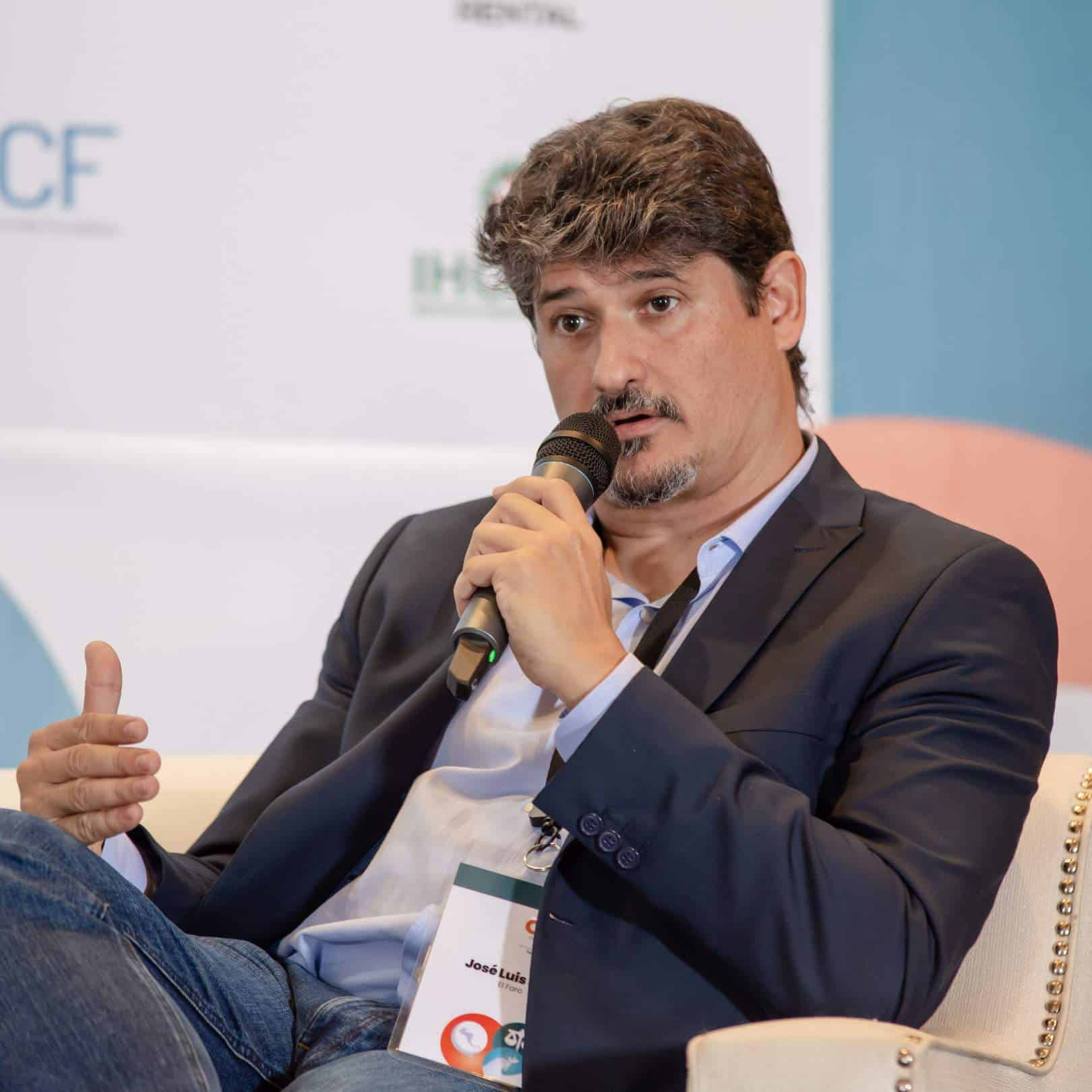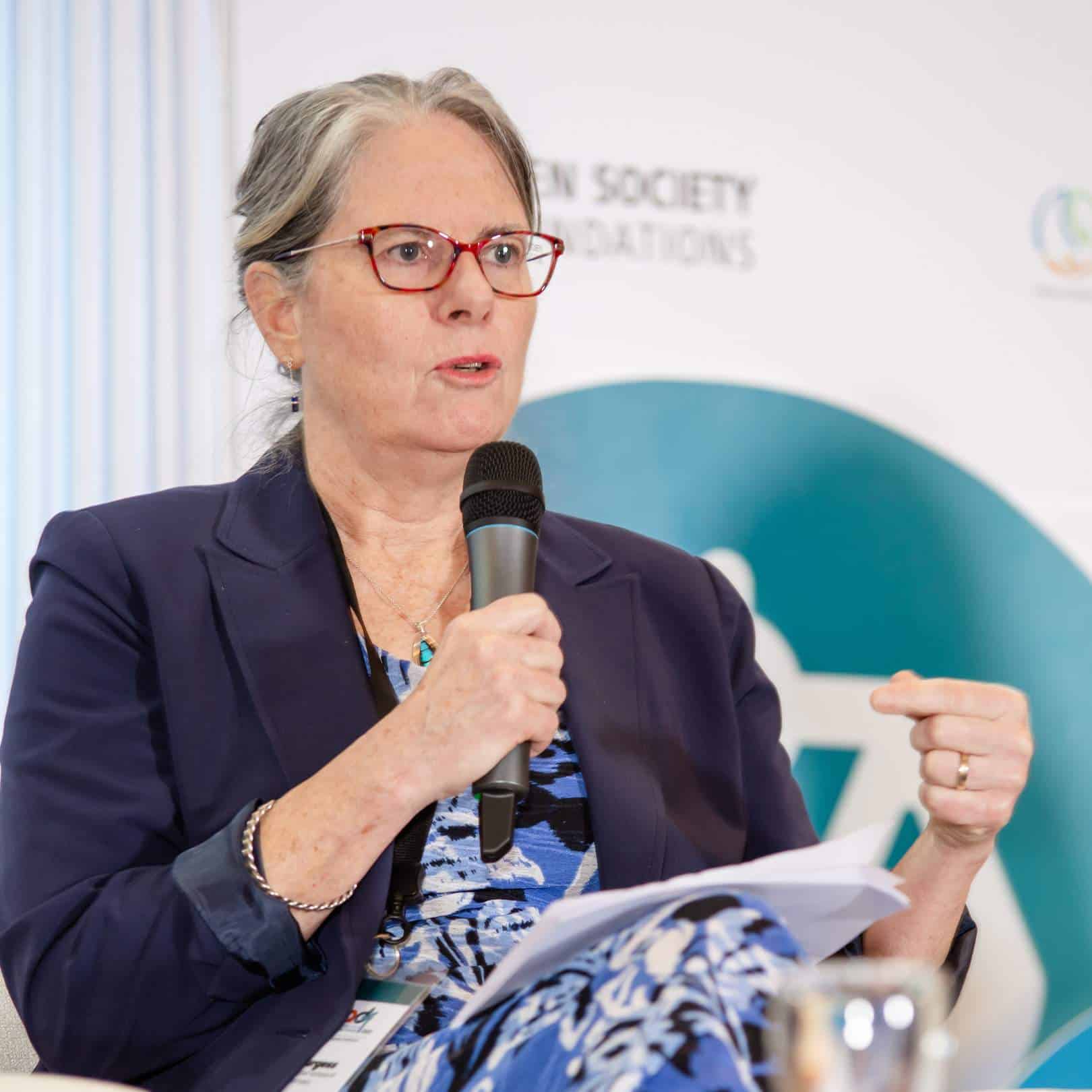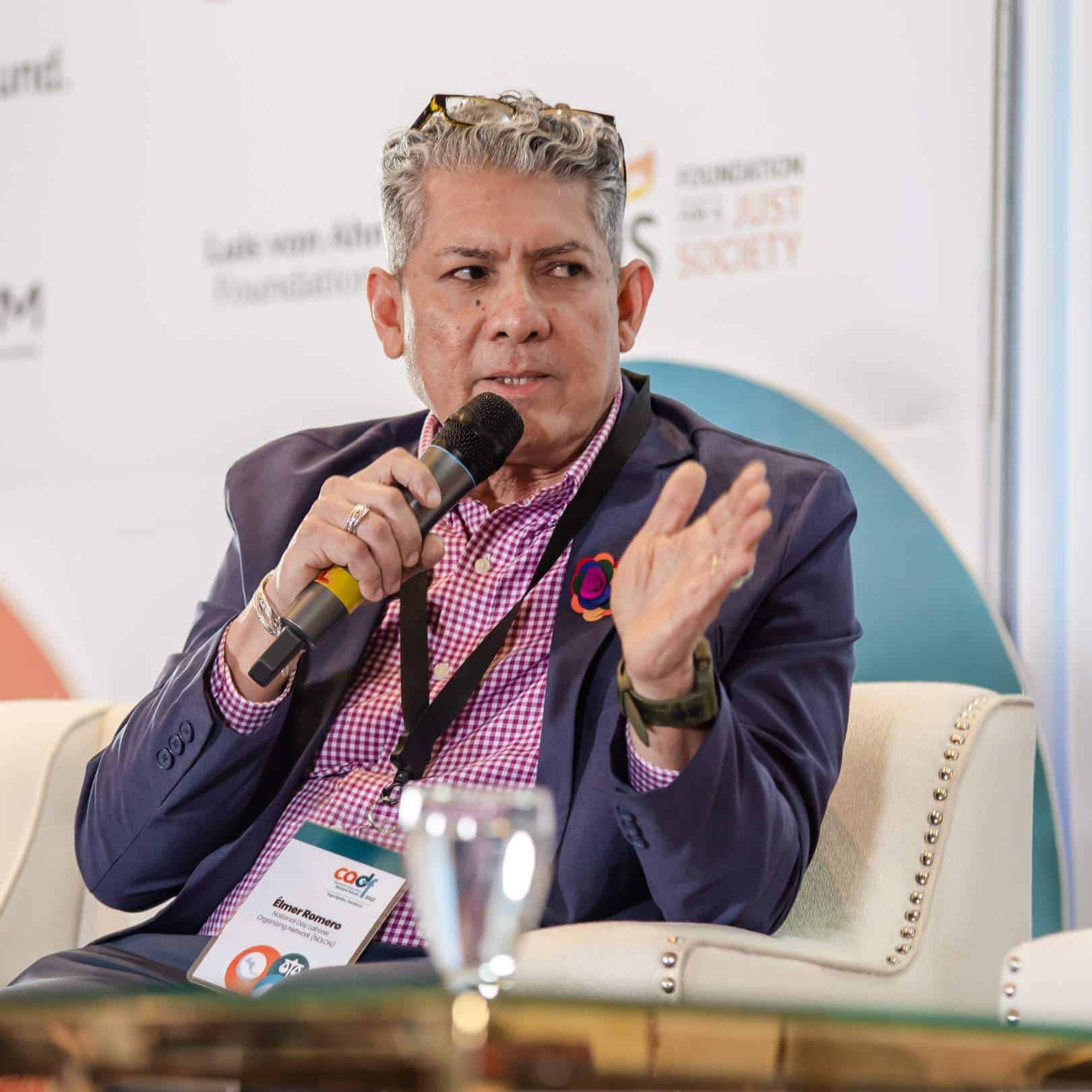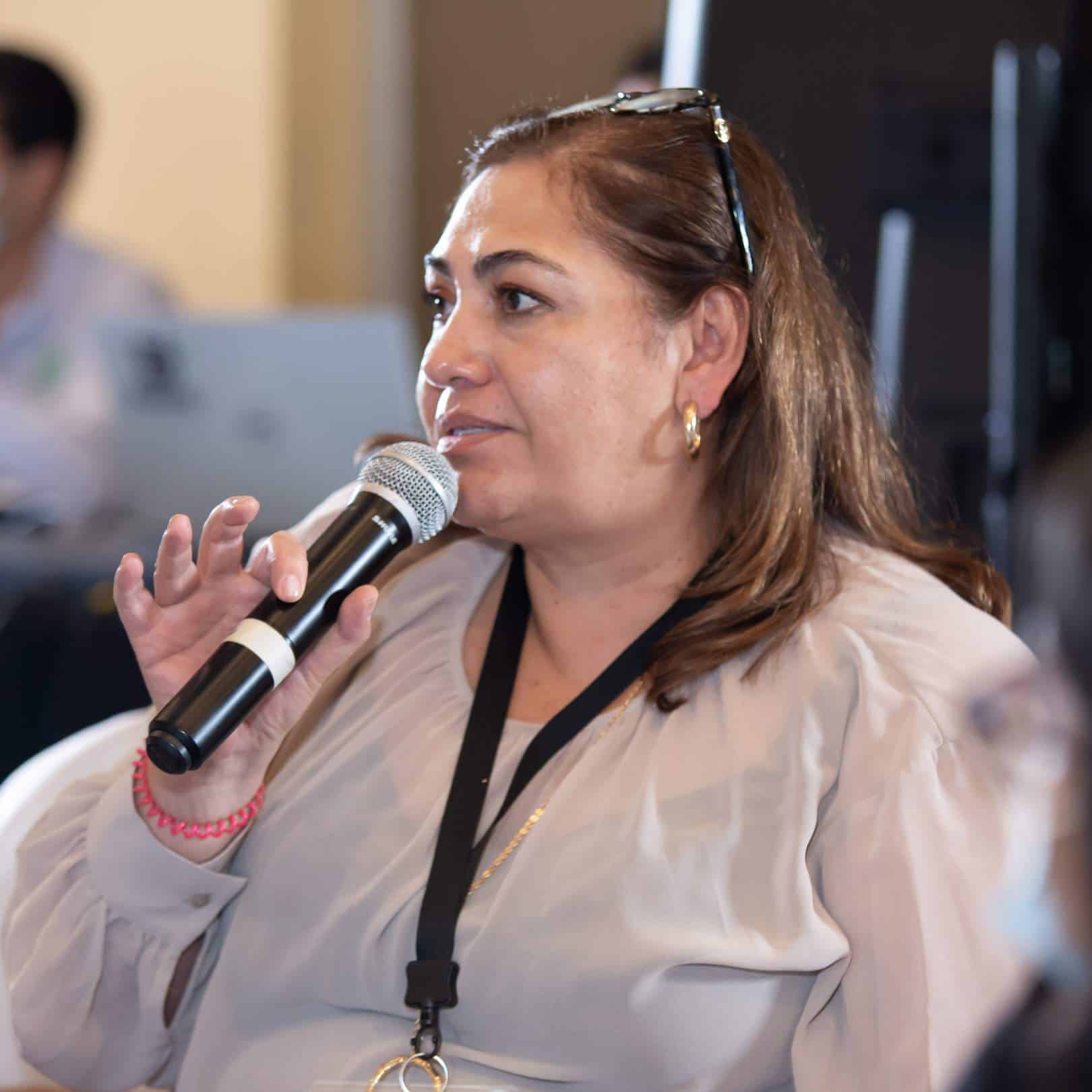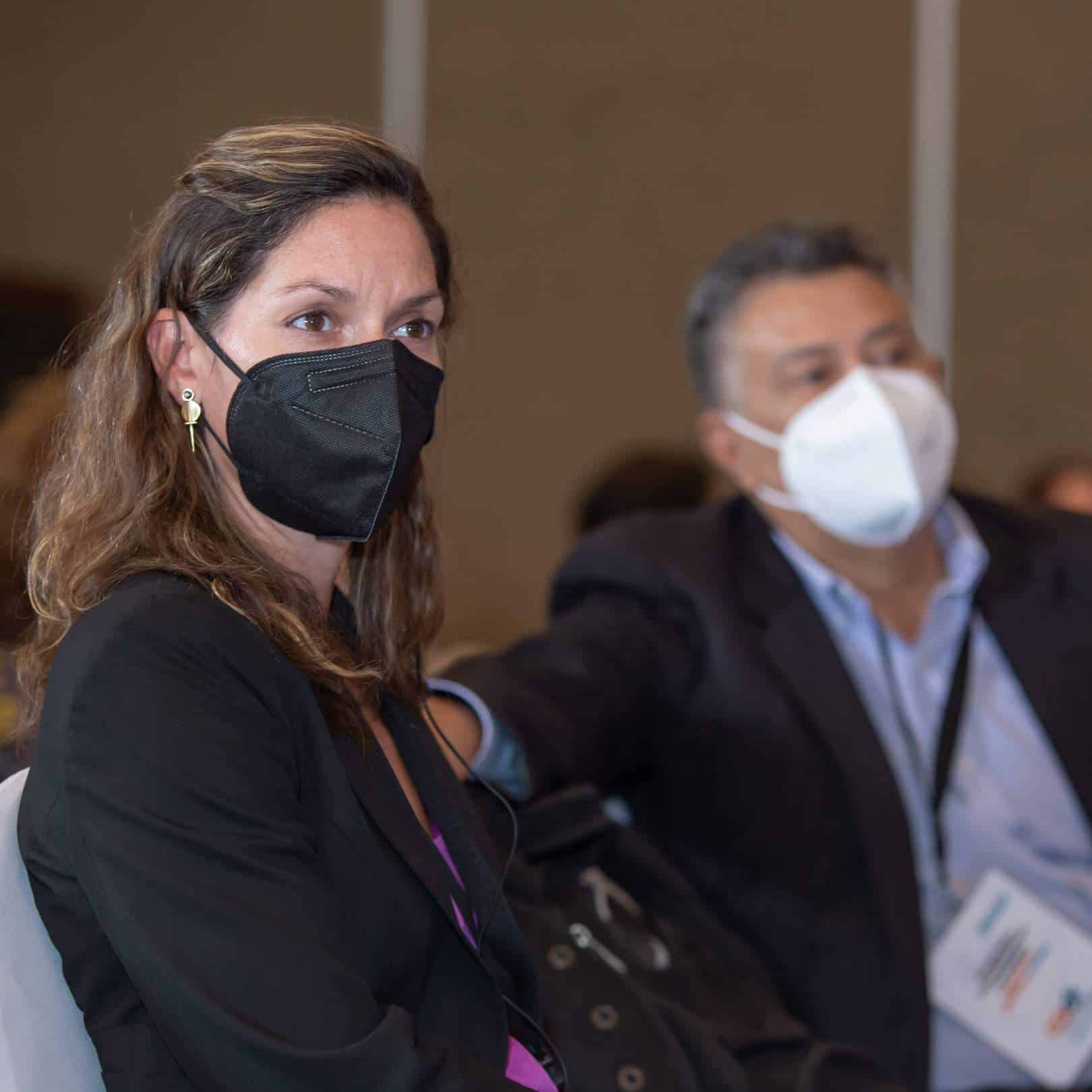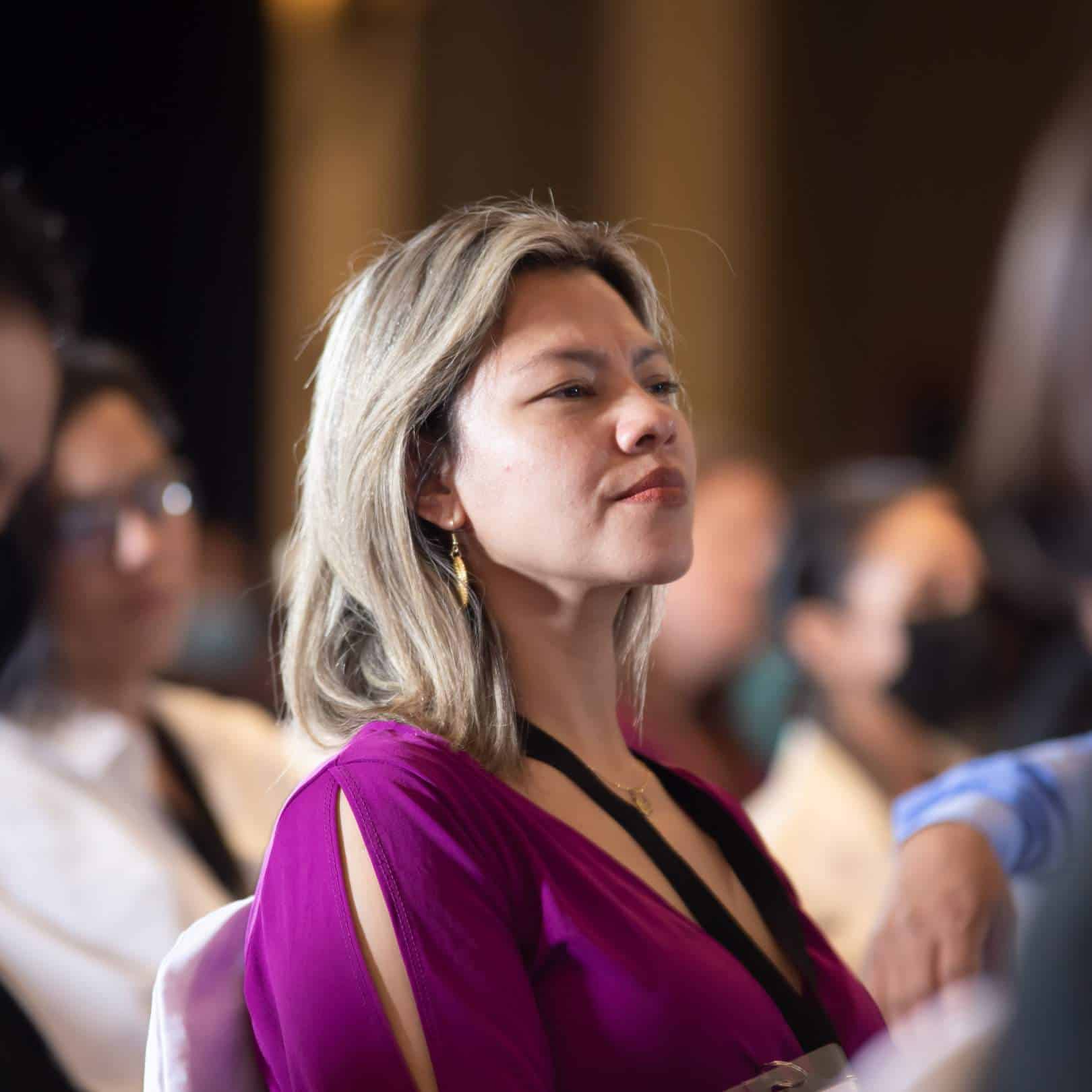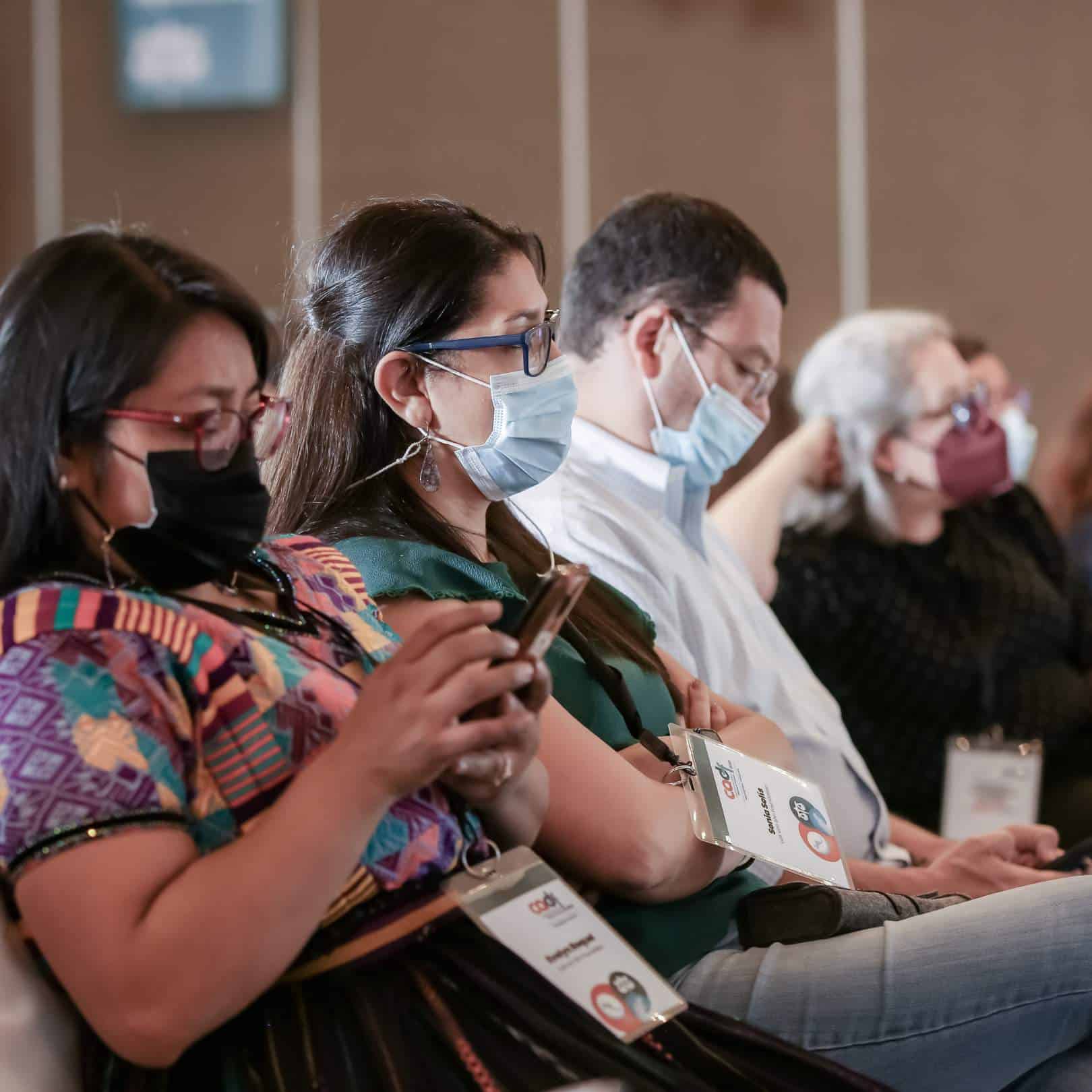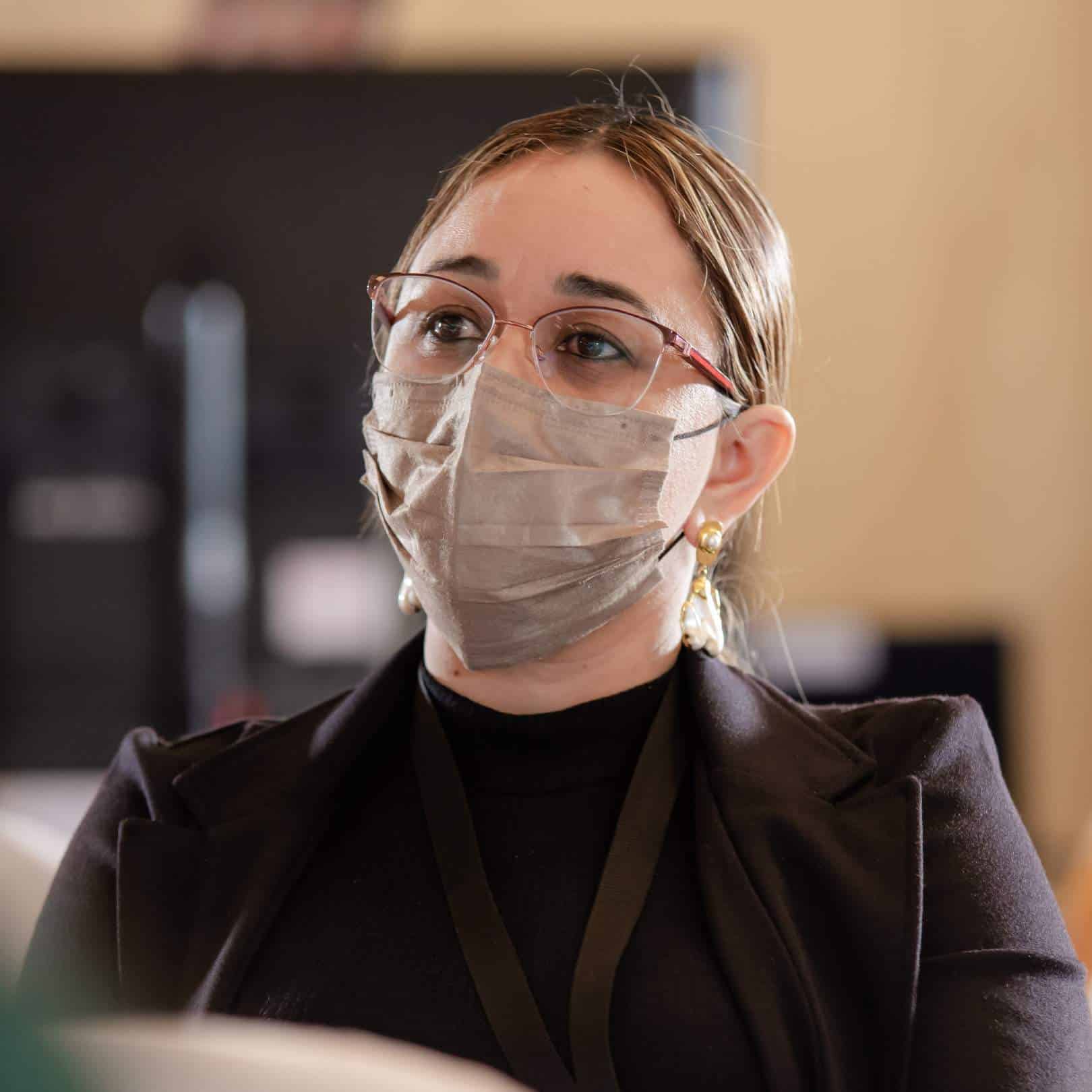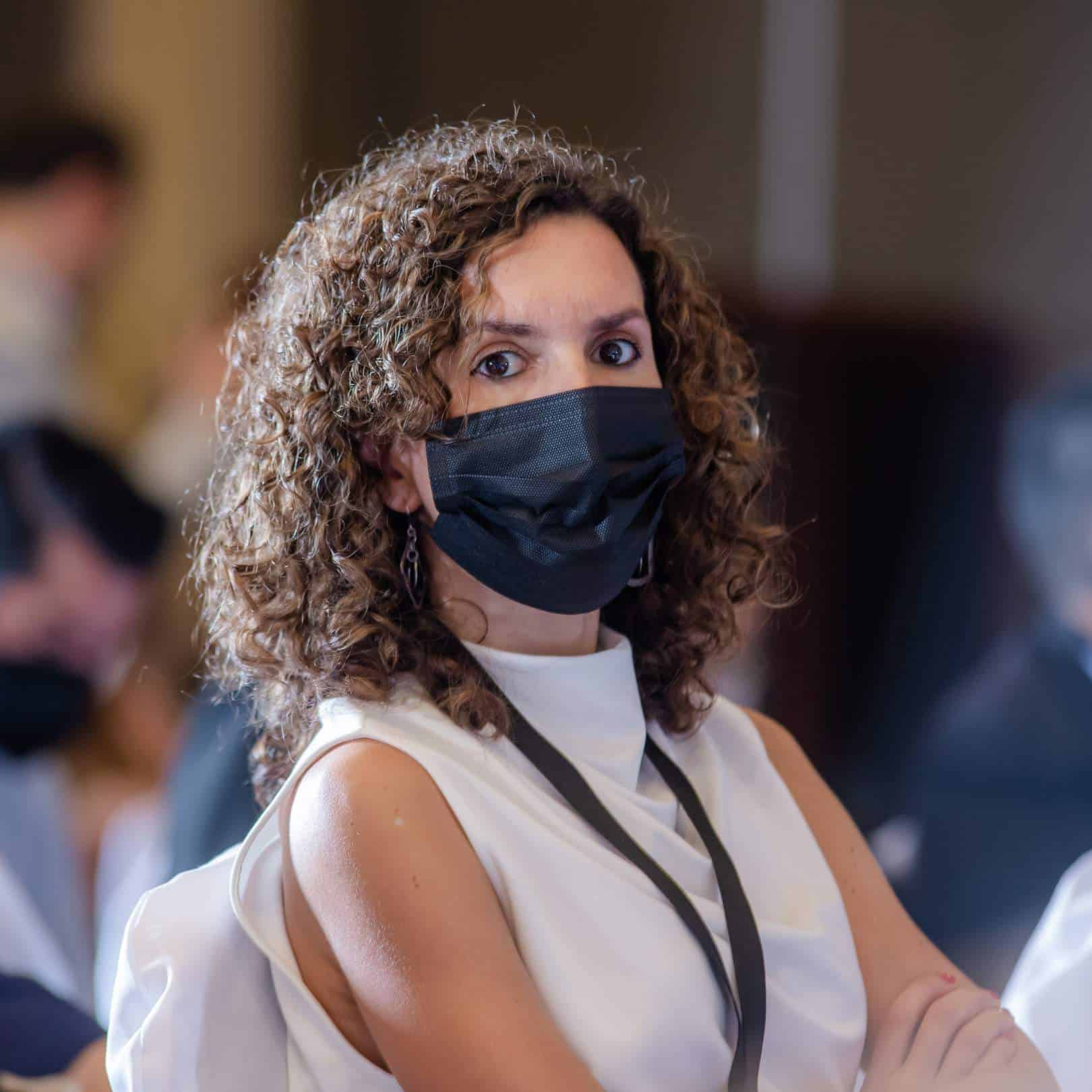 Arts & Culture
Waylaid in Tijuana
CADF 2022 featured "Waylaid in Tijuana", a documentary that explores how immigration policies adopted in Washington, D.C. reverberate south of the border in Tijuana, Mexico.

The documentary featured migrants and asylum seekers, migration experts, government officials, and advocates who grapple with the consequences of these policies.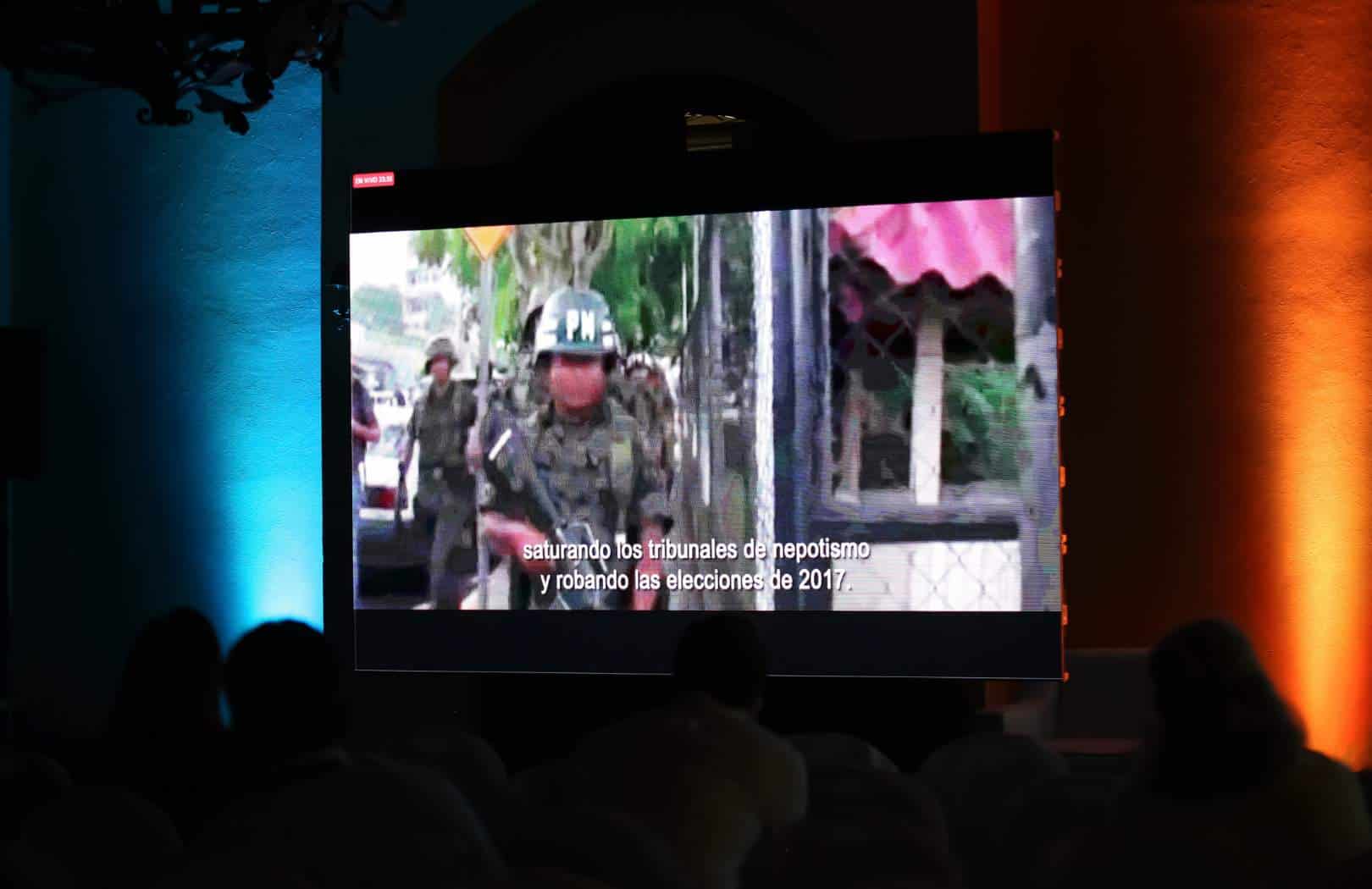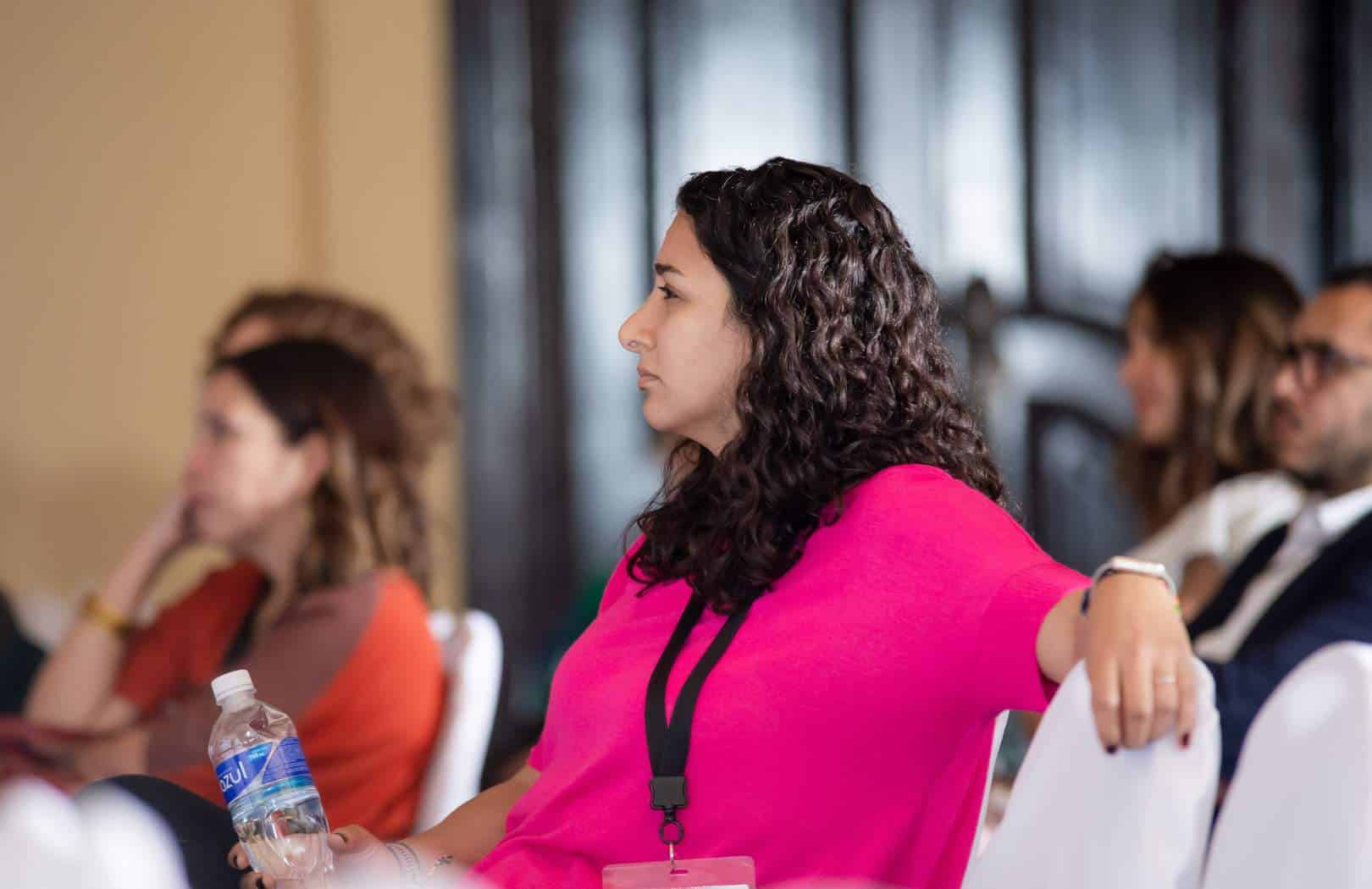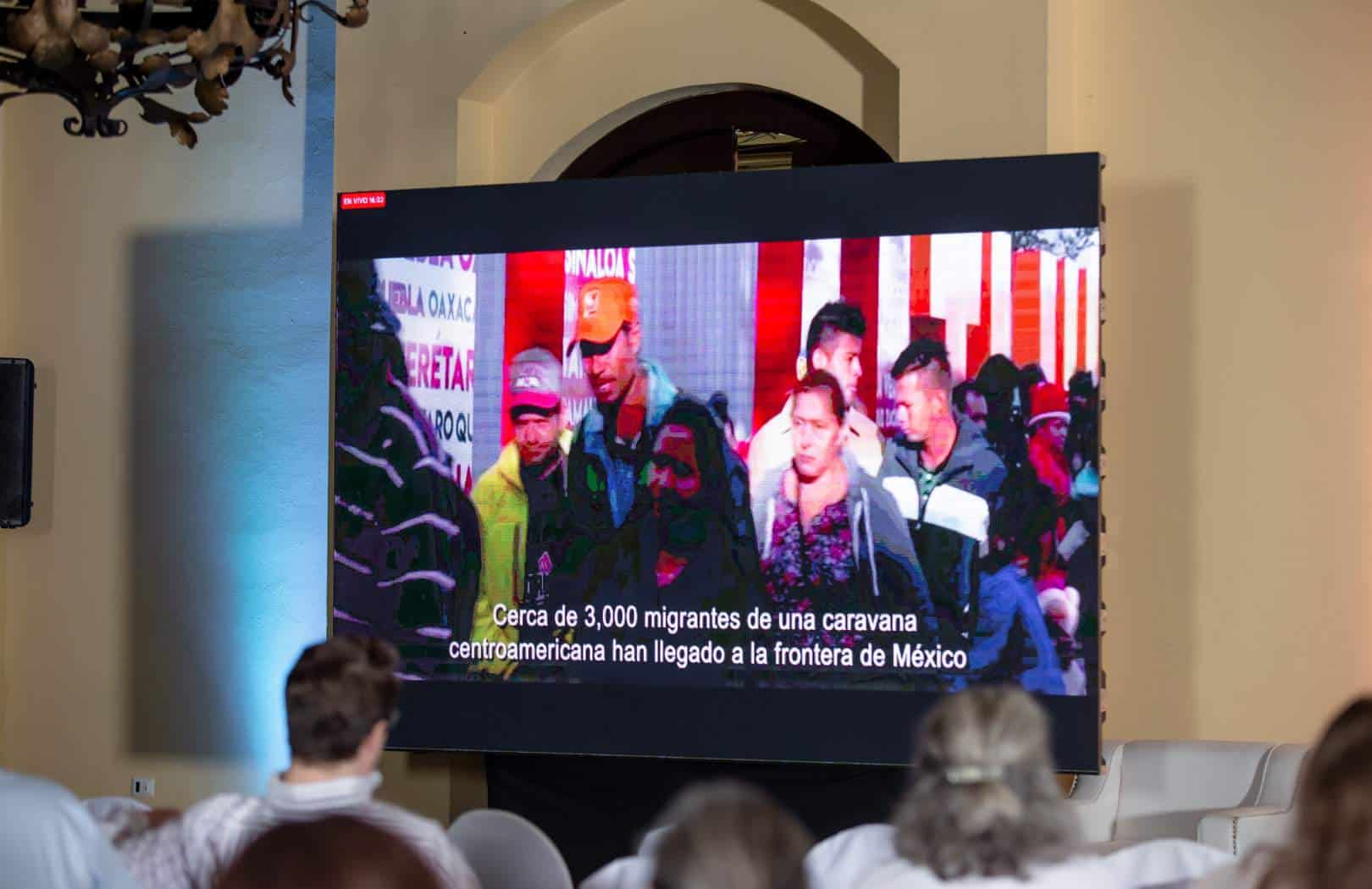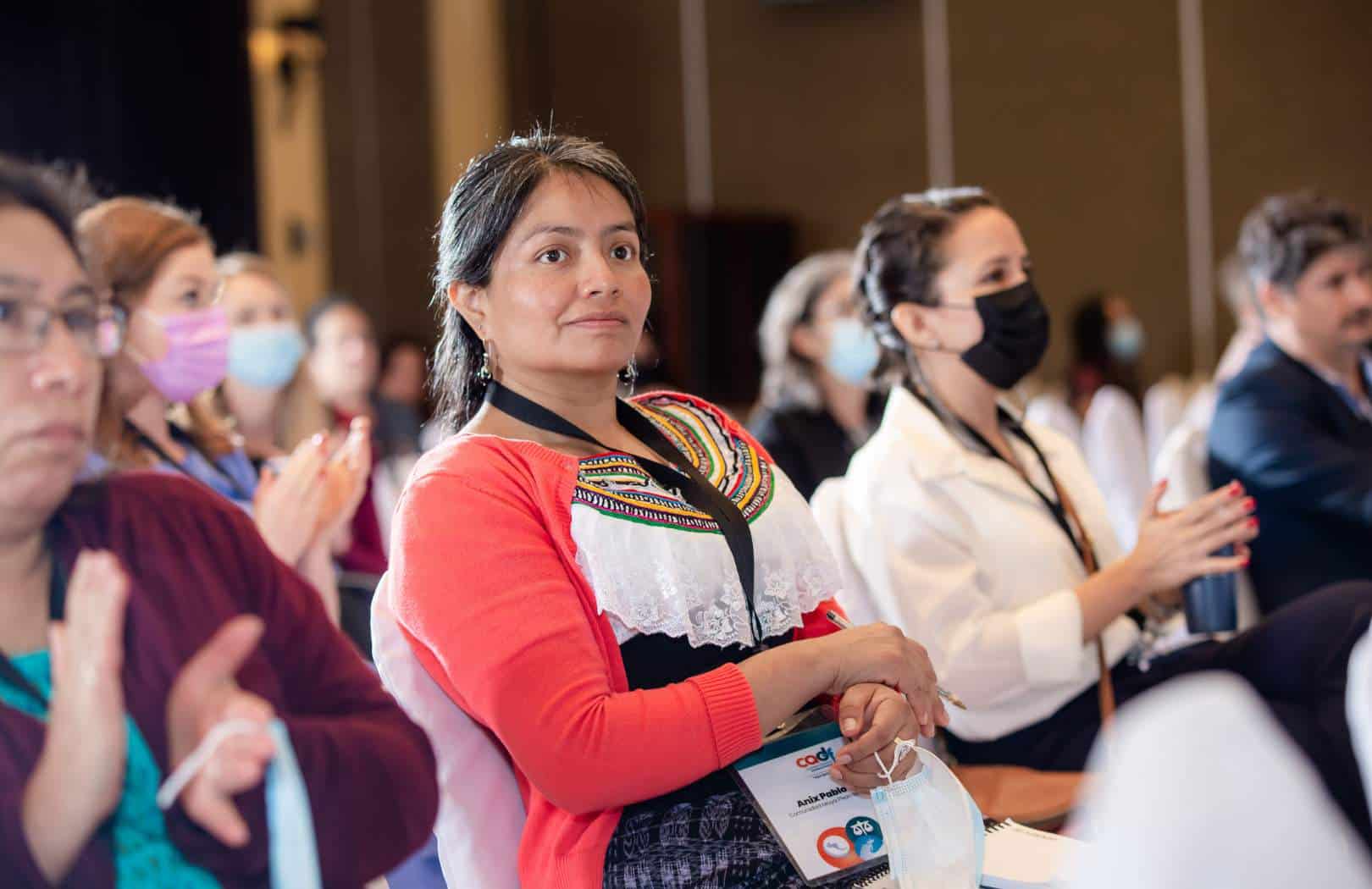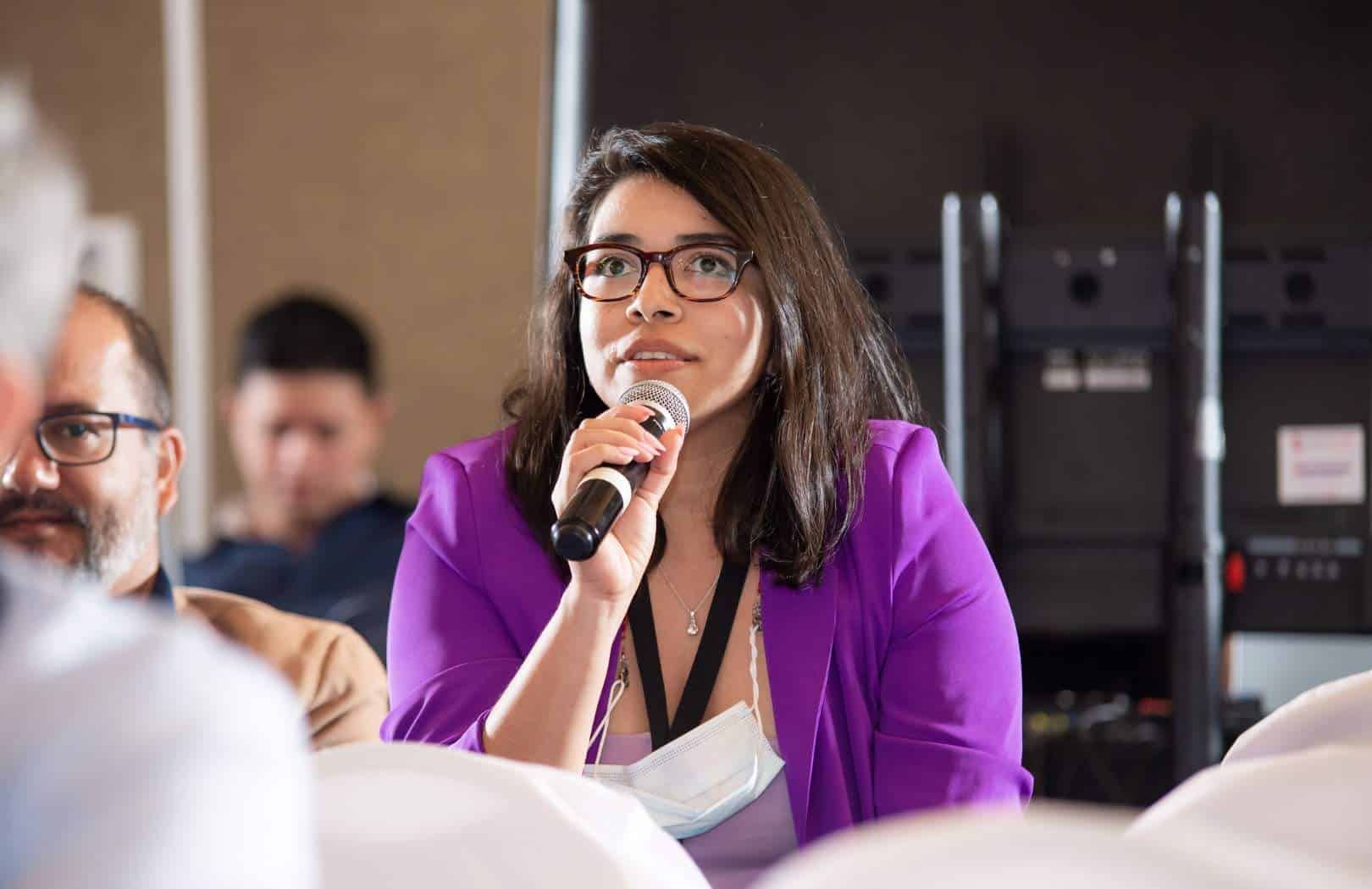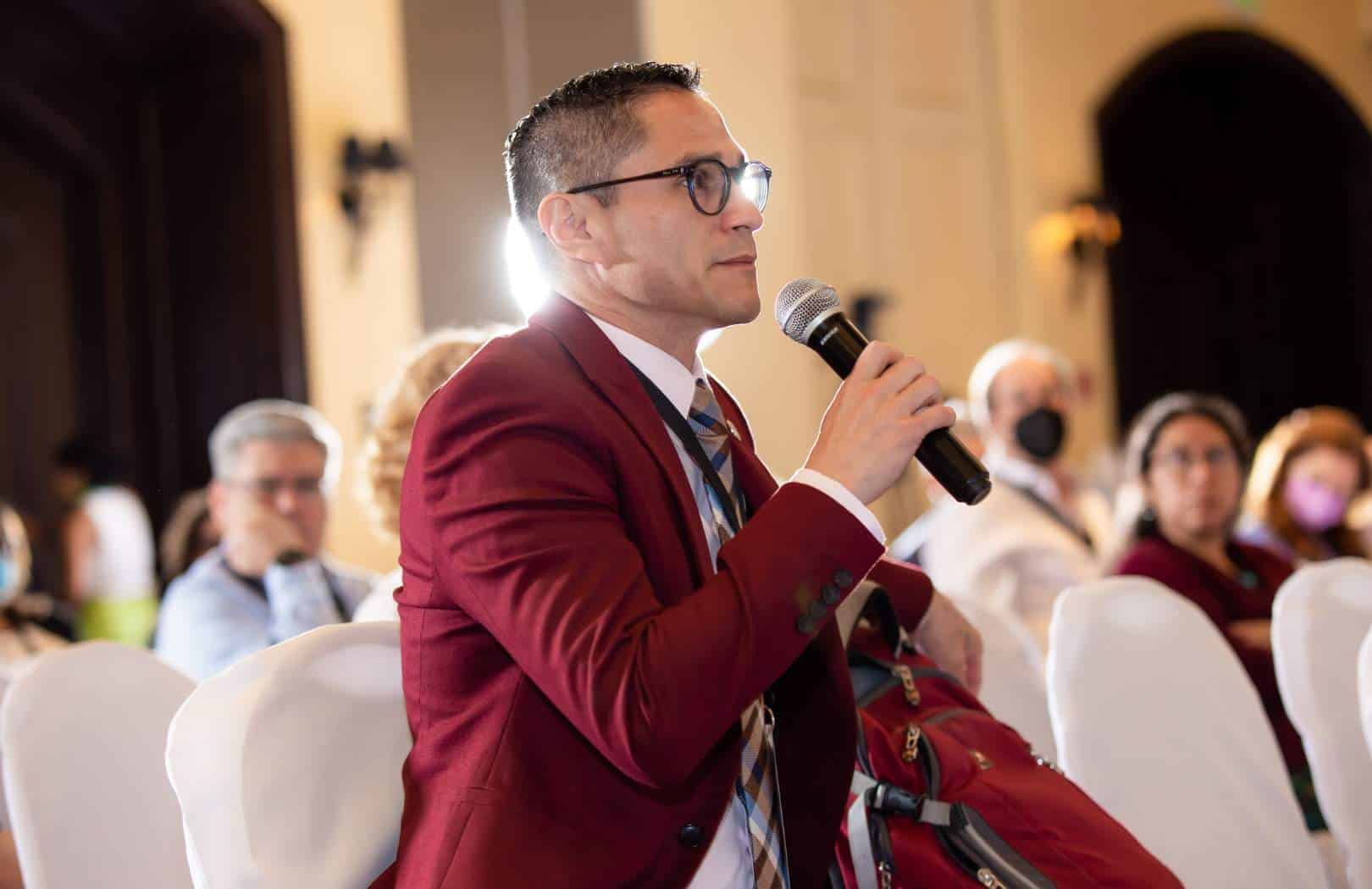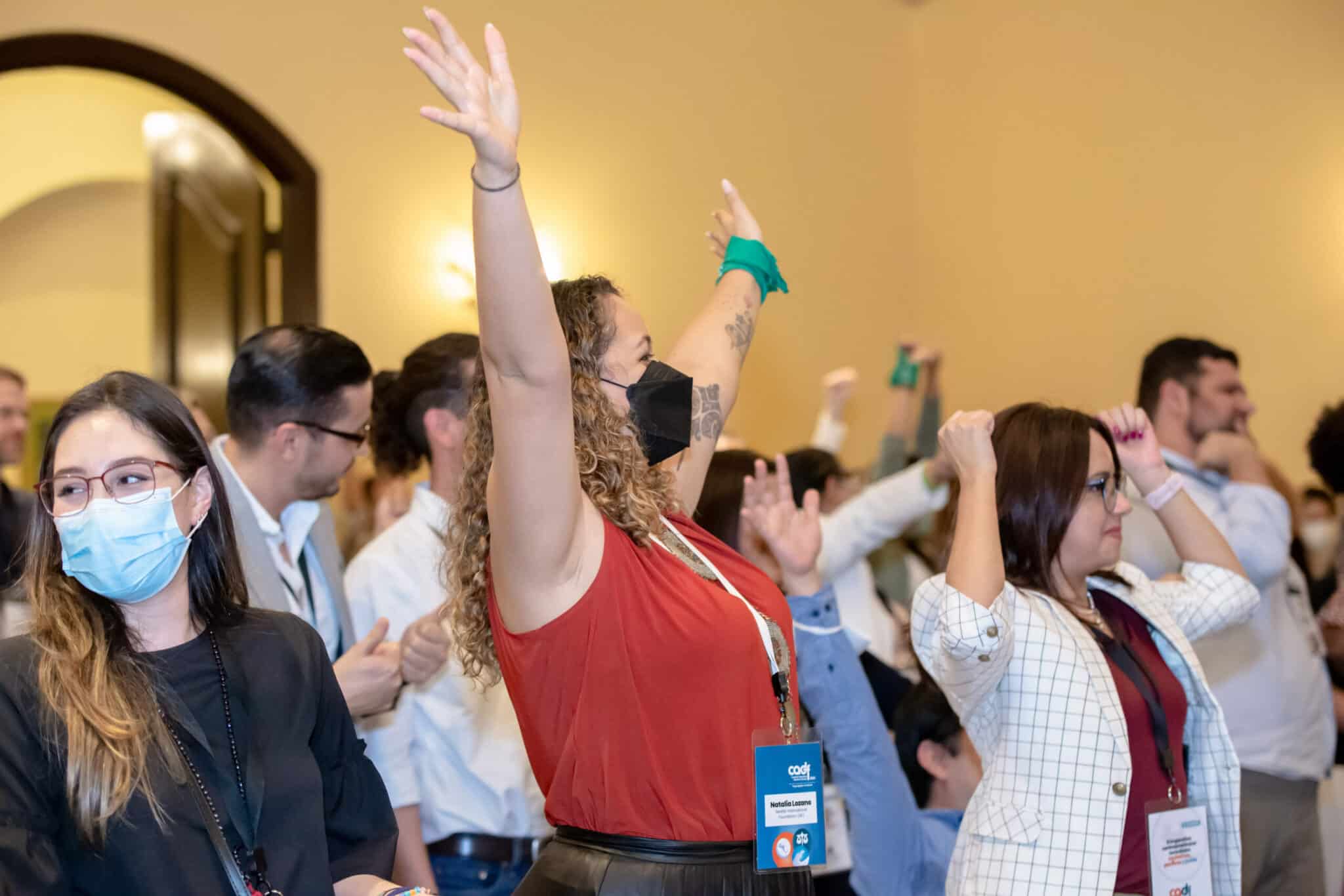 View the livestreams
Were you unable to attend CADF 2022 or are you interested in revisiting certain sessions? One-third of sessions were streamed for free via social media. Check out the recordings using the link below.
View livestreamed sessions
Rule of Law
Confronting Corruption in Central America from Multiple Perspectives
In this session, speakers analyzed how efforts to combat corruption in Honduras have improved with the new administration's strategic proposals, designed by the Ministry of Transparency. Speakers discussed how a diverse civil society contributes new demands, such as transparent public management, the uncovering of corrupt practices and the development of training oversight processes. Unfortunately, spaces for civil society to participate are diminishing.
This session highlighted challenges indeed exist following a narco dictatorship, yet various mechanisms in Congress, the Ministry of Transparency and the Institue of Access to Public Information remain available for use. At both the regional and international level, international commissions should be developed to strengthen national institutions in Honduras. Furthermore, trust in election processes and the ability for deserving professionals to achieve government-level positions should be restored. In helping to bring about these changes, the international community has a responsibility not to support corrupt governments.
Quotes
"What we want to do in the new selection process for the Supreme Court is to bring together the parties and make them choose the best candidates."
Edmundo Orellana
"Today, civil society has a new responsibility: to demand transparency in public management. We should empower others to provide oversight and spaces to analyze the current political context. [CNA] is contributing today as an extremely important actor supporting the rule of law."
Gabriela Castellanos
"We believe that Honduras needs an independent CICIH (International Commission against Impunity in Honduras). We're creating an alliance to install this international mechanism in Honduras."
Fátima Mena
"In the region, we're experiencing direct setbacks with regards to the rule of law, even a resurgence of authoritarianism. We see how corruption is the engine that governments drive to consolidate their power. But I believe there are windows of hope: the election of the Supreme Court, the new Attorney General and the work of independent journalism. Governments have constructed a narrative that the fight against corruption is subversive."
Claudia Paz y Paz
Speakers
Jennifer Ávila, ContraCorriente
Edmundo Orellana, Minister for Transparency and Fight Against Corruption of Honduras
Gabriela Castellanos, National Anti-Corruption Council of Honduras (CNA)
Fátima Mena, National Congress of Honduras
Claudia Paz y Paz, Center for Justice and International Law (CEJIL)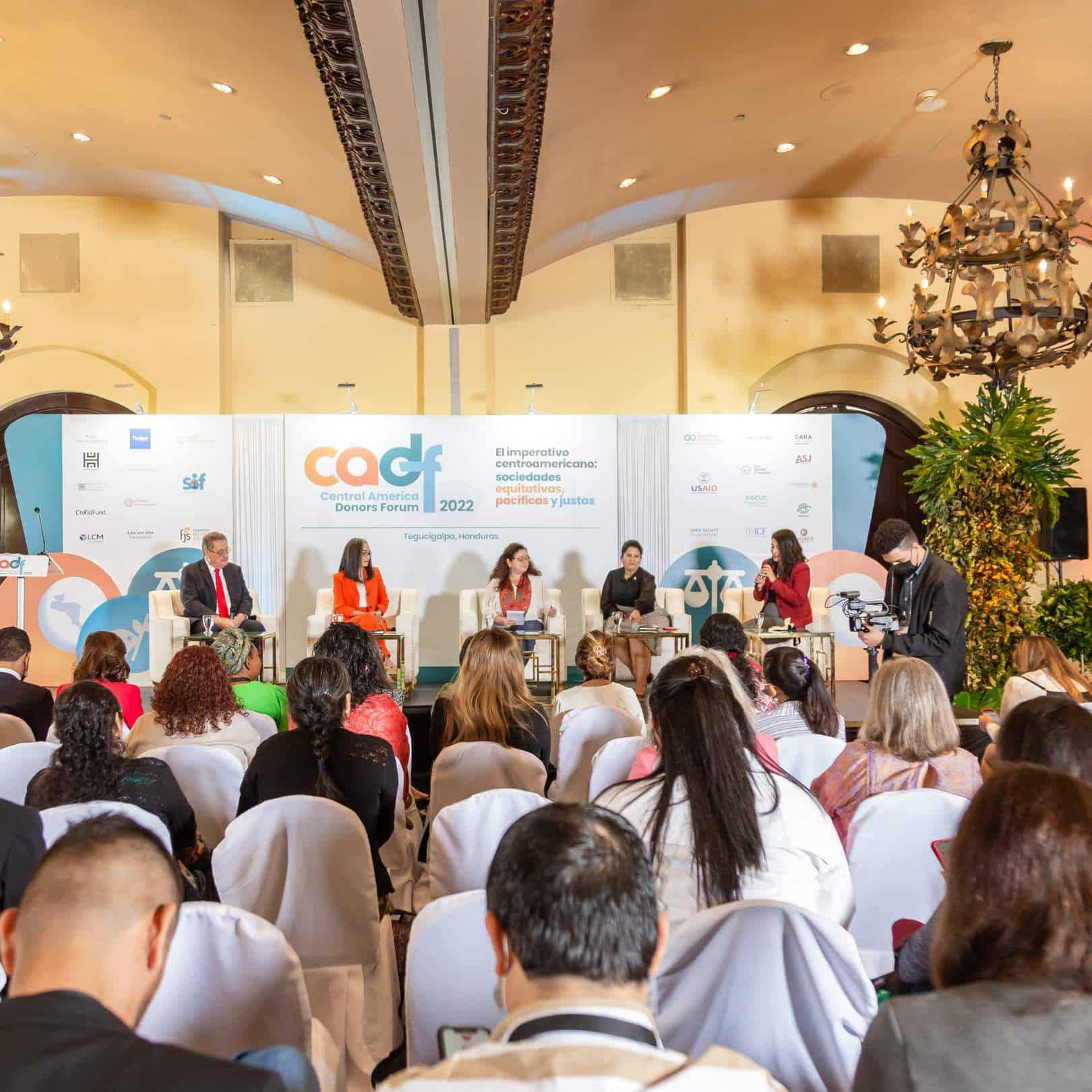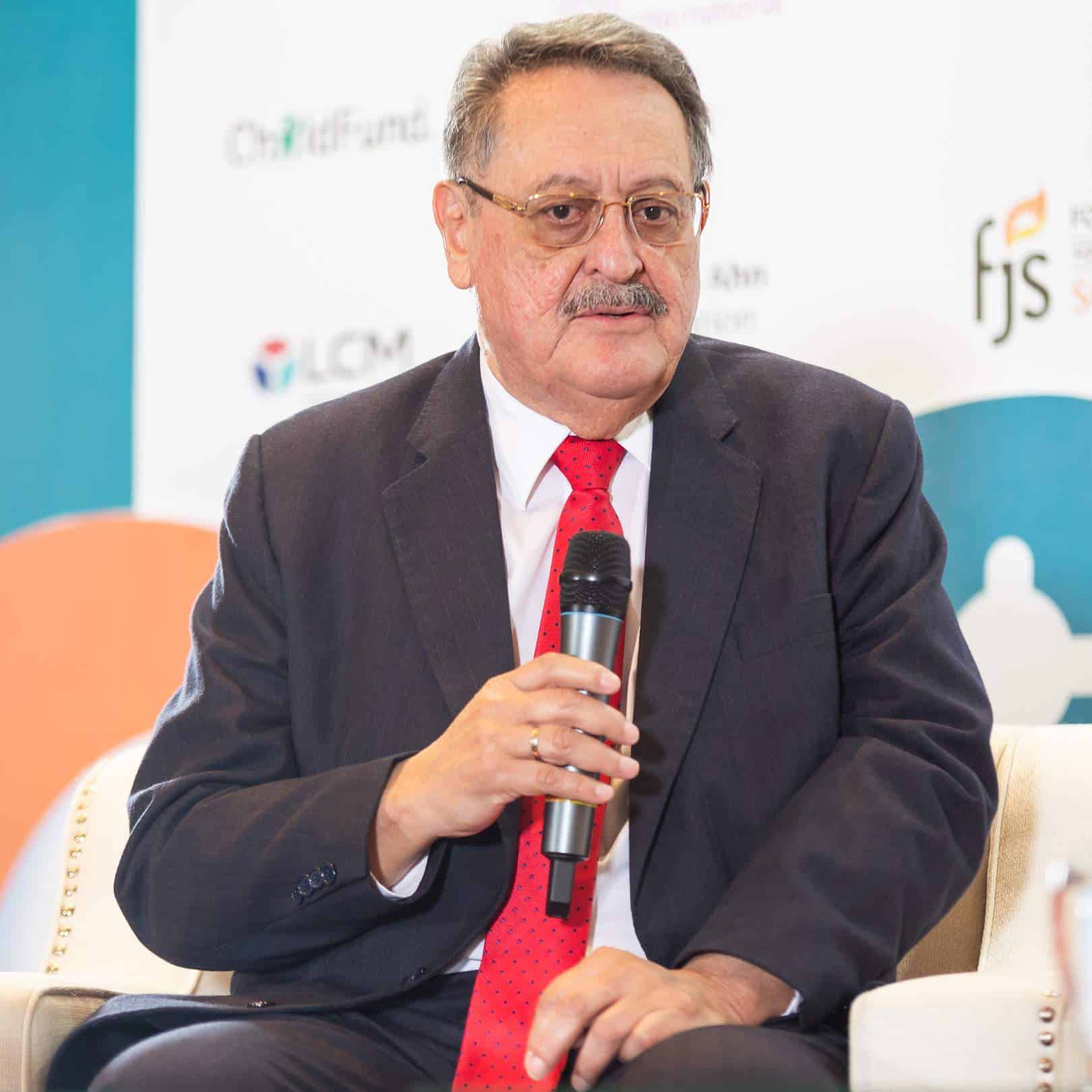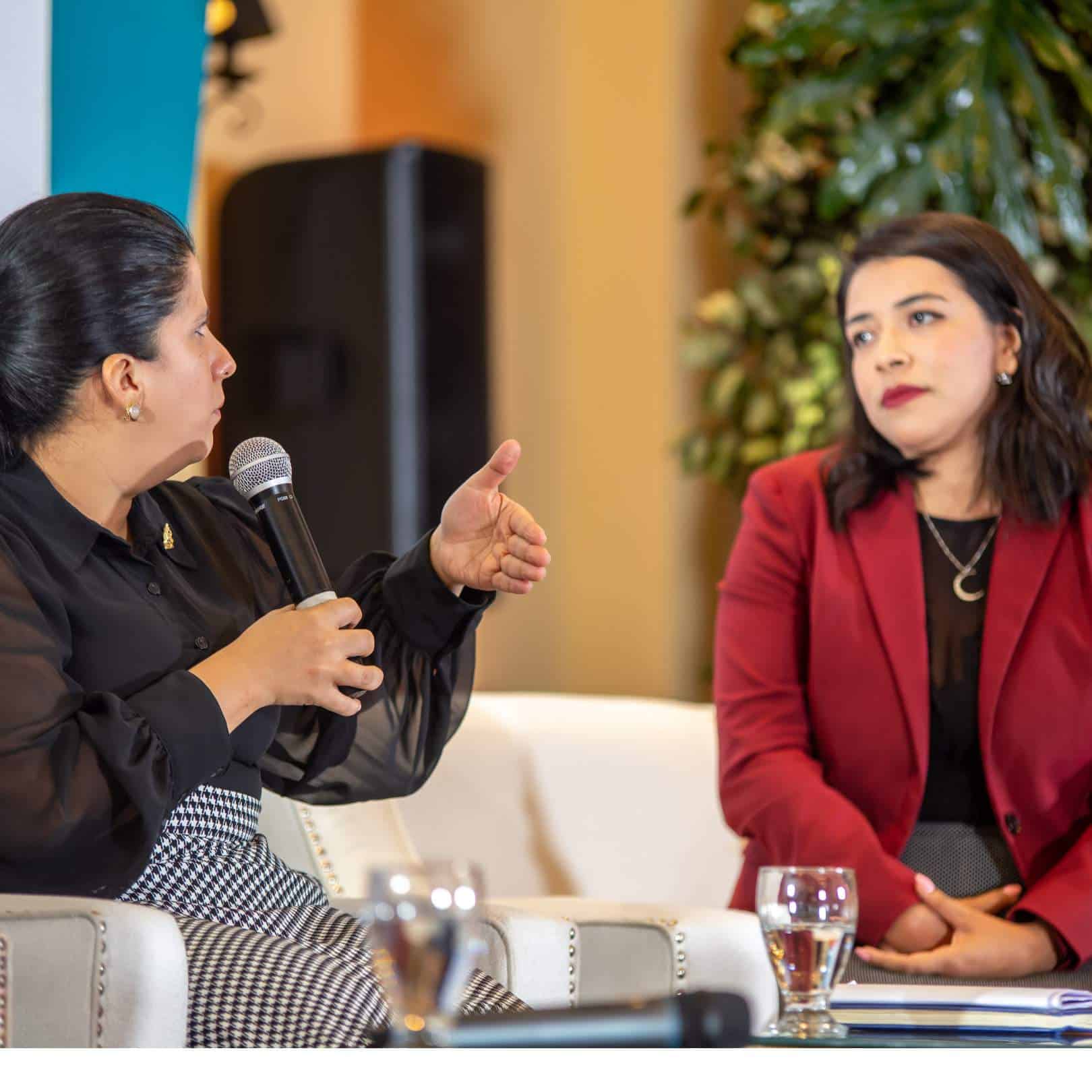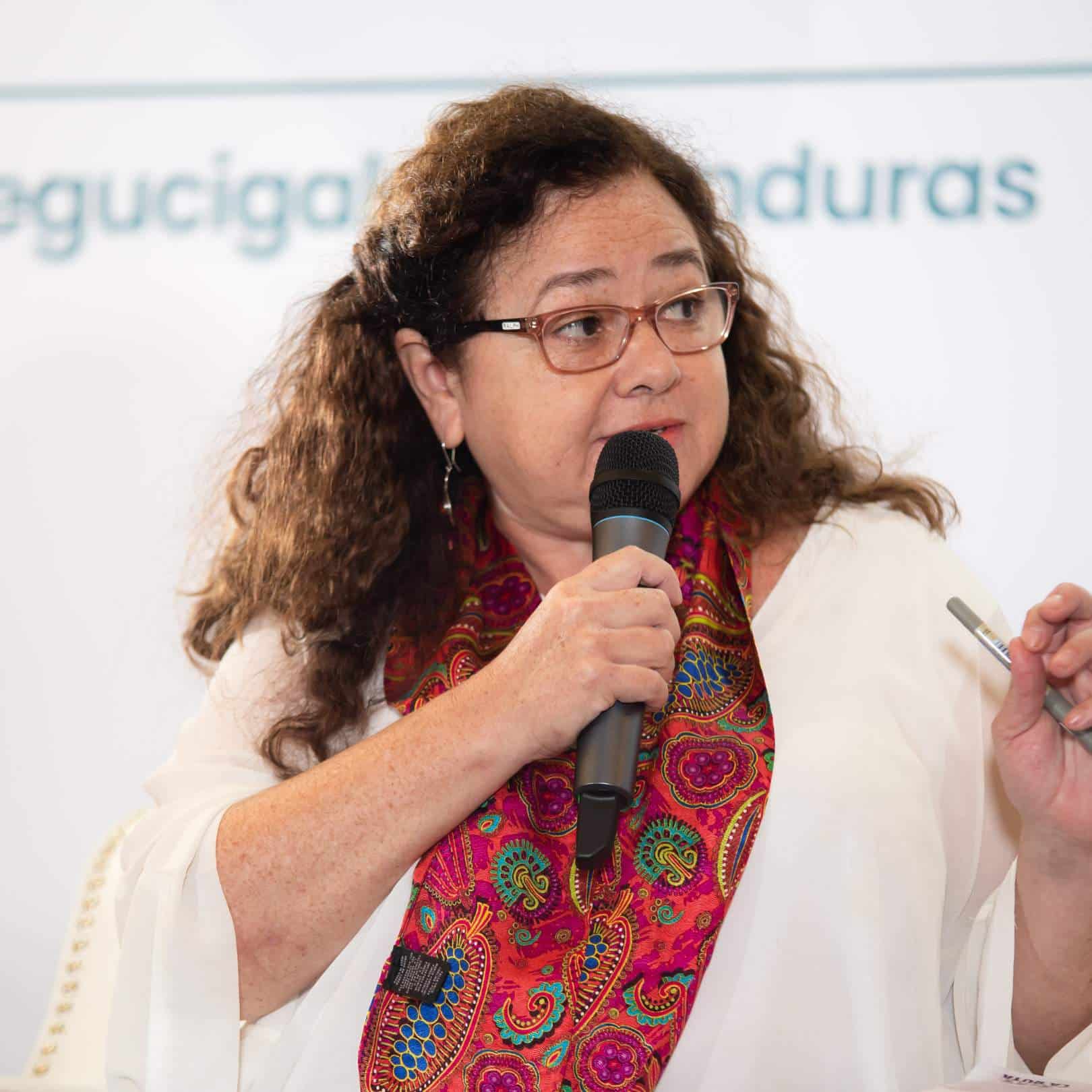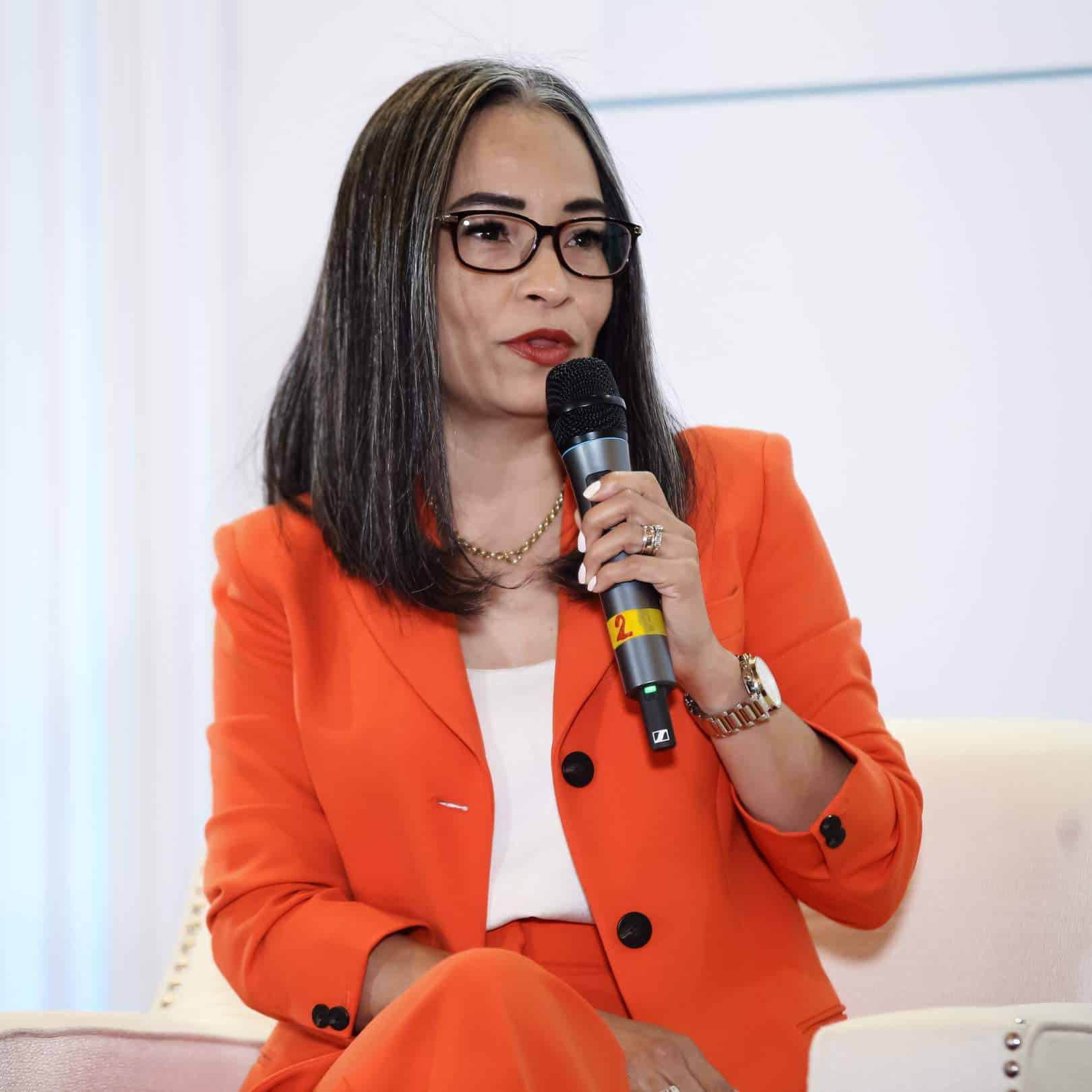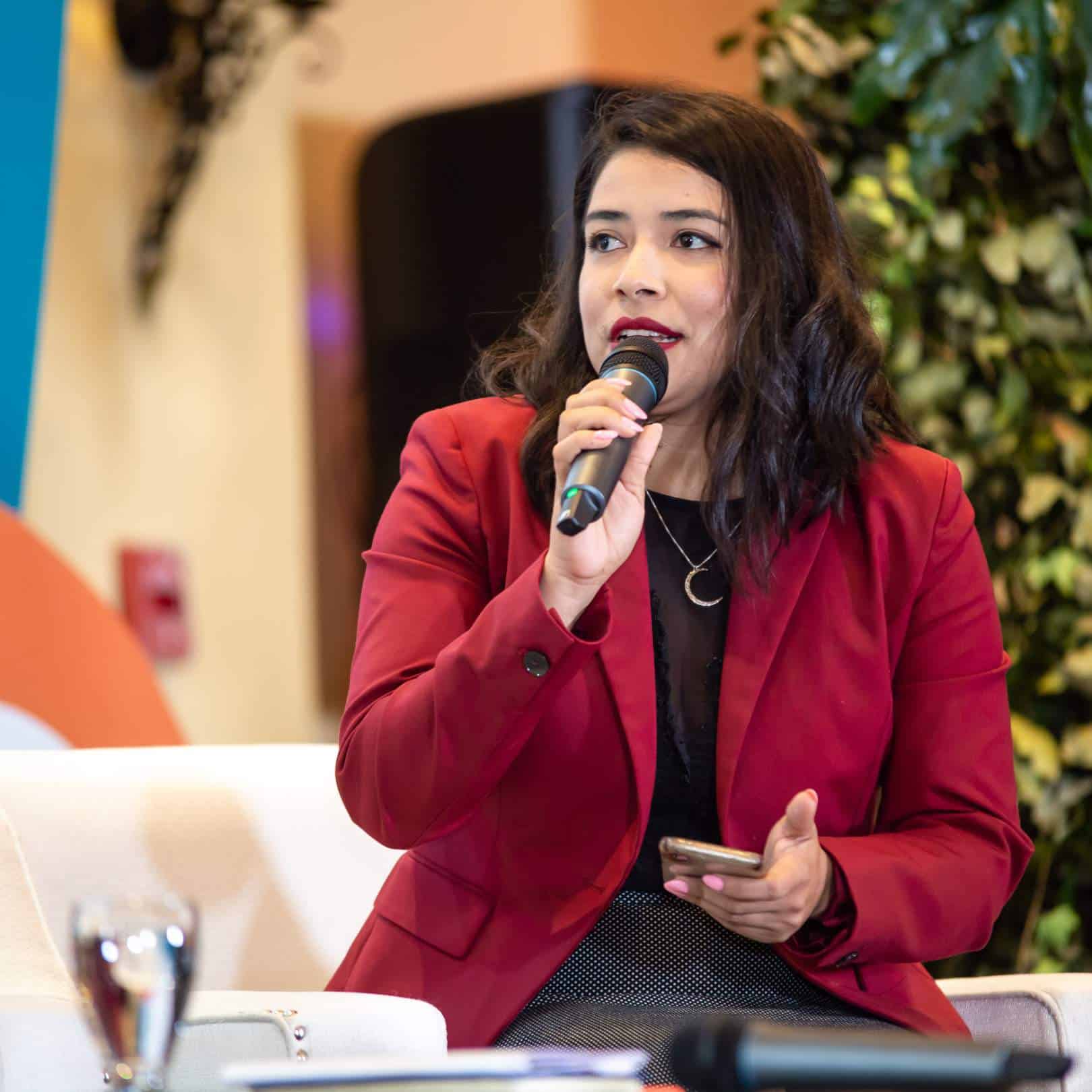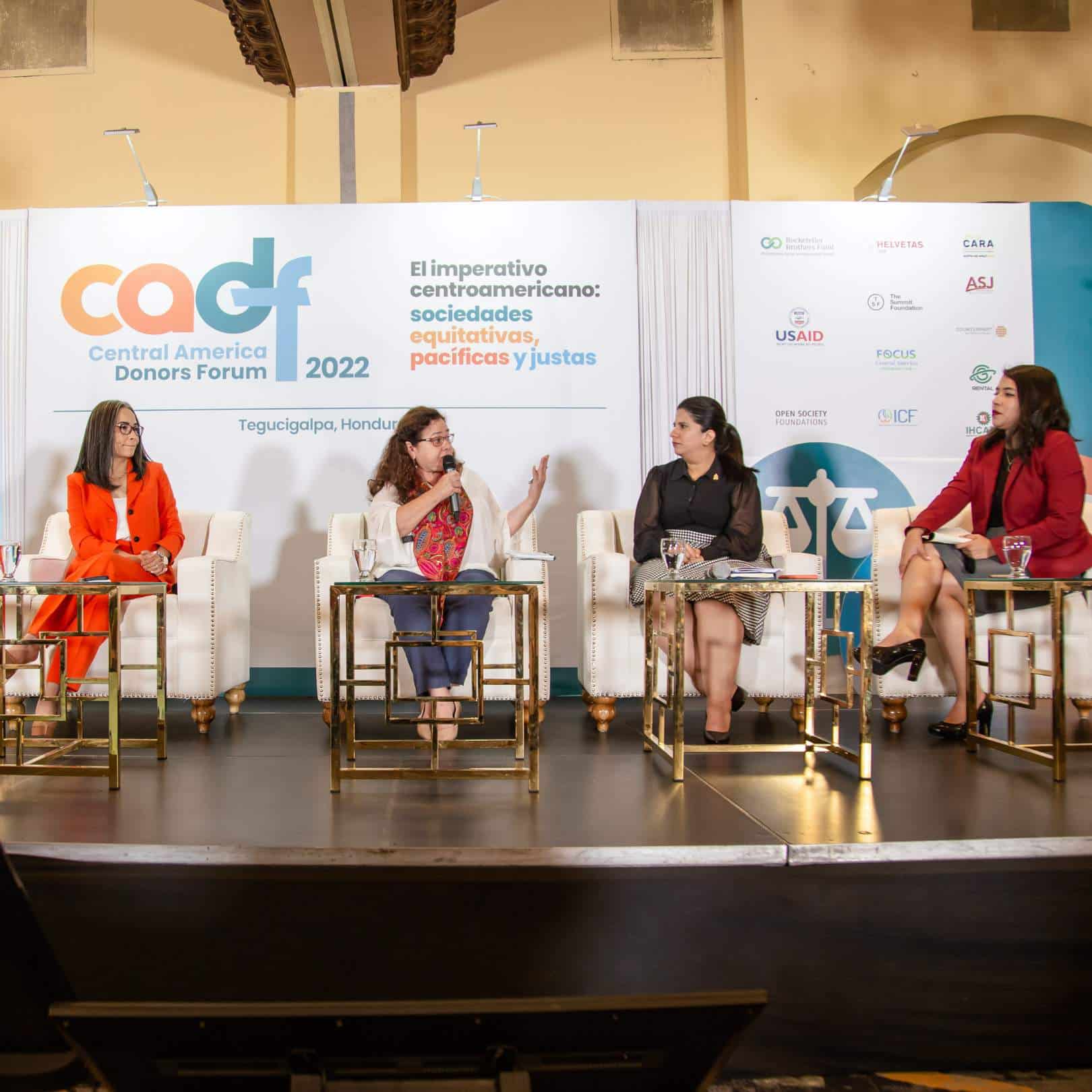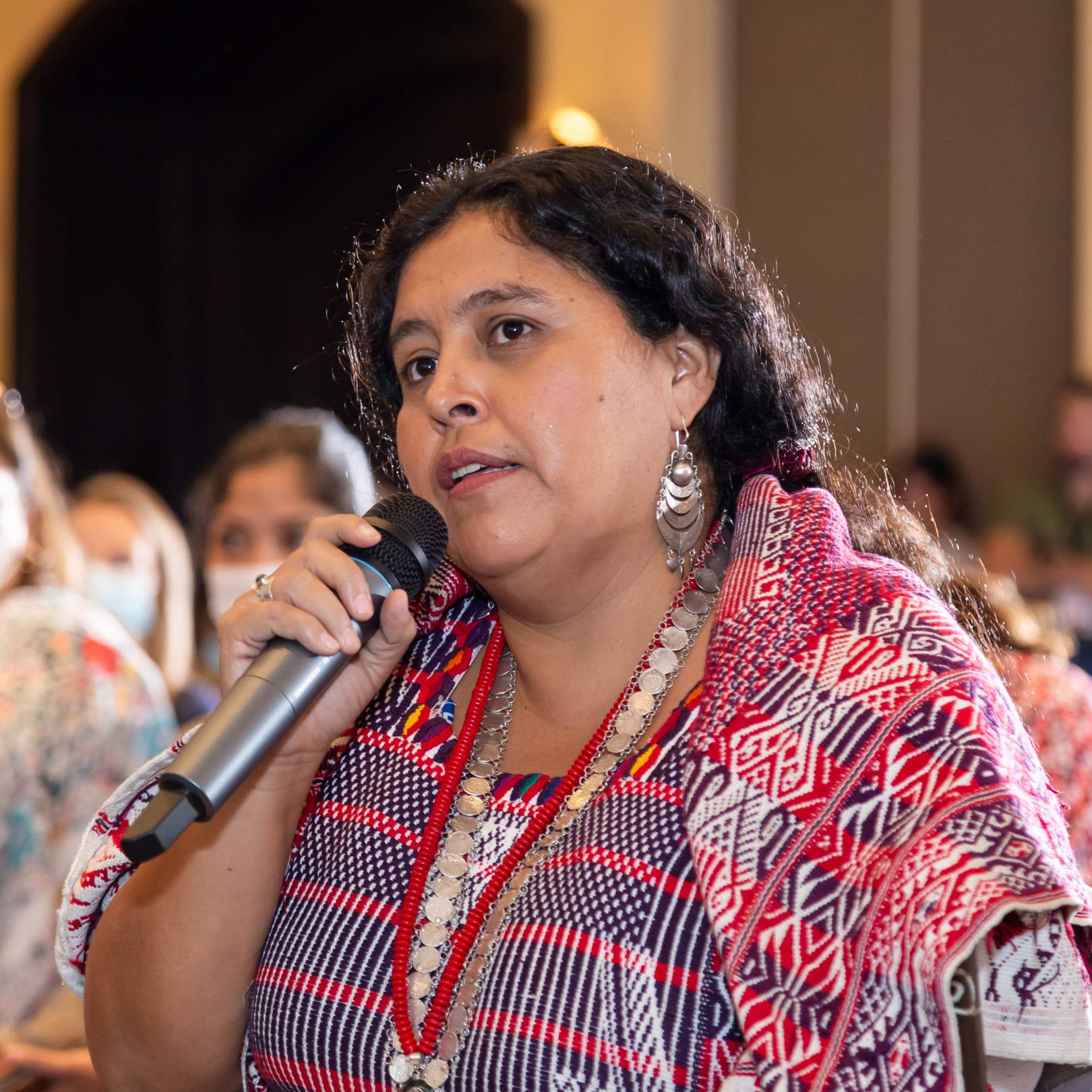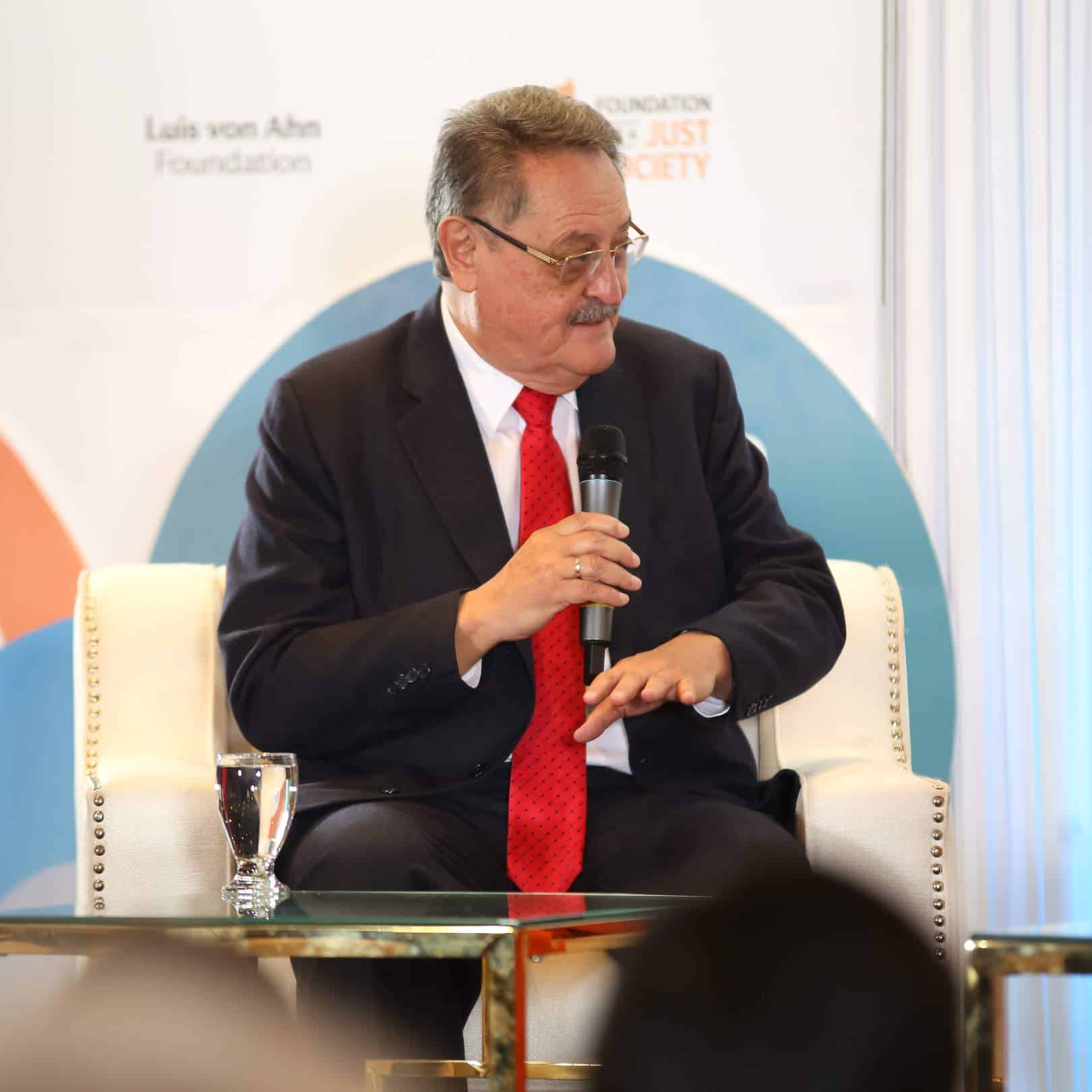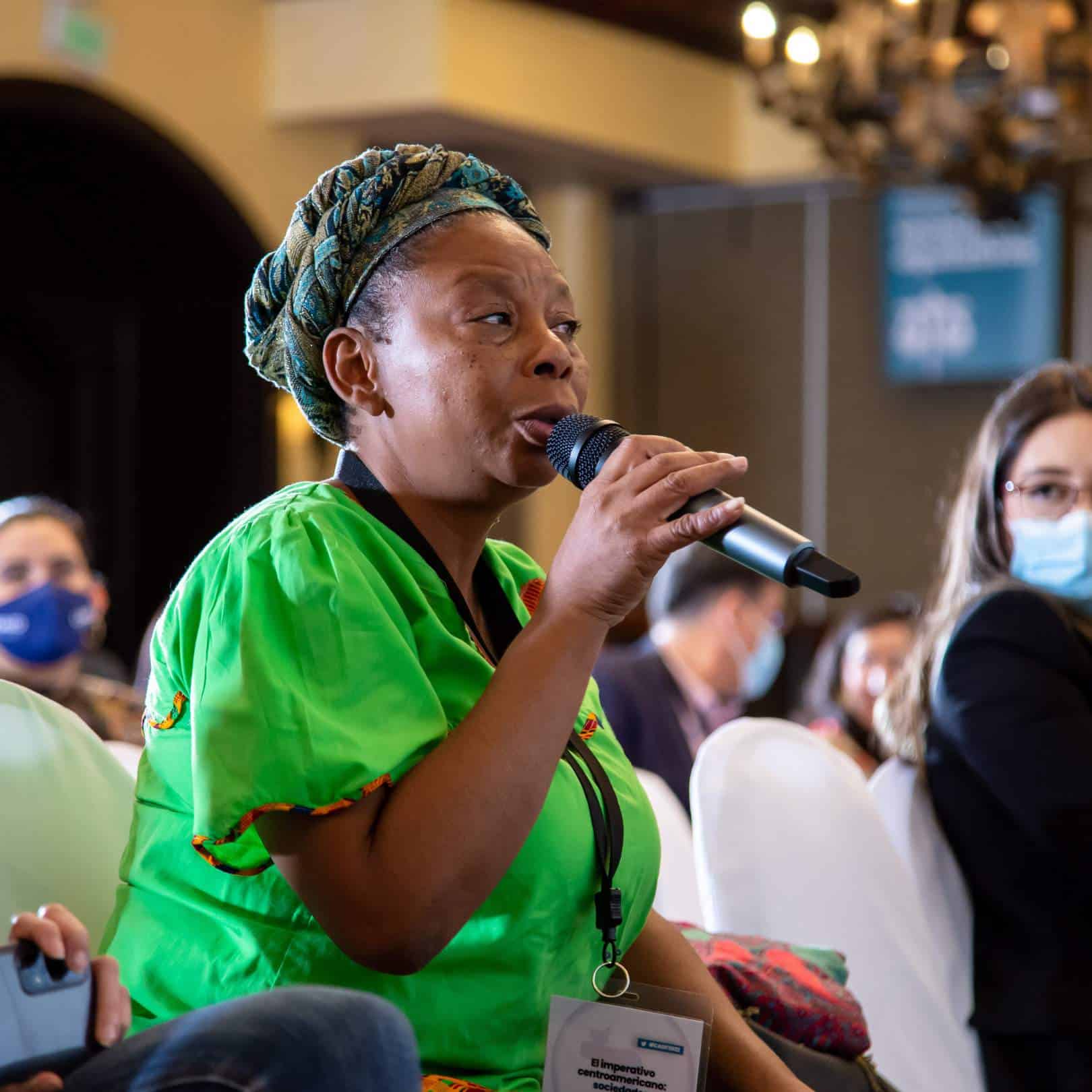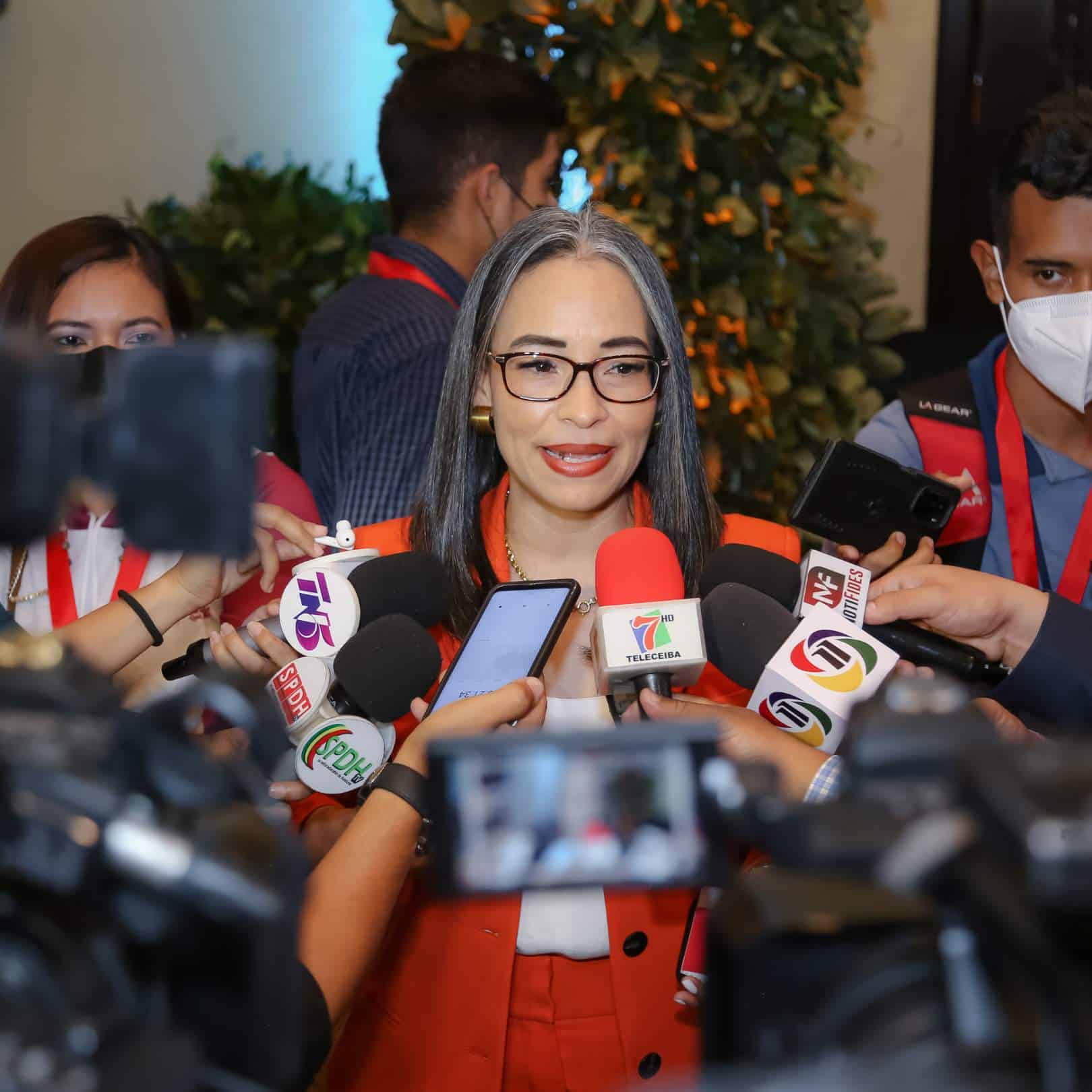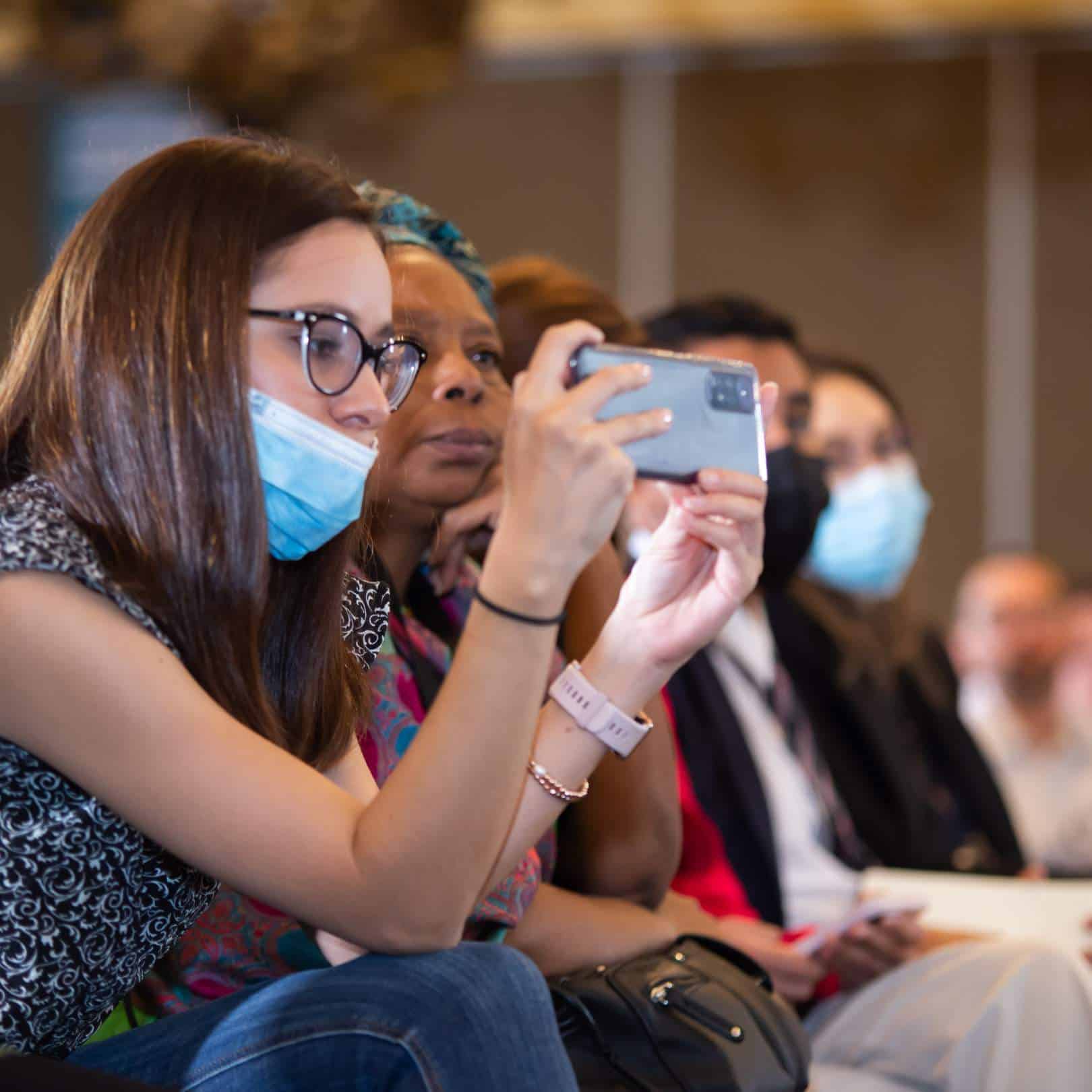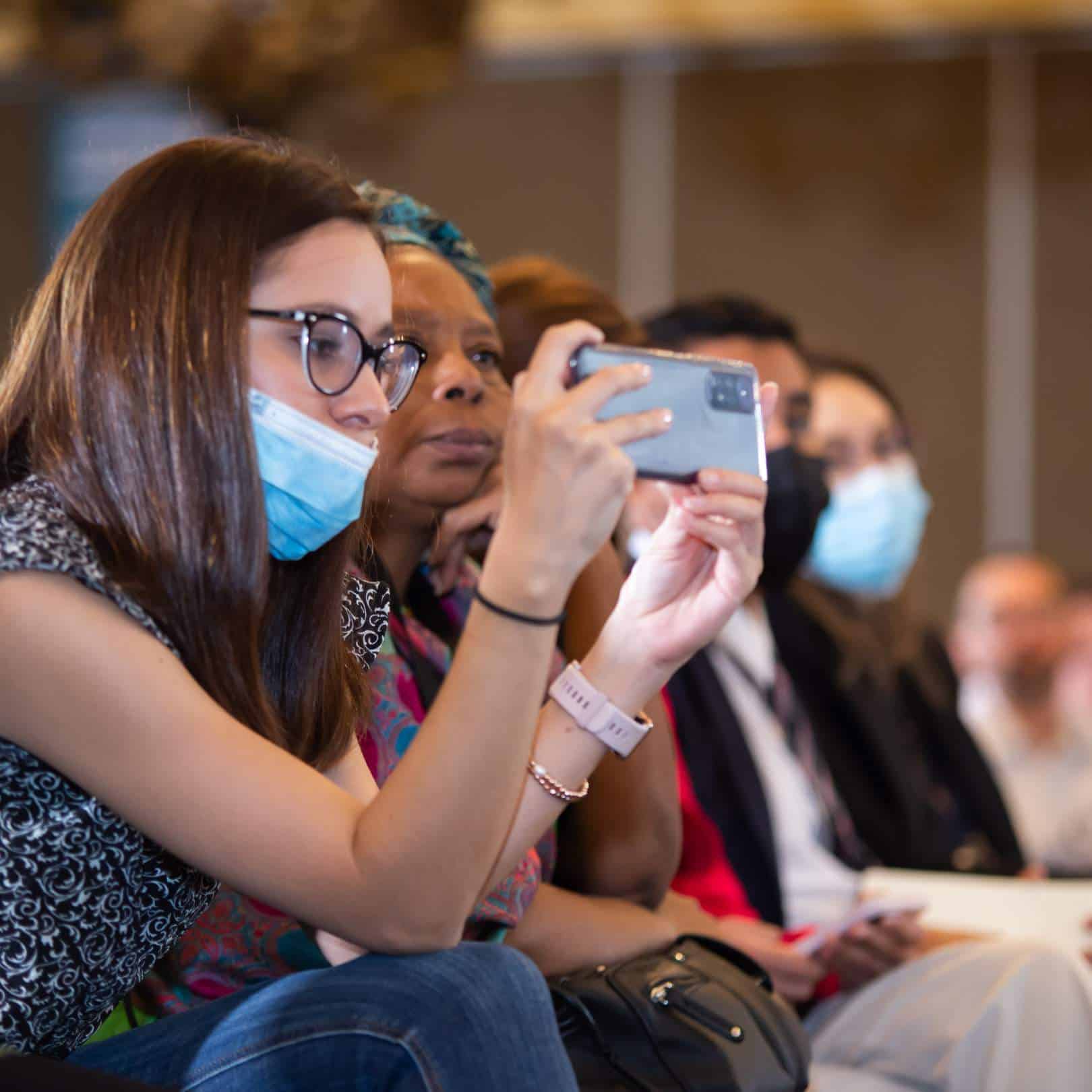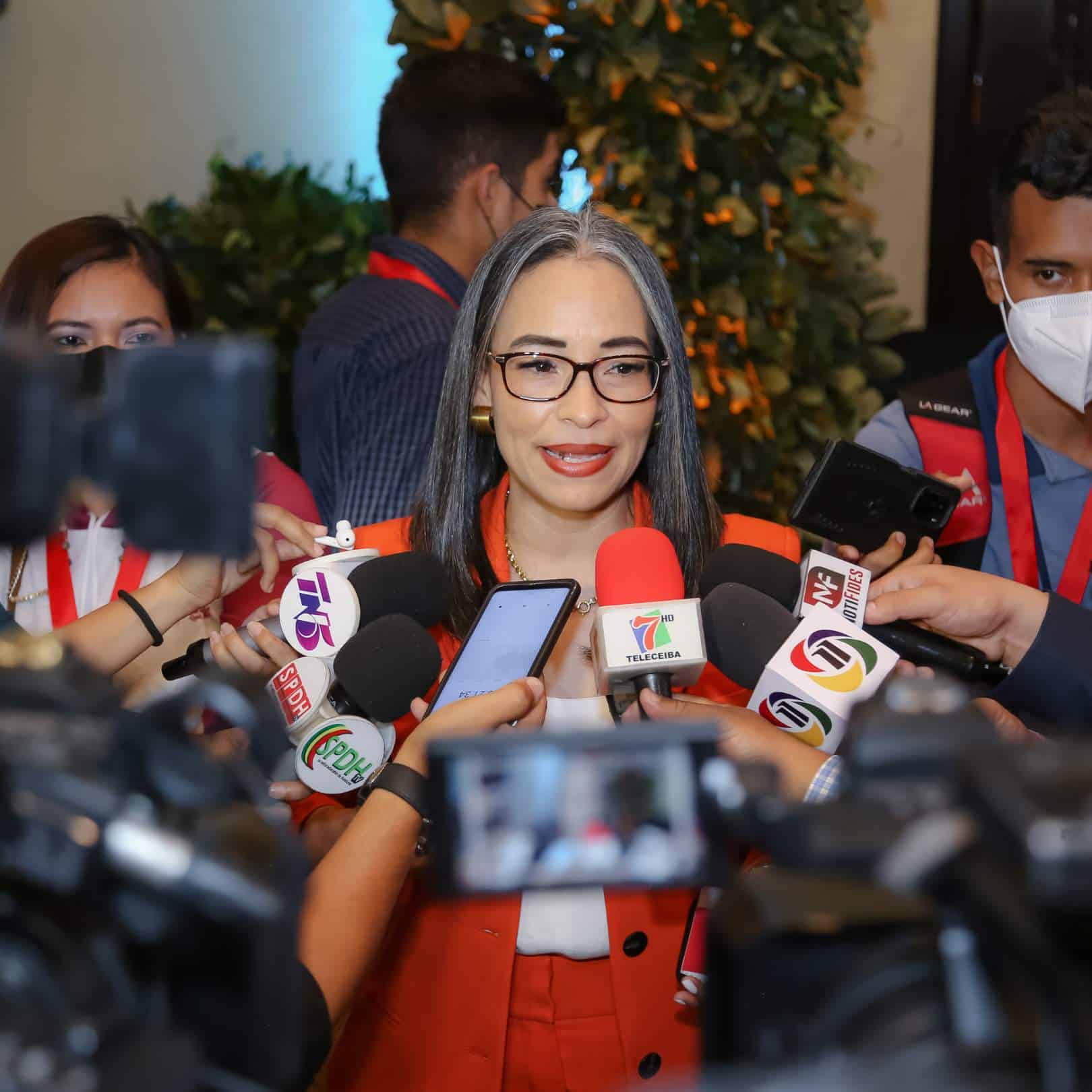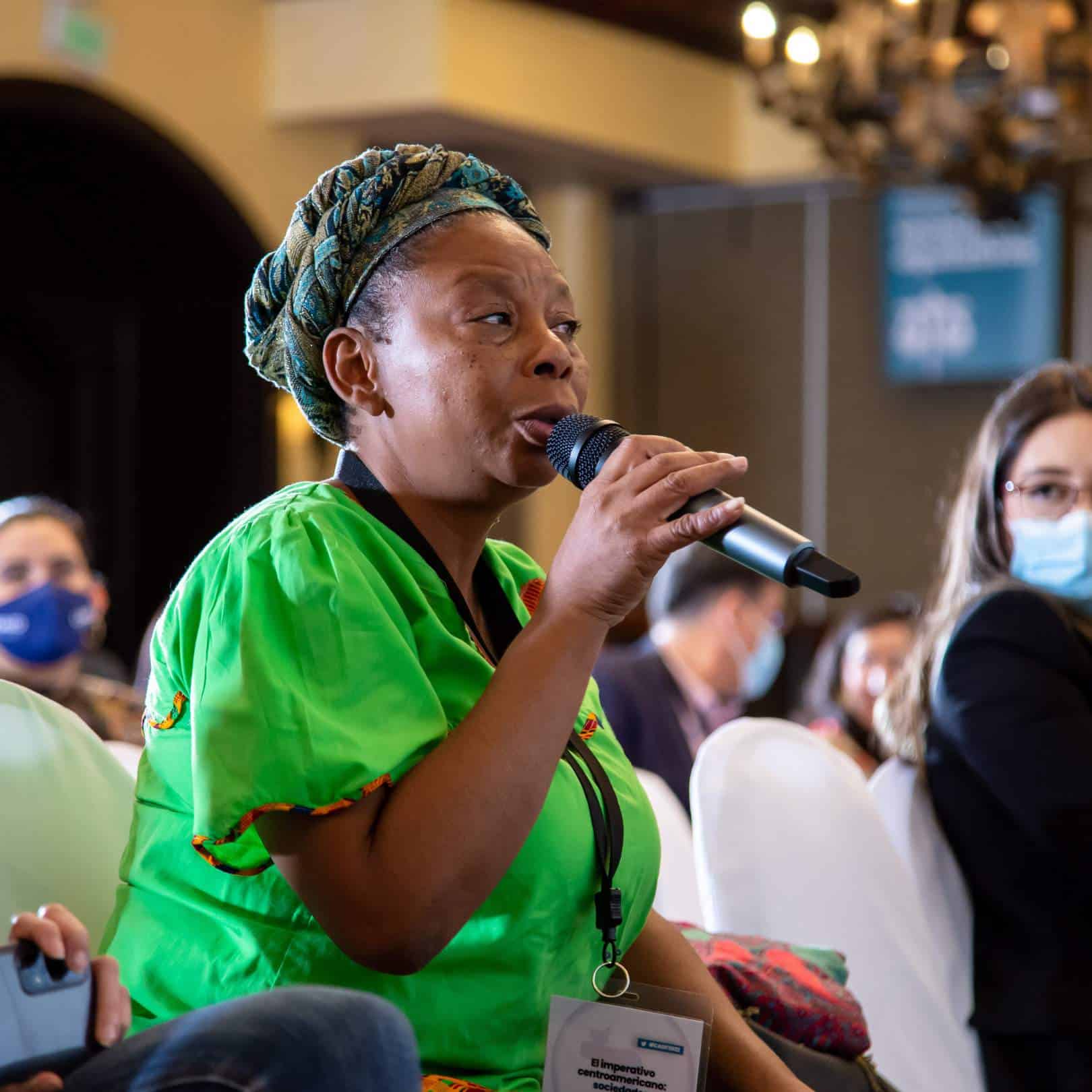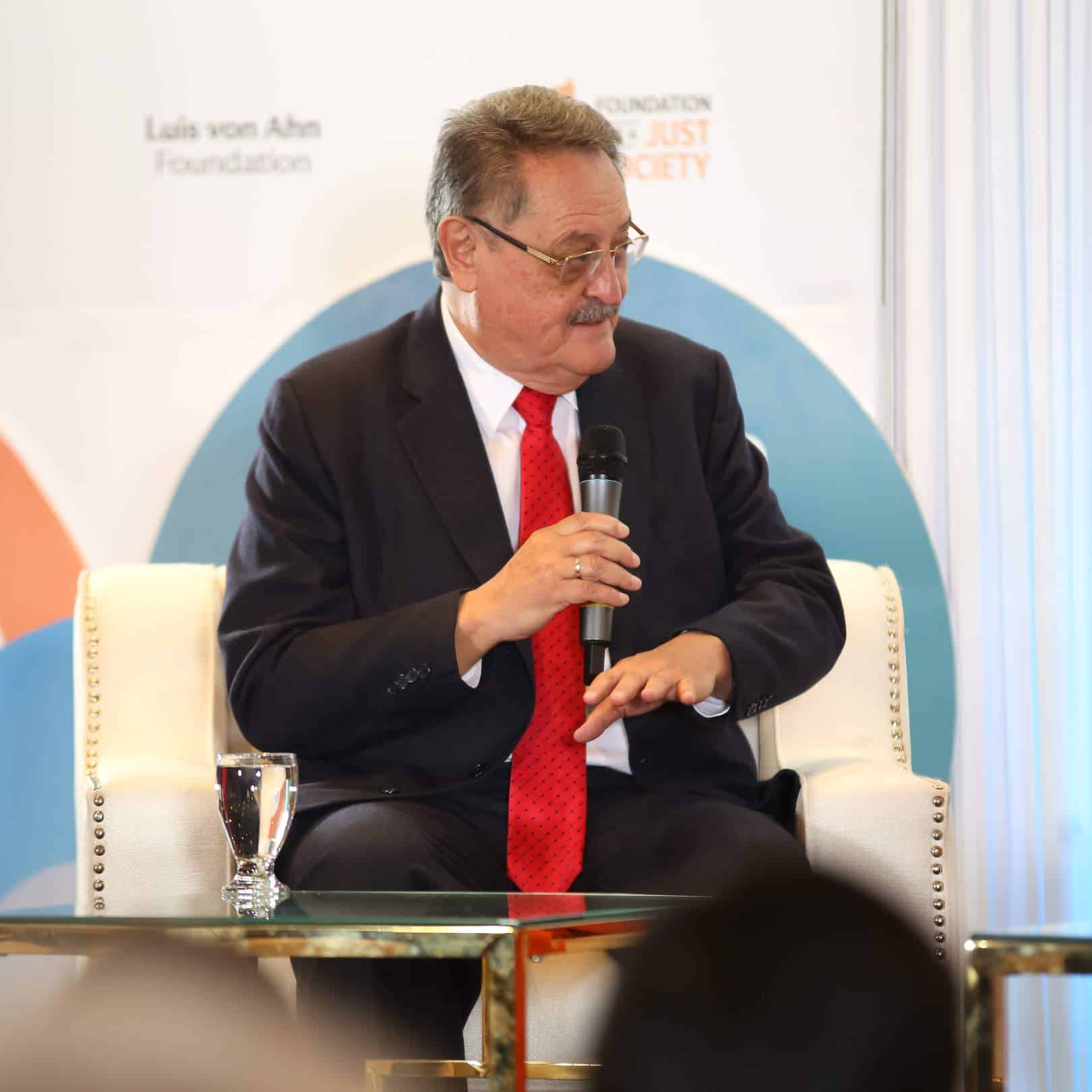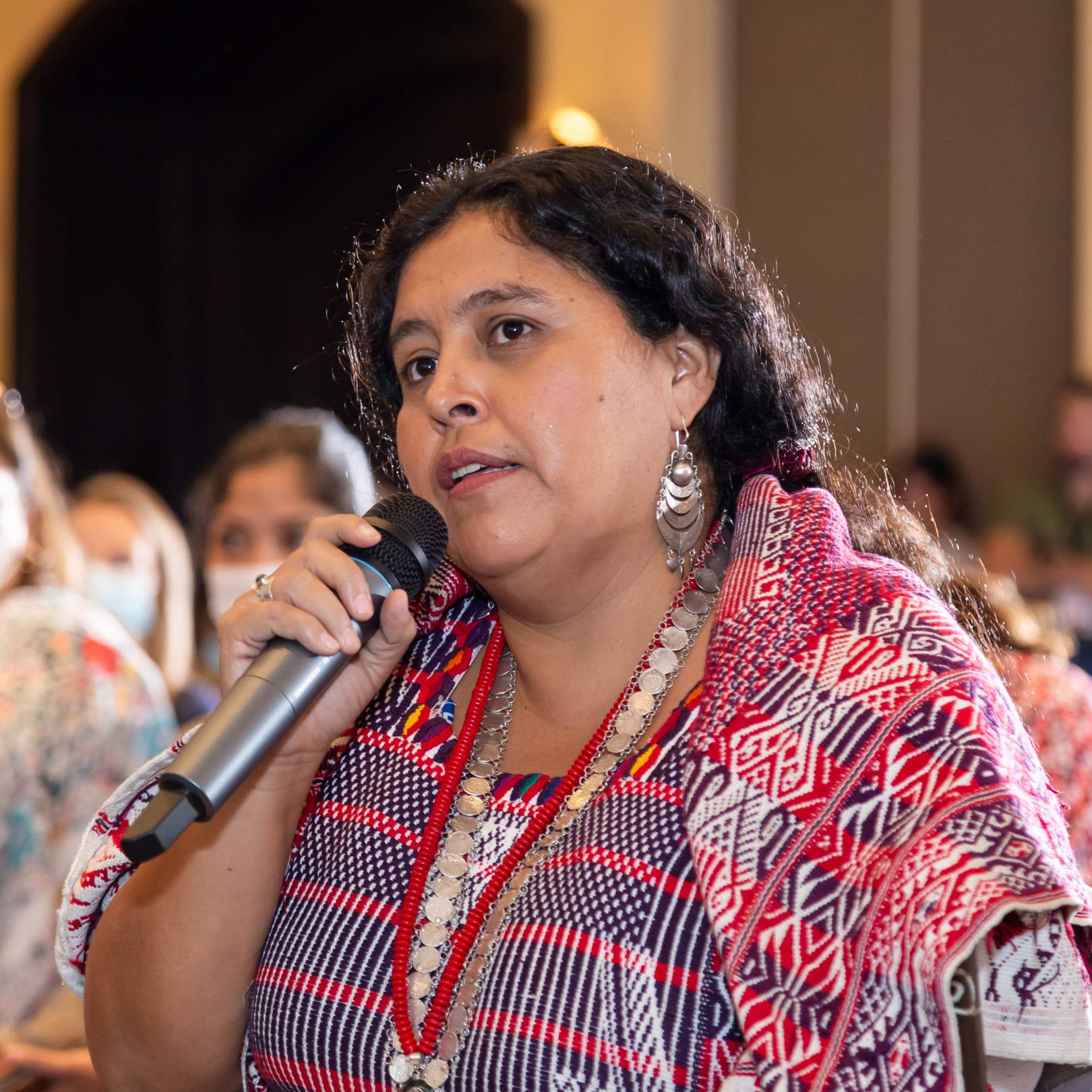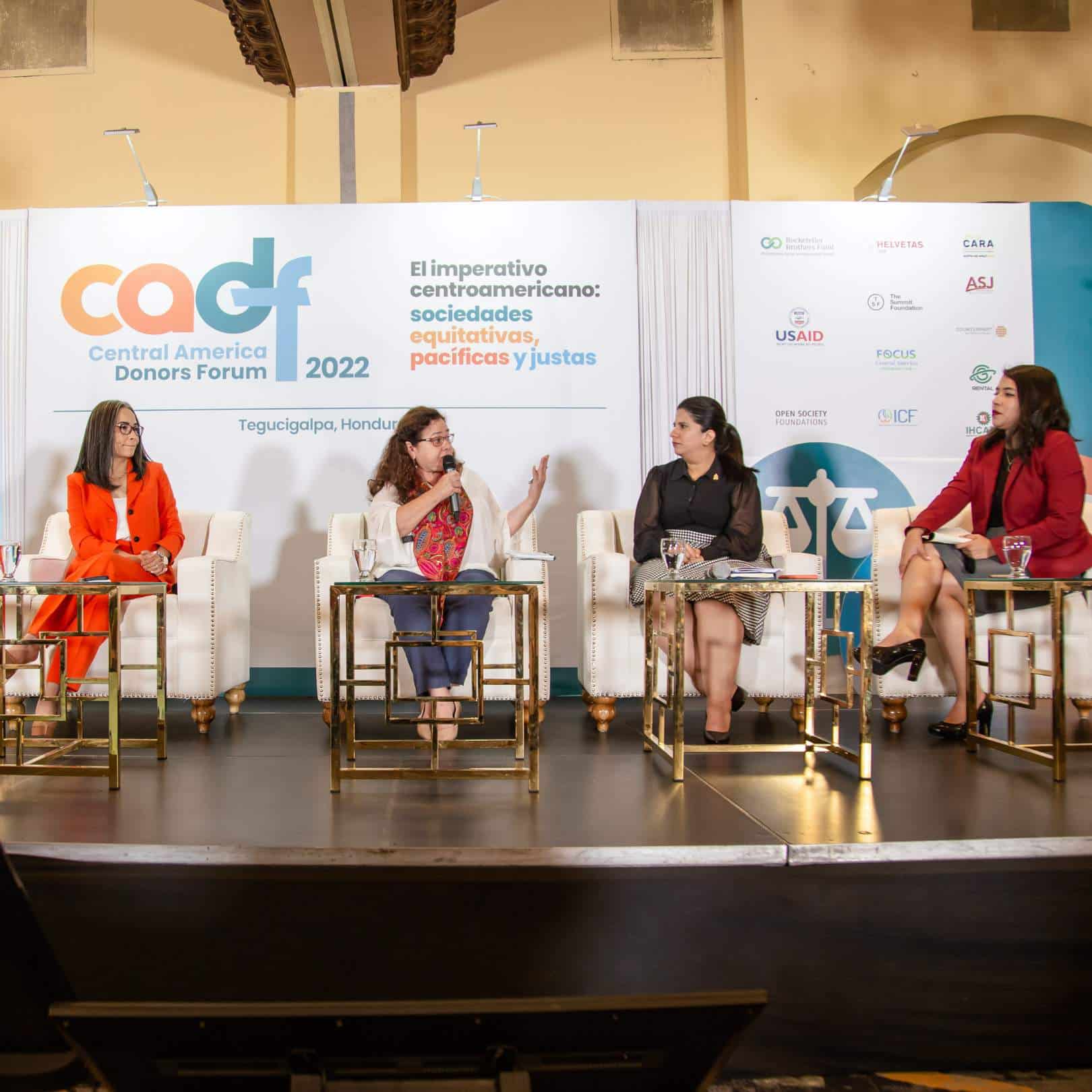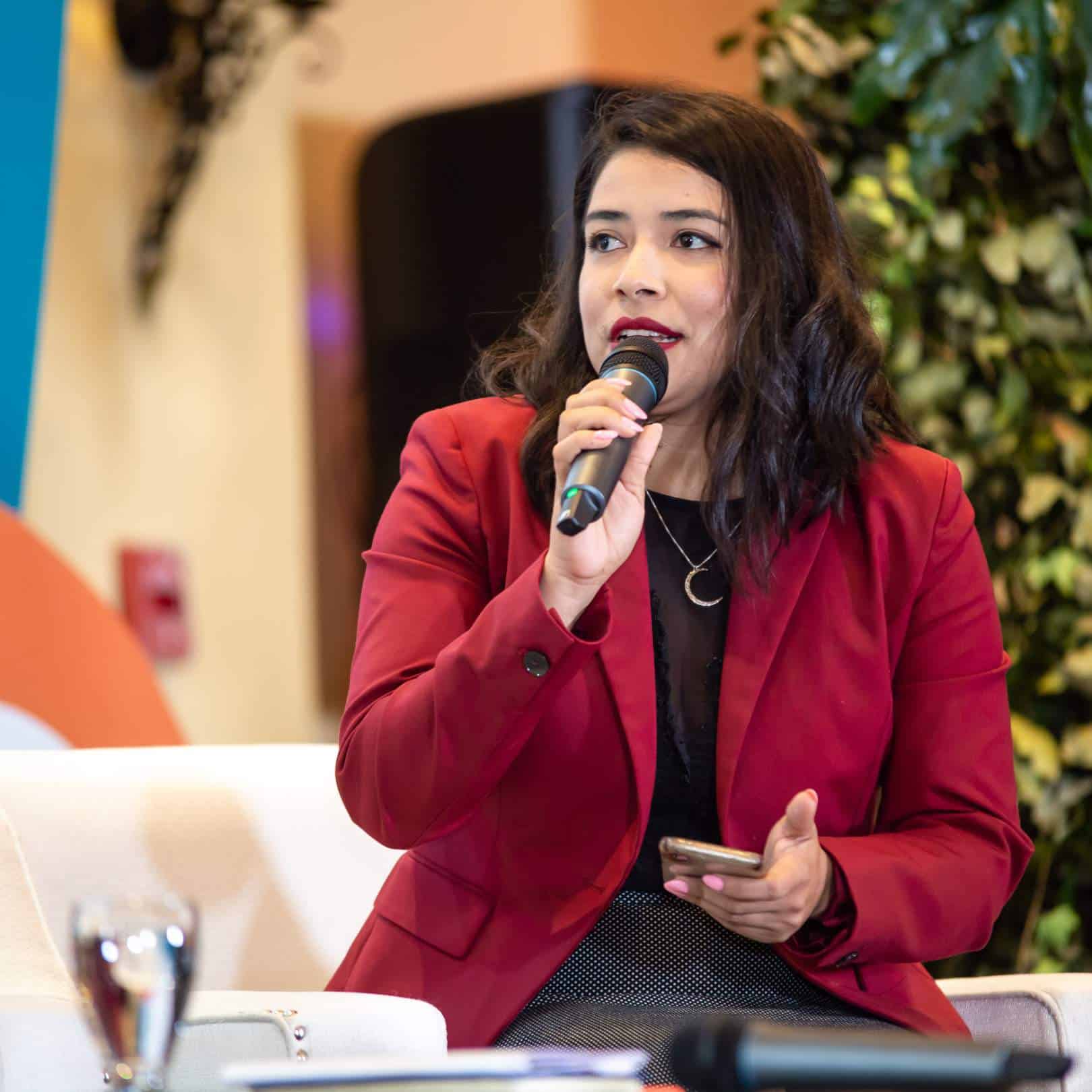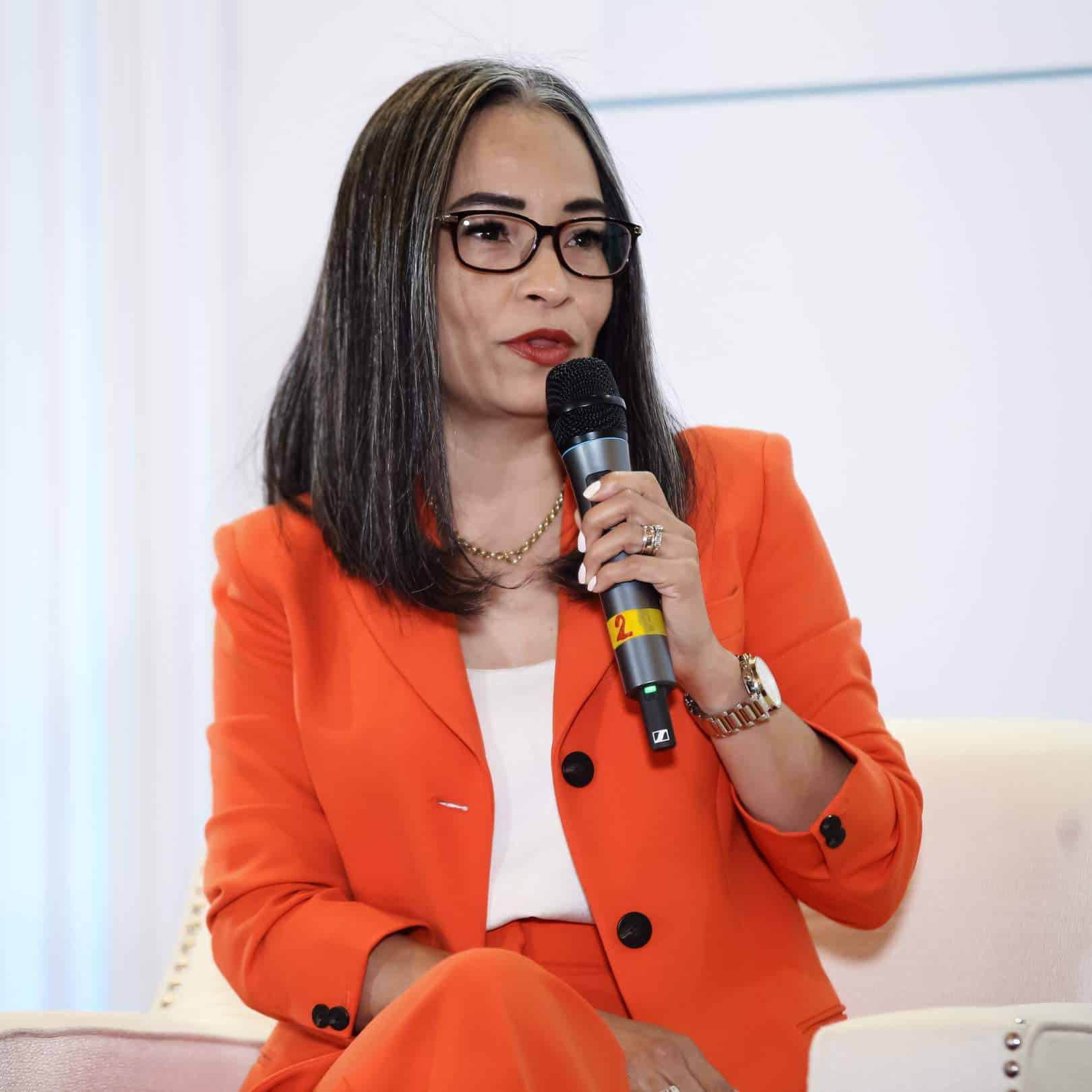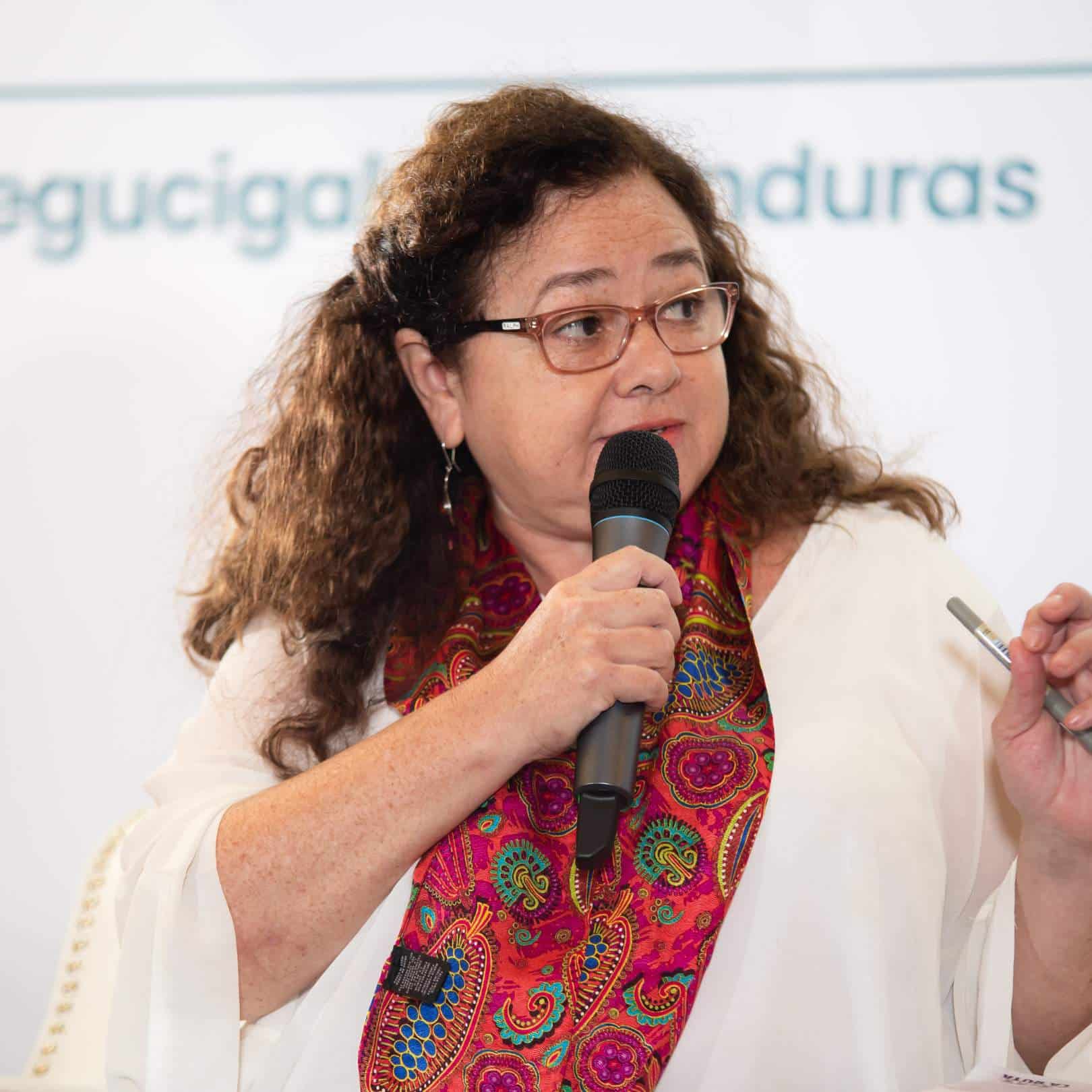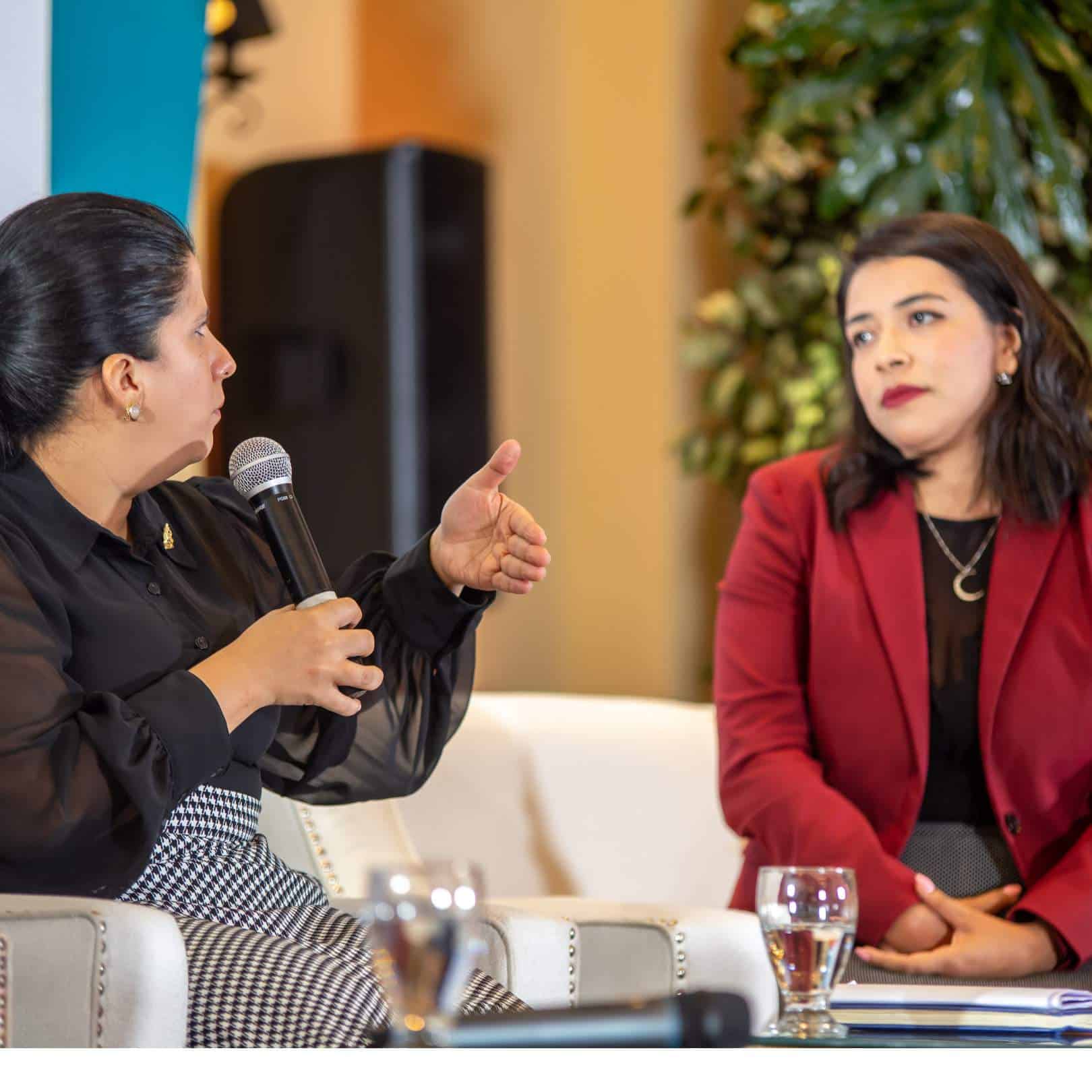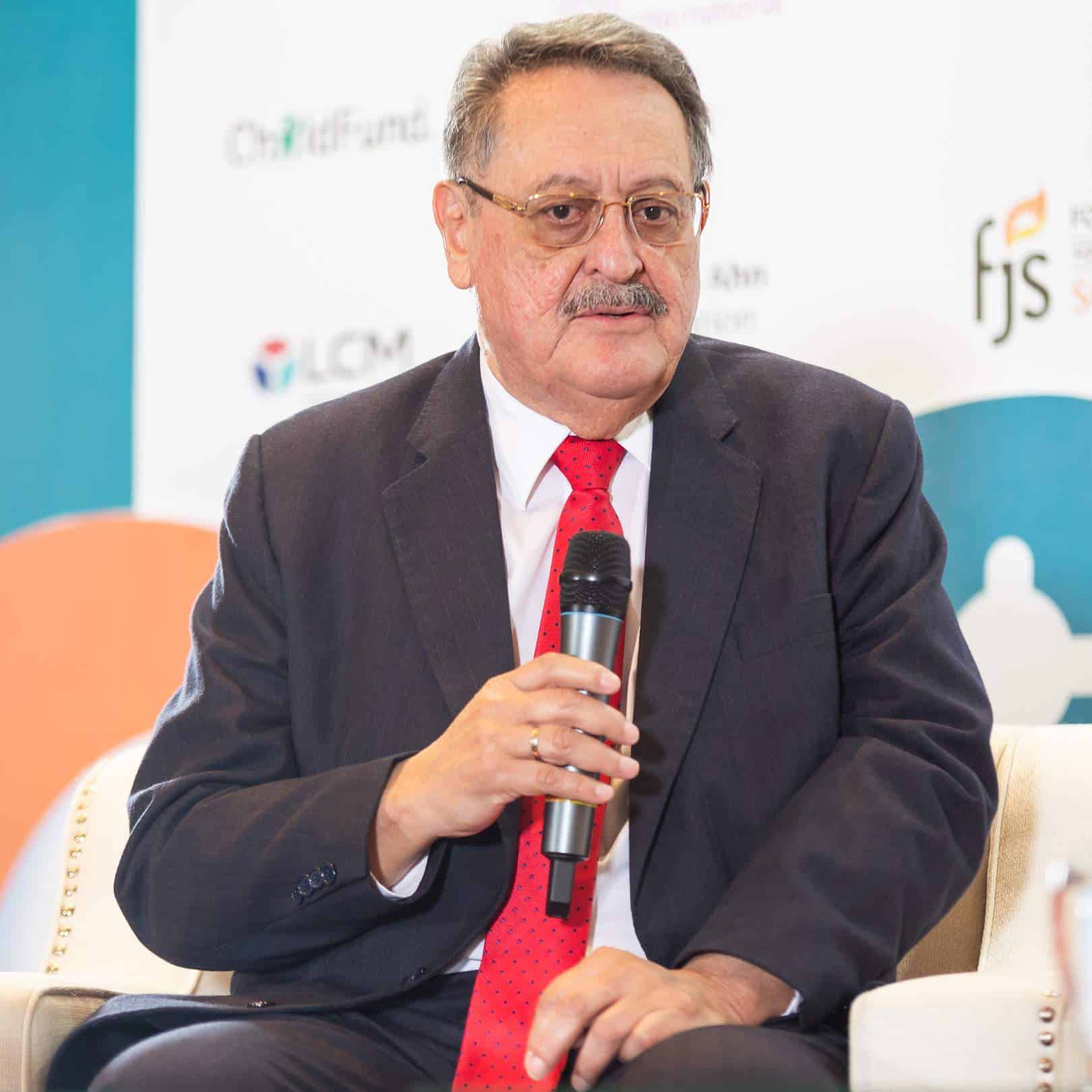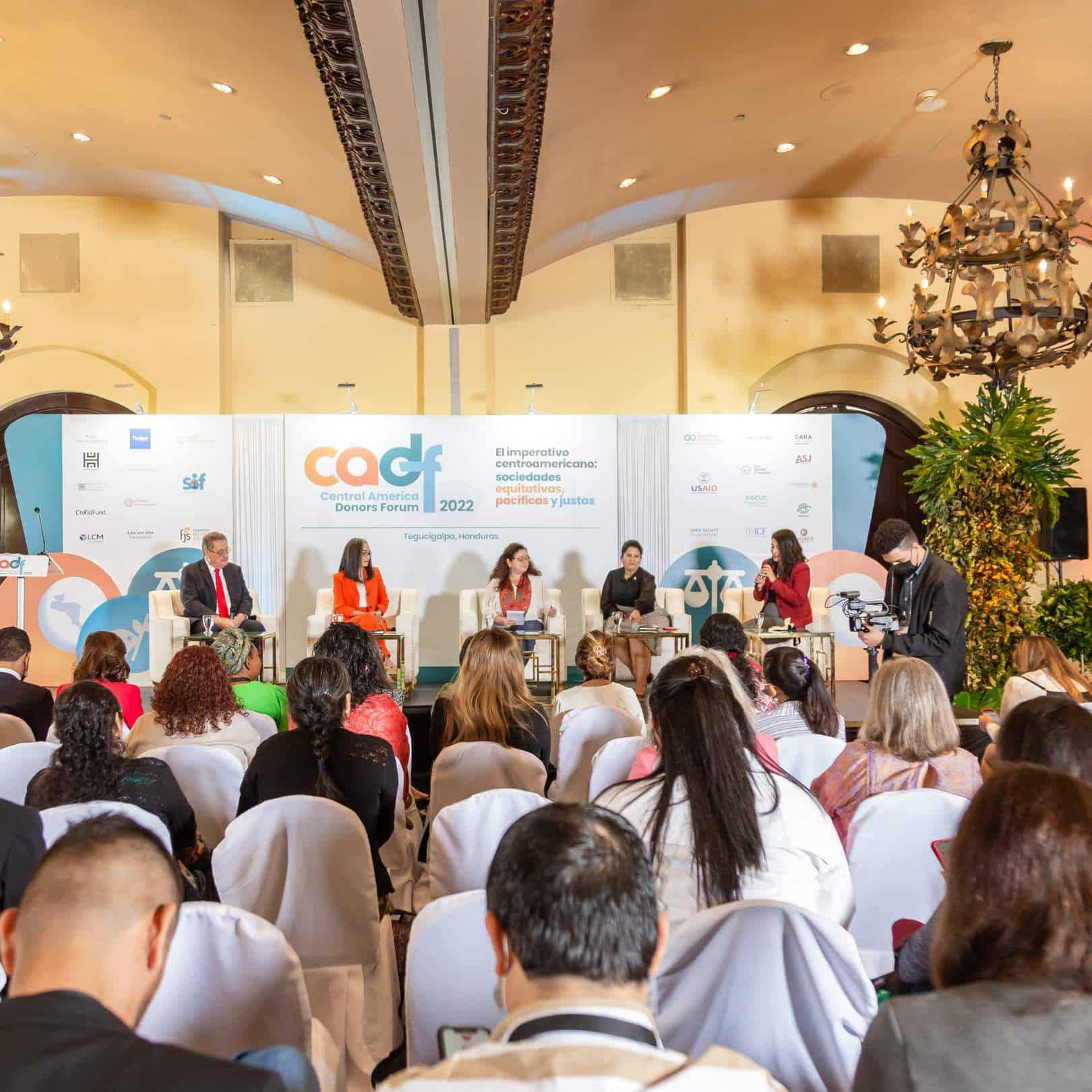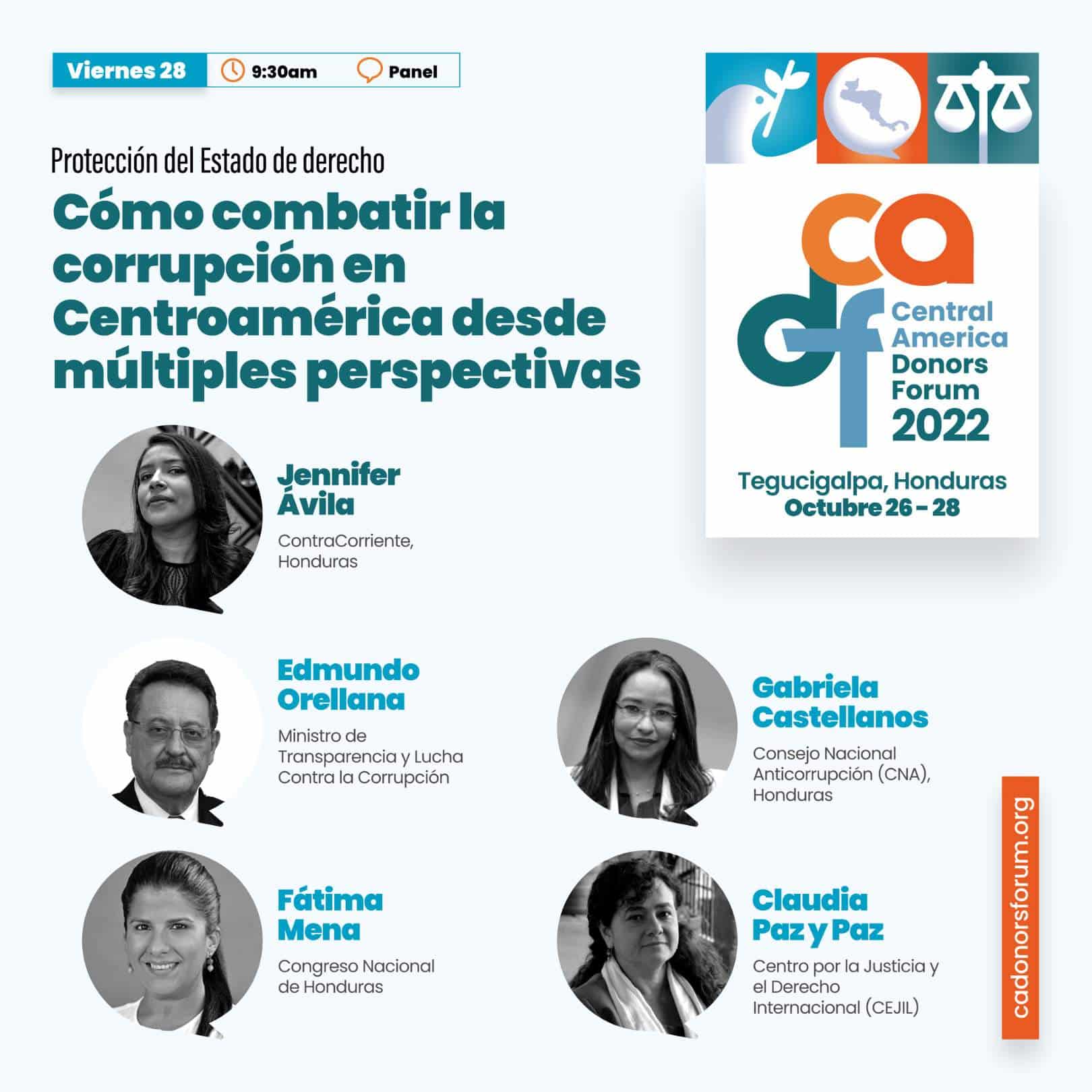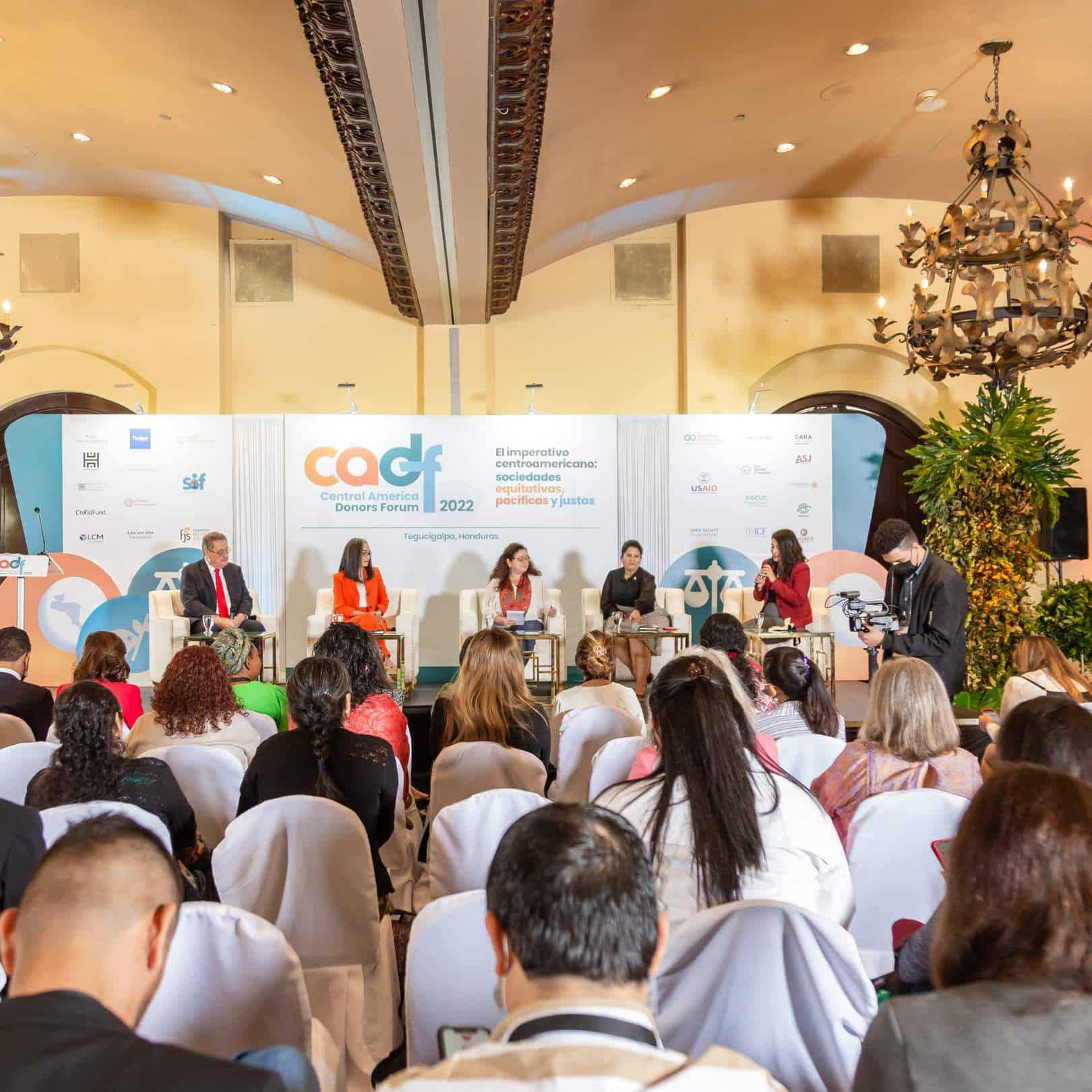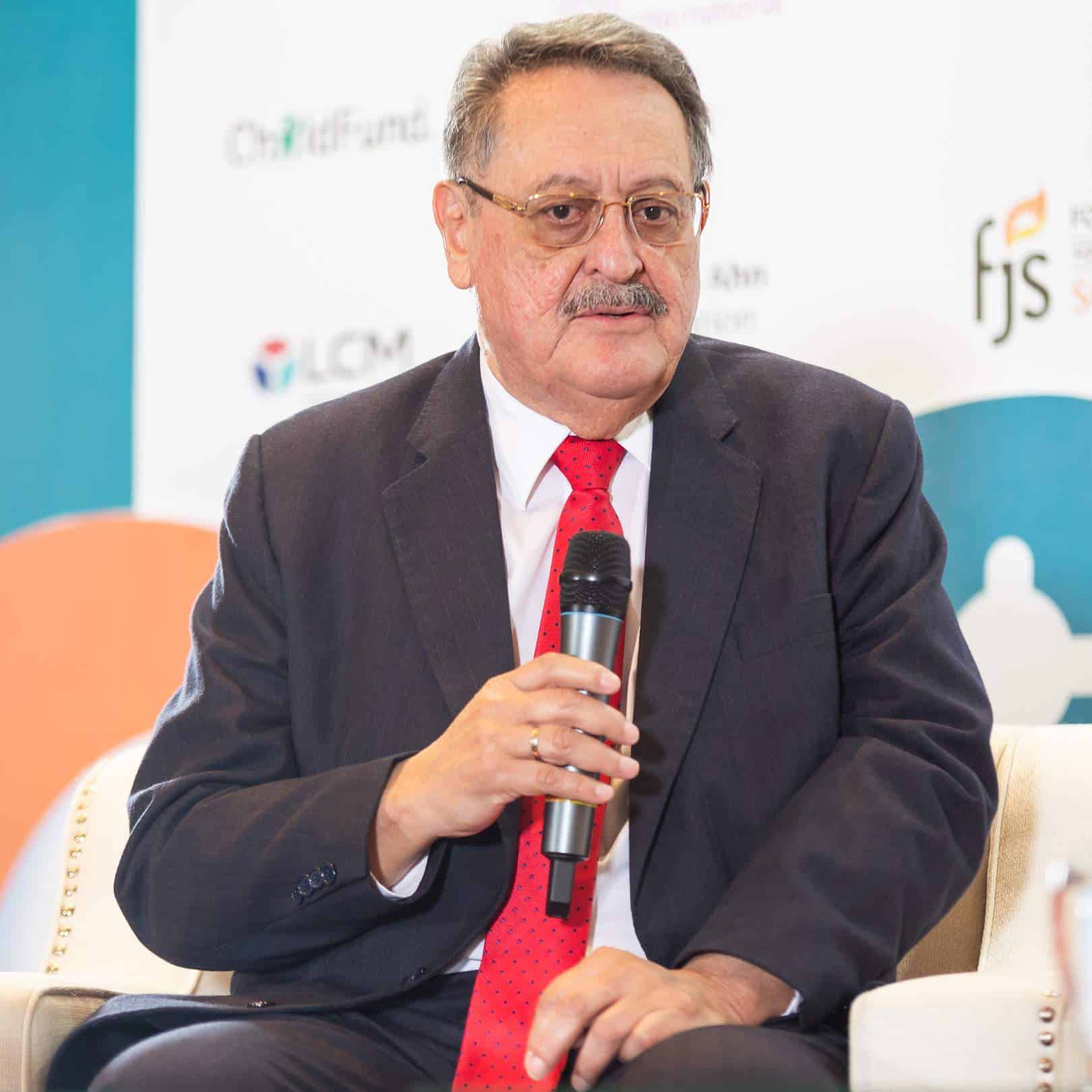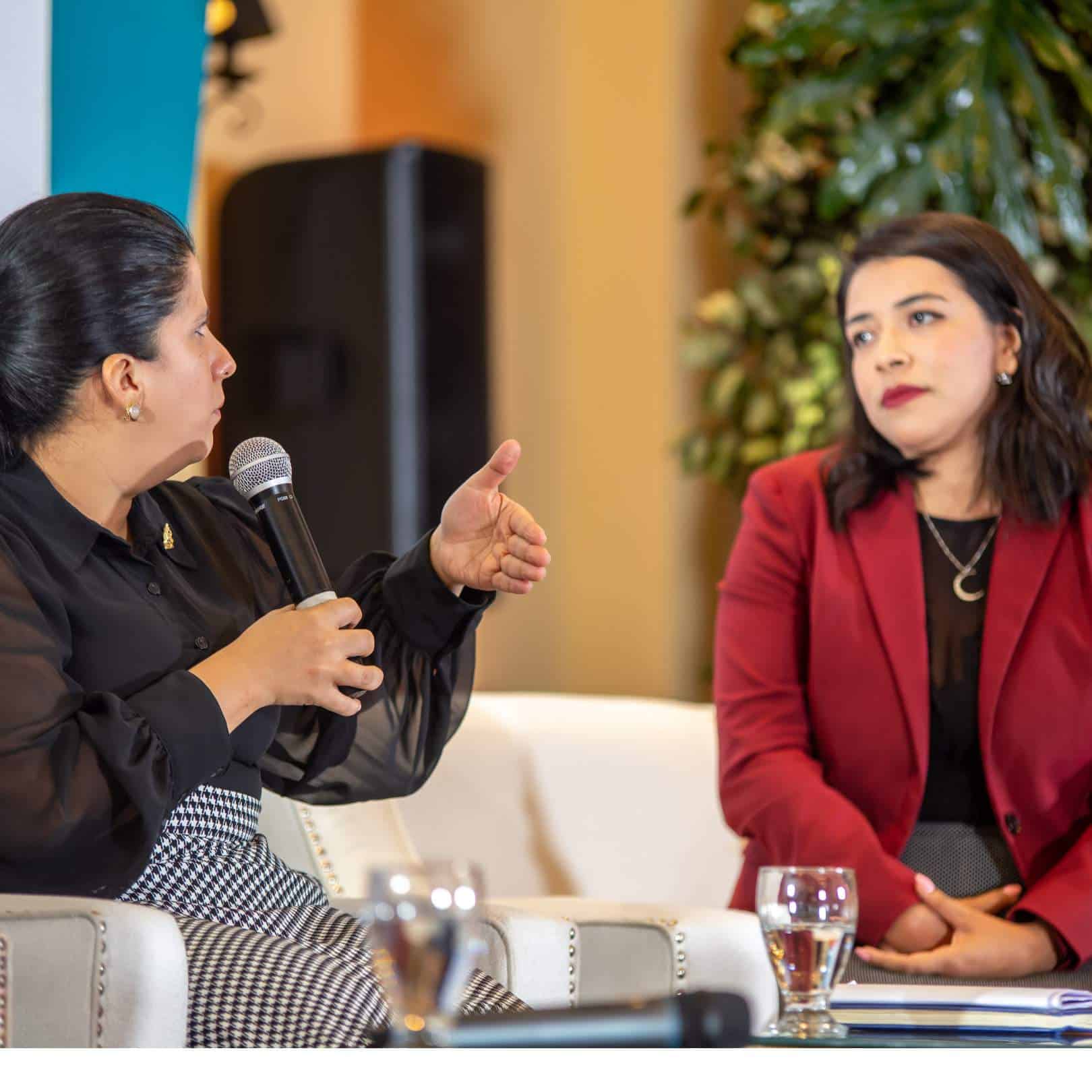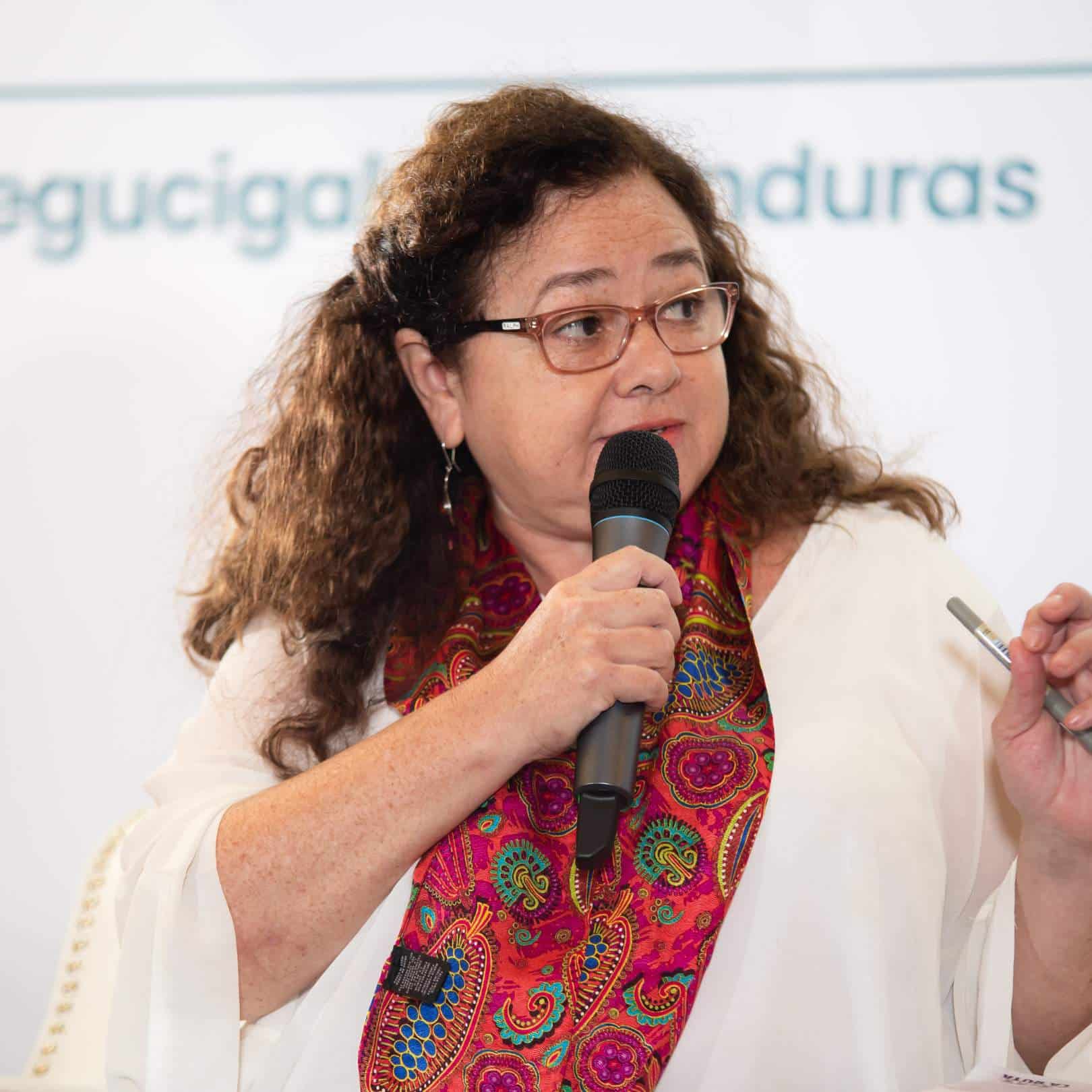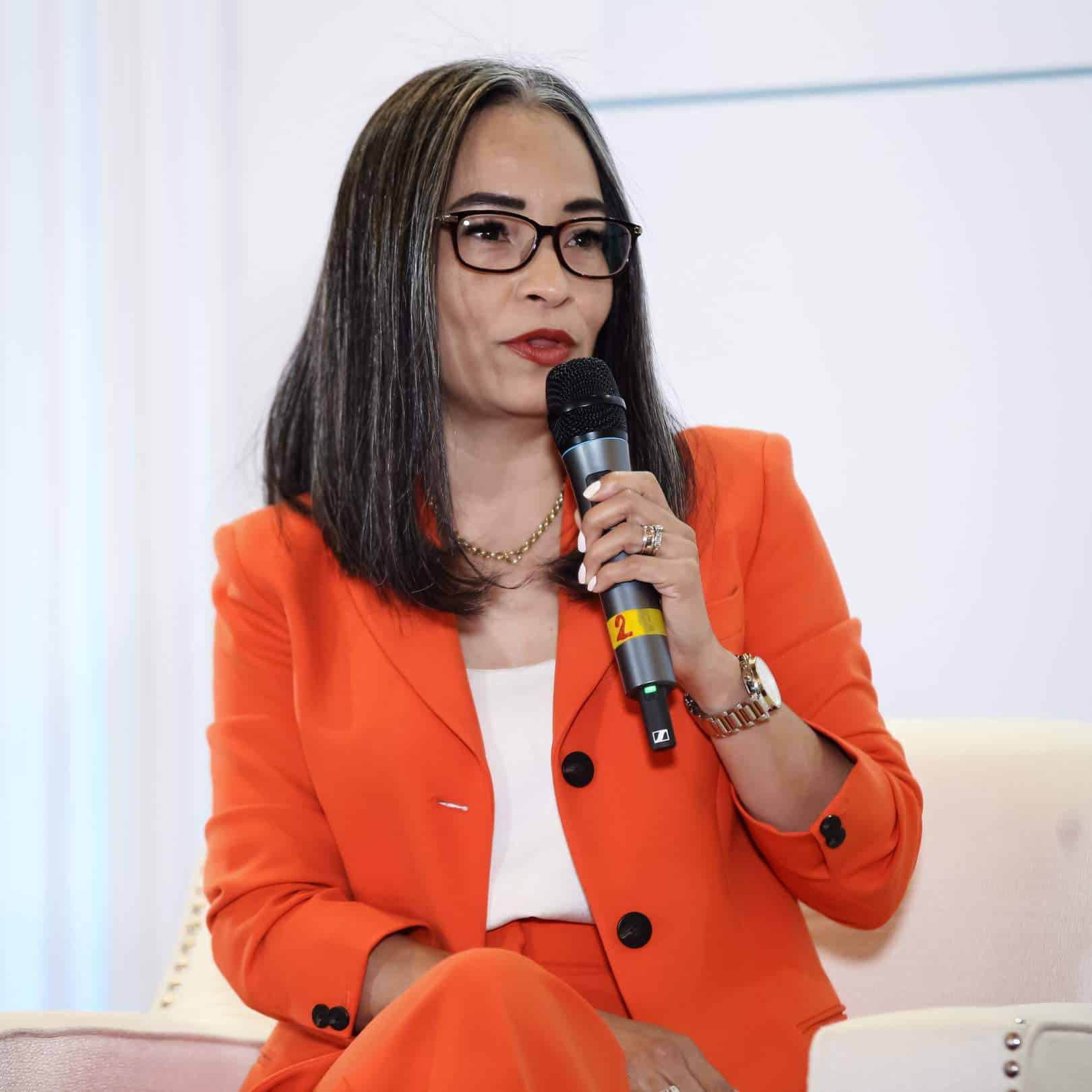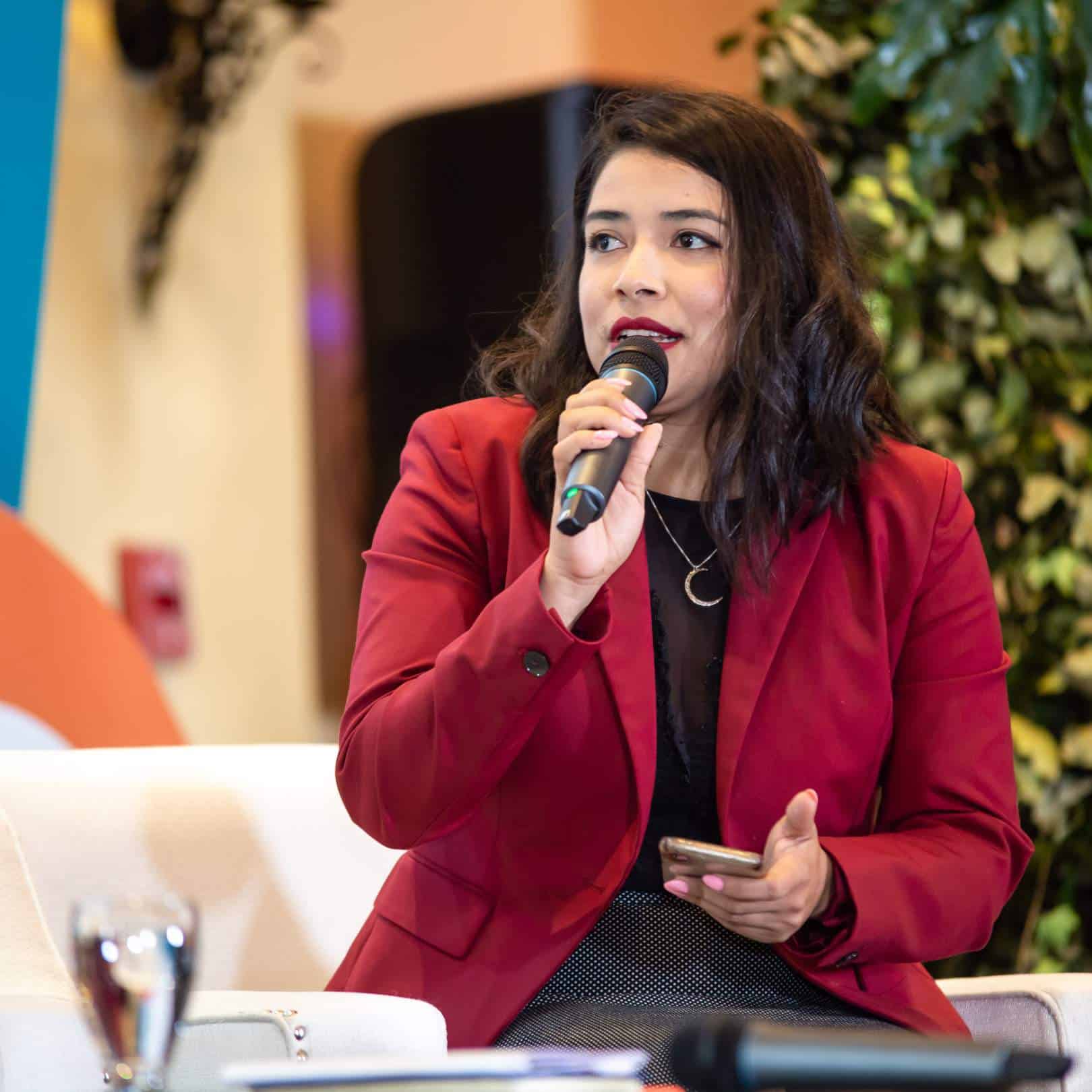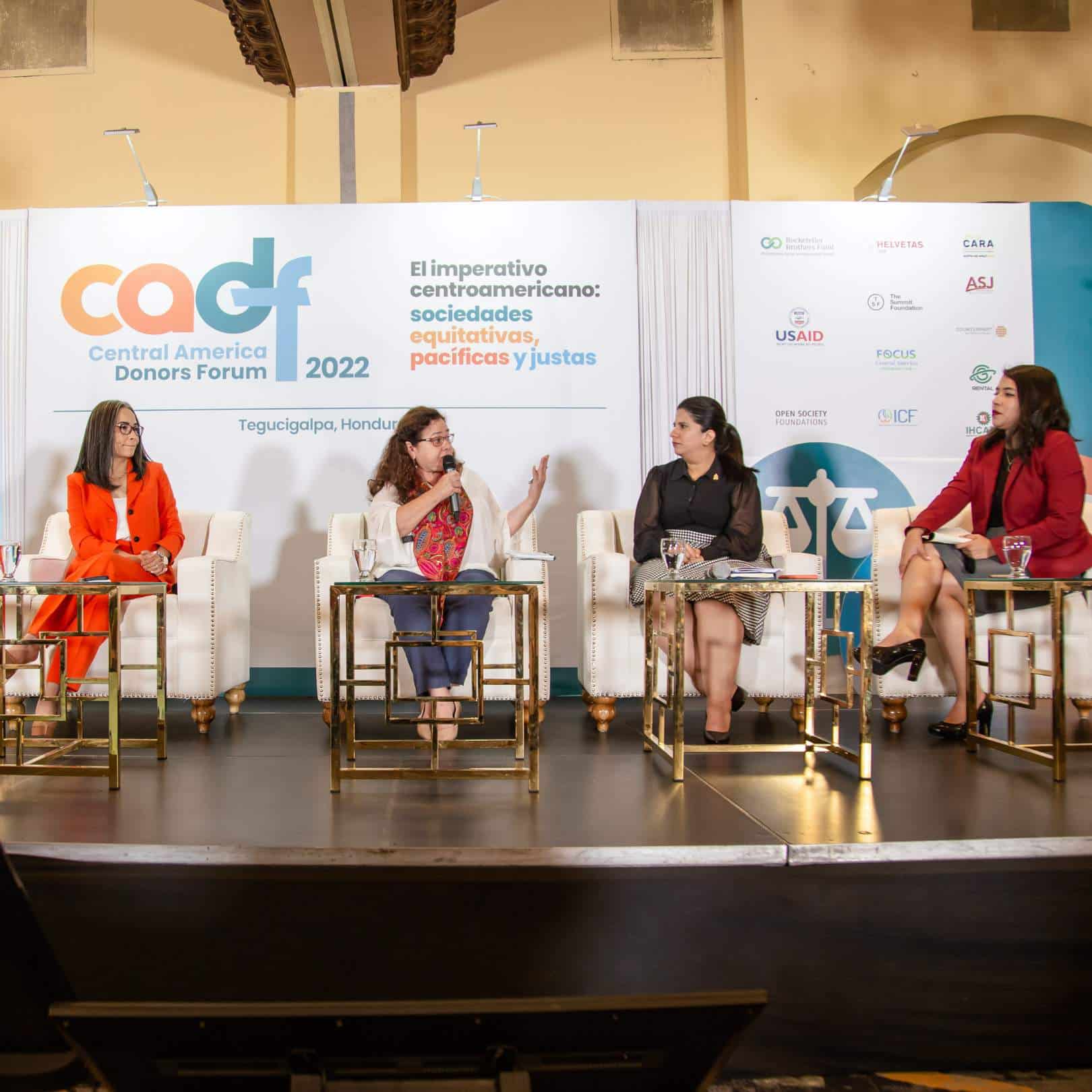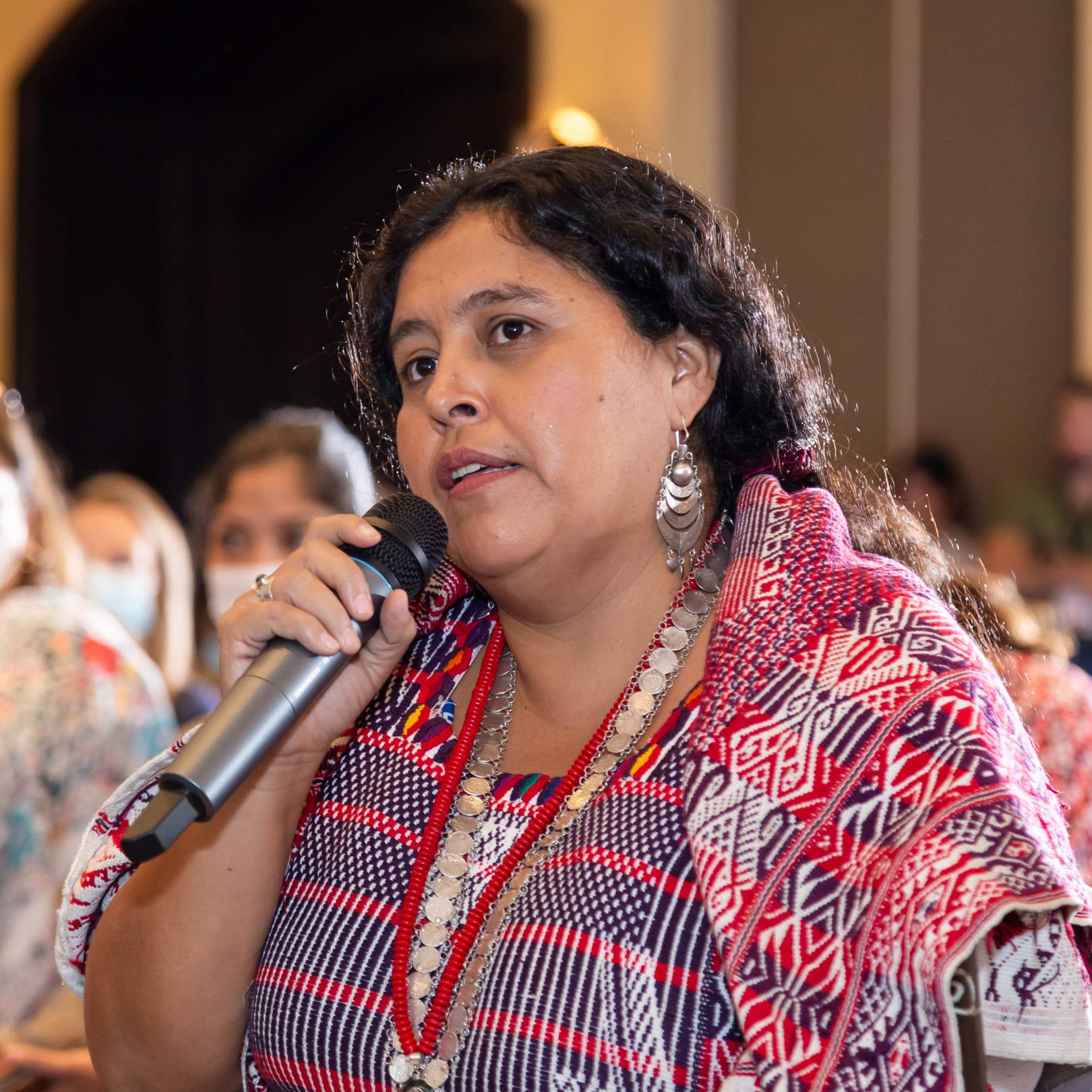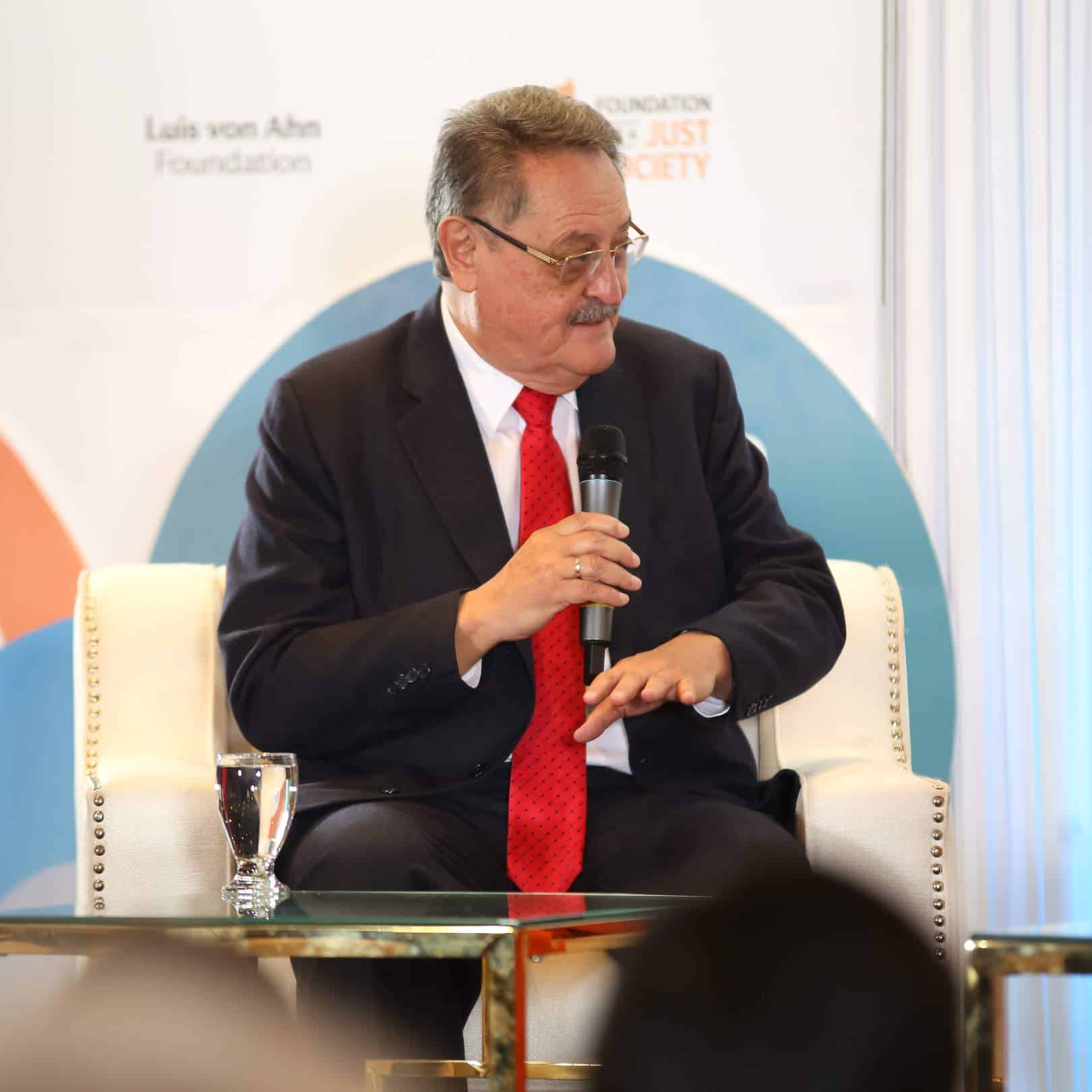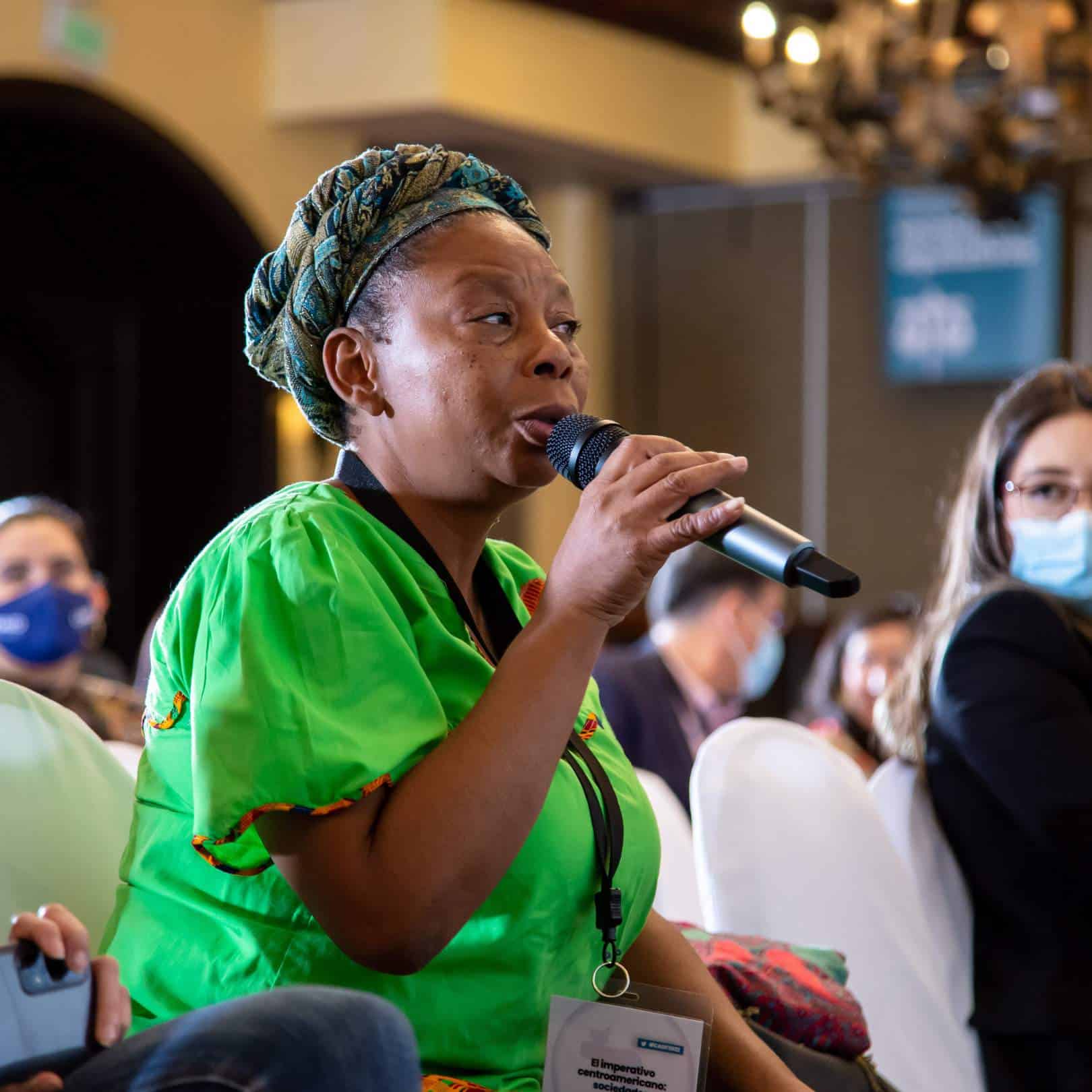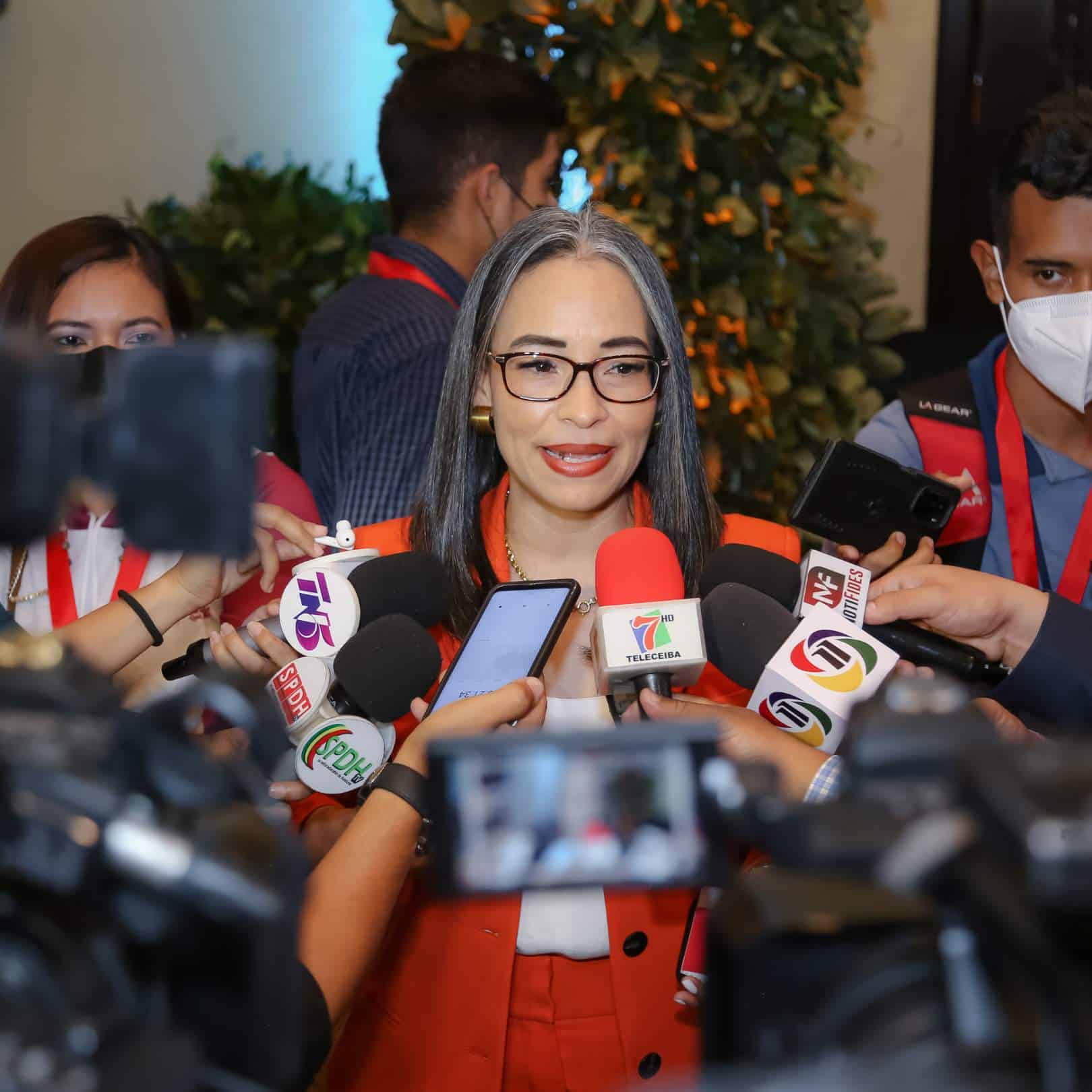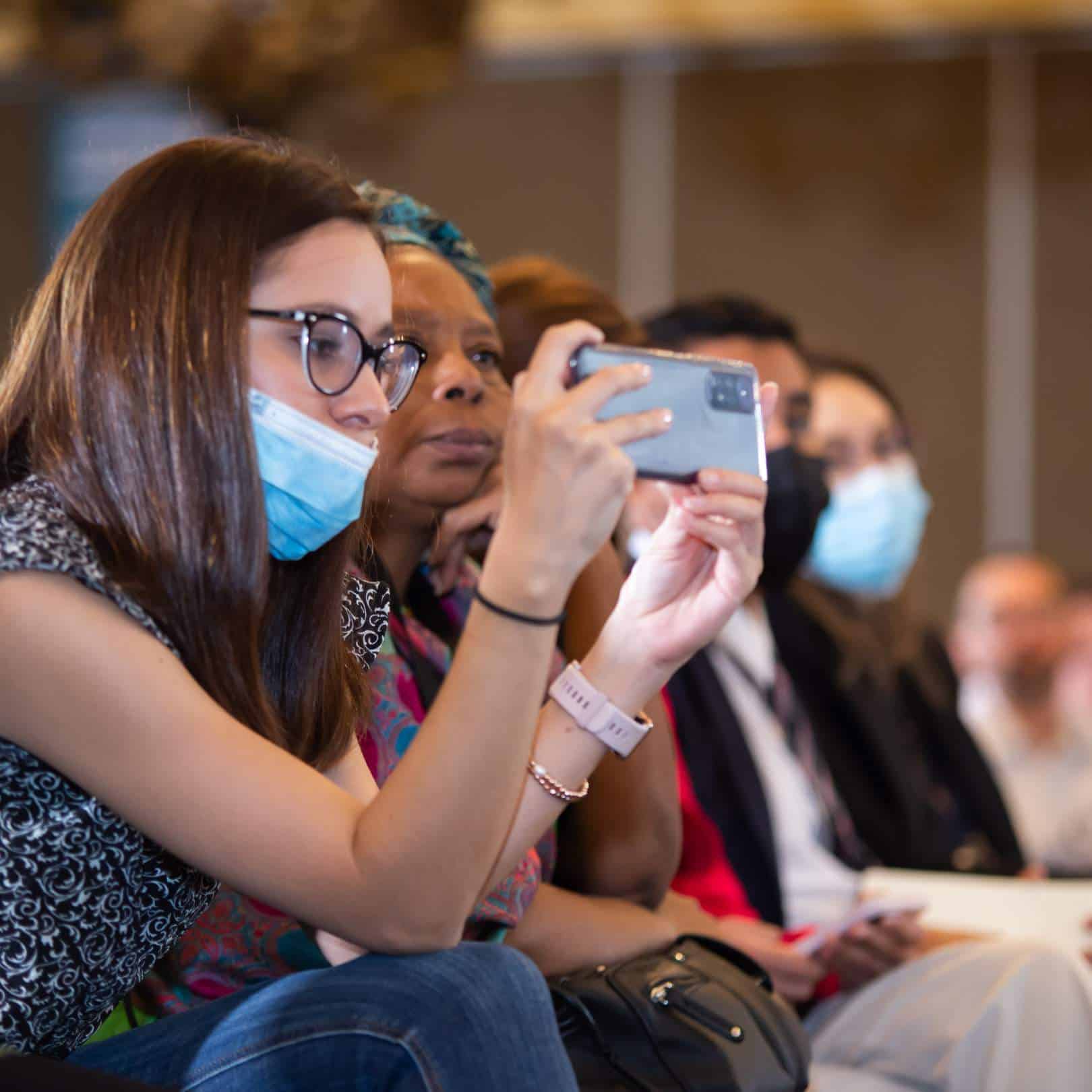 Fireside Chat Highlight
USG Policy to Protect the Rule of Law
In this fireside chat, Deputy Assistant Secretary of State Emily Mendrala discussed the Biden Administration's major initiatives to encourage democratic governance and to strengthen the rule of law in the Northern countries of Central America, a central part of a U.S. strategy to address migration by fighting corruption, strengthening governance and providing new economic opportunities.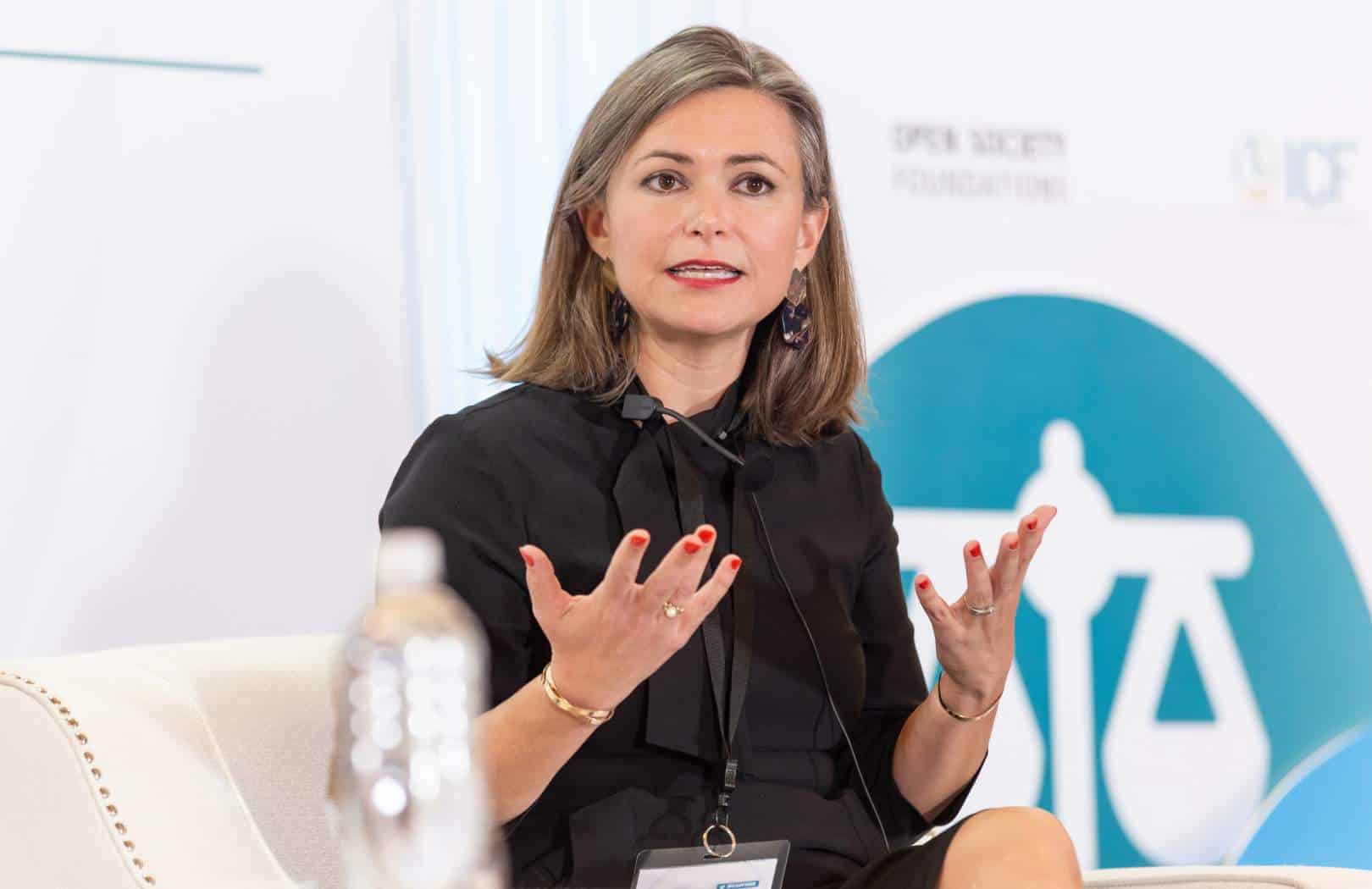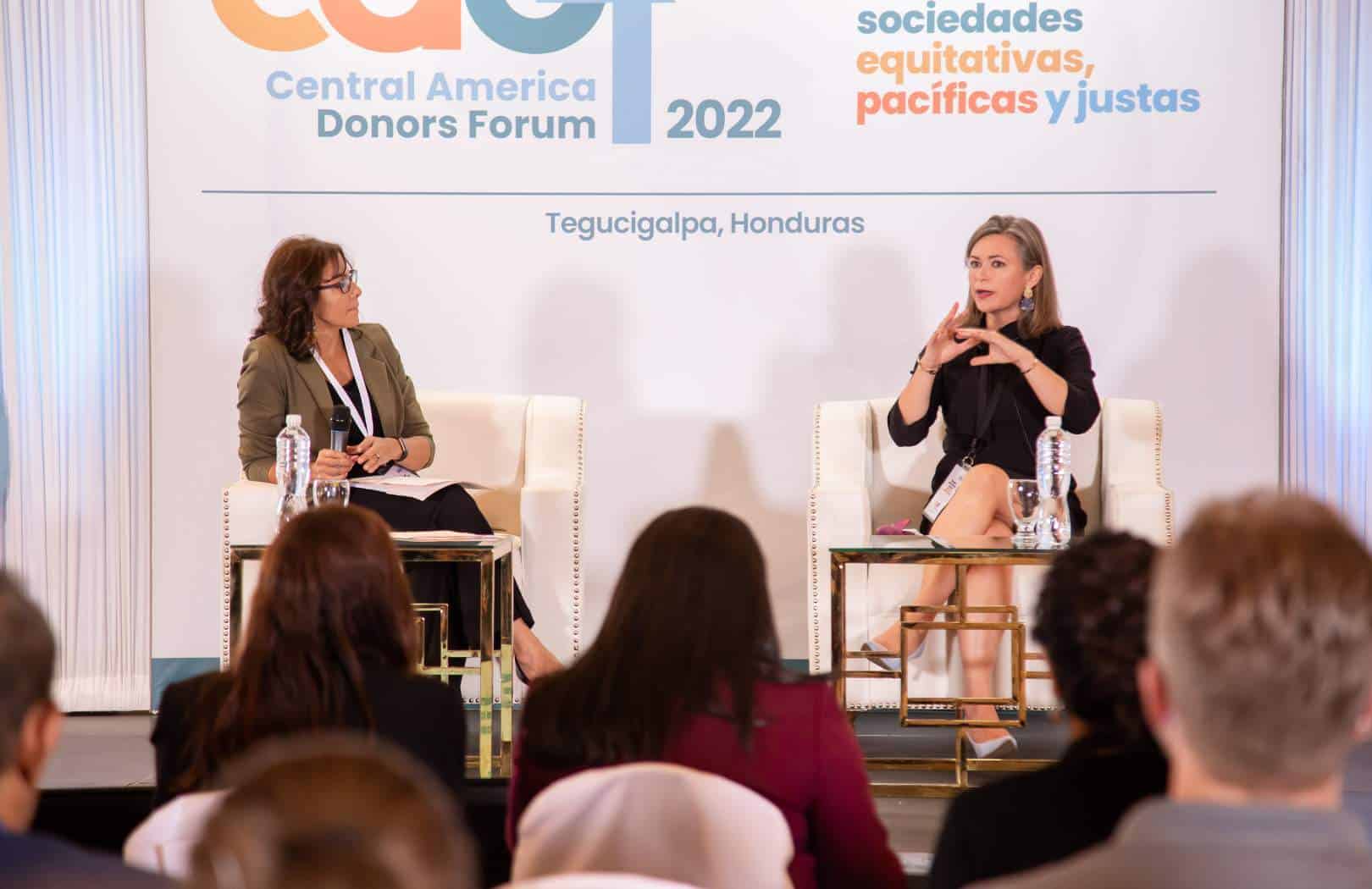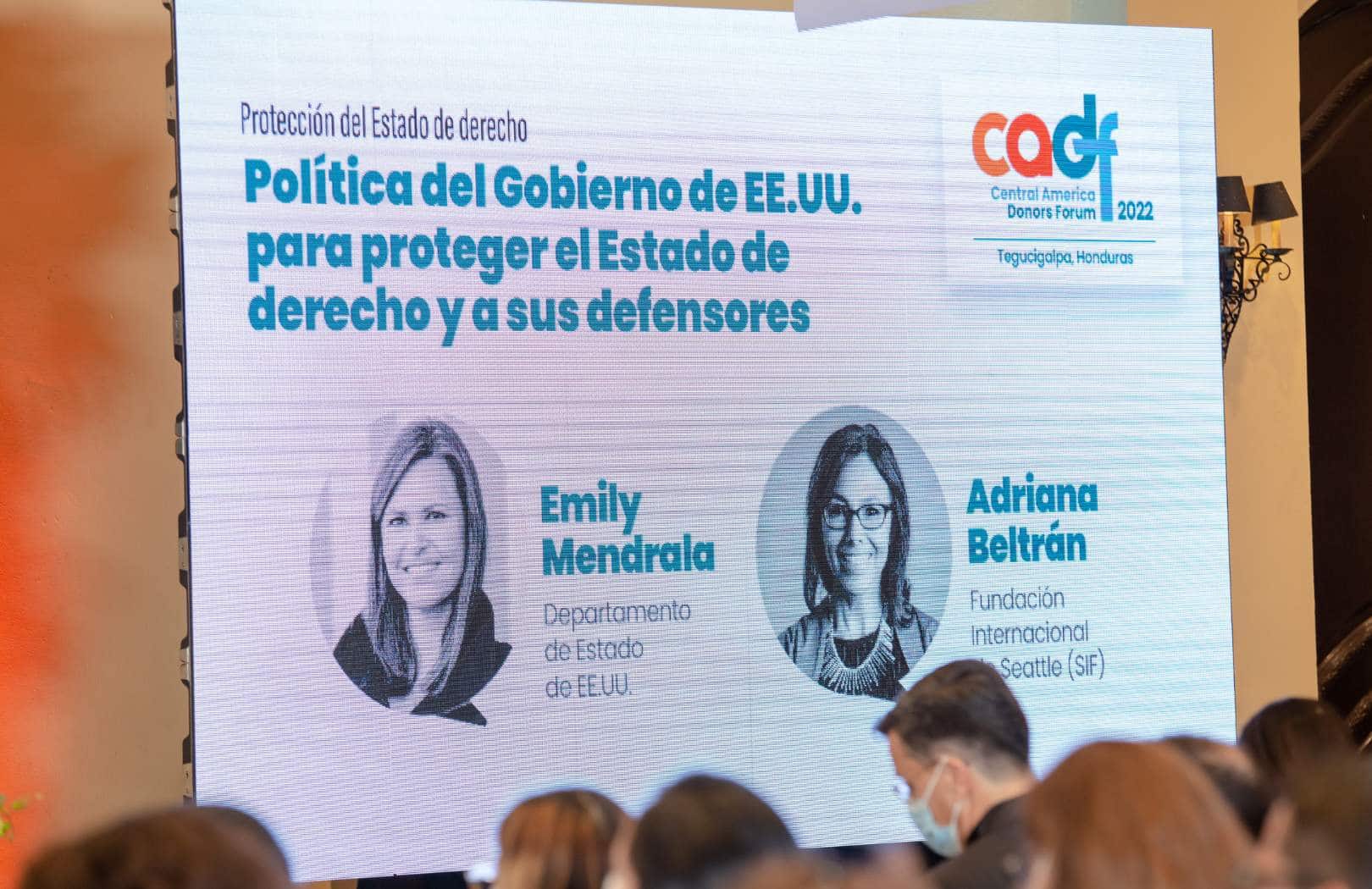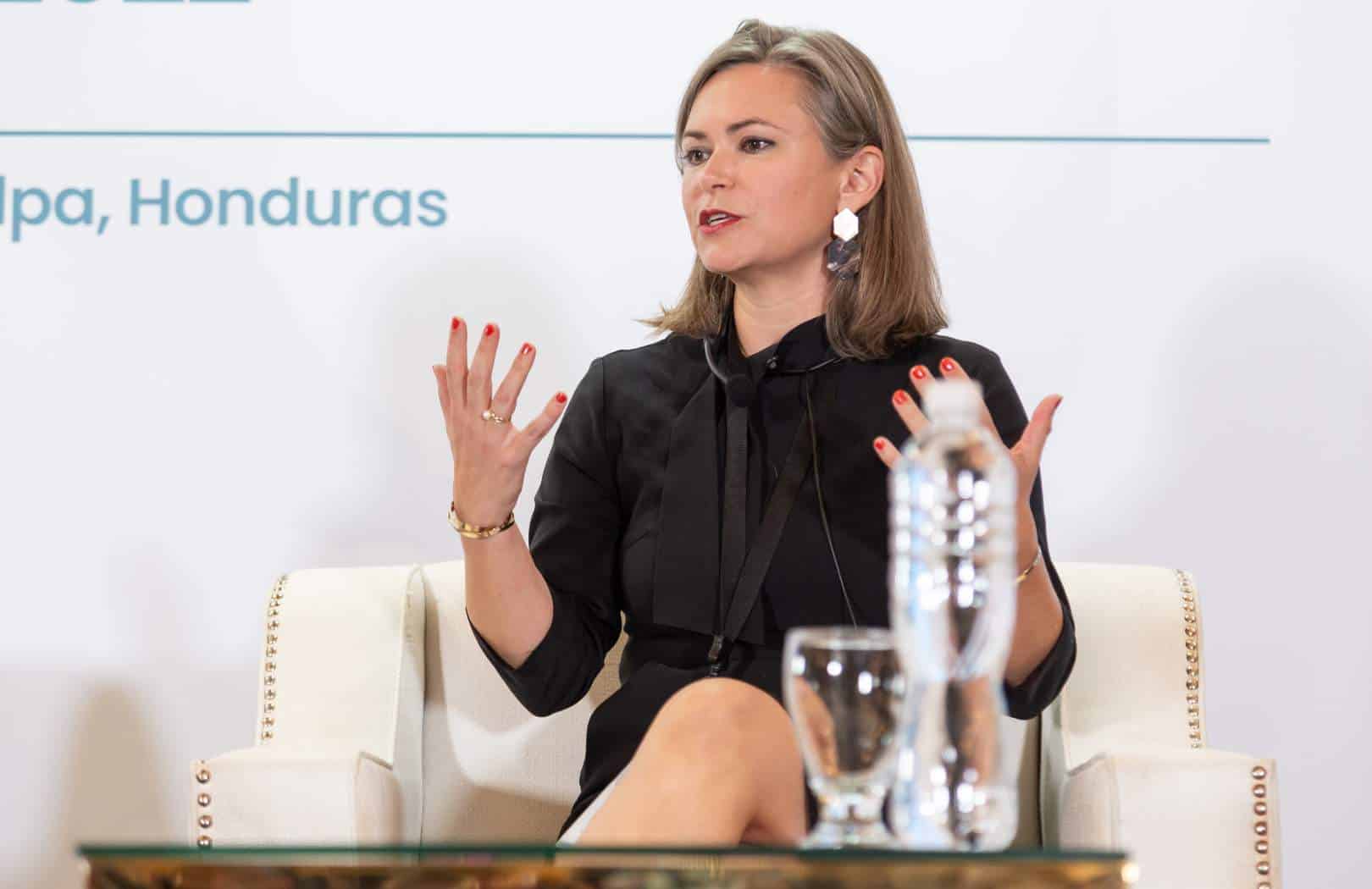 Economic Opportunity
Rule of Law for Economic Prosperity
This session focused on the contributions of private companies and governments in creating new economic opportunities, for which speakers highlighted it is crucial to reach out to rural communities and empower women in the region. Regarding youth employability, institutionality is key in providing young people with professional training. Additionally, civil society must be strengthened so that migrants, the region's greatest strength, do not feel the need to take their labor abroad.
Speakers highlighted how malnutrition in Central America negatively affects cognitive development. In response, ESG (Environment, Society and Governance) criteria as one strategy can create shared values aimed at promoting environmentally responsible productivity while involving governments on economic policies that benefit the entire population. Nonetheless, the extractivist mindset of current governments remains a challenge. In the long run, the private sector believes the work of civil society and independent journalism are the primary solutions to fighting corruption.
Quotes
"To the extent that we offer formal employment in the market, every employee will have access both to decent pay and job security."
Mey Hung
"In Central America today, we have important investors: migrants sending remittances. Unfortunately, these funds are not earmarked for productivity, but rather for consumption."
Rodrigo Salguero
"The private sector must invest in long-term projects and reach out to entrepreneurs in the region."
Mark Lópes
"You cannot negotiate with dictators. As entrepreneurs, we will continue to demand democracy."
Armando Urtecho
Speakers
María Fernanda Bozmoski, Atlantic Council
Mey Hung, Walmart
Armando Urtecho, Honduras Business Council (COHEP)
Mark Lópes, Partnership for Central America
Rodrigo Salguero, National Entrepreneur Council of Guatemala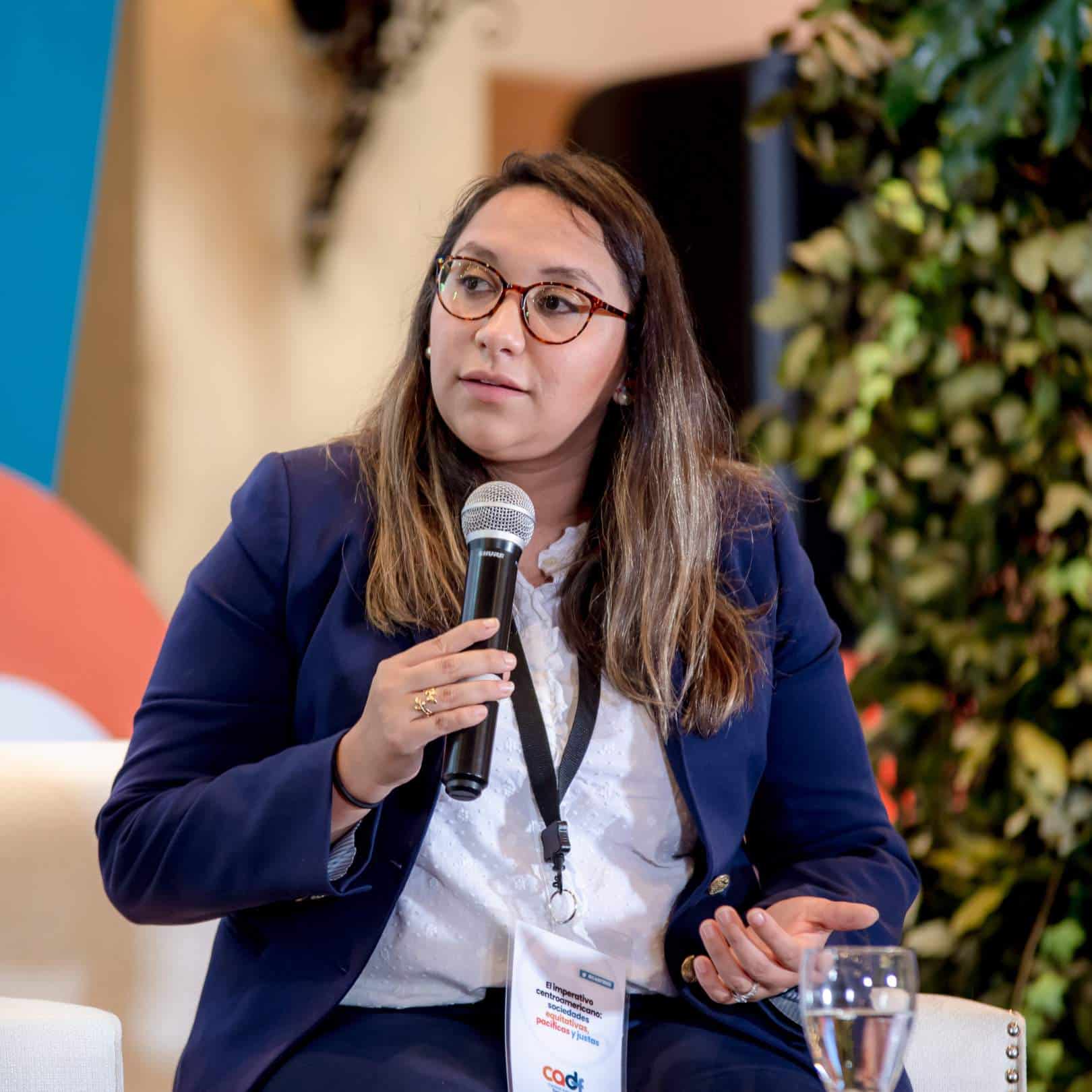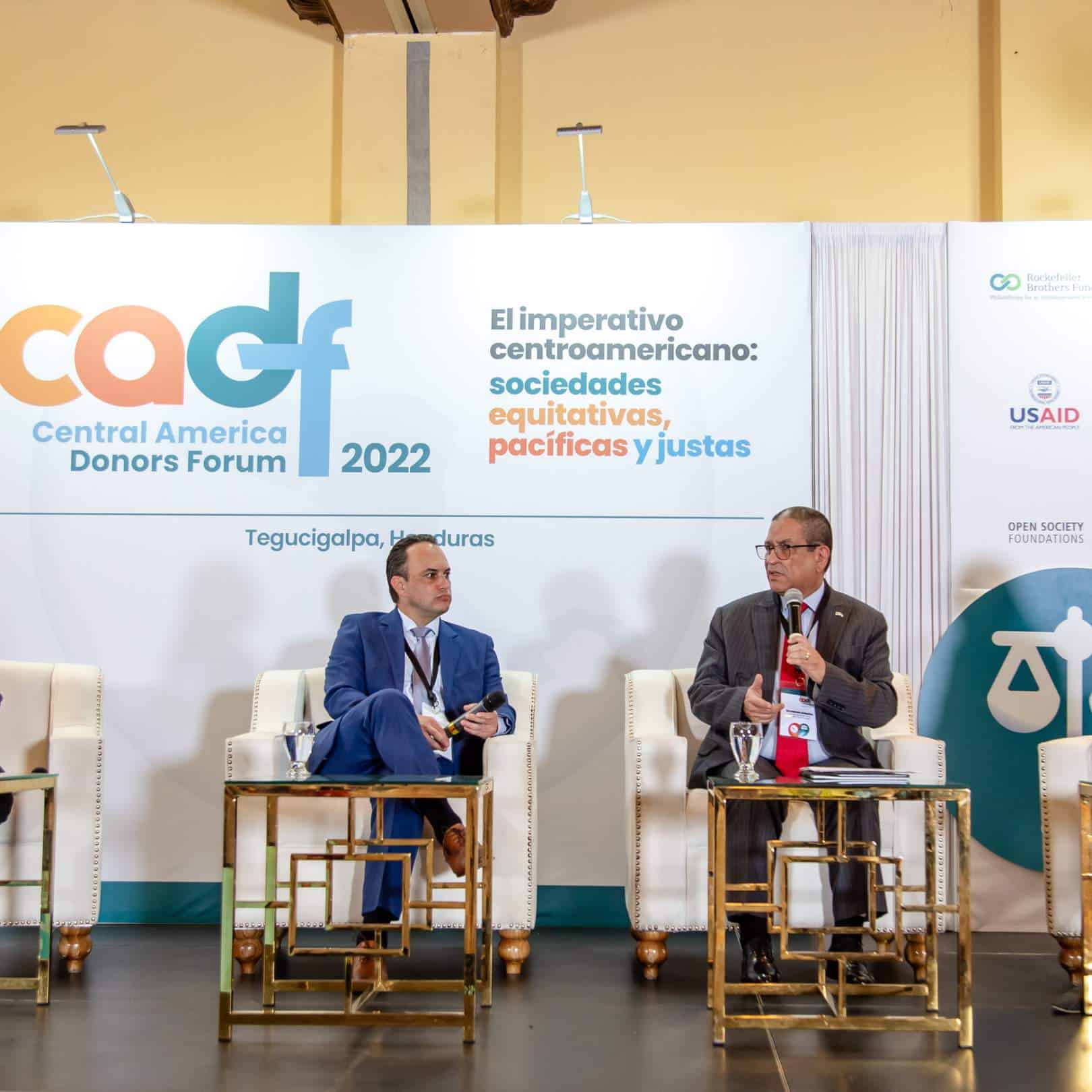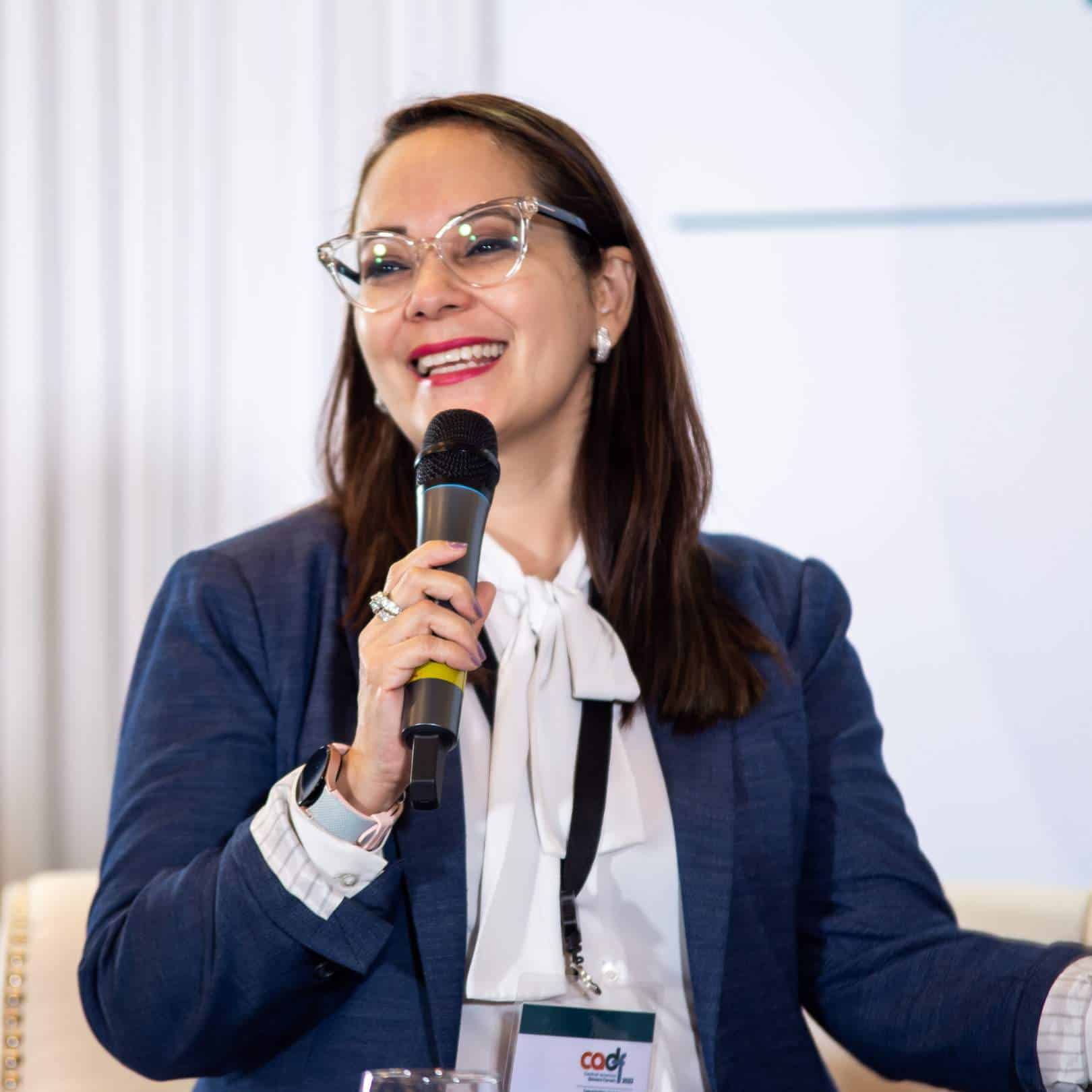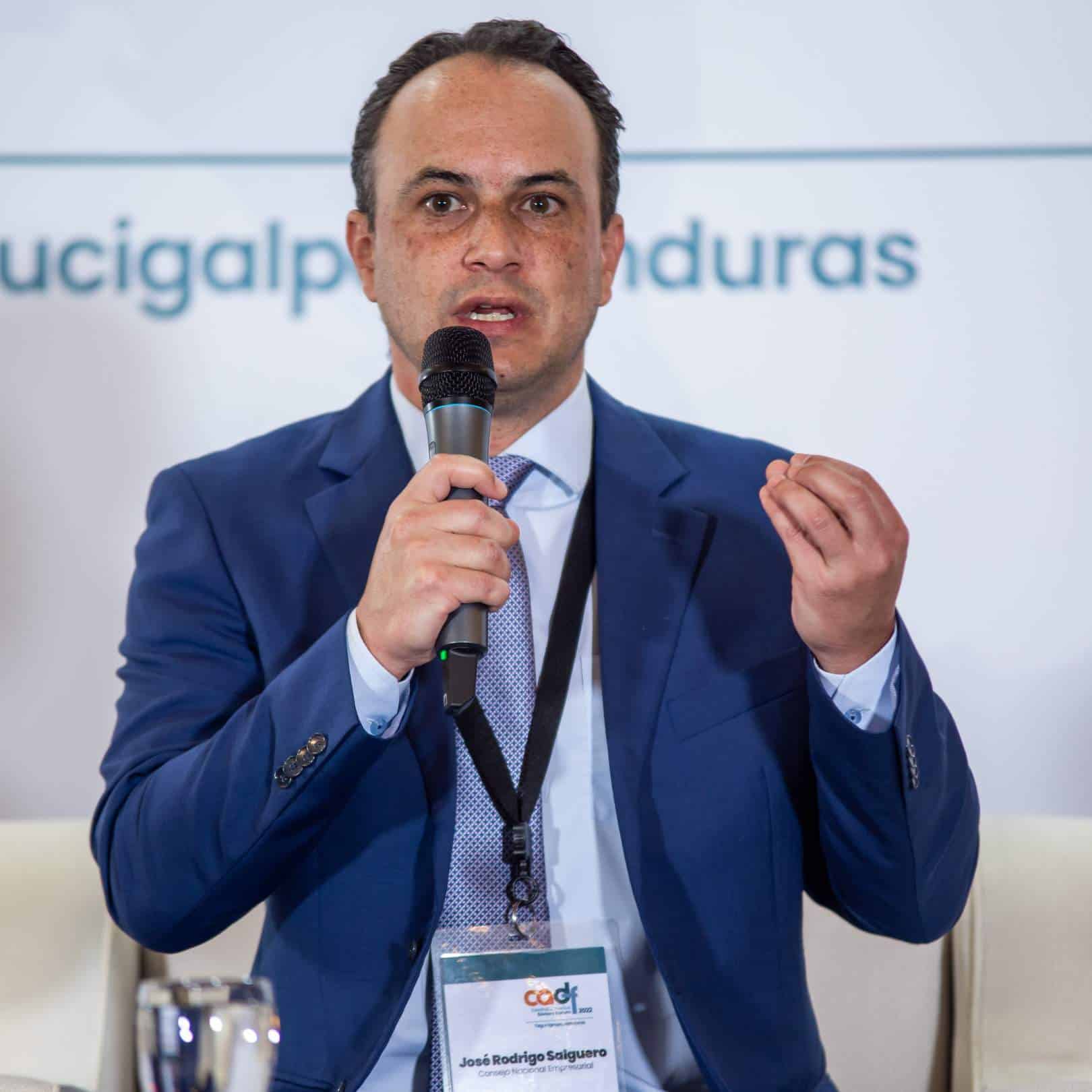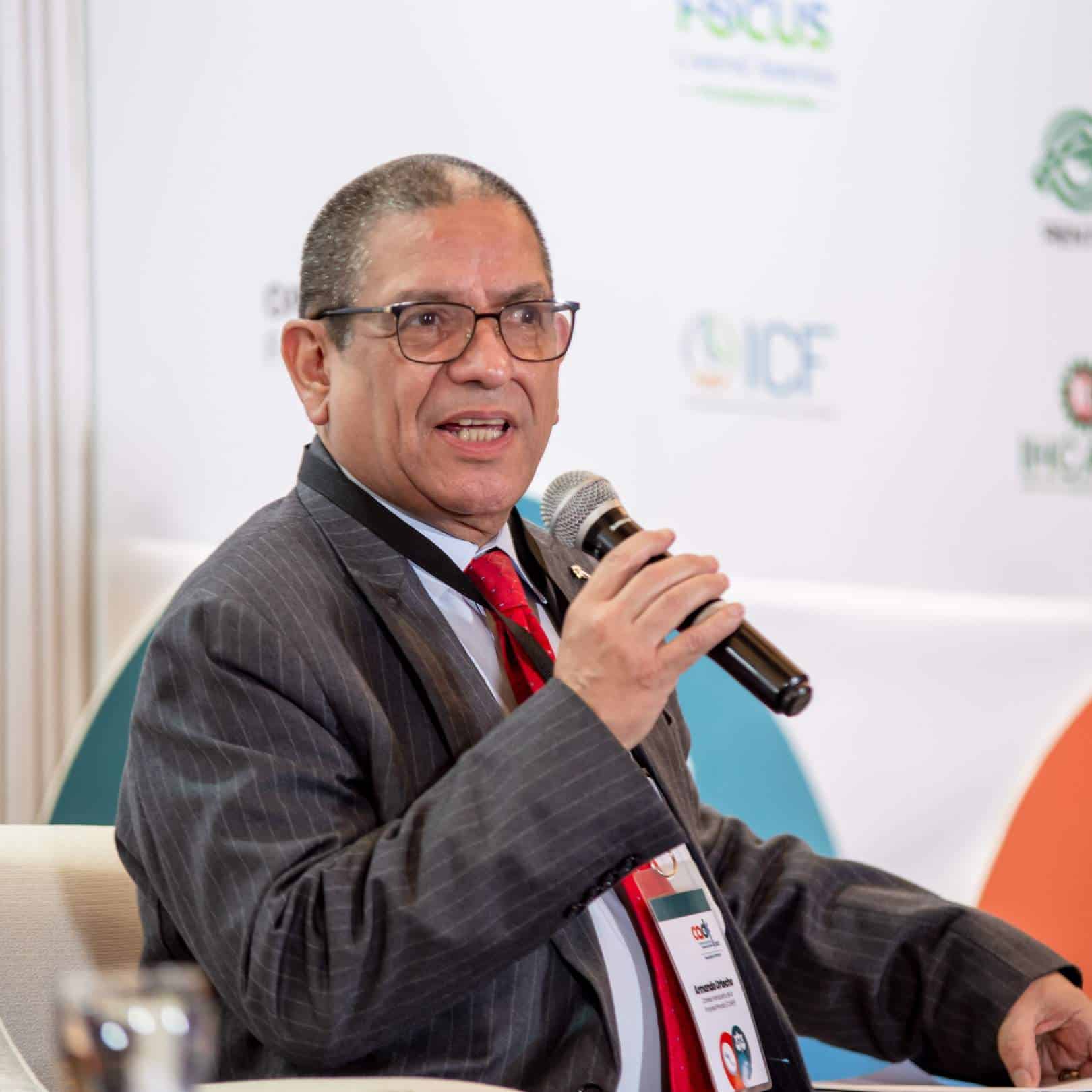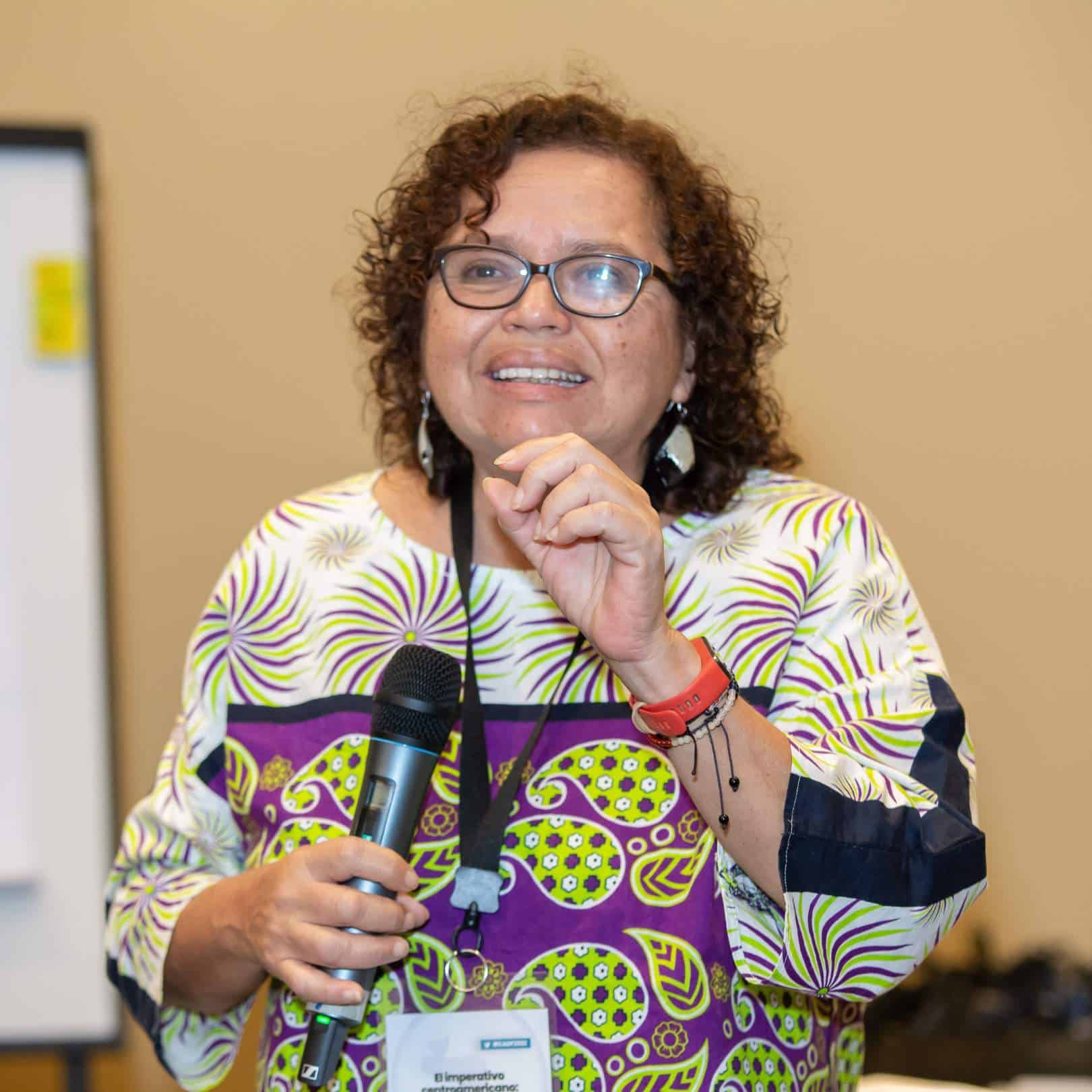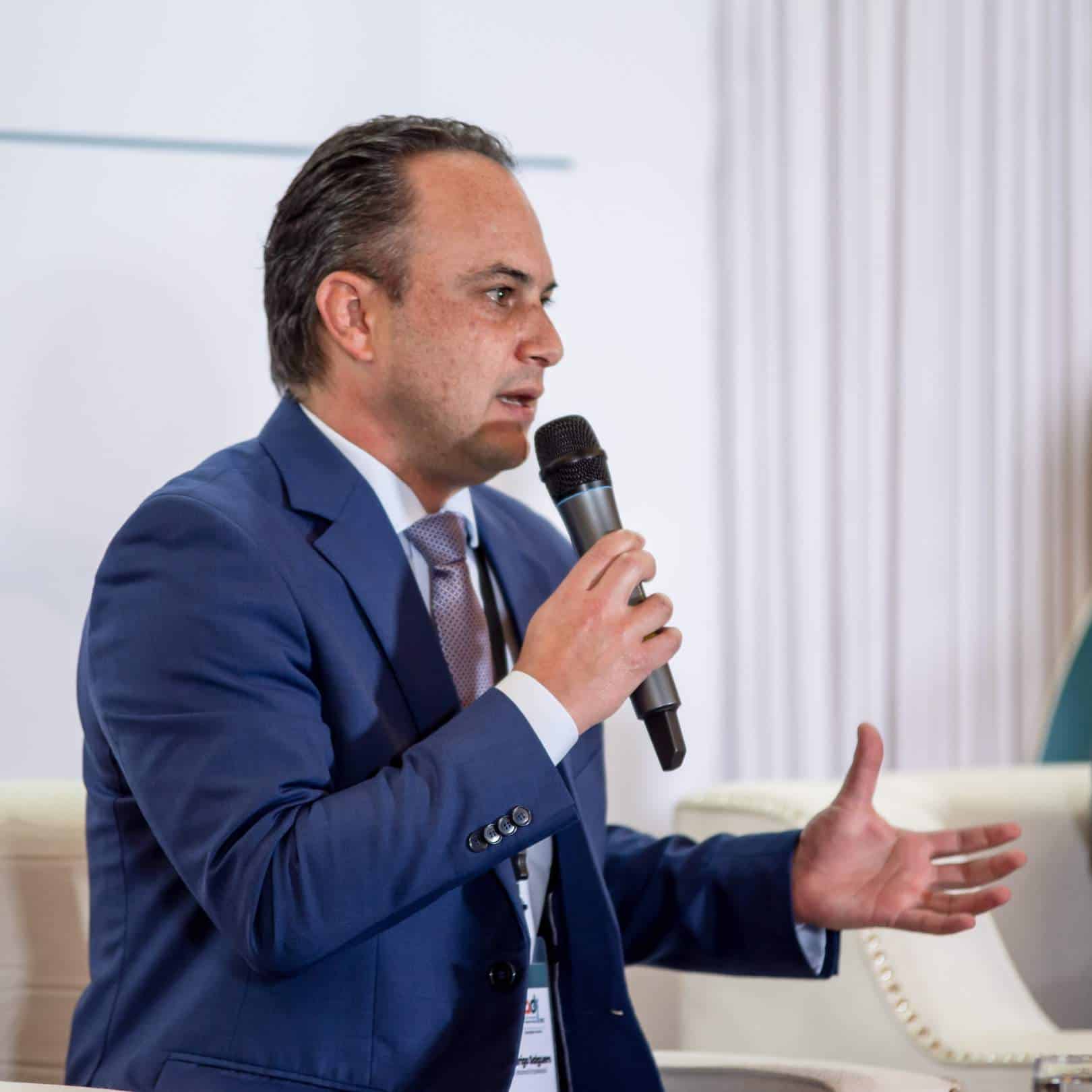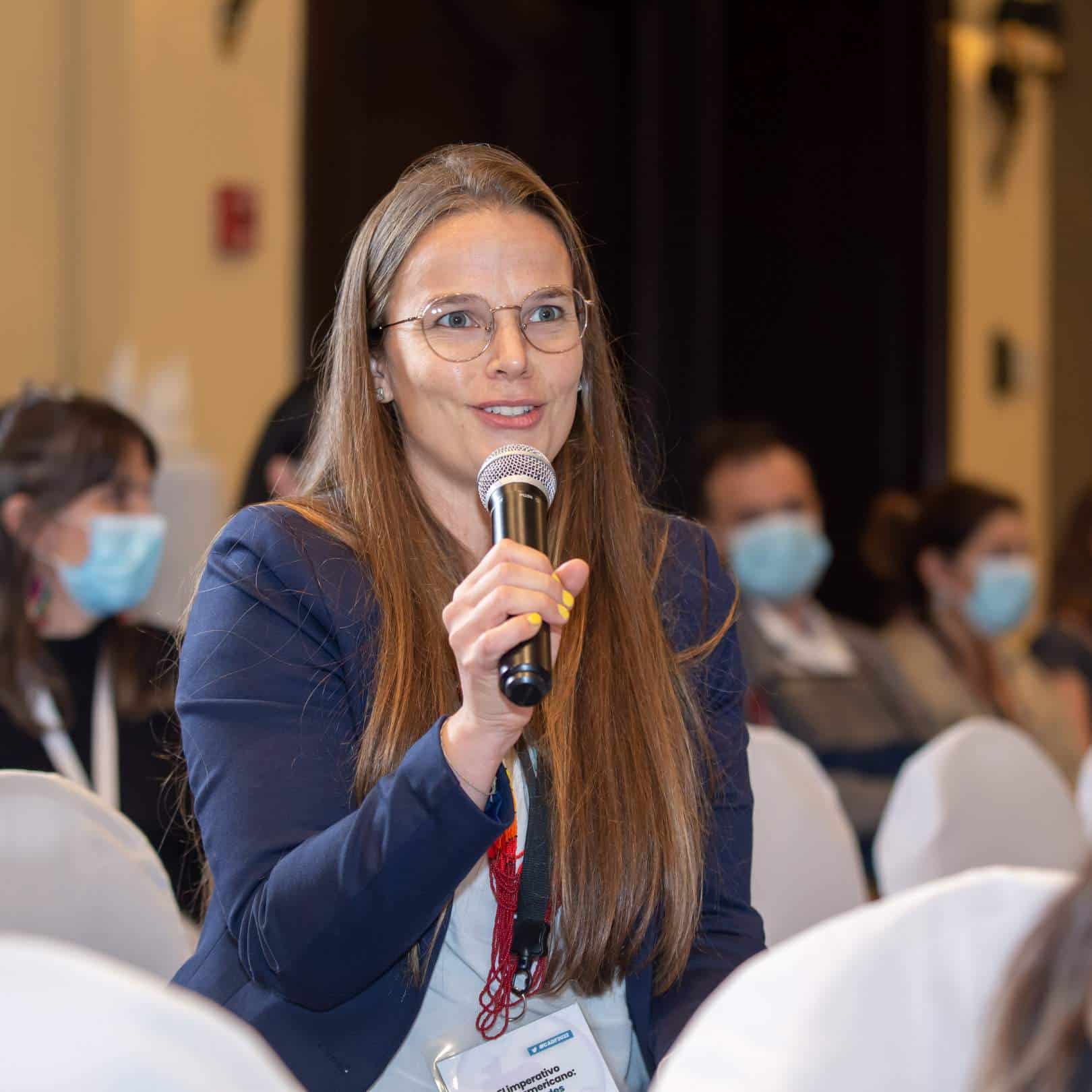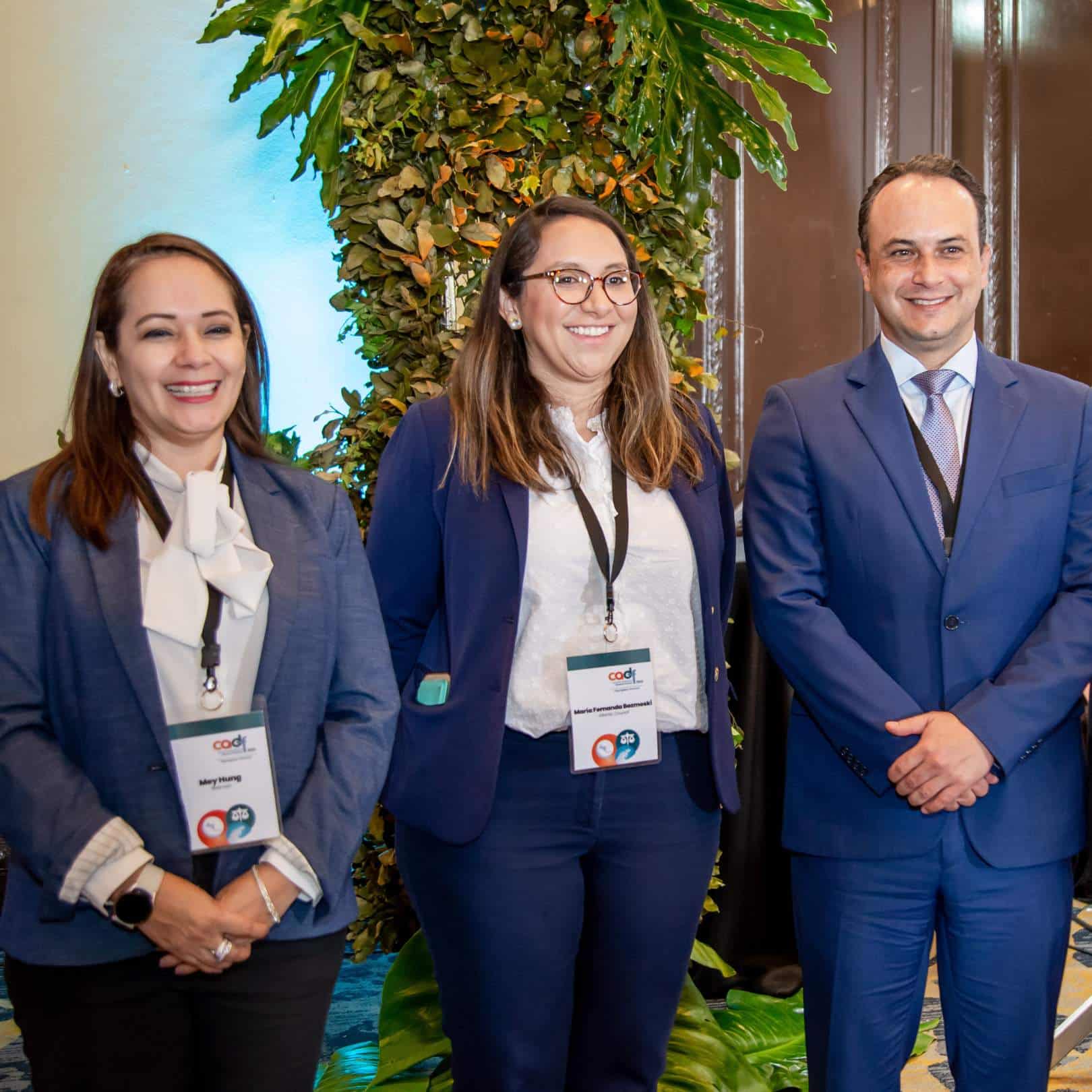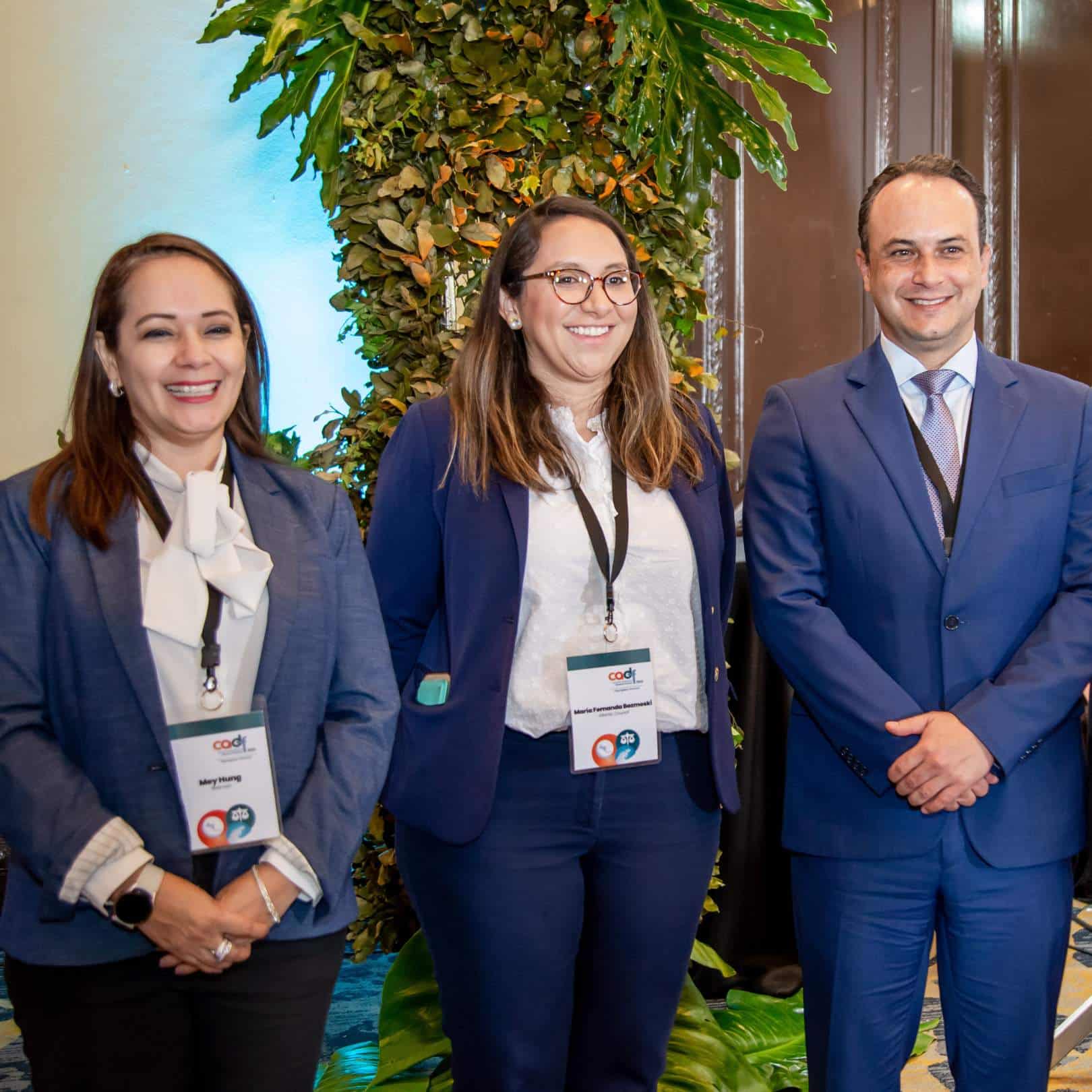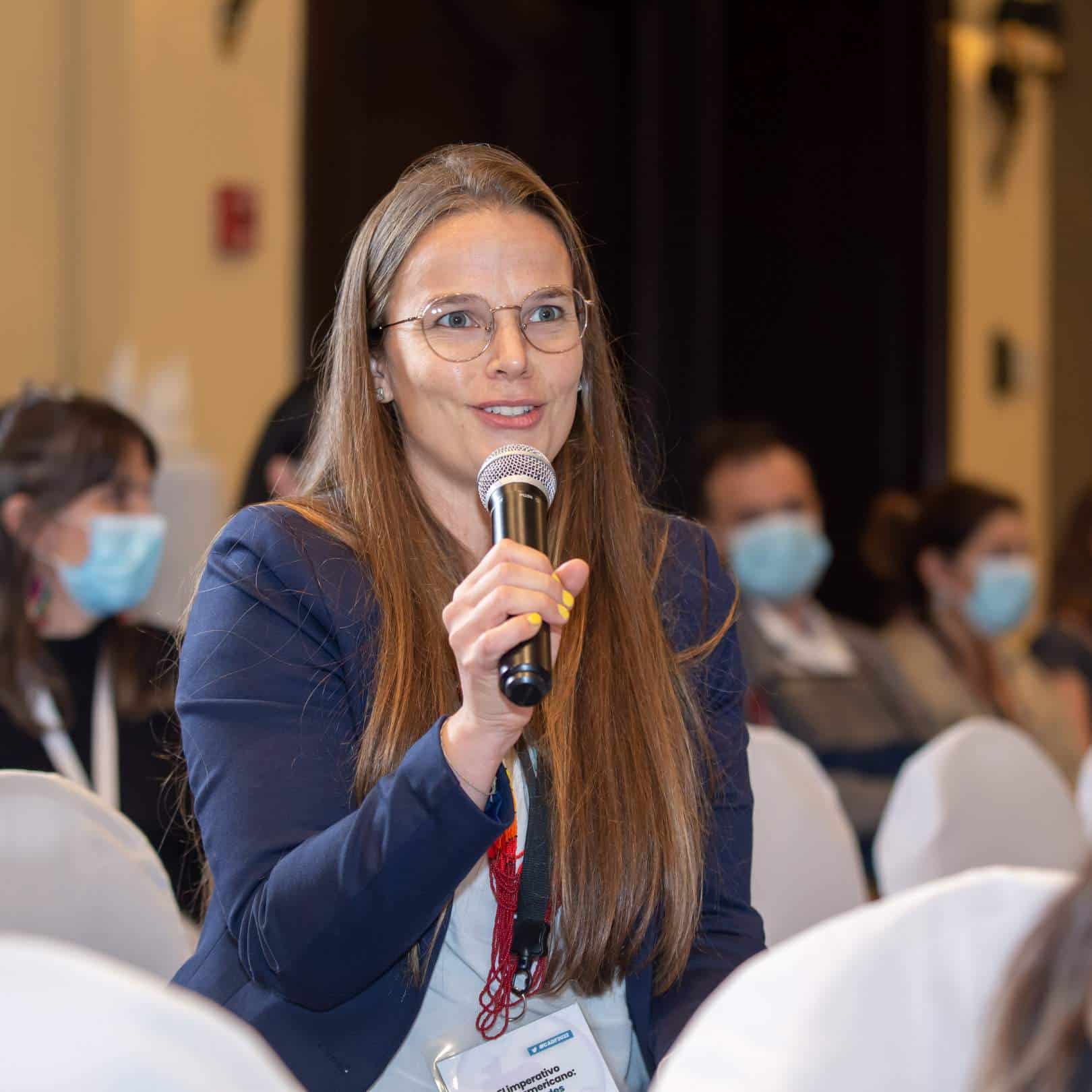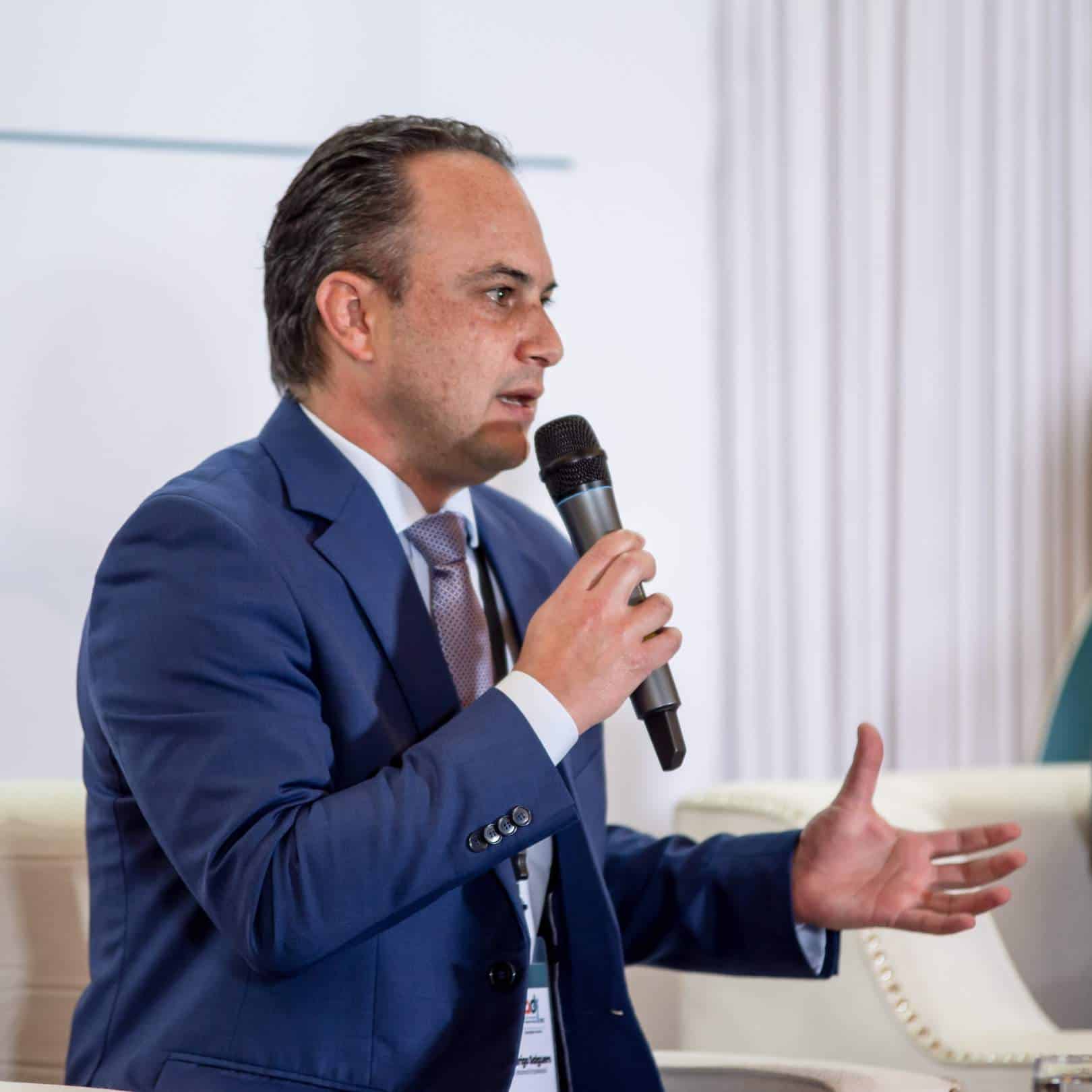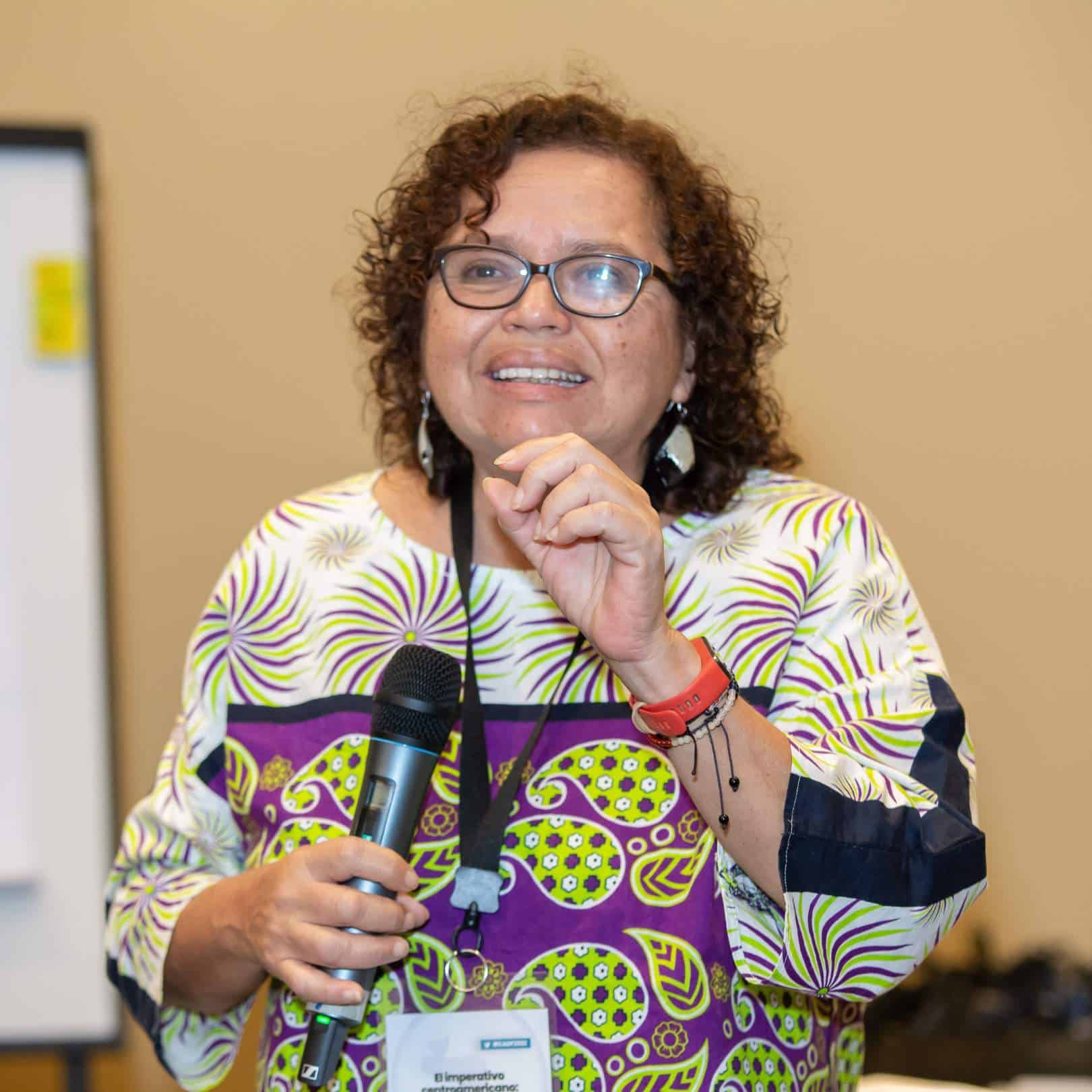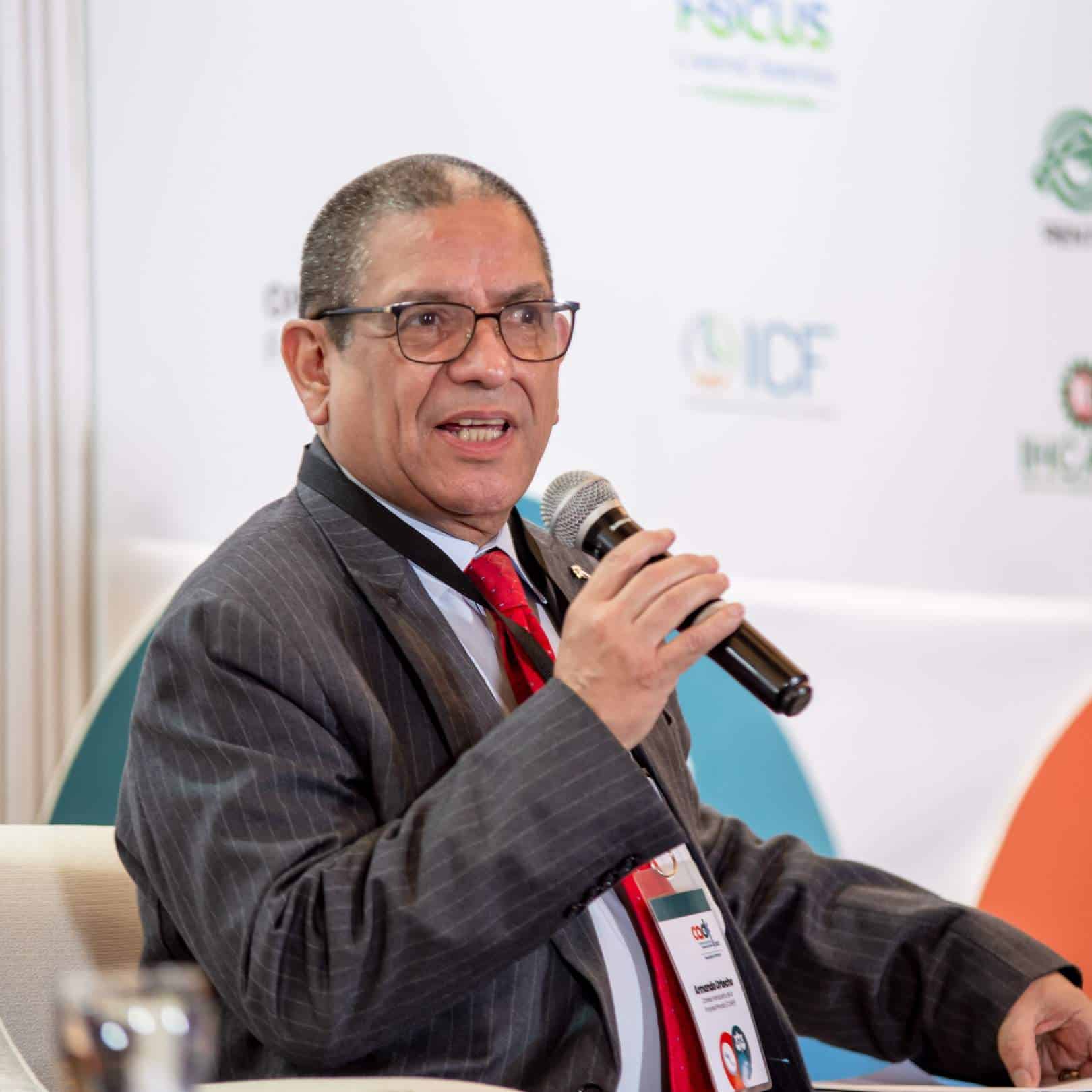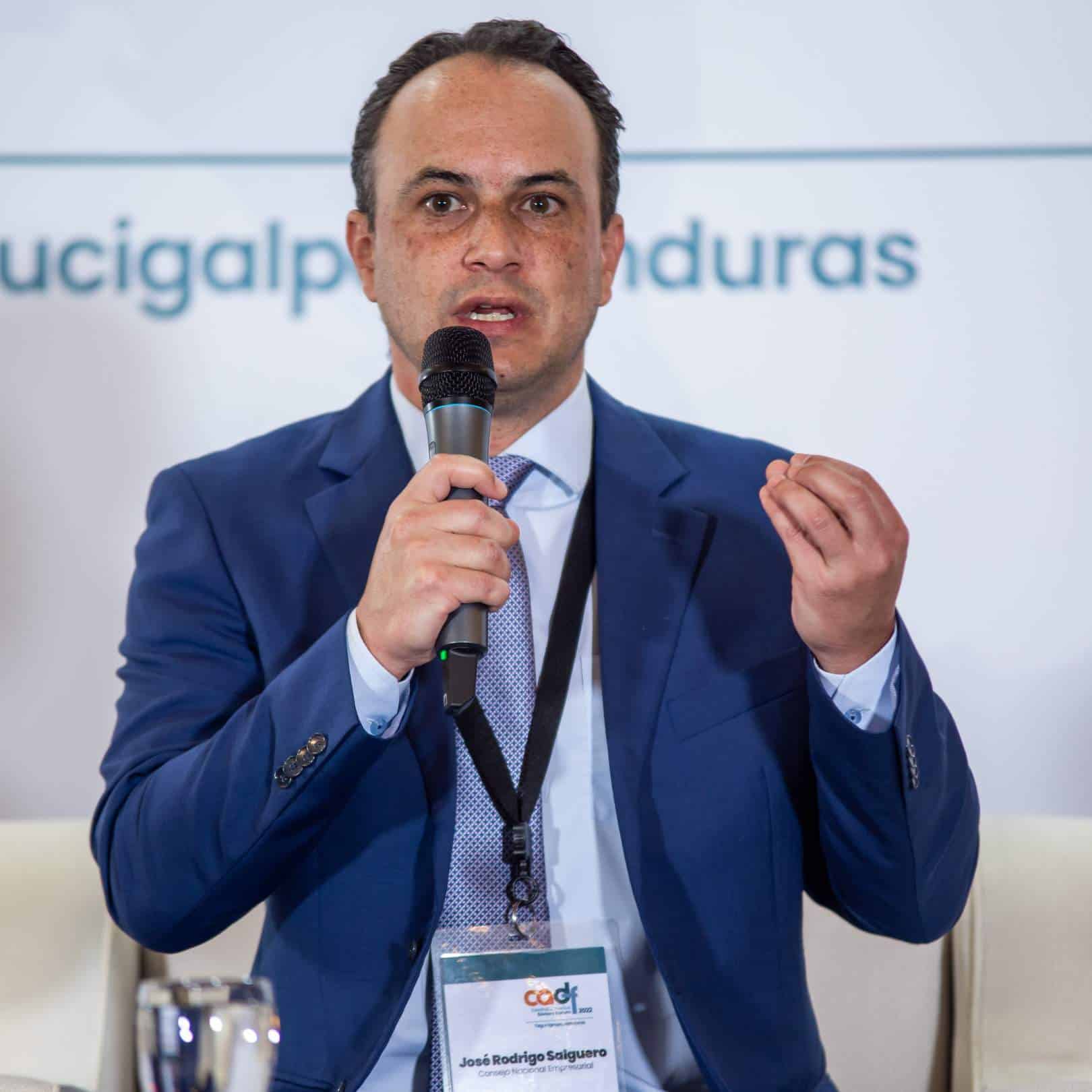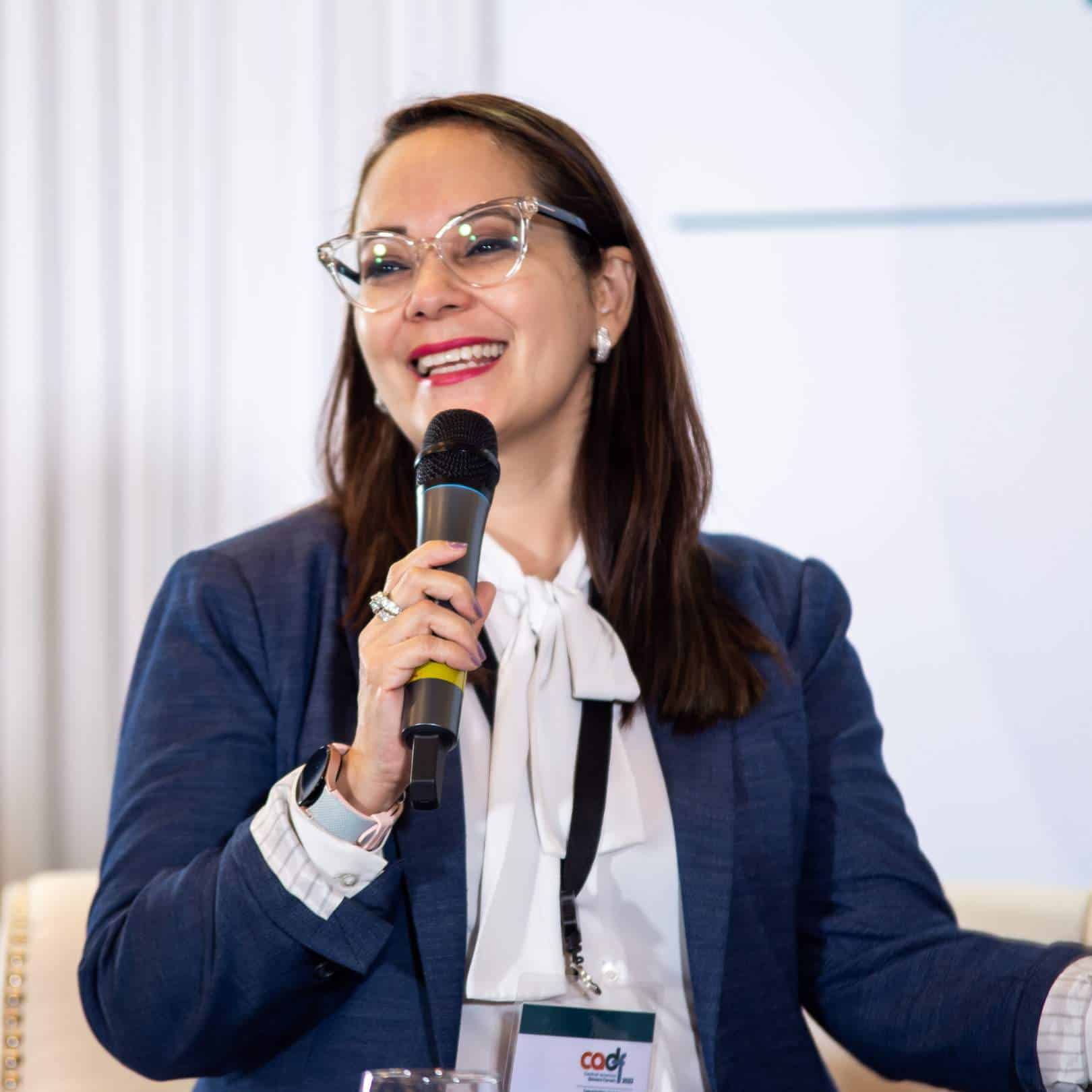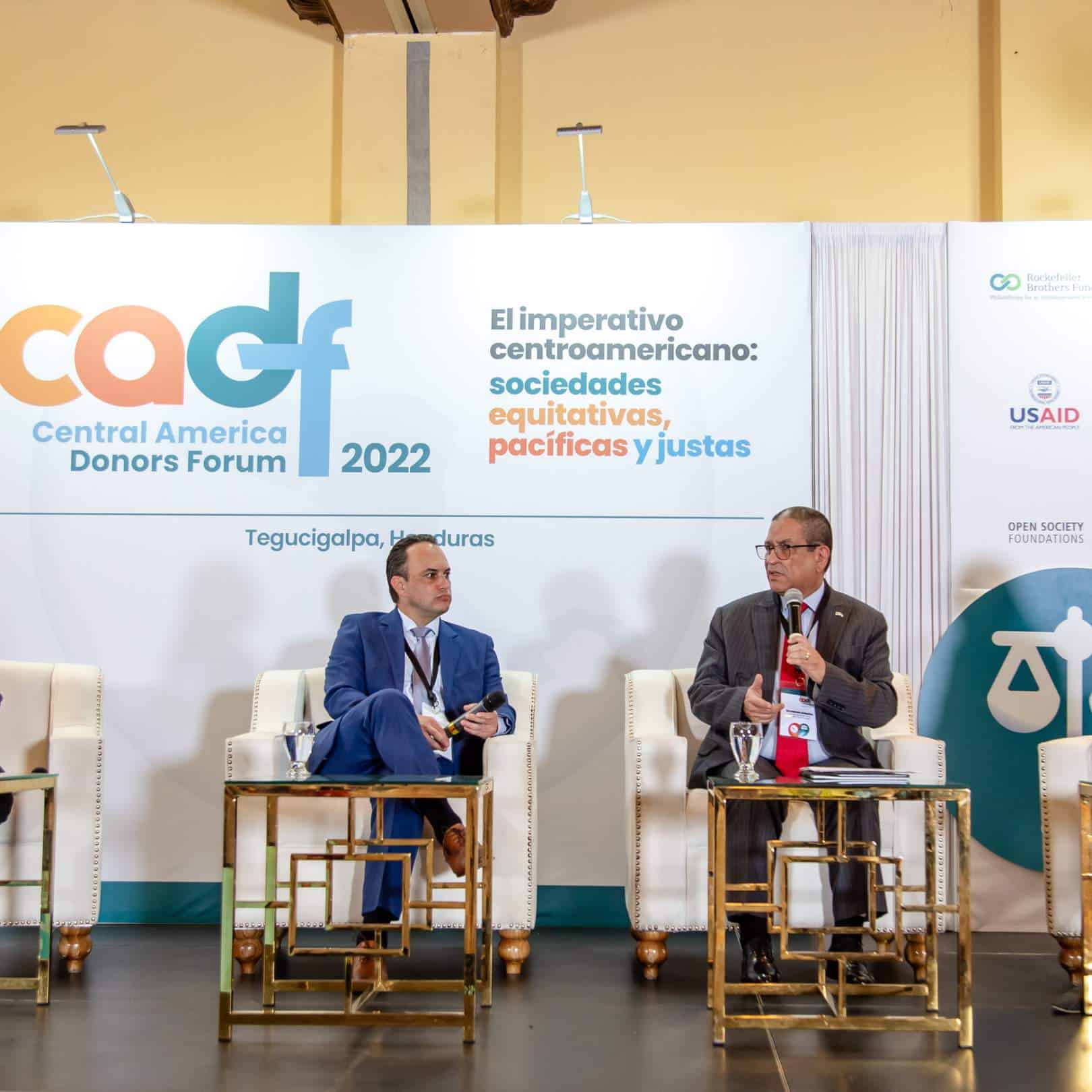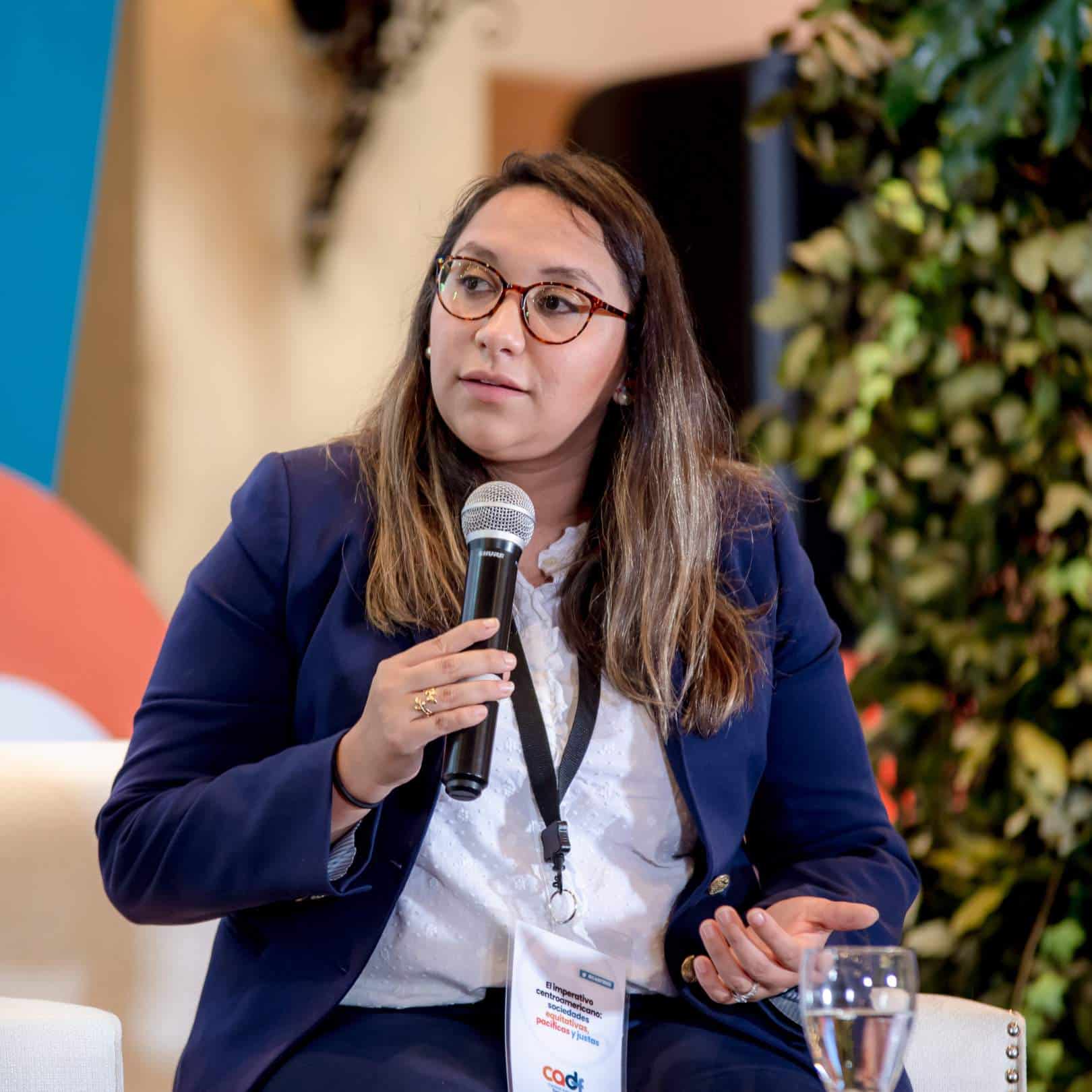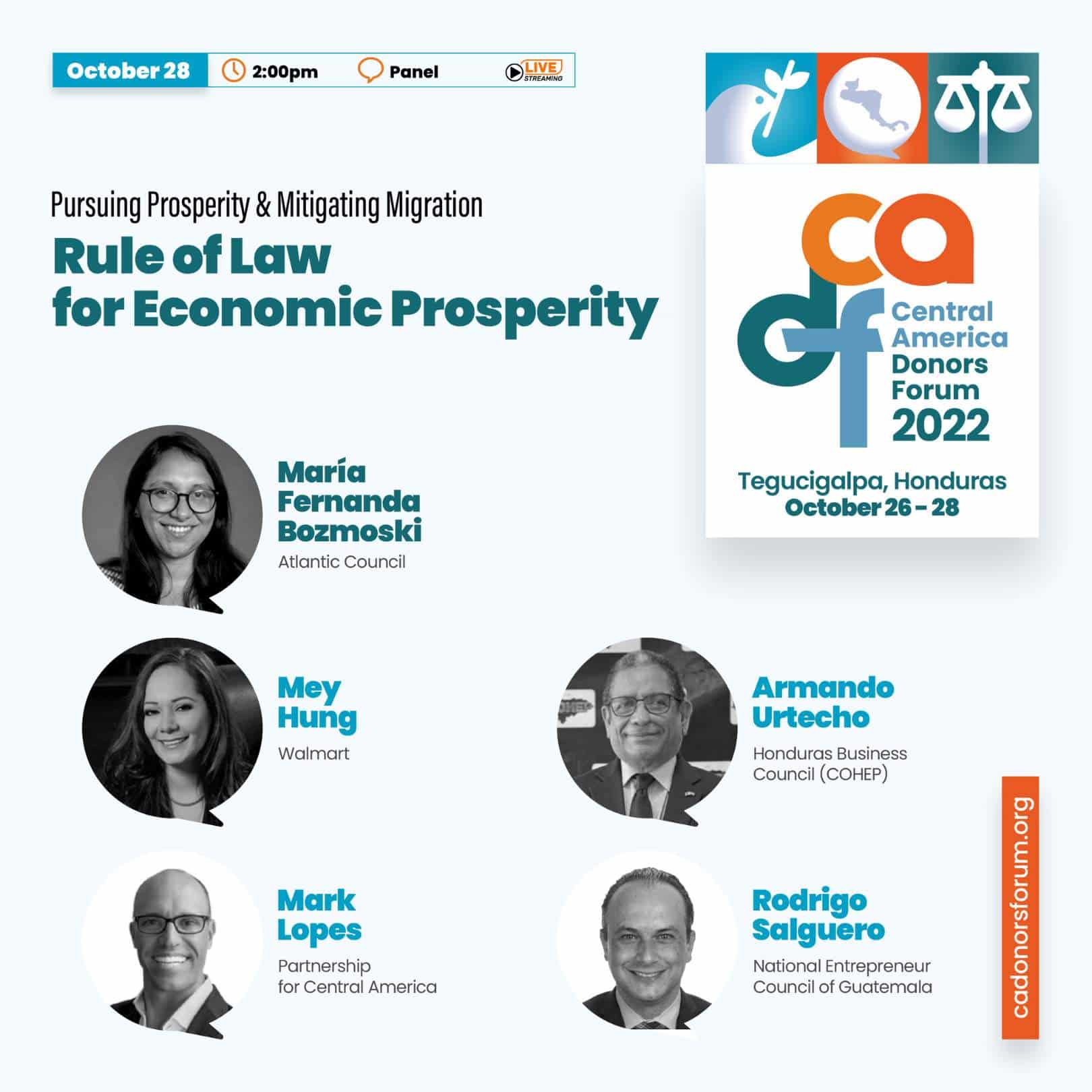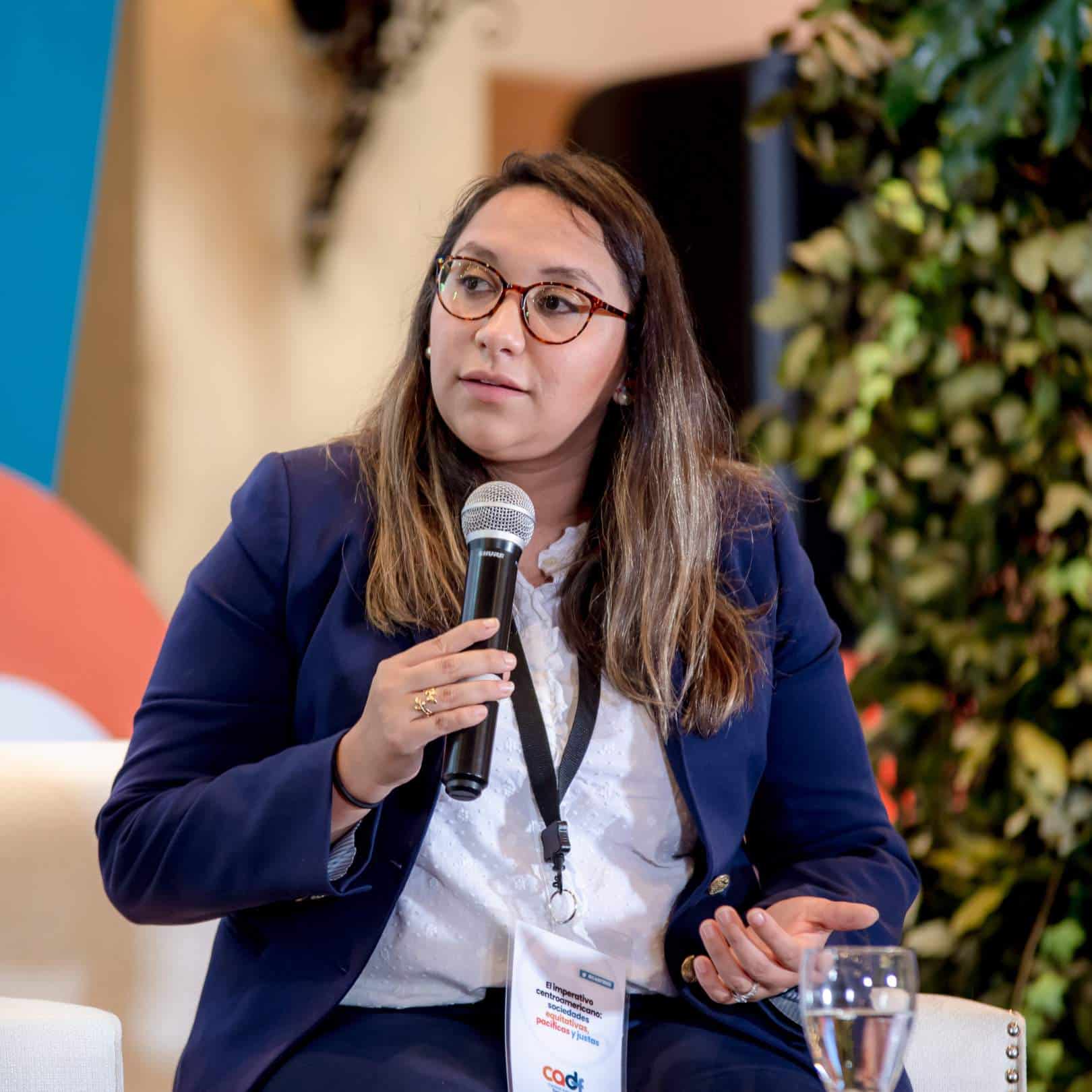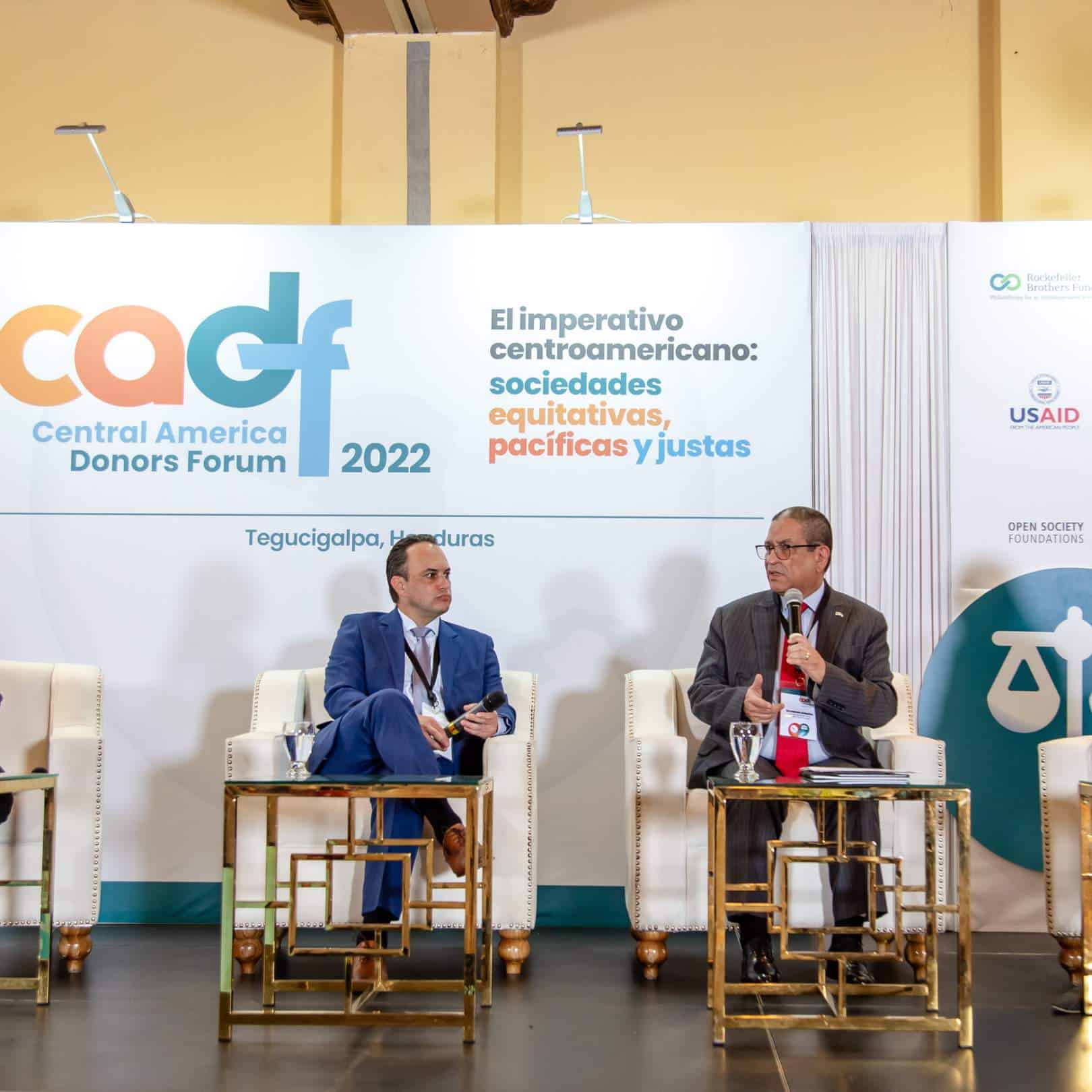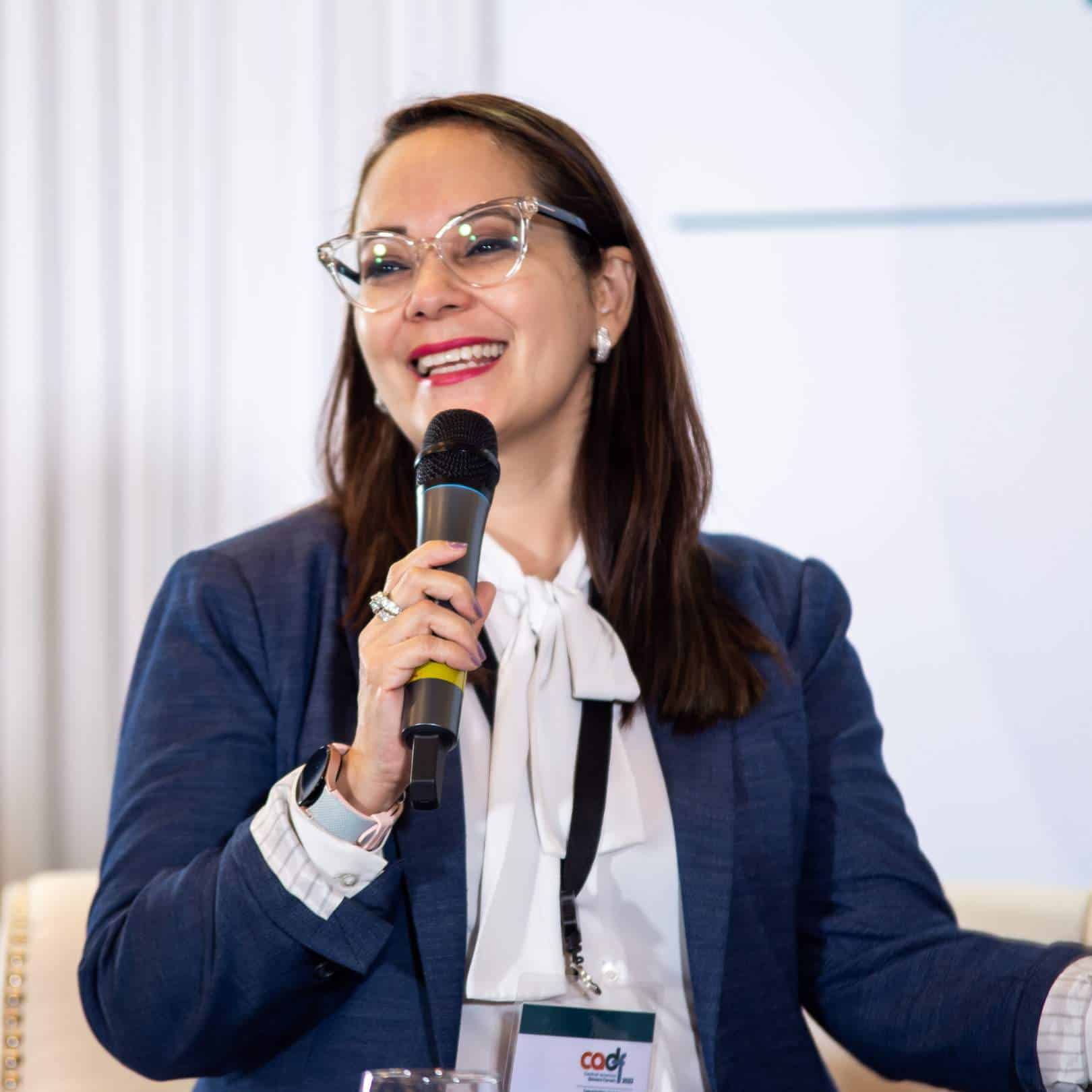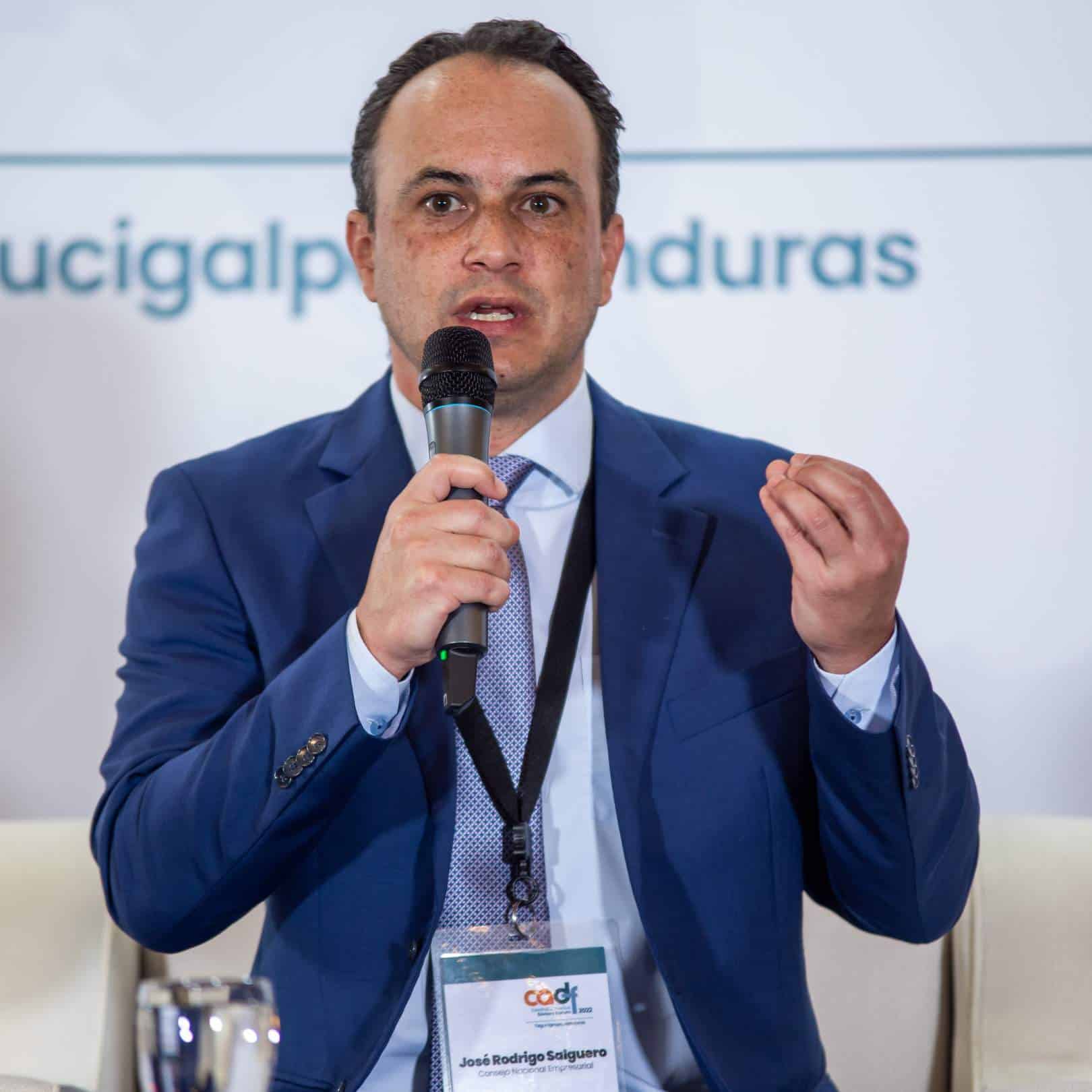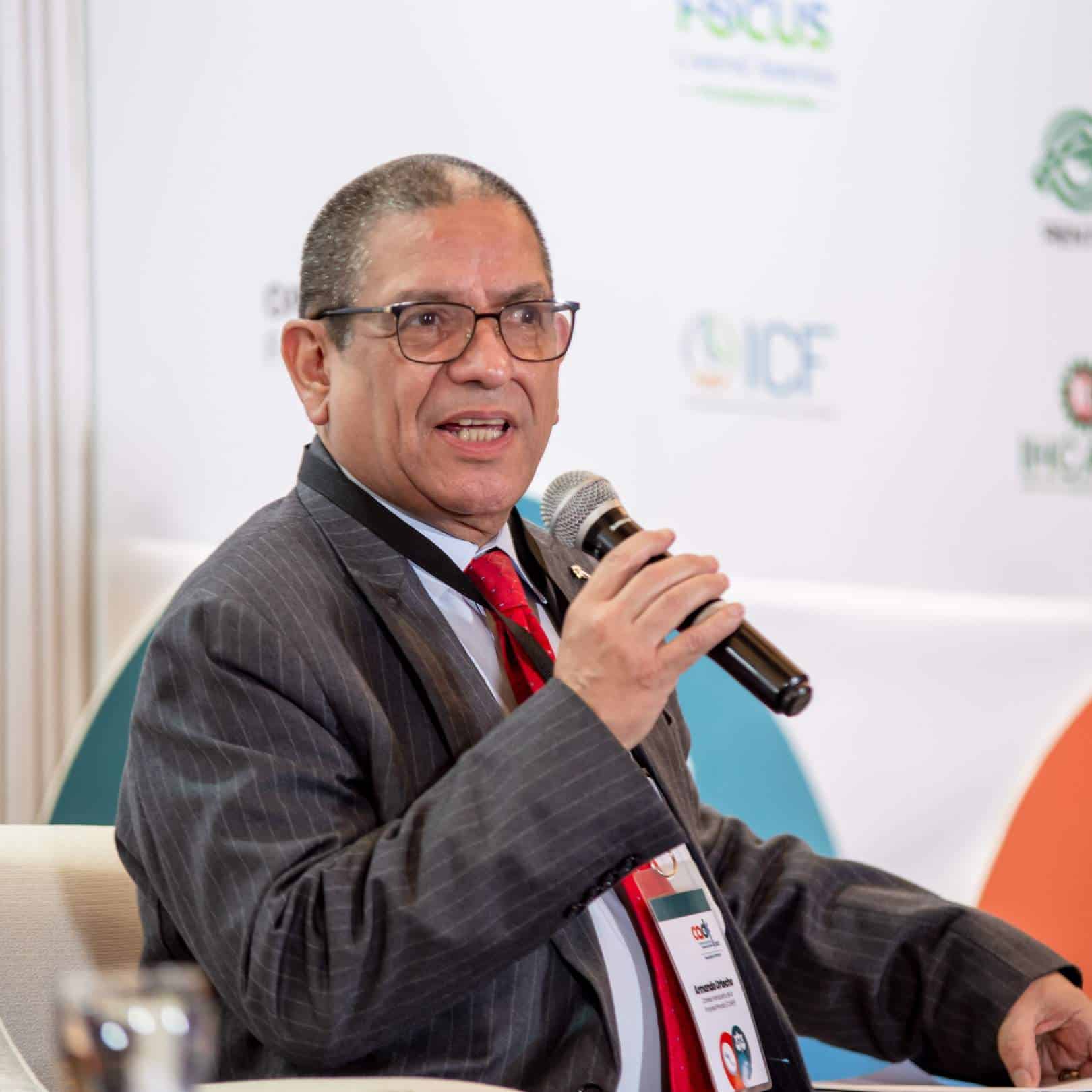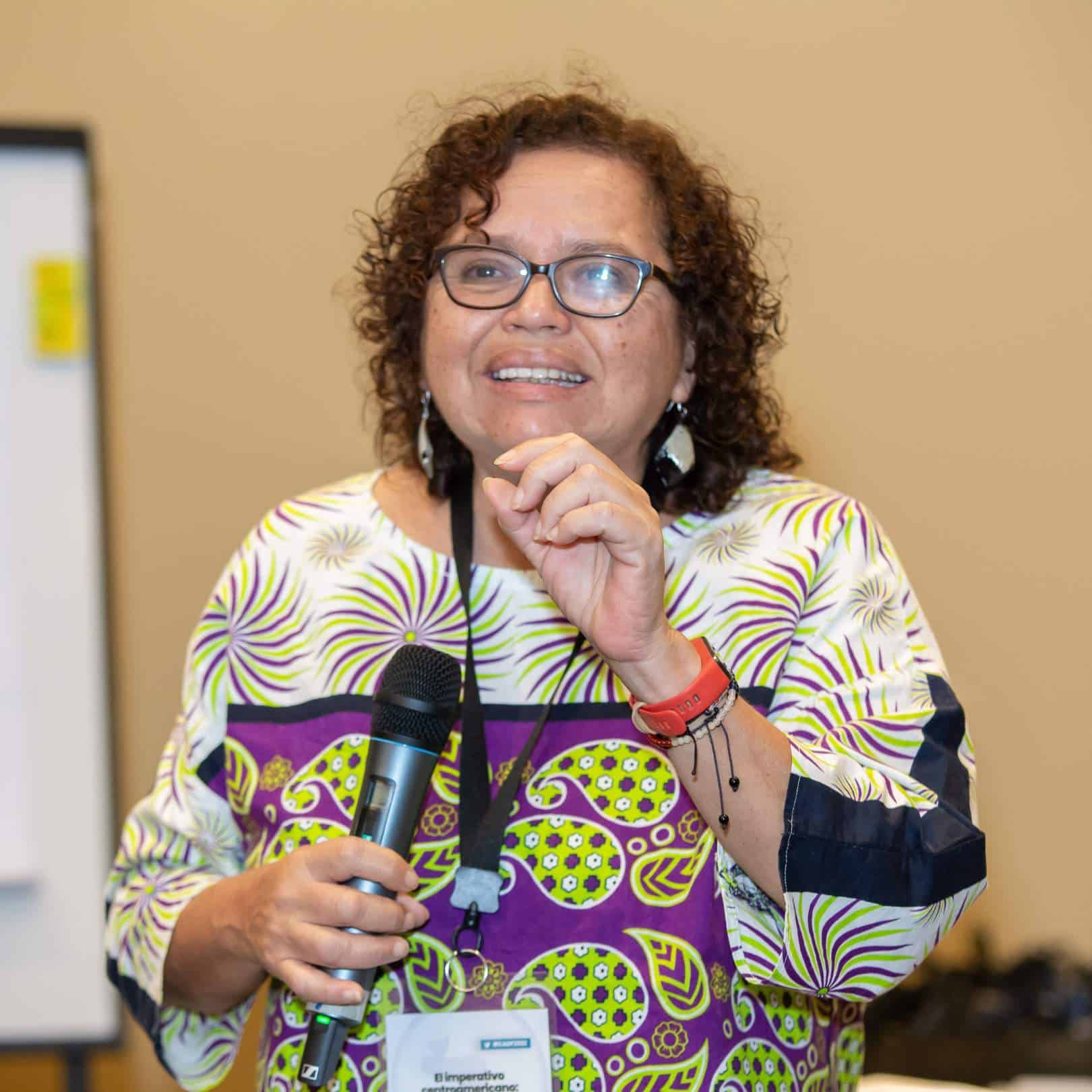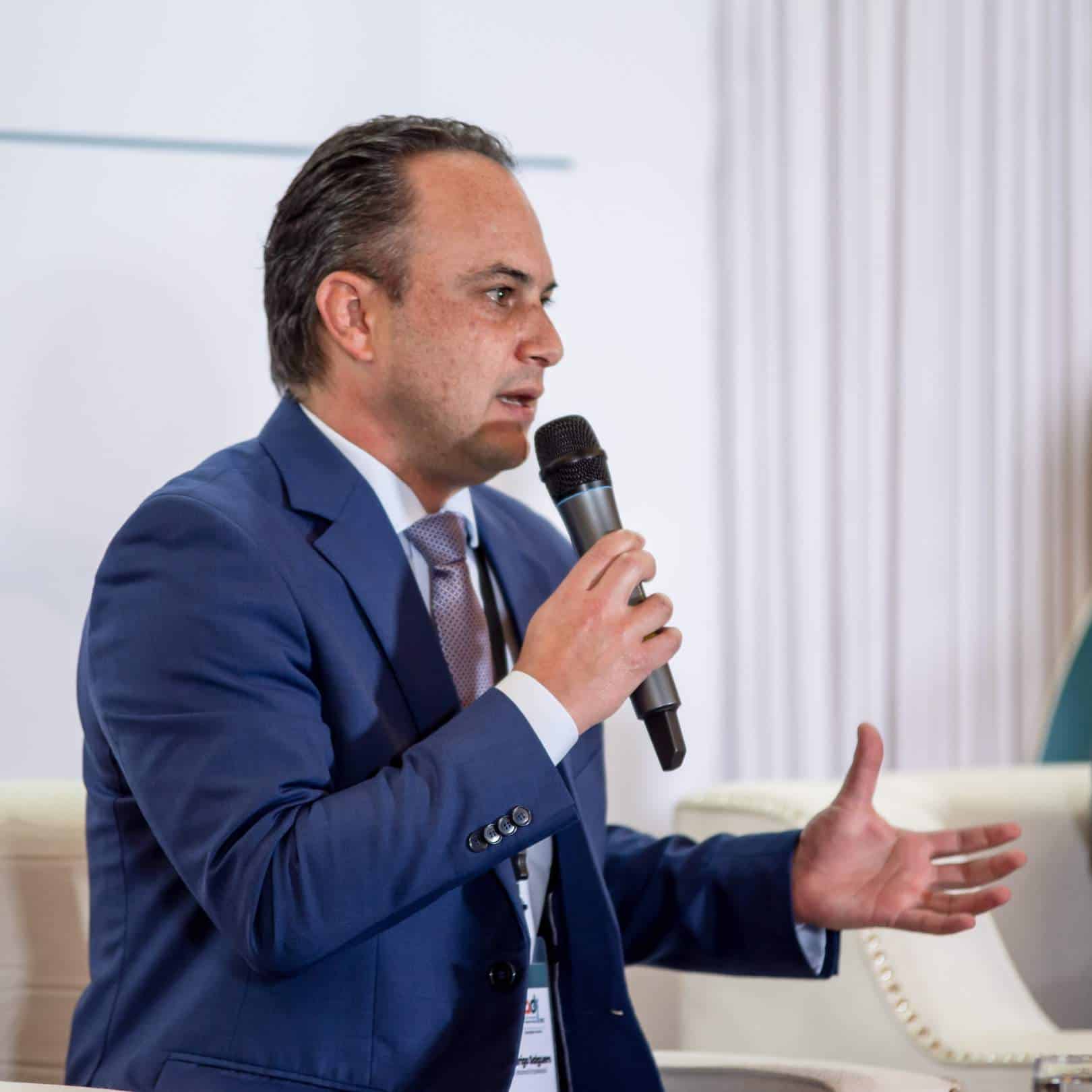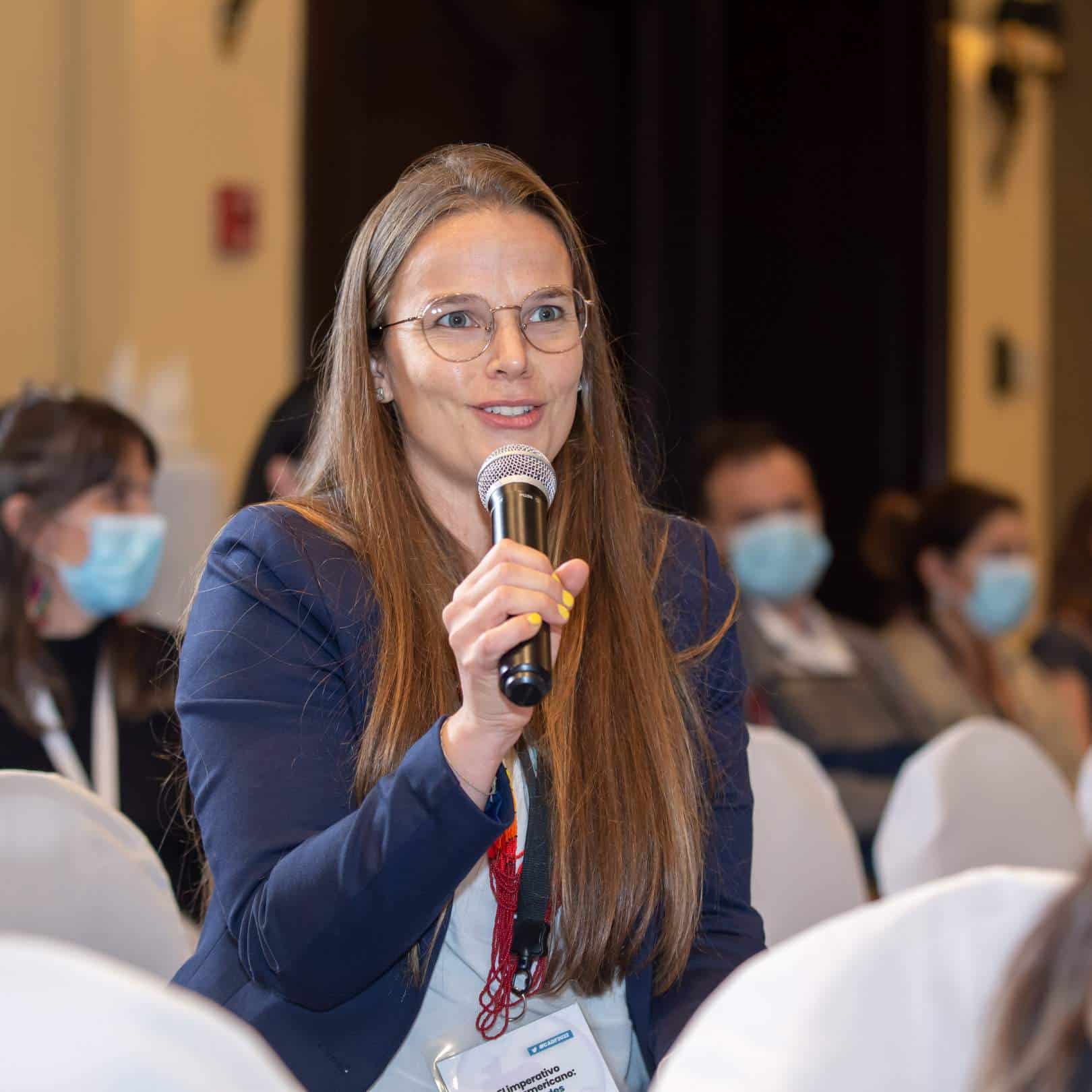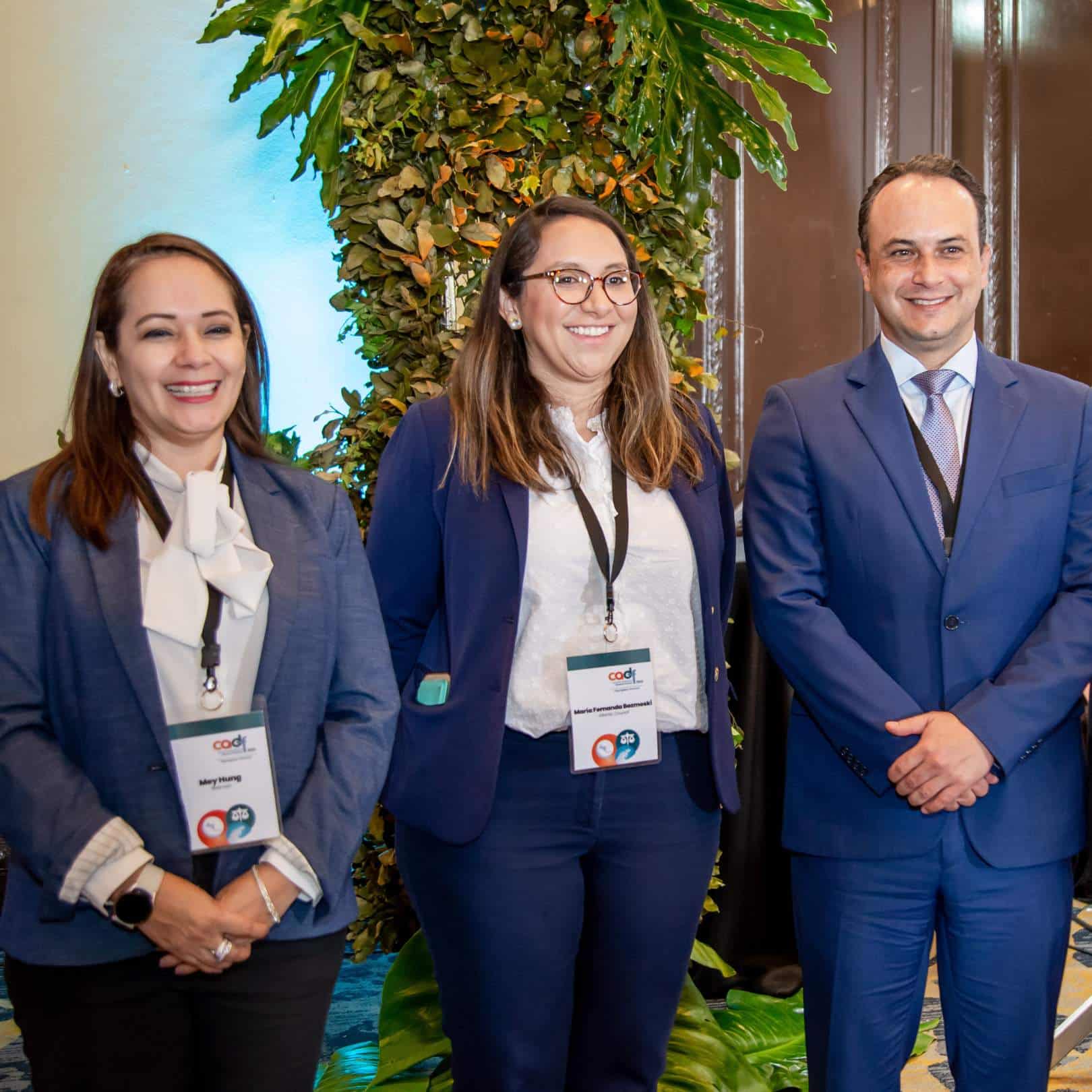 Arts & Culture
Youth in Central America
Why should philanthropy invest in youth social movements in Central America and Mexico? This exhibition, curated by Seattle International Foundation's (SIF) Central America and Mexico Youth Fund (CAMY Fund), responded to this question by inviting CADF attendees to take a visual tour through the contributions and impact of young people organizing social protests, civil resistance and citizen-led movements in the region.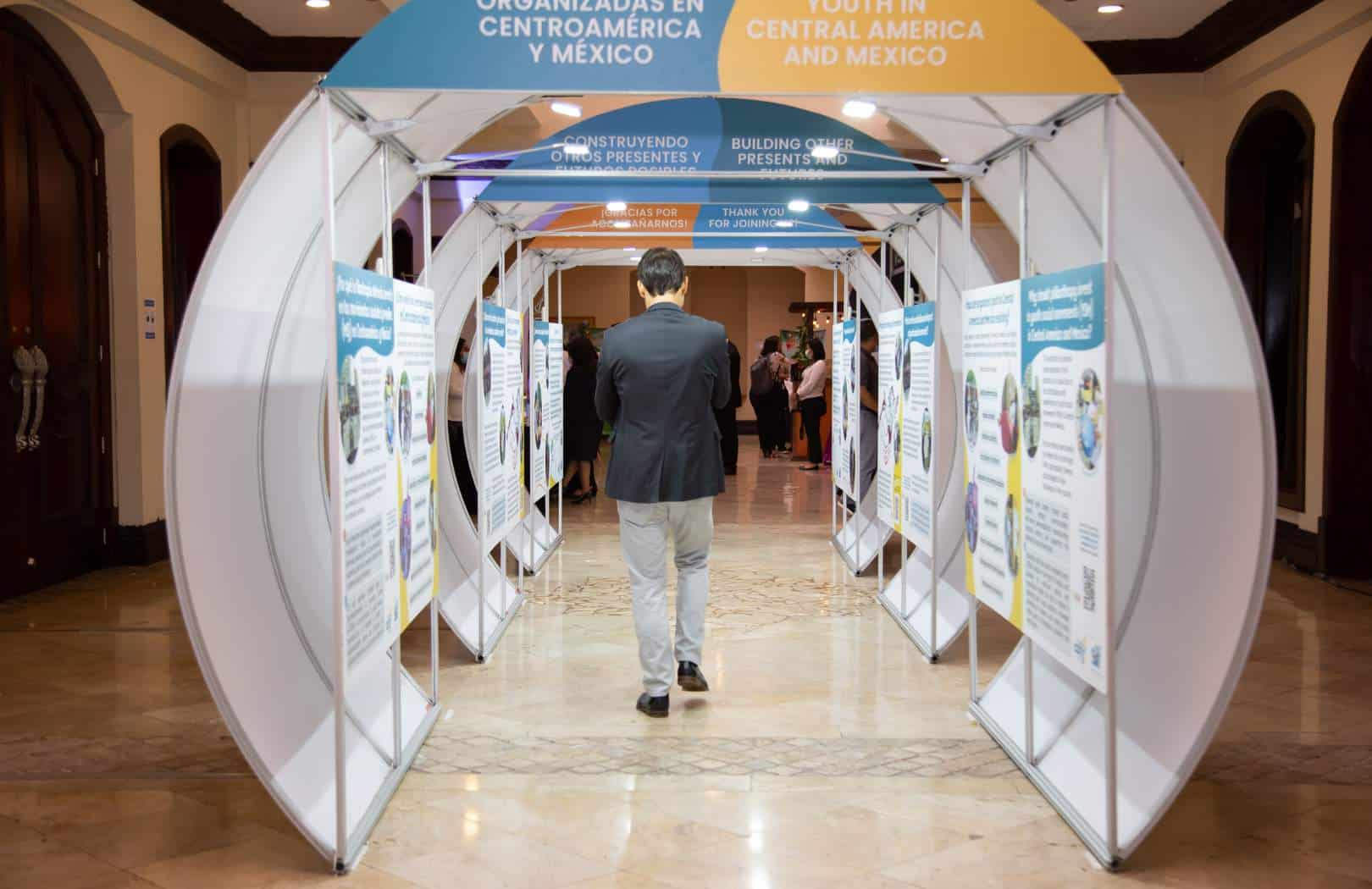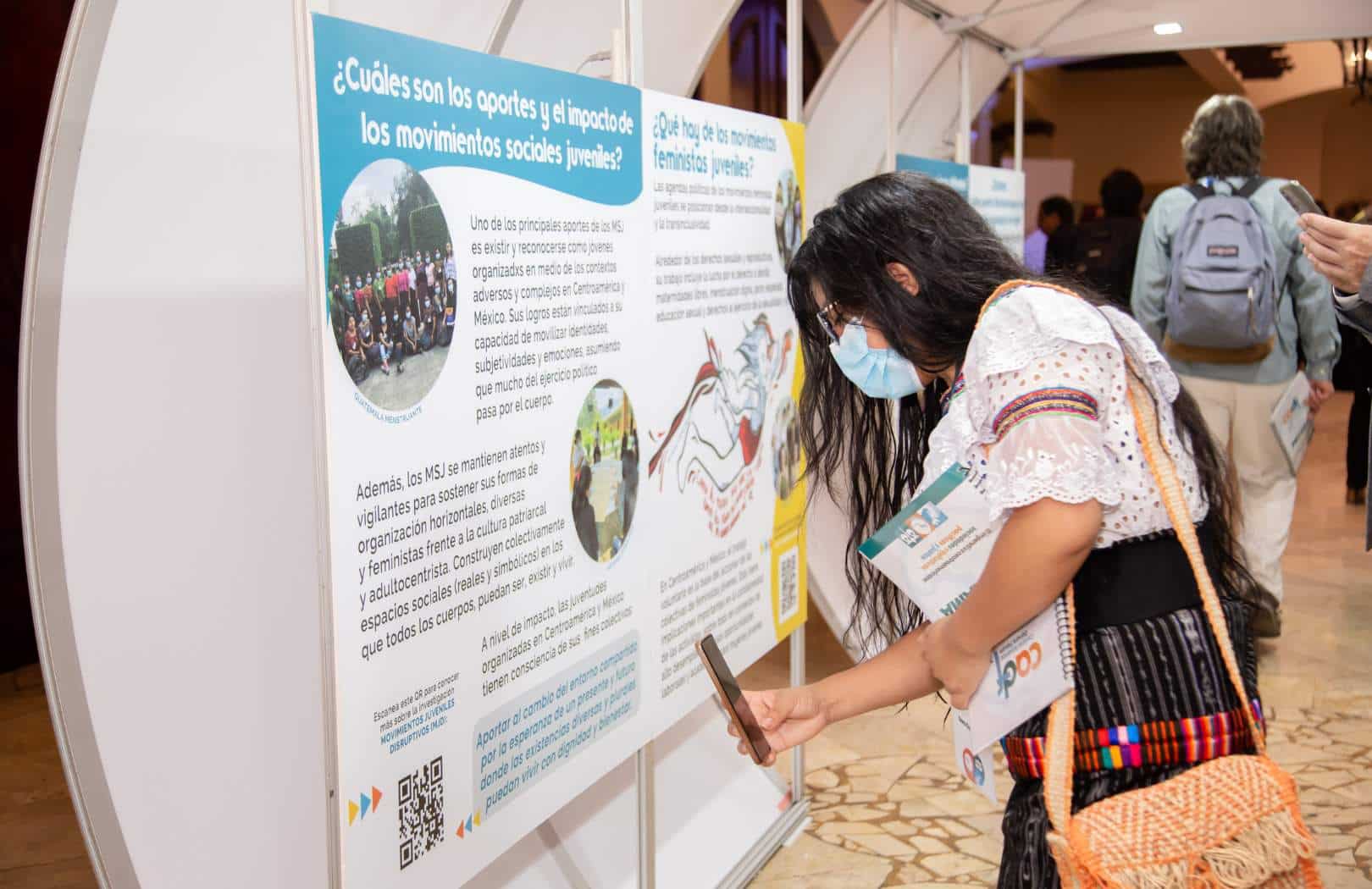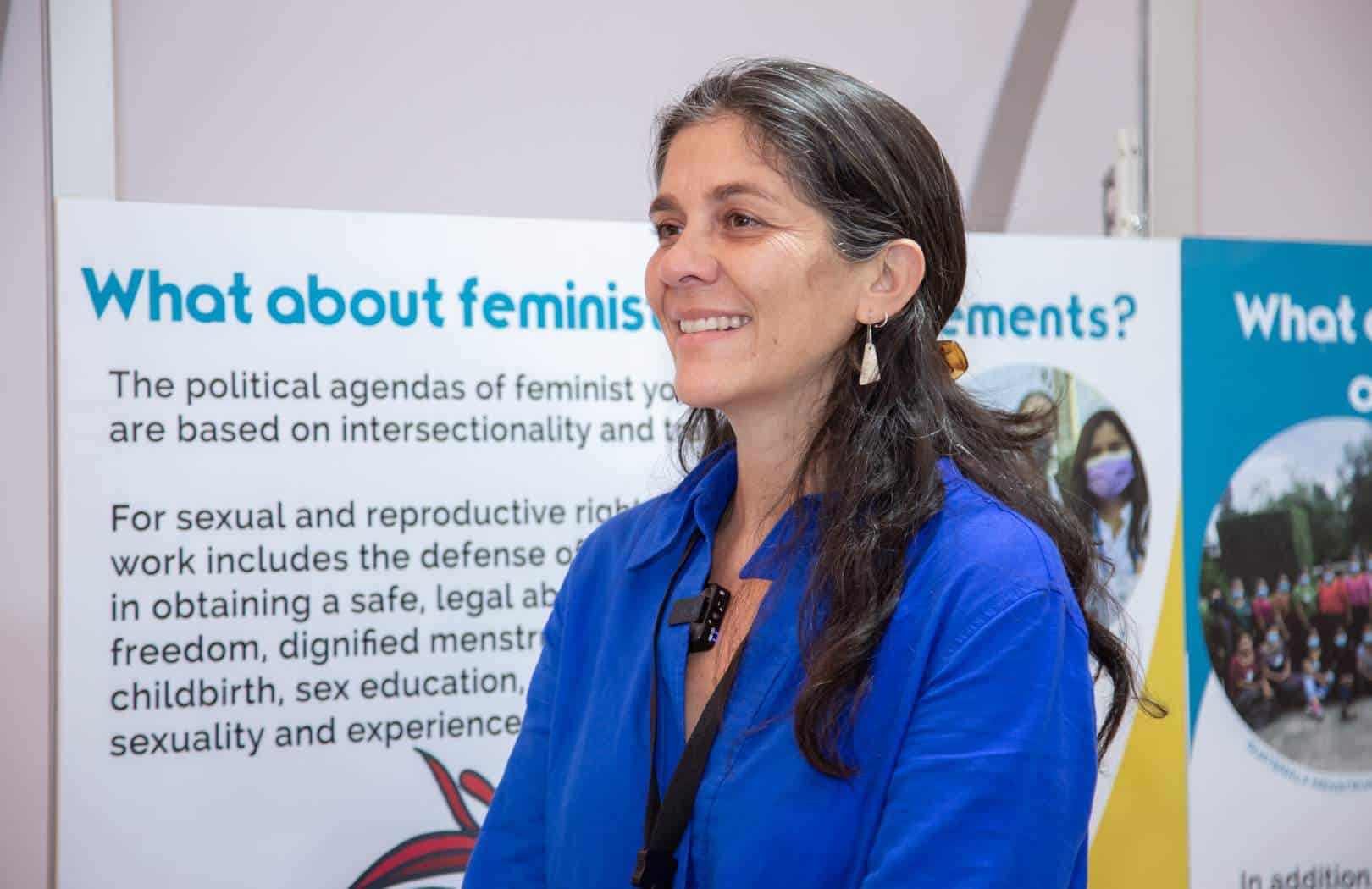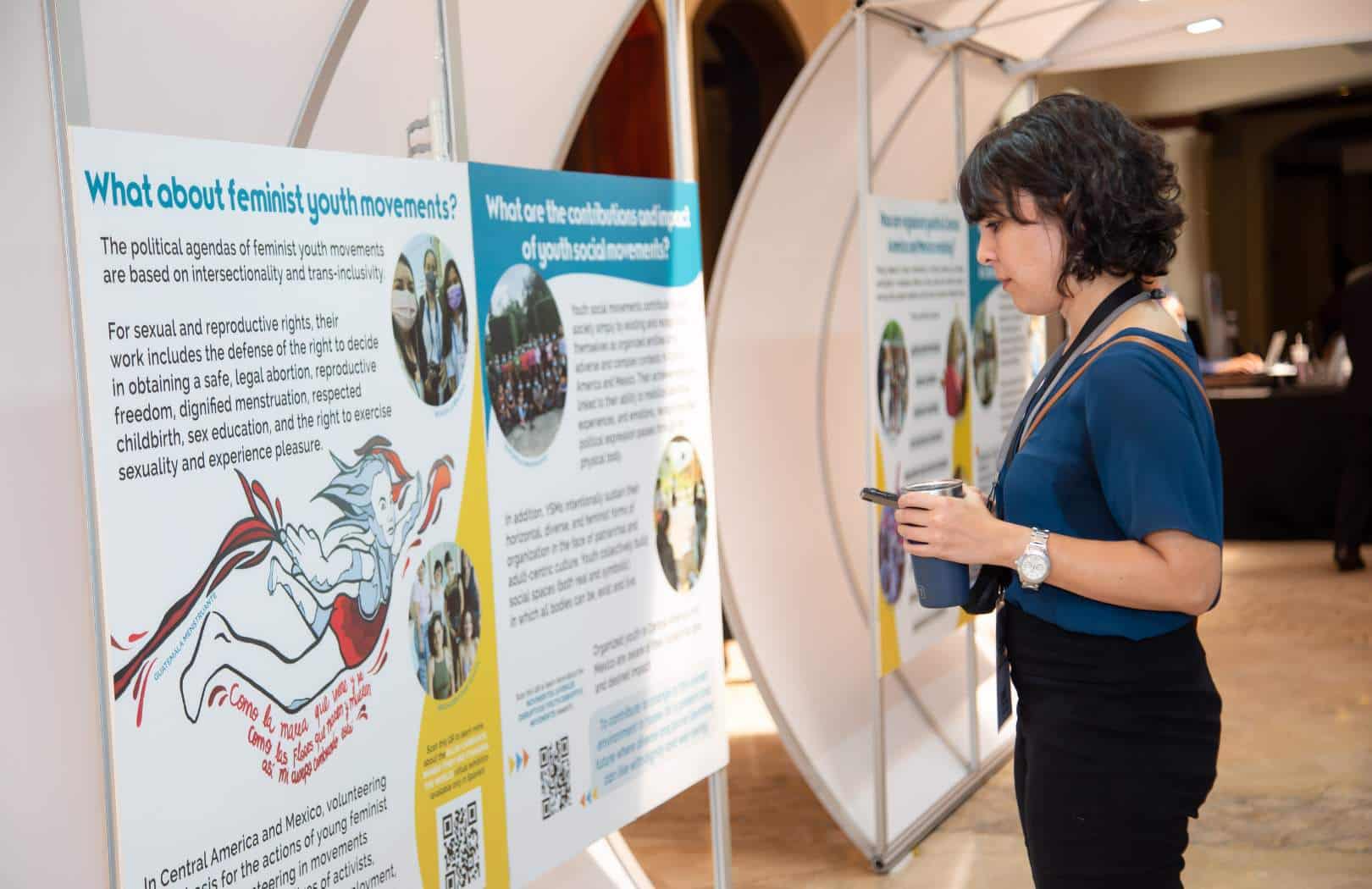 Attendee Feedback
Based on feedback from 105 attendees, CADF remains a useful networking space for leaders in Central America. 100% of surveyed attendees expressed satisfaction with the Forum, while nearly the same amount indicated that they had established useful relationships with individuals and organizations to advance their work.

Forum attendees ranked networking events, panels and workshops as equally valuable.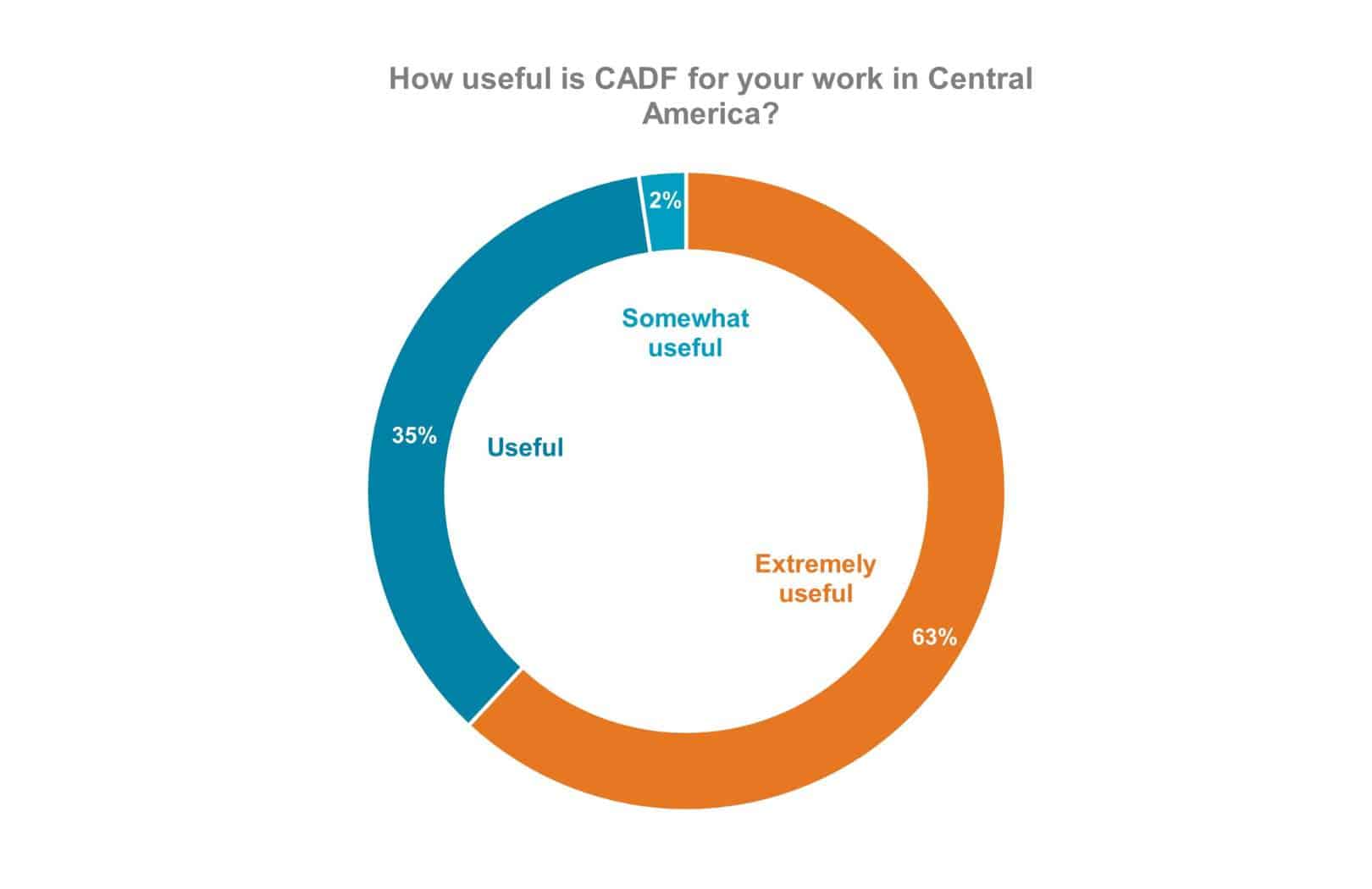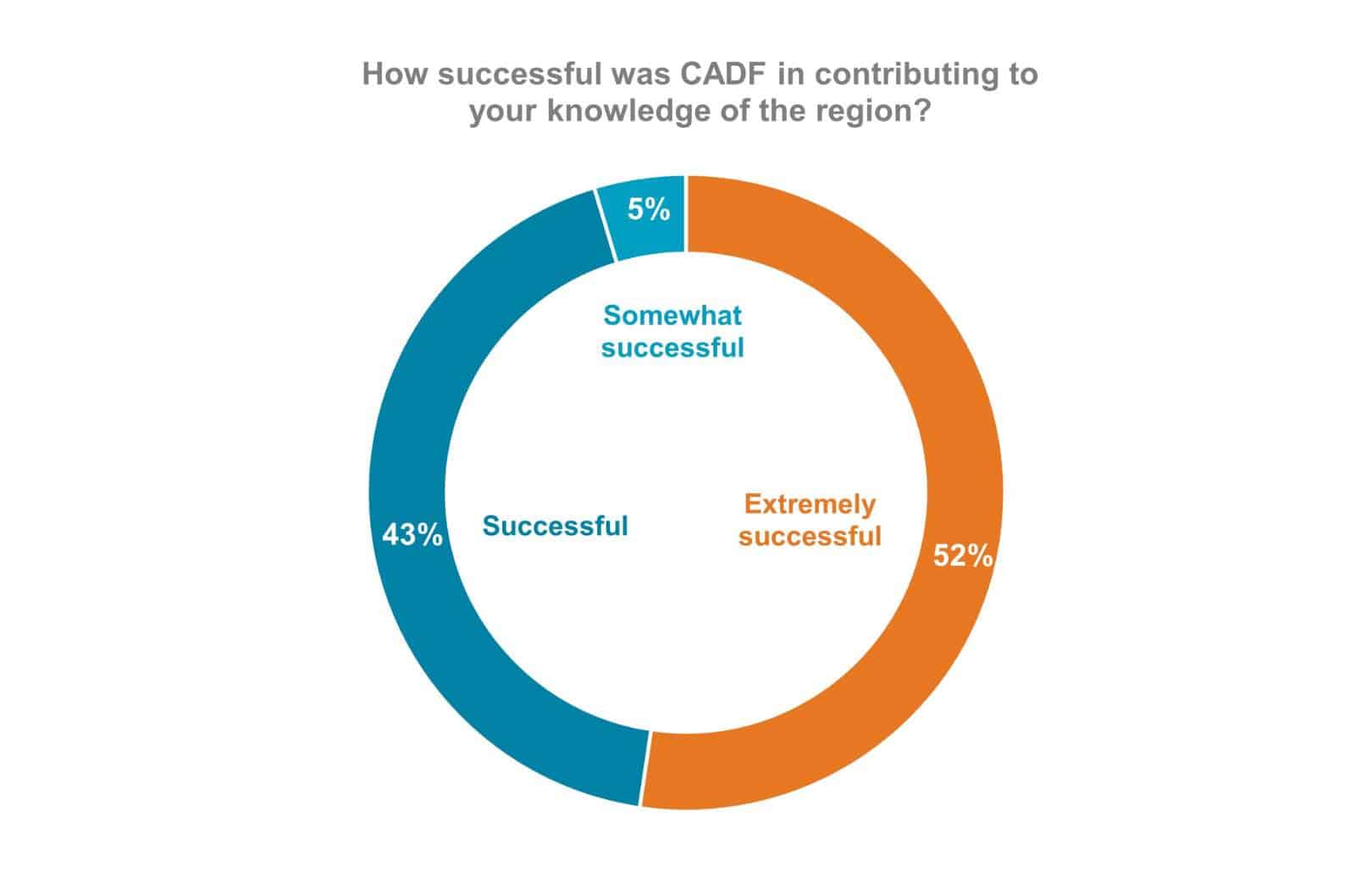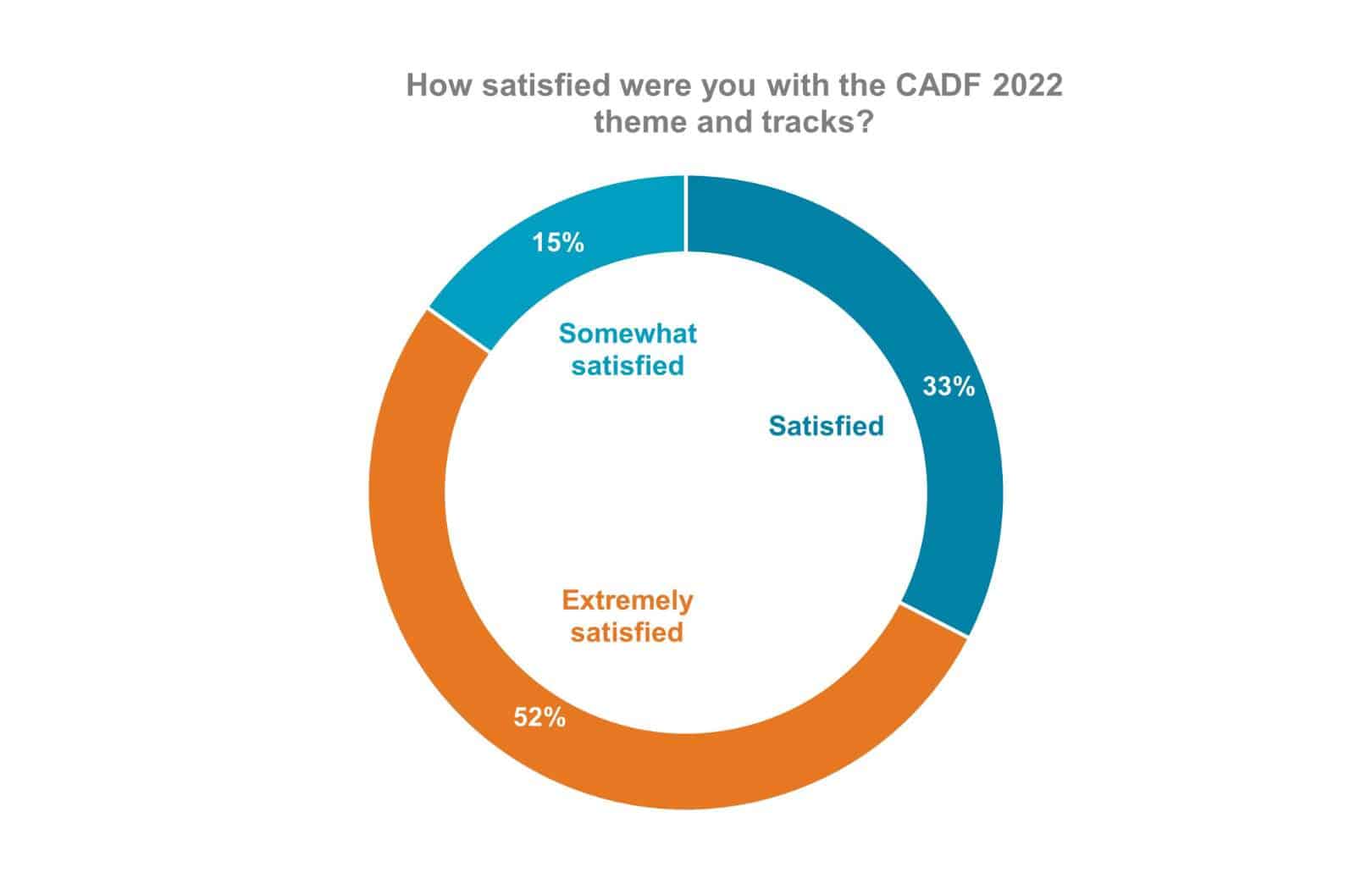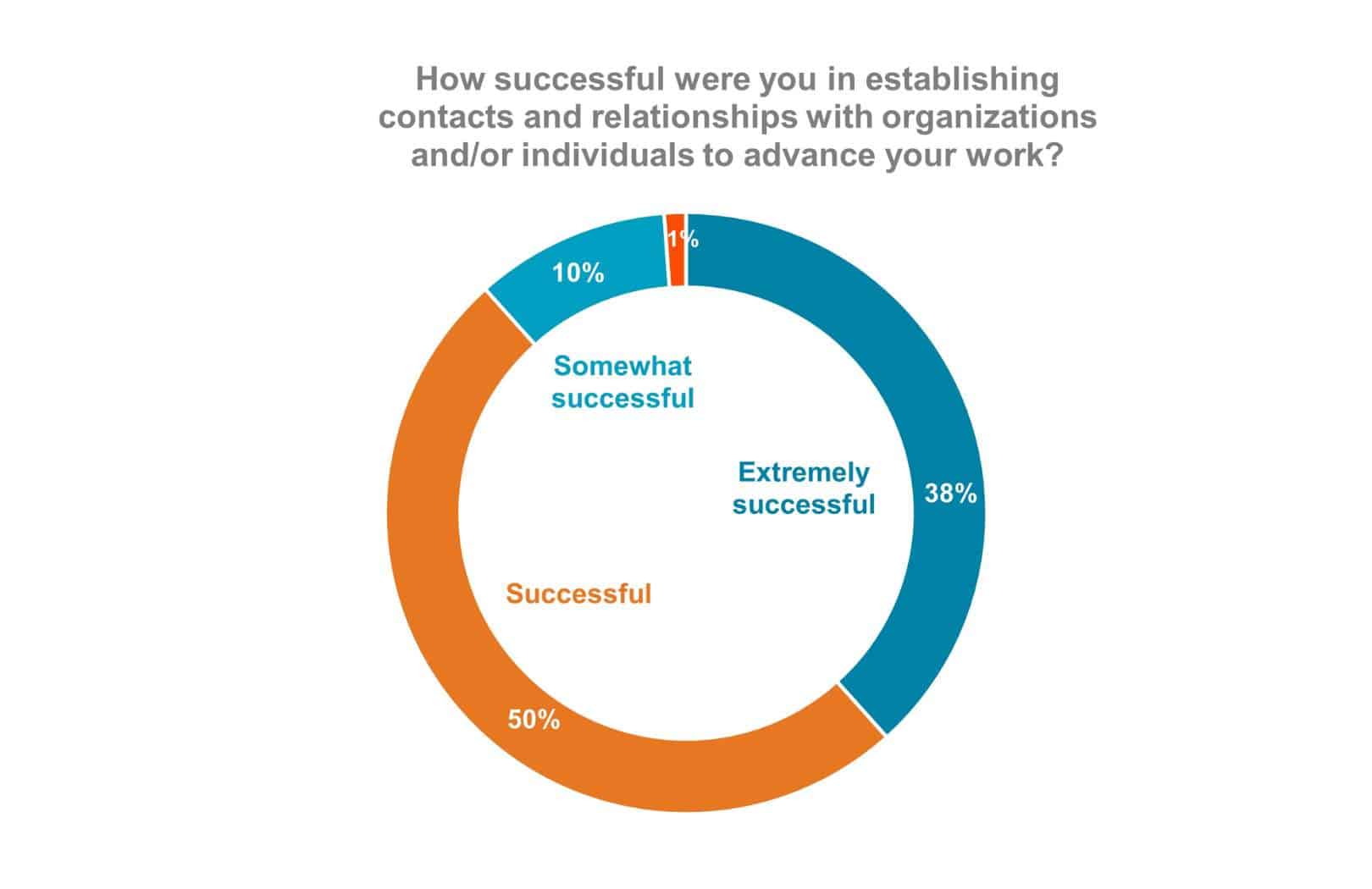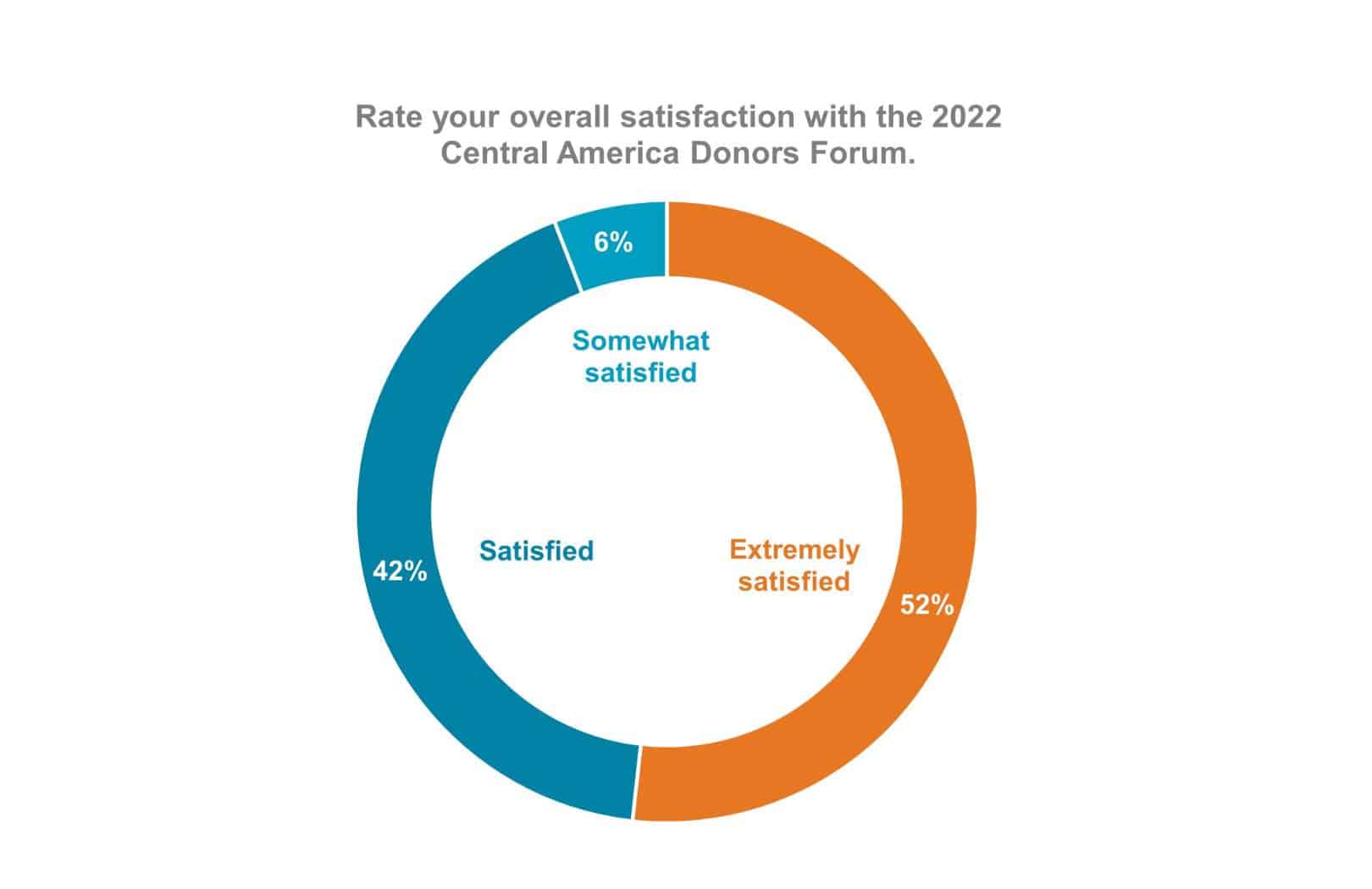 View the full agenda
The CADF 2022 agenda featured more than 50 sessions, including panels, workshops, fireside chats, roundtable discussions, and many networking opportunities. Go beyond the highlights and explore the full agenda.
View full 2022 agenda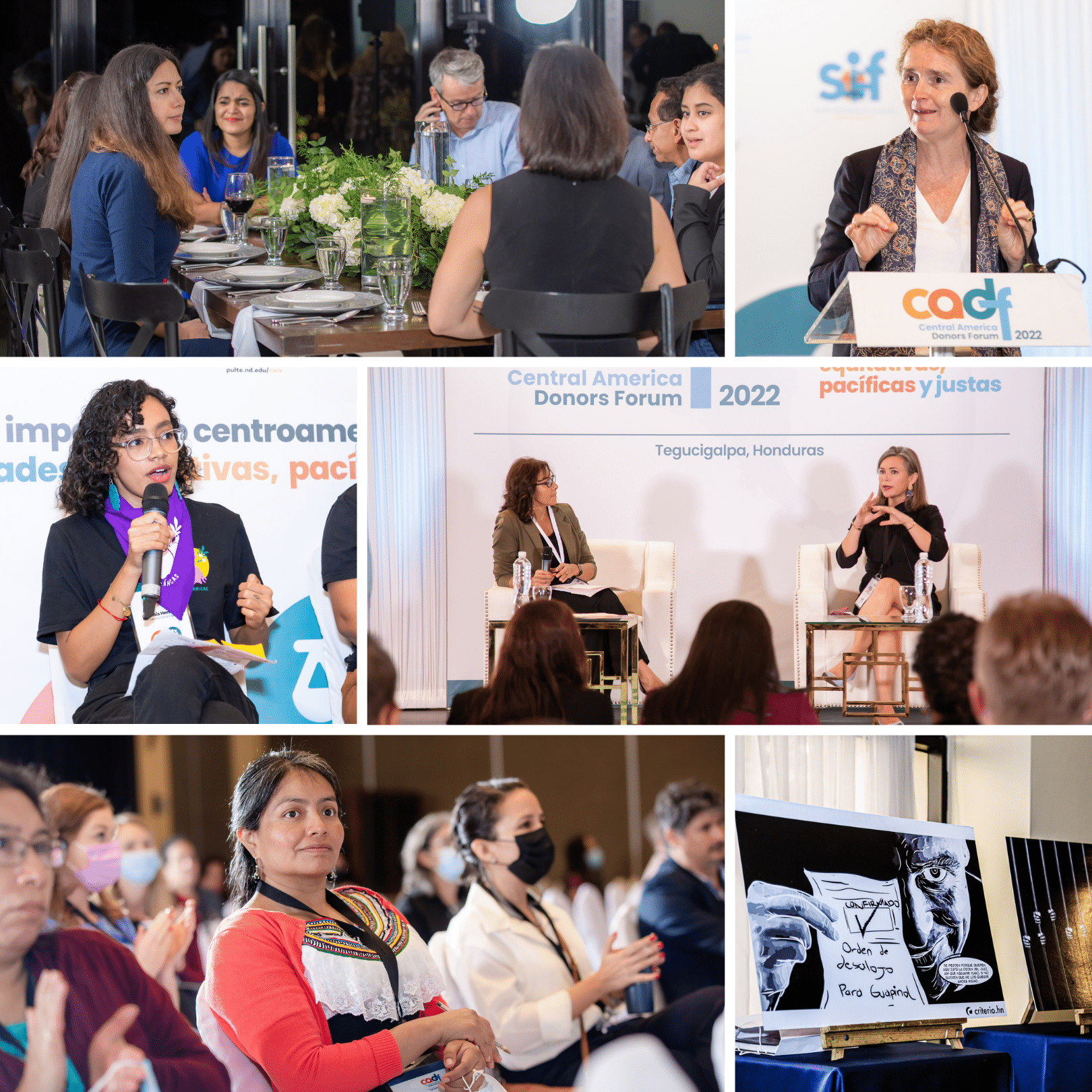 Environment
Nature for Resilient, Comprehensive and Dignified Development
The importance of nature lies in the recognition that, without nature, there is no life. In this session, speakers highlighted how nature is the fundamental basis of community and essential to recouping ancestral knowledge related to health, community, resilience, biodiversity and respect. In Guatemala, the government does not respond to the growing demand for conservation, and there are no laws that regulate the responsible and sustainable use of natural resources, such as water.
Speakers claimed environmental education, political training, social organization and research must be implemented to influence public policies that benefit both communities and nature, while also unifying efforts. The government is responsible for protecting ecosystems, but in Central America, civil society organizations are primarily protecting and conserving our oceans. Innovative research on climate change should guide future policy and development.
Quotes
"Nature does not need us, we need it. This is why environmental education is important."
Elisa Areano
"The diversity of livelihoods is an important element in facing climate change.  To achieve this, we need quality education and social organization that teaches the sustainable use of nature[…] Maintaining and defending nature is important to mitigate the impacts of climate change, and collaboration in doing so is indispensable."
Miriam Monterroso
"In Guatemala, at the local level, there are not enough resources to mitigate environmental issues. This is due to the government not responding to the needs of communities, or responding weakly. Donors must invest in local organization that create alliances for the protection of nature."
Alex Guerra
Speakers
Sonia Solís, Luis von Ahn Foundation
Alex Guerra, Private Institute for Climate Change Research of Guatemala
Elisa Areano, Blue World Foundation
Javier Márquez, Defensores de la Naturaleza of Guatemala
Miriam Monterroso, Rescue and Conservation of Wildlife Association (ARCAS)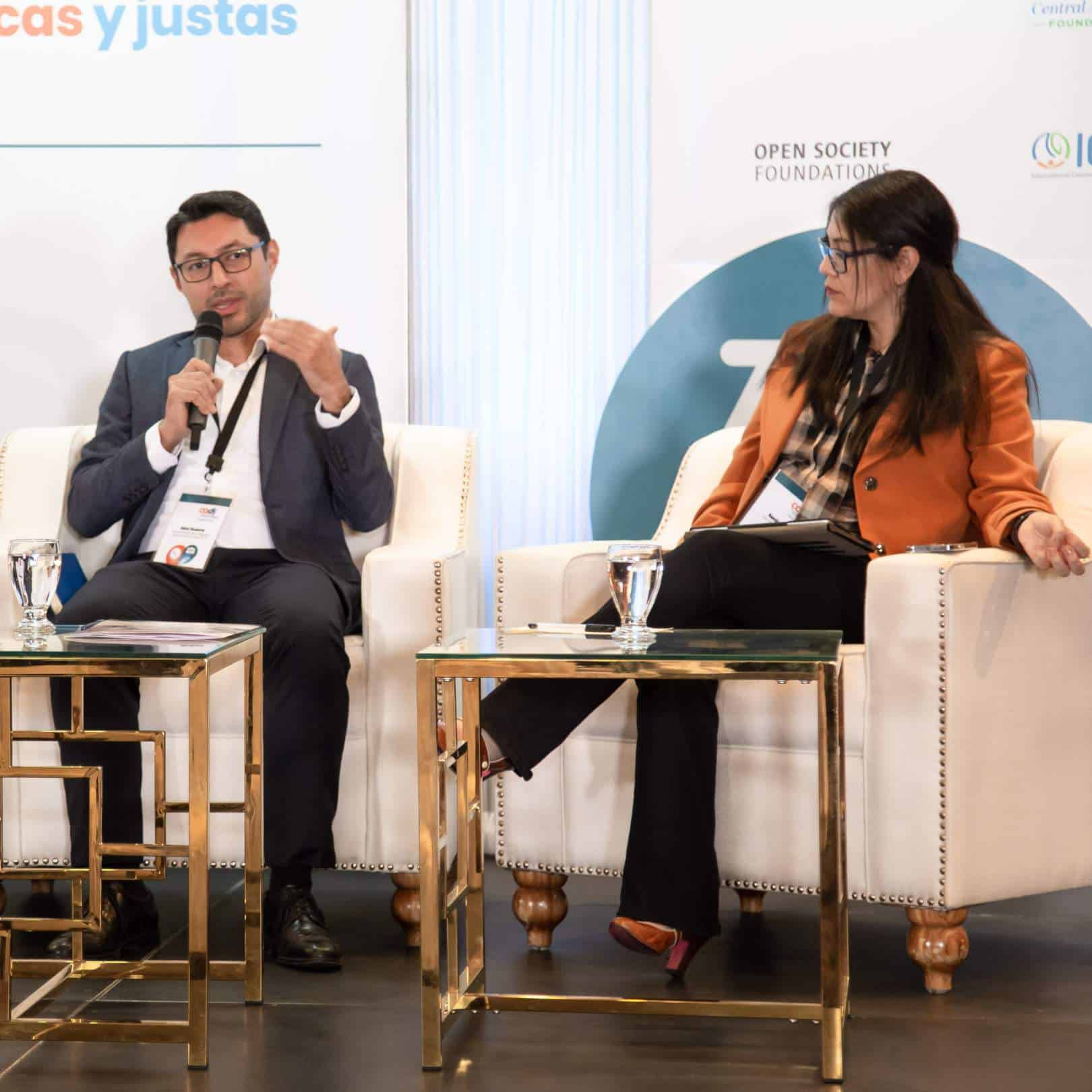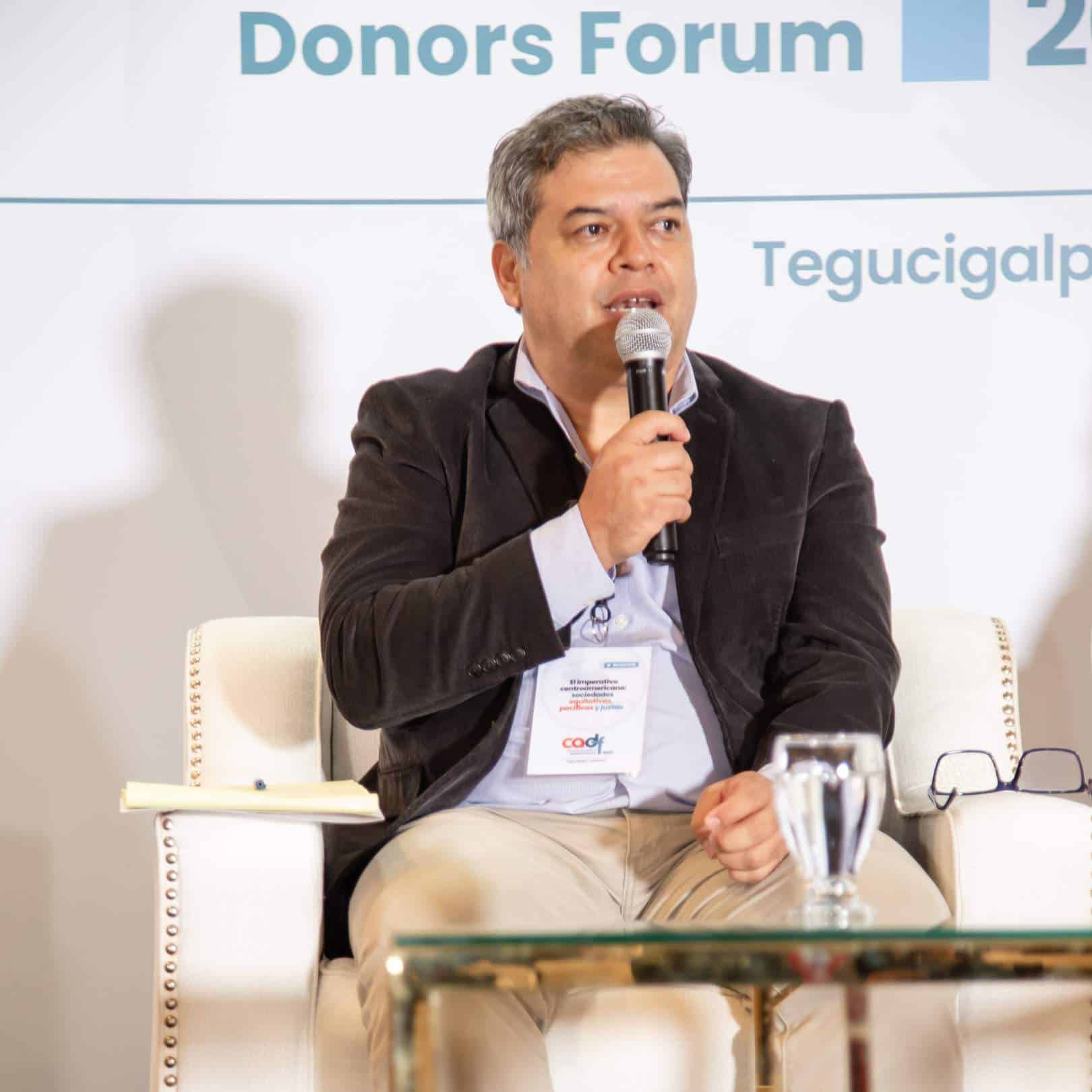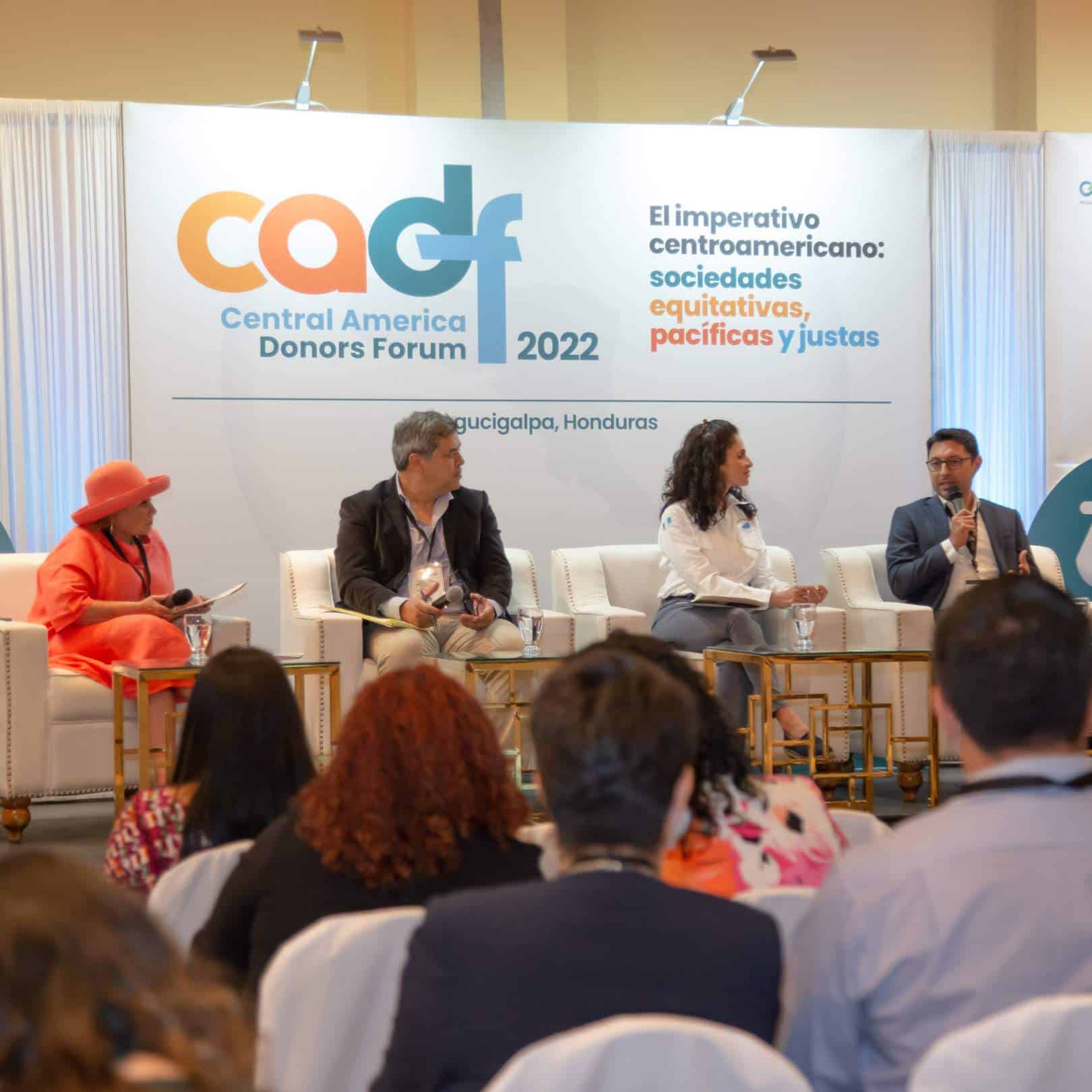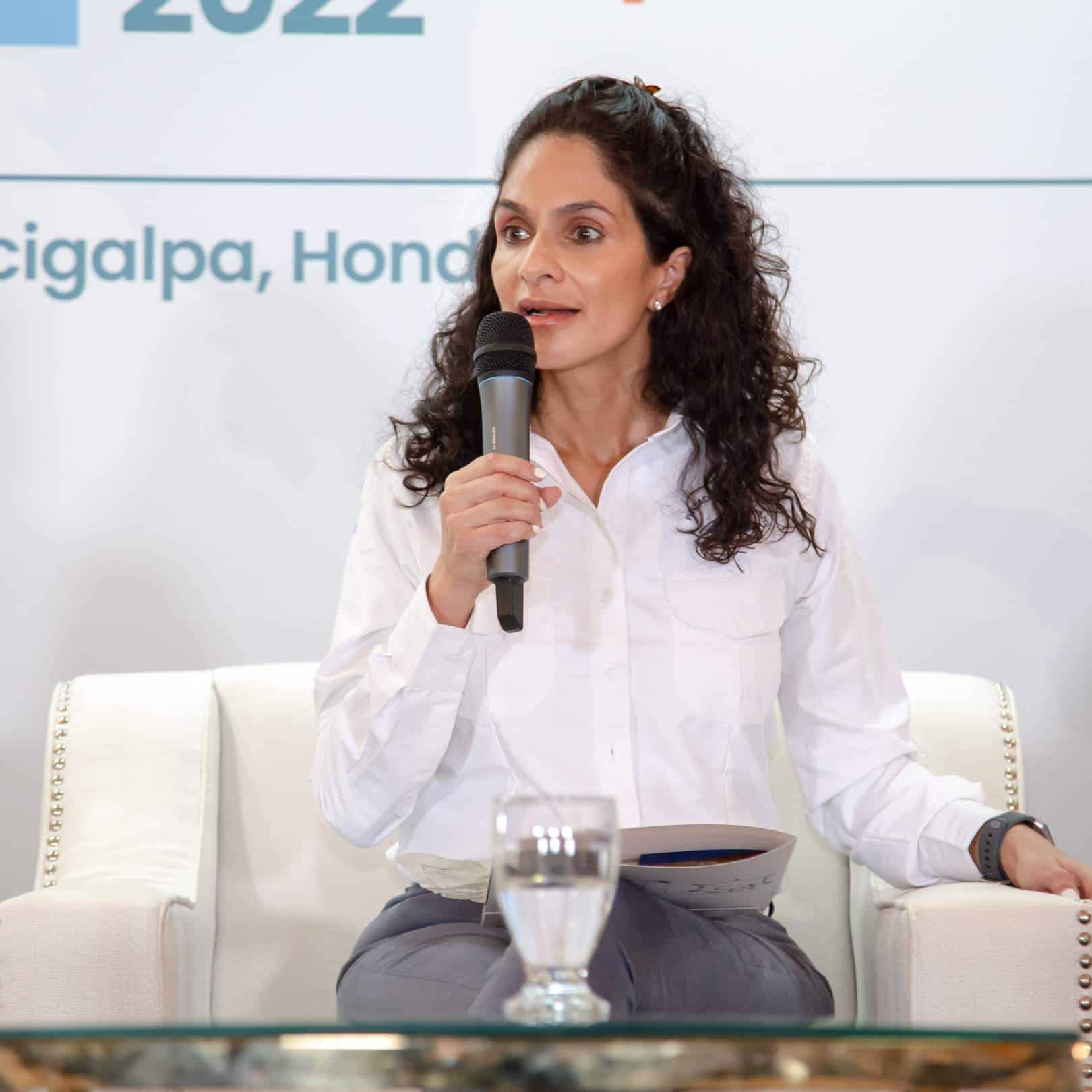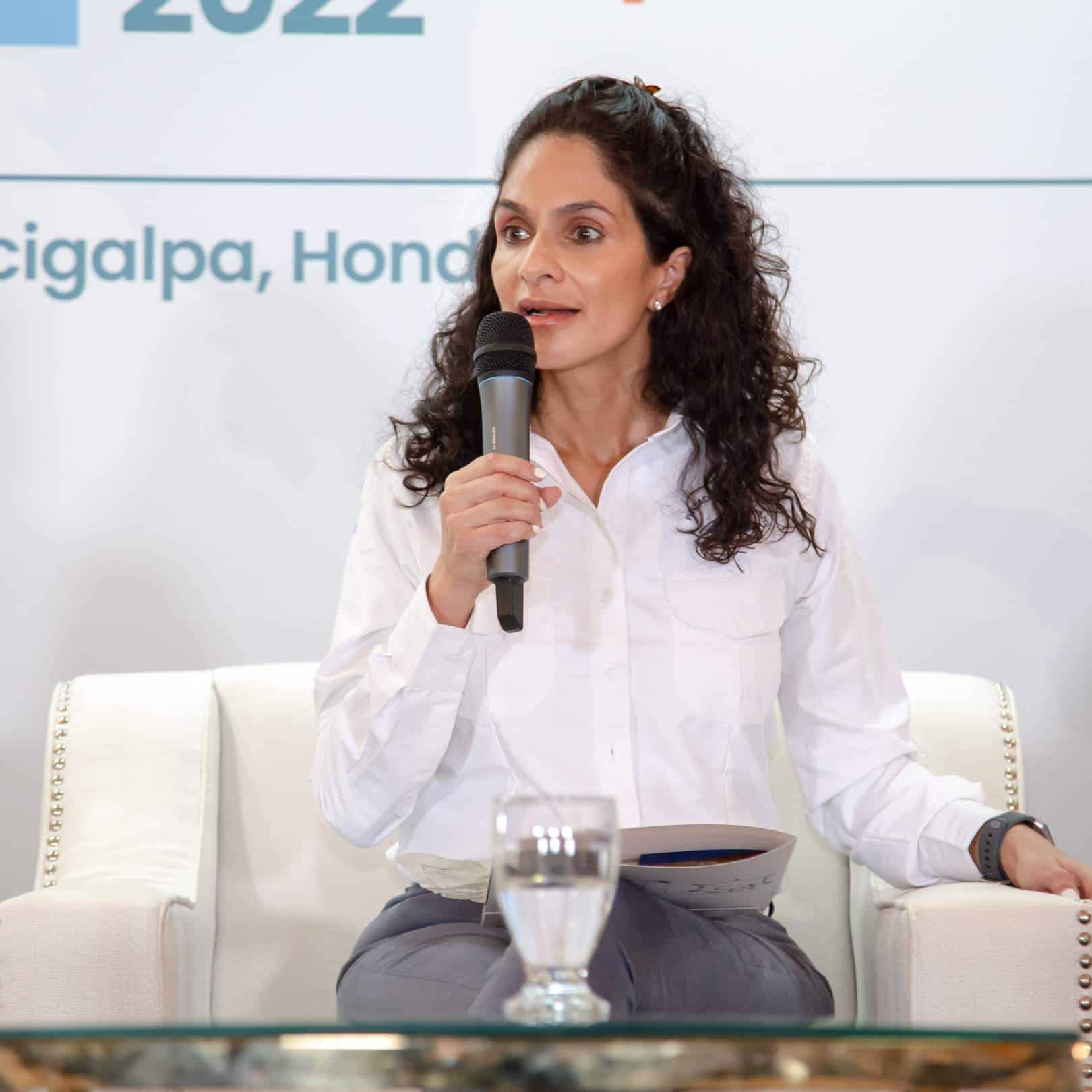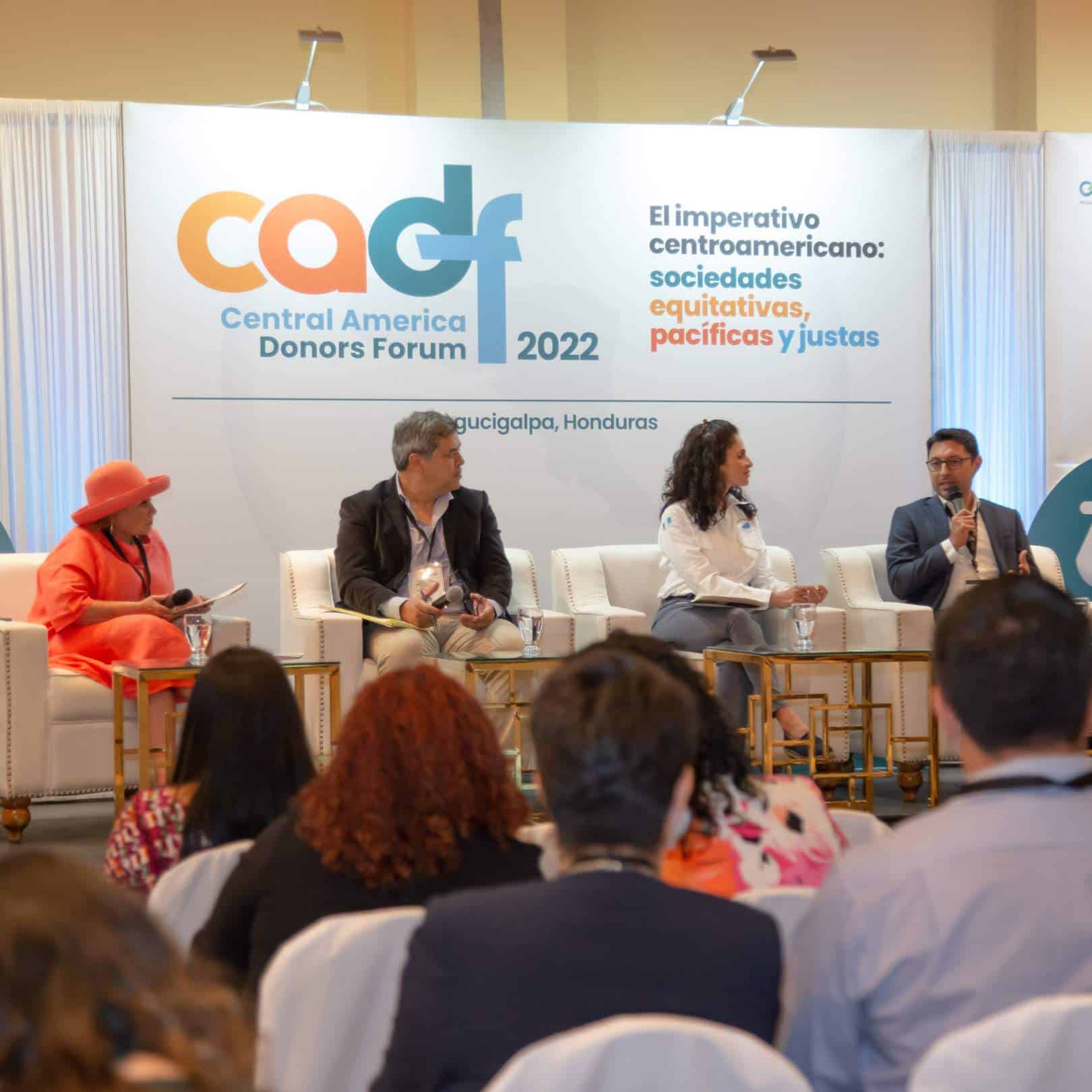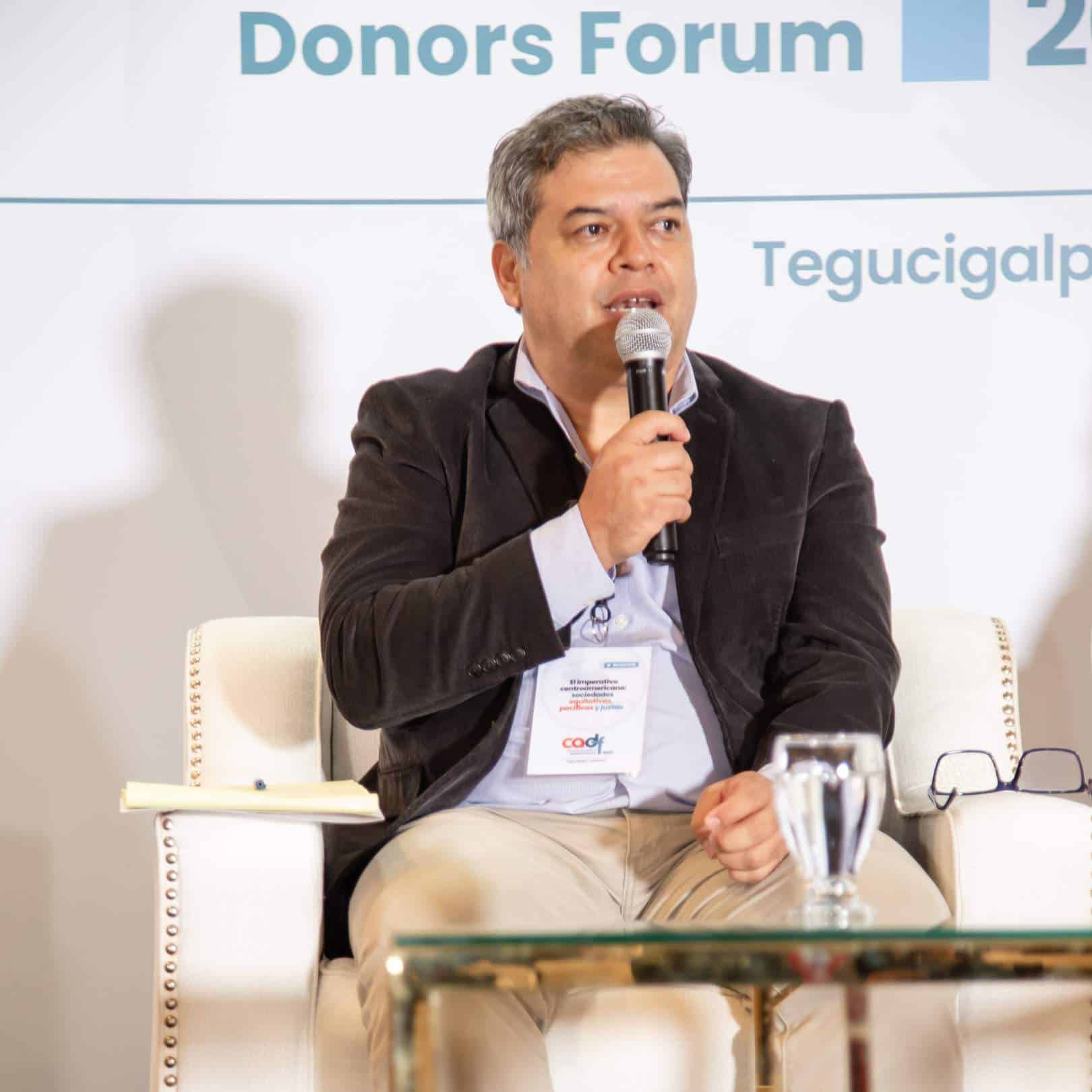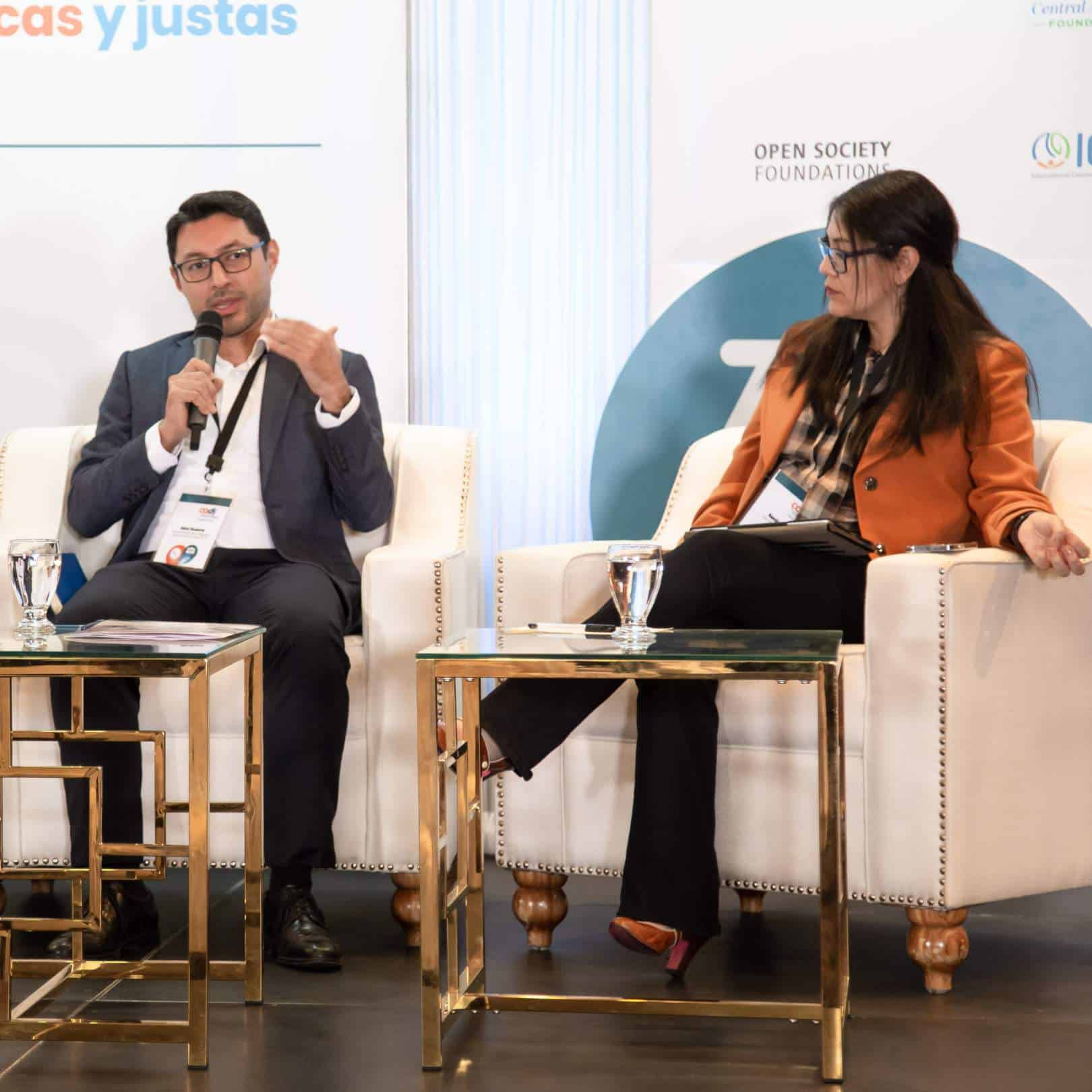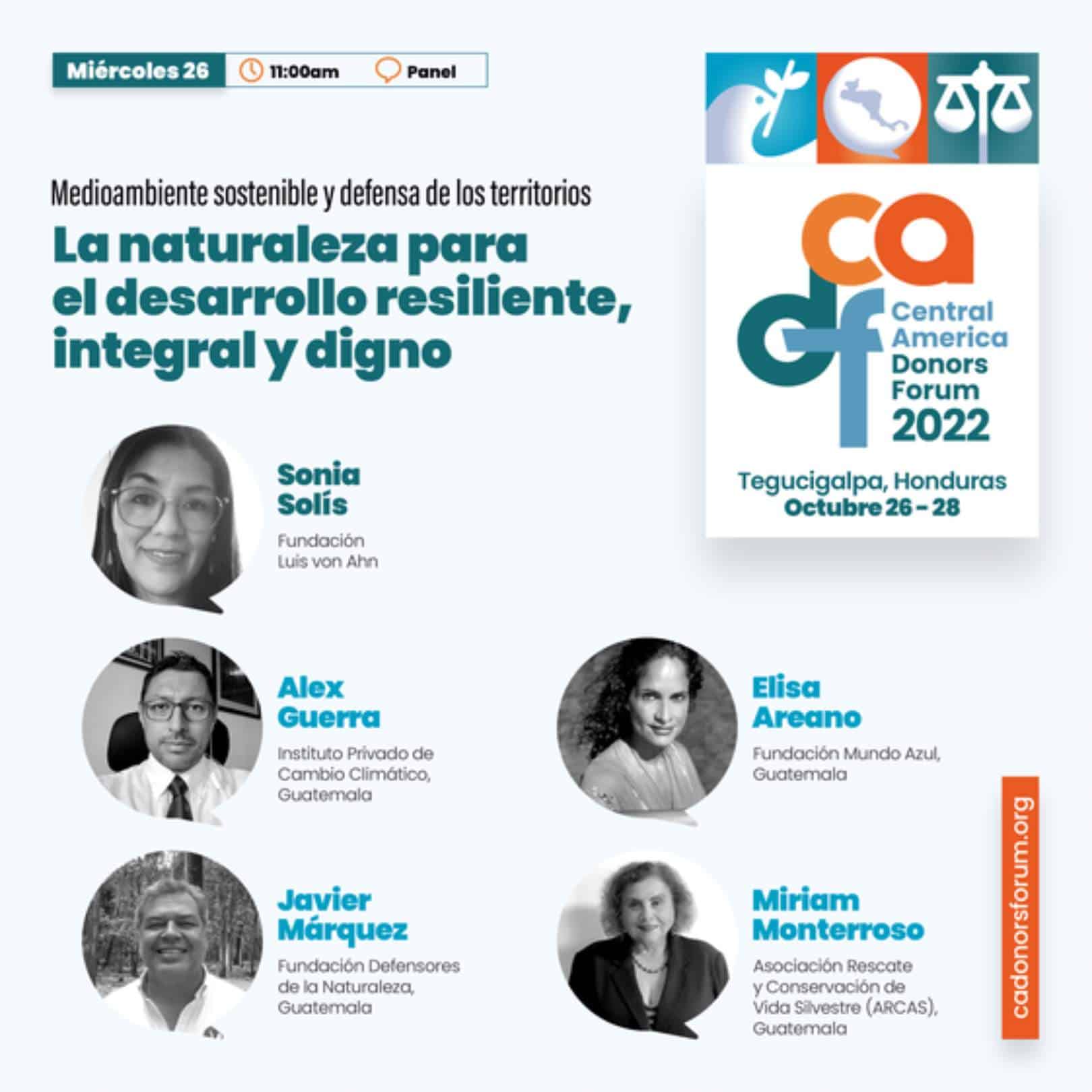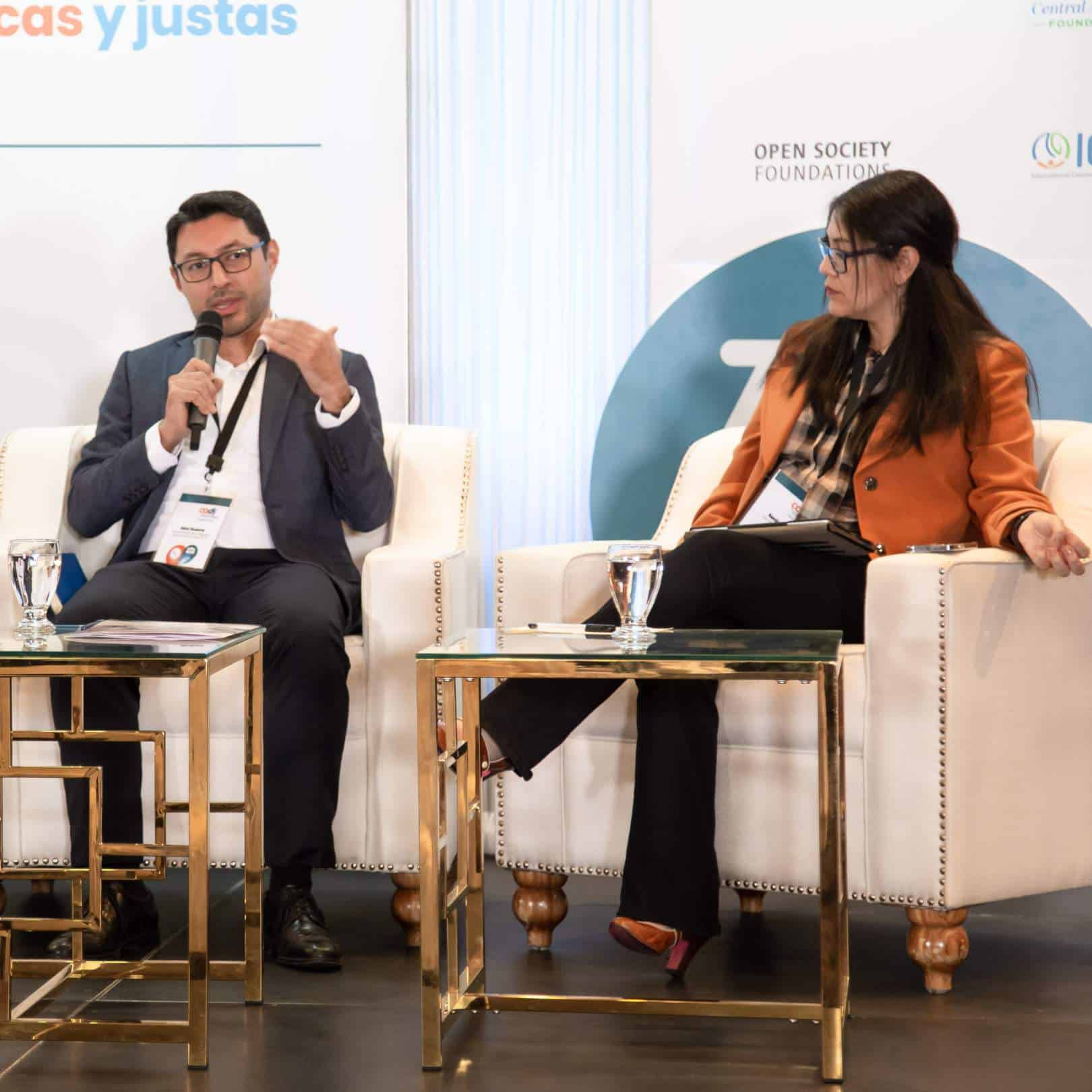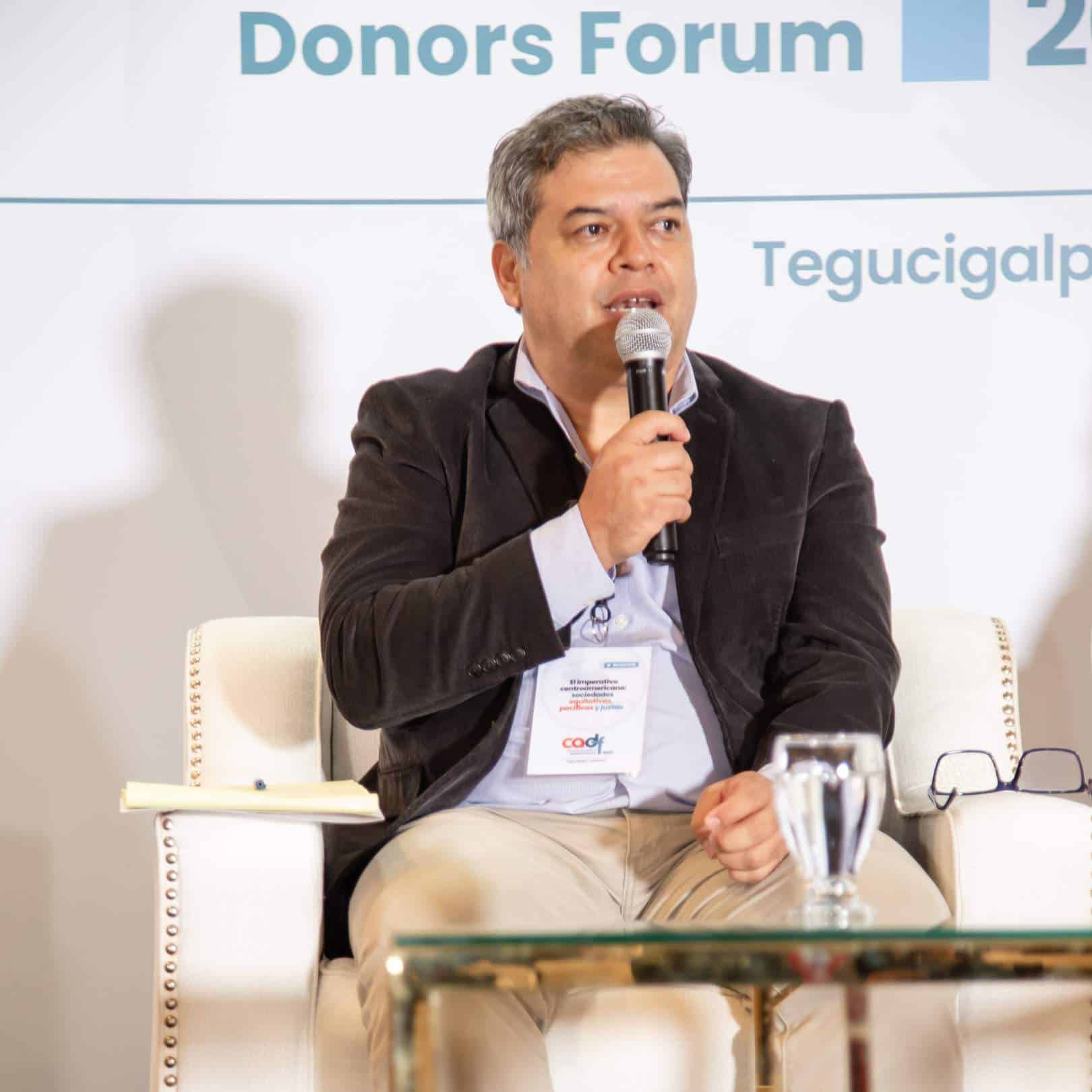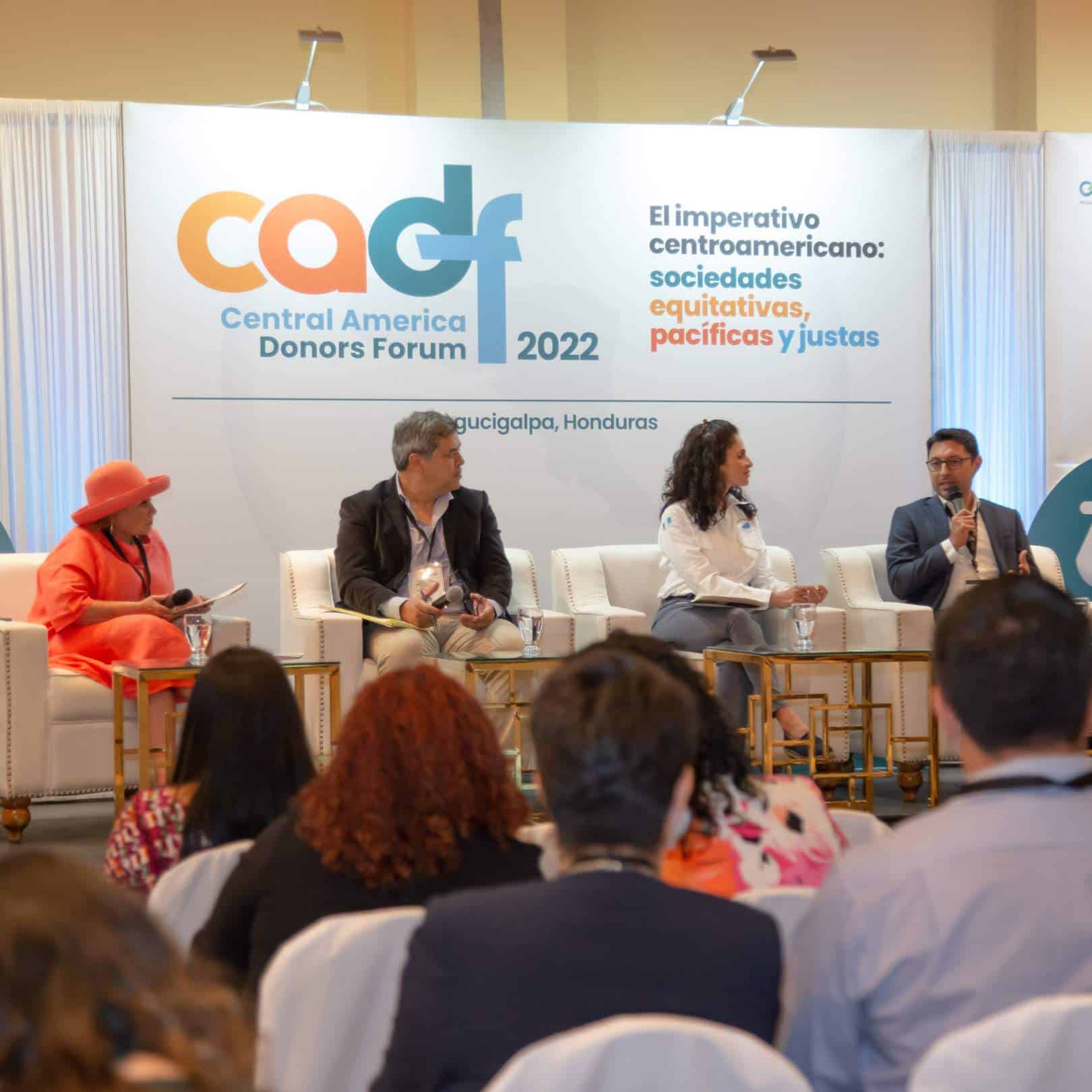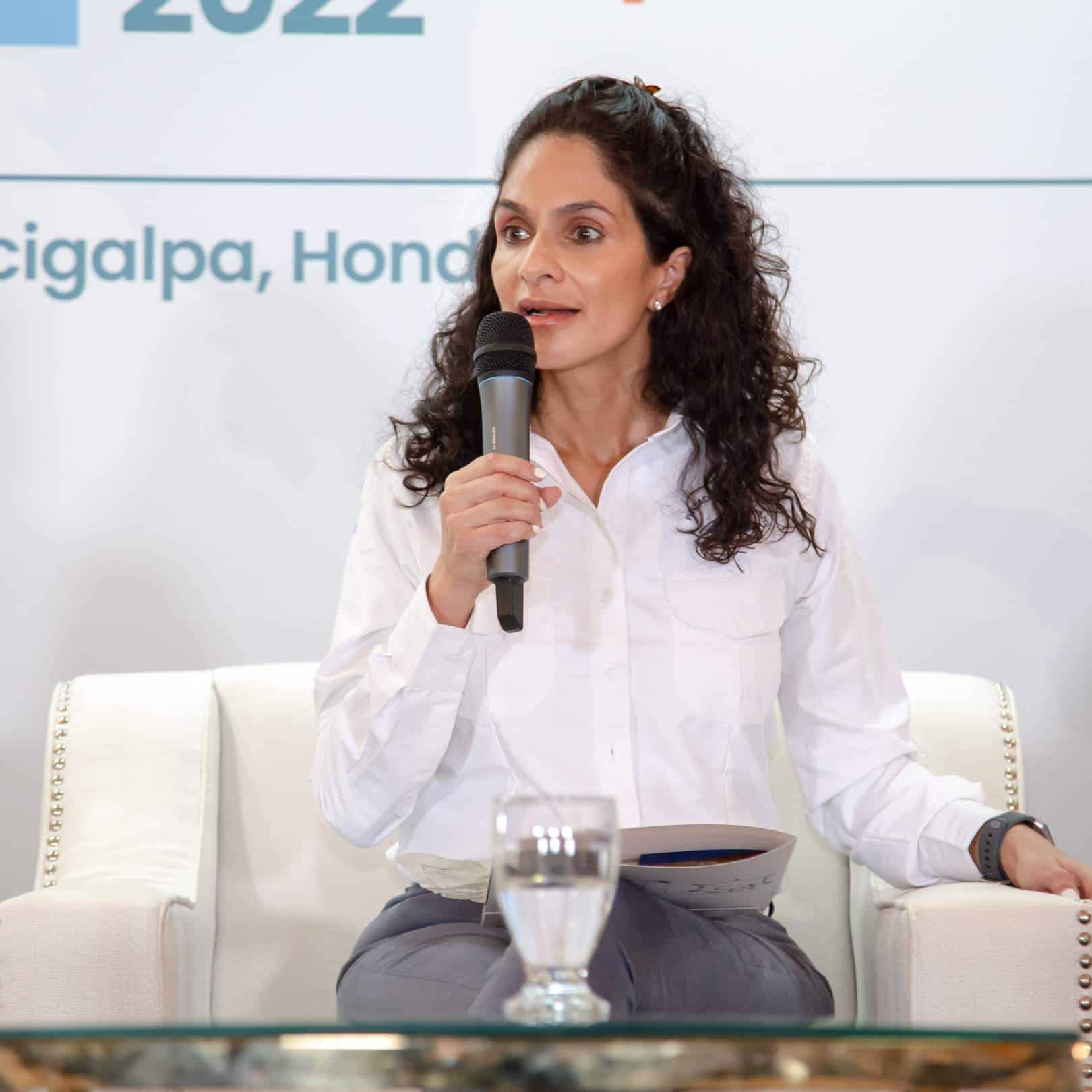 Fireside Chat Highlight
A Conversation with Rodolfo Pastor and Arturo Aguilar
Honduran Secretary of the Presidency, Rodolfo Pastor de María y Campos, discussed a number of critical challenges faced by the Honduran government. Alongside Arturo Aguilar, Director for Central America at the Rockefeller Brothers Fund, these speakers analyzed efforts to combat corruption and impunity and strengthen democracy in Honduras.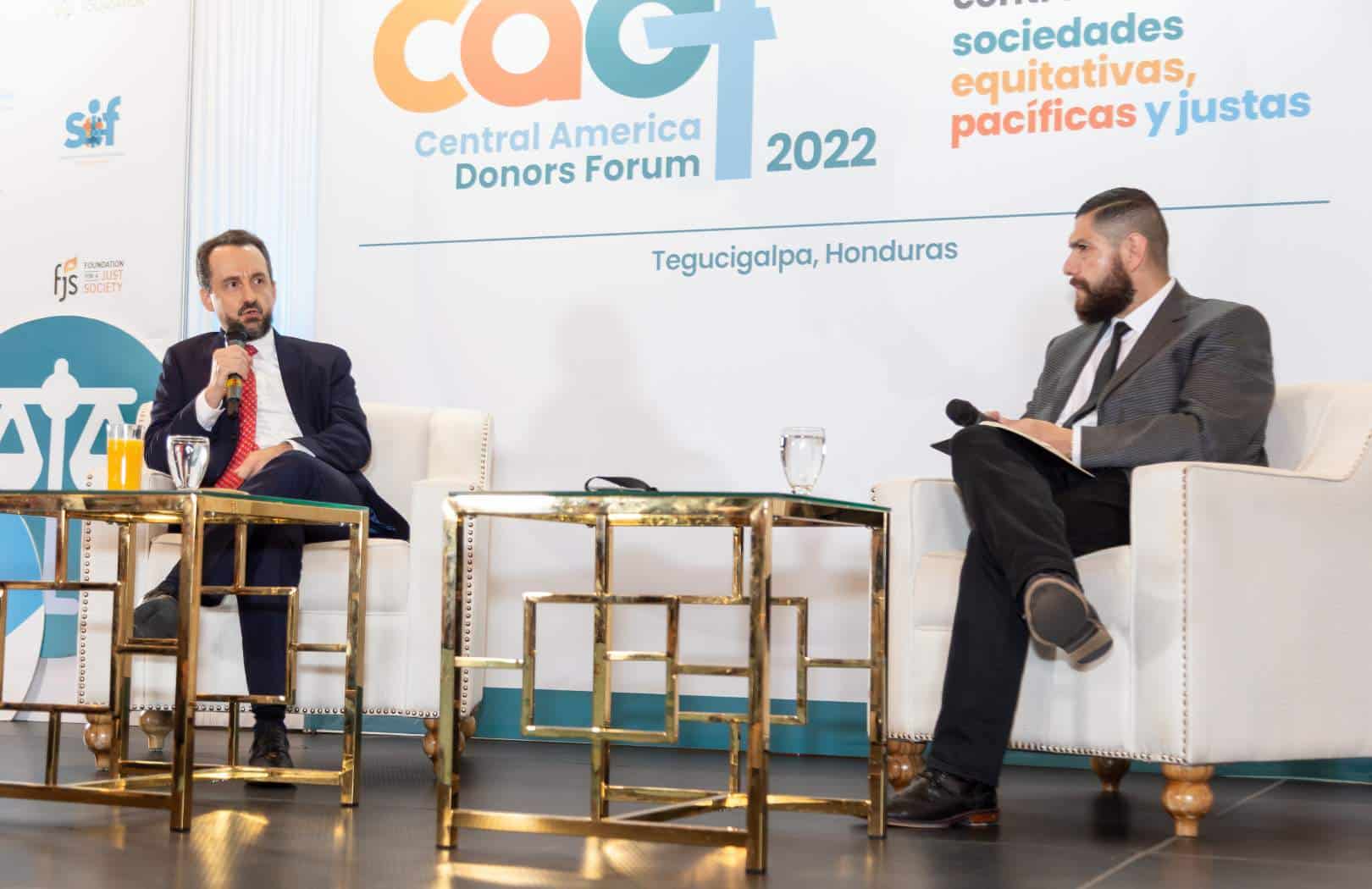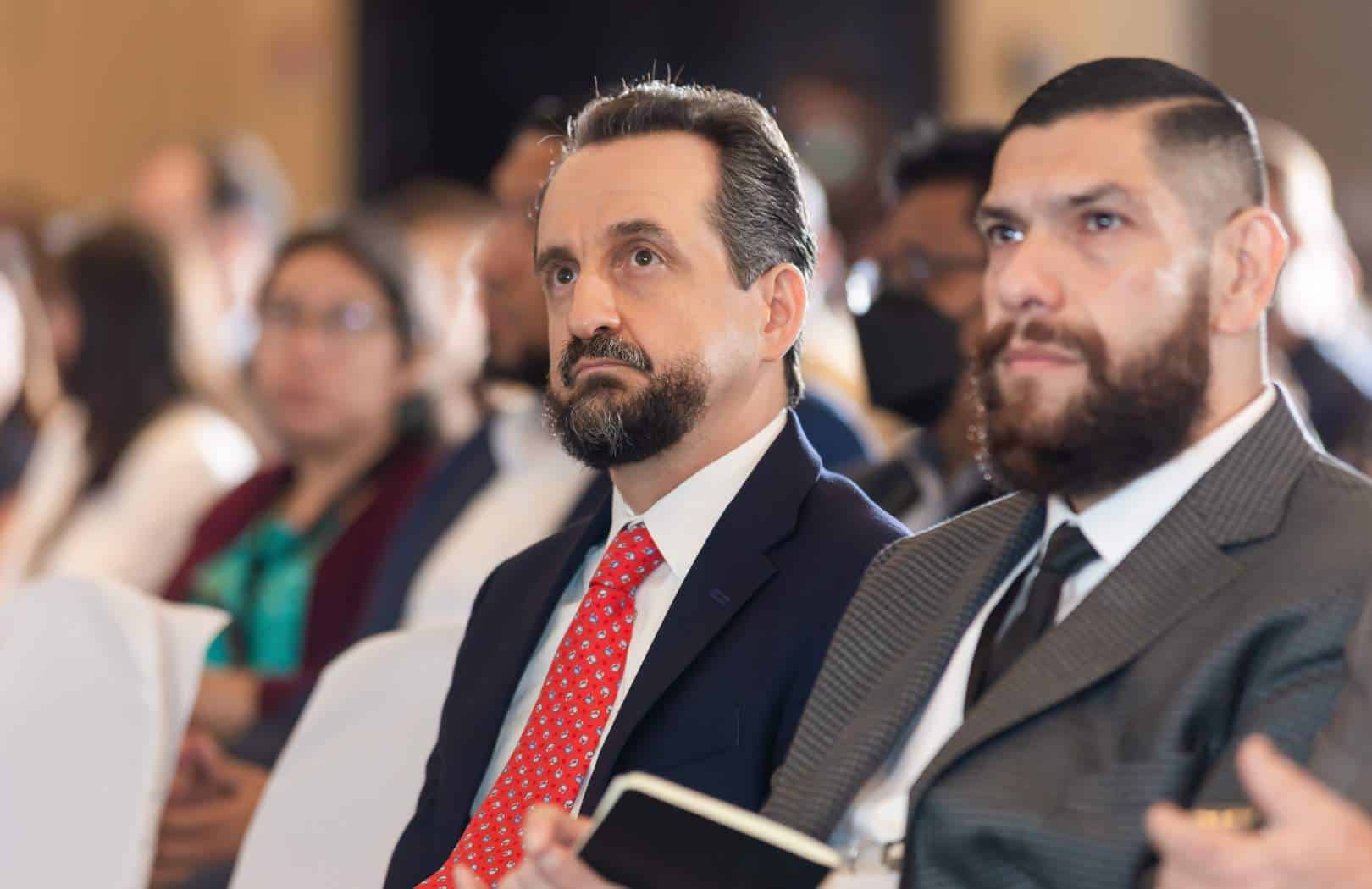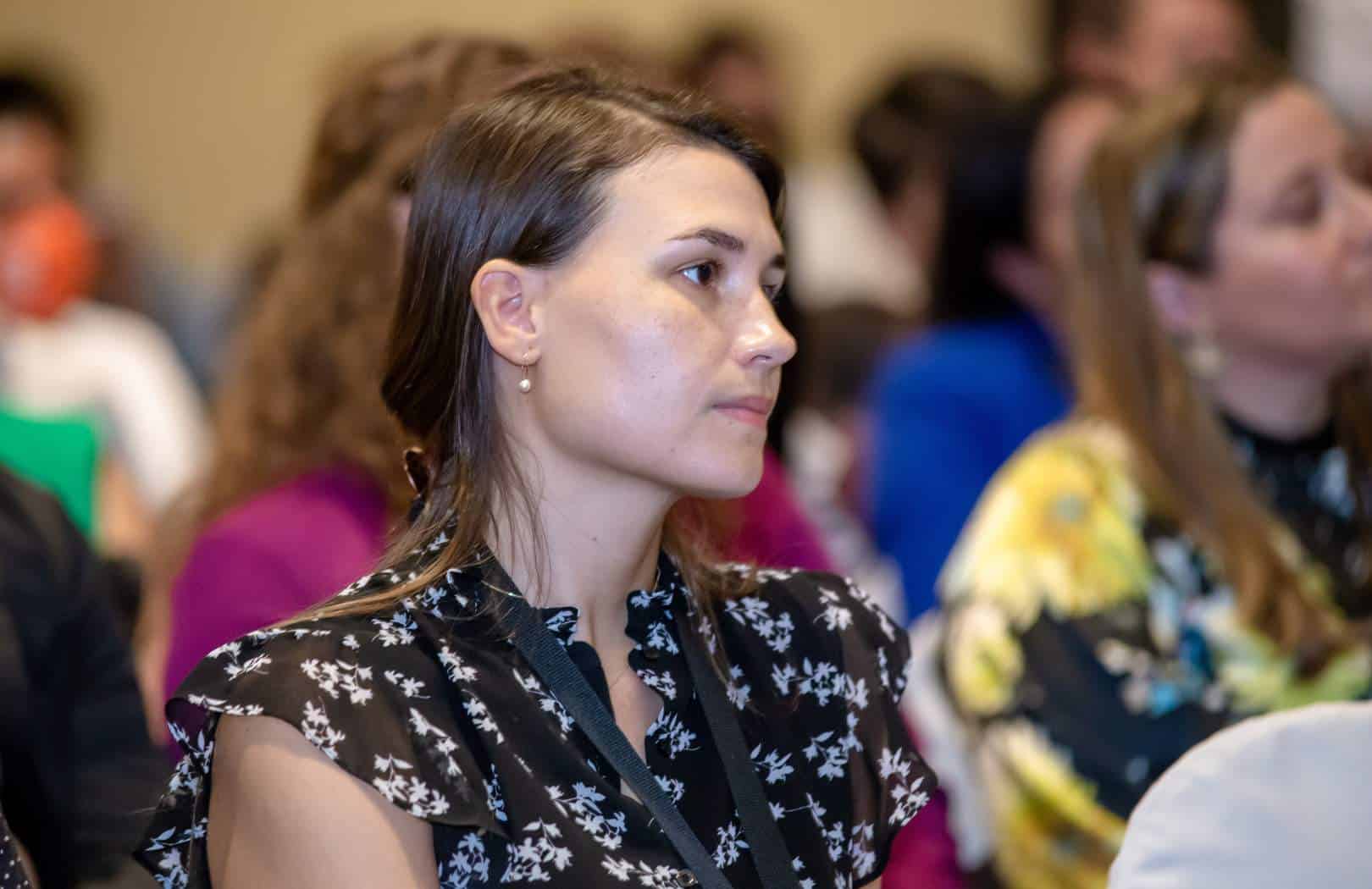 Racial Justice
Resourcing Black Resistance: Social Justice and the Tasks of Organizations
With limited resources for "racialized groups", it is important for organizations to analyze practices that continue to create barriers to accessing resources, as well as build up knowledge about the realities facing grantees and partners. Speakers highlighted the importance of sharing in struggles and changing relationships in ways that ultimately change realities.
Similarly, extractivism remains an important issue, particularly among black organizations, where the theft of ideas and strategies are often taken and applied to white contexts. Speakers closed with a call to listen and act on development issues by first hearing from the communities they serve.
Quotes
"Black feminist groups are still lacking resources. Black leaders need to be included in philanthropy[…] Funders should examine their internal culture to determine if their practices continue to perpetuate racism and discrimination."
Flor Montero
"Afro-descendant leaders have unequal access to social networks that offer connections within philanthropic networks."
Flor Montero
"We must first go to the communities we serve and ask what they want, what they envision for their future."
Jacob Ellis Williams
Speakers
Flor Montero, AfroResistance
Janvieve Williams Comrie, AfroResistance
Jacob Ellis Williams, MESART y Red de Mujeres Pinoleras
Chevy Solís, Espacio de Encuentro de Mujeres (EEM) of Panama
Thays Parfait, Hijas de Alkebulan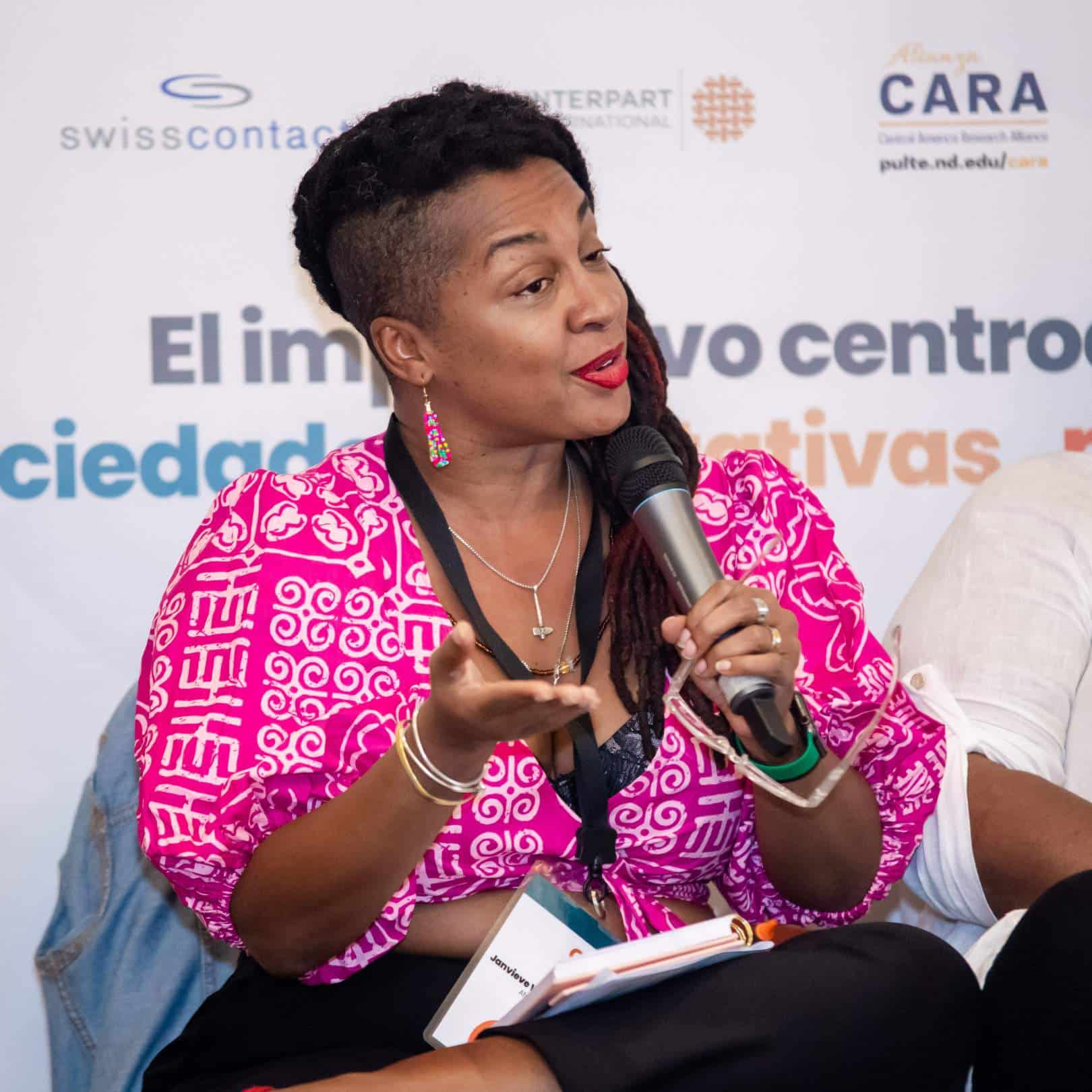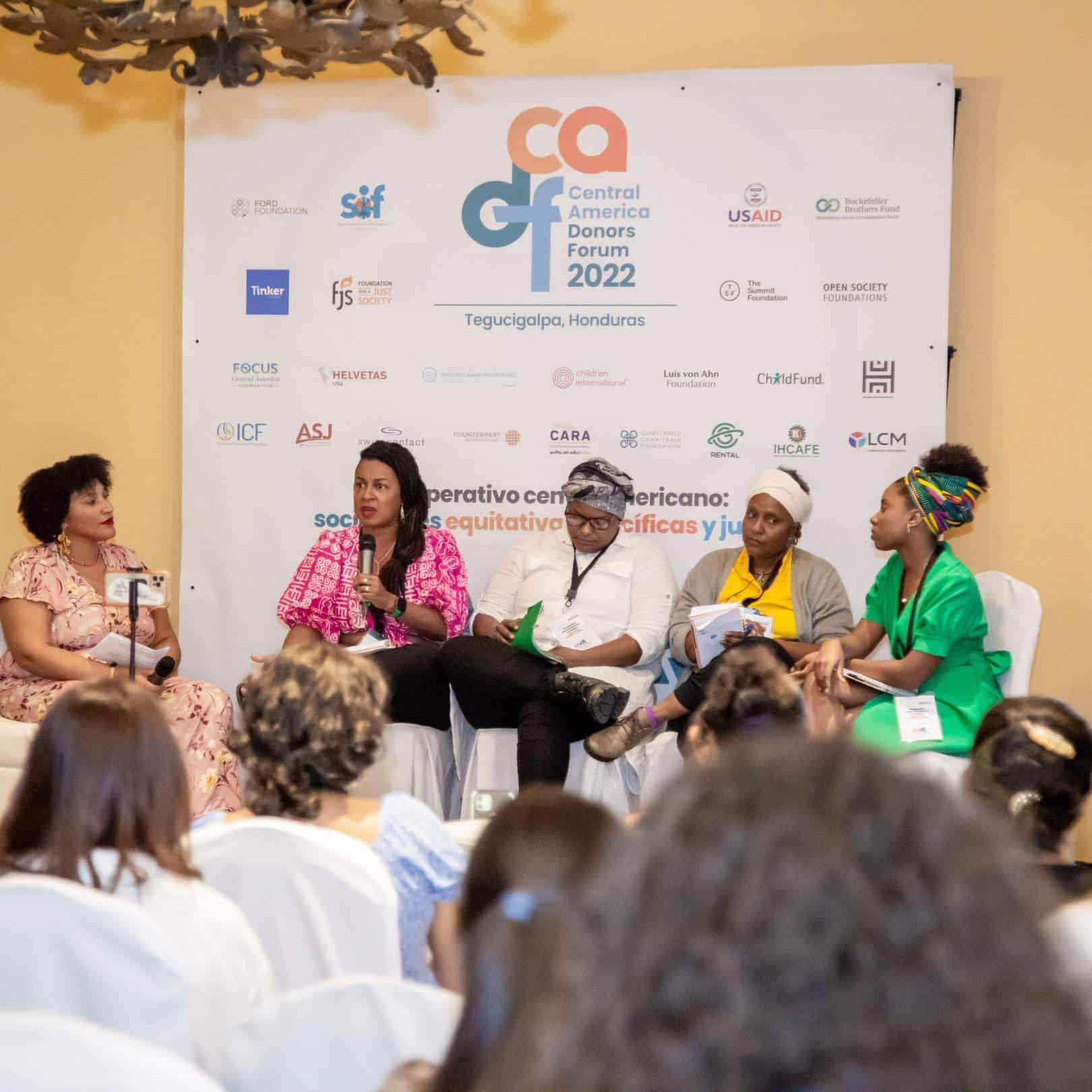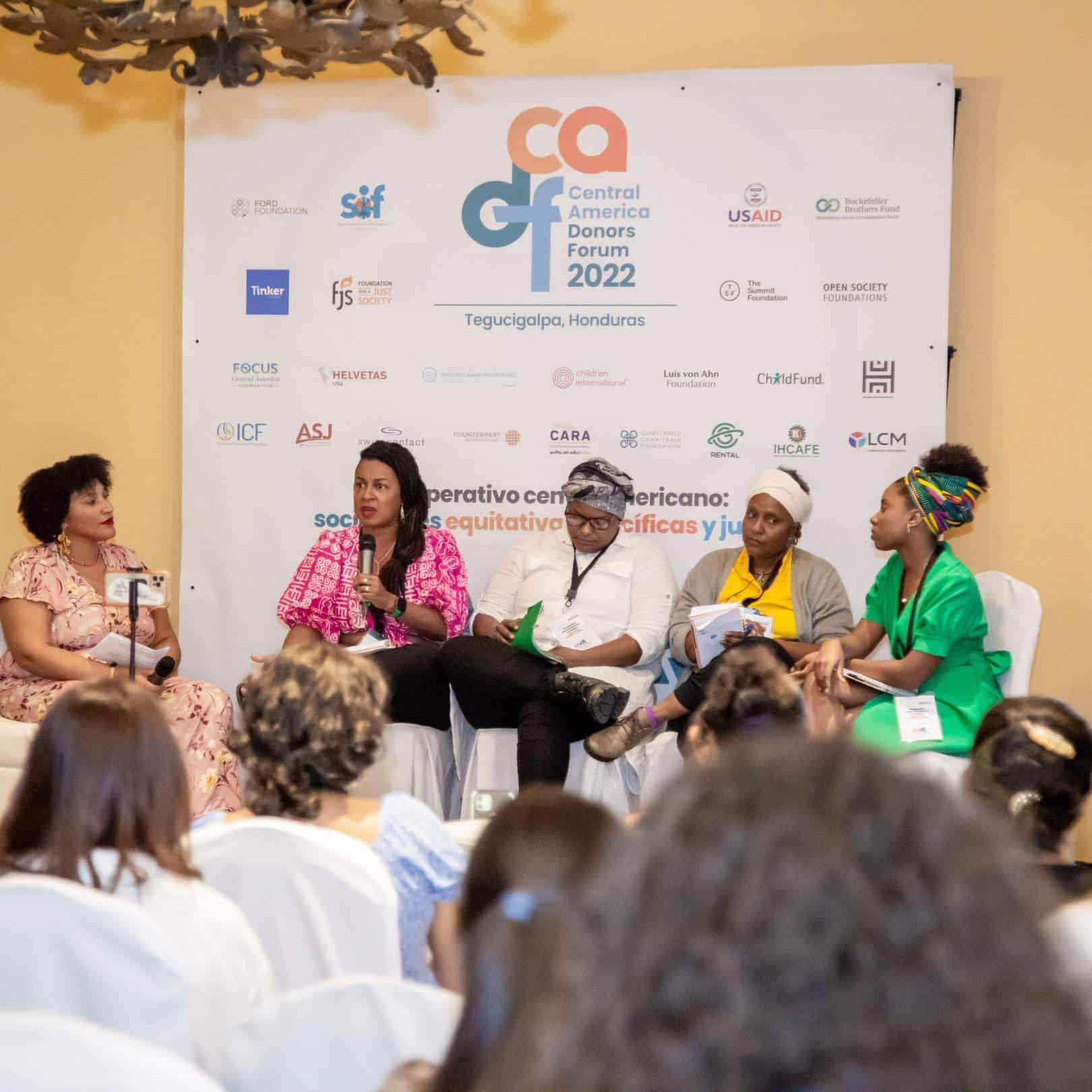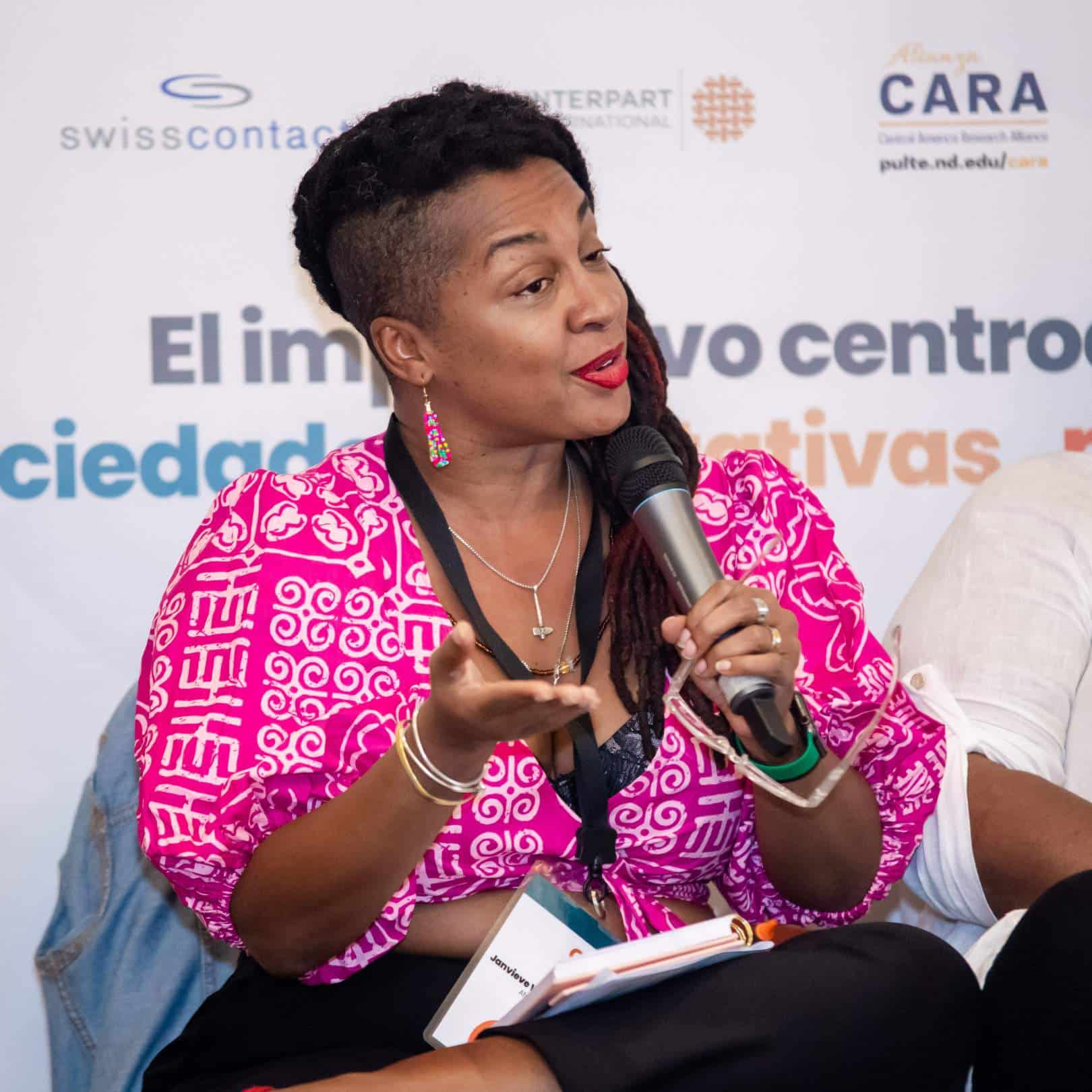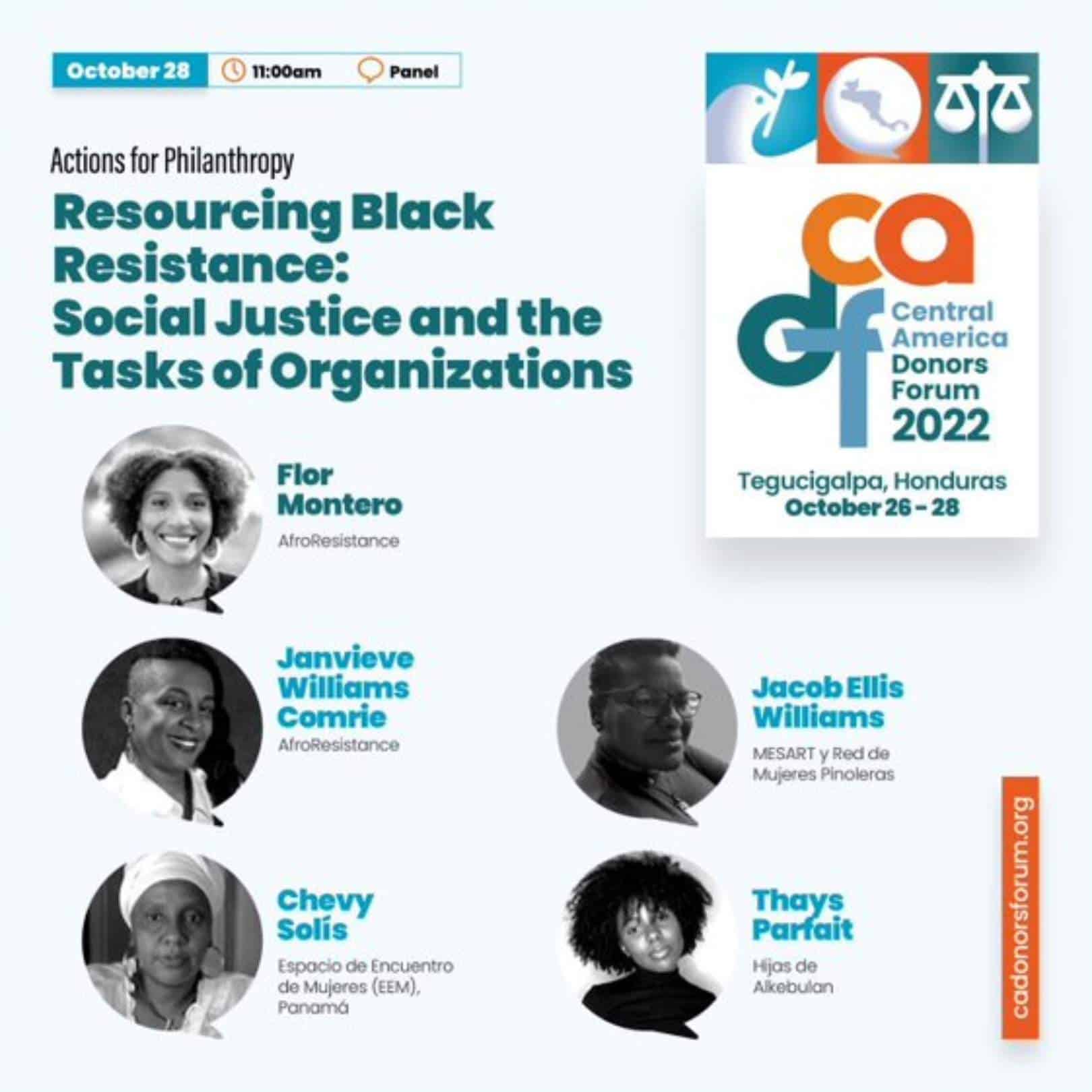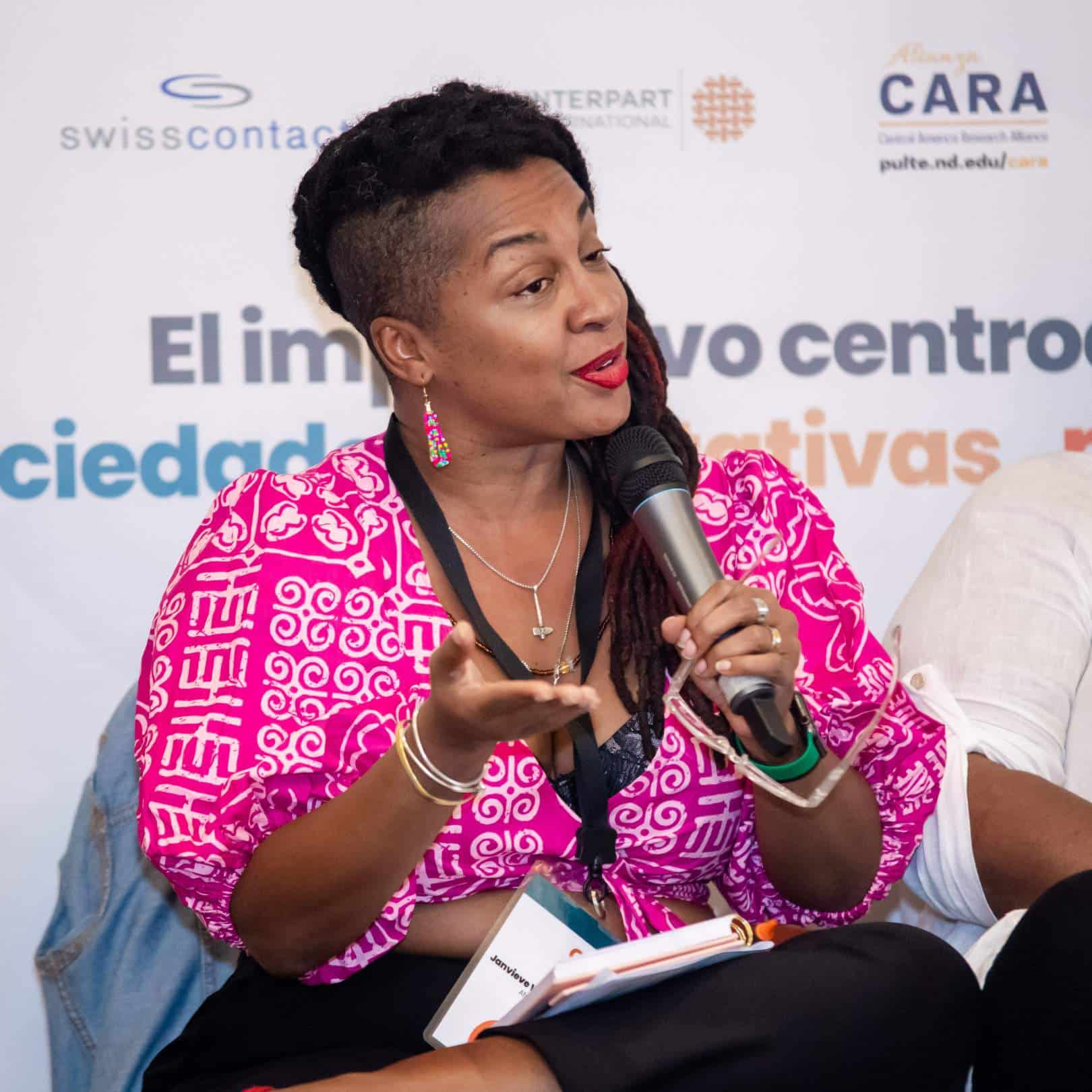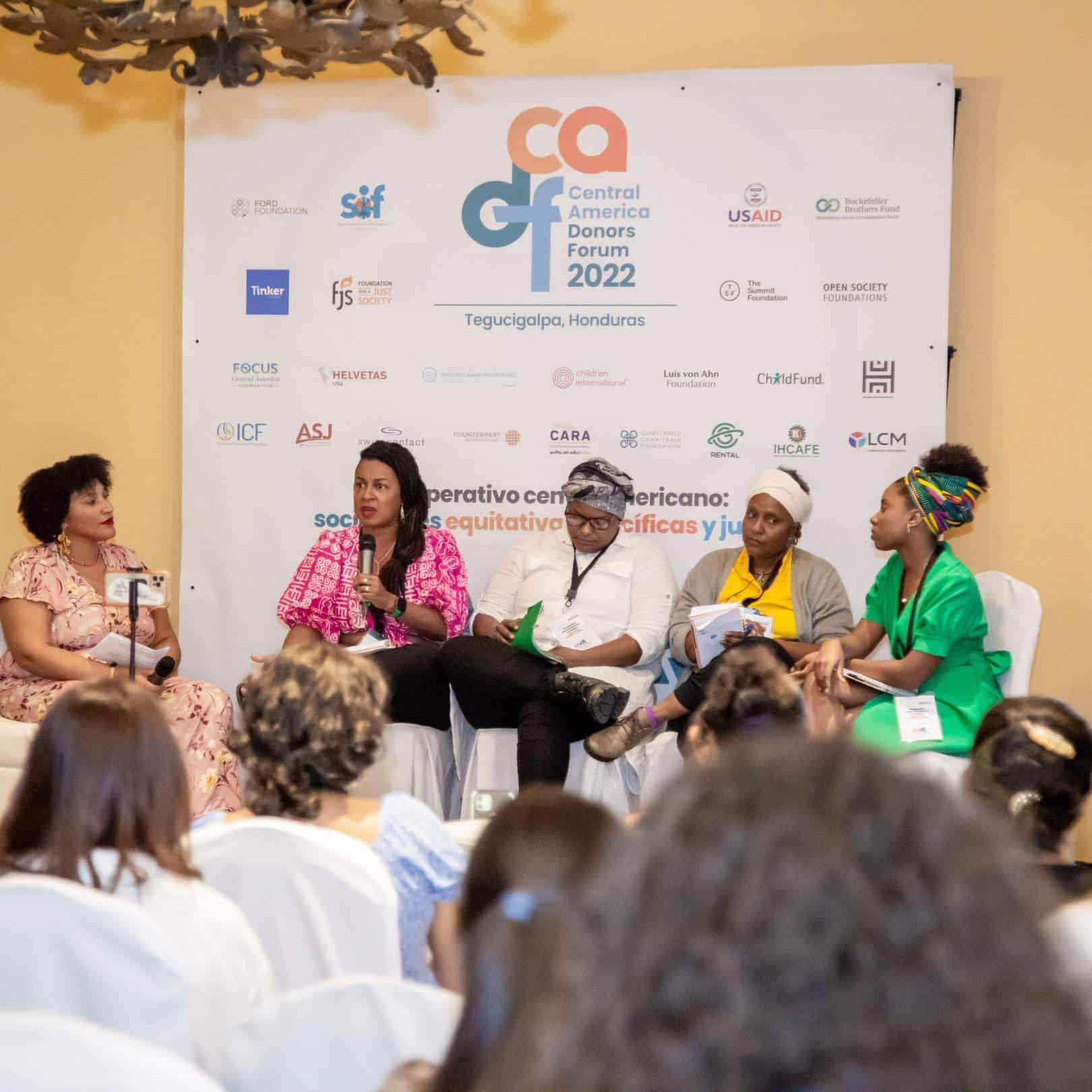 Fireside Chat Highlight
A Conversation with Ambassador Hans Magnusson
The Ambassador Extraordinary and Plenipotentiary of Sweden to Guatemala, Hans Magnusson, spoke with the renowned journalist and founder of Prensa Comunitaria and Ruda, Quimy de León, about the scope, main advances and challenges of his feminist foreign policy in Central America. In 2014, the Swedish government launched the first feminist-centric foreign policy agenda.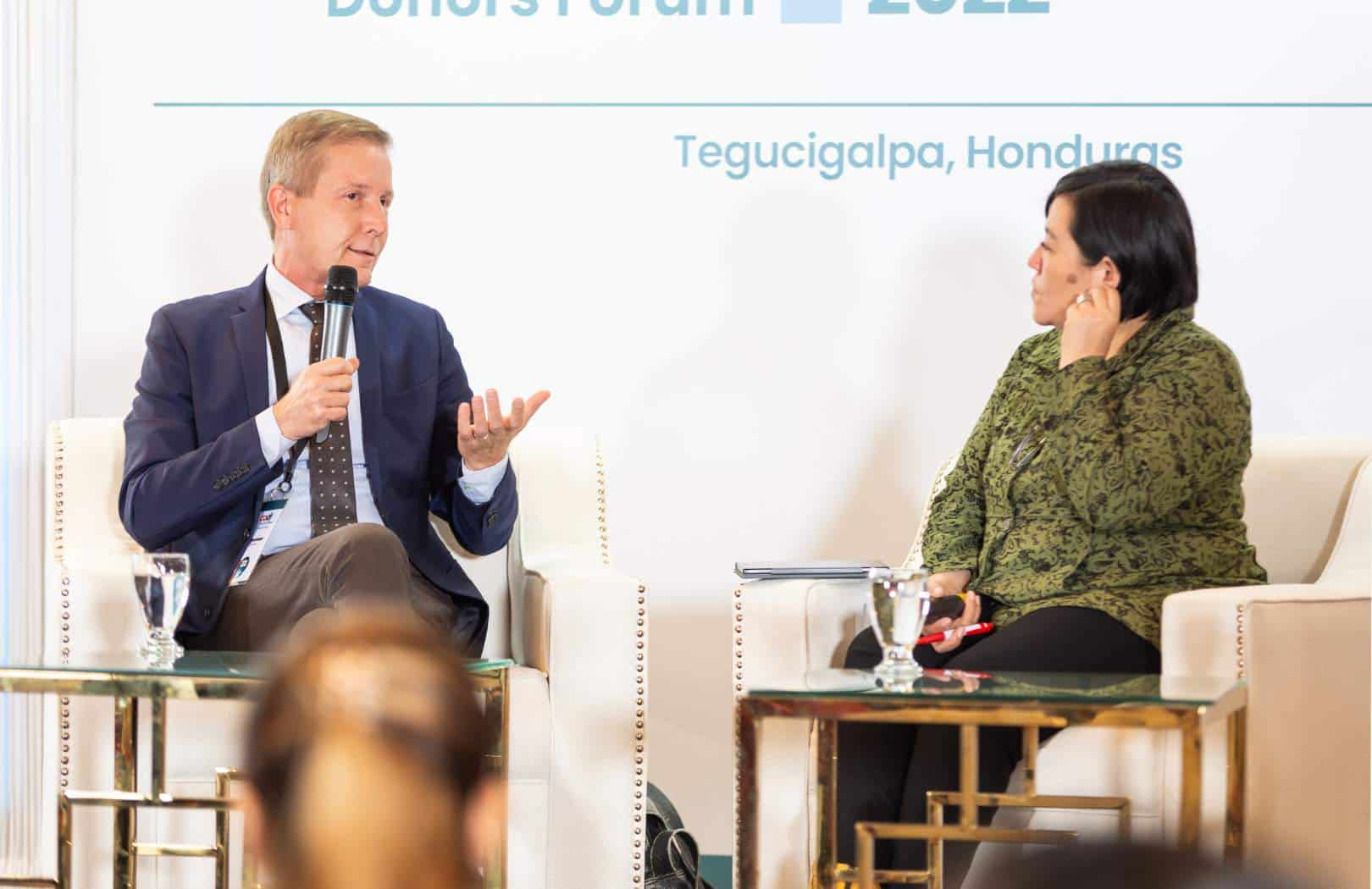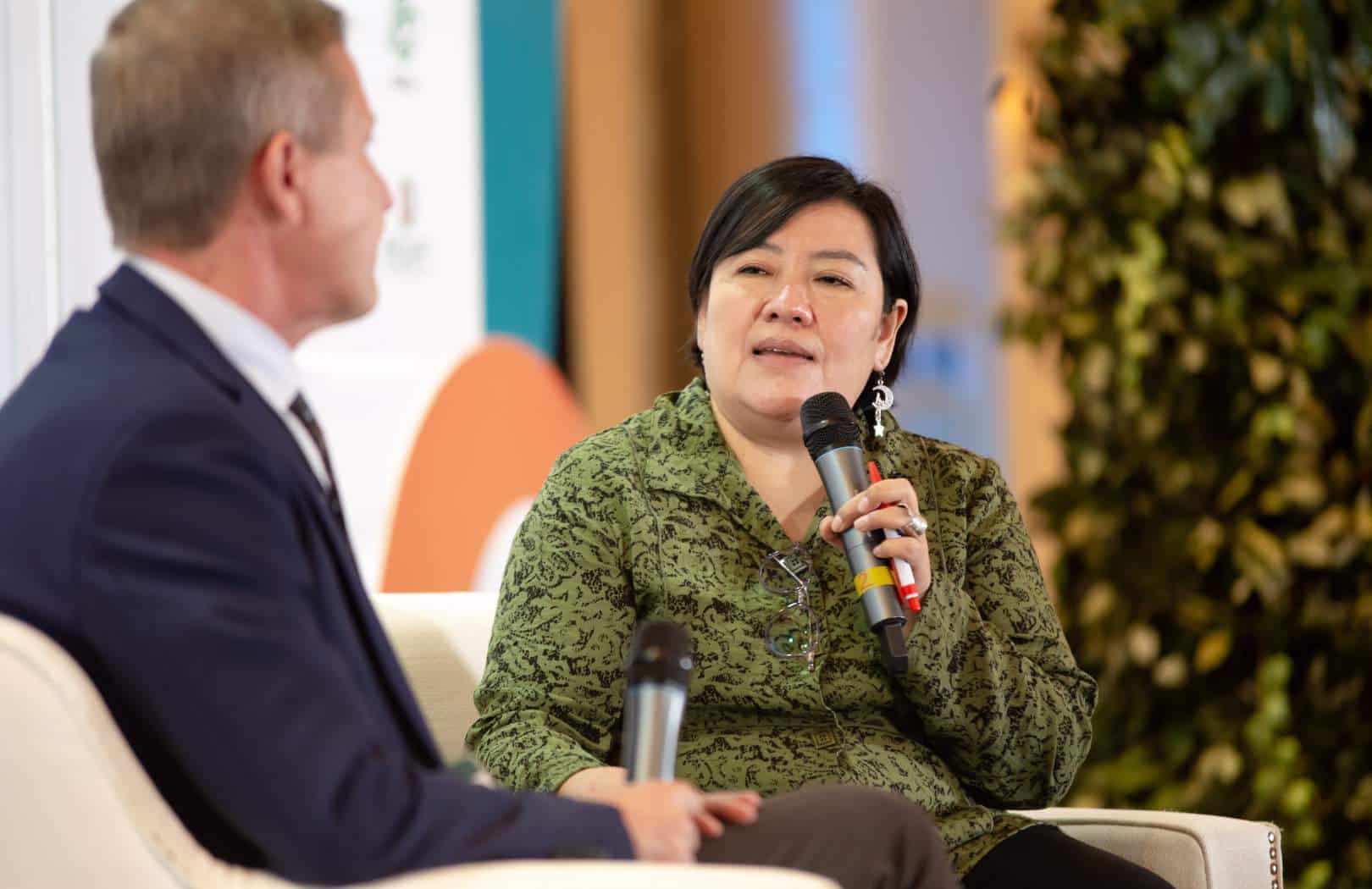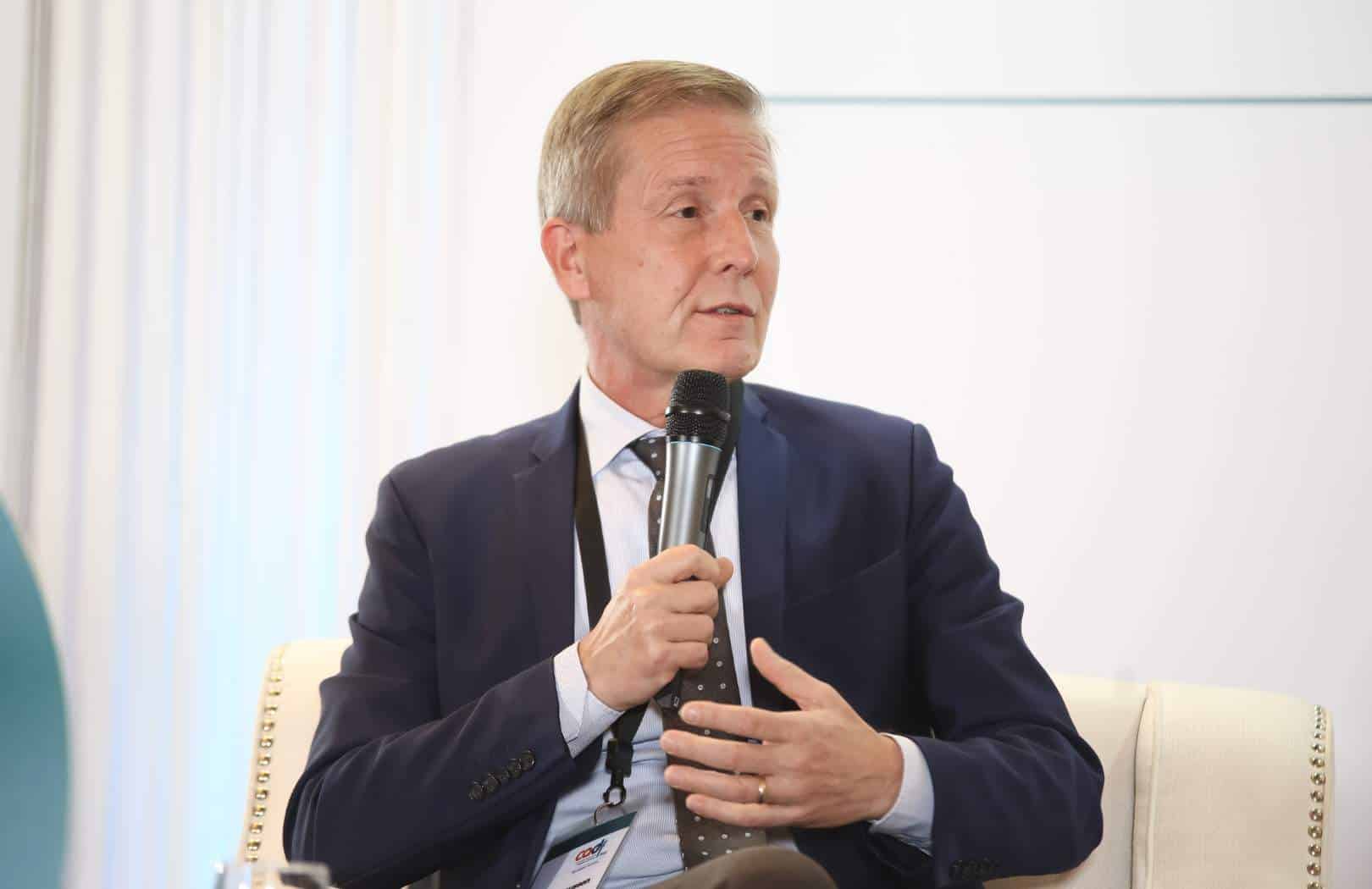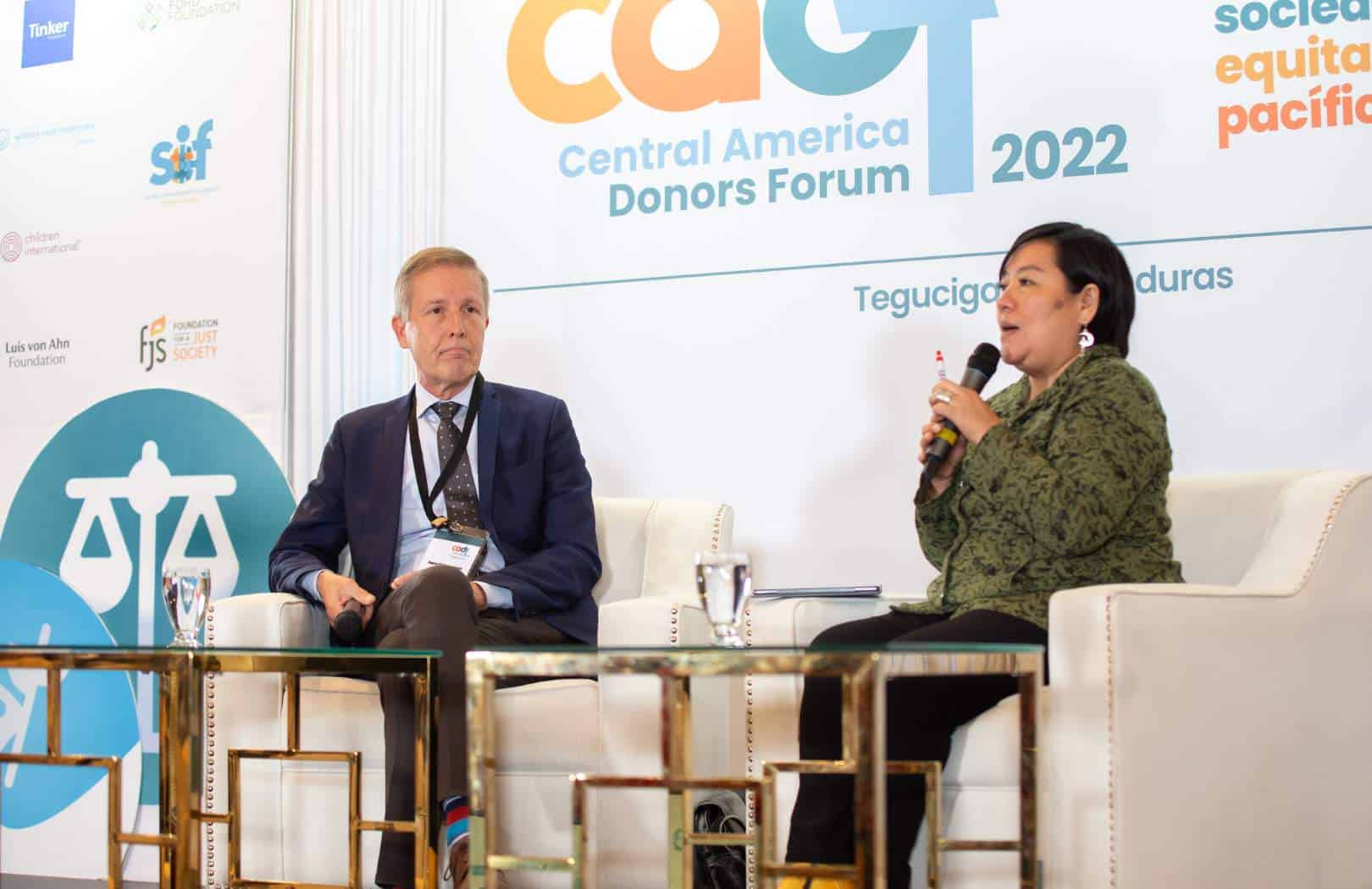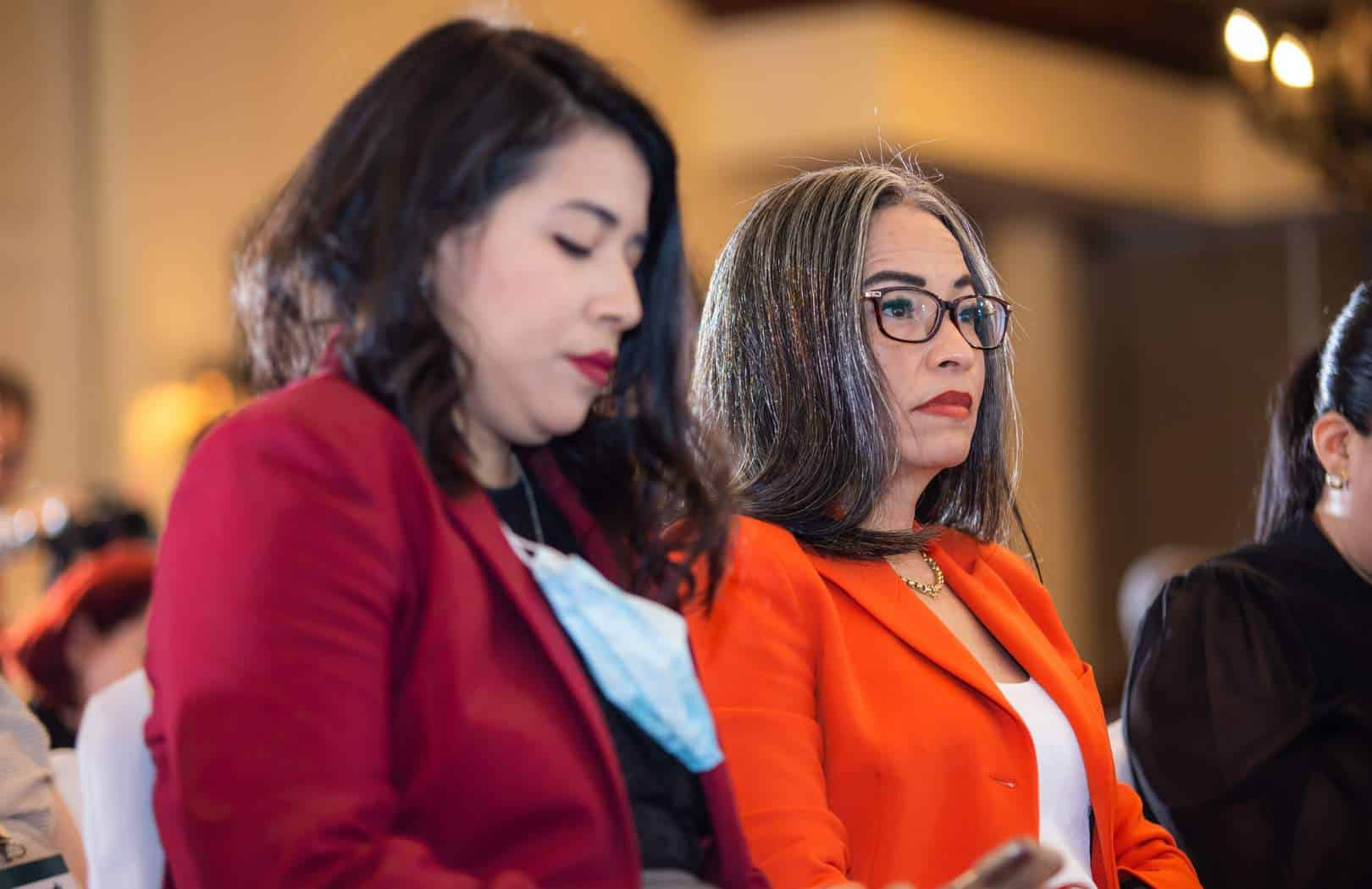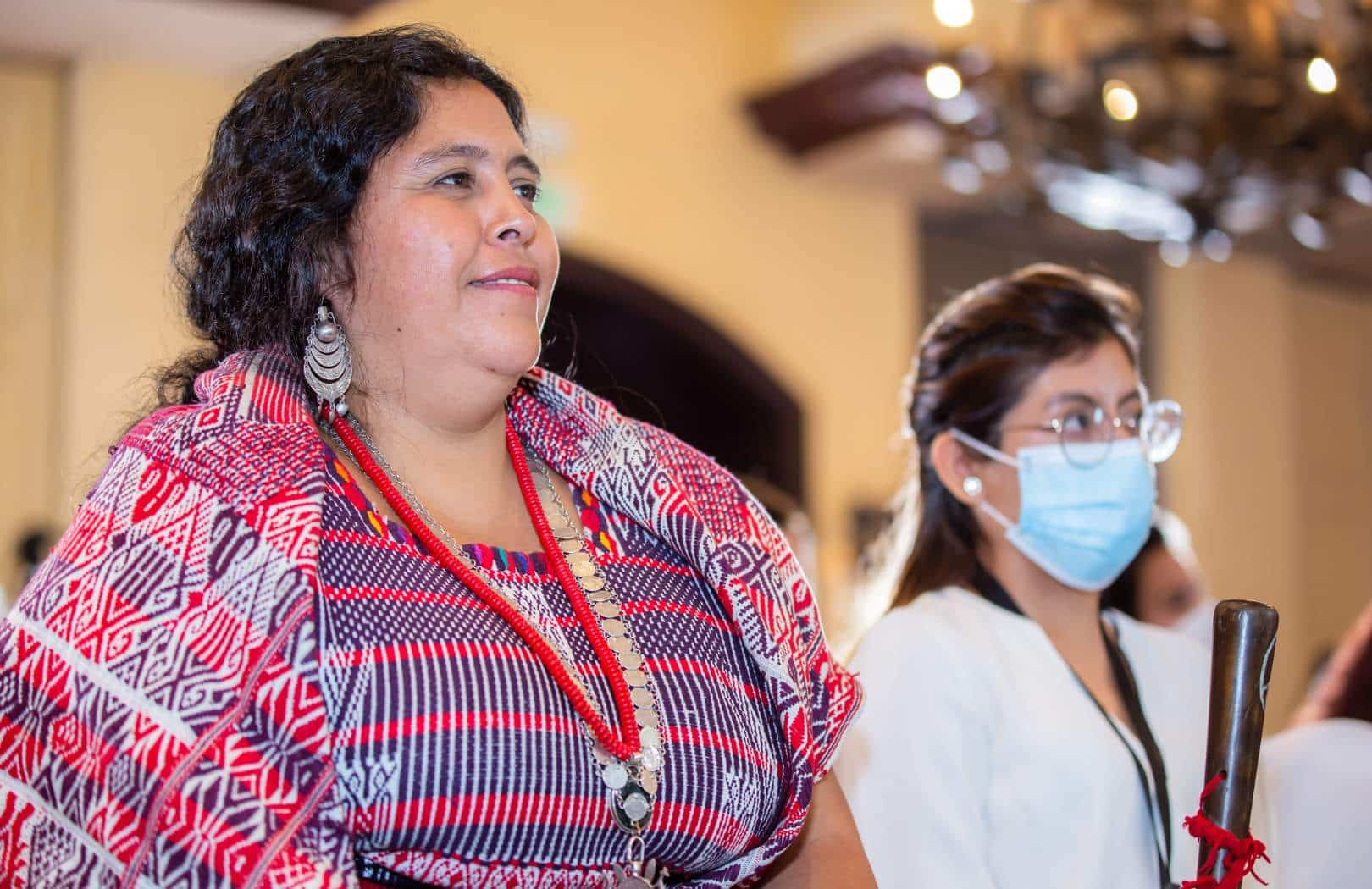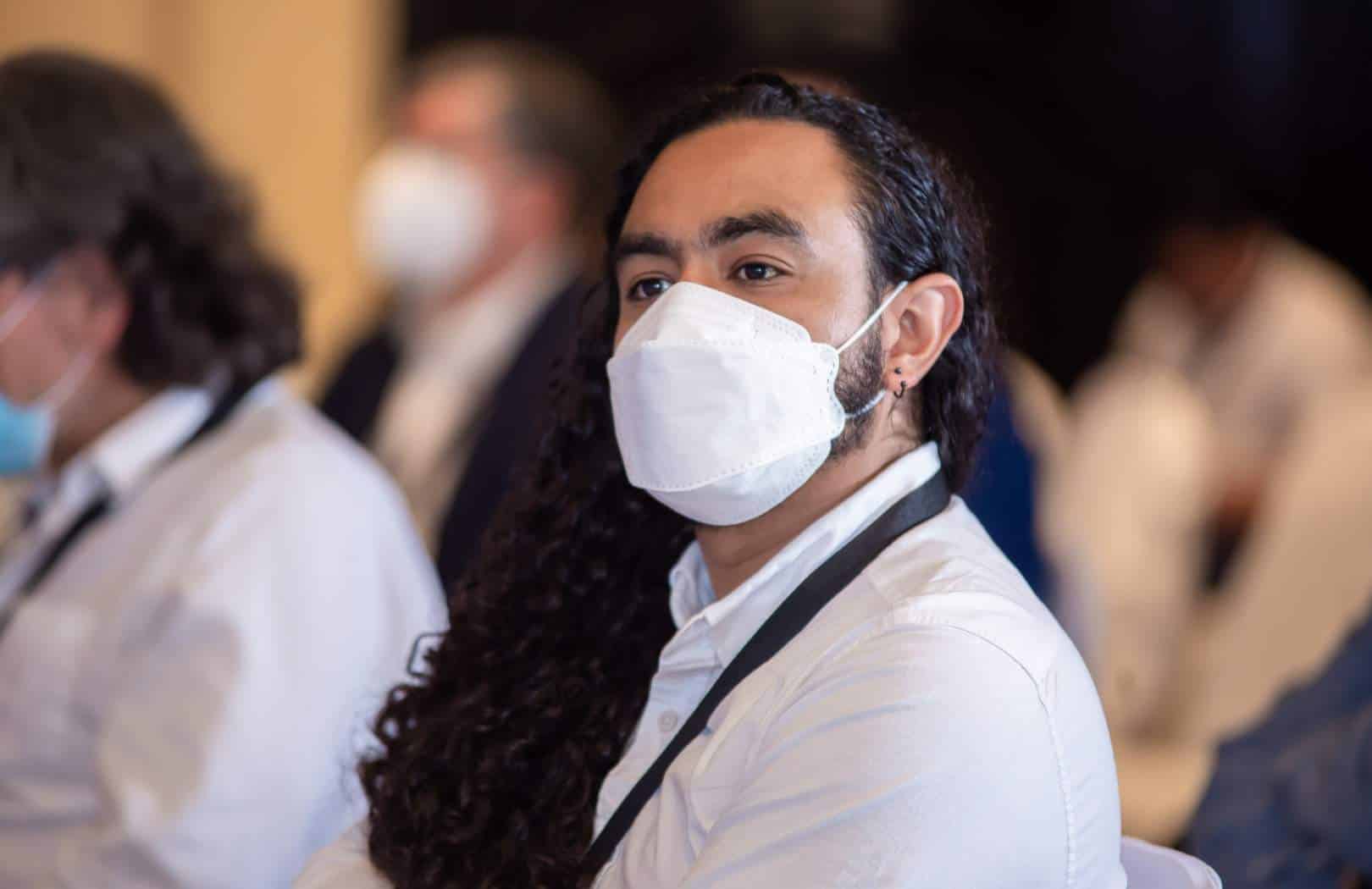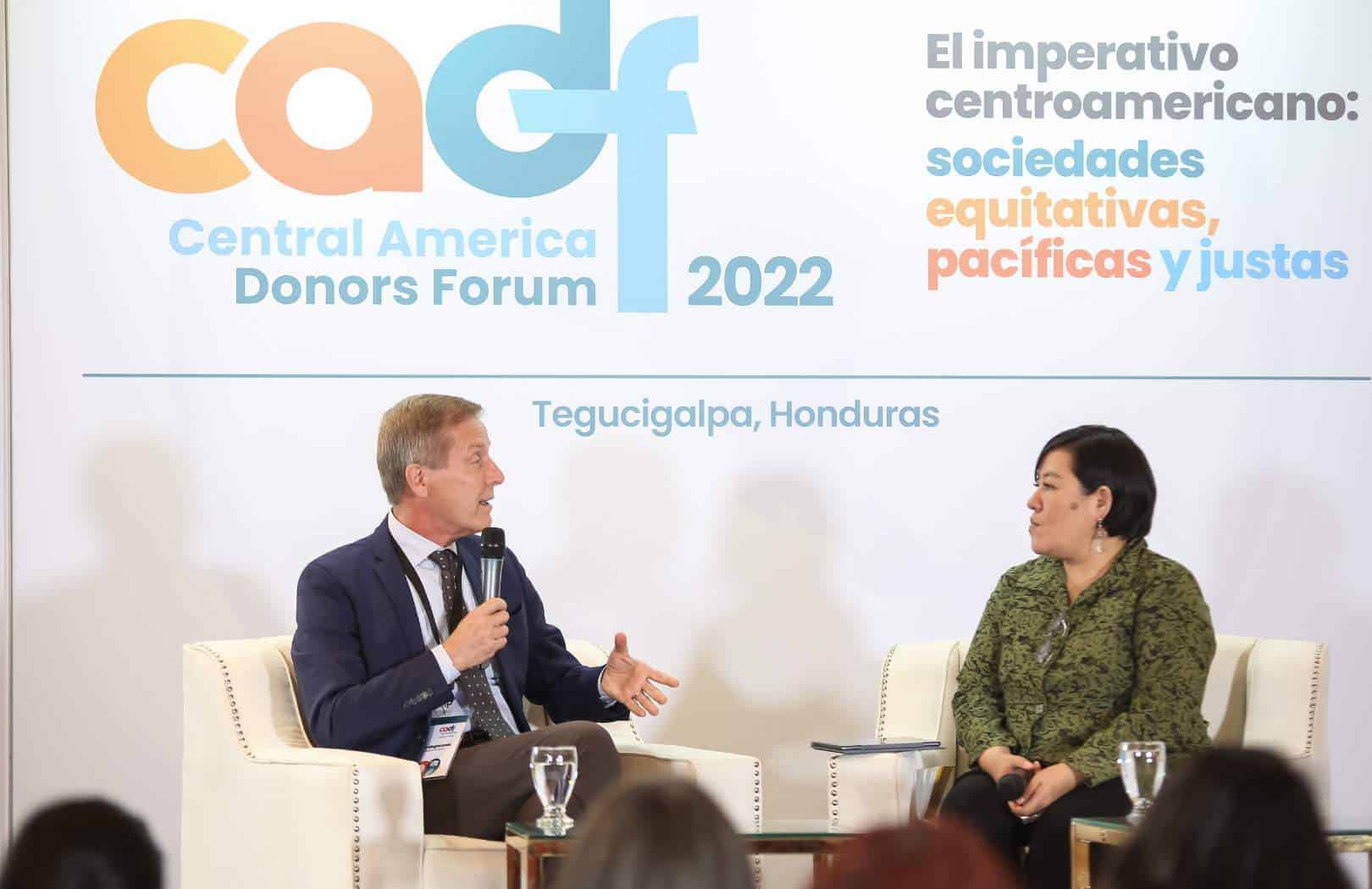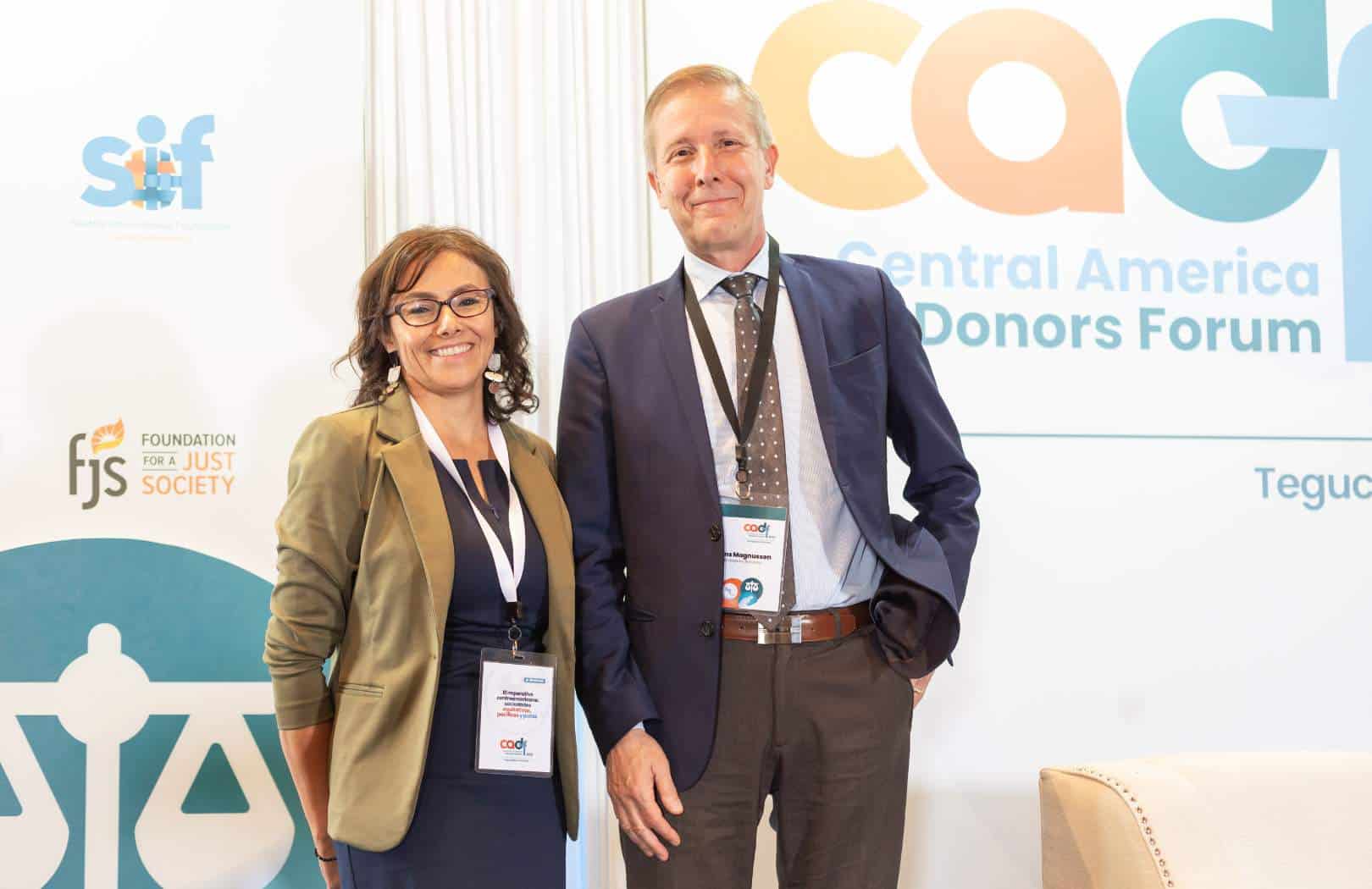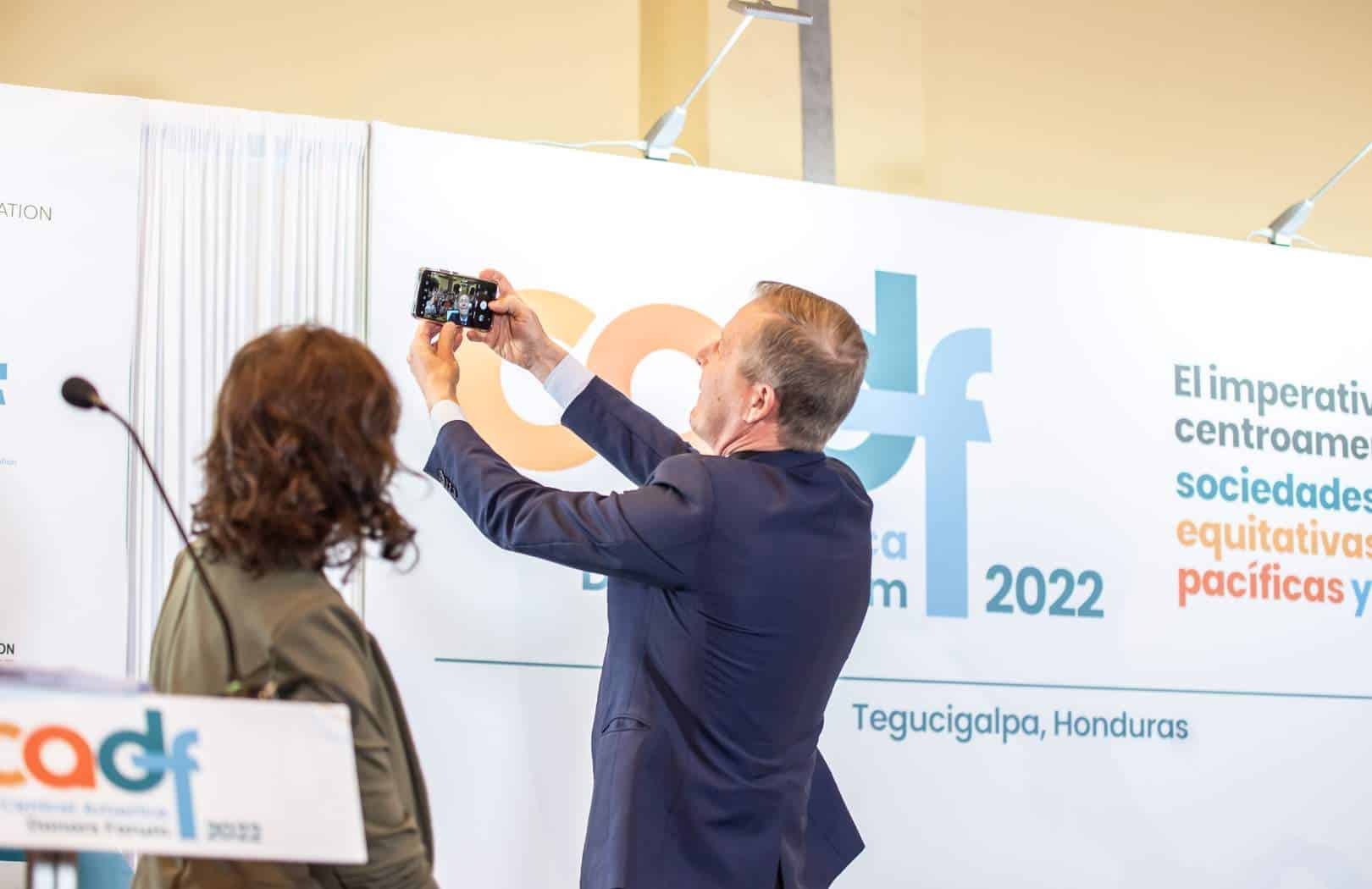 Check out the CADF 2022 photos
You can find all of the images taken at CADF 2022 on Seattle International Foundation's Flickr page.
View all CADF 2022 photos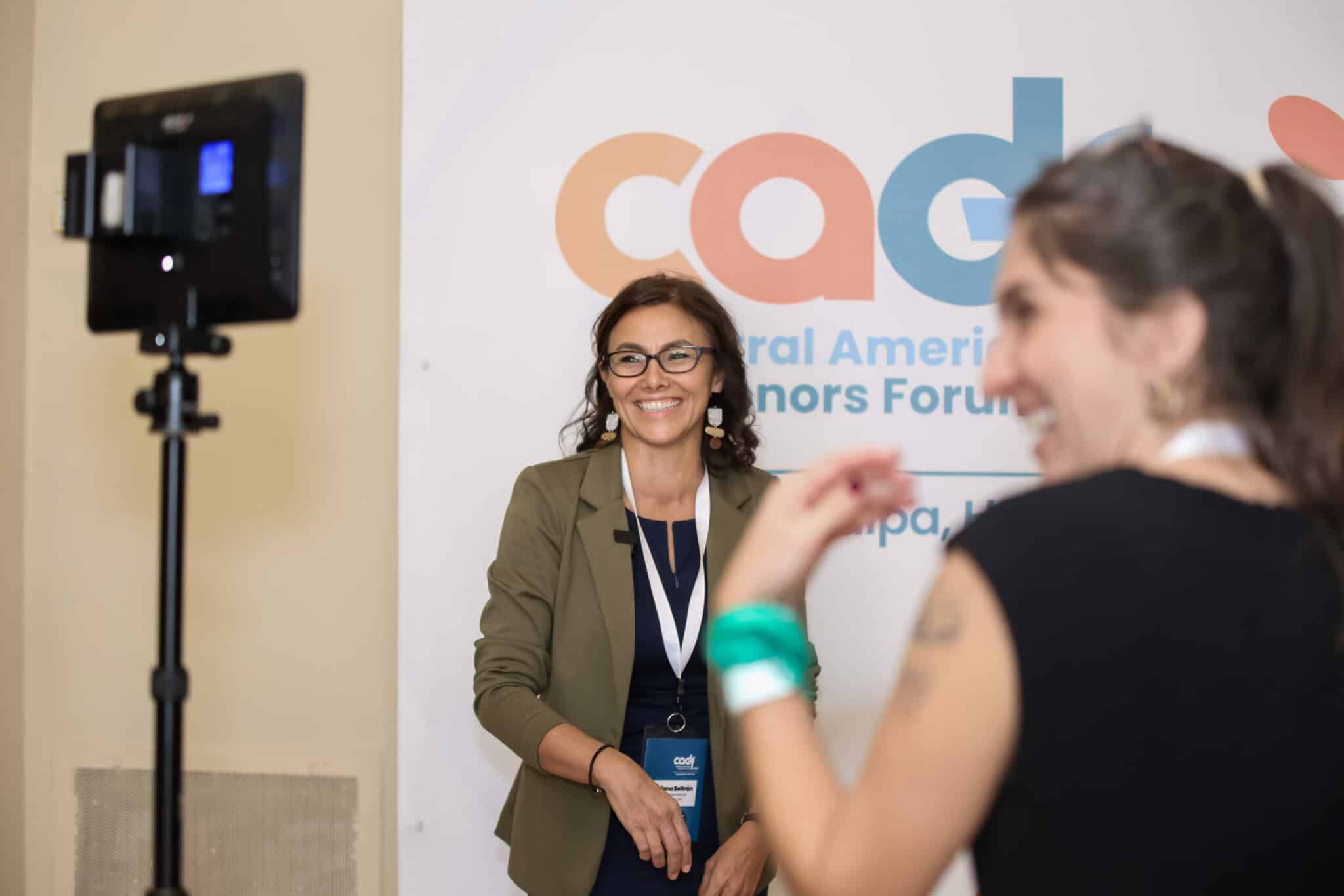 Rule of Law
Crackdown in El Salvador
This session focused on the report jointly produced by Human Rights Watch and Cristosal regarding human rights violations and the state of exception in El Salvador.
Speakers discussed how best to influence positive action, including by: 1) ensuring the Biden administration has a firm understanding of the situation and in consideration of Bukele's need for international funding; 2) exercising the U.S. relationship with the World Bank; 3) considering sanctions; 4) encouraging young Salvadorans in the U.S. to exert pressure on future Salvadoran elections; and 5) galvanizing the international community to get involved with individual cases of detainees.
Quotes
"The premise in El Salvador is that insecurity is so rampant that the government can't sustain safety within international human rights. As a human rights organization, we think it is false that democracy and human rights are easily let go in order to guarantee security."
Noah Bullock
"We have been working on a report that provides a complete list of human rights violations. We have over 1,000 violations. The prison population has grown by 140%. There are cases of forced disappearances, torture, forced confessions, overcrowded jails, mistreatment and poor conditions in jail, and no rights for minimum defense. The policies that come from the national government create massive violations in human rights. Bukele did in two years what Chávez did in ten."
Juan Pappier
"What can international philanthropy do? Communities are afraid and are not able to trust their neighbors or find local solidarity. International human rights organizations need to exercise their voice when communities can't."
Noah Bullock
"We will support those who have been taken. Bukele isn't immune to international pressure. In 2021, Bukele presented a law that would require international media to register themselves. That wasn't approved because of pressure from international entities."
Juan Pappier
Speakers
Carolina Jiménez, Washington Office on Latin America (WOLA)
Juan Pappier, Human Rights Watch
Noah Bullock, Cristosal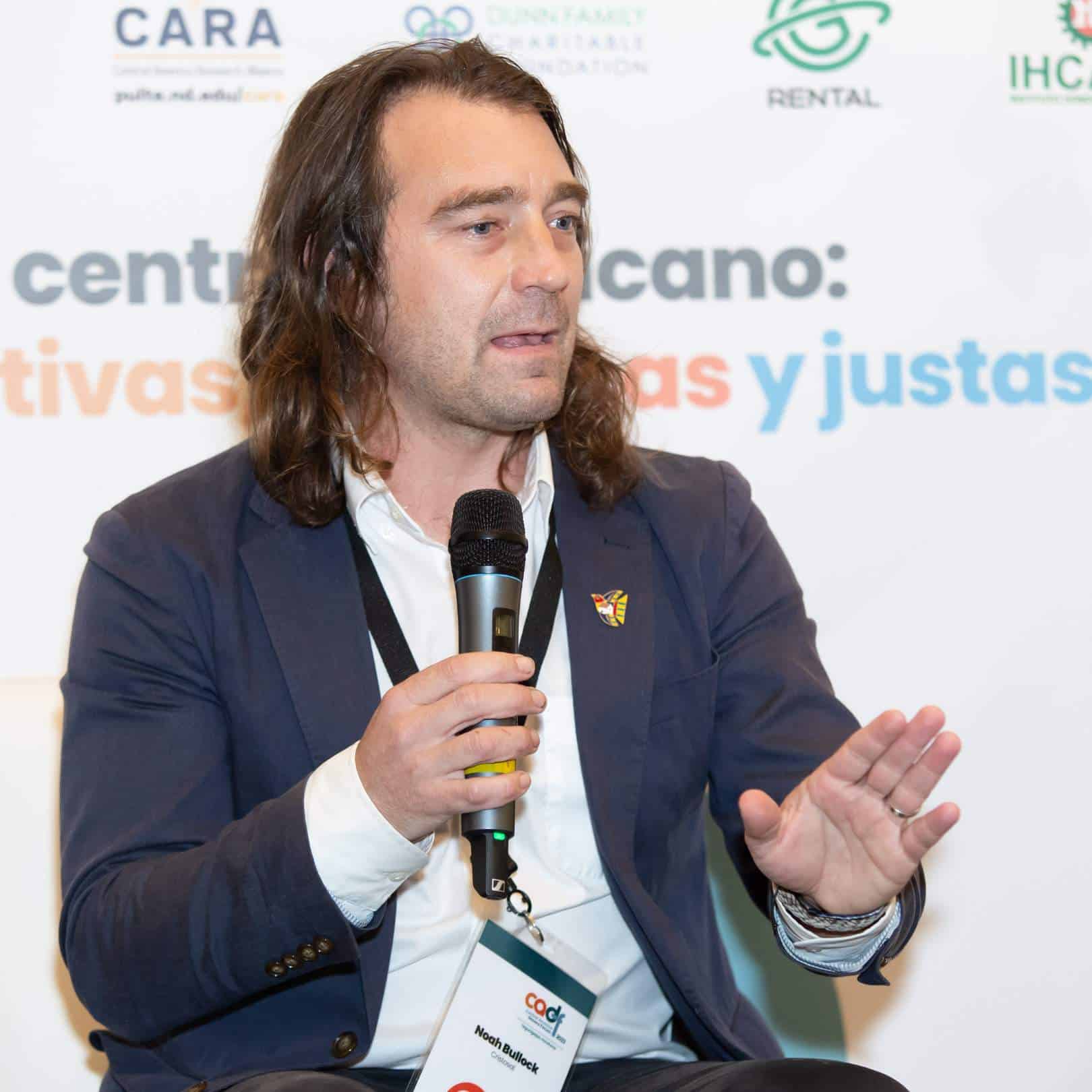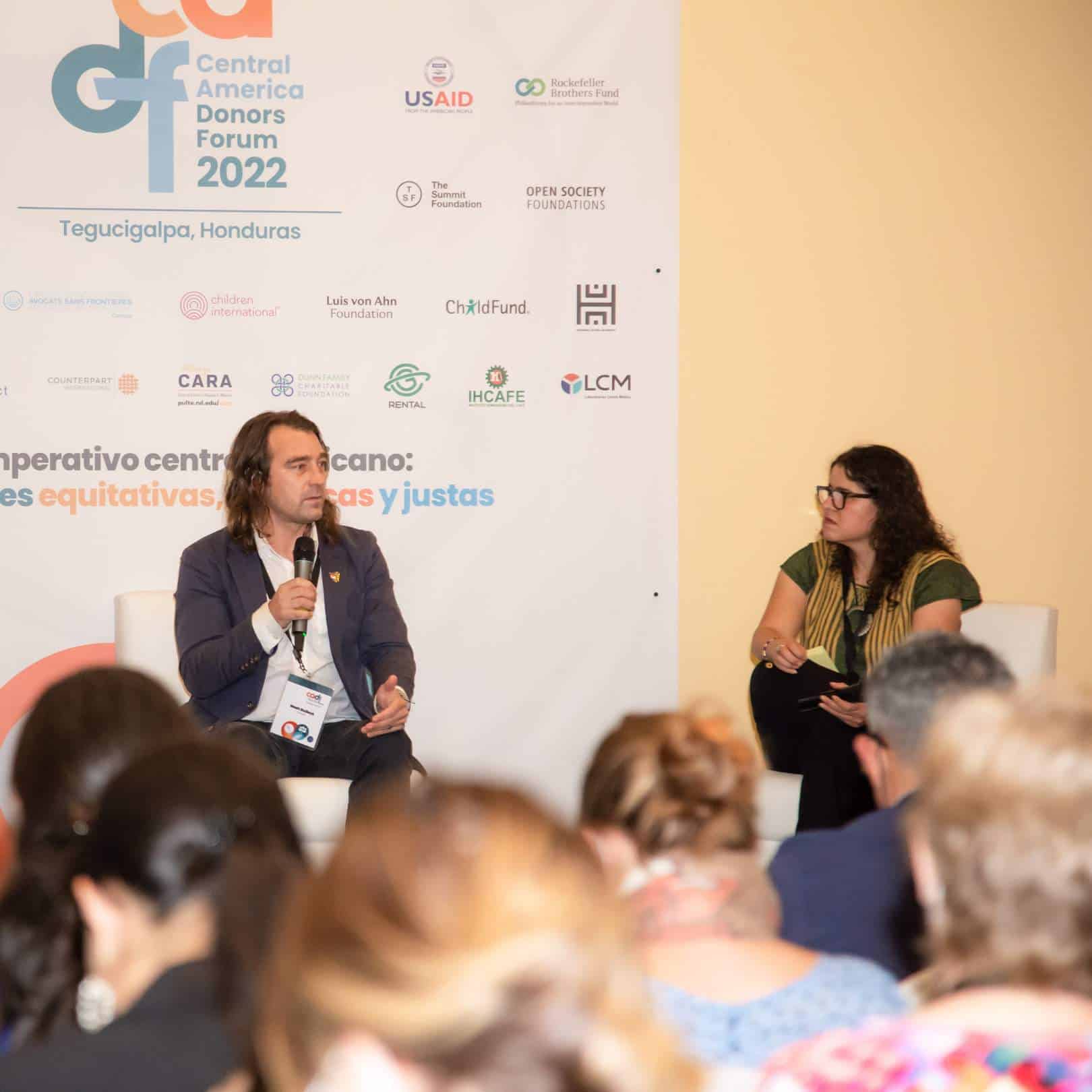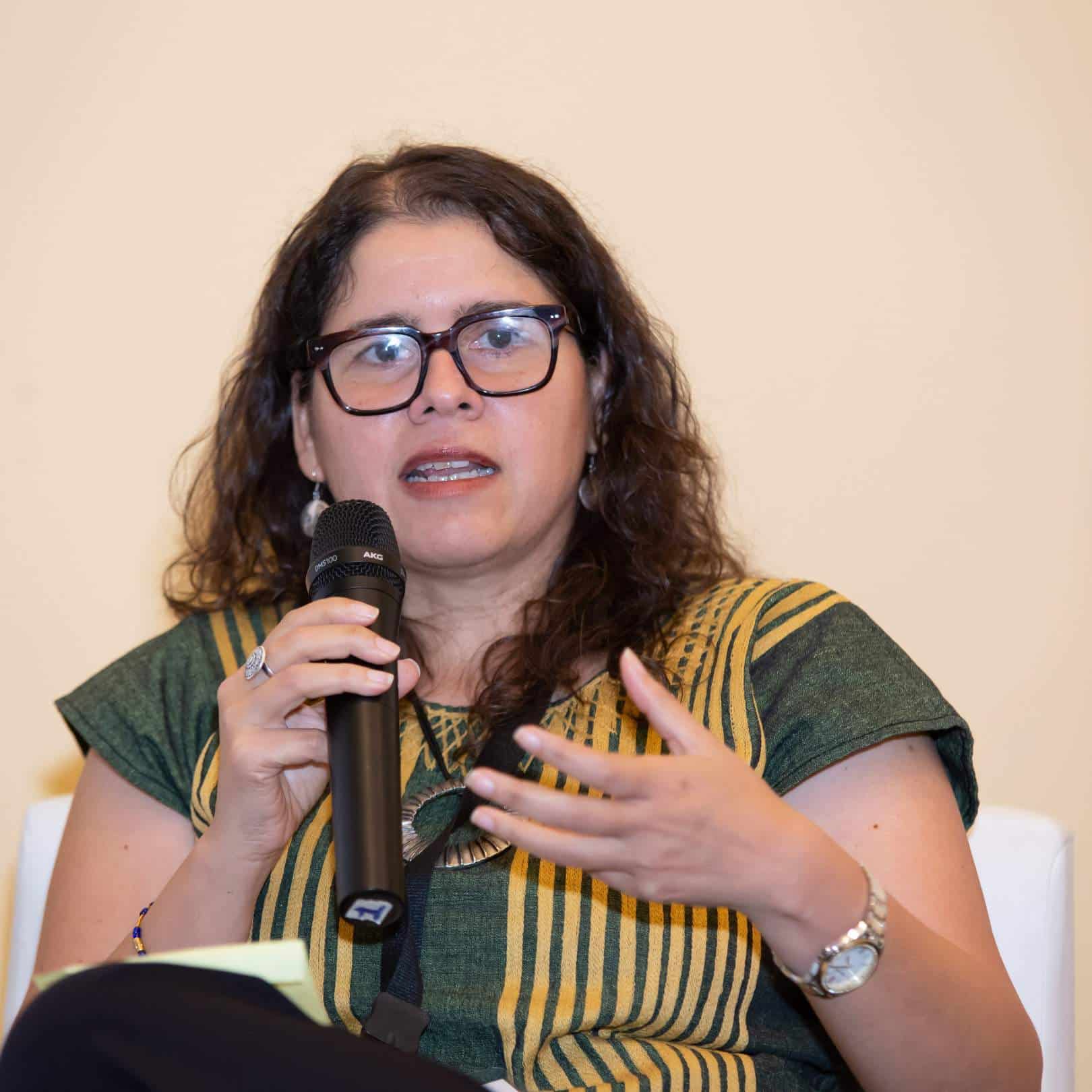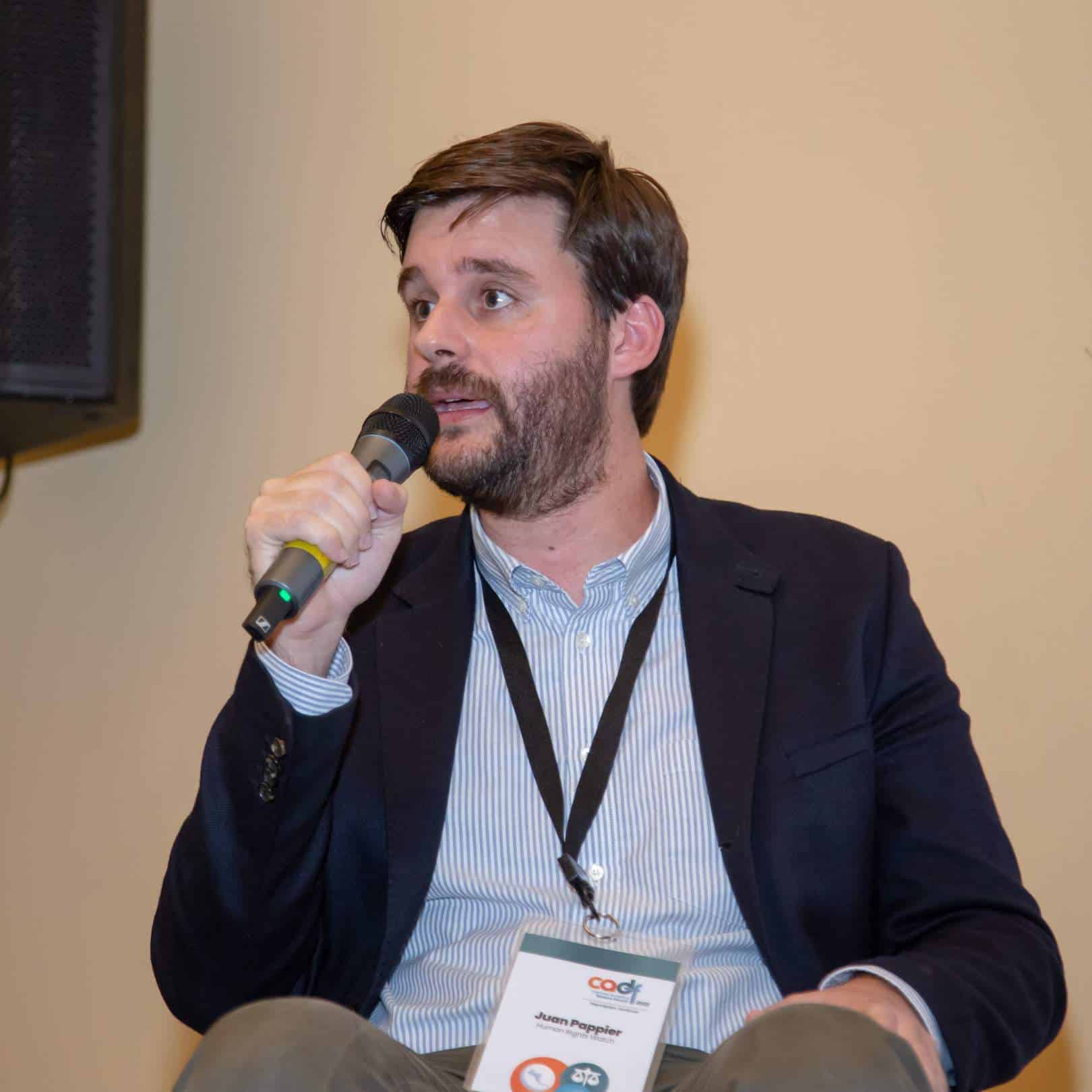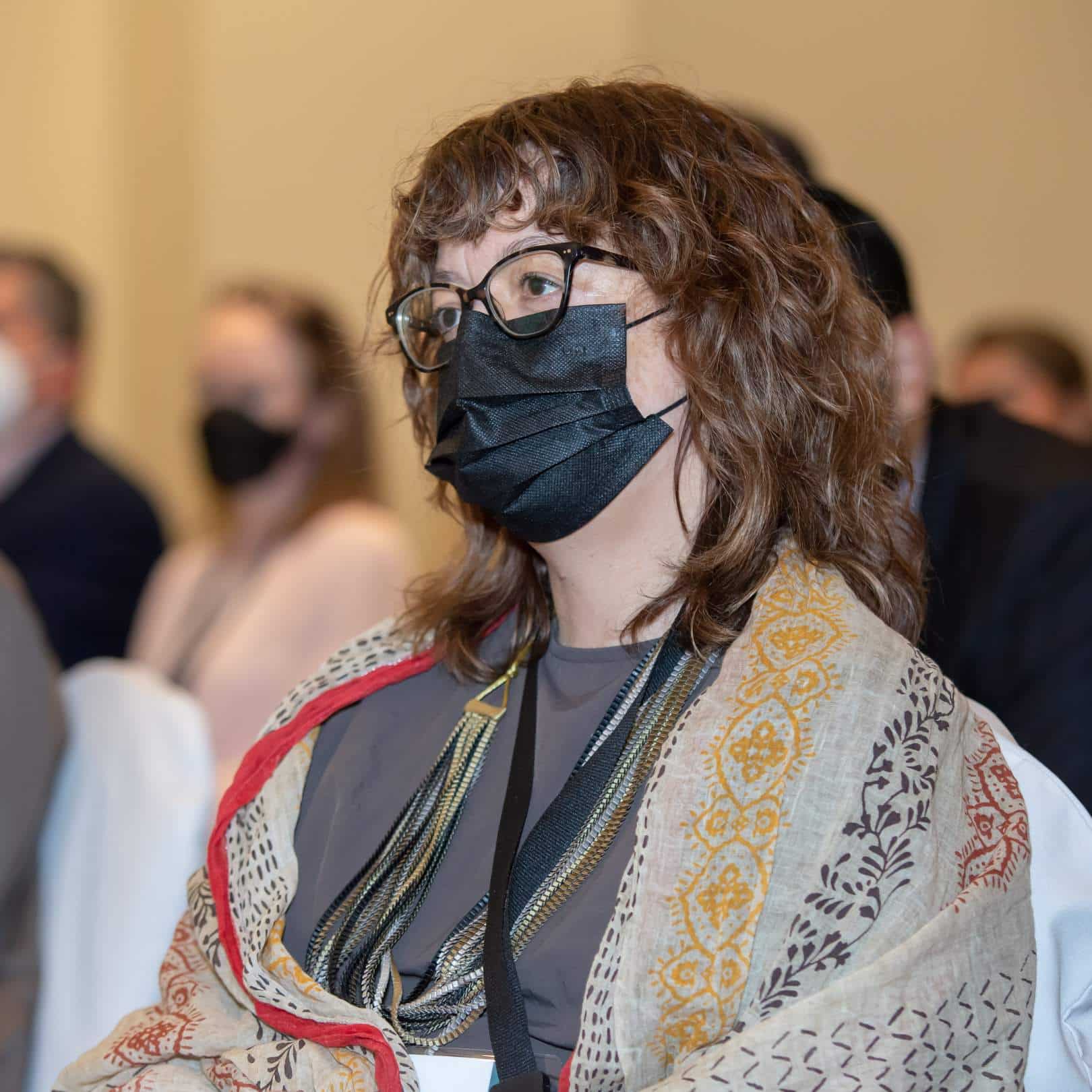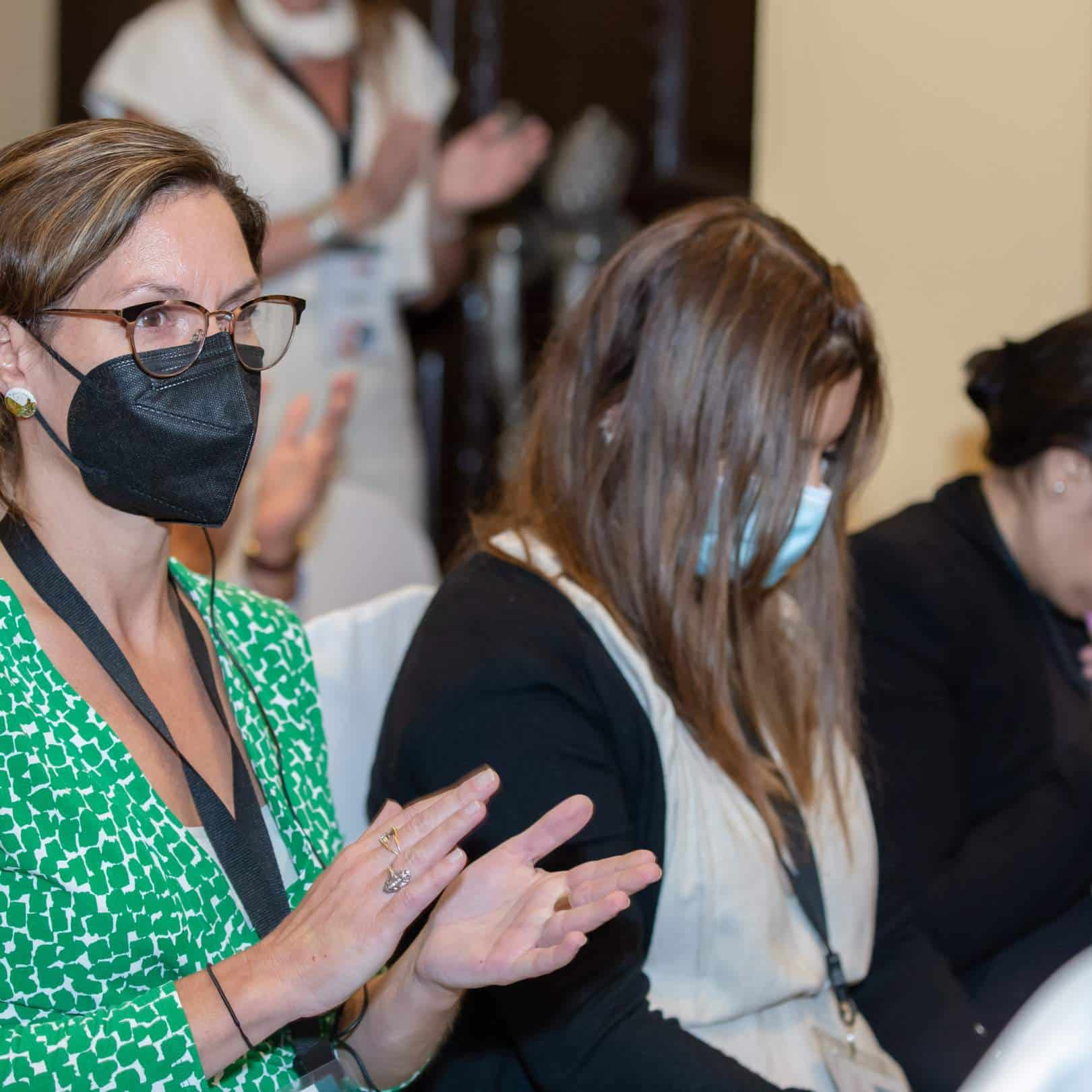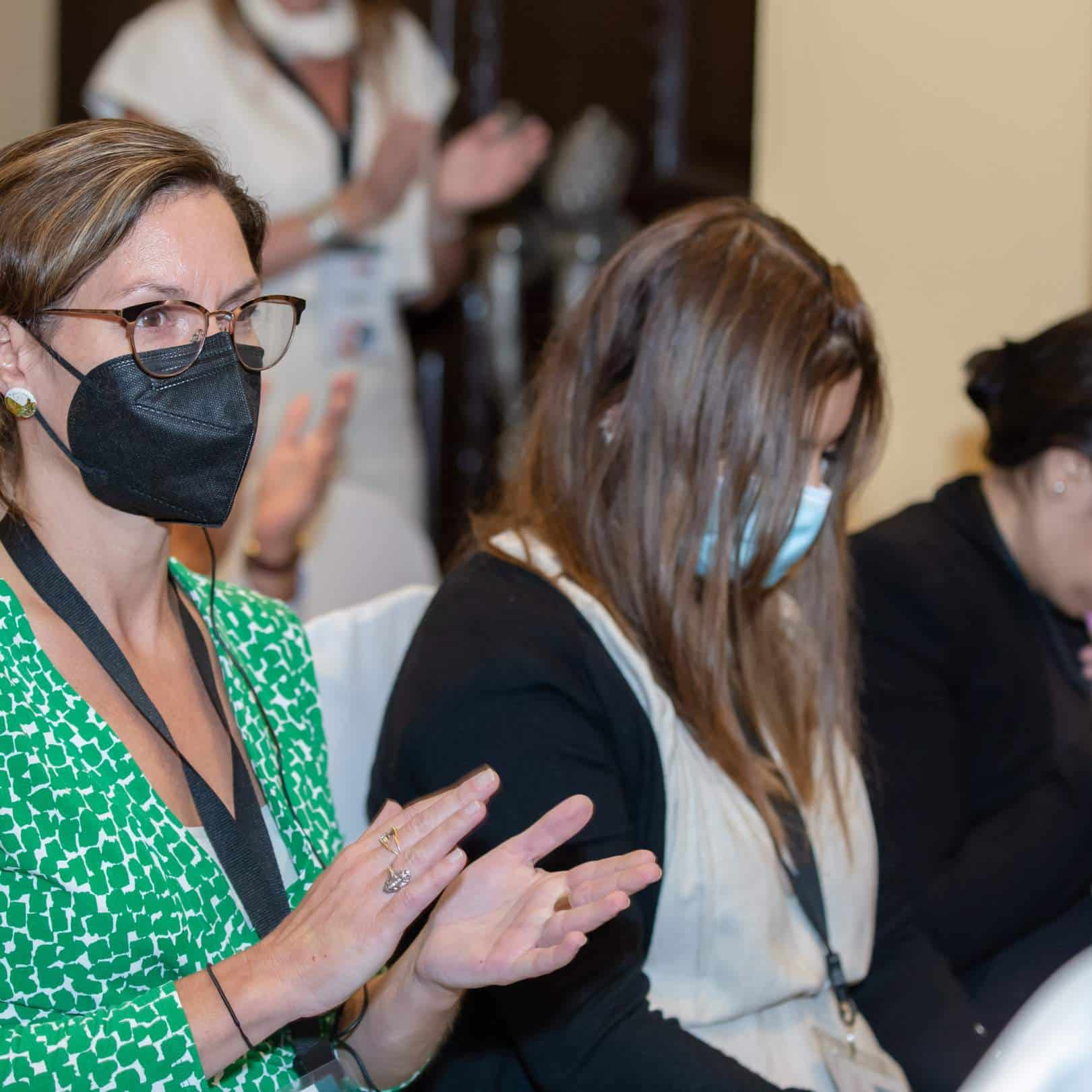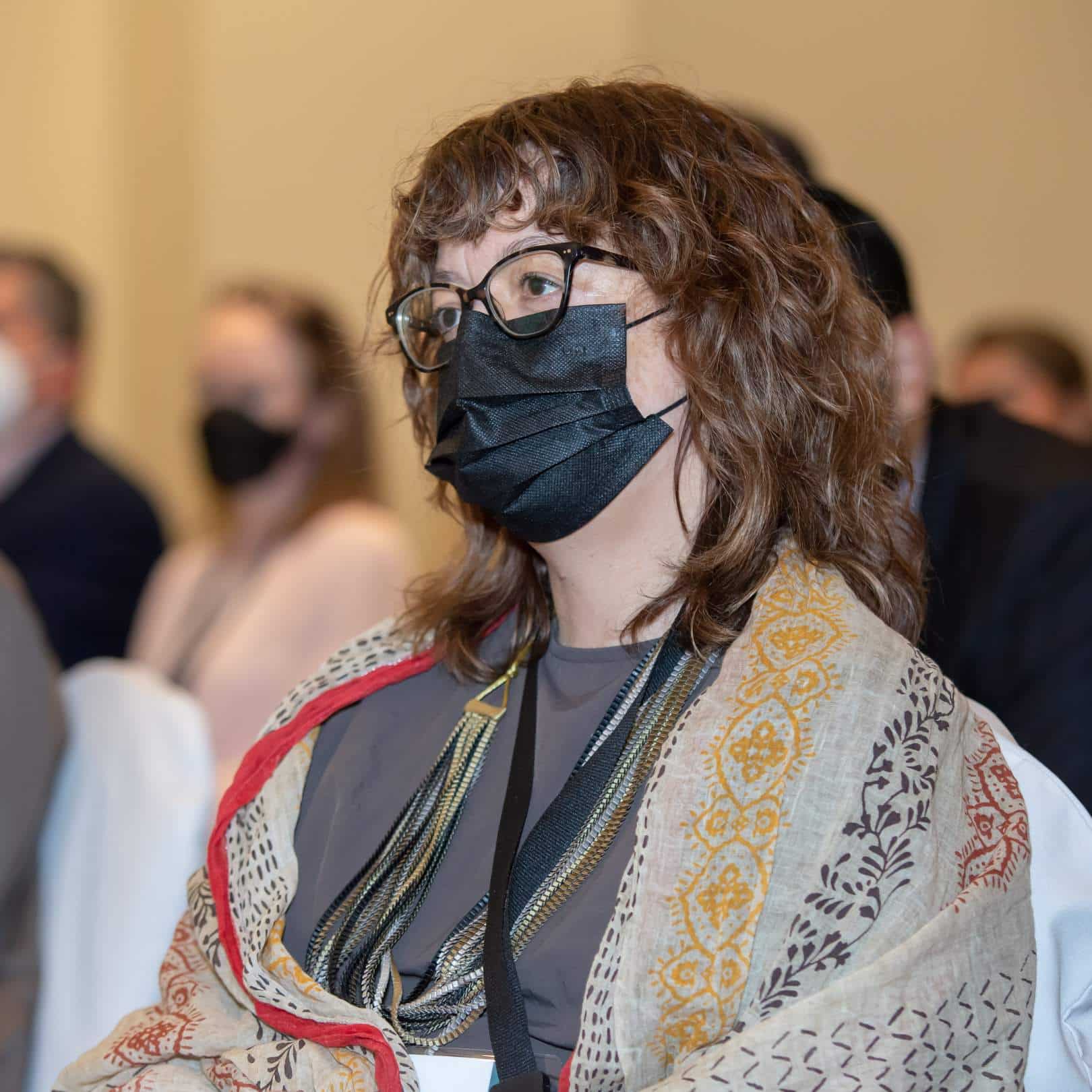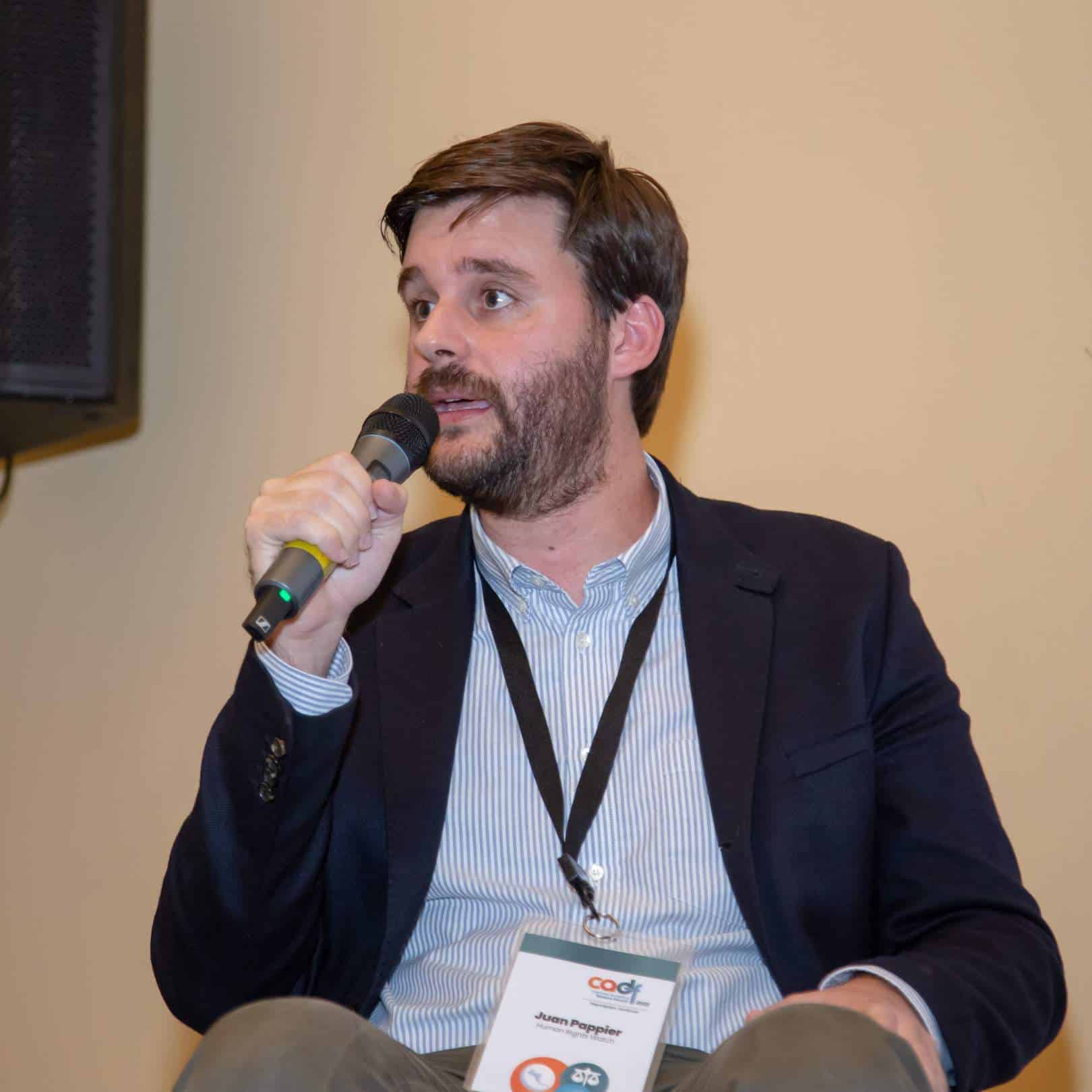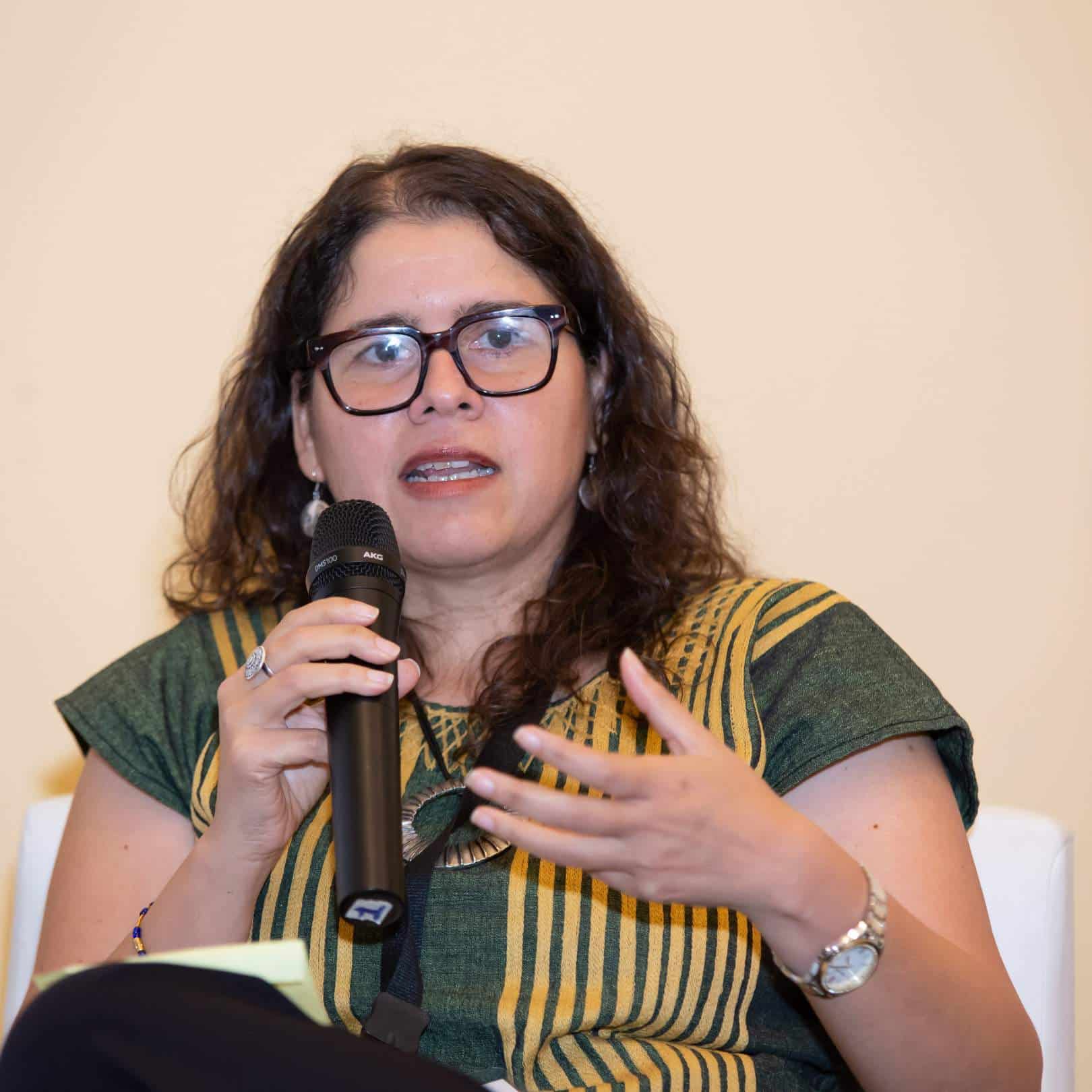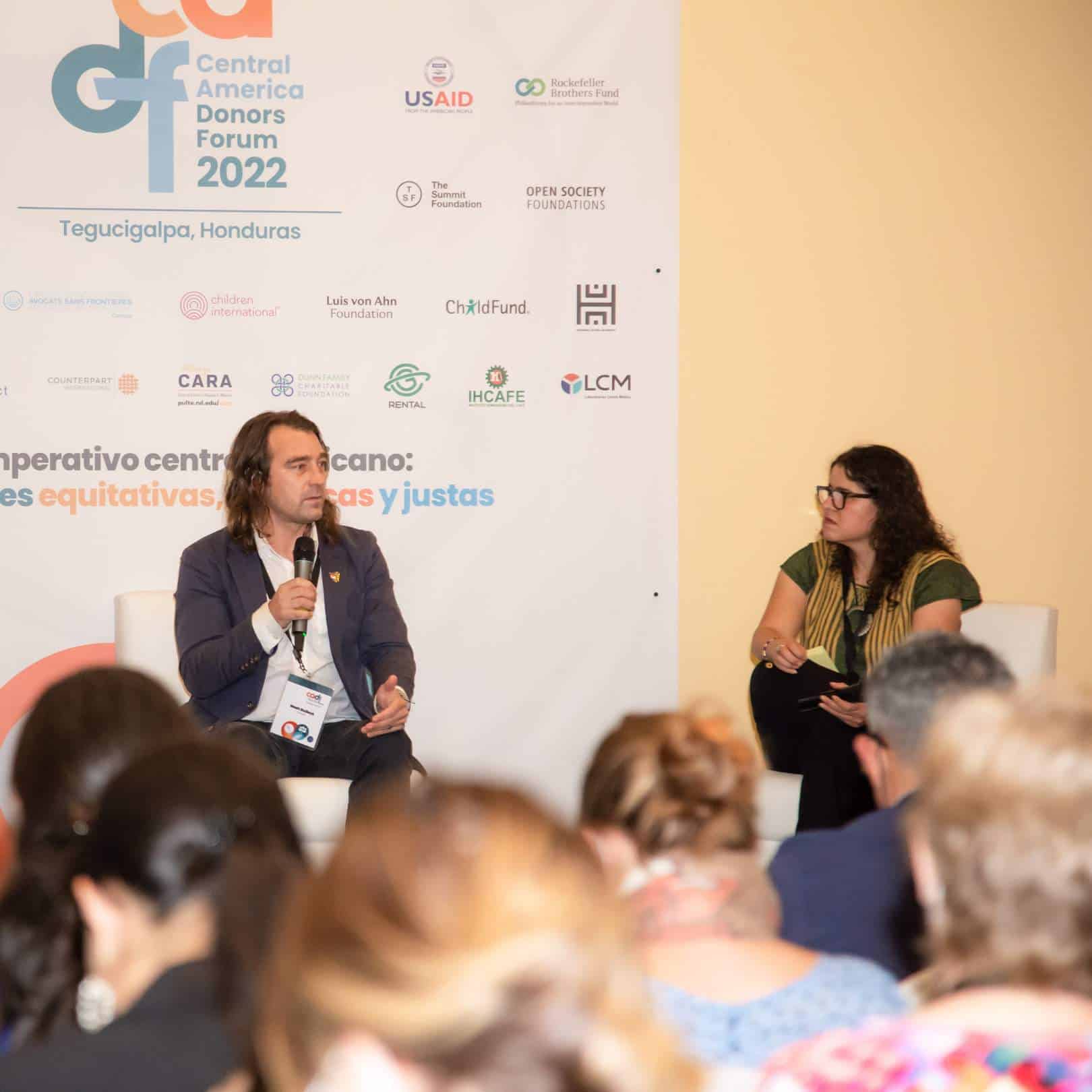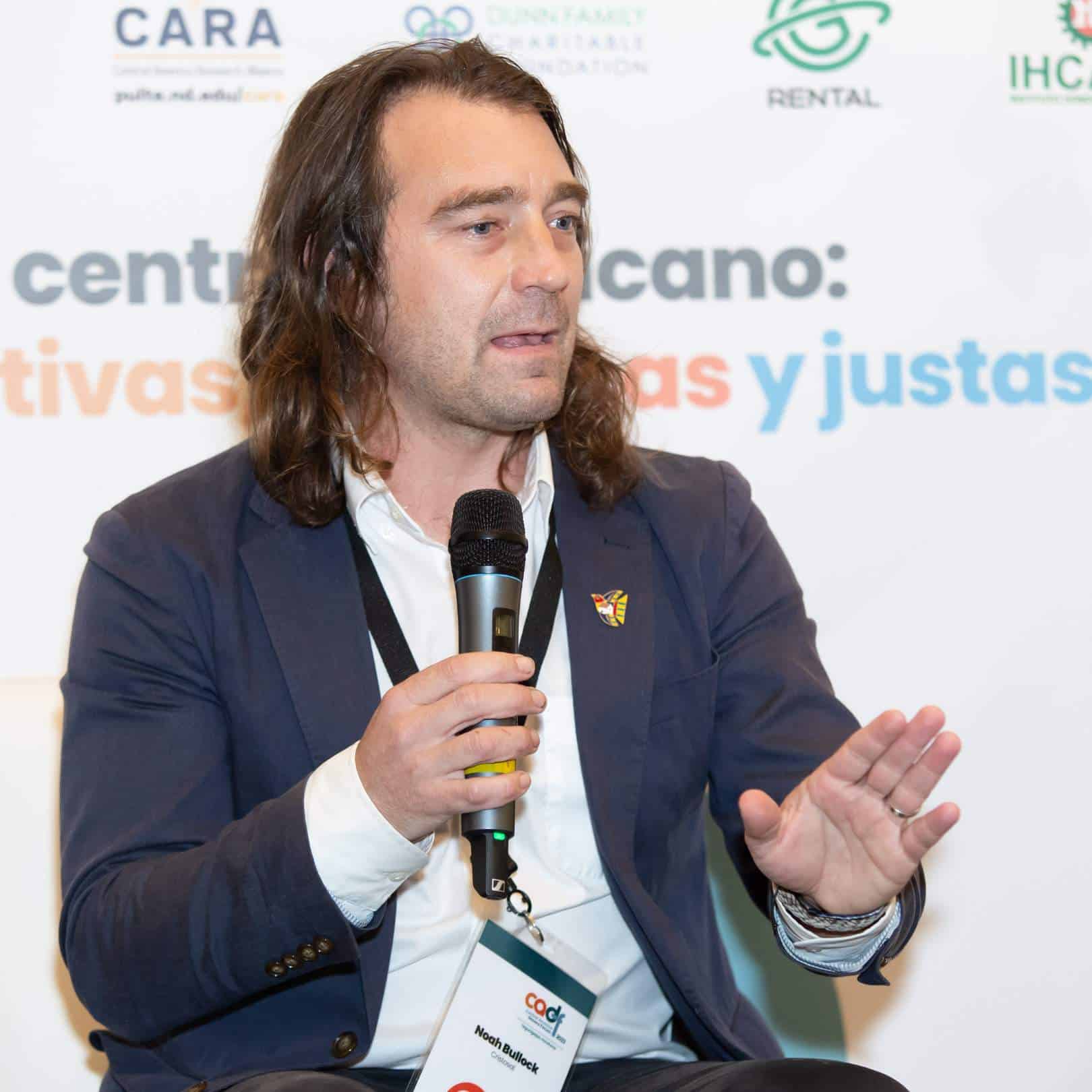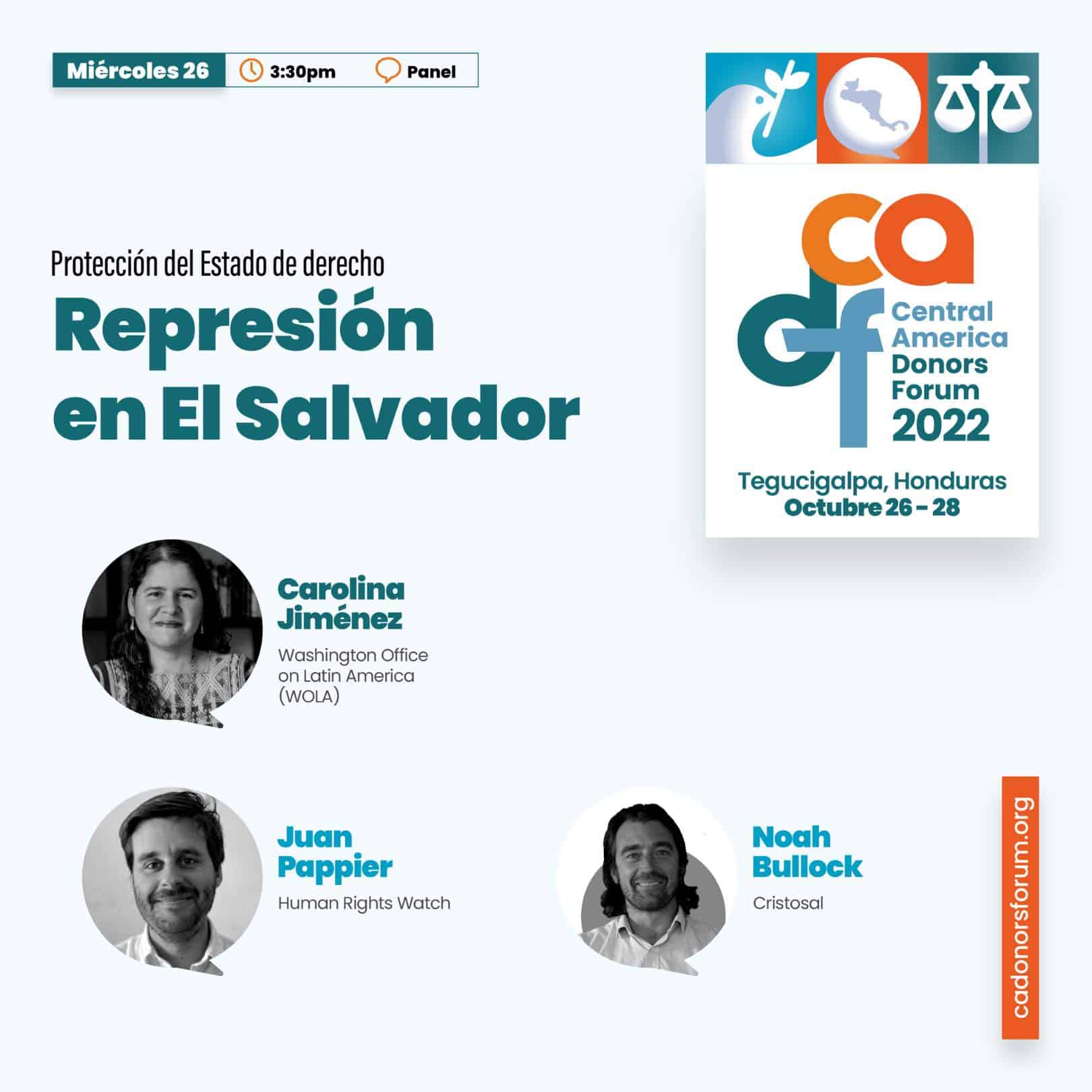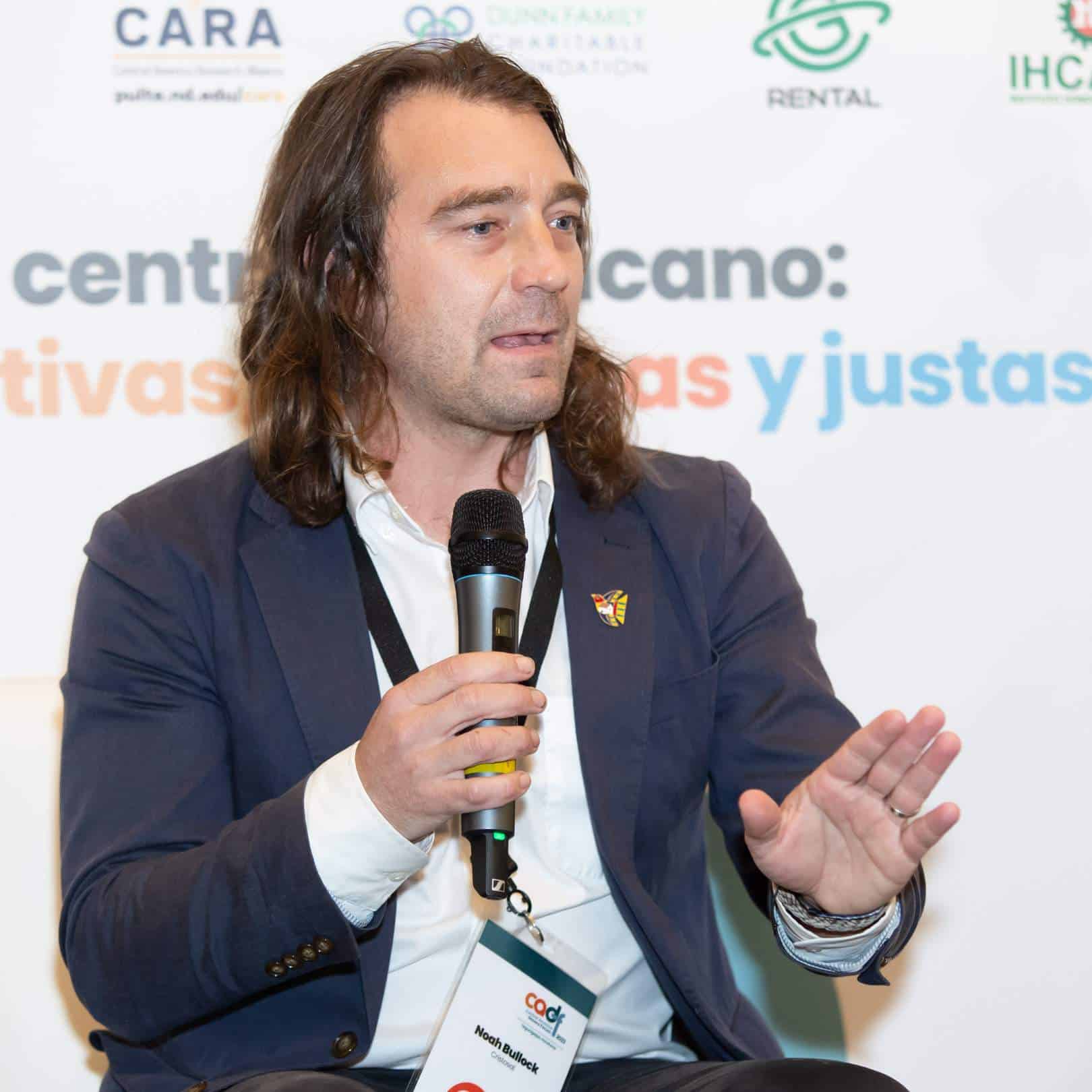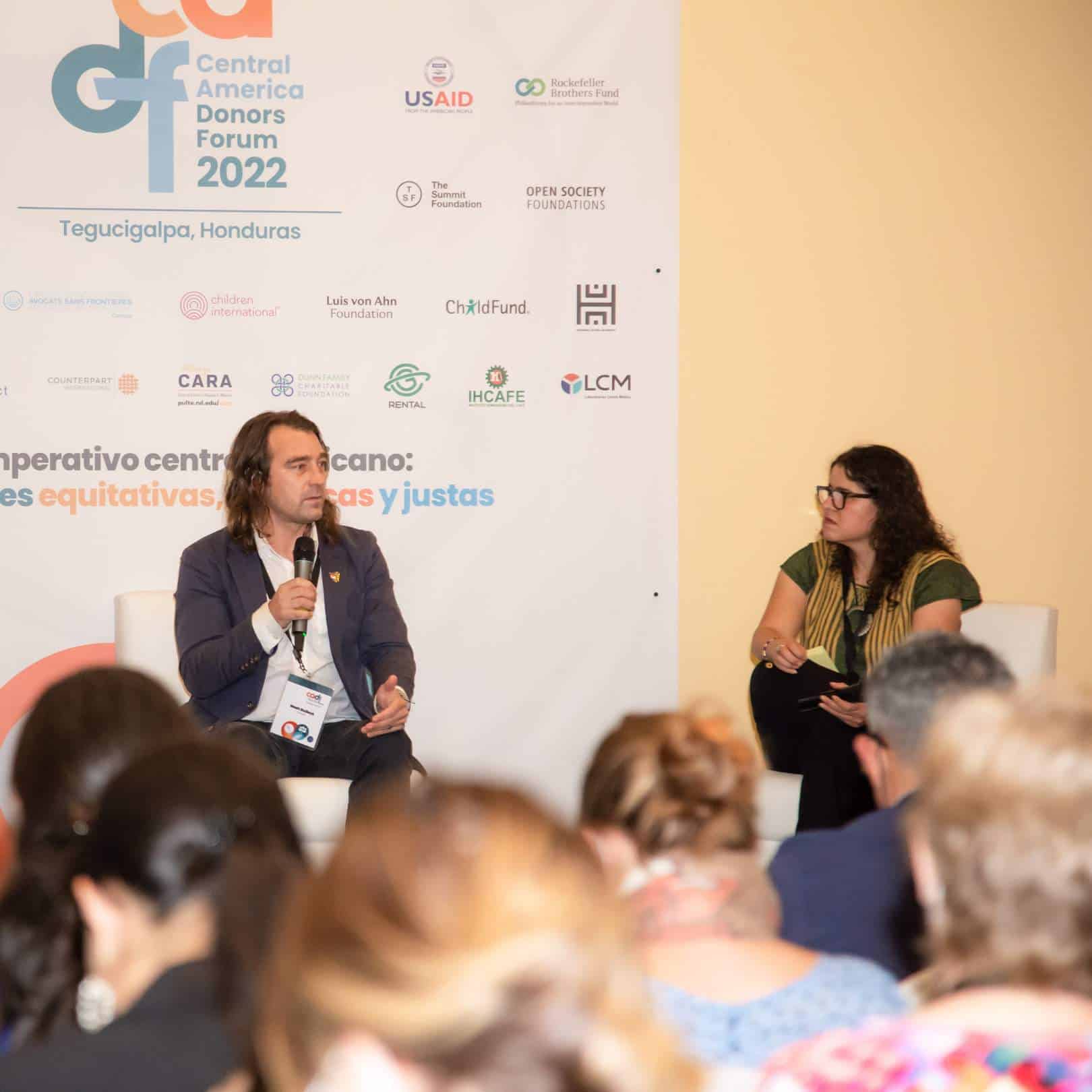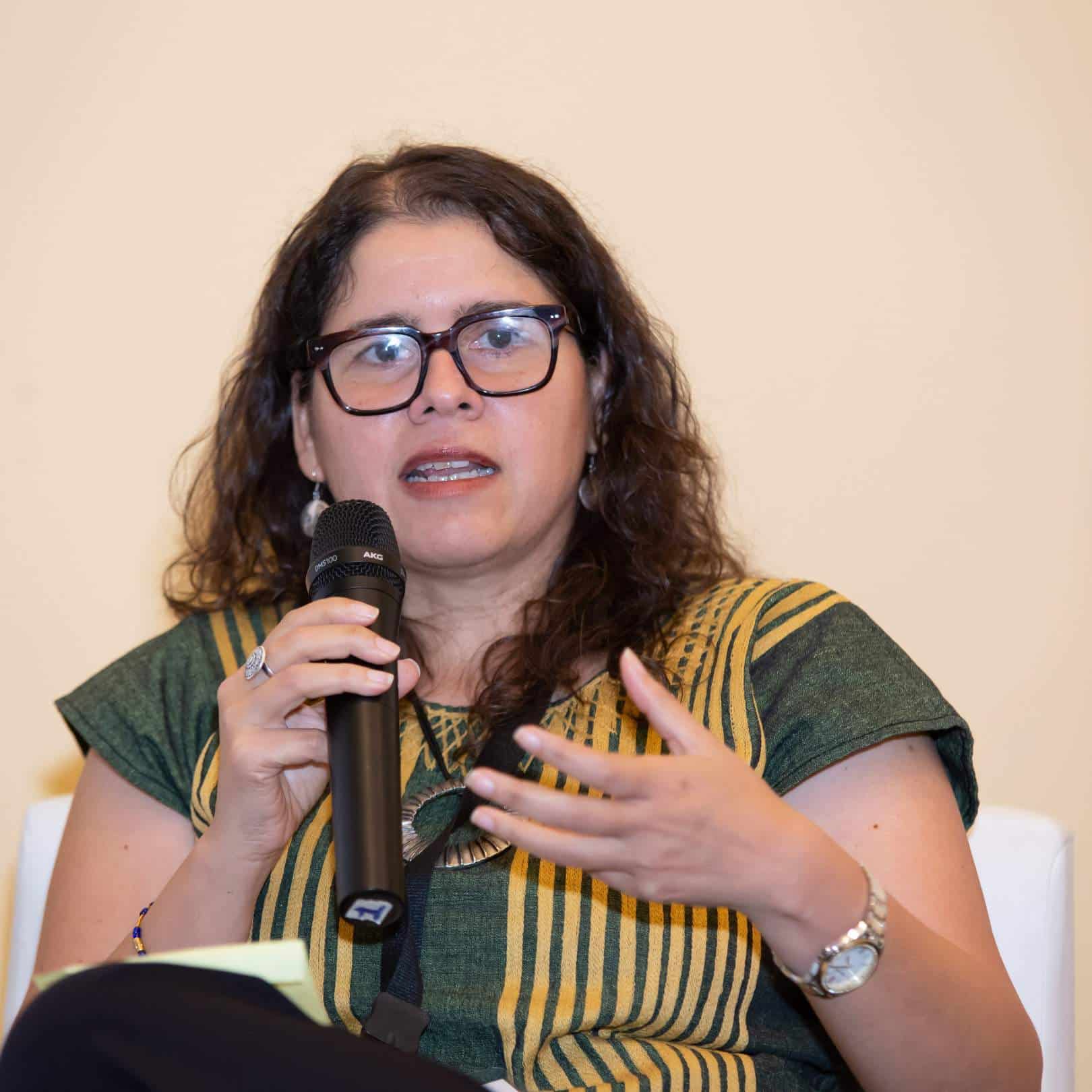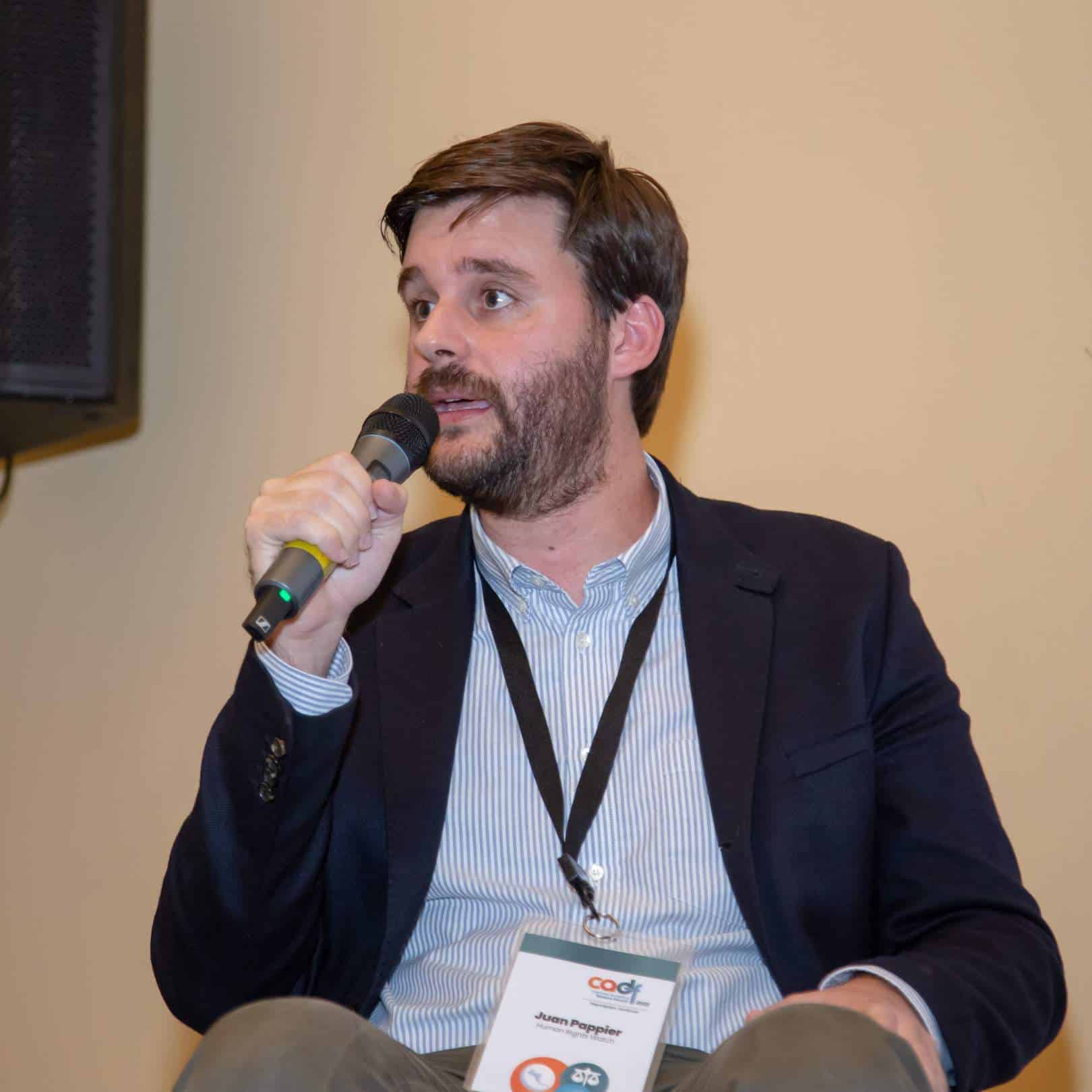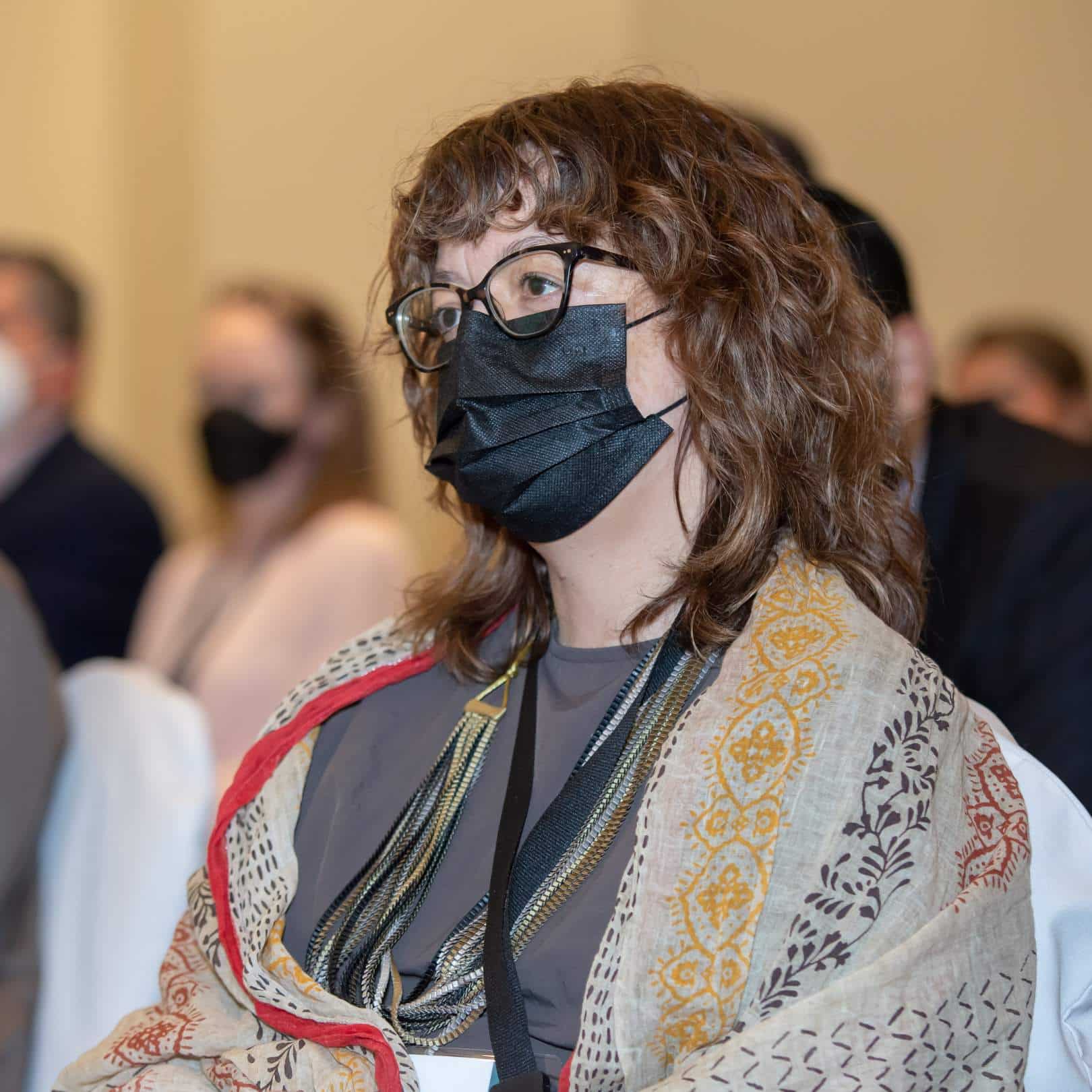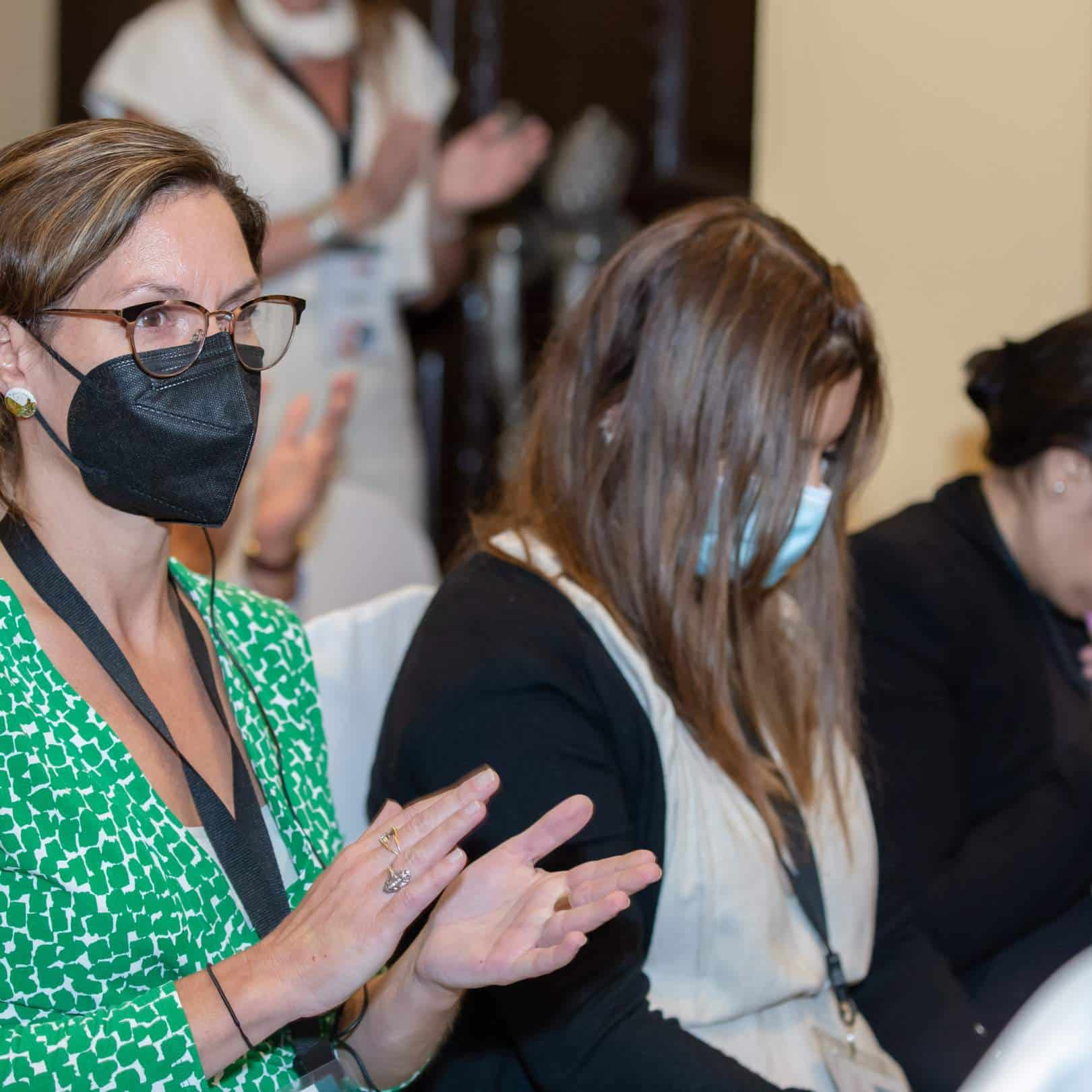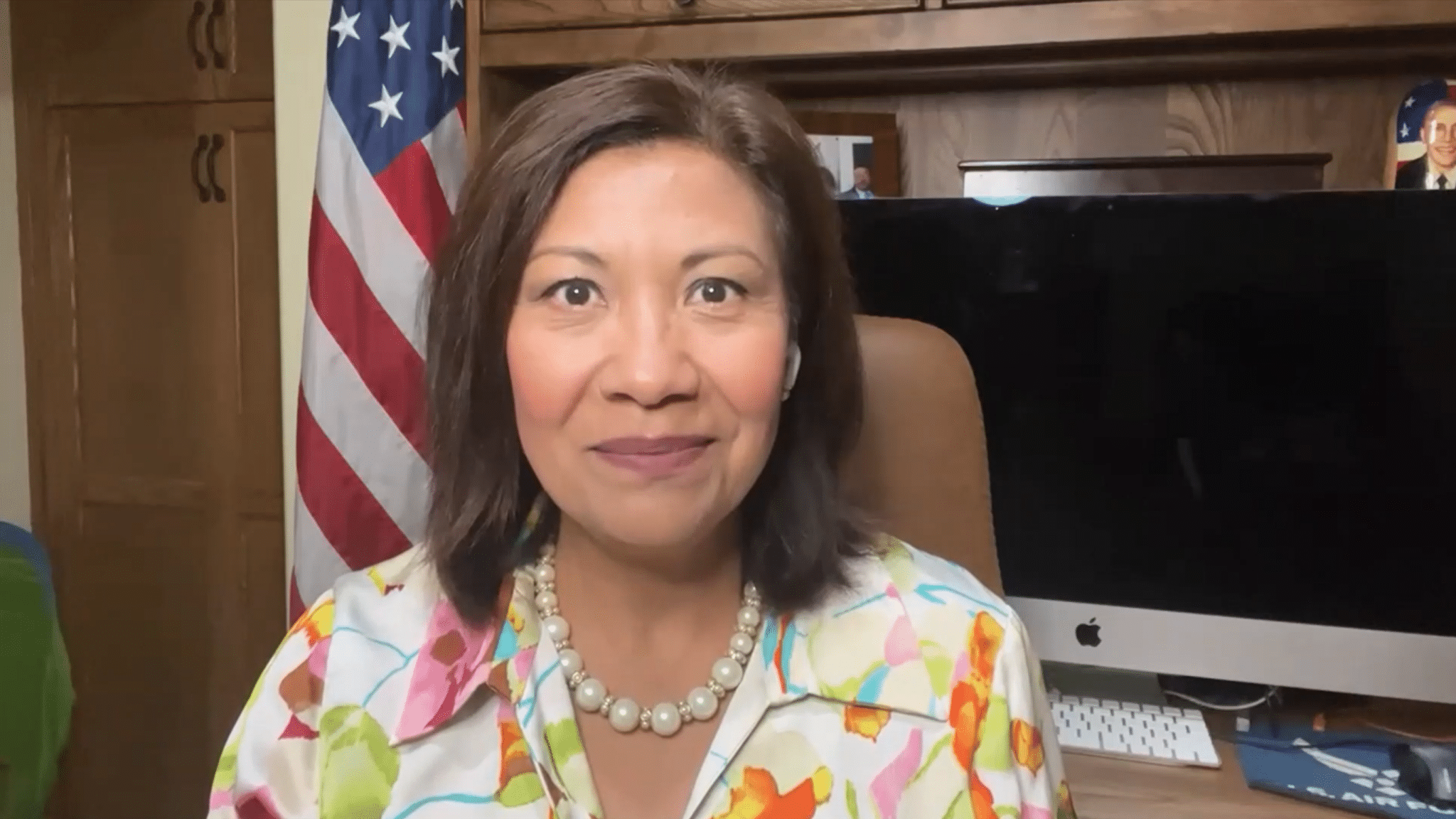 Watch: Keynote by Congresswoman Norma Torres
U.S. Congresswoman Norma Torres opened the second day of the CADF 2022 virtually with a keynote address. A consistent voice for and supporter of marginalized groups in Central America and the United States, Congresswoman Torres is an important defender of justice, equity, and economic opportunity and encourages the empowerment of citizens and local institutions.
Who attended CADF?
The CADF 2022 Attendee page allows you to search most attendees by name, organization type, country, SDGs and more!

Use the link below to read up on attendee biographies, visit social media pages and begin broadening your network today.
Meet the CADF 2022 attendees
Youth Movements
Movement Makers: Young Women, Central Americans and Feminists
This session highlighted findings from a research project on young feminists, managed by Seattle International Foundation. Presenters discussed the intergenerational nature of the movement and the different ways those generations mobilize. Women are fighting for feminist causes but ultimately this is a fight for civil society. Collectives present an opportunity for accompaniment, including training and critical thought around advocating for policy change. 

The need for self-care, healing, and addressing trauma is prominent for young feminist collectives. Civic spaces are shrinking and social media provides greater reach while de-emphasizing the need for physical space. Youth collectives are often volunteer-driven with activists holding multiple jobs to sustain themselves. The biggest need of this movement is funding for their work and to address the needs of others requiring help due to persecution.
Quotes
"Young feminist collectives are in danger in their states and so they try not to make too much noise. Women have been criminalized for fighting for their rights. We are trying to guarantee a dignified and just life where women and children are respected and we are putting ourselves in danger for doing so. We have been talking for generations and civic spaces are currently closing."
Dinora Centes
"This generation of young feminists has tried to speak openly about the pain of women and of their elders too. Collectives think about the importance of being healed and addressing trauma. They think of organizing as a means of healing, growing, and building."
Cándida Chévez
"Feminist women have organized themselves around other narratives and it is important to see that panorama. Feminist friends are providing accompaniment for those experiencing political persecution. These collectives of women are allies and affect policies where they can find open spaces for discourse."
Yohely Domínguez
"Most of these feminists have a second or third job, plus home tasks. It is a huge effort and purely voluntary to mobilize."
Dinora Centes
Speakers
Natalia Lozano, Seattle International Foundation (SIF)
Diana Campos-Ortiz, Seattle International Foundation (SIF)
Cándida Chévez, Independent Researcher
Yohely Domínguez, Independent Researcher
Dinora Centes, El Colectivo of Guatemala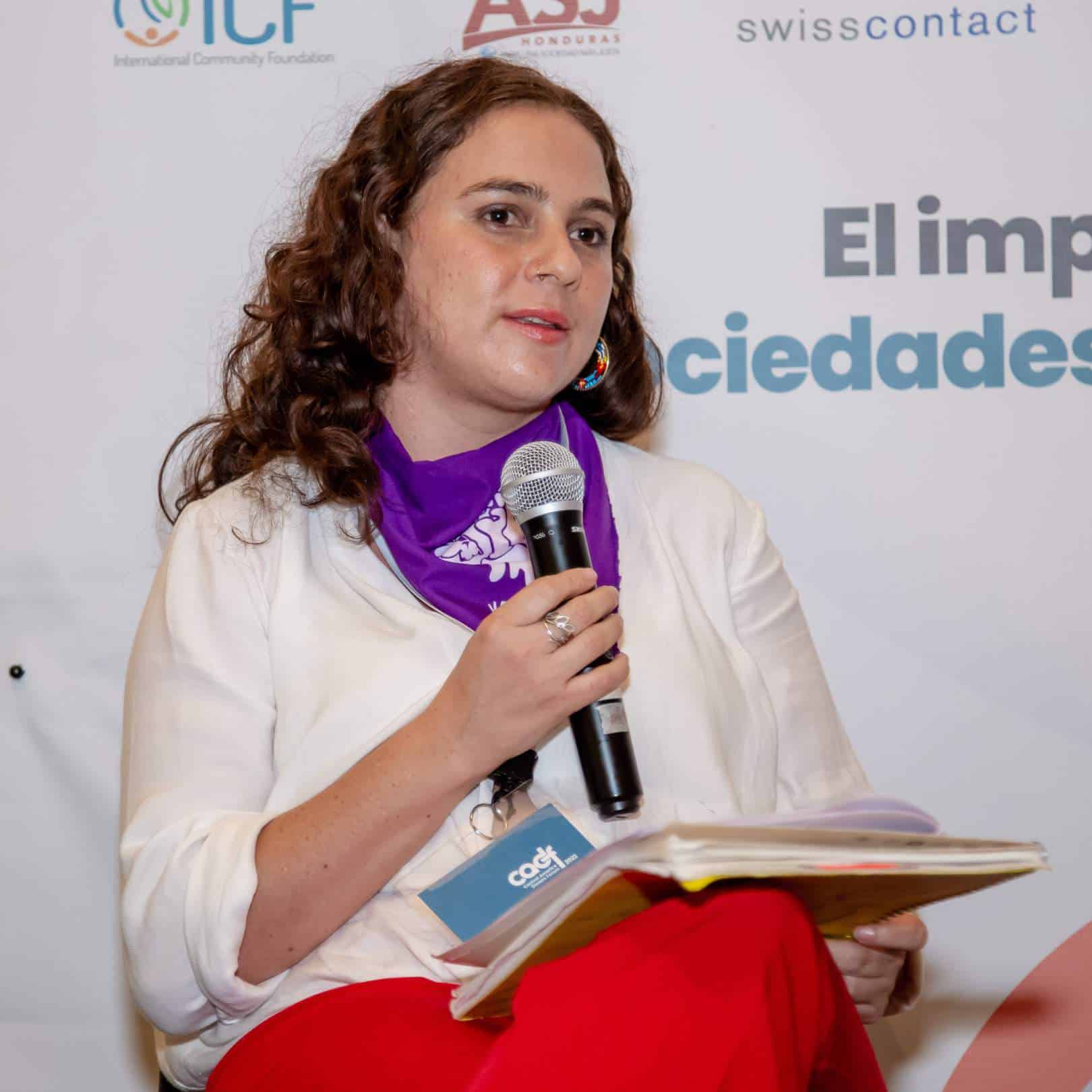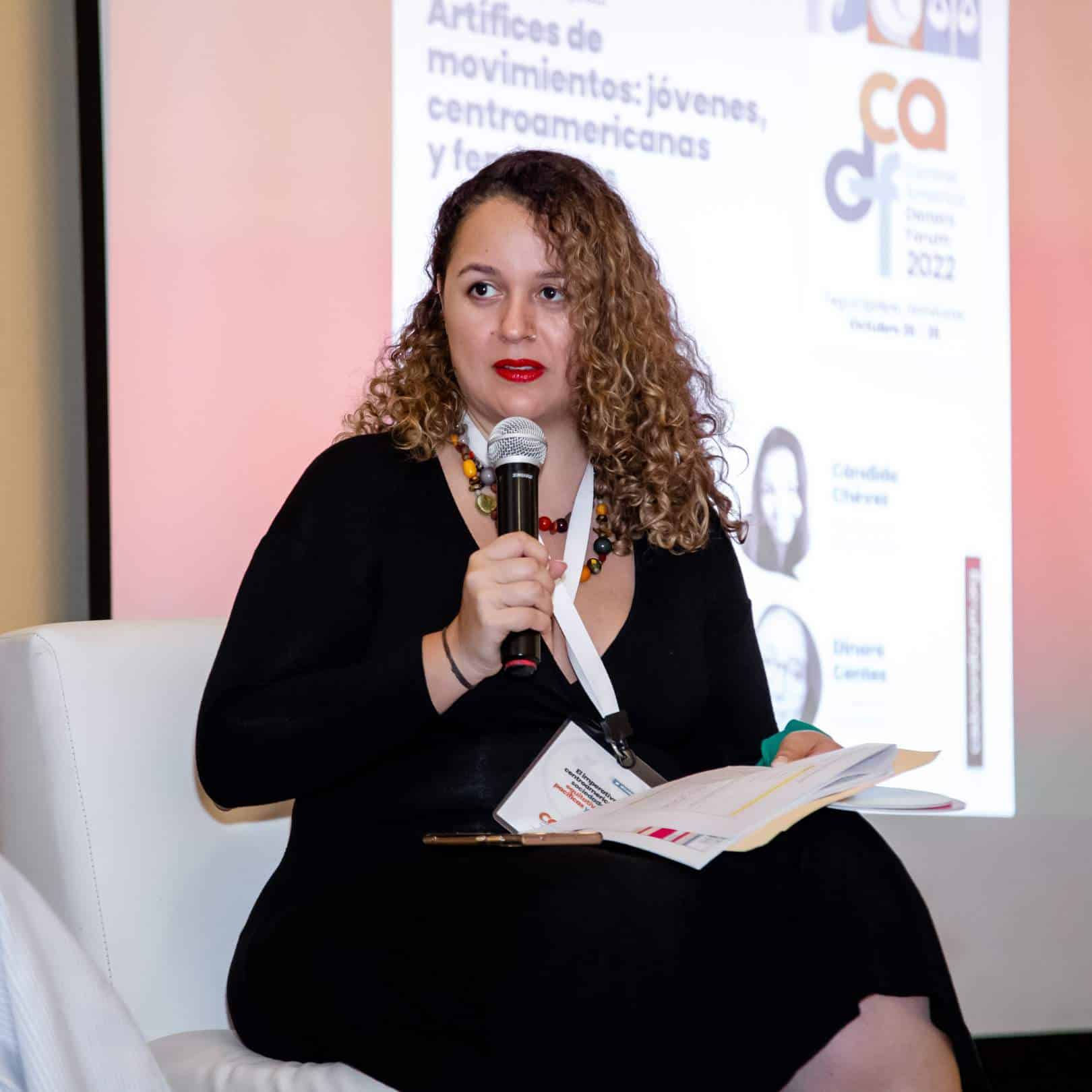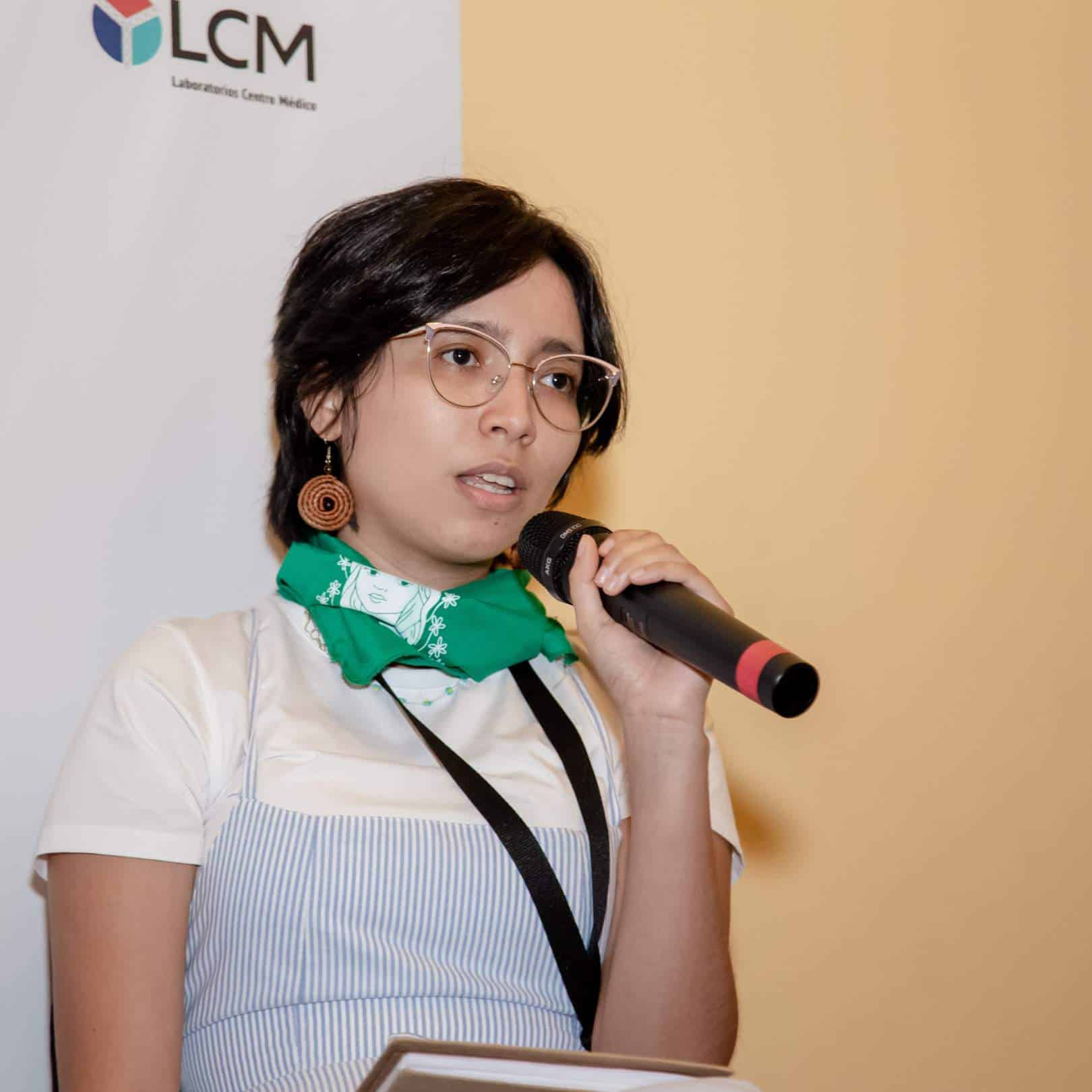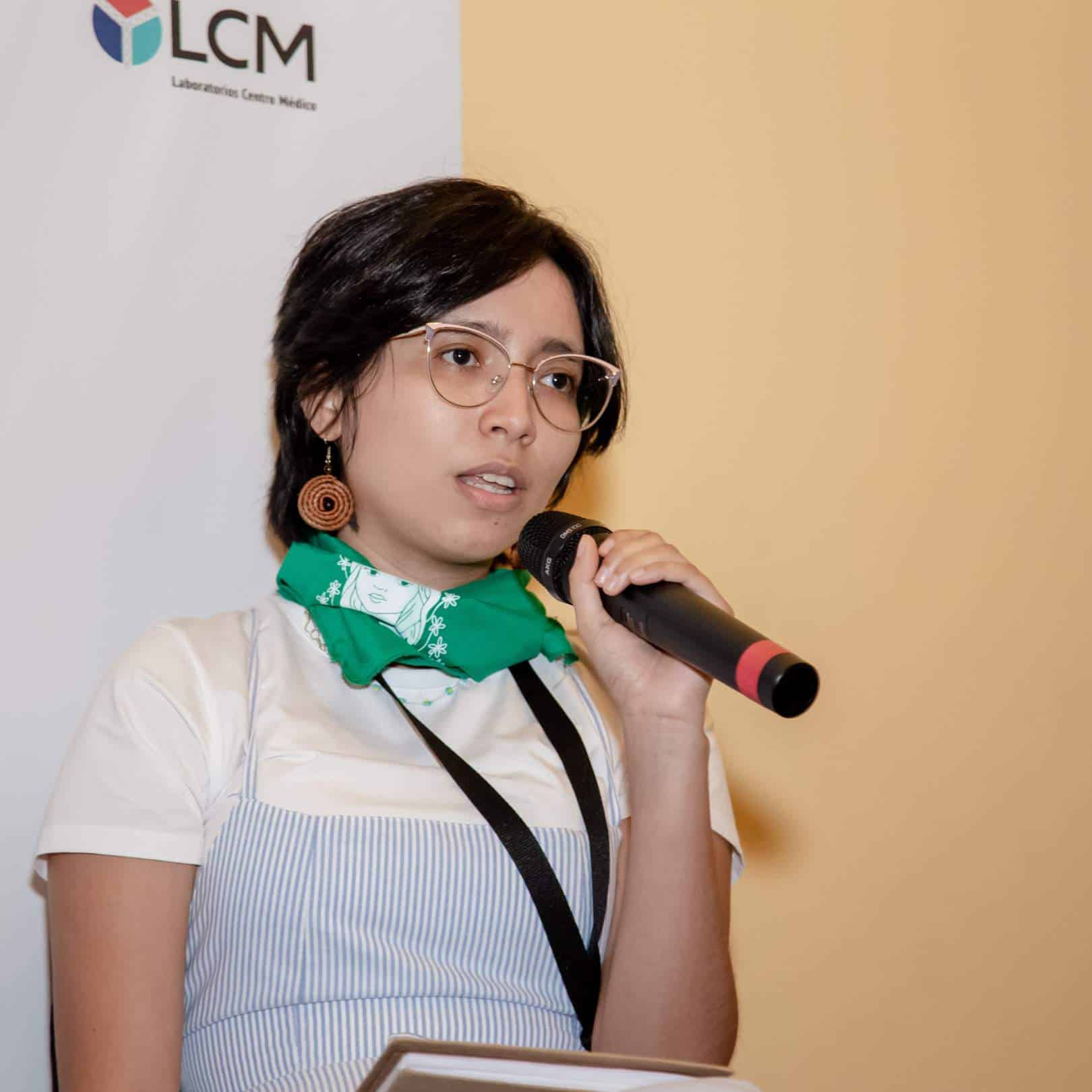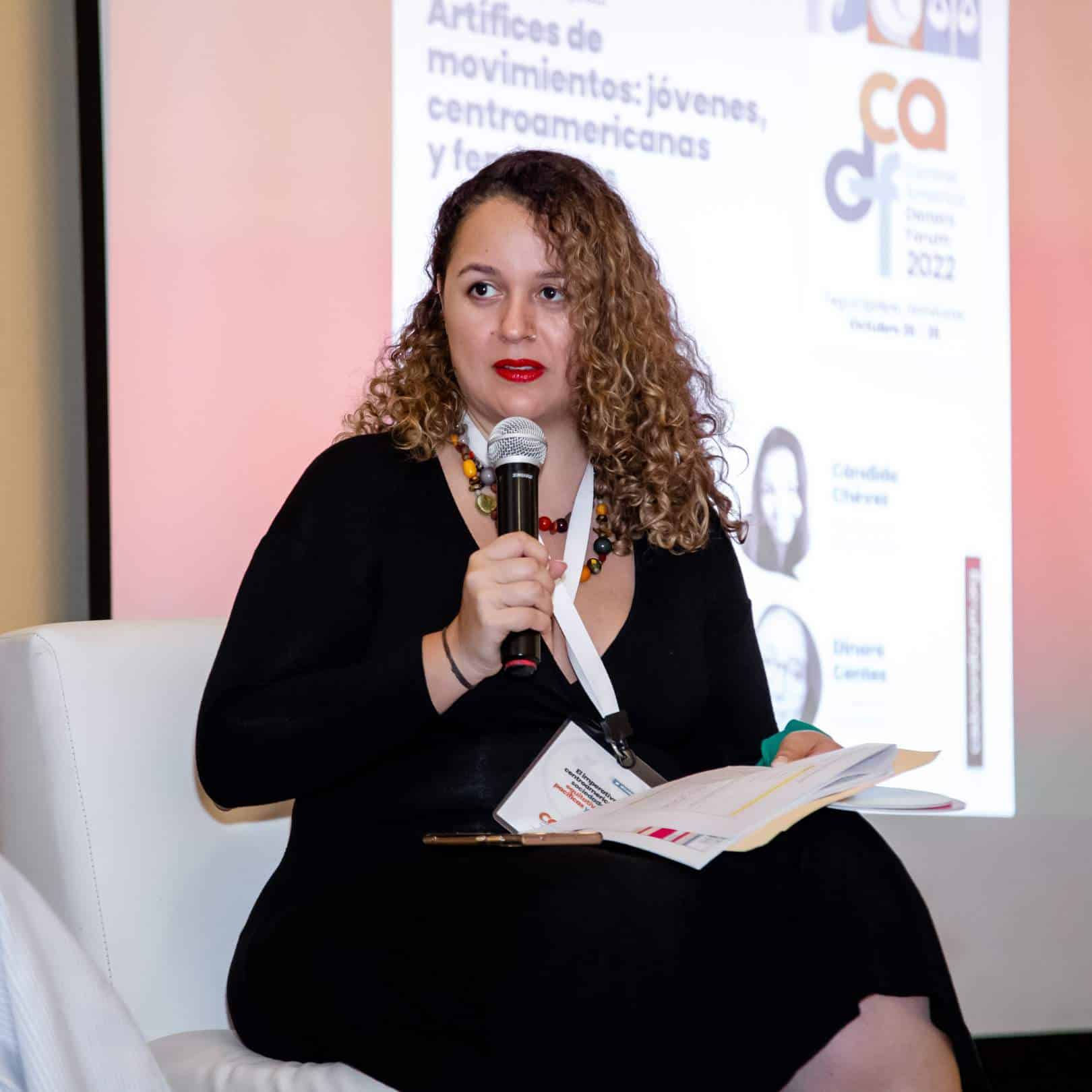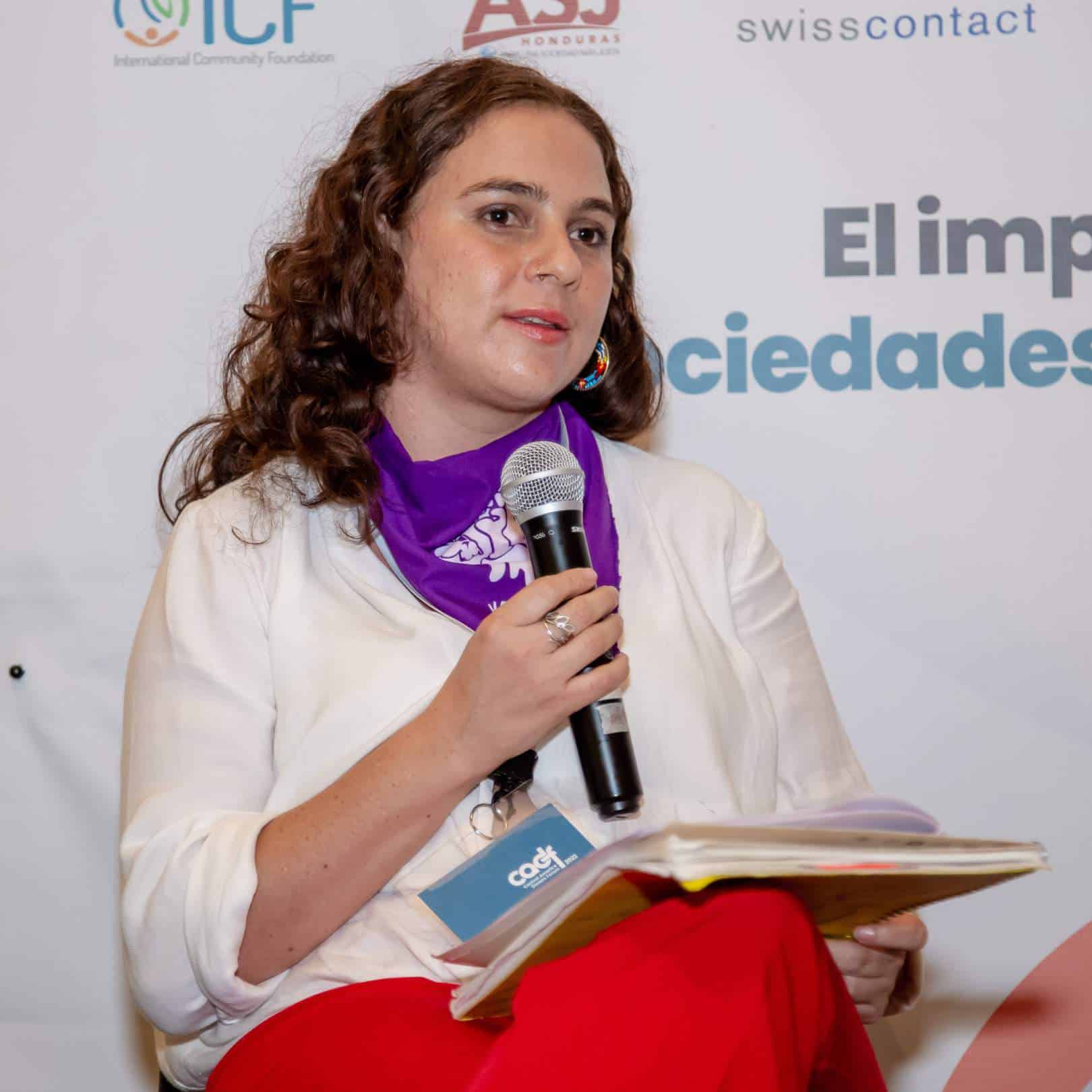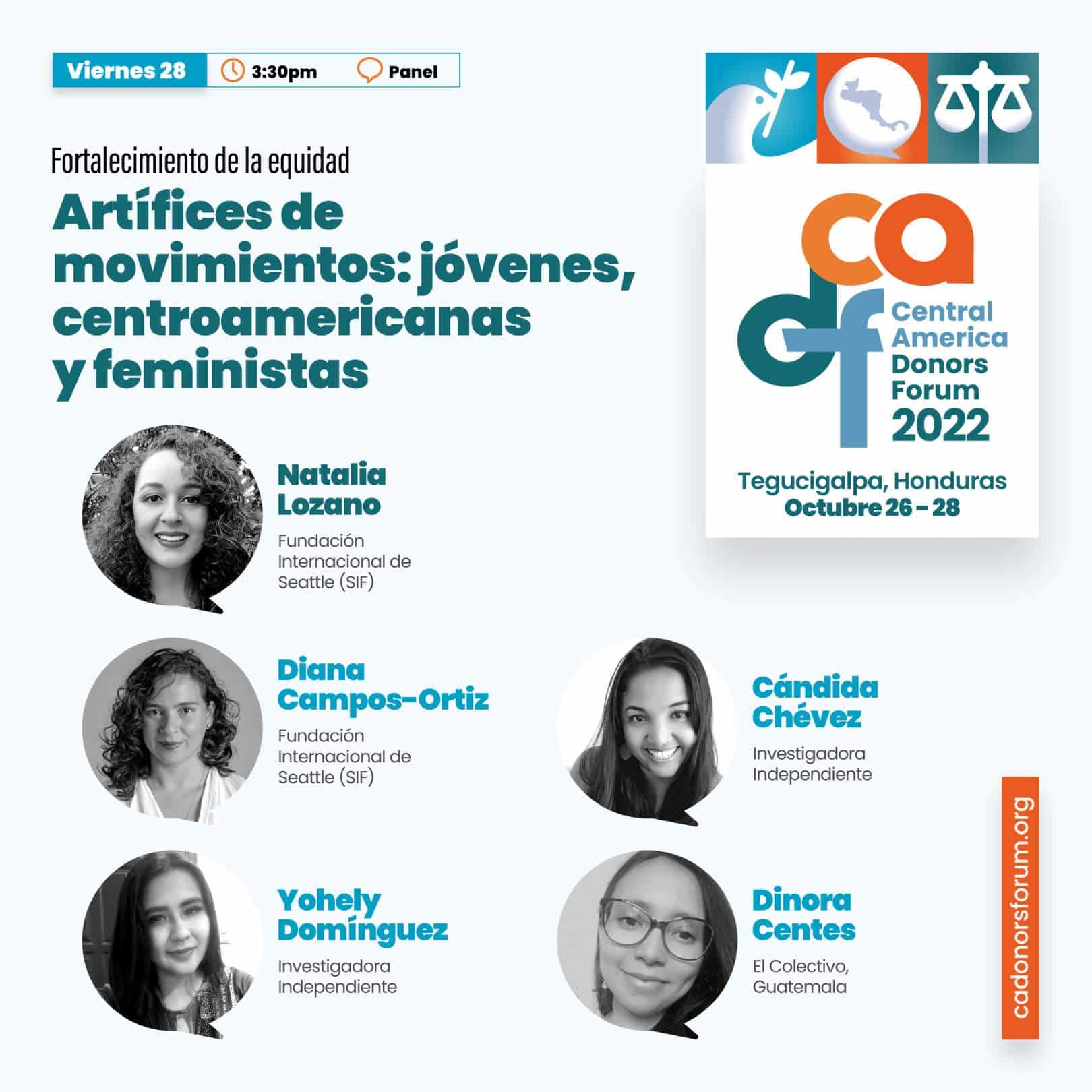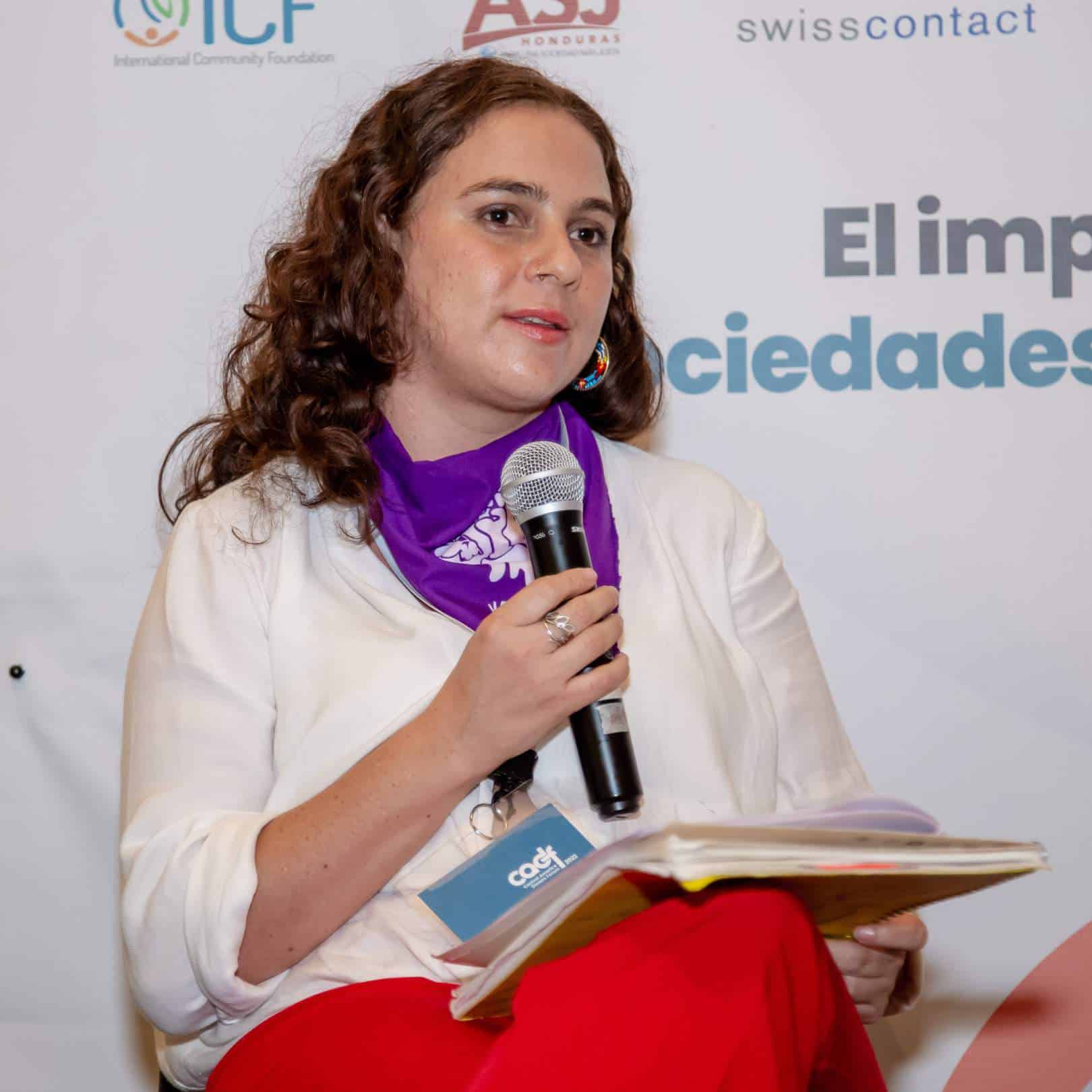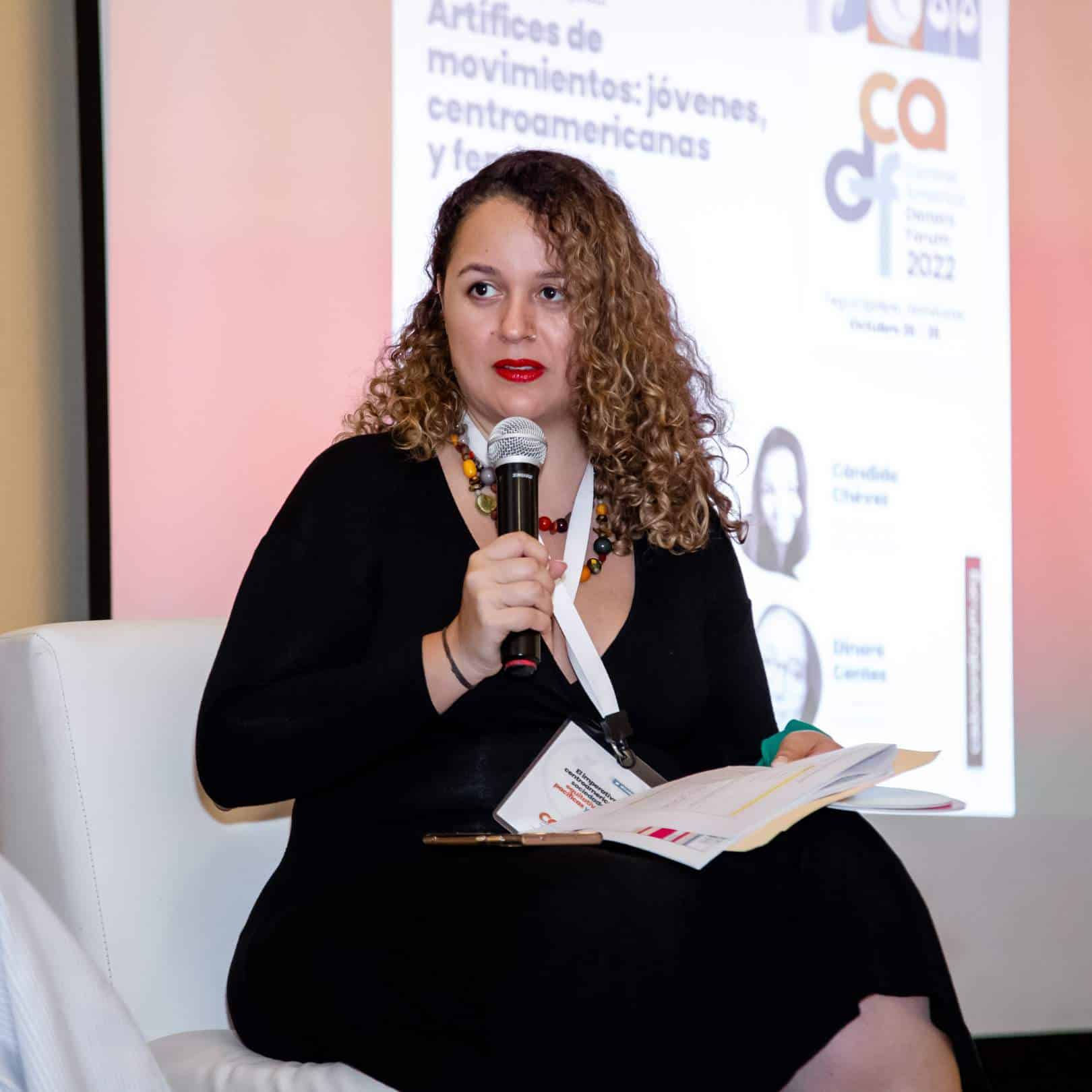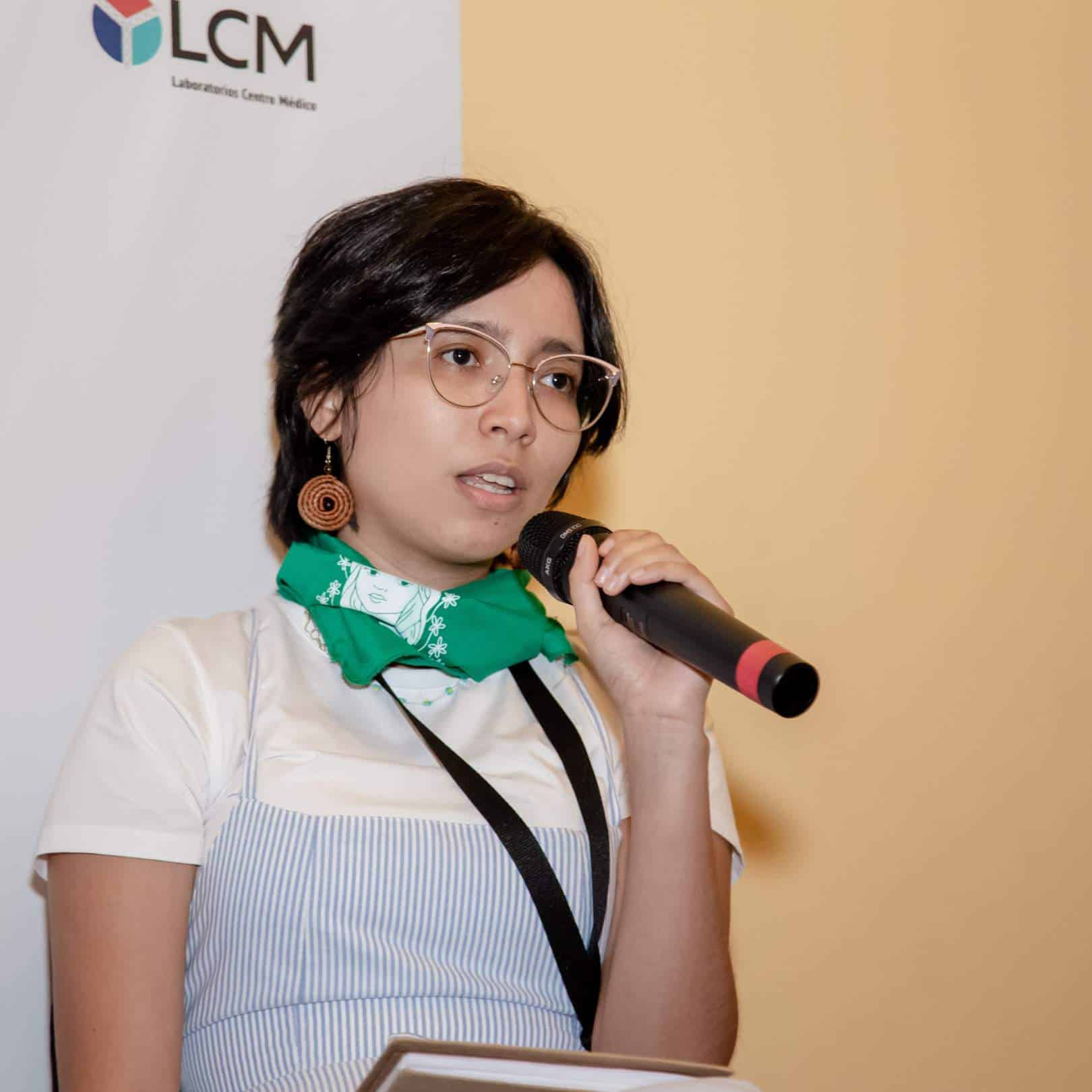 2022 Honorary Host Committee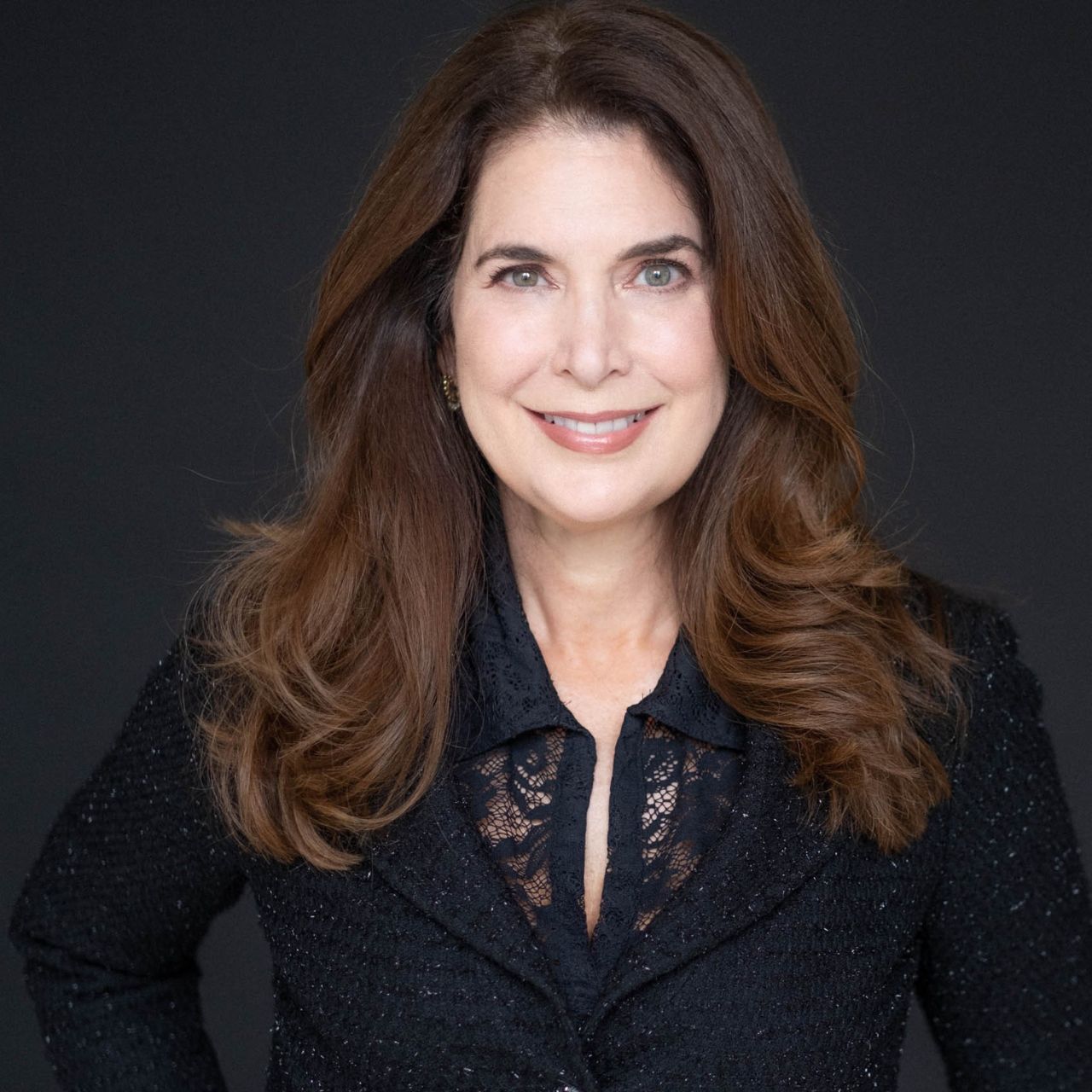 Ana Marie Argilagos
President, Hispanics in Philanthropy (HIP)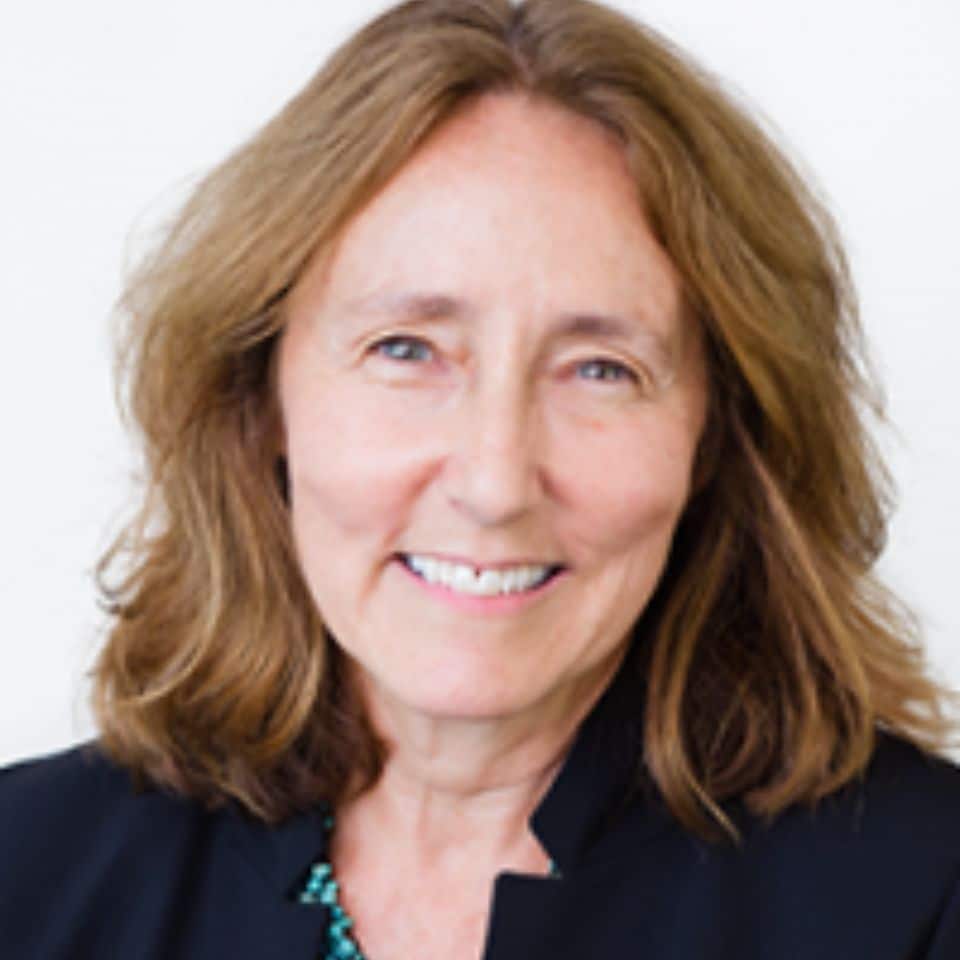 Elizabeth Campbell
Executive Vice President, Programs & Communications, Rockefeller Brothers Fund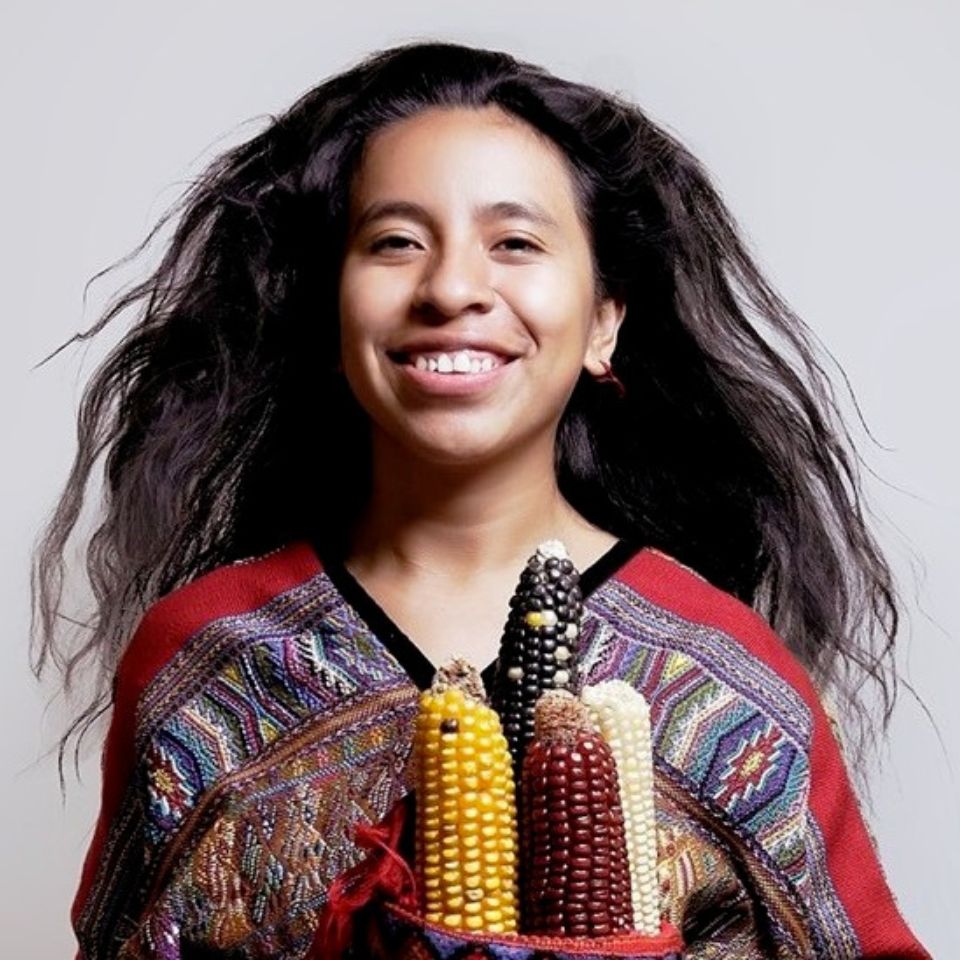 Sara Curruchich
Guatemalan singer-songwriter and activist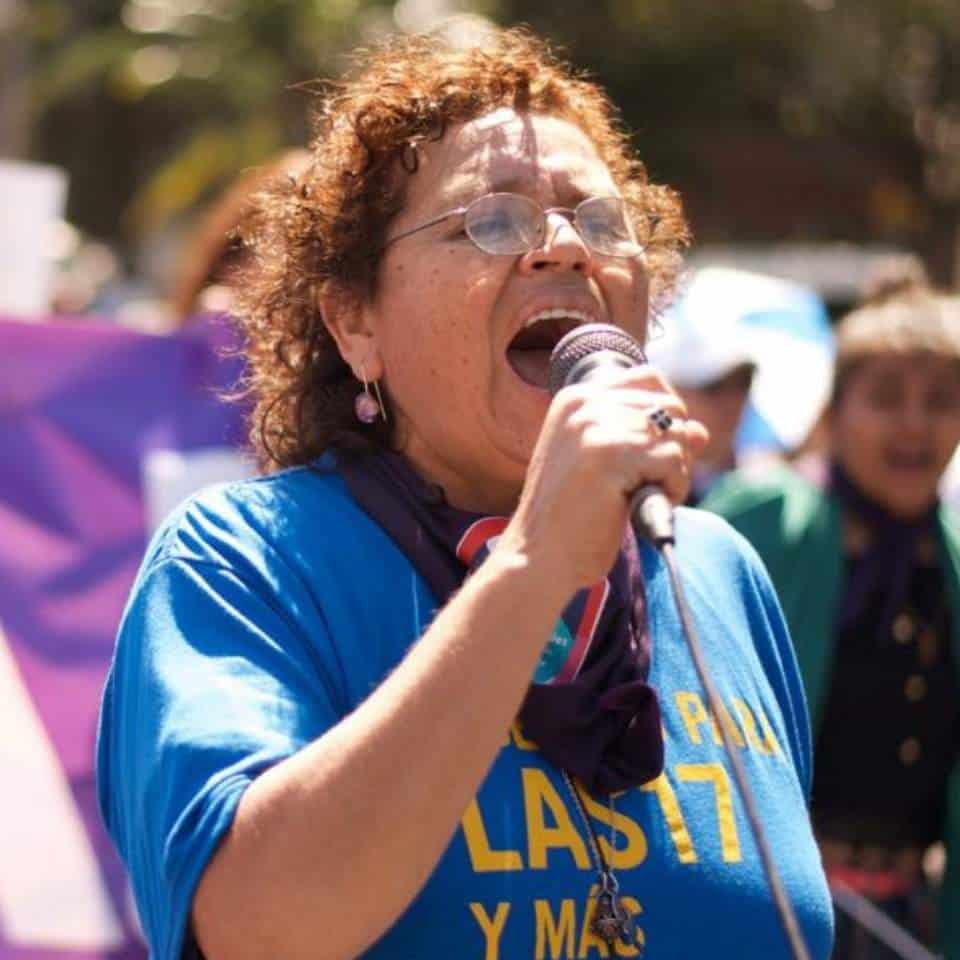 Morena Herrera
Feminist Activist & Human Rights Defender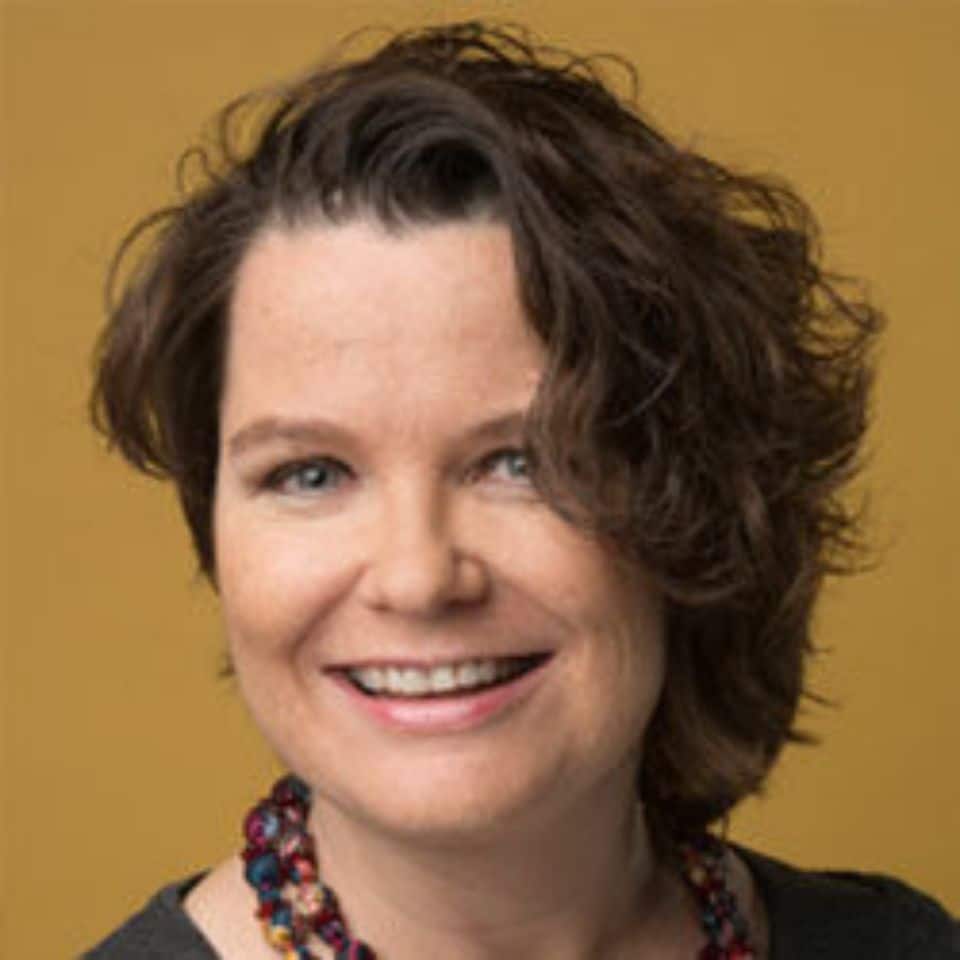 Helena Hofbauer Balmori
Regional Director, Office for Mexico and Central America, Ford Foundation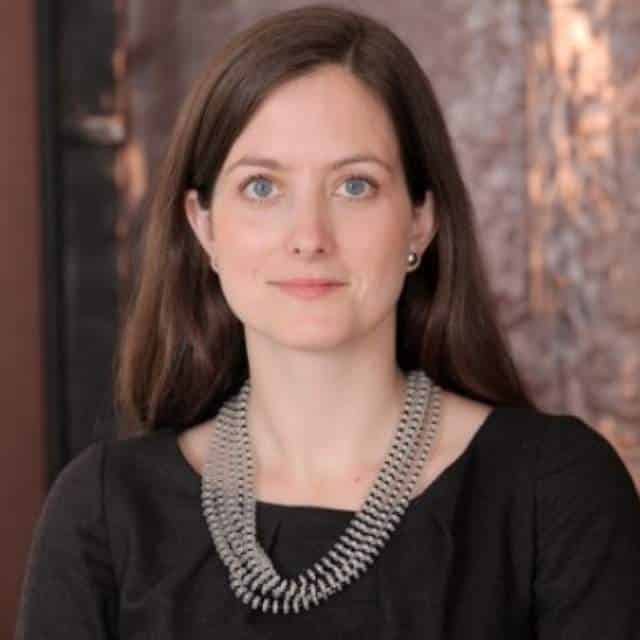 Caroline Kronley
President, Tinker Foundation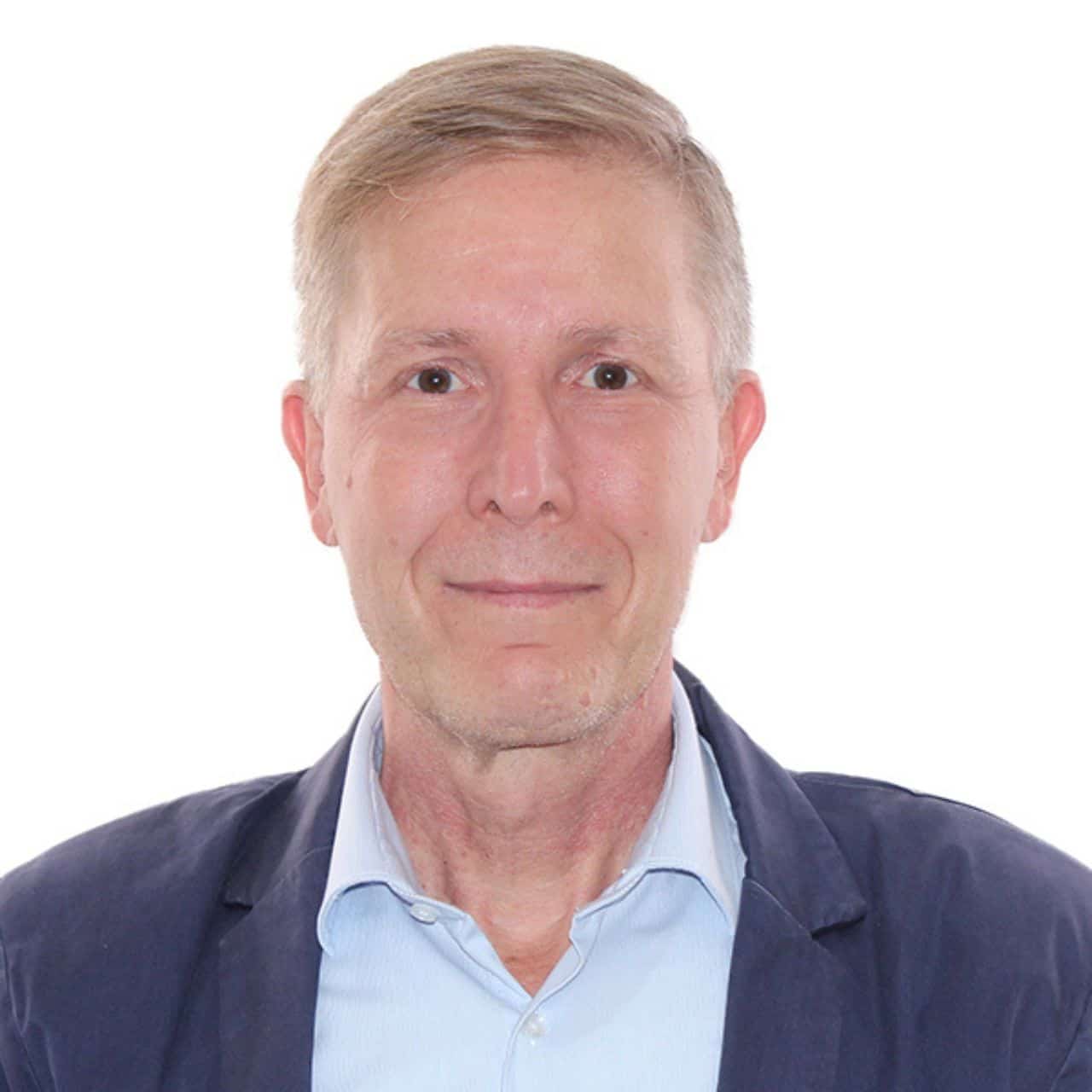 Hans Magnusson
Ambassador Extraordinary and Plenipotentiary of Sweden in Guatemala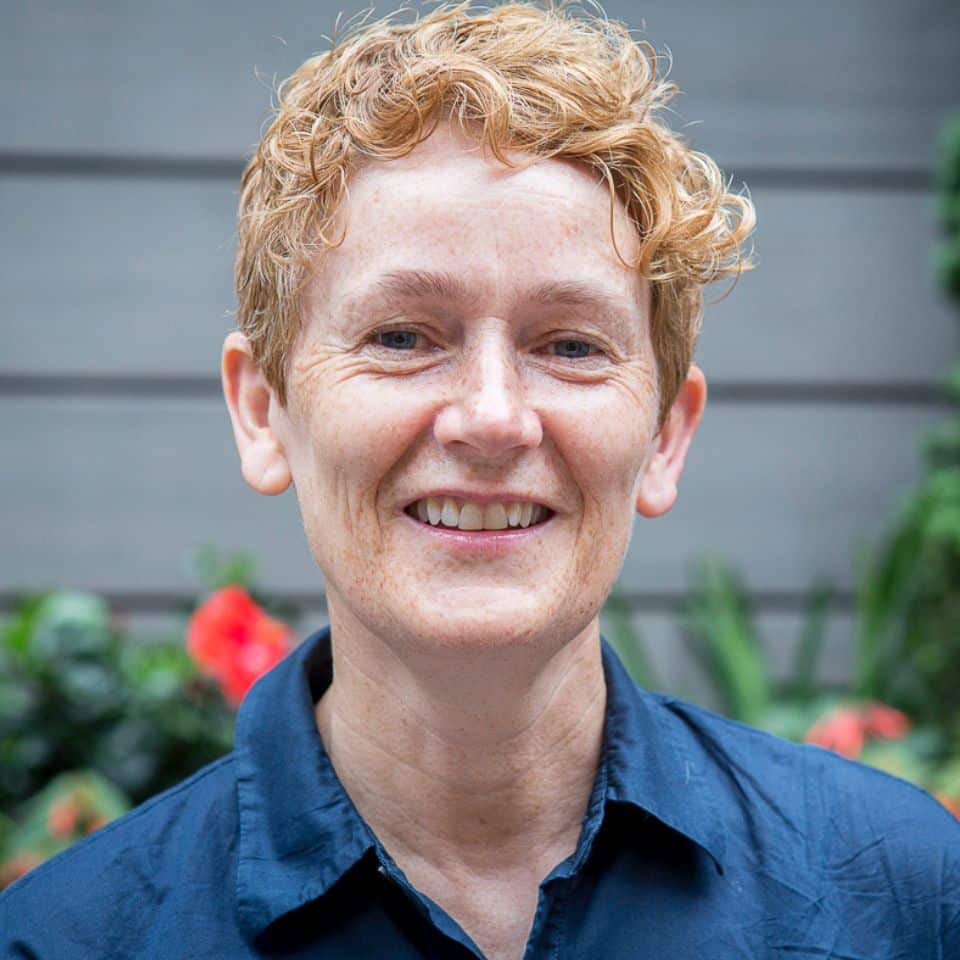 Nicky McIntyre
CEO, Foundation for a Just Society (FJS)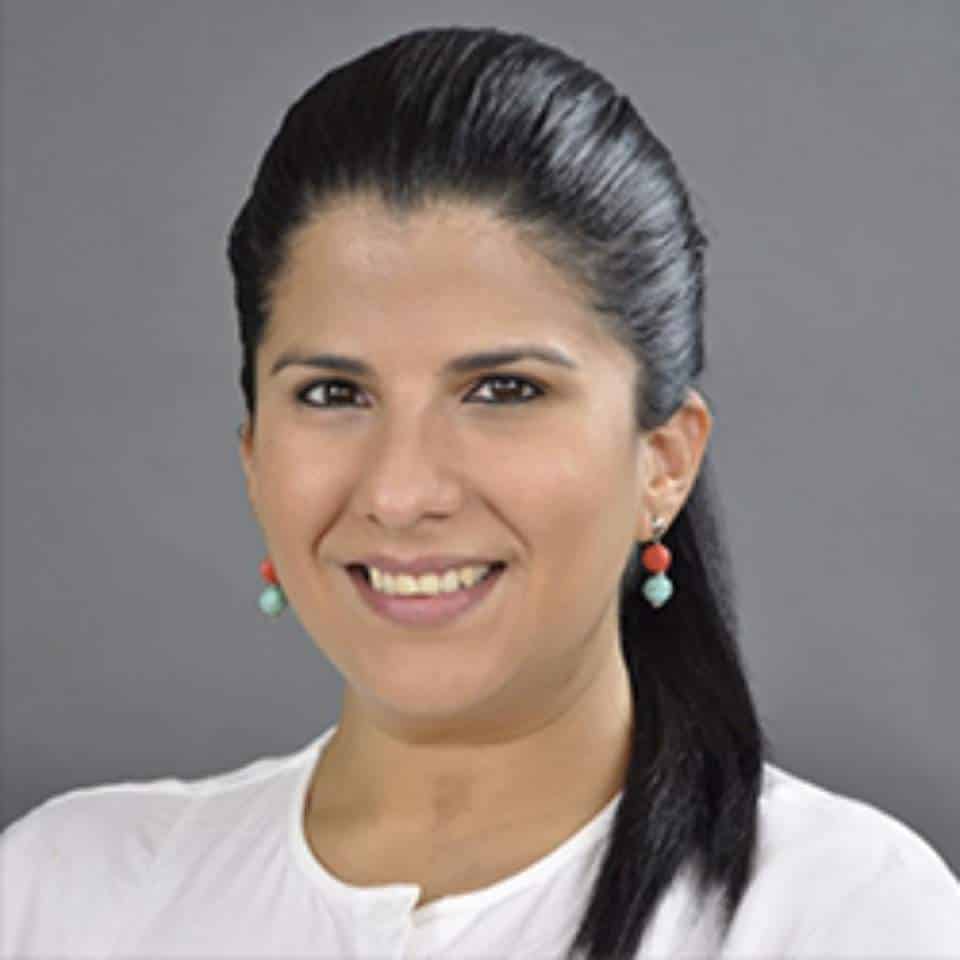 Fátima Mena
Head of the Sixth Vice-Presidency of the National Congress of Honduras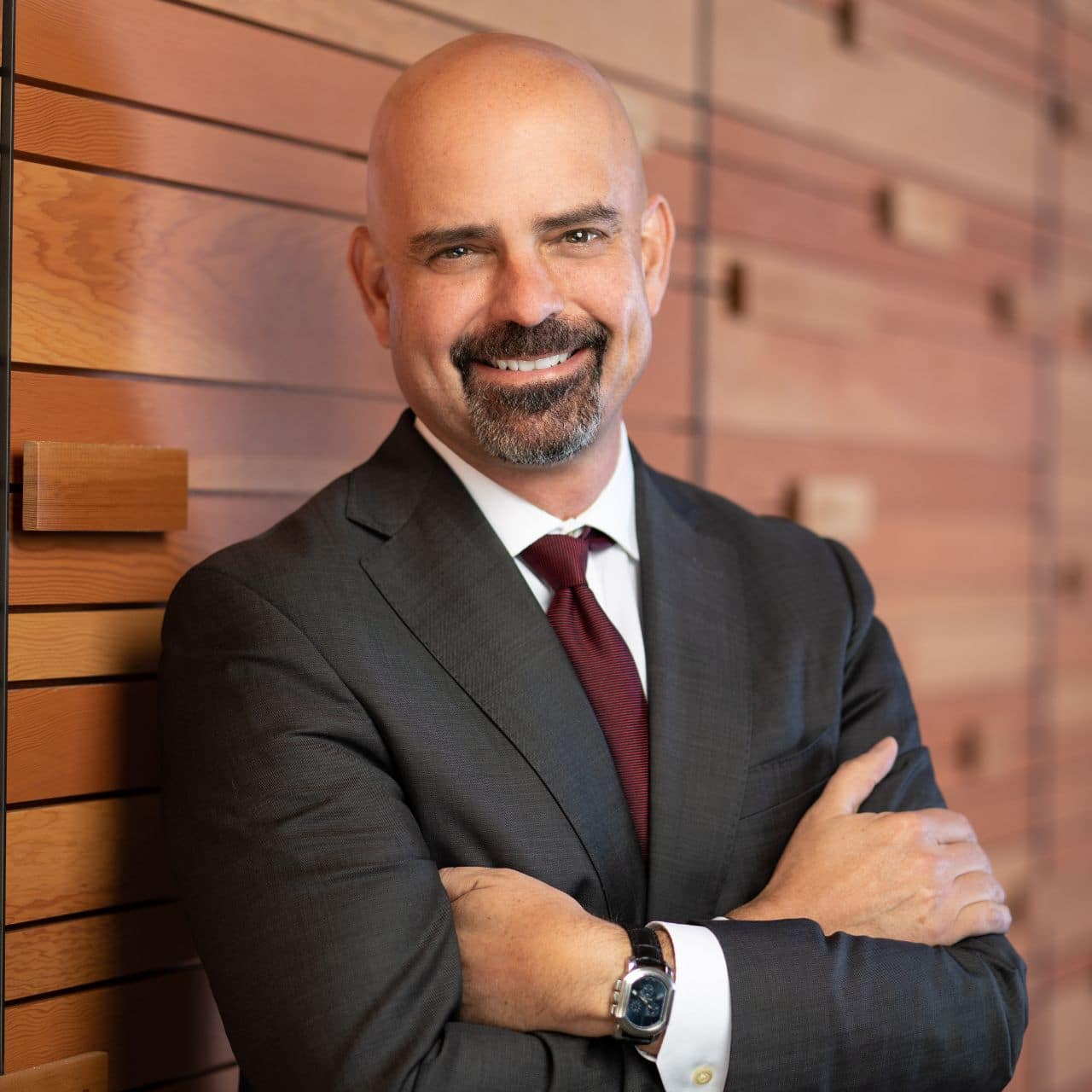 Tony Mestres
Board President, Seattle International Foundation President, Truveta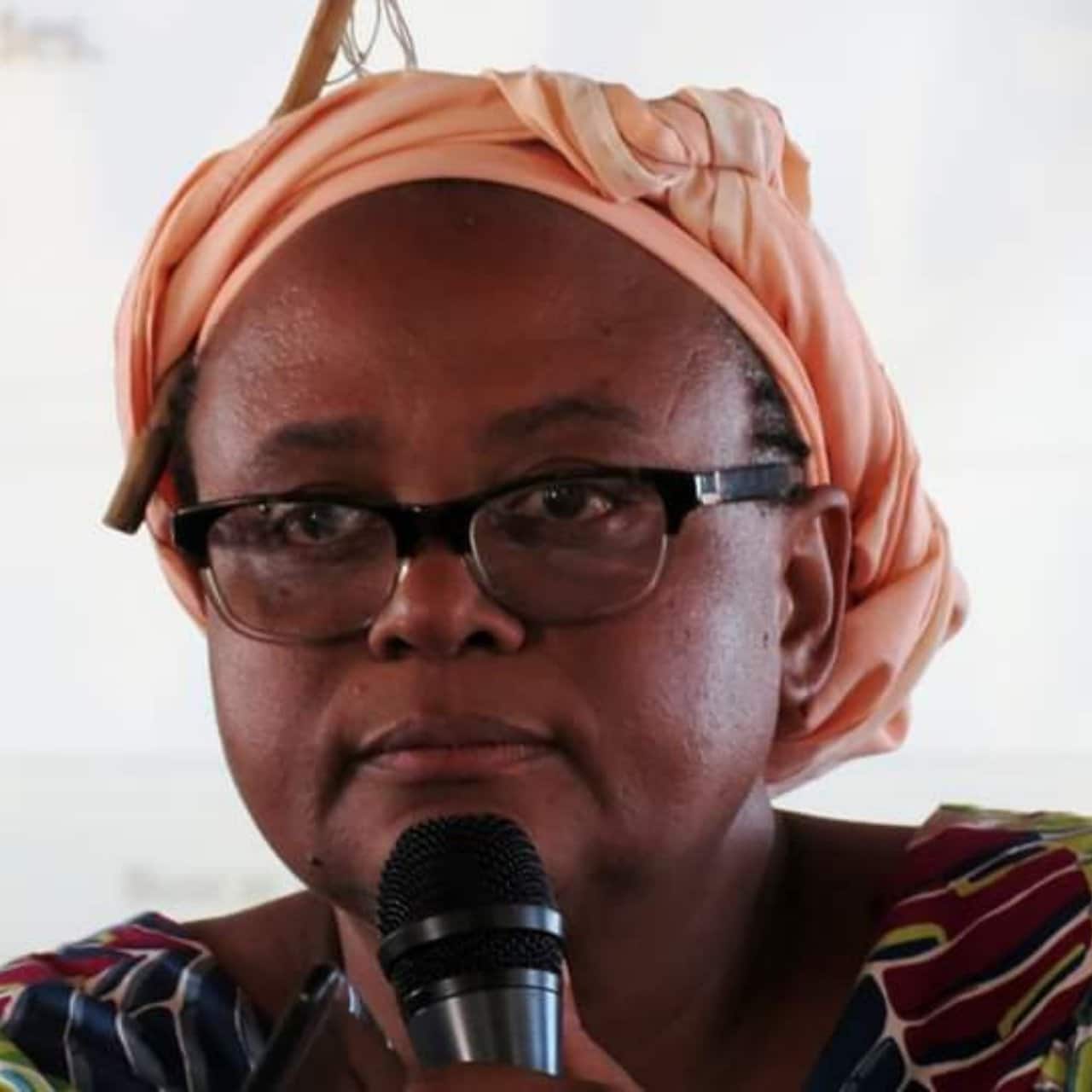 Miriam Miranda
General Coordinator, Organización Fraternal Negra de Honduras (OFRANEH)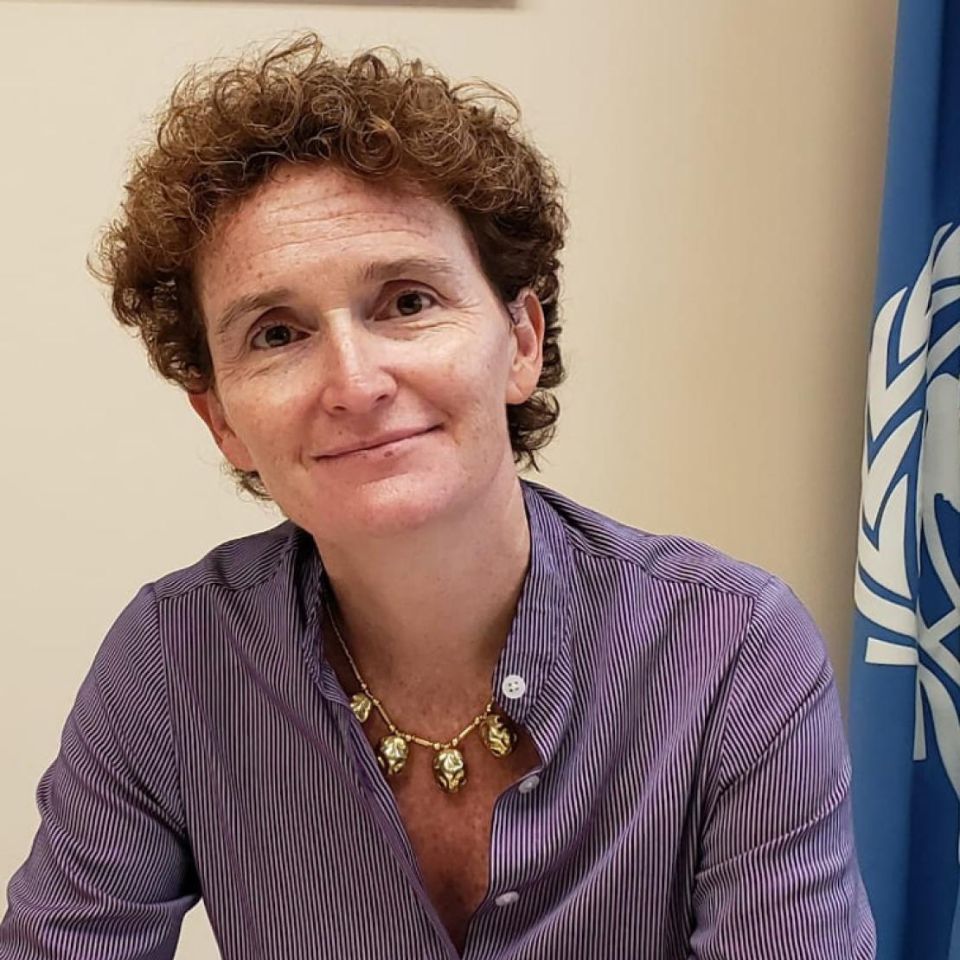 Alice Shackelford
United Nations Resident Coordinator in Honduras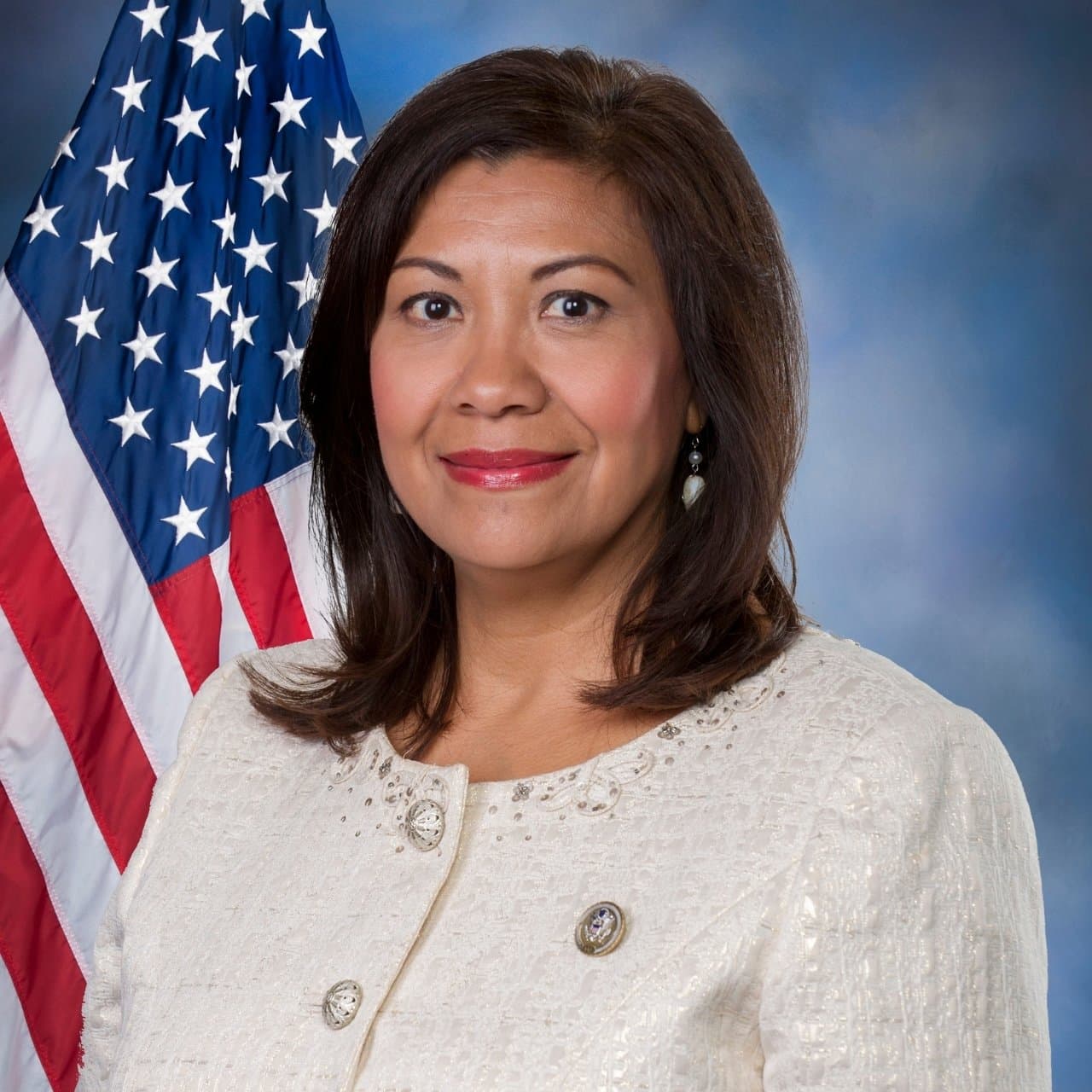 Congresswoman Norma Torres
U.S. Congress, Co-chair, Central America Caucus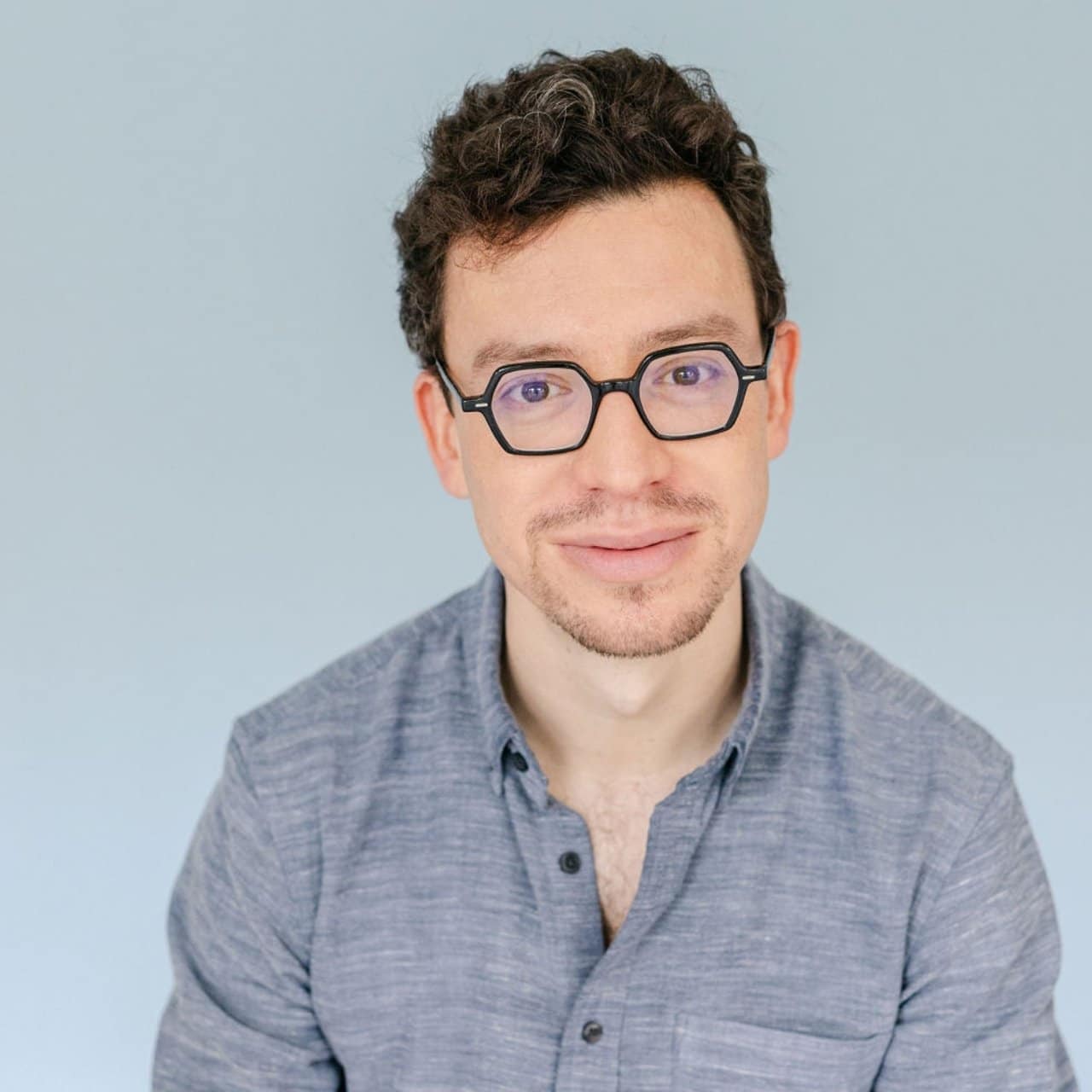 Luis von Ahn
Co-founder and CEO, Duolingo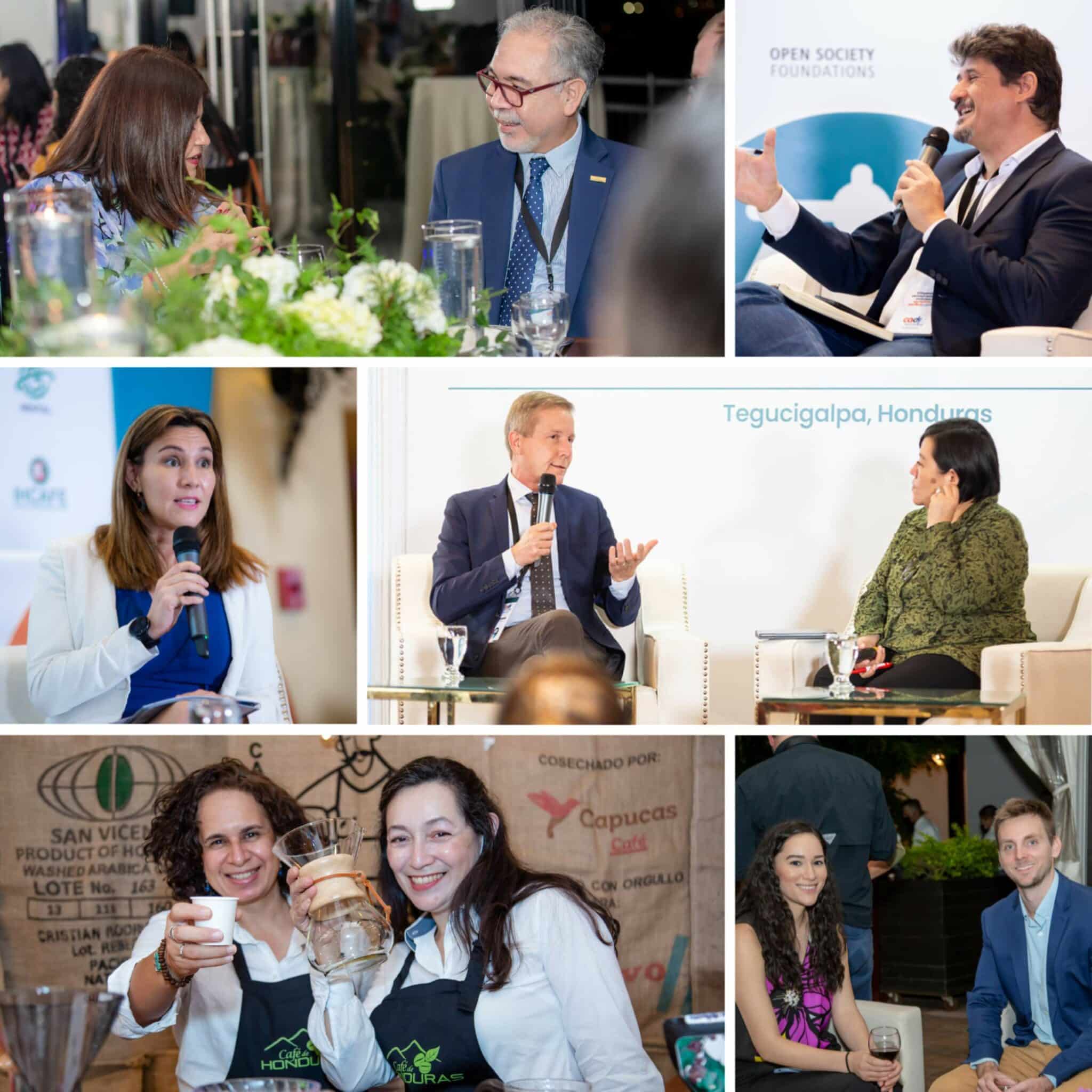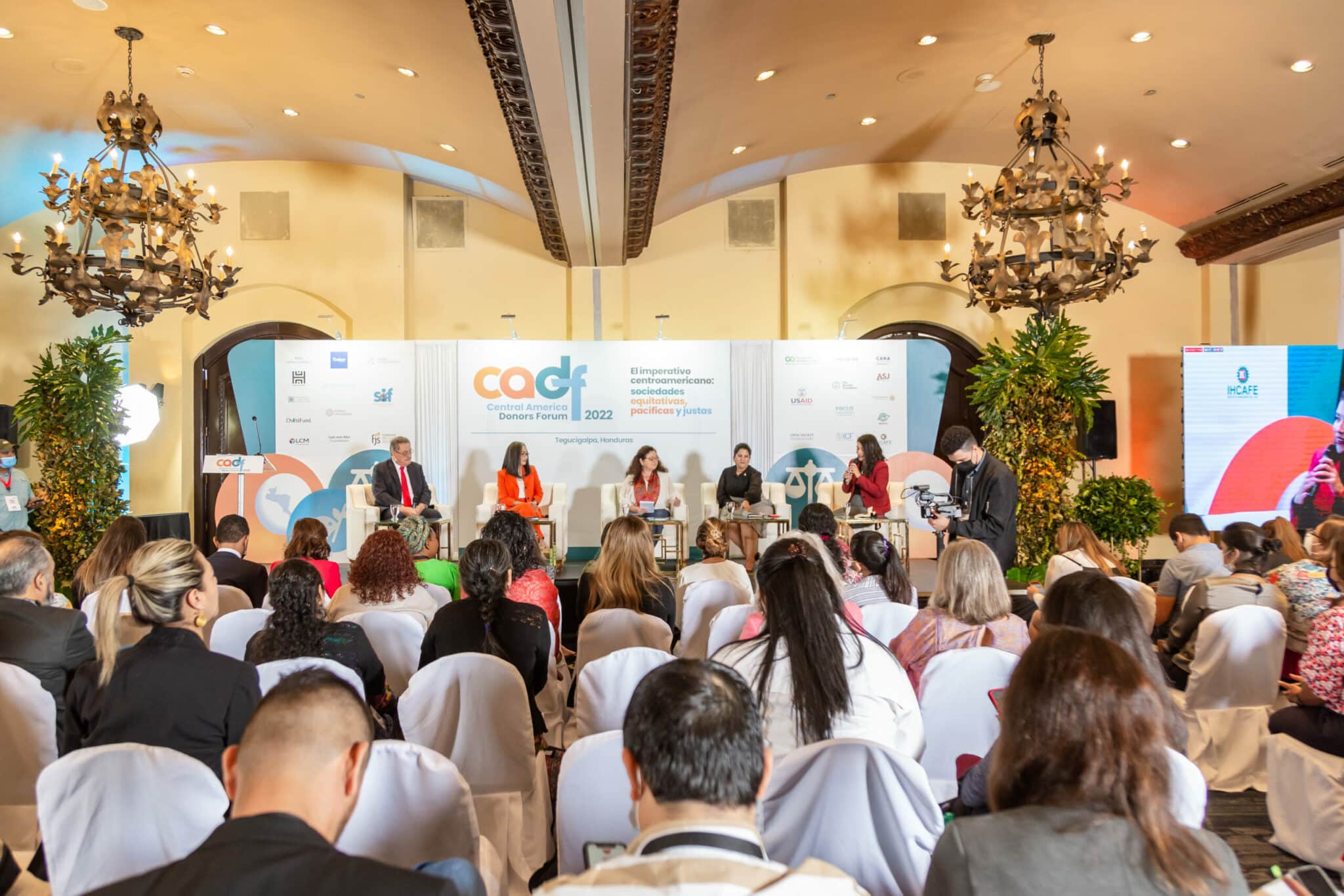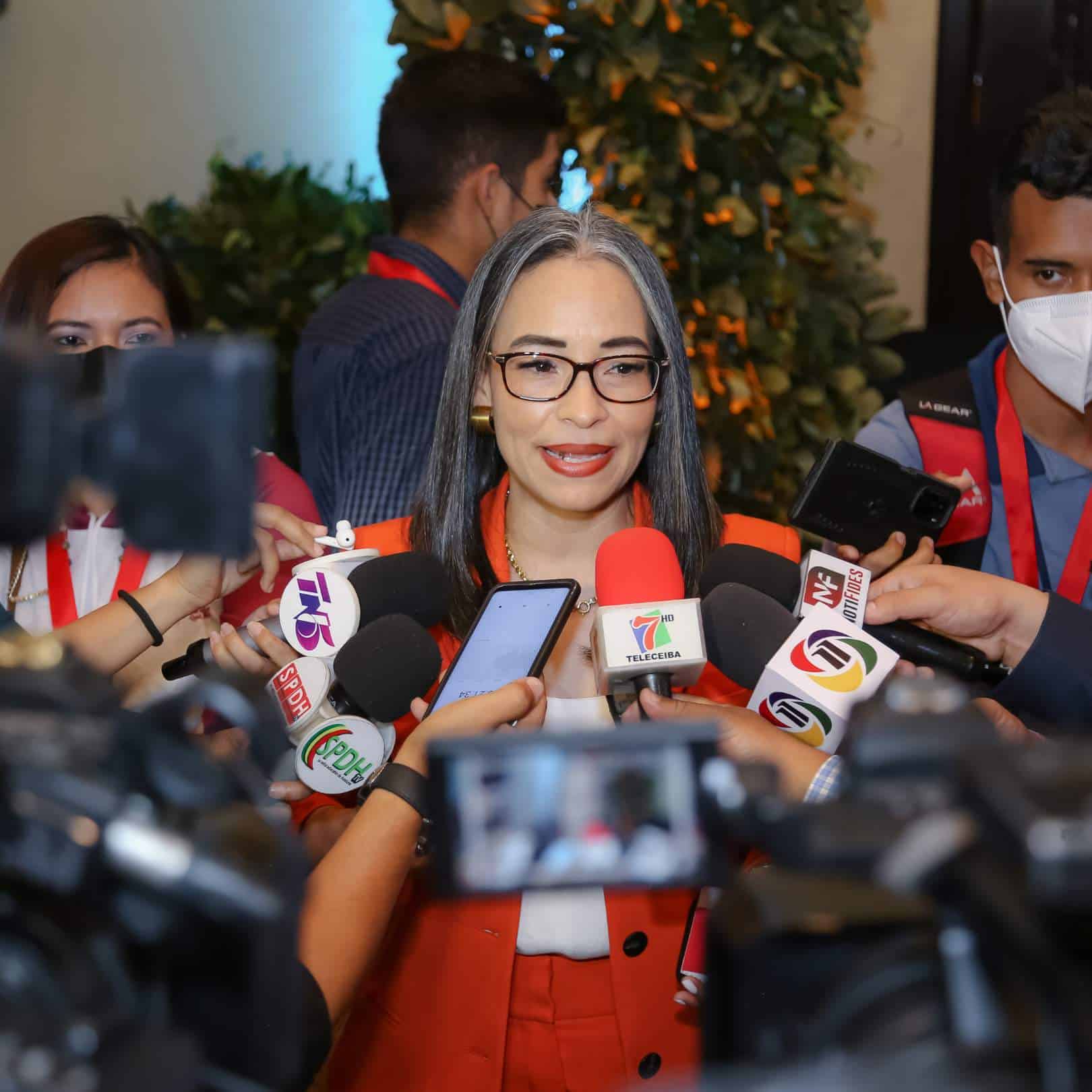 CADF in the Media
Local, regional and international media coverage

Local, regional and international media outlets covered the Forum in nearly 150 print articles, television segments and radio spots, while social media outlets broadened the discussion in hundreds of posts using the hashtag #CADF2022. Media coverage highlighted a range of topics discussed at the Forum, including corruption, migration, economic development, human rights, independent journalism and more.

Select media coverage:

– Agencia EFE
– Canal 8
– Contracorriente
– Criterio
– Diario Tiempo
– El Periódico de Guatemala
– El Siglo
– Hondudiario
– La Prensa
– La Estrella de Panamá
– La Tribuna
– Radio Caracol
– Radio Panamá
– TeleProgreso
– TN5 Estelar
… and many more
CADF on Social Media
Social media coverage

Leading up to and during CADF 2022, the event reached more than 500,000 unique social media accounts, including Twitter, Facebook, Instagram, LinkedIn, YouTube and more. Using the hashtag #CADF2022, social media users tagged the event nearly 900 times.

Independent media at CADF

Numerous Central American independent media outlets participated at CADF 2022. Several panel sessions, including "Freedom of the Press and Freedom of Expression as Essential Elements of Democracy" and "Journalism from Exile: Lessons from Nicaragua", featured the role of independent media in the region.

Livestreamed sessions

For the first time in CADF's history, select sessions were streamed for free via social media. About one-third of sessions were streamed on Seattle International Foundation's social media channels.
The Central American Imperative
Central America today faces a reckoning with challenges that threaten peace and prosperity in the region. A lingering pandemic, economic uncertainty, political instability, growing inequality, mass migration, and democratic backsliding undermine prospects for a sustainable and brighter future in the region. In response to Central America's most pressing challenges, philanthropy must adapt and support efforts to address widespread inequalities by fostering expansive, inclusive and thriving communities.
CADF 2022 gathered hundreds of leaders to engage in dialogue centered on emerging trends in philanthropy, discuss and address closing civic space across Central America, seek out collaborative efforts to foster economic empowerment, explore innovative approaches to reduce structural inequalities in society, and hear the stories of defenders protecting the sustainability of our environment and human rights.
Actions for Philanthropy
Driven to challenge the status quo, philanthropy around the world is transforming into a profoundly collaborative effort. The global pandemic has demonstrated the necessity for agile, effective, and well-funded organizations capable of responding to shifting challenges. Looking forward, funders supporting Central America are leading a revitalization of philanthropic models that propel community-driven solutions—harnessing collaboration in place of competition.
Built upon a foundation of honesty, trust and a shared vision for Central America, philanthropy is shedding inherent power imbalances between funders, nonprofits and the communities they serve. It is addressing a history rooted in racism, patriarchy and oppression with practical solutions: simplifying and streamlining applications and reporting requirements, awarding flexible and autonomous multi-year funds, and developing authentic relationships based on mutual trust, transparency and dialogue.
Protecting the Rule of Law
The dismantling of the rule of law in Central America has resulted in increasing authoritarianism, democratic backsliding and the violation of human rights. The lingering pandemic, a catalyst for dislocations and disruptions to life in the region, has compounded autocratic temptation among several populist leaders. Crackdowns on independent journalists, human rights defenders and critics in the region demonstrate a fierce effort to suppress dissent, restrict political participation, and silence the voices of those denouncing human rights violations and acts of corruption.
In the face of challenges that put an already fragile rule of law at risk, what role do civil society, independent journalism, legislatures, and justice systems play in addressing widespread issues related to combatting systemic corruption and impunity? Furthermore, what can the international donor community do to strengthen democratic practices and promote civil and political rights and liberties?
Pursuing Prosperity & Mitigating Migration
For decades, poverty and inequality have proven significant challenges in Central America. Although periods of progress have provided a beacon of hope, ultimately, long-term structural challenges, natural disasters, ineffective or inadequate public and private investment, and systemic corruption have all contributed to under-performing economies, lack of opportunities, and a growing hopelessness that incentivizes migration.
Together, the CADF community examined such factors contributing to the region's economic wellbeing and prospects for improving opportunities and prosperity for all. In a unique space designed to open honest dialogues, attendees will examine the role of multiple actors (the private sector, civil society, governments, donors, and philanthropy) in fostering prosperity, greater equality and strategies for addressing the most pressing structural challenges in the region, including the migration crisis.
Reinforcing Equity
Forms of inequity, exacerbated throughout the last two years of the global pandemic, remain deeply embedded in the economies and cultures of Central America. According to the 2021 Social Progress Index, access to quality education and employment is slipping out of reach for an increasingly vocal generation of youth. Gender, racial and disability discrimination against excluded groups also remains entrenched in the structures of society —yet those wielding power rarely denounce such inequities.
Confronted by these challenges, civil society throughout the region has risen up to demand social progress in significant ways. Independent journalists risk their lives to hold governments accountable and provide people with access to quality information, social movements led by youth fight for visibility and justice, and LGBTQI+ people organize to demand their human rights are protected and respected.
Sustainable Environment & Defense of Territories
Environmental vulnerability and unsustainable exploitation of natural resources have become frontline challenges for the future of Central America. Deforestation, exploitative resource extraction, drought, rising sea levels, and coastal erosion are all factors leading to greater vulnerability for peoples and their prospects for survival. Furthermore, water scarcity and access to land and food have become central to social conflicts, often resulting in major violence and contributing to forced migration.
Attendees heard from diverse expert speakers engaged in environmental action to mitigate and adapt to climate change, each striving for environmental justice. Panels and informal conversations examined the role of small farmers, indigenous, and afro-descendent and Garifuna communities organizing to defend their lands, as well as the role of the private sector, donors and philanthropy in addressing these challenges.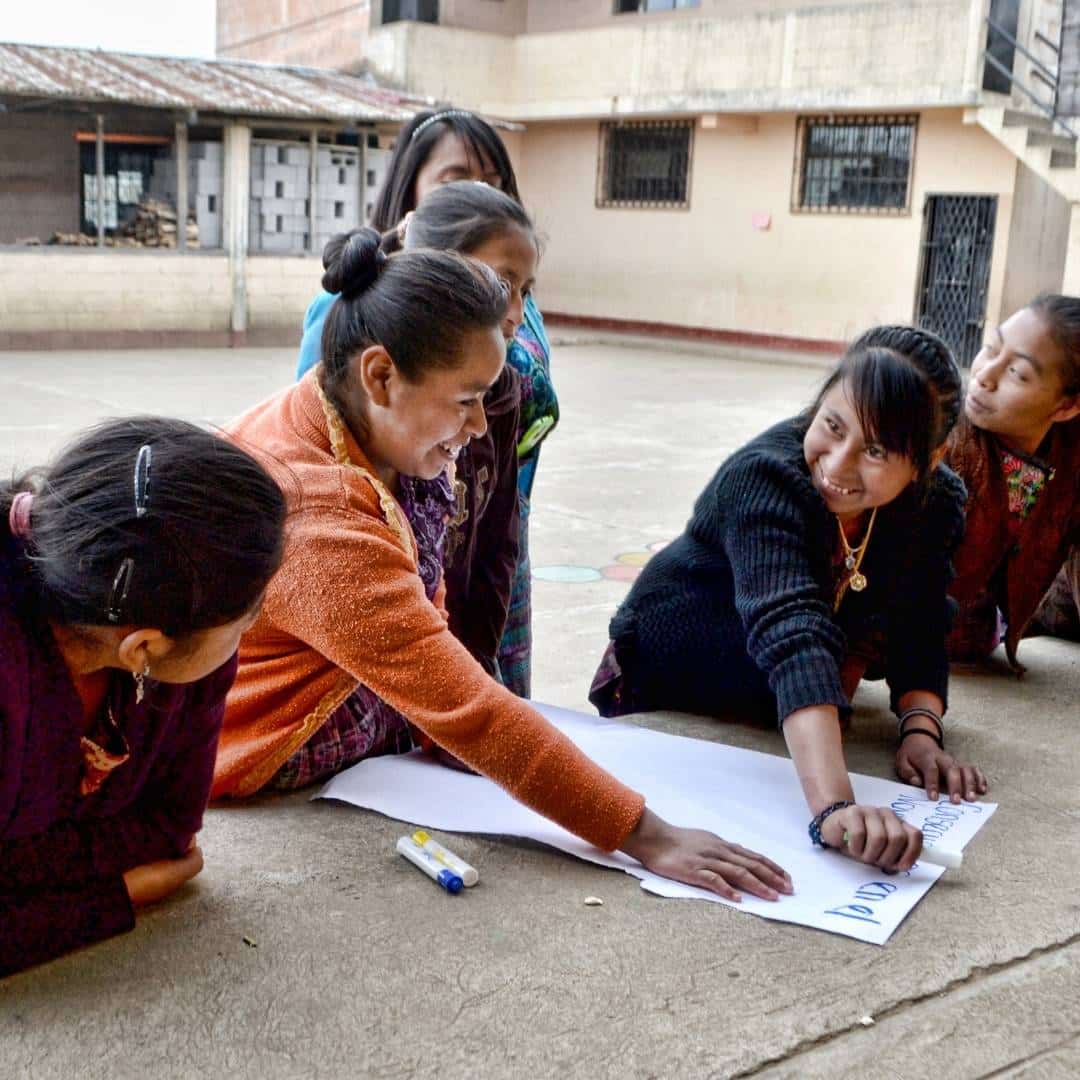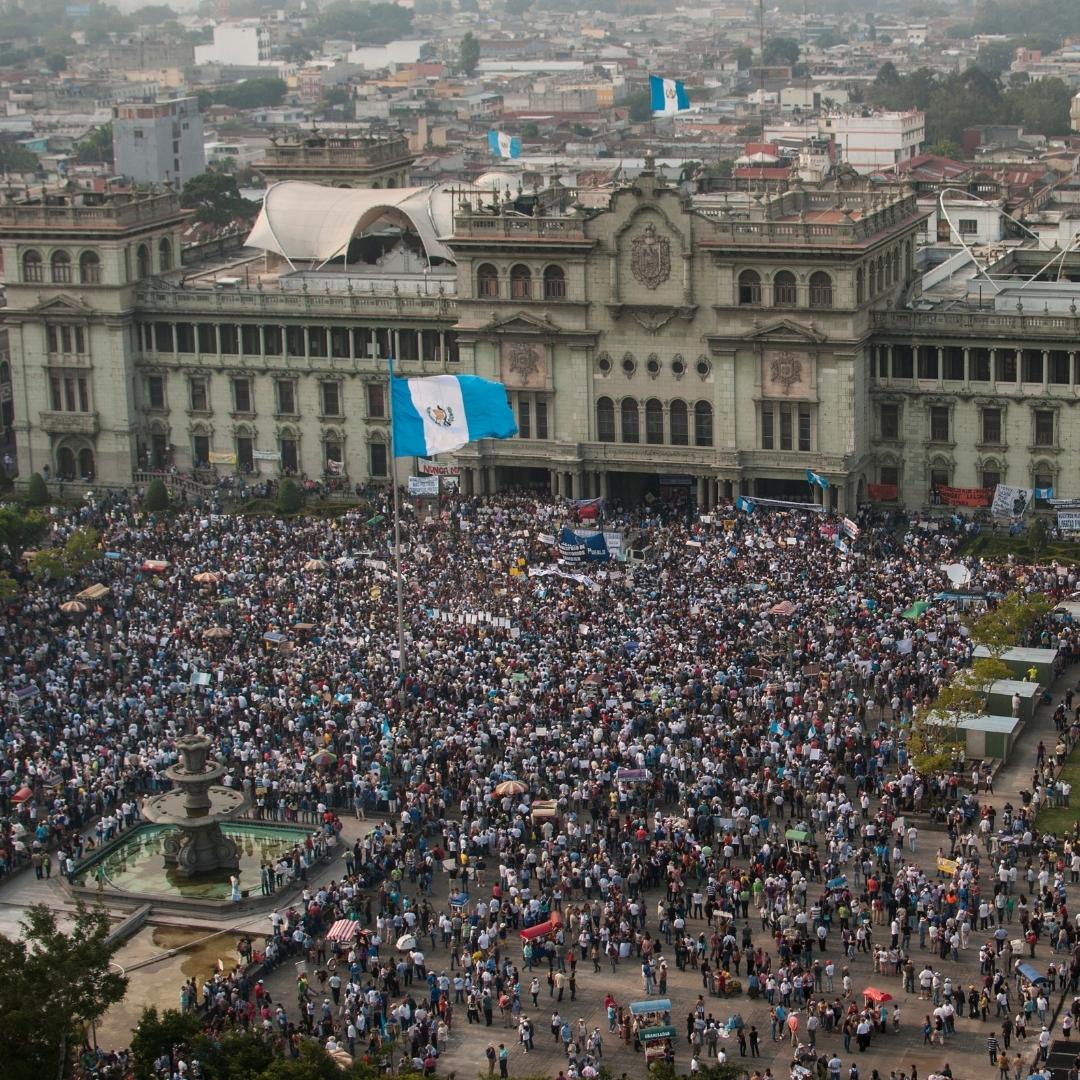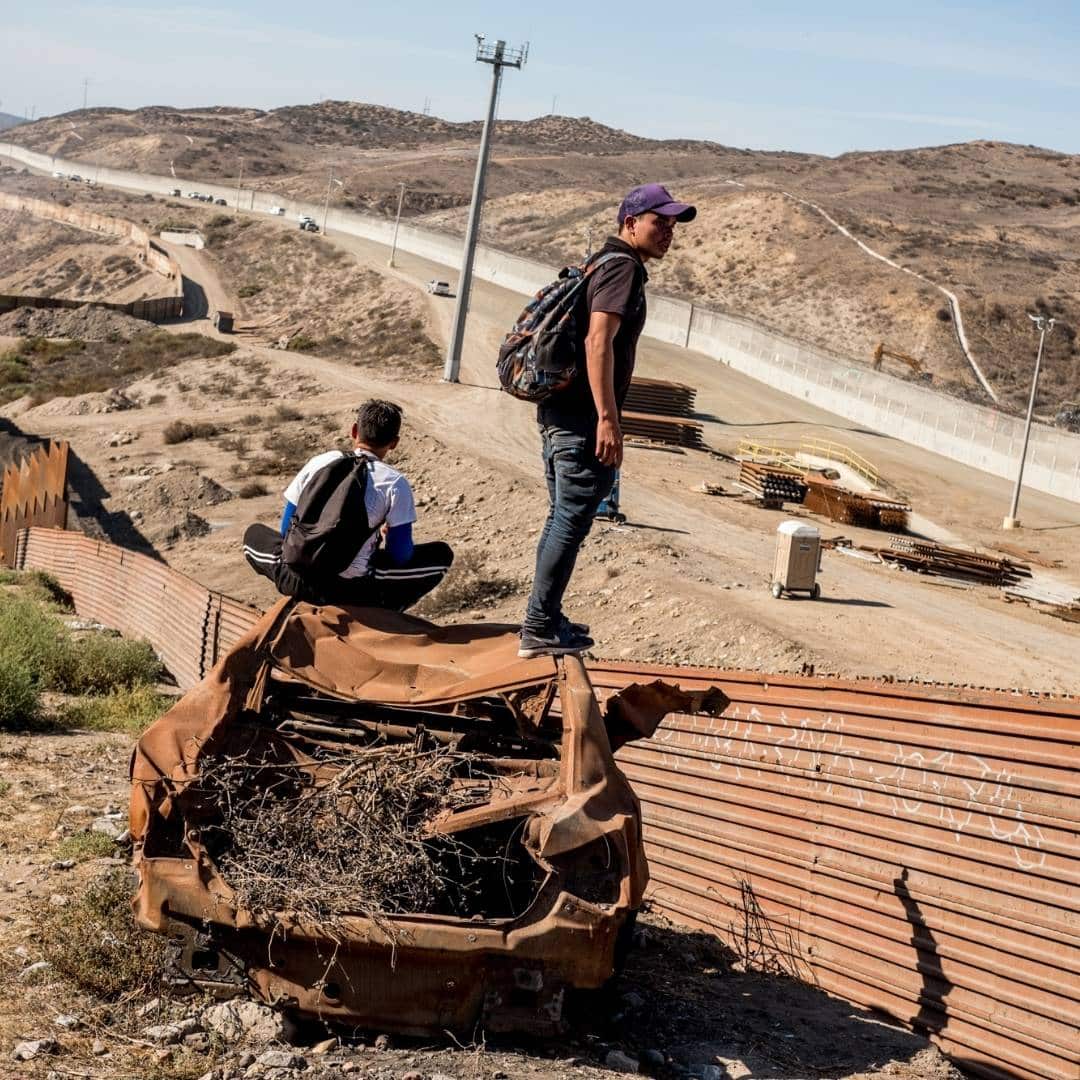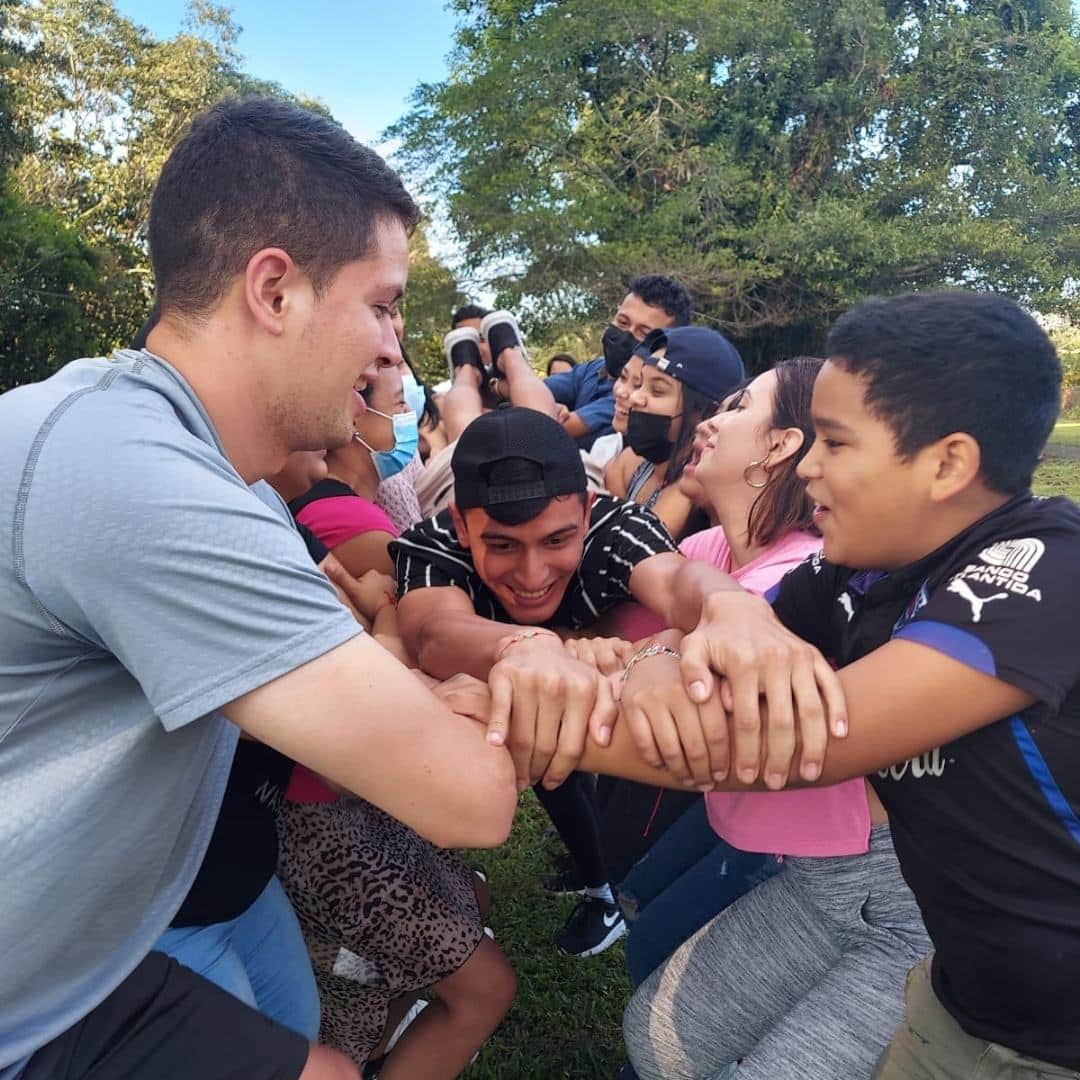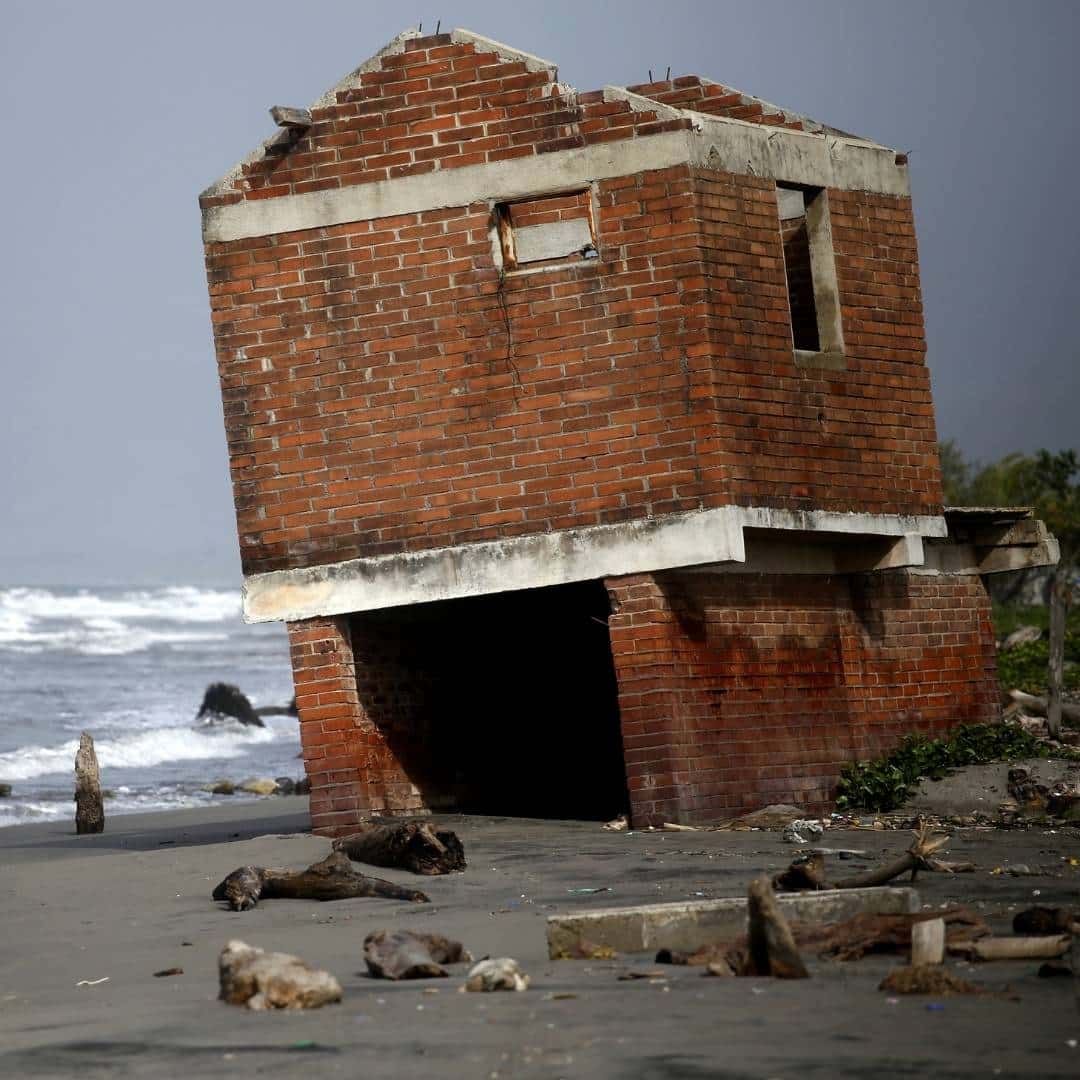 Join us for CADF 2023
Interested in participating in CADF 2023? Please reach out to Seattle International Foundation (SIF) to learn more.
Attend CADF 2023
CADF 2023 Timeline
January
Date and location announced
February
Theme and tracks released
February
Sponsorship opportunities available
May
Session application opens
June
Honorary Host Committee announced
July
Session application closes
September
Agenda released
October/November
CADF 2023